This traditional strawberry pretzel salad is a dessert that everyone goes crazy for. Sweet, salty, creamy, crunchy, and filled with old-fashioned charm!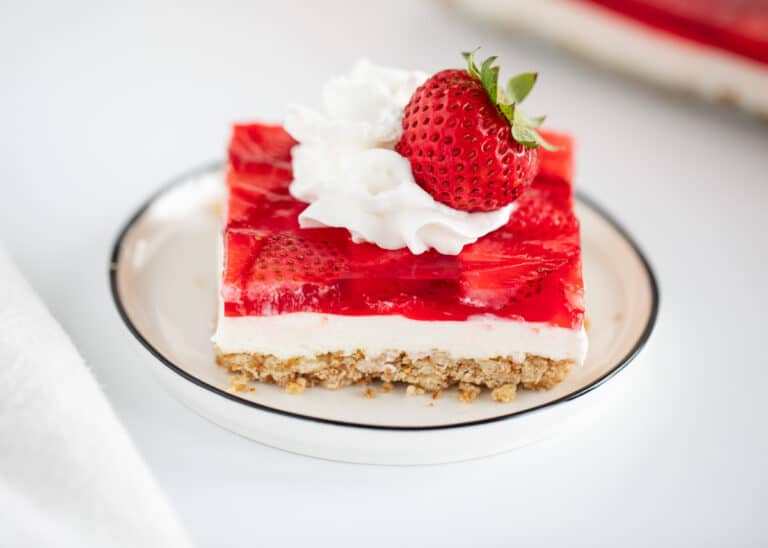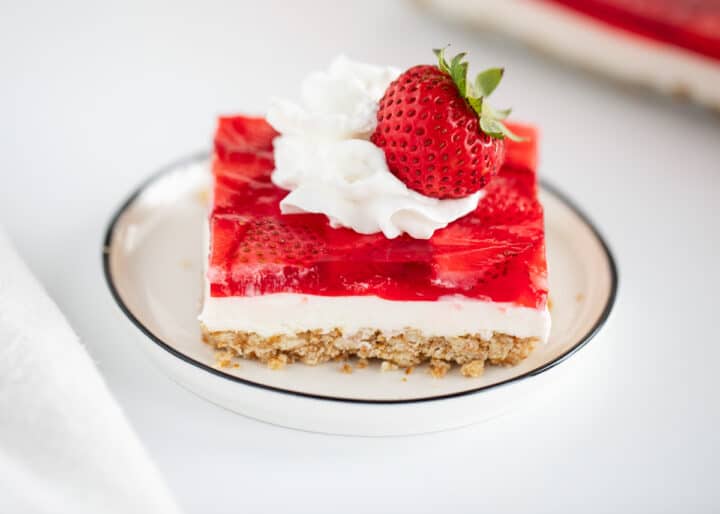 Old Fashioned Strawberry Pretzel Salad
An ironic name has been given to this classic dessert because there's nothing salad about it! This is the strawberry version of my famous raspberry jello pretzel salad, and I can't decide which is my favorite. Seriously, both are so, so delicious!
This is a delicious sweet, salty, and creamy chilled dessert filled with all your favorite components. A layer of cream cheese and whipped cream is sandwiched between a sweet strawberry jello topping and a crunchy salty pretzel base. The flavors are flexible so switch up the fruit and jello flavors depending on the occasion or the season.
You can use cool whip or stabilized whipped cream for the center because it will hold nicely and then use a dollop of whipped cream on top! It doesn't get much better than this super simple crowd-pleaser that has stood the test of time!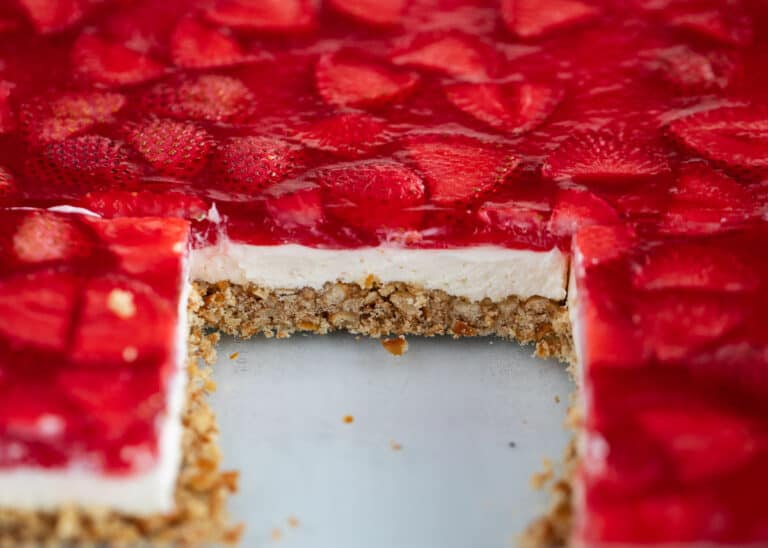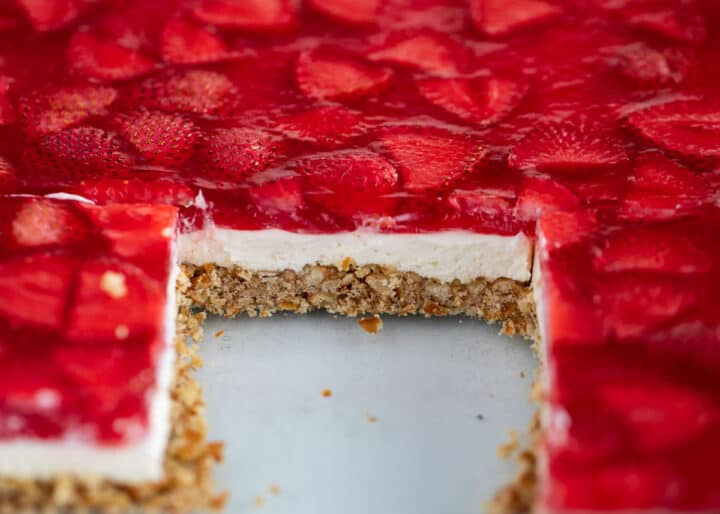 3 delicious layers
Each layer needs time to set. To save some time, you can even start preparing some of the layers the night before.
Bottom pretzel layer. This is made with a mixture of crushed pretzels, melted butter and sugar. It's made the same way as a graham cracker crust, but with a saltier flavor and a little more crunch. The mixture is pressed into a baking dish and then baked in the oven to make it crispier.
Middle cream cheese layer. This layer tastes like a delicious cheesecake filling. It's a mixture of cream cheese, sugar and cool whip, resulting in a super creamy and light consistency. It gets spread directly on top of the pretzel crust and then chills in the refrigerator until it sets.
Top strawberry layer. The final layer is a mixture of frozen strawberries and jello. The sweet fruit flavor is the perfect compliment to the salty crust and rich cream cheese filling. It gets poured directly on top of the cheesecake filling and then needs to set in the fridge until firm.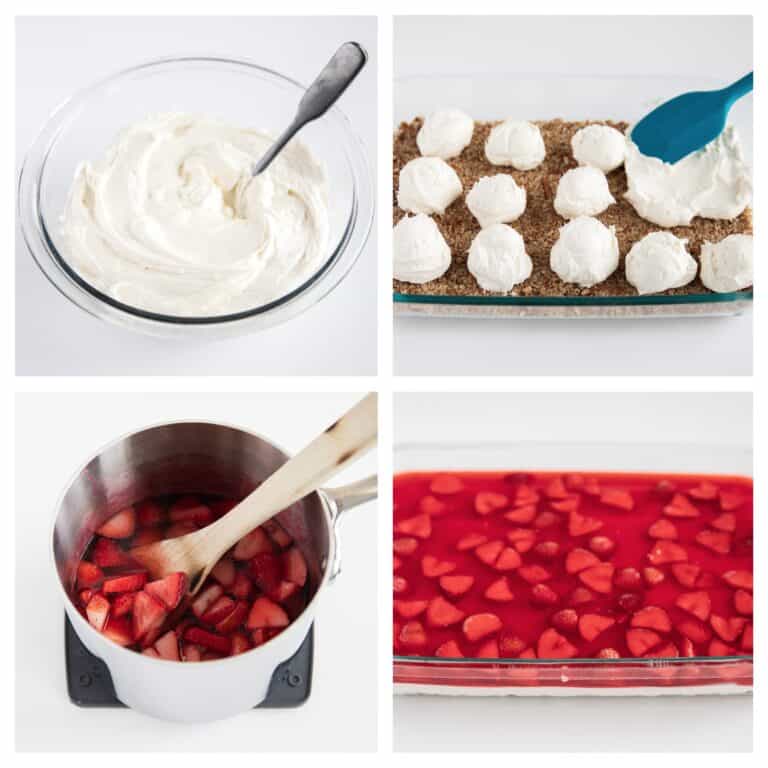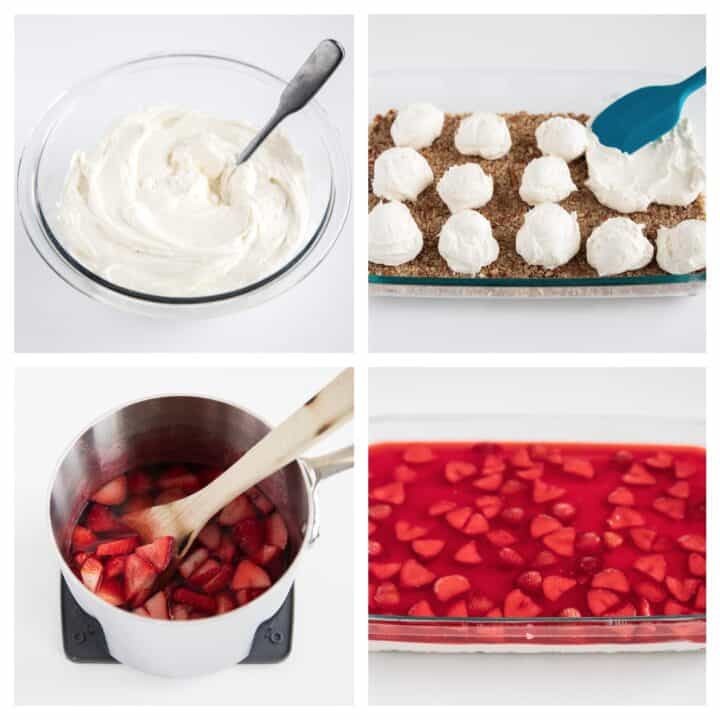 Tips for success
3 distinct layers. Make sure to spread the cream cheese/cool whip layer all the way to the outer edge. This way when the top jello layer sets it won't seep through to the bottom.
Clean lines. Once you spread the cream layer, use a paper towel around your fingertip to wipe the excess around the edges clean. It makes for a much neater presentation.
Other fruit. This recipe is such a versatile dessert. You can swap out the fruit and jello for flavors such as peach, mandarin, raspberry, pineapple, and blueberry!
Pretzel crumbs. You want a fine crumb, so use a food processor or blender if possible. If all else fails, place pretzels in a Ziploc bag and crush them with a rolling pin.
Chill time. It's important to chill the jello a bit to thicken it up before pouring it onto cream cheese otherwise the liquid will bleed into the whipped layer. Once it's fully assembled, you want it to be completely set before slicing.
Individual servings. Switch up the presentation and layer the dessert in mini individual cups, similar to how I did with these easy mandarin orange pretzel parfaits.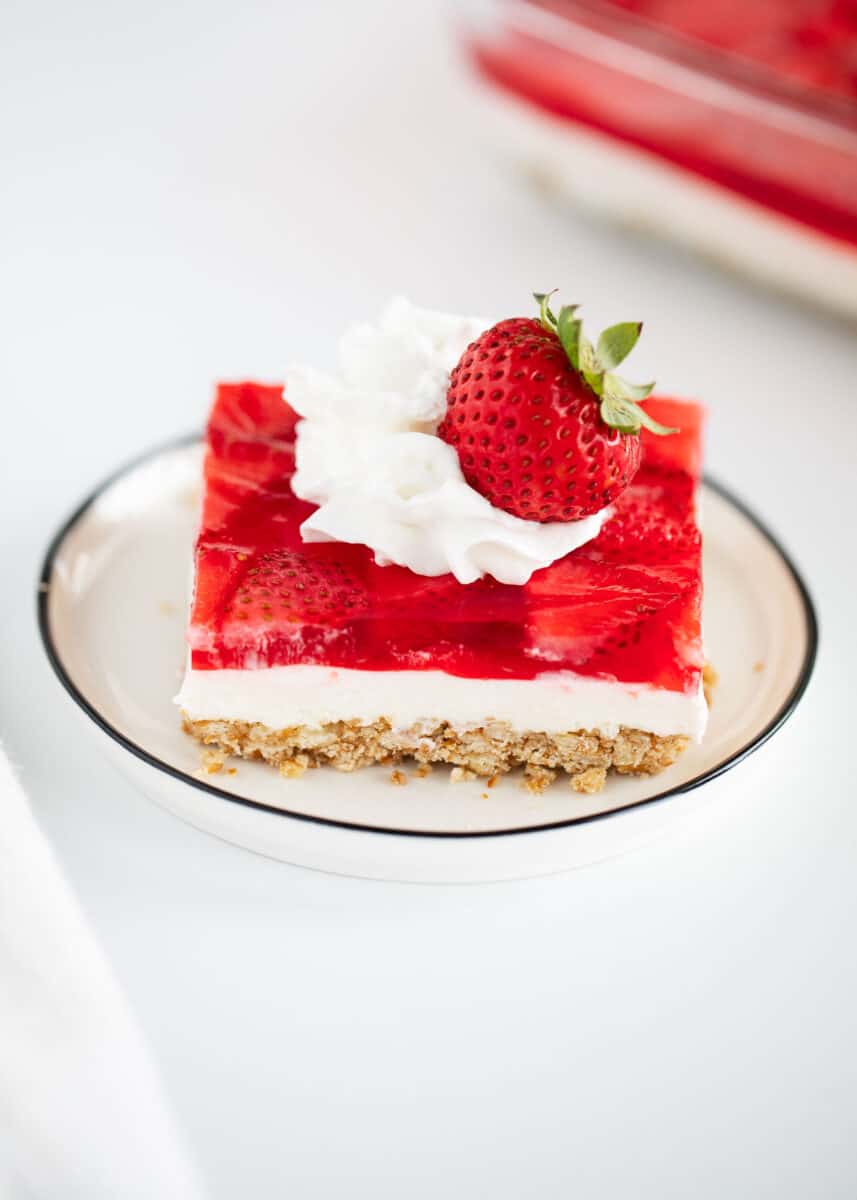 Other Easy Desserts: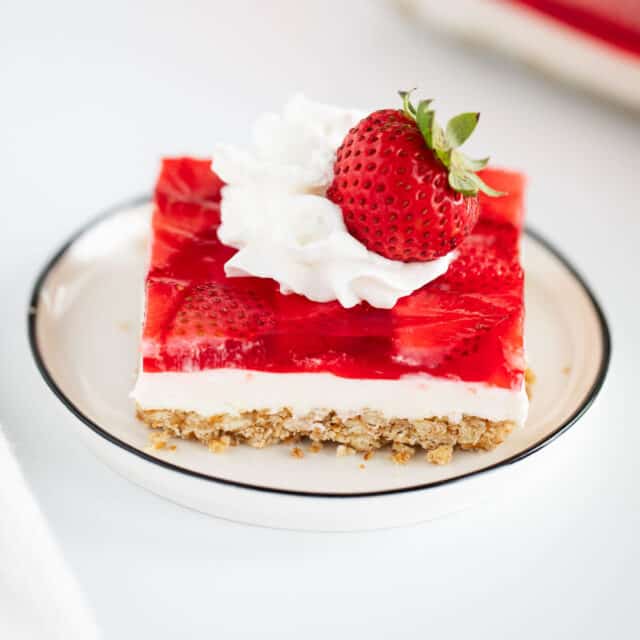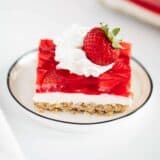 Strawberry Pretzel Salad
This traditional strawberry pretzel salad is a dessert that everyone goes crazy for. Sweet, salty, creamy, crunchy, and filled with old-fashioned charm!
Ingredients
Layer 1:
1 3/4 cups crushed pretzels , about 6-7 cups pretzels
3/4 cup salted butter , melted (12 Tablespoons)
3 Tablespoons granulated sugar
Layer 2:
12 ounces cream cheese , softened
3/4 cup granulated sugar
8 ounces cool whip , softened (1 container)
Layer 3:
2 cups boiling water
6 ounces strawberry jello , two 3-ounce boxes
1 pound fresh strawberries , hulled and sliced
Instructions
Preheat oven to 400°F. Butter a 9×13" pan and set aside. Crush pretzels in a food processor or blender and then stir in melted butter and sugar until combined. Press evenly into pan and bake for 8-10 minutes. Allow to cool. You can refrigerate once pan is cool enough to touch to speed the process.

In a medium size bowl, beat the cream cheese with an electric mixer. Mix in sugar and then stir in cool whip.

Drop about 8 spoonfuls over the top and carefully spread out on top of pretzel crust. Make sure to go all the way to the edges so the jello mixture doesn't leak through. You can use your finger with a paper towel to run along the edges to make them clean lines. Refrigerate for about 1 hour, or until set.

While you are refrigerating the cream mixture, place the strawberries in the freezer for the hour to chill.

Combine the jello and boiling water and stir until the sugar is dissolved (about 2 minutes). Then mix in the frozen strawberries. Place in the refrigerator for about 5-10 to thicken slightly. Add 1-2 ice cubes if it's too hot.

Once it has slightly thickened, pour on top of cream cheese mixture and refrigerate until jello is firm, at least 2 hours (I like to leave overnight). Slice and serve once firm.
---
Calories: 298kcal | Carbohydrates: 35g | Protein: 4g | Fat: 17g | Saturated Fat: 10g | Cholesterol: 49mg | Sodium: 317mg | Potassium: 102mg | Fiber: 1g | Sugar: 25g | Vitamin A: 580IU | Vitamin C: 17mg | Calcium: 46mg | Iron: 1mg
Nutrition provided is an estimate. It will vary based on specific ingredients used.
Did you make this recipe? Don't forget to give it a star rating below!