Jump to Recipe⌄
Raspberry jello pretzel salad
Raspberry jello pretzel salad -one of my all time favorite jello salads. The cream cheese mixture and salted pretzel crust mixed with the raspberry jello is the perfect combo!
I know Christmas is over, but this recipe is to yummy not to share! My family can't get enough of this pretzel salad. When my mom announced "The salad's on the table" at our Christmas dinner we definitely were not expecting this type of salad. THIS is my kind of salad!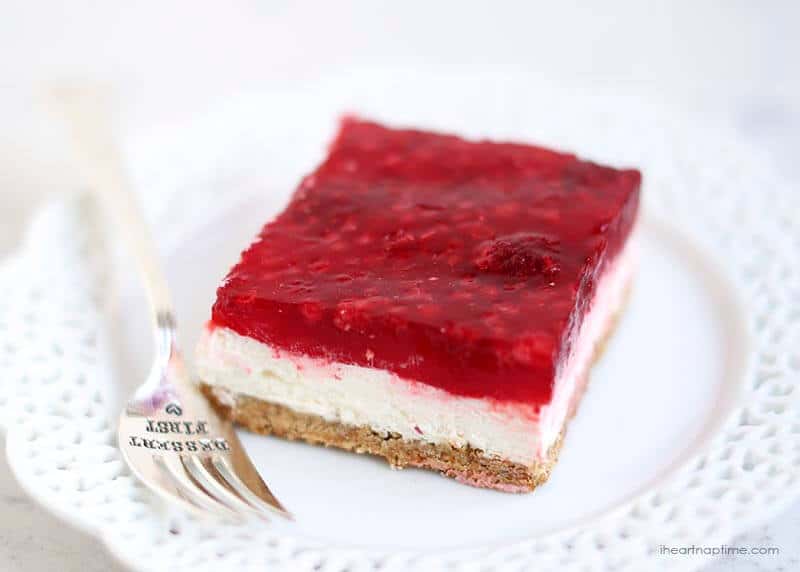 Raspberries, cream cheese,  cool whip and pretzels. WOW! I like to use strawberries to make it a strawberry pretzel salad. All you need to do is substitute the raspberry jello for strawberry jello and add diced strawberries in place of raspberries. You can make this dessert any day and mix up the fruits. In the summer time I love to use mandarin oranges and make little parfaits. Find the recipe for those here.
This pretzel salad is so delicious and definitely needs to be on your menu for Thanksgiving or Christmas this year! The pretzels added the perfect addition. The sweet and salty combo makes this dessert irresistible.
Tips for making the perfect pretzel salad
Plan ahead and start making the night before (each layer takes time to set)
Use a blender or food processor to crush the pretzels (you want them to be pretty fine)
Make sure to go all the way to the edges with each layer to prevent the next layer from leaking through
Allow the jello to set COMPLETELY before slicing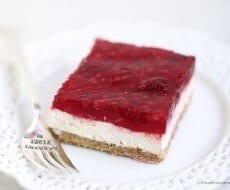 Raspberry pretzel salad
Ingredients:
Layer 1-
1 1/2 cups of pretzels (crushed)
3/4 cup salted butter (12 TB), melted
3 Tablespoon sugar
Layer 2-
12 oounces cream cheese (softened)
1 (8 ounces) container cool whip (softened)
3/4 cups of sugar
Layer 3-
1 (6-ounce) box Raspberry Jell-O
2 cups of boiling water
2 cups frozen raspberries
Directions:
Pre-heat oven to 400°. Butter a 9×13 pan and set aside. Crush pretzels in a food processor or blender and then stir in melted butter and sugar until combined. Place in greased 9×13 pan and bake at 400 for 10 min. Refrigerate for 30 minutes or until cool.
In a medium size bowl, cream together the cream cheese with an electric mixer. Mix in sugar and then stir in cool whip. Spread on top of pretzel crust (making sure to go all the way to the edges so the jello mixture doesn't leak through) and refrigerate for about 1 hour, or until set.
Boil water in a small pan with Jell-O. Stir until sugar is dissolved (about 2 minutes). Then mix in the frozen raspberries. Allow to thicken slightly, then pour on top of cream cheese mixture and refrigerate until Jell-O is firm, about 2 hours.
You can use strawberry Jell-O and frozen strawberries to make this a strawberry dessert. Both are delicious!
All images and text ©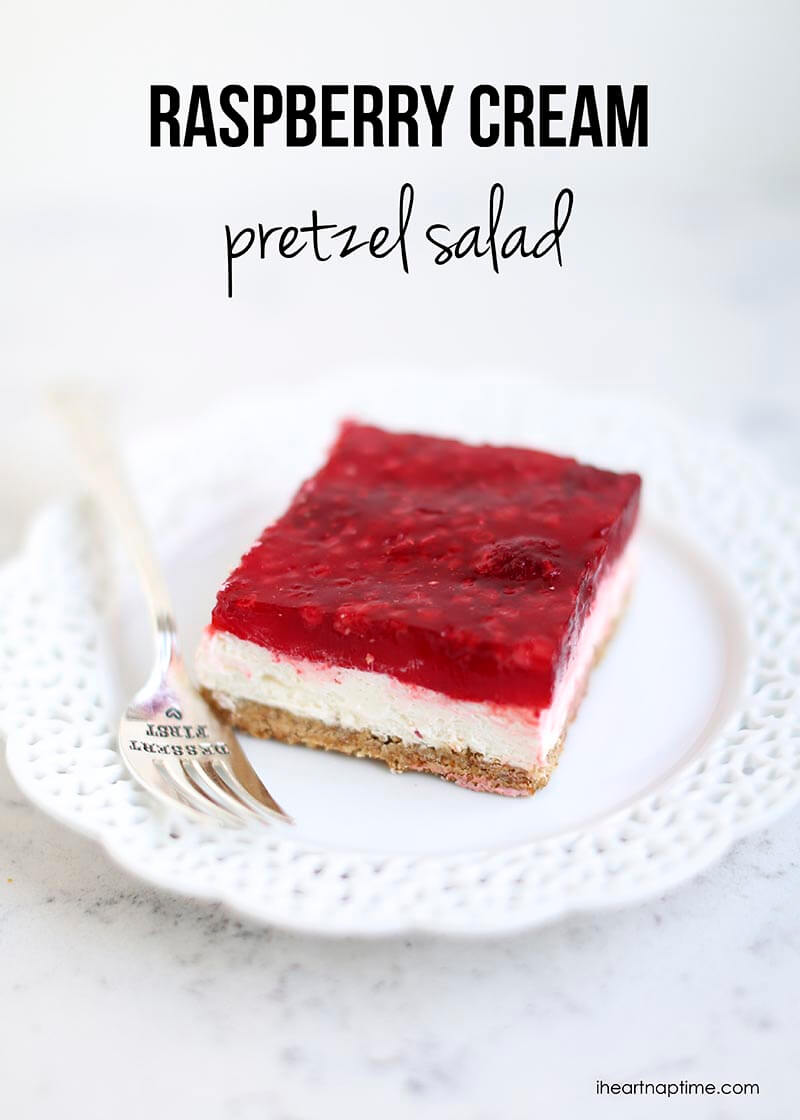 Enjoy!
Looking for more fruit salads? You'll love these too: