Raspberry jello pretzel salad
Raspberry jello pretzel salad -one of my all time favorite jello salads. The cream cheese mixture and salted pretzel crust mixed with the raspberry jello is the perfect combo!
I know Christmas is over, but this recipe was to yummy not to share! You can make this dessert any day and mix up the fruits. I like to use strawberries too. When my mom announced "The salad's on the table" at our Christmas dinner we definitely were not expecting this type of salad. THIS is my kind of salad!
Raspberries, cream cheese,  cool whip and pretzels. WOW!
This was so delicious! The pretzels added the perfect addition. This is a must try recipe!
MY OTHER RECIPES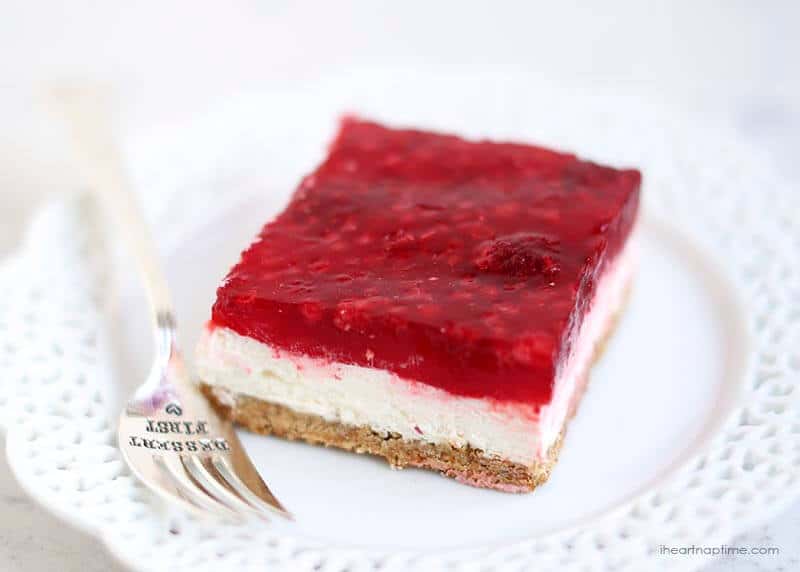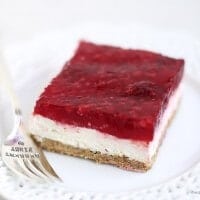 Raspberry pretzel salad
Yield: 16
Prep Time: 20 minutes
Cook Time: 10 minutes
Total Time: 2 hours
Ingredients:
Layer 1-
1 1/2 cups of pretzels (crushed)
3/4 cup salted butter (12 TB), melted
3 T sugar
Layer 2-
12 oz cream cheese (softened)
1 (8 oz) container cool whip (softened)
3/4 cups of sugar
Layer 3-
1 pkg Raspberry Jell-O (6 oz box)
2 cups of boiling water
1/4 cup of cold water
2 cups frozen raspberries
Directions:
Pre-heat oven to 400°. Butter a 9x13 pan and set aside. Crush pretzels in a food processor or blender and then stir in melted butter and sugar until combined. Place in greased 9x13 pan and bake at 400 for 10 min. Refrigerate for 30 minutes or until cool.
In a medium size bowl, cream together the cream cheese with an electric mixer. Mix in sugar and then stir in cool whip. Spread on top of pretzel crust and refrigerate for about 1 hour, or until set.
Boil water in a small pan with Jell-O. Stir until sugar is dissolved. Then mix in the frozen raspberries. Pour on top of cream cheese mixture and refrigerate until Jell-O is firm, about 2 hours.
You can use strawberry Jell-O and frozen strawberries to make this a strawberry dessert. Both are delicious!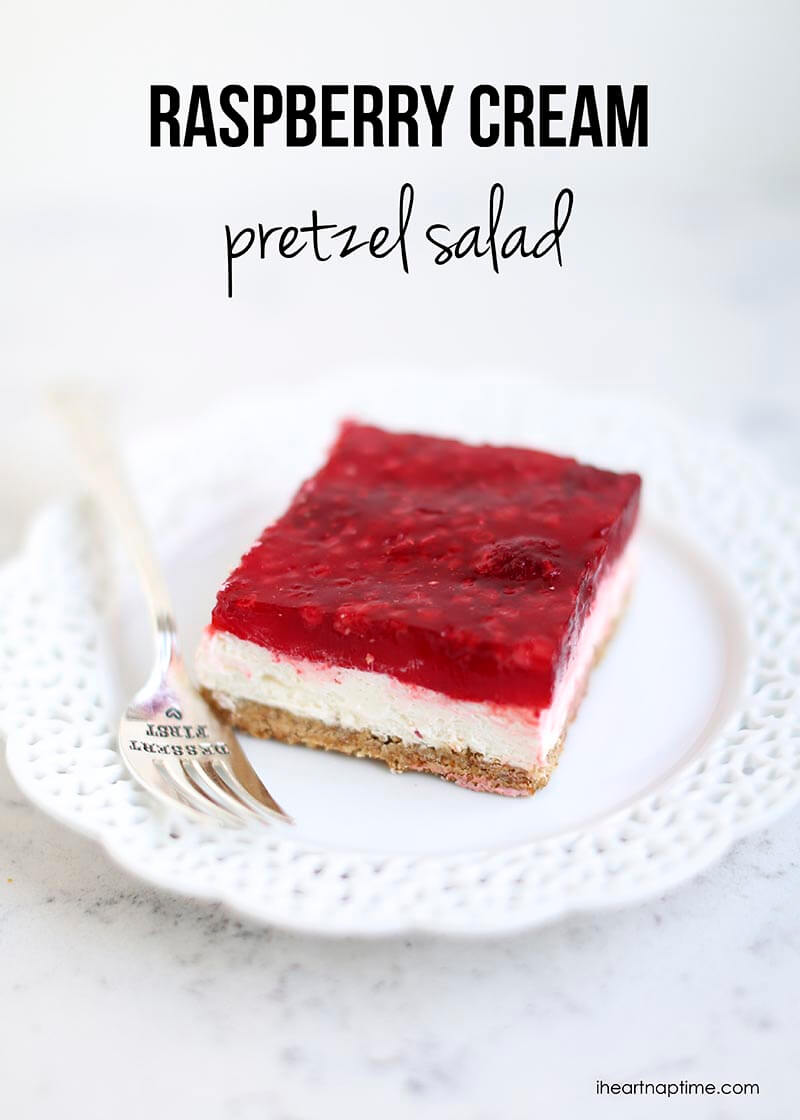 Enjoy!
Join in! Leave a comment!
Comments