Making a pie crust doesn't have to be stressful thanks to this easy pretzel pie crust recipe. It has only 3-ingredients and takes about 30 minutes to prepare. This foolproof recipe is a great option for all of your pudding and custard pies!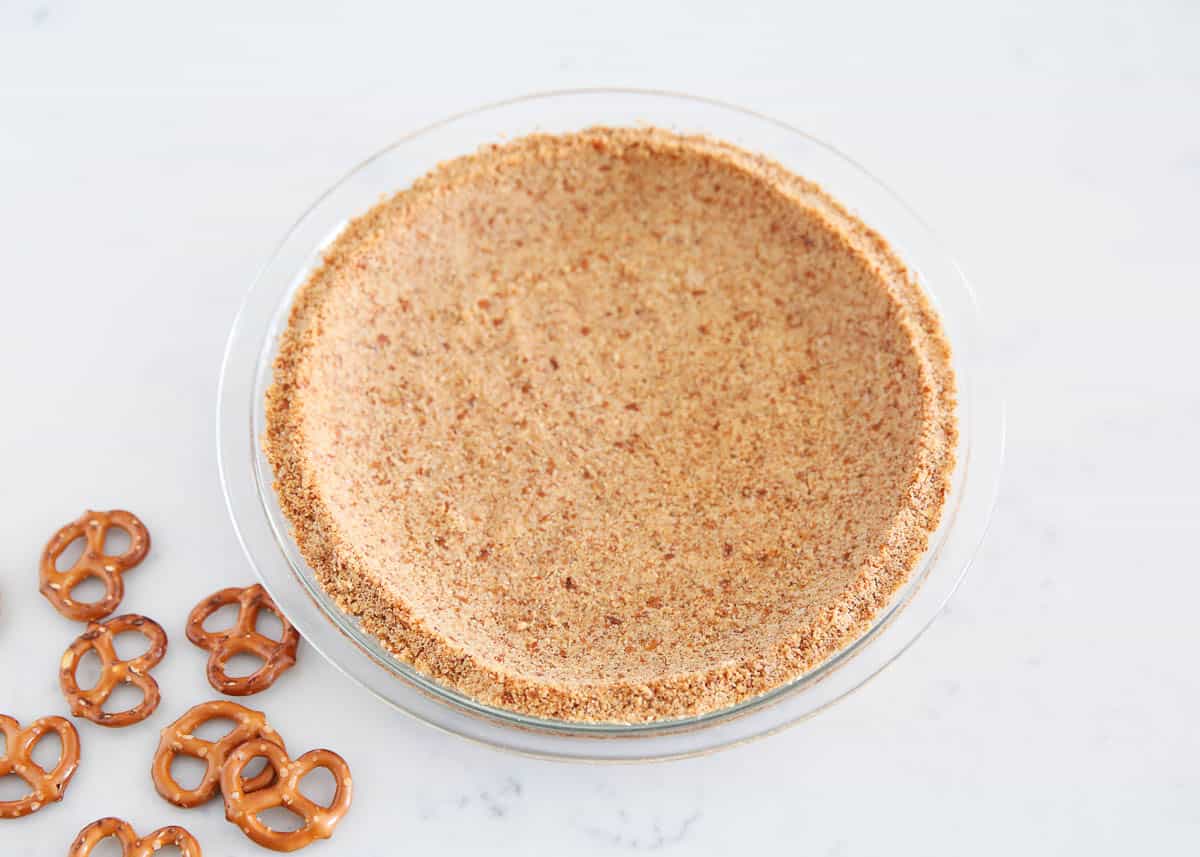 As Effortless As It Gets!
Once again, I'm so happy to share with you a quick and easy baking solution that will save you time in the kitchen and guarantees a delicious sweet and salty pie crust.
I don't know about you, but as much as I love making (and eating!) homemade pie, I don't always have the time and energy to go the traditional route with homemade pie crust.
There's all of the rolling, resting, and chilling time involved with pastry dough that just makes sense to skip some days. That's where the handy press-in pretzel base comes in!
You're probably familiar with a graham cracker crust which uses the same method as this recipe. In this case, instead of graham cracker crumbs, we're using – you guessed it – pretzel crumbs!
Why This Recipe Works
Quick and easy. It takes about 10 minutes of prep and 10 minutes of baking time to whip up this pretzel pie crust!
Great flavor! The result is a salty-sweet crunchy base that goes so well with many sweet fillings.
Versatile. The kinds of pie filling that work best in this type of shell are puddings and custards. Some of our favorite desserts include key lime pie and our strawberry pretzel salad which is more like a bar than a pie or a salad, but it works!
Only 3 Ingredients
Three ingredients are all you need to make this pretzel pie crust!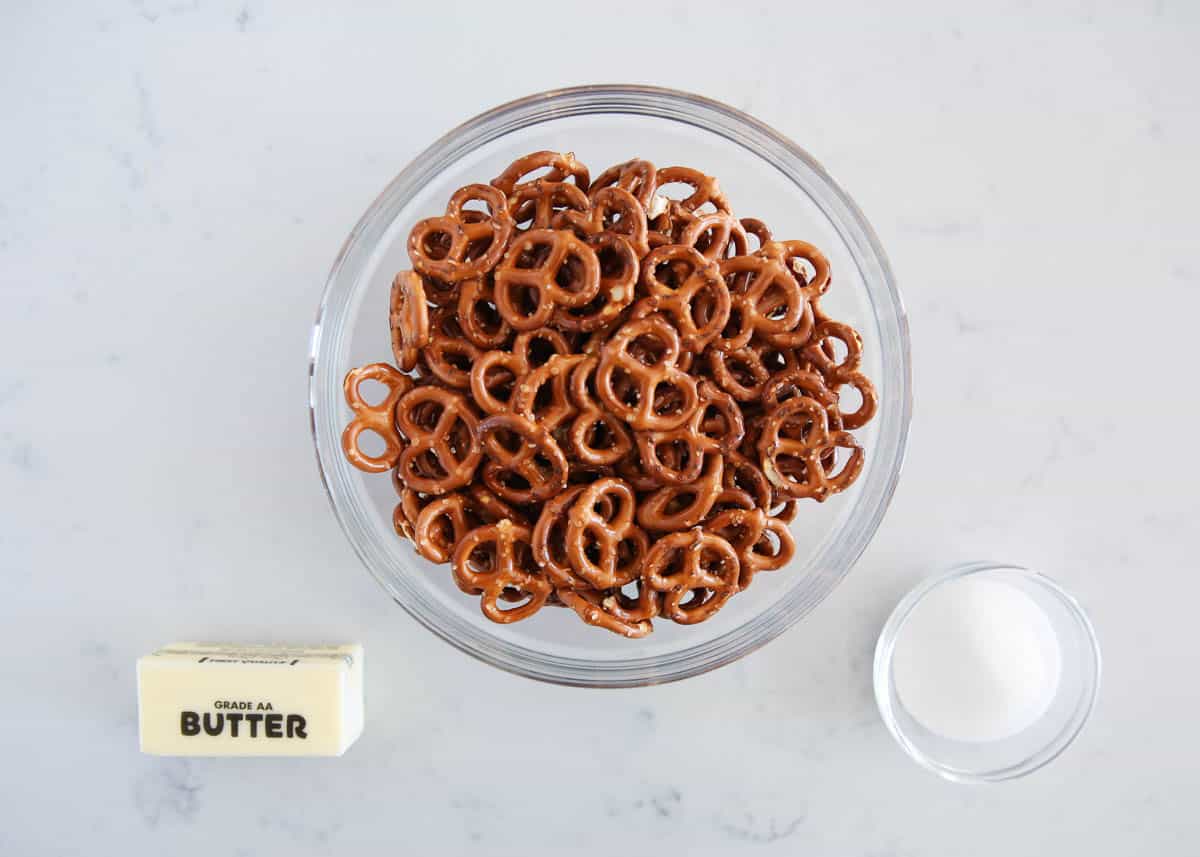 Find the full printable recipe with specific measurements below.
Mini pretzels: I choose the mini ones because they're easier to crush, but the regular pretzels will work too. They also have a pretty long shelf life, so you can stash them in your cupboard to make a pie when the mood strikes!
Unsalted butter: Unsalted works best here because the pretzels themselves are already pretty salty.
Granulated sugar: The sugar adds sweetness to the salty pretzel crust and helps the crust stick together when baked.
Recipe Variations
This recipe is super simple and it's also easy to make a few customizations to it. Here are a few variations you can try:
Avoiding gluten? Use gluten-free pretzels.
Use brown sugar instead of white sugar.
Swap vegan butter for regular butter.
No pretzels at home? Substitute with crushed cereal or crackers like Cheerios, Corn Flakes or Ritz crackers. Crushed cookies like Oreos or gingersnaps also work great for a Oreo pie crust or gingersnap crust.
How to Make Pretzel Pie Crust
All you need is 10 minutes of prep time and a quick bake in the oven with this crust. Because it's so easy and quick to make, it makes an amazing alternative to more traditional pie crusts.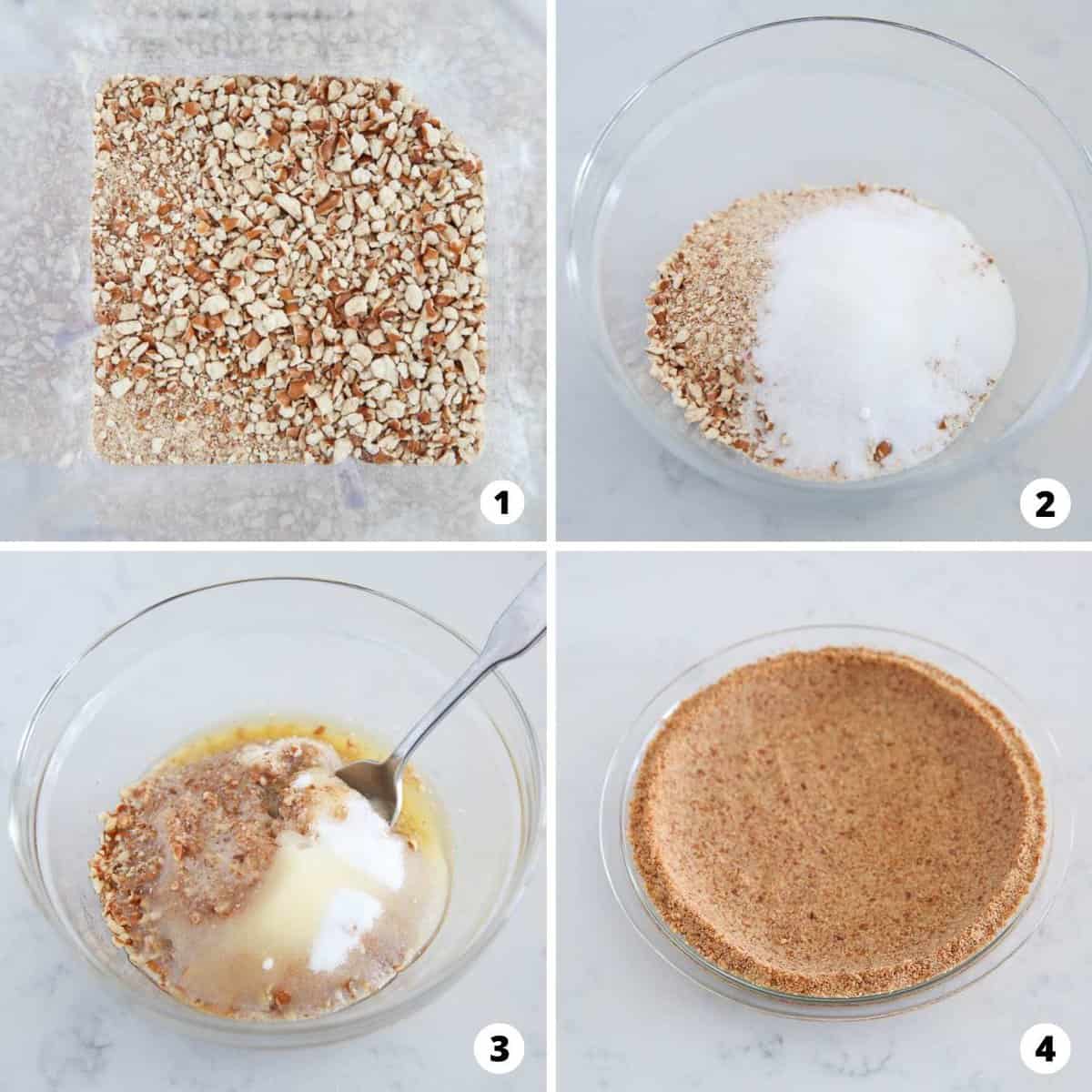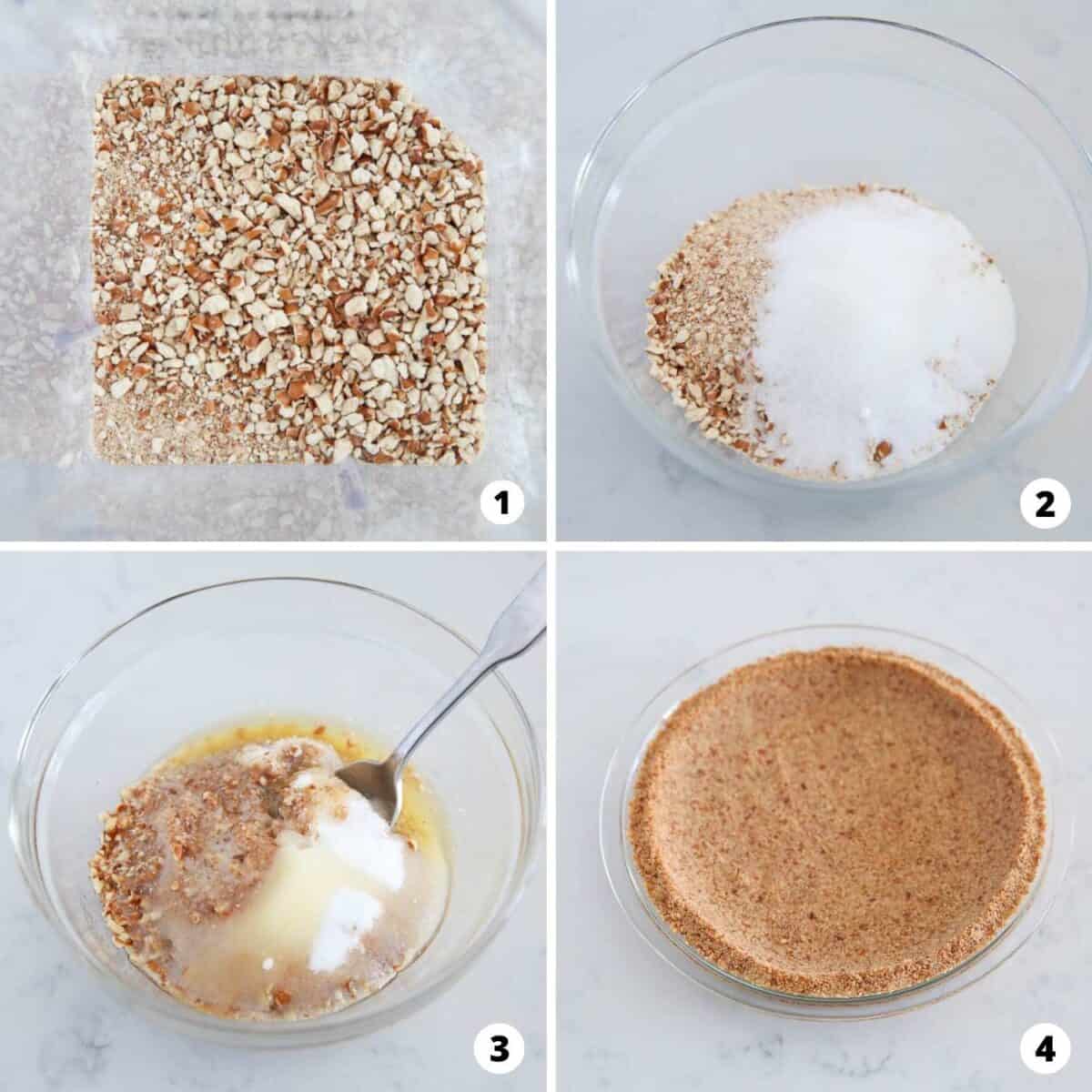 Crush pretzels. Pulse the pretzels in a food processor or blender until they are finely ground. You can also put the pretzels into a large zip-top bag and use a rolling pin or a mallet to hand crush the pieces to fine crumbs.
Add sugar. Transfer the pretzels to a medium bowl and add the sugar. Mix to combine.
Add butter. Pour the melted butter into the bowl and mix everything well. You should have a wet sandy consistency.
Bake. Press the mixture evenly into a 10-inch pie plate. I find it easier to start with the edges of the crust first and then work my way into the middle of the dish. You can use a flat-bottomed cup or measuring cup to help you press the crumbs in firmly and evenly. Bake pie crust for 10-minutes and let the crust cool completely before filling.
Expert Tips
Grease pie dish. There is usually enough butter in the crust to let you easily remove pieces from the dish. To ensure easy removal, you can also spray the dish lightly with cooking spray or brush lightly with butter.
Add more butter. If your crust seems a bit dry and won't hold together in the pie dish before baking, pour it back into a bowl and add another tablespoon of melted butter until it holds together. Transfer back to your pie dish.
Pack the crumbs tightly. To get a nice firm crust, use the bottom of a flat cup to press the crumbs into the pie dish. It's an easy way to pack the crumbs down.
Pack the crumbs evenly. Try to pack your crumbs as evenly as possible, making the edges of the crust a little bit thicker to hold in the filling.
Blind bake or not: Sometimes it may not make sense to bake your crust before filling it, like when making a no bake pie. In these cases, it's okay to freeze your crumb crust instead of baking.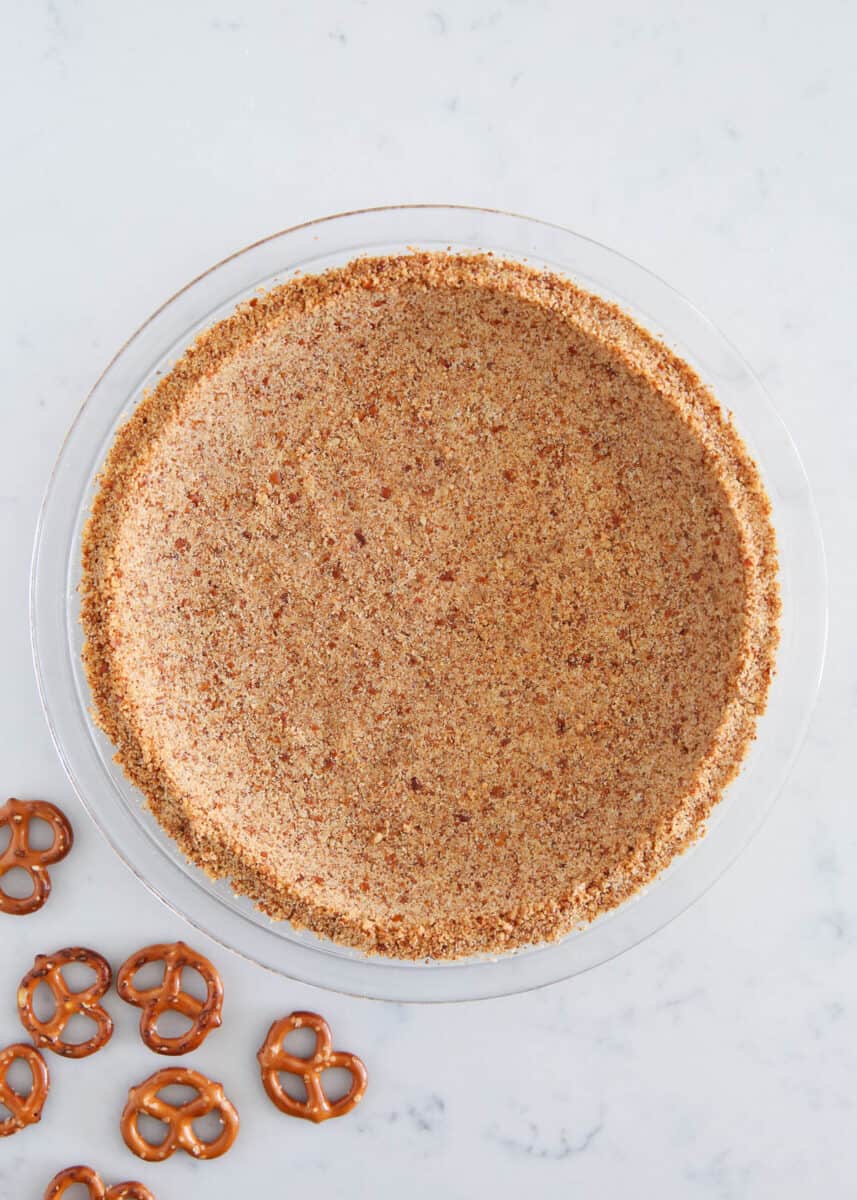 Ways to Use Pretzel Pie Crust
A pretzel crumb crust works so well with a lot of pies and bar recipes. I love pairing sweet fillings with the saltiness in the crust to get that awesome salty-sweet combination. Some of my favorite uses are:
Recipe FAQs
Can I leave out the sugar?
The sugar gives this crust a nice sweet and salty taste. It also helps the pretzel pie crust stick together as it bakes. I recommend keeping the sugar in the recipe, but you can try reducing it by a tablespoon to suit your tastes.
Why is my pretzel crust so crumbly?
There are a couple of reasons for a crumbly crust. The first is that you may need to add a bit more melted butter. The consistency you're looking for is wet sand. Try adding an additional tablespoon of melted butter.

The other reason for a crumbly crust is that your pretzel pieces may not be fine enough. Larger pieces don't combine as well as finer pieces do. Try processing the pretzels into smaller pieces.
How much crumb do I need for a 9×13" pan?
Depending on how thick you want your crust to be, I suggest doubling this recipe to cover a 9×13" pan.
Storage
You can make this pretzel pie crust up to 3 days in advance and store it in the refrigerator either baked or unbaked, tightly covered with plastic wrap.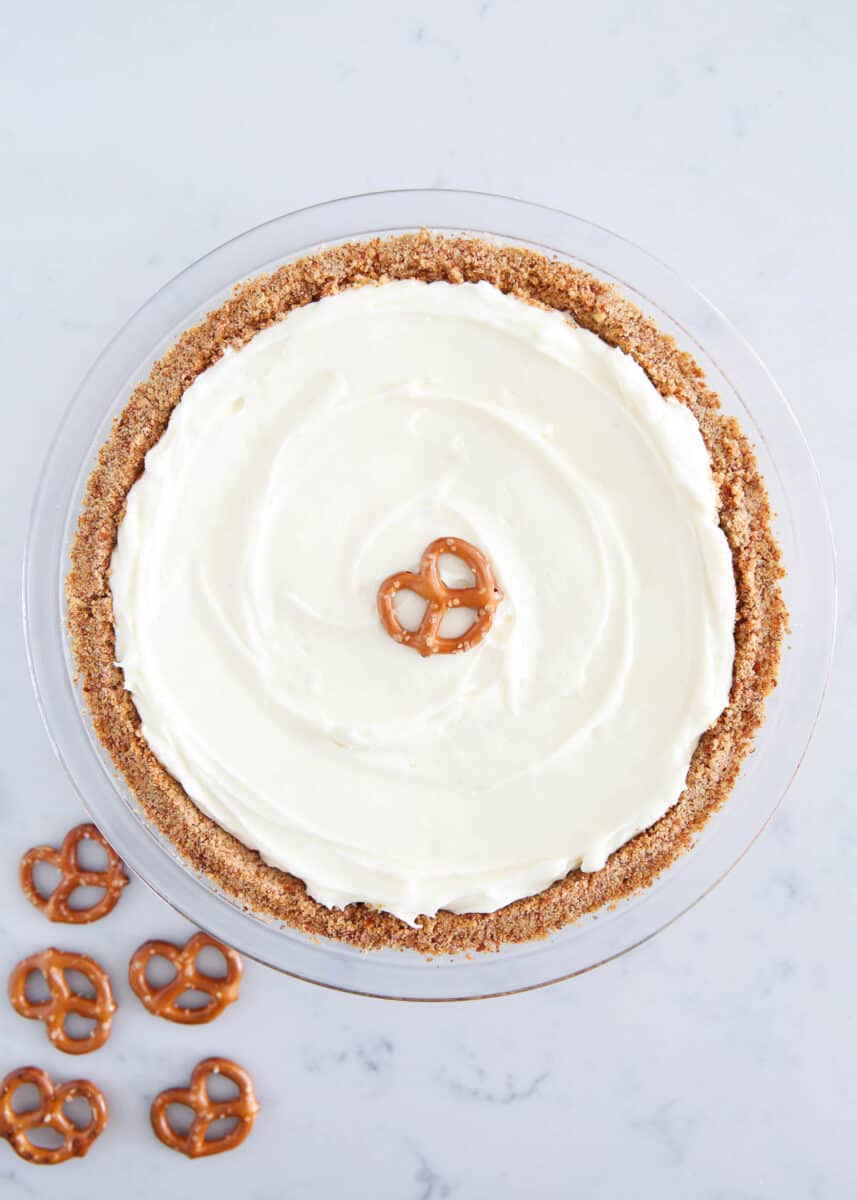 HUNGRY FOR MORE? Subscribe to my newsletter and follow on Facebook, Pinterest and Instagram for all the newest recipes!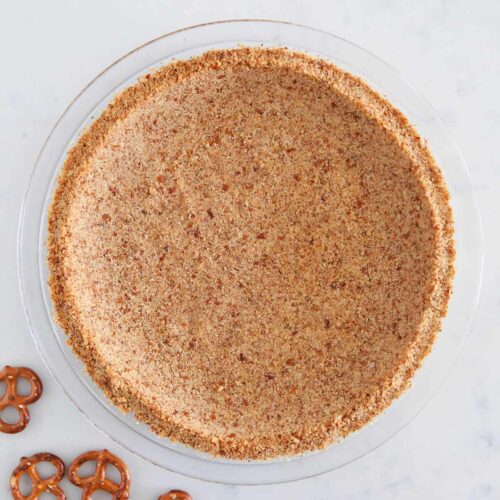 Pretzel Crust
Making a pie crust doesn't have to be stressful thanks to this easy pretzel pie crust recipe. It has only 3-ingredients and takes about 30 minutes to prepare. This foolproof recipe is a great option for all of your pudding and custard pies!
Ingredients
Pretzel Crust
4 cups (145 grams) mini pretzels
½ cup (113 grams) unsalted butter , melted
3 Tablespoons (40 grams) granulated sugar
Instructions
Preheat the oven to 375°F.

In a food processor or blender, pulse pretzels until finely ground (you should have about 1 1/4 cups ground pretzels). Pulse in melted butter and sugar until combined.

Press evenly into 10-inch pie dish. If you are using a smaller 9-inch pie pan, discard about 1/4 cup pretzel mixture. Bake 10 minutes or until firm. Let cool completely. You can refrigerate once dish is cool to the touch to speed up the process.

Spread desired filling on top of the cooled crust.
---
Notes
Make-ahead: This pie can be made 3 days in advance. Store tightly covered with plastic wrap.
Fillings: We love this pretzel crust for our key lime pie, no bake cheese cake and banana cream pie. It's also delicious filled with pudding or custards.
Nutrition
Serving: 1slice | Calories: 582kcal | Carbohydrates: 101g | Protein: 12g | Fat: 15g | Saturated Fat: 8g | Polyunsaturated Fat: 2g | Monounsaturated Fat: 4g | Trans Fat: 0.5g | Cholesterol: 32mg | Sodium: 1469mg | Potassium: 267mg | Fiber: 4g | Sugar: 8g | Vitamin A: 370IU | Vitamin C: 2mg | Calcium: 36mg | Iron: 5mg
Nutrition provided is an estimate. It will vary based on specific ingredients used.
Did you make this recipe? Don't forget to give it a star rating below!