Pepperoni Meatballs, by Karen of The Food Charlatan for I Heart Naptime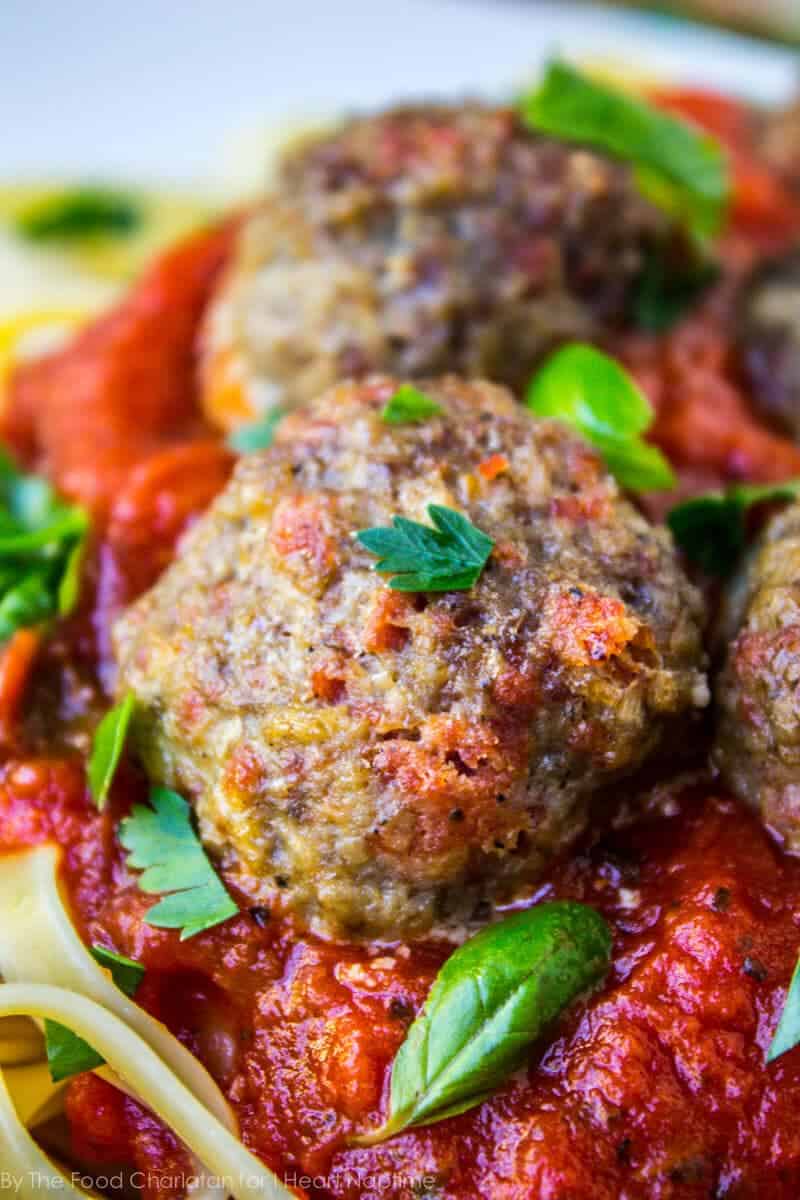 These meatballs are made with pepperoni slices that have been ground in a food processor. So the first time I tried it, I dumped the whole package in, snapped the lid on, and flipped the switch. As I watched the blade spin I noticed something that looked like dirt. It certainly wasn't red, which is the only color you want to see when you're grinding pepperoni.
That was when I realized that I had forgotten to take out the little paper package that says "DO NOT EAT." You know, the stuff that keeps your pepperoni nice and fresh. SUPPOSEDLY. It looked a lot like dirt to me.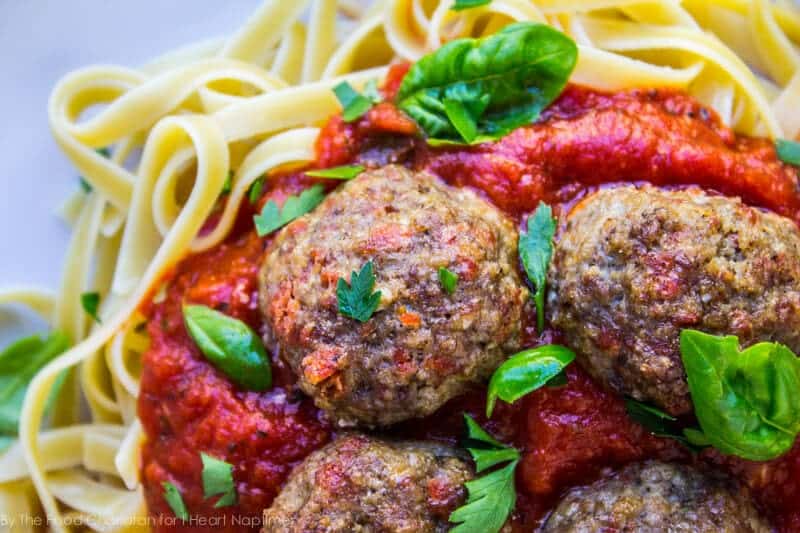 I highly recommend taking this little package out so that you don't poison yourself or at least so that you're not eating dirt. It's lucky I'm a pepperoni addict (you never know when you're going to get a homemade pizza craving) and had more pepperoni in the freezer to use.
So, when you make these meatballs (you really should), make sure you take out the dirt pack in the pepperoni.
This recipe was born out of desperation. I was having a meatball craving, and didn't have any ground pork in my freezer, just ground beef. I don't love all-beef meatballs, so I decided to branch out (mostly because pepperoni was the only other meat on hand.) Turned out awesome though. It's like eating pizza meatballs. What's not to love??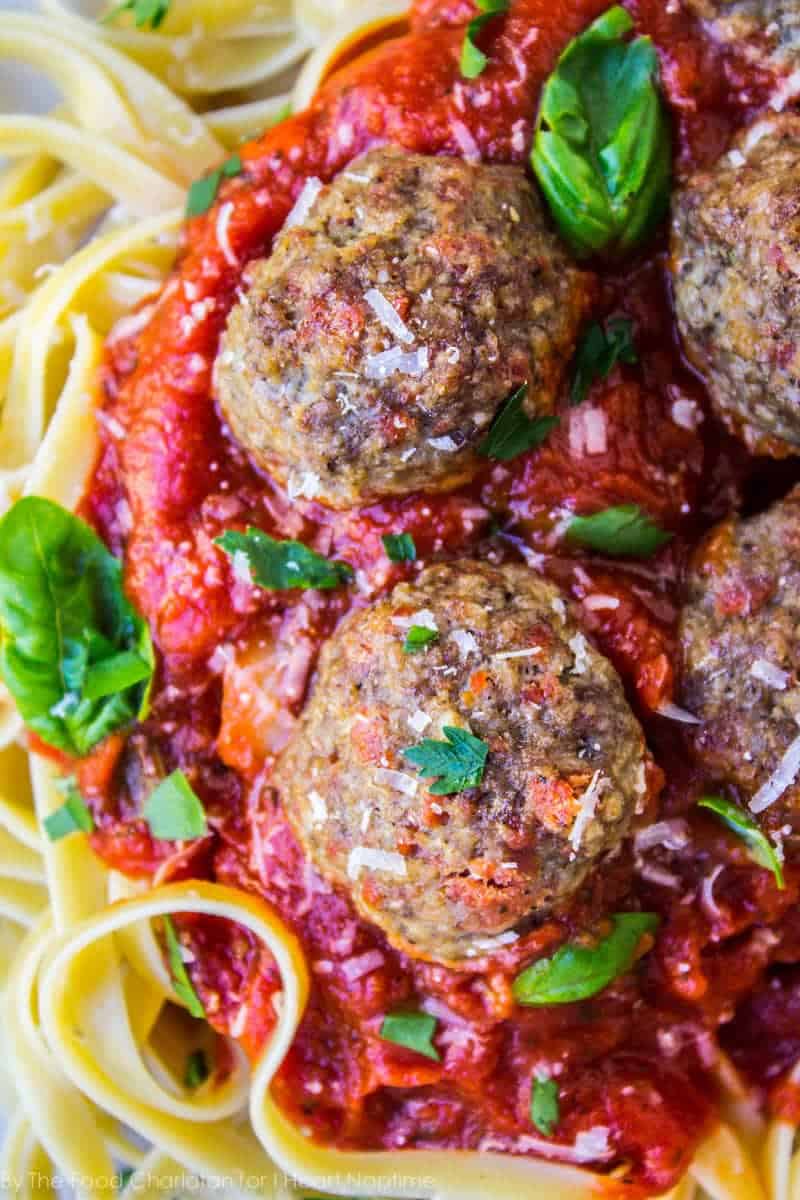 You might also enjoy these meatballs!
Slow Cooker Raspberry Balsamic Meatballs           //          Easy Baked Meatballs          //          Chicken Tikka Masala Meatballs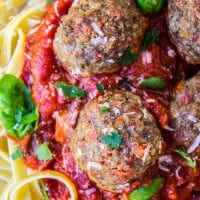 Pepperoni Meatballs
Combining pizza and meatballs to make the ultimate comfort food!
Ingredients
6

ounces

pepperoni

(sliced, 6 oz package)

8

ounces

mushrooms

1/4

of a medium onion

2

cloves

garlic

1

pound

ground beef

2

eggs

3/4

cup

milk

3/4

cup

panko breadcrumbs or quick oats

1.5

teaspoons

and 1/2 teaspoons salt

3/4

teaspoon

pepper

1/2

teaspoon

paprika
Instructions
Preheat the oven to 450 degrees F.

Add the pepperoni to a food processor.* Pulse thoroughly until it is ground completely. Add to a large bowl.

Add the mushrooms, onion, and garlic to the food processor and pulse until ground. Ignore the fact that this mixture looks extremely questionable and add it to the bowl.

Add the ground beef, eggs, milk, breadcrumbs, salt, pepper, and paprika.

Line a large baking sheet with foil and coat with nonstick spray.

Use your hands to combine the mixture. I know it feels gross, but it works better than a spoon and makes the meatballs more tender.

Form the meatballs into balls a little smaller than a golf ball. (Or any size you want, as long as they are uniform.)

Bake for 10-12 minutes, or until browned on the bottoms.

Serve with pasta and marinara! Makes about 25-30 meatballs.
Notes
*Make sure to take out the fresh pack thing that says not to eat it. If you blend it up with your pepperoni you will have to throw the whole thing out. Not that I would know.
Nutrition
Calories:
105
kcal
|
Carbohydrates:
3
g
|
Protein:
6
g
|
Fat:
7
g
|
Saturated Fat:
2
g
|
Cholesterol:
33
mg
|
Sodium:
303
mg
|
Potassium:
119
mg
|
Vitamin A:
50
IU
|
Vitamin C:
0.4
mg
|
Calcium:
21
mg
|
Iron:
0.7
mg
PIN THIS RECIPE