It takes just 3 ingredients to make this perfect poached eggs recipe in under 10 minutes! With my tips and tricks, you'll learn how to make restaurant-style poached eggs with a delicately cooked egg white and a velvety runny yolk, perfect for eggs benny, avocado toast, and more!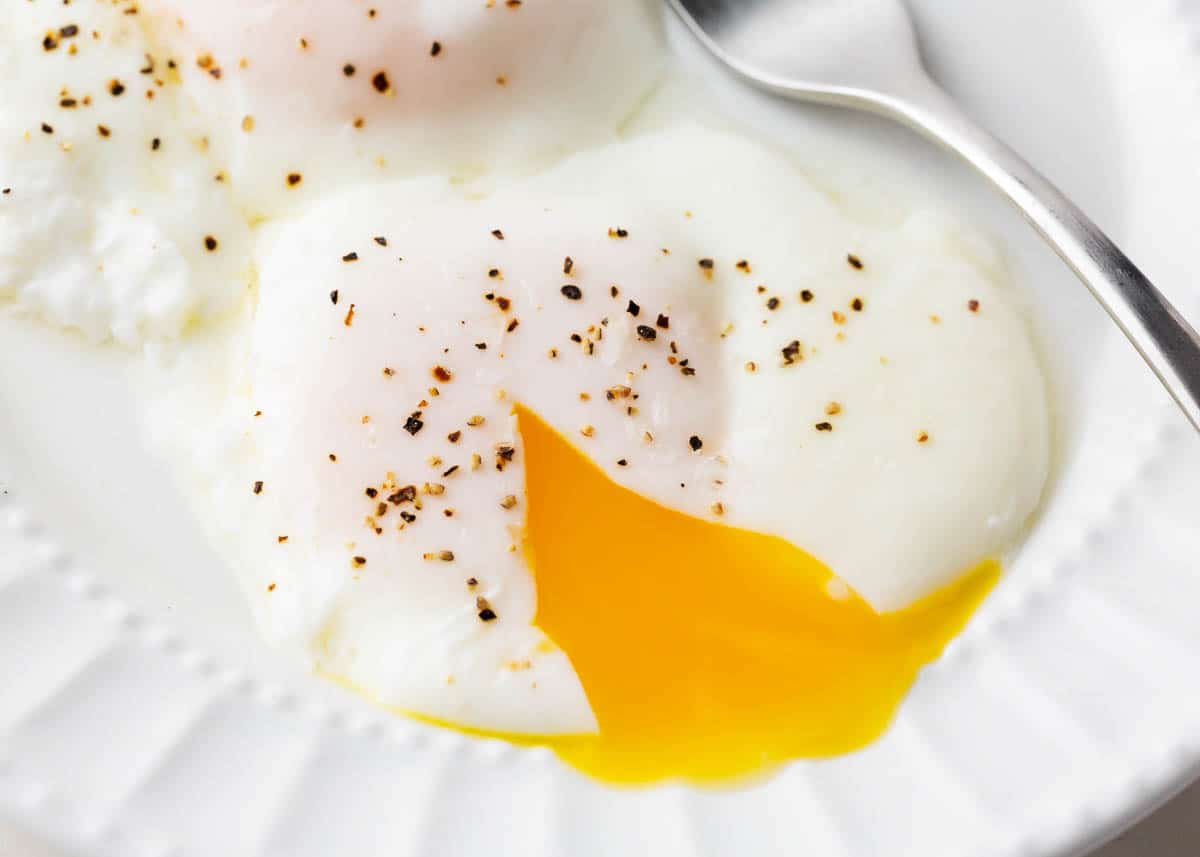 How to Poach an Egg Perfectly
Switch up your scrambled eggs, sunny side up eggs or hard boiled eggs from time to time and impress your crowd with perfect poached eggs benedict on special occasions, or avocado toast with egg any day of the week!
This poached egg recipe is just one of many ways to prepare one of the most popular breakfast foods, but for some reason, the poached egg has got people stumped!
I promise it's so much easier to make than you think, and with my tips for making easy poached eggs at home, you won't have to wait to eat out to have them!
Learning how to poach an egg requires just 4 things. The eggs, water, vinegar, and a slotted spoon. The results are solid yet delicate egg whites with a deliciously runny yolk every time.
If you can learn how to make an omelette, you can learn how to poach eggs. So, let's get started!
What Is a Poached Egg?
Poaching an egg means cooking it out of its shell in low-temperature water (less than a simmer or steam) until the egg whites are cooked and delicate and the egg yolk is nice and runny.
It's the classic way to enjoy eggs benedict, but it can also be served on toasted crusty bread, over veggies, with a side of hash browns and bacon, in an egg skillet, and more.
Ingredients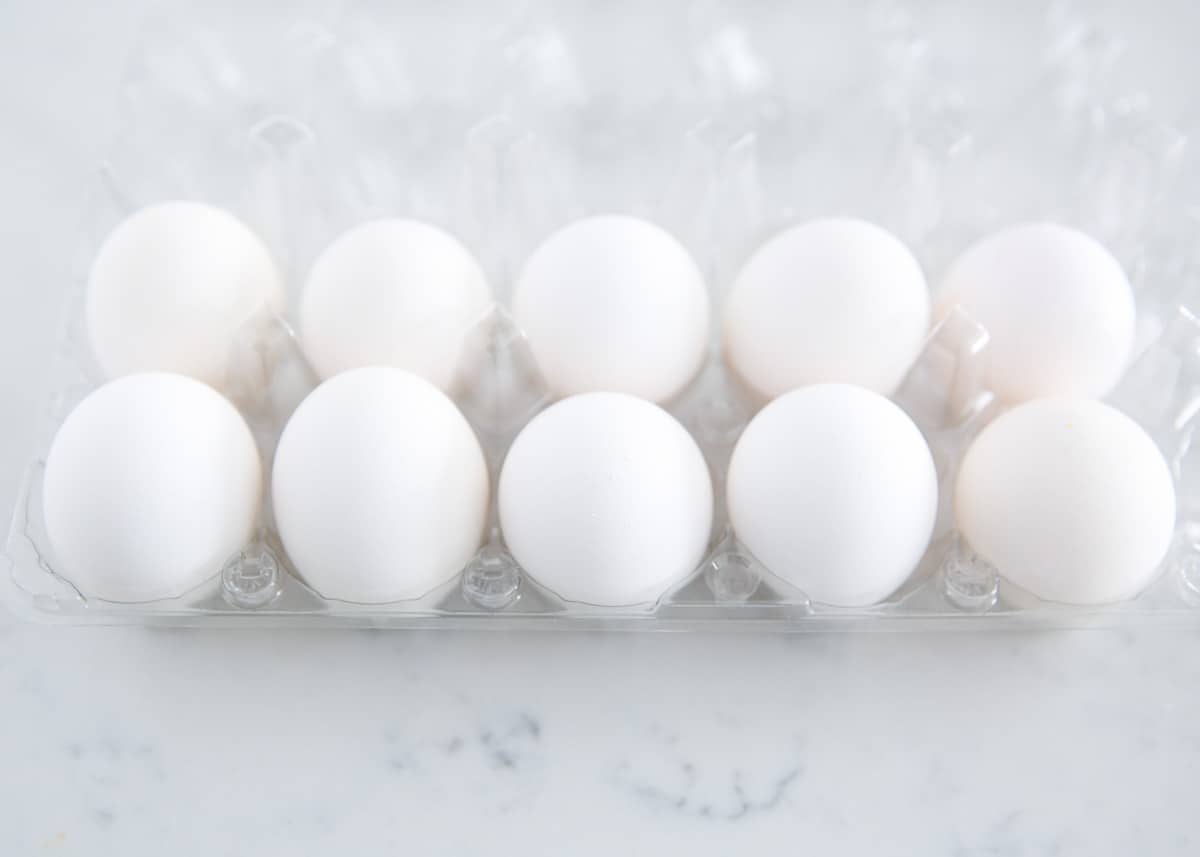 Find the full printable recipe with specific measurements below.
Eggs: I make about 4 poached eggs at a time, so if you want to make more, you'll need to work in batches. It's important to have them all start at the same temperature, so I keep them in the fridge so they are nice and cold.
Vinegar: Using vinegar in the simmering water helps the whites to solidify and hold the yolks. The fresher the eggs the better, and the less likely the egg whites will disperse and separate. You can use apple cider vinegar, but avoid any vinegar that will color the poached eggs or change the flavor.
A Shortcut
You can successfully make these perfect poached eggs by using the microwave instead! Microwaved poached eggs aren't traditional, and you can only make one at a time, but if you're in a pinch, it's the next best thing.
Place water and vinegar in a microwave-safe bowl. Crack the egg and slowly add it in. With a toothpick, poke the yolk a few times and cover the bowl with plastic wrap. Microwave for 1 minute, and remove the egg from the water immediately after. If you notice it needs a bit more time, continue microwaving for another 15-20 seconds.
How to Make Poached Eggs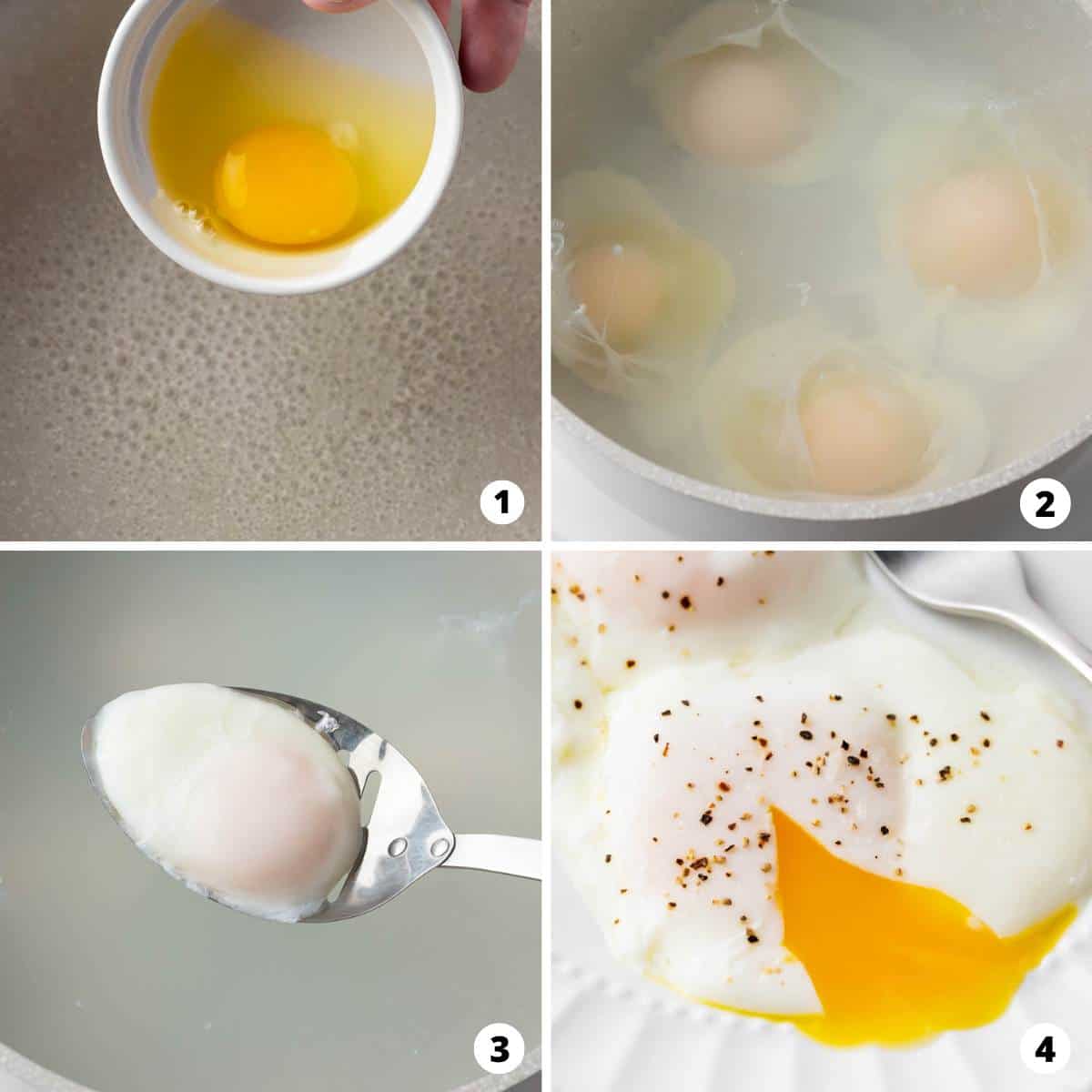 Prepare the pot of water. You won't need much water, just about 3 inches. You don't want it too hot or it will keep the egg whites from solidifying around the yolk. If it's not hot enough, the egg whites will be ruined as it waits for the water to heat up. The water and vinegar are ready when tiny bubbles are rising from the bottom but there's no movement on the surface. At that point, gently slide your cracked egg into the water.
Add the cracked eggs. Do this with the remaining 3 eggs. I will say that if this is your first time, you may not have the results of a professional chef and may need some practice, but that's ok! If you're adding all 4 at the same time, leave room between each one so they don't attach. Immediately remove the pan from the heat and cover it with a lid.
Set a timer for 4 minutes. Once they're ready, use a slotted spoon to immediately lift them out of the water and dab them on a paper towel to remove excess water. Allowing them to sit in the heat any longer will cause them to overcook.
Remove and eat! Serve your perfect poached eggs immediately with a sprinkling of salt and black pepper. Enjoy!
Expert Tips
Even temperature eggs. I use cold eggs so that I know they will cook evenly for exactly 4 minutes. You can use room-temperature eggs, as long as they start at the same temperature, but you will want to check for doneness a little earlier.
If using a gas stove. You can simply turn off the burner and keep the pot where it is. If you have an electric stove that retains heat even once the burner is turned off, you'll have to move the pot to an area that has no heat.
Use the freshest eggs. Older eggs don't have the same quality of yolk that a fresh batch of eggs has.
For more plump-looking poached eggs, use a large pot with at least 4 inches of water. It will change the shape of the egg from flat to a more round shape.
Recipe FAQs
What is a swirling water vortex for poached eggs?
This is a technique used by more seasoned egg poachers! Just kidding, you can try it if you want. It helps shape the eggs nicely, rather than falling flat like a fried egg.

You swirl the water around in the same direction before adding the eggs. That's it! Try it and see.
Do I drop the egg directly into the water?
Ideally, you want to add the egg to a small bowl or ramekin first and then gently slide it into the water. You can tilt the side of it into the water, dipping one side of the bowl in until the egg slides in. It's the best way to make this a gentle process.
How long to poach an egg?
The real answer to this is it depends on how you like your eggs. The time it takes for them to reach your desired doneness will be the difference of a minute or two.

I like mine cooked for 4 minutes. It gives them a delicately cooked egg and a slightly runny center. If you like yours a bit more solid, leave it for a minute or two longer.
Poached Eggs Serving Suggestions
To keep the egg yolk runny you want to serve it will it's still warm. A bit of freshly cracked pepper and salt is all I ever really use, but you can add other herbs and spices like fresh dill, chives, everything bagel seasoning, a pinch of cayenne, or even some paprika.
Enjoy your poached eggs as eggs benedict for a special brunch, or with other breakfast sides like bacon, breakfast potatoes, breakfast meatballs, French toast, or a stack of buttermilk pancakes!
For lunch I like it overtop a rice bowl or grain bowl and for something a little lighter, overtop a salad.
Storing + Reheating
Keep any leftover poached eggs stored in cold water in an airtight container. They can last for up to 5 days in the fridge, however, after day 2 you'll notice they start to absorb the water and become a bit watery.
Reheat by bringing a pot of water to a boil, removing it from the heat, and placing the poached eggs in the water for about 30 seconds. You're not trying to cook the egg anymore, just warm it through.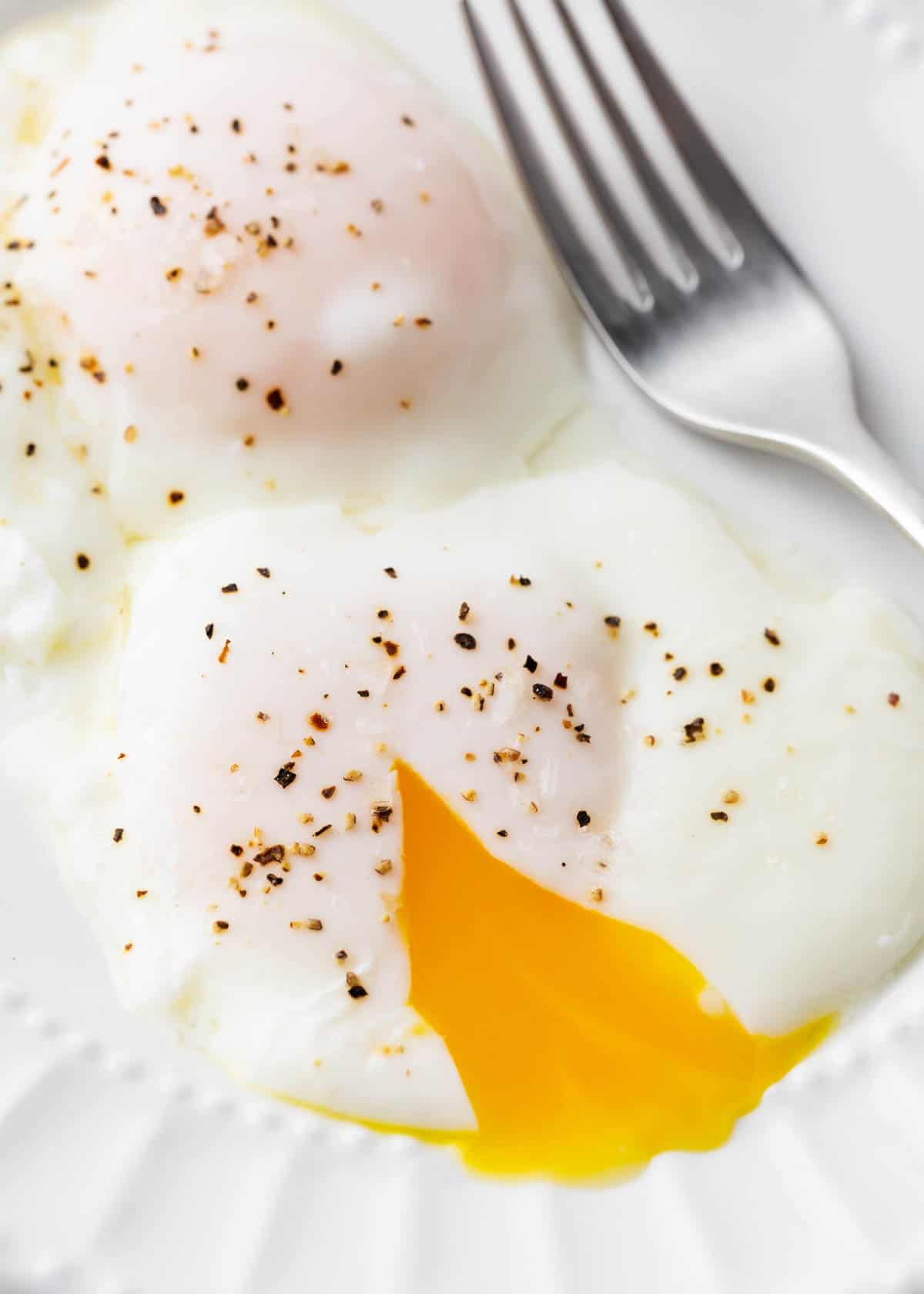 HUNGRY FOR MORE? Subscribe to my newsletter and follow on Facebook, Pinterest and Instagram for all the newest recipes!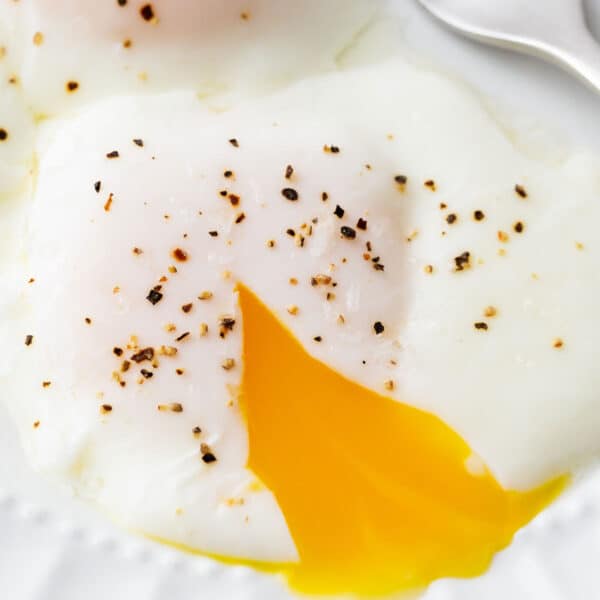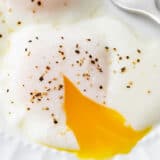 Poached Eggs Recipe
It takes just 3 ingredients to make this perfect poached eggs recipe in under 10 minutes! With my tips and tricks, you'll learn how to make restaurant-style poached eggs with a delicately cooked egg white and a velvety runny yolk, perfect for eggs benny, avocado toast, and more!
Ingredients
4 large eggs , cold
1 Tablespoon white vinegar
Instructions
Fill a medium saucepan about 3-inches deep. Bring to a light boil over medium-high heat. Reduce the heat to low. When the water is at a light simmer, stir in the vinegar. The water is ready when there are tiny bubbles rising from the bottom but the surface doesn't have any movement.

Crack each egg into a small bowl or ramekin. Carefully dipping the edge of a ramekin into the water, gently slide the egg out. Add remaining eggs. Immediately remove pan from heat and cover with a lid.

Let sit for 4 minutes (set your timer). Using a slotted spoon, immediately remove the eggs one at a time and dab on a paper towel to remove excess water.

Serve immediately. Sprinkle with flake sea salt and freshly cracked pepper.
---
Notes
Cold Eggs: To keep the time at exactly 4 minutes to poach, it is important to use eggs that are all the same temperature. Vinegar Substitutions: You can use apple cider vinegar, but don't use any vinegar like balsamic that can discolor the eggs. Electric vs. Gas Stove: If using an electric stovetop that retains heat, remove the pot as soon as you turn off the heat so it doesn't continue simmering. You can simply turn off the burner, cover, and let it rest on a gas stove.
Nutrition
Calories: 72kcal | Carbohydrates: 0.4g | Protein: 6g | Fat: 5g | Saturated Fat: 2g | Polyunsaturated Fat: 1g | Monounsaturated Fat: 2g | Trans Fat: 0.02g | Cholesterol: 186mg | Sodium: 71mg | Potassium: 69mg | Sugar: 0.2g | Vitamin A: 270IU | Calcium: 28mg | Iron: 1mg
Nutrition provided is an estimate. It will vary based on specific ingredients used.
Did you make this recipe? Don't forget to give it a star rating below!