Avocado toast with egg is one of my favorite quick, easy, and super healthy breakfasts to have on any given morning. Complete with fiber, good fats, and tons of protein for a delicious and ridiculously easy way to start your day!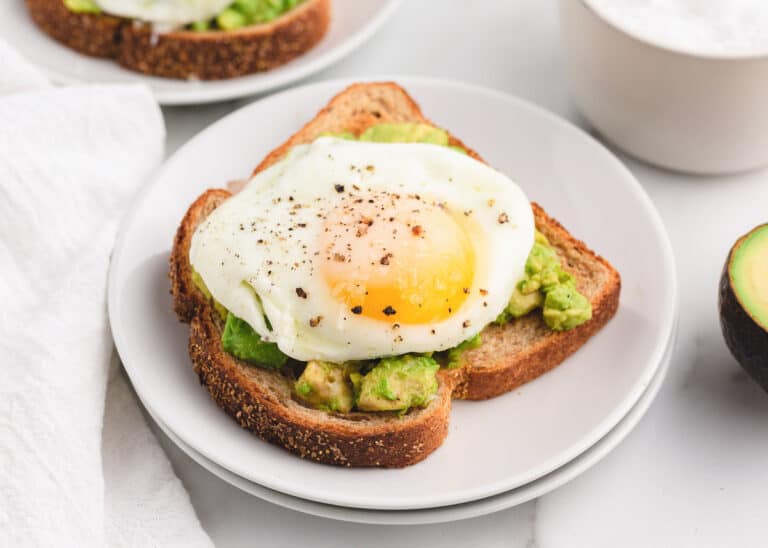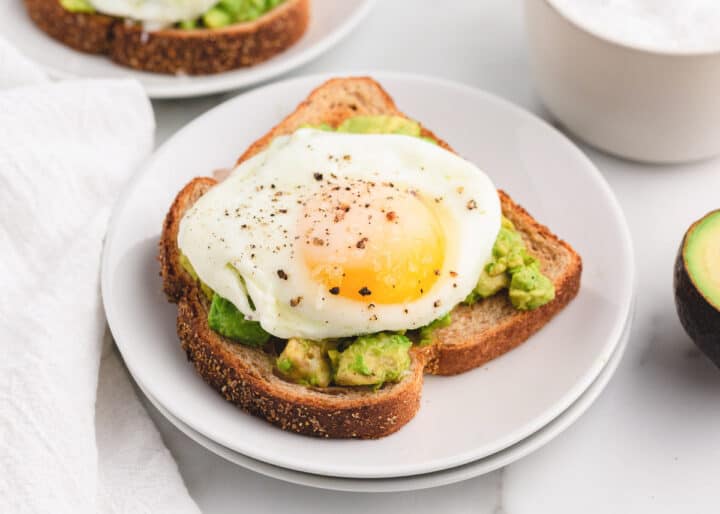 Healthy Avocado and Egg Toast
Avocado toast with egg on top may seem like a simple concept (you're not wrong, it is) but you can be sure there is a way to make the perfect slice of toast! Then there's the creamy avocado that you need to make sure is ripe enough. If you want it in slices, you're going to need to know how to cut an avocado just right!
The egg on top can be as simple as scrambled eggs, or if you prefer a poached egg, sunny side up egg, or fried egg, it's up to you! Finish it off with a little squirt of lemon on the avocado and a sprinkling of sea salt and pepper on top of the egg.
That, my friends, is one of the most simple and delicious ways to make a healthy breakfast for your entire family!
Recipe Ingredients
The best part of avocado and egg toast is it's customizable to your tastes or what you have on hand! Here is what I normally include on mine:
Bread: I prefer sourdough or wheat bread, but use your favorite brand as long as it is thick and sturdy.
Avocado: A ripe avocado that is soft is perfect since we will be mashing it.
Lemon juice: The acid in lemon helps keep your avocado green.
Salt and pepper: To season and taste your avocado.
Egg: Two large eggs for topping your toast.
Butter: To prevent your egg from sticking to the skillet and provide rich taste to the egg.
How to Pick Avocados
Since avocado's are key to the best avocado toast, you will want to make sure yours is ripe before starting this recipe! Here is how to tell when it's ready: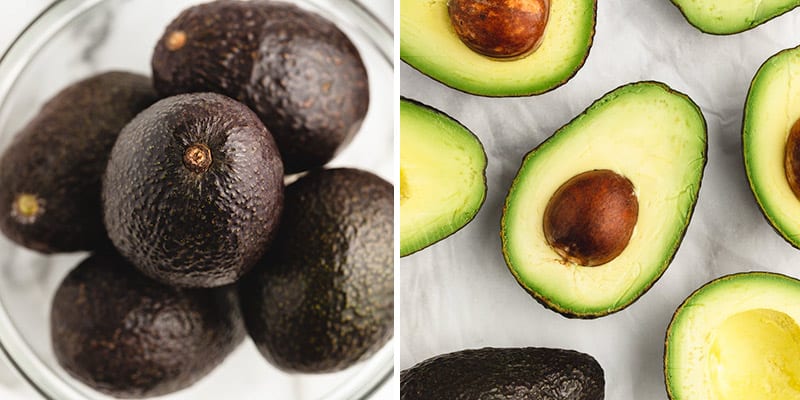 Give your avocado a gently squeeze with the palm of your hand. If the avocado gives slightly, it's ready to eat. If it's too firm, it needs to ripen for a day or two still. If it gives easily, it may be too ripe.
You can also check under the avocado stem at the top of the avocado. Pull the stem off gently. If it's green underneath, it's ready! If it's brown underneath, it's too ripe. If you have trouble getting the stem off, it's not ready to eat.
How to Make Avocado Toast with Egg
Avocado toast recipe with egg is simple to make and ready in only 10 minutes! Just follow these steps in order for best results.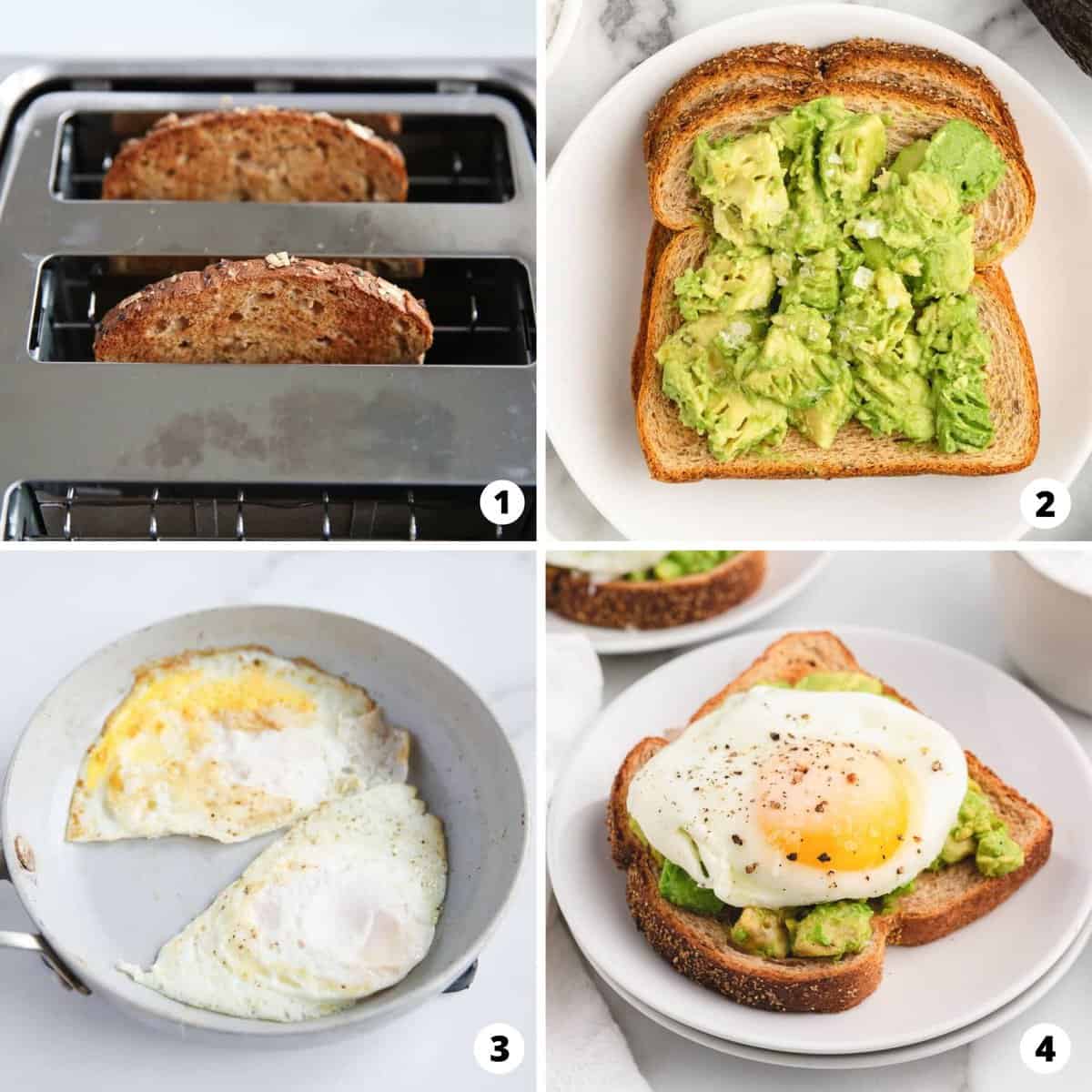 Toast bread. Toast your homemade bread until it's lightly golden around the edges. Set your toaster to a lower setting, that way it won't get dark too quickly.
Mash avocado. Slice open the avocado, remove the pit, and pour the content of the flesh into a small bowl. Squeeze lemon juice and salt and pepper on top and mash the avocado to desired consistency. Spread it over toasted bread.
Cook egg. Melt a little butter in a non stick skillet over medium heat and gently crack an egg into the pan. Lower the temperature to low heat and cook until the edges of the egg white are slightly brown and the yolk starts to firm up. Flip it for 30 seconds if you love eggs over-easy. Use the toast to sop up some of that yolk!
Assemble. Transfer the egg to on top of the avocado toast. Add a little sea salt and black pepper and enjoy immediately!
Just One More Slice!
Add a second slice of toast on top and turn the entire thing into a sandwich for breakfast, lunch, or dinner! Use my homemade wheat bread to make it even better!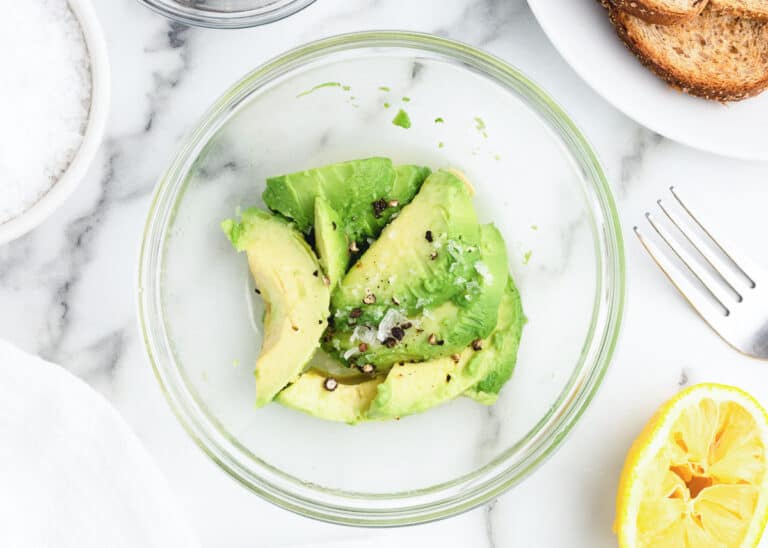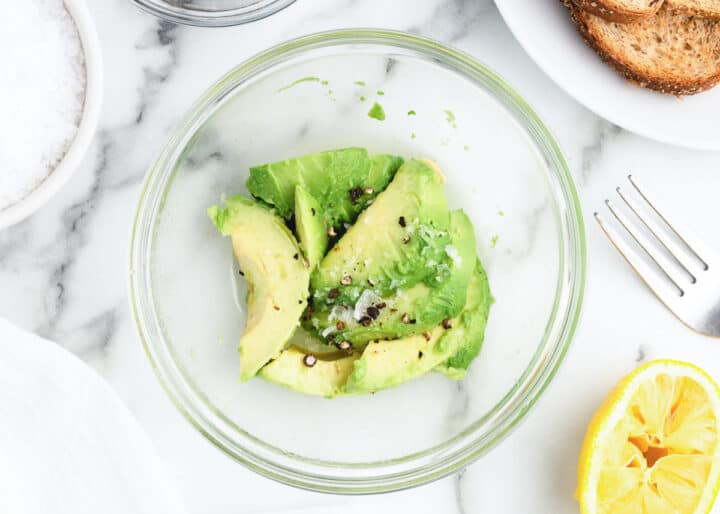 Tips for Success
Start by picking the right bread! What's your pleasure? Sourdough, artisan bread, sprouted whole grain breads, rye, pumpernickel, or gluten-free bread? There's no wrong answer, as long as it's sturdy enough to hold the avocado and the egg toppings.
If you'd rather wait to toast your bread until you're making the eggs, do that.
Use a drizzle of avocado oil or olive oil to cook your eggs for a little extra healthy fat.
If you're mashing your avocado early on, squirting with lemon juice is an important step to keep it from turning brown.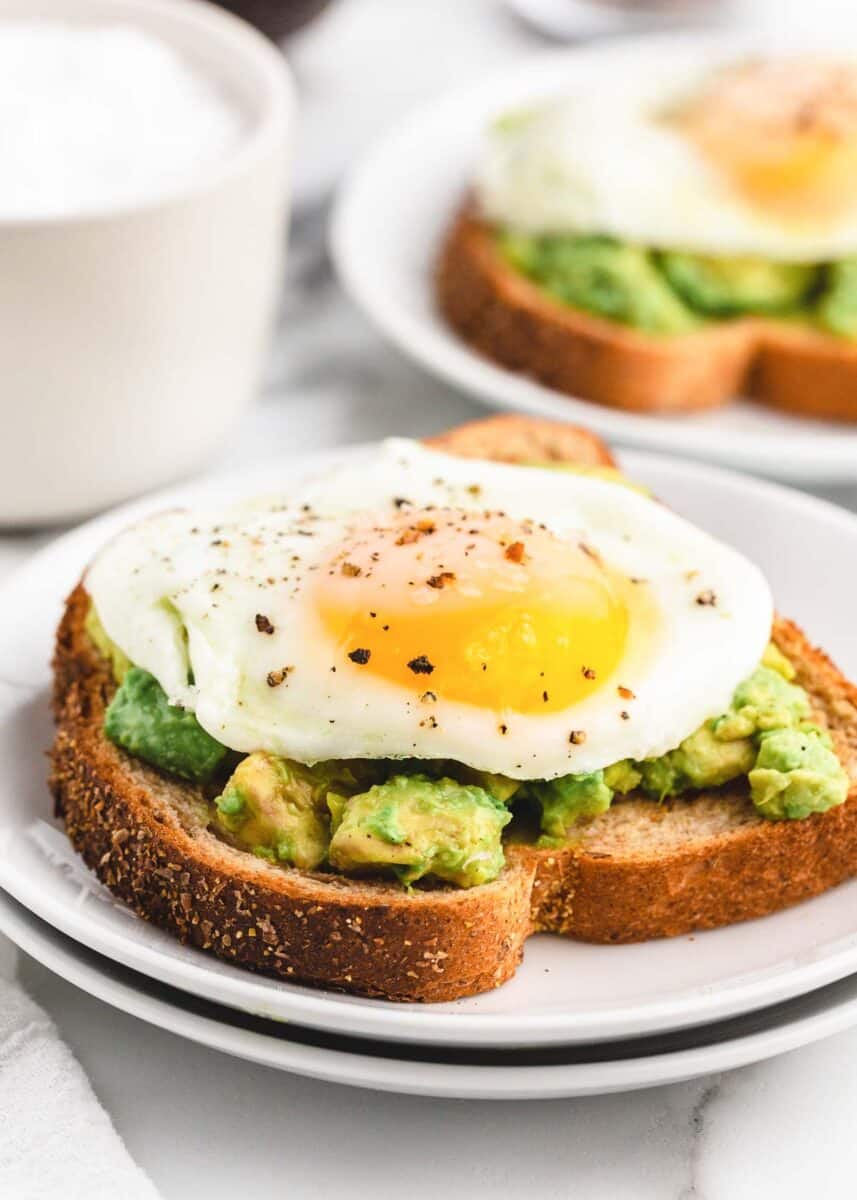 Egg and Avocado Toast Variations
This avocado toast recipe with the bonus egg on top is amazing as far as healthy breakfast ideas go. However, there are plenty of ways to jazz it up.
Everything bagel seasoning is so good sprinkled on top of the egg or avocado. Or both.
If you like a little kick, add a few dashes of hot sauce. Frank's or sriracha on top of the egg or in the avocado mixture itself would be great.
There is always room for bacon whether on the side or underneath the avocado. Some bacon crumbles on top would be a nice salty smoky addition.
Throw on some pico de gallo as a layer. Either on top of the avocado or as a topping for the egg.
If you really want to turn it up a notch, think about adding toppings like caramelized onions, goat or feta cheese, fire roasted, or sun dried tomatoes.
FAQs
What is the best bread to use for avocado toast?
While you can use any bread it is best to use a thick and sturdy slice that will hold the weight of the toppings without falling apart
How do I ripen an avocado faster?
If your avocado is not ripe, you can speed the process up by placing it in a brown paper bag with an apple. Fold the bag at the top to 'seal' it. The apple releases ethene gas that may help ripen your avocado more quickly.
Is avocado toast healthy?
When eaten in moderation, this is a very healthy breakfast. Avocado's are a great source of healthy fats as well as many vitamins and minerals. Eggs are a lean protein and if you whole wheat bread you are adding fiber to your morning!
Can I make this recipe with different styles of eggs?
Of course! Fried egg, scrambled, poached, sunny side up, or even hard-boiled are all great options.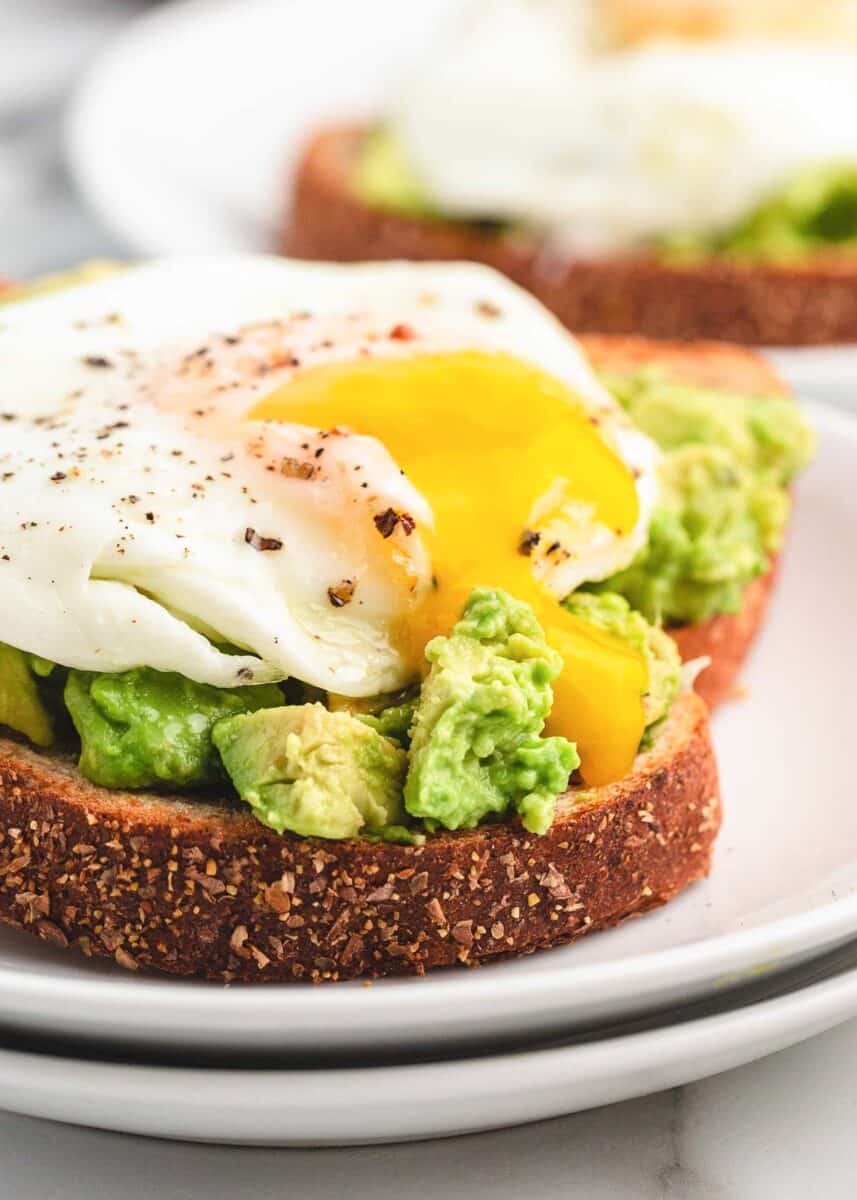 More Healthy Breakfast Ideas:
HUNGRY FOR MORE? Subscribe to my newsletter and follow on Facebook, Pinterest and Instagram for all the newest recipes!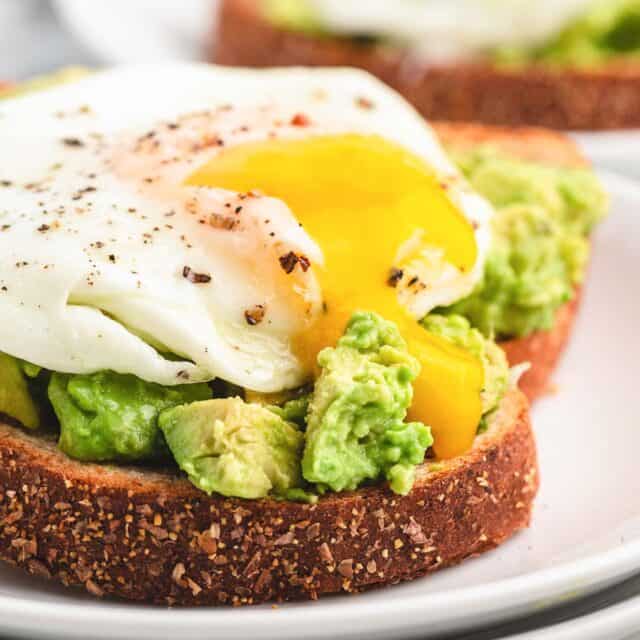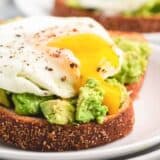 Avocado Toast With Egg
Avocado toast with egg is one of my favorite quick, easy, and super healthy breakfasts to have on any given morning. Complete with fiber, good fats, and tons of protein for a delicious and ridiculously easy way to start your day!
Ingredients
2 slices bread , I prefer sourdough or wheat
1 ripe avocado
½ lemon , juiced
½ Tablespoon butter
2 large eggs
flaky sea salt & freshly ground pepper , more to taste
Optional toppings: Red pepper flakes, pico de gallo, bacon
Instructions
Toast your bread until lightly golden around the edges. Place on a plate.

Remove the pit from the avocado and discard. Slice and place flesh into a bowl. Squeeze lemon juice over top of the avocado. Salt and pepper to taste. Mash avocado with a fork until you reach desired texture.

Spread mashed avocado onto toast.

Heat a pan with a little bit of butter over medium heat. Swirl to coat the pan. Crack the eggs gently into one spot on the pan. Reduce heat to medium-low and cook until edges are slightly brown and the yolks begin to firm up.

Place on top of avocado toast and add a little bit of flaky sea salt and freshly cracked pepper. Serve immediately.
---
Nutrition
Calories: 332kcal | Carbohydrates: 25g | Protein: 11g | Fat: 23g | Saturated Fat: 6g | Trans Fat: 1g | Cholesterol: 171mg | Sodium: 240mg | Potassium: 637mg | Fiber: 9g | Sugar: 3g | Vitamin A: 478IU | Vitamin C: 24mg | Calcium: 83mg | Iron: 2mg
Nutrition provided is an estimate. It will vary based on specific ingredients used.
Did you make this recipe? Don't forget to give it a star rating below!