These Hawaiian roll breakfast sliders are easy to make with sweet Hawaiian rolls filled with savory bacon, fluffy eggs and cheddar cheese. Topped with a buttery glaze then baked, they are the ultimate breakfast and a family favorite!
Other easy breakfast recipes we love include this breakfast casserole and French toast sticks!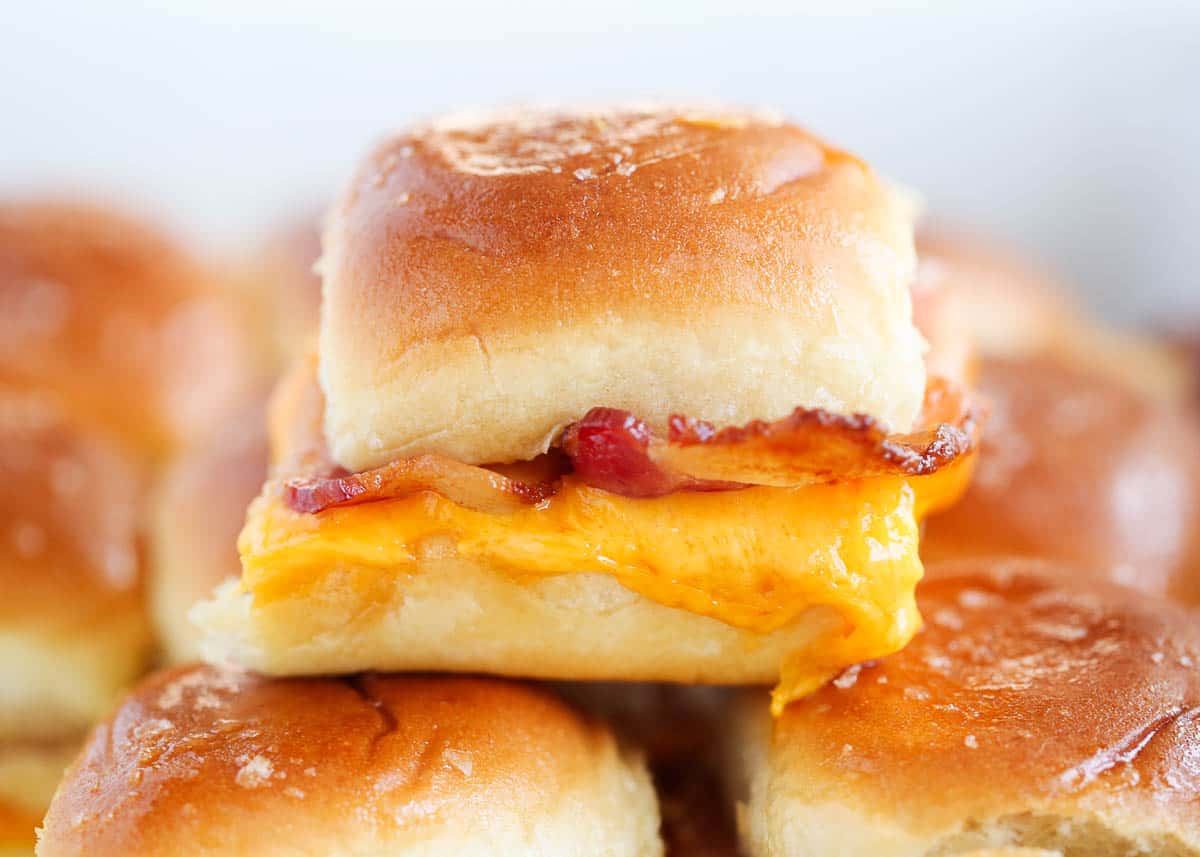 A Winning Breakfast Recipe!
There are some recipes you come across like my ham and cheese sliders that you just know are going to become an immediate staple in your house and this recipe for Hawaiian roll breakfast sliders is another.
Breakfast sliders are made with crispy bacon, fluffy eggs, and melty cheese then baked until golden. I love to use my Hawaiian roll recipe, but store bought rolls are a great timesaver.
This savory breakfast with a hint of sweetness from the melted maple butter on top is the best! I fall back on these sliders and my recipe for egg McMuffin often because they're customizable and easy to make on busy mornings.
Why This Recipe Works
Feeds a crowd. Depending on the size of your family or the number of guests you're serving, sometimes there are even enough leftovers for lunch or after-school snacks!
Super easy. The great thing about Hawaiian roll breakfast sliders is you're not making individual sandwiches! Just layer the sheet of rolls, pop in the oven, then brush the tops with melted maple butter.
Customizable. There are so many ways to make a slider. From cheeseburger sliders to meatball sliders, keep reading for tips on ways to make these your own.
Anytime sandwiches. These pull-apart snack-size breakfast sandwiches are super convenient and so much fun to eat. Make them for Sunday morning brunch or a weekday breakfast!
Recipe Ingredients
These Hawaiian roll breakfast sliders come together quickly with simple ingredients and are so easy to make. Check out everything you'll need below to get started.
Find the full printable recipe with specific measurements below.
Bacon: Learning the tips and tricks of how to cook bacon in the oven can help with getting the level of crispness you desire. The lack of grease splatter is a bonus!
Cheese: The cheese adds a lot of flavor and helps everything stay together.
Hawaiian rolls: Do not separate them. These rolls come attached and once you slice the sheets in half, it's much easier to layer the sandwiches this way. You only pull them apart once you're ready to serve them.
Water or milk: Adding liquid to eggs helps to create steam which keeps them light and fluffy. Milk will give you a richer flavor, but either works!
Variations
Different meat. Add sliced ham instead of the strips of bacon, or double up on the protein and use both. You can do the same with turkey, sausage patties, or ground pork sausage.
Make it savory. Omit the maple syrup and instead add hot sauce on top of the eggs and sprinkle garlic powder on top of the rolls.
Add veggies. Stir in some sautéed mushrooms and bell peppers with the eggs. Chopped spinach would also be great.
A different cheese. Swap the cheddar cheese layer for your favorite kind. Swiss cheese, provolone, Monterrey Jack, you name it.
Add some heat. If you like your Hawaiian roll breakfast sliders a little spicier, throw in some diced jalapenos into the eggs or add slices on top.
How to Make Hawaiian Roll Breakfast Sliders
Ready in just 45 minutes, these breakfast sliders with bacon are super easy to assemble and bake. The hard part is just waiting to take a bite!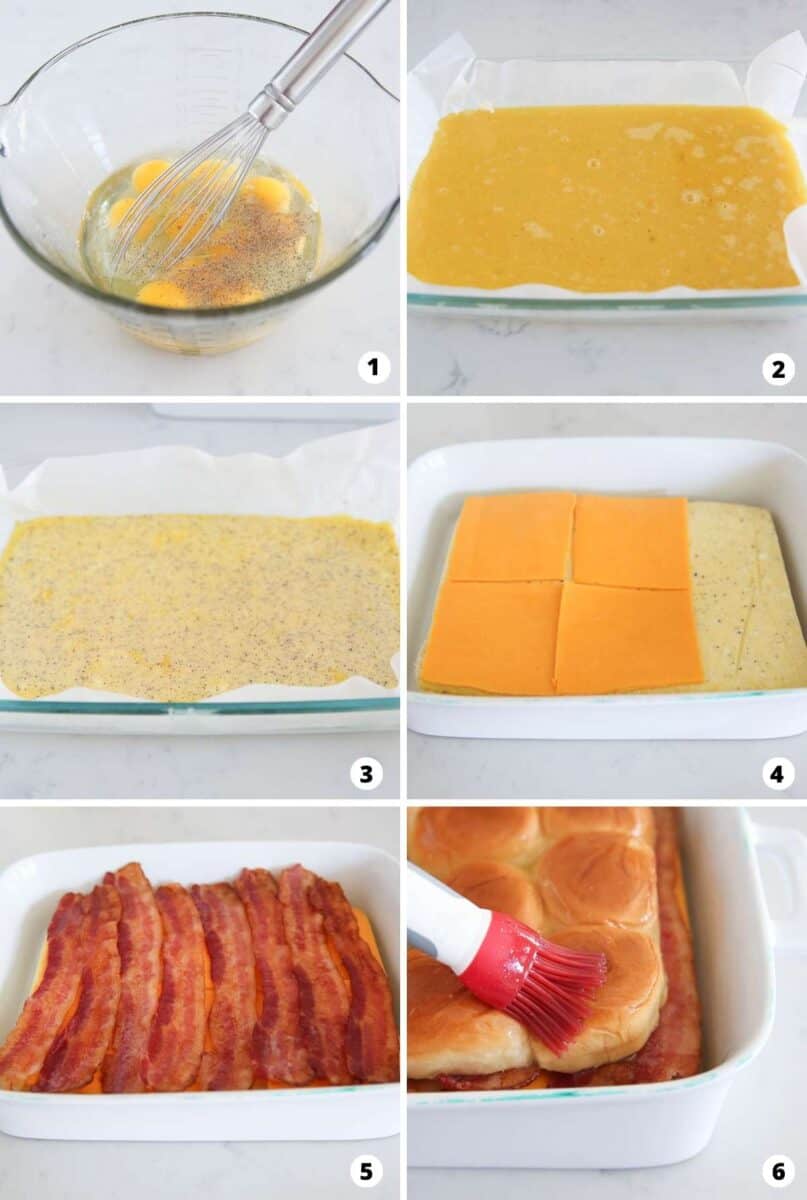 Make the eggs. Whisk the eggs, water, salt, and pepper together in a bowl.
Bake the egg mixture. Pour whisked eggs into the prepared baking pan and bake in a preheated 400°F oven for 13-15 minutes until the eggs are set. Allow them to cool slightly, then lift them out and set them aside.
Assemble the slider rolls by layer. Slice Hawaiian dinner rolls in half horizontally using a large serrated bread knife. Remove the block of bun tops and set those aside. Place the bottom half of the rolls in the same baking sheet you just used for the eggs and add the egg layer on top.
Add a layer of cheese. Place cheese slices in an even layer on top of the egg.
Now the bacon. Follow this with the cooked bacon. Feel free to add any extra meat you'd like at this point, breakfast sausage or otherwise. Sprinkle with chives, if desired, and add the whole block of the top buns back on top.
Brush the tops and bake. Melt butter and whisk with maple syrup. Brush the tops of the buns with this sweet buttery glaze and sprinkle with salt, if desired. Bake uncovered for 10-15 minutes until the cheese has melted. Serve warm!
Expert Tips
Don't want to bake eggs? I find the baked eggs help to hold the sandwiches together better, but you can also use a skillet to make scrambled eggs if you prefer.
Use parchment paper. When lining your glass dish with parchment paper, it not only helps with the easy lifting of the eggs out of the pan, it makes for easy cleanup. It means you can use the same dish to bake the sliders without having to dirty another one.
Prepare in advance. Cook your bacon ahead of time, and your eggs! Keep them stored in an airtight container in the fridge overnight and assemble Hawaiian roll breakfast sliders as directed the next morning.
When you're the guest! If you're bringing these as a contribution to a potluck brunch or just taking these on the go somewhere, it's a great idea to use a disposable foil dish that way you don't have to worry about the dish once they've been eaten.
Avoid soggy buns. Make sure to slice the rolls directly in half, making sure the bottoms aren't too thin. They need to be able to hold the weight of what's on top. Remove as much excess grease from the bacon as you can and assemble the buns just before baking. Don't let them sit assembled for too long.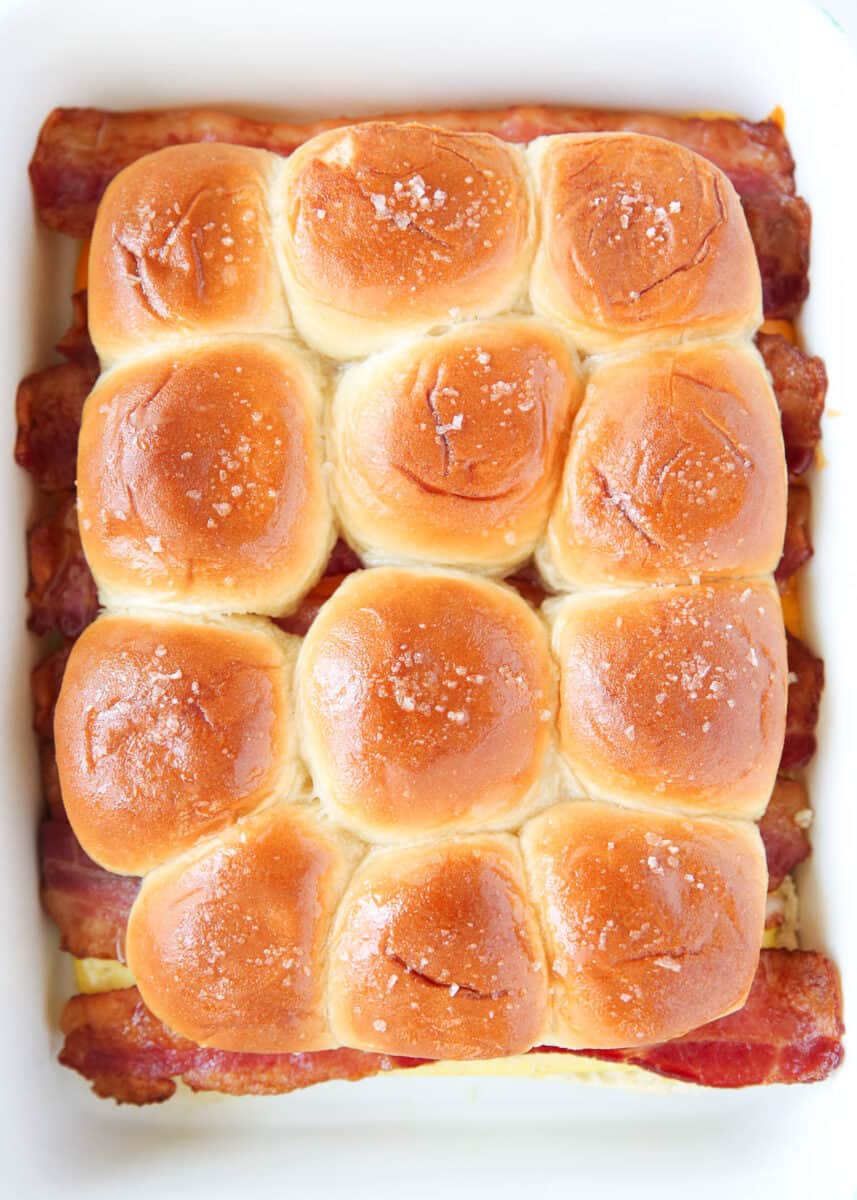 Recipe FAQs
Can I assemble these sliders ahead of time?
Technically yes, but I don't recommend it if you can help it. The bottom of the buns will get soggy after a while, so it's best to assemble them just before baking.
What is the best way to wrap mini sliders for breakfast on the go?
If you're taking them on the go or putting them in lunchboxes for school, I suggest waiting for them to cool completely and wrapping them in plastic wrap or foil. You can also place them in airtight containers suitable for packing in lunch bags.
Can I scramble the eggs instead of baking them?
Sure! Just make scrambled eggs as you normally would then scatter on top of the bottom half of the sliced Hawaiian rolls. I love how the baked eggs fit perfectly on the rolls, though!
Storing, Freezing, + Reheating
Keep leftover easy Hawaiian roll breakfast sliders in an airtight container in the fridge for up to 3 days. If you'd like to freeze the, wait until they are completely cooled then wrap each one individually in foil or plastic wrap. Transfer them to a freezer bag to keep them frozen for up to 3 months.
To reheat them, pop them back in the oven at 300°F for 5-10 minutes. A bit longer if reheating from frozen.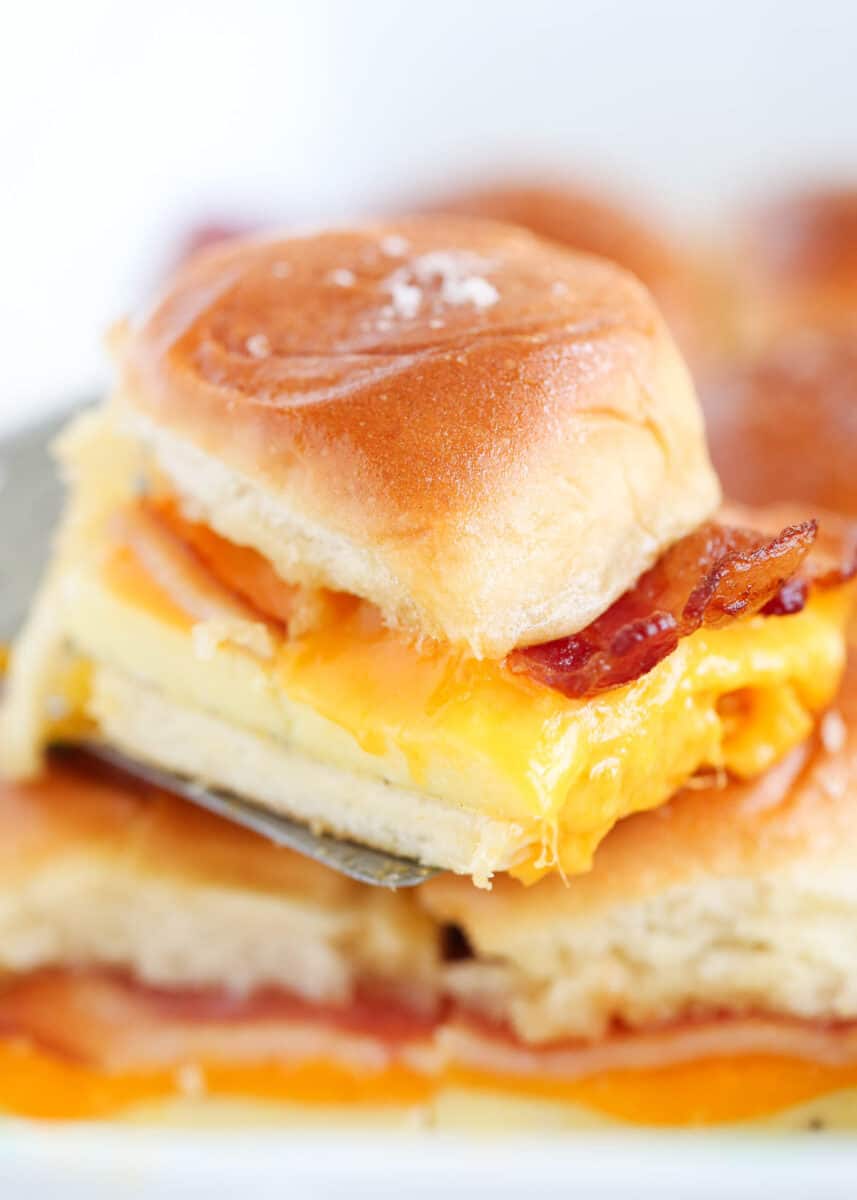 HUNGRY FOR MORE? Subscribe to my newsletter and follow on Facebook, Pinterest and Instagram for all the newest recipes!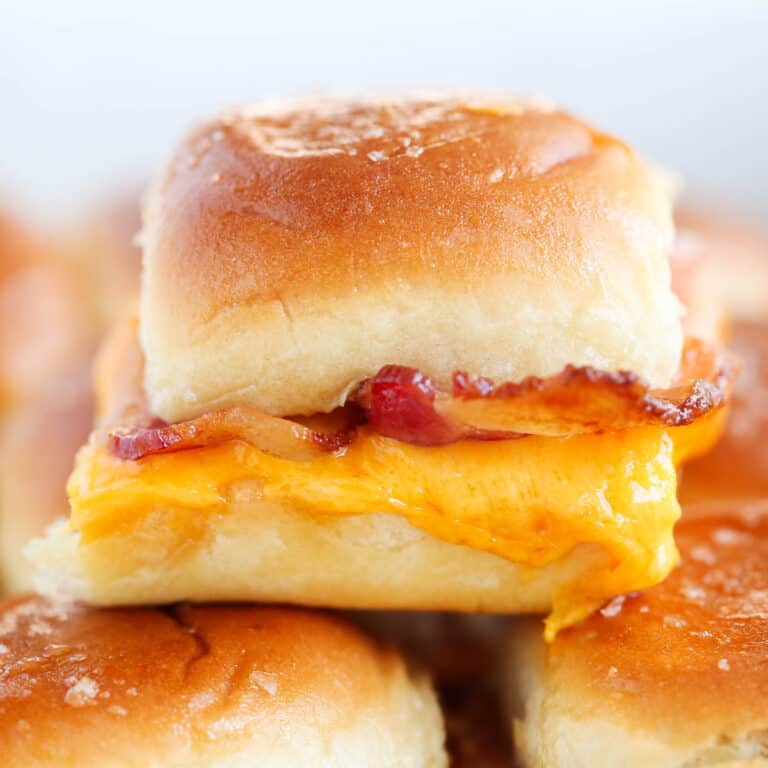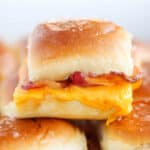 Breakfast Sliders
Wow your breakfast or brunch crowd with these crispy golden buns filled with bacon, eggs, and cheddar cheese! Baked as one, then pulled apart, these Hawaiian roll breakfast sliders are easy to make and even easier to serve!
Ingredients
Bacon and Eggs
8 slices bacon
10-12 large eggs
¼ cup water , or milk
1 teaspoon Kosher salt
¼ teaspoon ground black pepper
Sliders
12 Hawaiian dinner rolls
6 slices cheddar cheese , cut in half
Chives , optional
2 Tablespoons unsalted butter , melted
1 Tablespoon maple syrup , optional
Flaky sea salt , for sprinkling (optional)
Instructions
Bacon and Eggs
Preheat the oven to 400°F. Butter a 9×13-inch baking dish. Line with parchment paper, long enough to hang over the ends.

Line a baking sheet with foil and place bacon on top. If you prefer crispy bacon, place a wire rack on top of the foil. Cook 15 to 18 minutes, or until crisp. Remove from oven and place on a paper towel-lined plate.

In a medium bowl, whisk eggs, water, salt, and pepper. Pour into the baking dish. Place in the oven and cook 13 to 15 minutes, or until set. Remove from the oven and let cool slightly. Lift eggs out with parchment paper and set aside. Save baking dish.
Sliders
Reduce the oven to 350°F. Slice Hawaiian rolls in half horizontally using a large bread knife. Make sure to keep the rolls connected to each other while cutting. Once sliced, remove the top section and set aside.

Place bottom section in the same baking dish used for the eggs. Add the egg layer. Place the sliced cheese evenly over top followed by the bacon. Sprinkle with chives, if desired. Add the roll top to match up with the bottom layer.

In a small bowl, whisk together the butter and maple syrup, if using. Brush evenly over all of the rolls. Sprinkle with salt, if desired.

Bake, uncovered, 10 to 15 minutes, or until cheese is melted. Remove from the oven and serve while warm.
---
Notes
Variation:
Add sliced ham in place of (or with) the bacon.
Omit the maple syrup and make these more savory by adding hot sauce on top of the eggs and sprinkle a little bit of garlic power on top of the rolls.
Add in sautéed mushrooms and bell peppers with the eggs.
You can use a different cheese, if preferred. If you don't have sliced, you could also used shredded.
If you don't want to bake the eggs, you can use scrambled eggs (I just find the sandwiches hold together better when baked).
Storage: Store in a covered container in the refrigerator up to 3 days or in a zip-top bag in the freezer up to 3 months. Reheat in the oven at 300°F for 5 to 10 minutes.
Nutrition
Serving: 1g | Calories: 259kcal | Carbohydrates: 17g | Protein: 11g | Fat: 16g | Saturated Fat: 7g | Polyunsaturated Fat: 2g | Monounsaturated Fat: 5g | Trans Fat: 0.1g | Cholesterol: 169mg | Sodium: 498mg | Potassium: 91mg | Fiber: 0.01g | Sugar: 5g | Vitamin A: 347IU | Calcium: 84mg | Iron: 1mg
Nutrition provided is an estimate. It will vary based on specific ingredients used.
Did you make this recipe? Don't forget to give it a star rating below!