All of the tips and tricks you need to make the perfect omelette! Soft, fluffy, and super customizable. Add your favorite ingredients like veggies, meat, or cheese.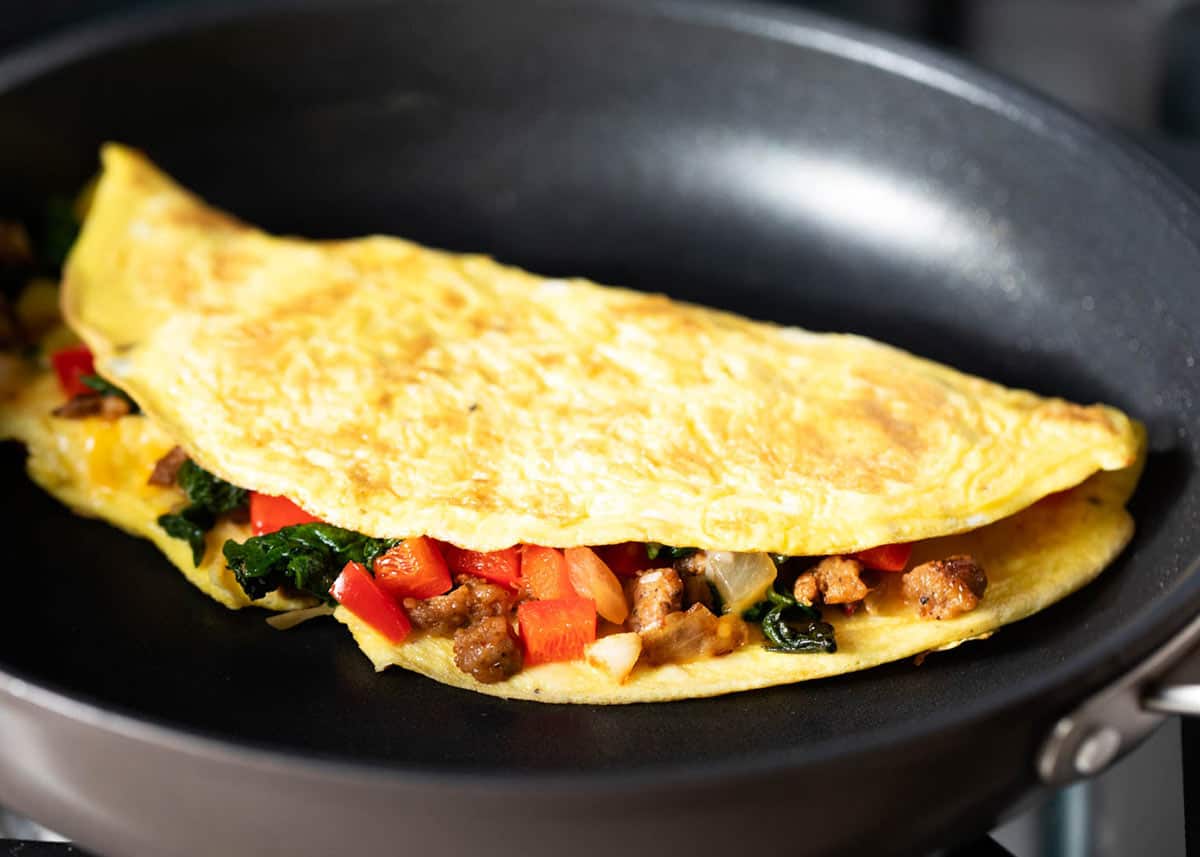 Easy Breakfast Idea
Omelettes are one of my favorite things to make for breakfast along with my frittata recipe. They are easy, healthy, and most of all…super delicious! For extra flavor, I like to top mine with a spoonful of guacamole and salsa. Sometimes I'll add a little sour cream or even some fresh herbs, like cilantro or chives. Yum!
Omelettes are one of those classic breakfast recipes that everyone should learn how to make just like making perfect poached eggs for an egg benedict! They may sound simple, but it actually can be a little tricky to cook them perfectly. But with the tips and tricks below, I have no doubt that you'll easily make them in no time!
This recipe is similar to a "Western omelette," because it contains eggs, peppers, onions, meat, and cheese. I like to add in some spinach as well, to pack in extra veggies. However, you can honestly use whichever ingredients you prefer…there are so many delicious ways to customize!
Filling Ideas
There are so many different fillings that taste great in an omelette. Feel free to mix up the ingredients and spices based on what you have on hand or are in the mood for. Below are some of my favorites to mix in.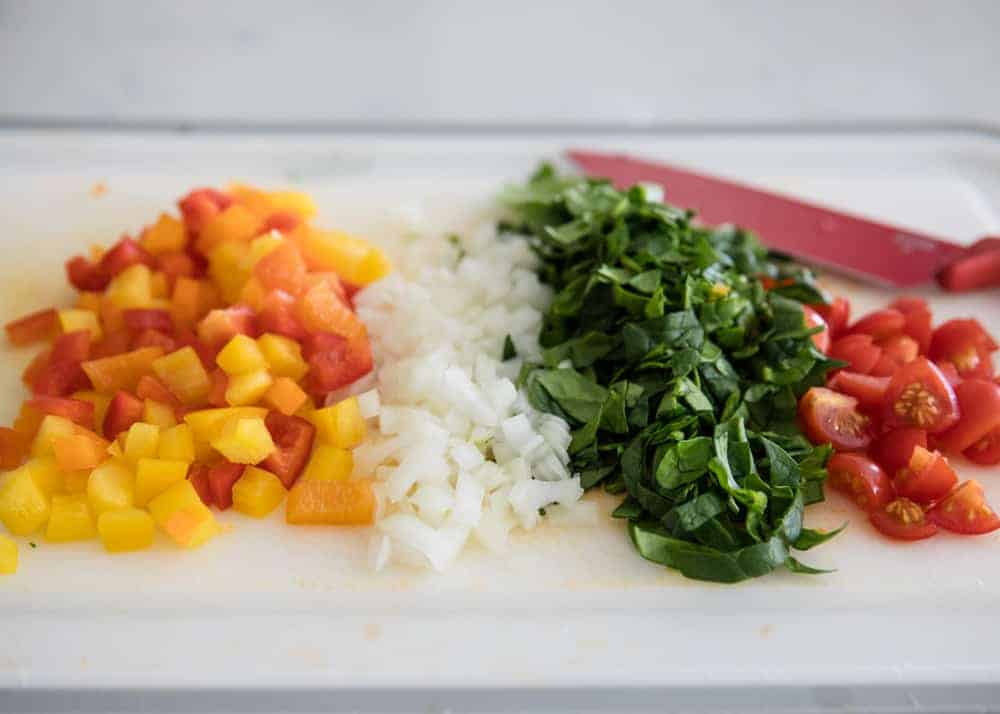 Meat: Turkey sausage, ham, or bacon are all great ways to add protein and fill well with the meat, cheese, and vegetables wrapped into an omelet.
Veggies: Bell peppers, onions, and mushrooms can all be cooked in the skillet and added in minutes. Fresh vegetables cooked bring in color and a pinch of a healthy breakfast.
Tomatoes: Diced tomatoes or fresh-cut cherry tomatoes are great options for a refreshing flavor.
Greens: Spinach or collard greens are great ways to throw in some greens but also do it with flavor and deliciousness!
Cheese: Freshly grated cheese is the best and melts evenly overtop of the omelette.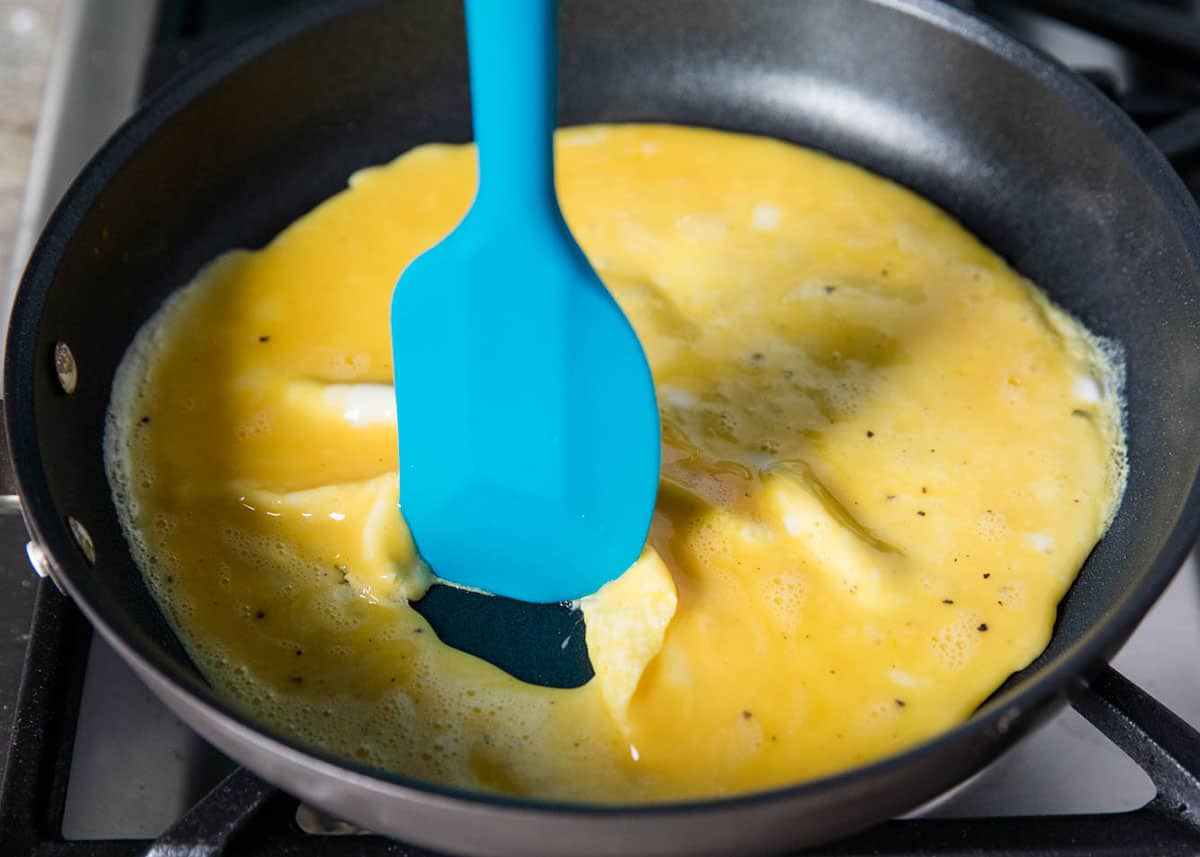 Omelette Variations
Not in the mood to think about what fillings to add? No problem! This specific recipe is similar to a Western omelette, but there are plenty of other variations that you can make. Check out some of the most popular ones below.
Western: Eggs, onions, peppers, cheese, and meat is a basic omelette recipe.
Spanish: A typical recipe for a Spanish omelet includes eggs, onions, and potatoes
Egg white: Egg whites, veggies, spices, and cheese is a light and tasty homemade omelette.
Spinach: Eggs, spinach, cheese, and diced tomatoes. A great combination with a savory flavor.
Cheese: Eggs, spices, and a choice of cheese. We love a good cheese omelette with goat cheese, cheddar cheese, or even feta sprinkled on top.
How to Make an Omelette
Whisk together the uncooked eggs, make the filling of your choice, and enjoy a homemade omelet in minutes. Making an omelet does take a bit of a learning lesson when it comes to cooking in a skillet. Just remember to tilt the pan and fold it in half!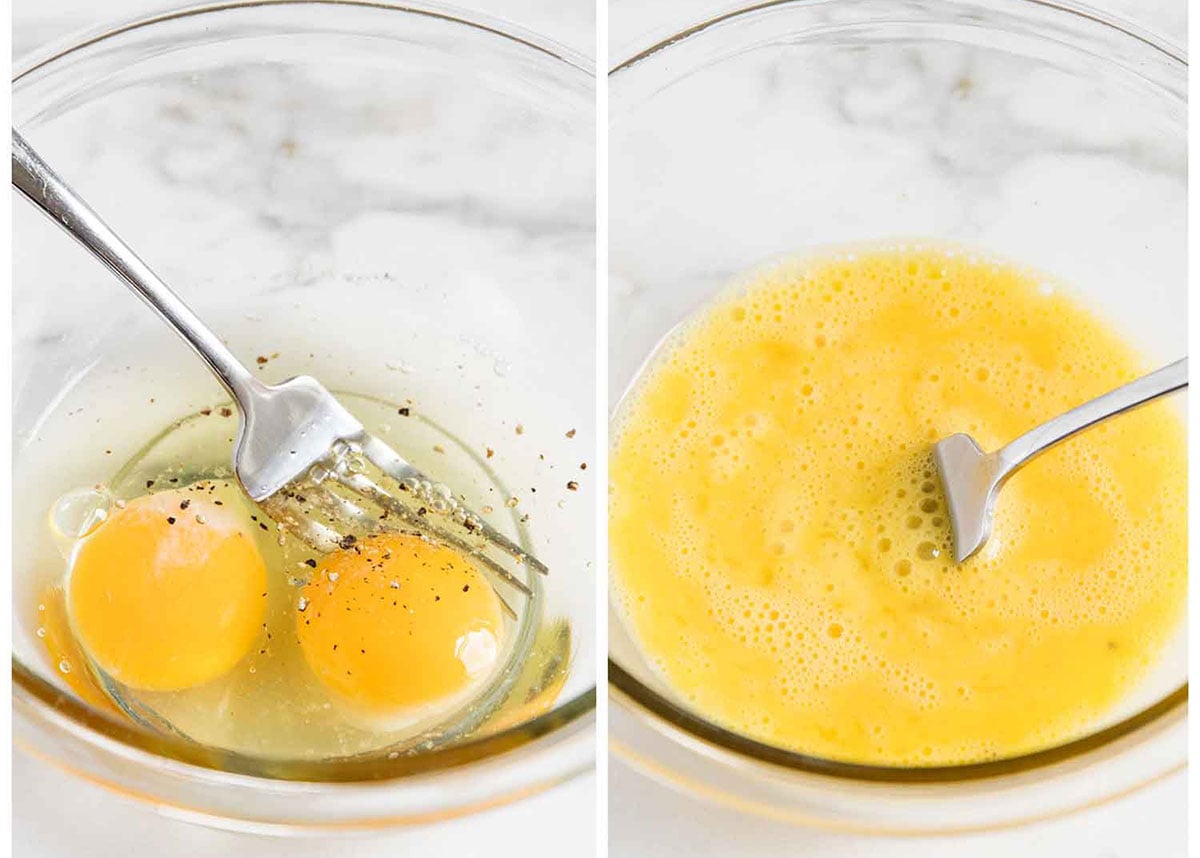 Find the full printable recipe with specific measurements below.
Whisk. Whisk eggs and water together, then salt and pepper to taste. Set aside.
Saute. Cook veggies and meat in an 8-inch skillet over medium heat, or until veggies are translucent. If preferred, add spinach at the very end until wilted. Place the mixture on a plate and wipe down the skillet. Add 1 teaspoon oil and warm over medium heat.
Cook. Pour the egg mixture in slowly once the oil is hot. Let sit, then use a spatula to push the cooked egg, allowing the runny egg to fill in. Cook another minute, or until you're able to flip the eggs. Then turn the heat off.
Flip egg. Carefully flip the egg over with a spatula. Add 1 Tablespoon of cheese on half the side, then add the filling to that same half. Place the other Tablespoon of cheese on top. Flip the egg over and let sit for 1 minute. Enjoy while hot!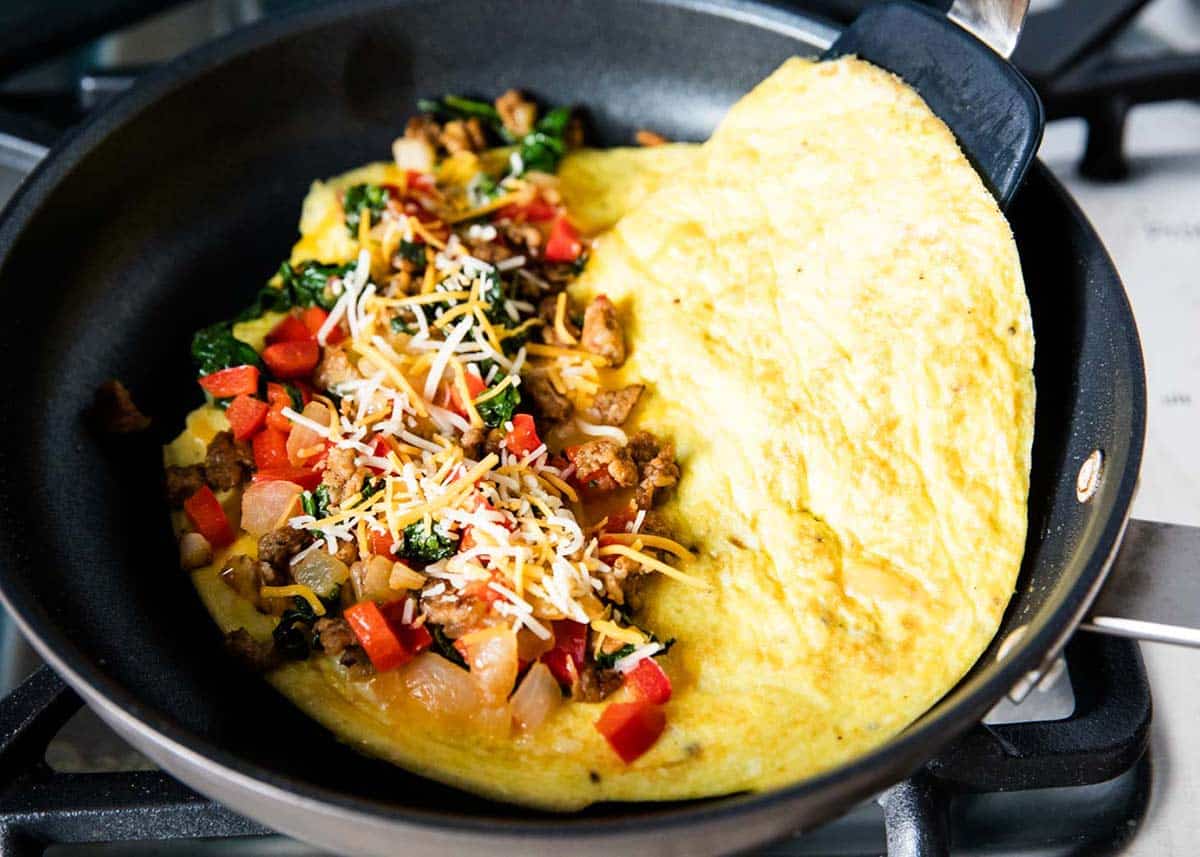 Tips to Prevent Burning
Sometimes it can be a little tricky to not burn an omelette. Below are a couple of key factors that play into this. Follow these helpful tips and learn the best way to make an omelet in your skillet!
Make sure the oil is hot before adding the eggs. If it isn't, it'll just mix into the eggs instead of acting as a non-stick cooking agent.
Add a Tablespoon of water to your egg mixture. The water releases a little steam when cooking, which prevents the eggs from overcooking and burning.
Turn off the heat prior to flipping. This way it won't continue to cook on high heat while you add your toppings and flip it.
How to Tell if it is Under-Cooked
Prior to adding your toppings, shake your skillet. If the eggs are still super jiggly, let it cook for about a minute or two longer. When you flip your omelette, you want the egg mixture to still be a little wet on top because it will continue to cook.
There is definitely a difference between being super jiggly and wet on top! If the eggs are still really jiggly when you flip it, there is a good chance they will be undercooked when you serve it. The key at the end is to cook low and slow.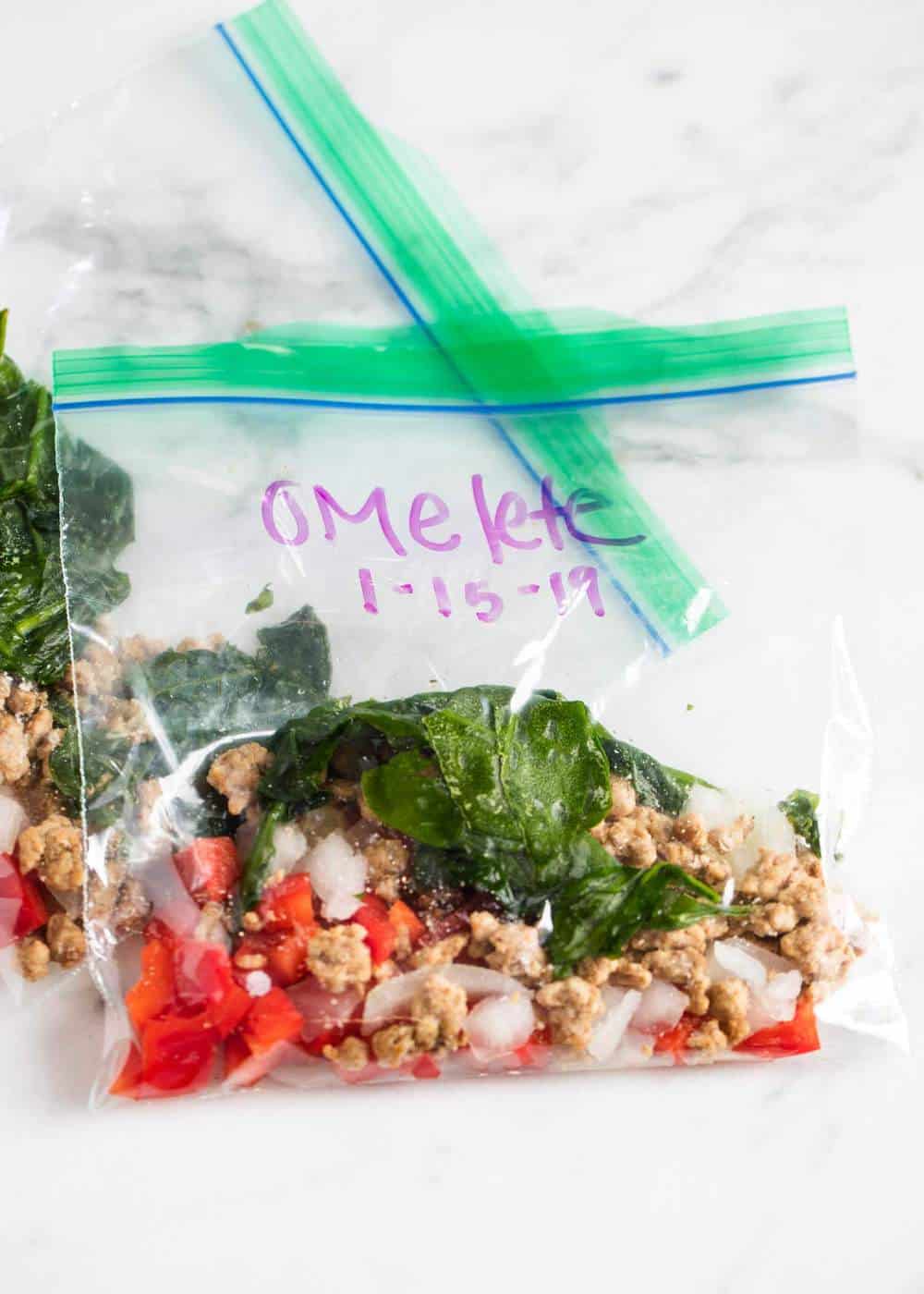 Meal Prep Omelette Bags
When meal prepping, sometimes I'll make a couple of omelette bags to stick in the fridge or freezer. Just cook the meat and veggie mixture, then add to a zip lock bag. When you're ready to make an omelette, all you have to do is heat up your eggs! So easy.
I like to write the date that I made the mixture on the bag so that I know when to use it before it goes bad. The mixture should last for about 5 days in the fridge or about a month in the freezer.
Recipe FAQs
Is it better to add water or milk to an omelette?
I typically add water instead of milk. When whisking the eggs, I'll add in about 1 Tablespoon of water. I've found that the water helps release steam when cooking, which prevents the eggs from overcooking.

You could add in a Tablespoon of milk instead, however, water is just my personal preference.
How many eggs should be in an omelette?
I find that using 2 large eggs and 1 large egg white is the best amount. It perfectly fills up an 8-inch skillet and isn't too thin or thick. The eggs fluff up just enough so that it's easy to flip. If you use more or less, sometimes it's hard to keep that perfect shape and your omelette will look more like scrambled eggs.
If you're making more than one, I recommend using 2 eggs (+ 1 egg white) per person. If you want to keep it lower in fat and cholesterol, you can use only egg whites to make an egg white omelette.
How to make an omelette fluffy?
The best way to ensure a fluffy omelette is to use a blender and whip the eggs until they are light and combined together. The blender can add air to give them a frothy appearance.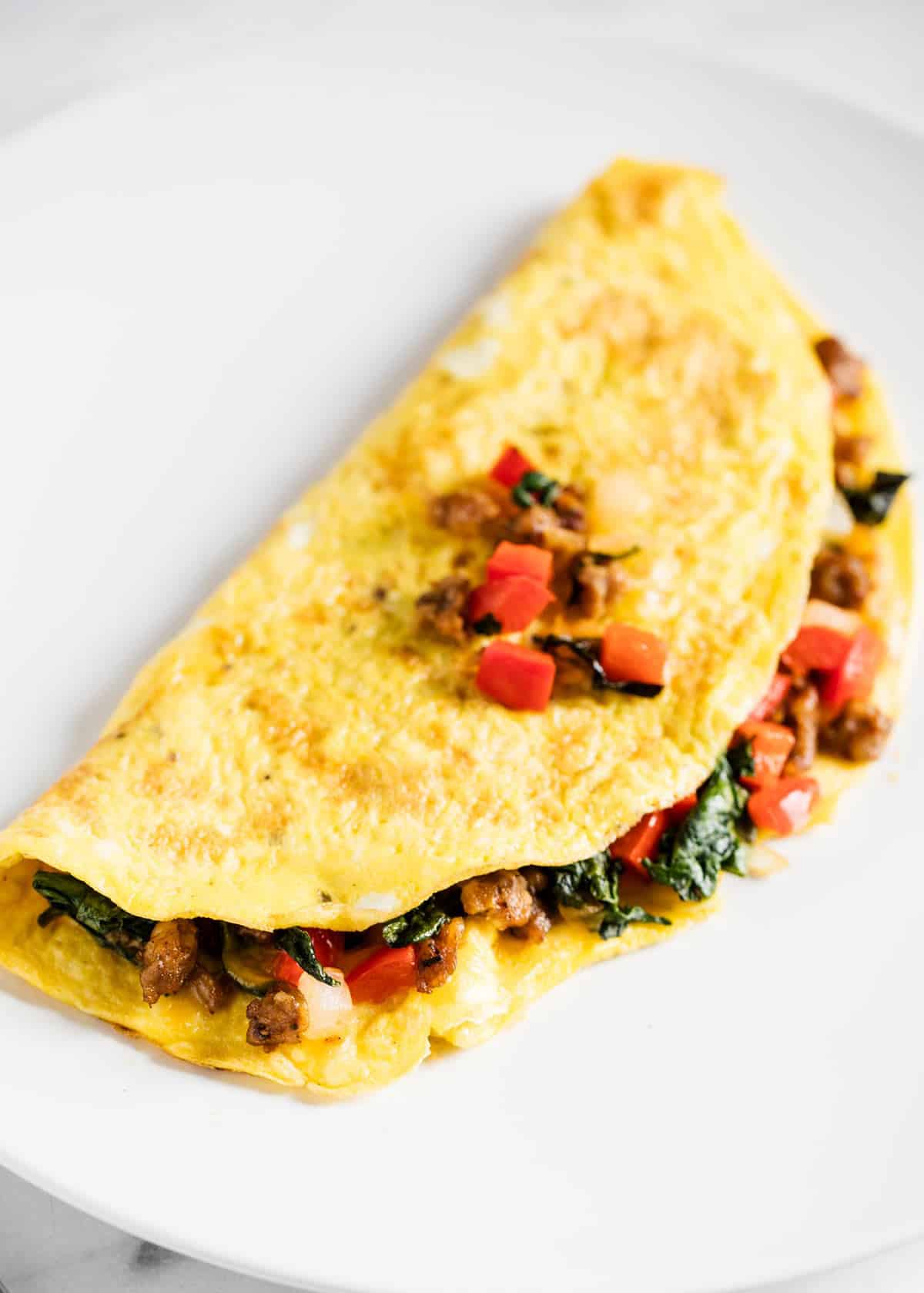 Sides to Serve with
Make it a complete meal serving it as a main dish and adding in a side that pairs perfectly with this omelette. Choose from a savory or sweet side dish or a hearty to light meal. All are a great combination!
5 star review
"This was the perfect omelette! Thank you for all the tips!"

-Anna
More Easy Breakfast Ideas
HUNGRY FOR MORE? Subscribe to my newsletter and follow on Facebook, Pinterest and Instagram for all the newest recipes!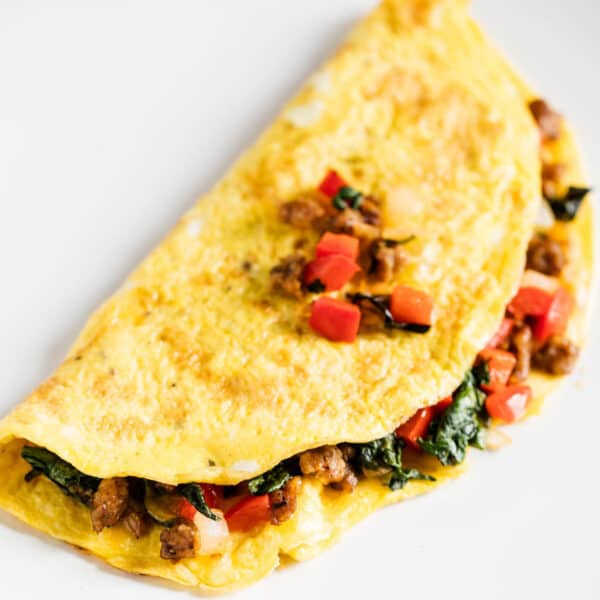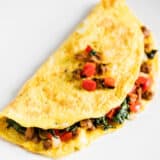 Omelette Recipe
All of the tips and tricks you need to make the perfect omelette! Soft, fluffy and super customizable. Add your favorite ingredients like veggies, meat or cheese.
Ingredients
2 large eggs
1 egg white
1 Tablespoon water
1 teaspoon olive oil
¼ cup chopped bell peppers
2 Tablespoons chopped onion
¼ cup chopped spinach
2 Tablespoons shredded cheddar cheese (more if desired)
Optional meat
¼ cup turkey sausage , ham or bacon
Instructions
Whisk together eggs and water. Salt and pepper to taste. I used about 1/4 teaspoon salt and 1/8 teaspoon pepper. Set aside.

Cook the sausage, bell peppers, and onion in an 8-inch pan over medium heat for 3 minutes, or until the onions have become translucent. Add in the spinach and cook just until wilted.

Place the mixture on a plate. Wipe down the pan and then add 1 teaspoon oil if needed. Heat over medium heat. Once the oil is hot, slowly pour in the egg mixture. Let sit for about 30 seconds, then use a spatula to slowly push the cooked egg and let the runny egg fill in. Cook another minute, or until you are able to flip it.

Turn the heat off. Carefully flip the egg over with a spatula (or two). Place 1 Tablespoon of cheese on half the side. Add the filling to the same half and then place the other Tablespoon of cheese on top. Add more if desired. Flip the egg over and let sit for one minute. Enjoy while hot.
---
Nutrition
Calories: 310kcal | Carbohydrates: 5g | Protein: 24g | Fat: 20g | Saturated Fat: 7g | Cholesterol: 366mg | Sodium: 456mg | Potassium: 364mg | Fiber: 1g | Sugar: 3g | Vitamin A: 2515IU | Vitamin C: 51.2mg | Calcium: 172mg | Iron: 2.1mg
Nutrition provided is an estimate. It will vary based on specific ingredients used.
Did you make this recipe? Don't forget to give it a star rating below!