Jump to Recipe⌄
Slow Cooker Chocolate Cake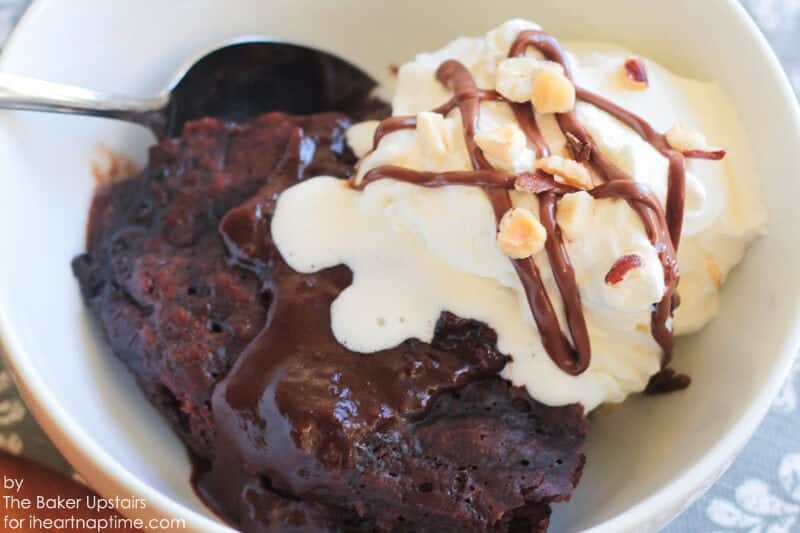 by Alicia of The Baker Upstairs for I Heart Nap Time
Hello again! I have another luscious dessert to share today that is just perfect for the cooler weather coming up. I'm so excited about fall… I love wearing cardigans every day, walking in the neighborhood with all the bright leaves falling, and enjoying all the delicious tastes of autumn. When the days get crisp, I find myself wanting warm, comforting foods, and this slow cooker chocolate cake fits the bill perfectly!
This cake is super easy to make and takes just a few minutes to put together! I love that it separates into two delicious layers: a moist cakey top and a gooey, fudgy pudding bottom. I always spoon a little of the pudding over the top of the cake, and I love the delicious texture. I've made this cake with both Nutella and peanut butter, and it's super delicious either way. I'm sure it would also be delicious with cookie butter!
My favorite way to serve it is with some freshly whipped cream on top. This time I decided to be extra fancy and topped it with some drizzled warm Nutella and some chopped hazelnuts. My whole family loved it and my seven year old told me it was a cake fit for a princess. (I'm pretty sure that's the highest recommendation she can give!) I hope you'll try it and enjoy it as much as my family did!

MY OTHER RECIPES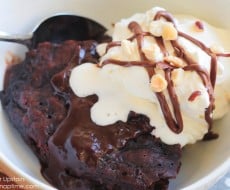 Slow Cooker Chocolate Cake
Ingredients:
for the cake:

1 cup flour

2 tablespoons cocoa powder

1/2 cup sugar

1 1/2 teaspoons baking powder

1/2 teaspoon salt

1/2 cup milk

2 tablespoons canola oil

1 tablespoon vanilla

1/2 cup Nutella (or peanut butter, or cookie butter)

1/2 cup chocolate chips (any kind would work great)

for the topping:

3 tablespoons cocoa powder

3/4 cup sugar

1 1/2 cups boiling water

to serve:

1 cup whipping cream

2 tablespoons powdered sugar

1-2 tablespoons Nutella

1-2 tablespoons chopped hazelnuts
Directions:
Spray a slow cooker with cooking spray. To make the cake, whisk together the flour, cocoa powder, sugar, baking powder, and salt in a medium bowl. Whisk together the milk, oil, and vanilla, and then add to the dry ingredients, mixing well. Fold in the Nutella and chocolate chips. Spread the mixture in the bottom of the slow cooker.

To make the topping, add the cocoa powder and sugar to a small bowl, then pour the boiling water over the top. Stir until dissolved, then pour the mixture over the top of the cake batter in the slow cooker. Do not stir! Put the lid on the slow cooker and cook on high for two hours, or until the top layer has puffed up and is set.

To serve, whip the cream until light and fluffy, then add the powdered sugar and whip until combined. Warm the Nutella in the microwave on 50% power until melted. Dollop each piece of cake with some freshly whipped cream, then drizzle with warm Nutella. Top with chopped hazelnuts and enjoy!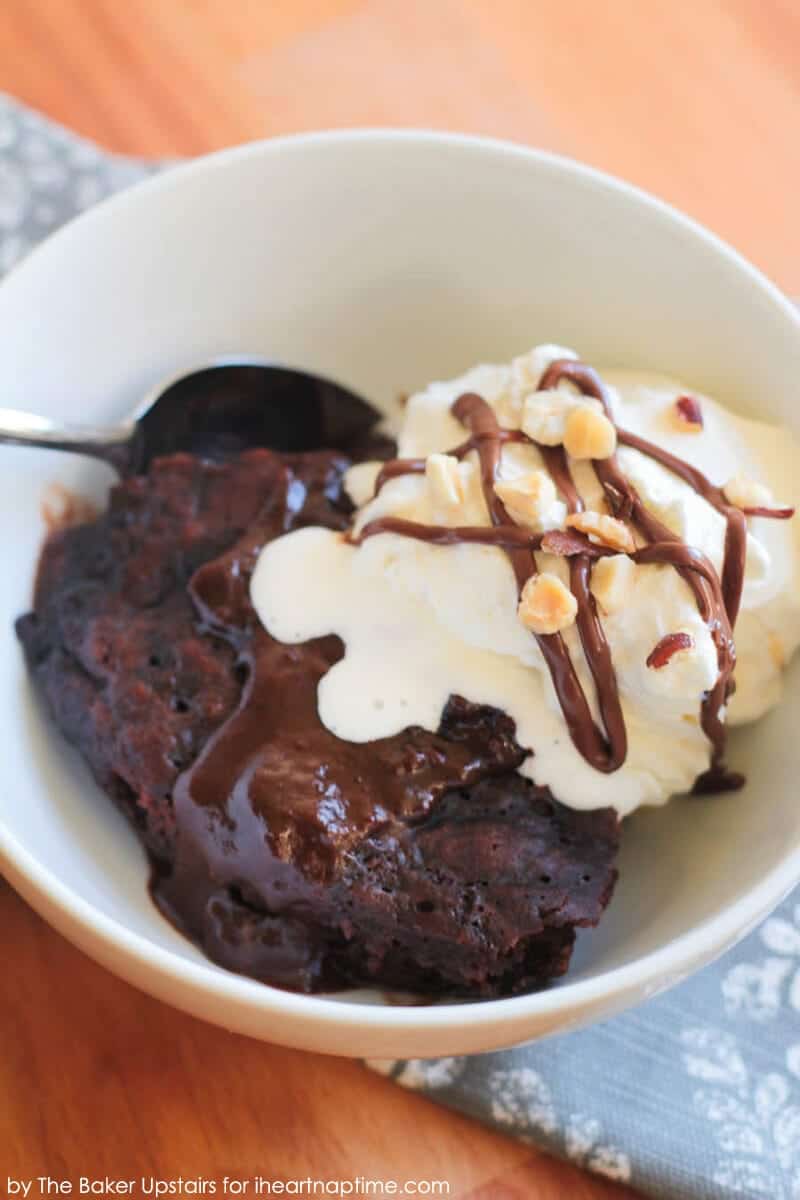 For more slow cooker recipes check these out HERE