This ultimate chocolate bundt cake is a rich, tender and fudgy cake topped with an irresistible chocolate glaze. So easy to make and is always the showstopper at any party.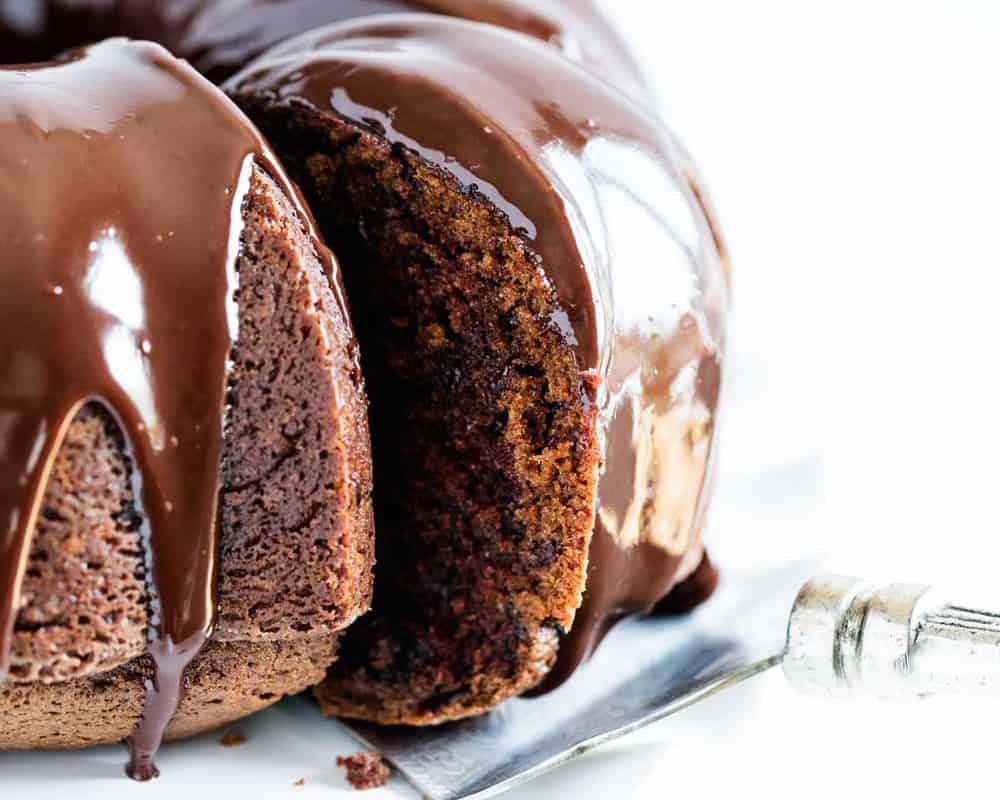 Chocolate Sour Cream Bundt Cake
You can never go wrong with chocolate desserts, they are always a crowd pleaser. Here are some of my other favorites: texas sheet cake, triple chocolate cookies, slow cooker chocolate cake, chocolate truffles, chocolate lasagna.
If you're looking for a good bundt cake recipe, I think you've found it. This really is the perfect chocolate bundt cake. It is so soft, moist and rich. The secret ingredient is the sour cream. It makes the cake so soft and tender. Similar to my favorite chocolate cupcakes, although this recipe is made from scratch. Don't let that intimidate you because I promise it is so easy.
How to Make a Chocolate Bundt Cake
The first step is to to melt the butter with the cocoa powder and water in a saucepan over medium heat.
Then your going to whisk together the flour, sugar and baking soda.
Next you're going to slowly add in the chocolate mixture, whisking as you go. It will be thick and clumpy, but that is normal. Keep slowly adding and whisking until smooth.
Whisk in one egg at a time and then add the vanilla and sour cream. You can also add in chocolate chips if desired.
Finally you'll pour the chocolate cake into the prepared bundt cake pan and bake at 350°F for 40 minutes.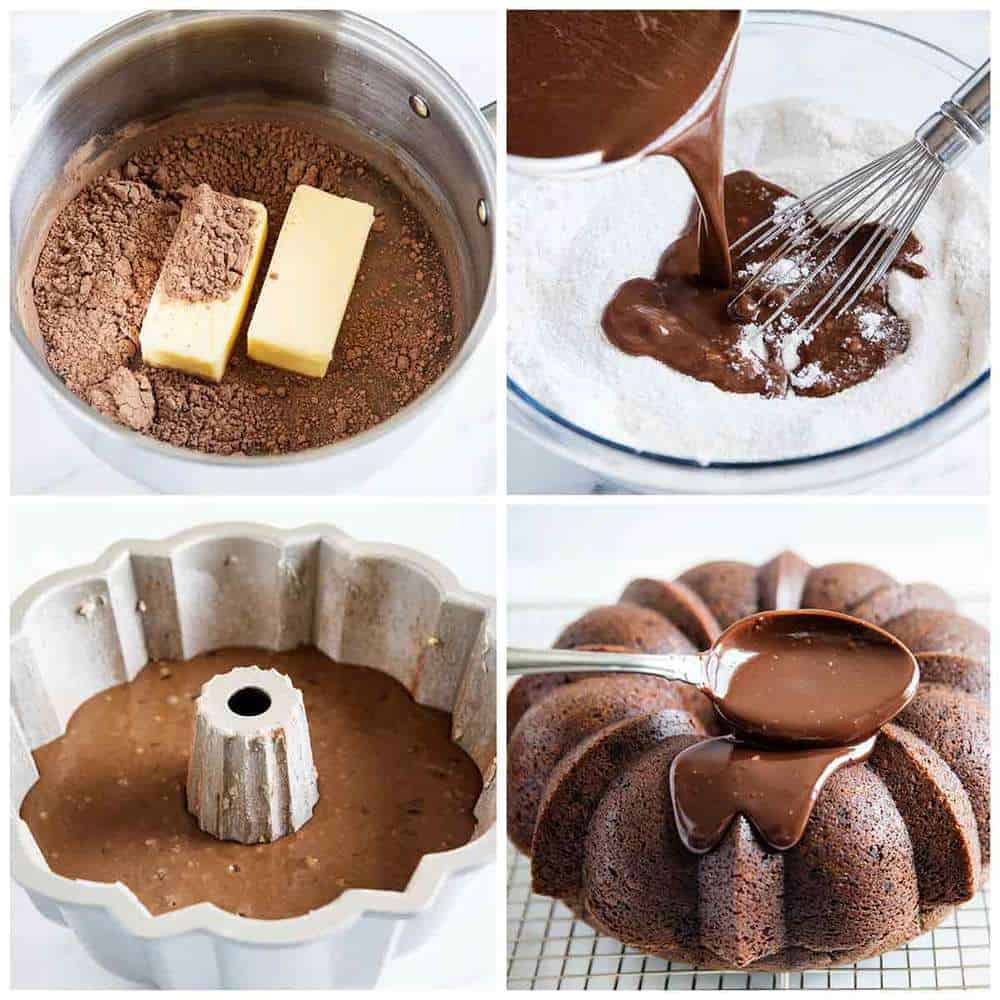 Chocolate Glaze
You'll only need 2 simple ingredients to make this chocolate ganache.
Heavy cream: 1 cup of heavy cream that you will warm in the microwave for 2 minutes.
Chocolate chips: 2 cups of chocolate chips that you will add to the warm cream and let sit for 5 minutes. Then whisk until smooth.
Bundt Cake Pan
Bundt pans can come in all different shapes, sizes and designs. For this recipe you can use a 10 or 12 cup bundt cake pan. You could also use a mini bundt cake pan and cut the cooking time in half. I would start checking them around 18 minutes.
Tip: Make sure to generously butter your pan (in every crevice) so that the cake does not stick. Also make sure to dust with flour to help the cake release easier.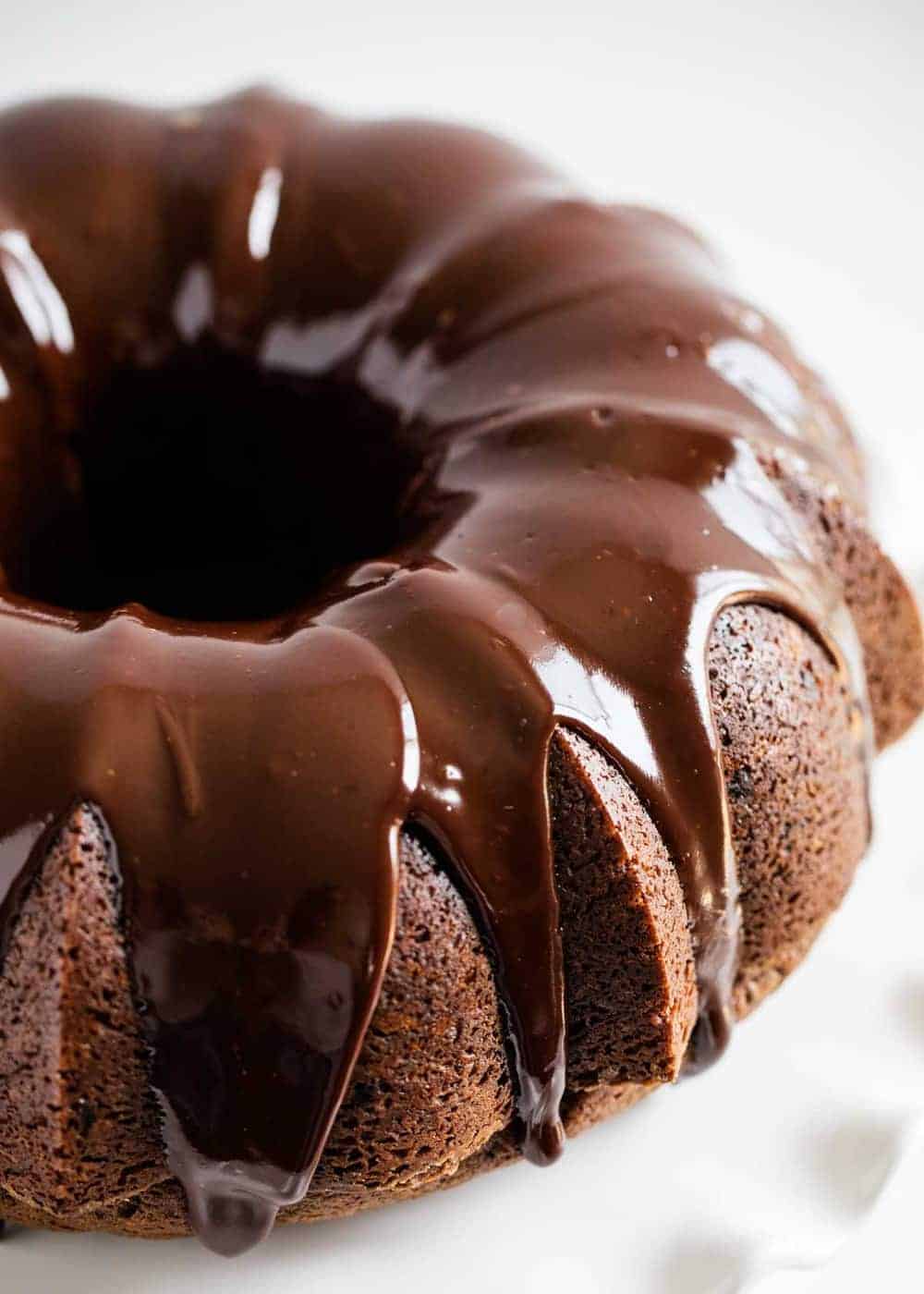 Can this Cake be Frozen?
Yes this cake can be frozen. If you plan to make it ahead of time and freezing it, I recommend waiting to add the chocolate glaze until the day you are serving. If you want to freeze the leftovers you can certainly do that as well. Here's some tips for freezing cake below.
If the cake is not glazed, wrap the cake in plastic wrap one or two times. Then place in freezer.
If you're freezing the frosted cake, place it unwrapped in the freezer for about 30 minutes to chill the glaze and then wrap once it has hardened. You can also wrap each individual slice and then store in an airtight container. Store in the freezer for up to 2 months.
Remove the cake about an hour or two before you plan to serve and let thaw at room temperature.
More Chocolate Desserts to Enjoy!
HUNGRY FOR MORE? Subscribe to my newsletter and follow on Facebook, Pinterest and Instagram for all the newest recipes!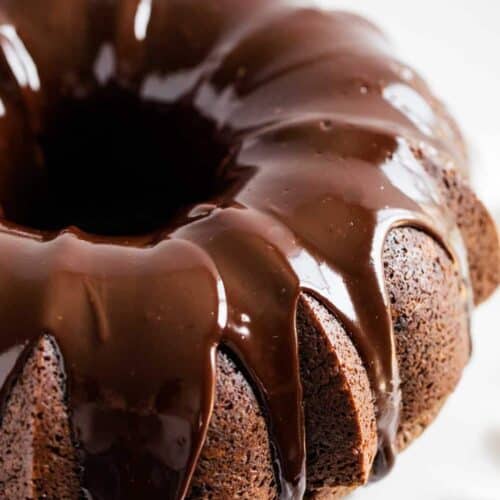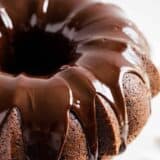 Chocolate Bundt Cake
This ultimate chocolate bundt cake is a rich, tender and fudgy cake topped with an irresistible chocolate glaze. This bundt cake is so easy to make and is always the showstopper at any party.
Ingredients
1 cup unsalted butter , plus more for pan
1 cup water
⅓ cup cocoa powder
1 teaspoon Kosher salt
2 cups all-purpose flour , plus more for pan
1 ¾ cups granulated sugar
1 ½ teaspoons baking soda
2 large eggs
¾ cup sour cream
1 ½ teaspoon vanilla extract
1 cup mini chocolate chips ,optional
Optional: mini chocolate chips, sprinkles, chopped nuts, vanilla ice cream
Instructions
Preheat oven to 350°F. Butter a (10-12 cup) bundt cake pan very well in all the creases and then dust with flour.

Combine the butter, water, cocoa powder and salt in a sauce pan over medium heat. Cook until melted and combined then remove from heat.

Whisk together the flour, sugar and baking soda in a large bowl. Whisk in half of the hot mixture until smooth. Then whisk in the remainder of the mixture until smooth. Whisk in 1 egg at a time.

Fold in the sour cream, vanilla and chocolate chips and stir just until combined. Pour into the prepared pan. Bake for 40-45 minutes or until a toothpick comes clean. Don't let it overcook. Let the cake cool for 10-15 minutes in the pan and then place the cooling rack on top of it and flip over. Let cool completely.

Once the cake has cooled make the glaze. Place the heavy cream in a microwave-safe bowl and heat for 1-2 minutes, or until simmering. Add the chocolate chips and let it sit for 5 minutes. Whisk until smooth. Then slowly spoon the ganache over the cake. Add optional toppings if desired immediately.

Slice and enjoy with a scoop of vanilla ice cream if desired!
---
Notes
Variation: Instead of a chocolate glaze you could use my favorite cream cheese frosting in a zip top bag and drizzle over the top of the cake. https://www.iheartnaptime.net/cream-cheese-frosting/
You could also dust powdered sugar over the top instead of frosting.
Recipe adapted from Bi Rite Market's Eat Good Food Cookbook.
Nutrition
Calories: 456kcal | Carbohydrates: 47g | Protein: 4g | Fat: 28g | Saturated Fat: 17g | Cholesterol: 77mg | Sodium: 274mg | Potassium: 207mg | Fiber: 2g | Sugar: 30g | Vitamin A: 675IU | Vitamin C: 0.2mg | Calcium: 45mg | Iron: 2.5mg
Nutrition provided is an estimate. It will vary based on specific ingredients used.
Did you make this recipe? Don't forget to give it a star rating below!