This no-bake chocolate lasagna has layers of crushed Oreos, cream, chocolate pudding, and chocolate chips! Does it get any better than that?!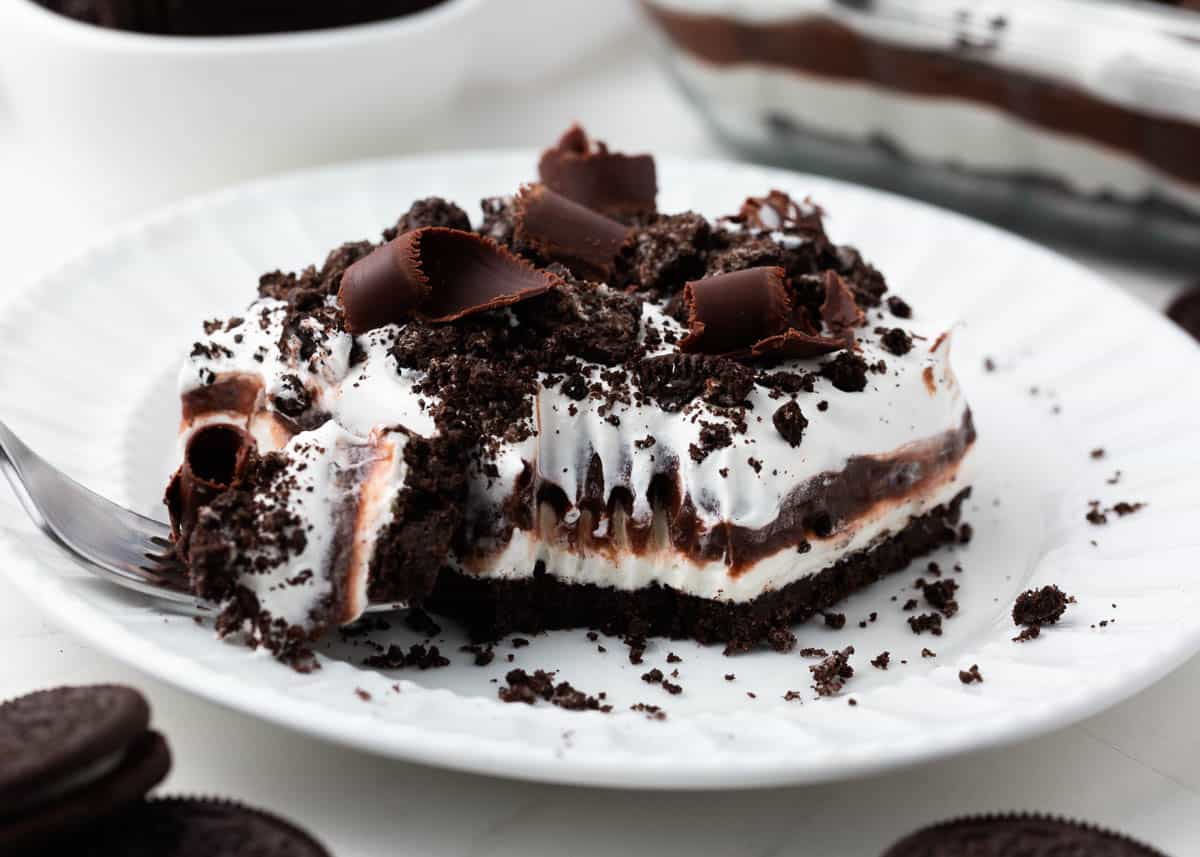 Favorite Oreo Dessert
I love chocolate! There's no denying that. I'm excited to share this chocolate lasagna recipe with you. I tried this many years ago and finally recreated it. It was so unbelievably easy to make and absolutely delicious!
One of my favorite things about this Oreo lasagna is that it requires absolutely no baking! I love easy no-bake desserts like this and pistachio desserts when I'm short on time and want to whip something up quickly.
Each layer in this chocolate lasagna is just heavenly. It almost reminds me of my Oreo ice cream cake and the chocolate lasagna from Olive Garden but in my opinion, better! This recipe is definitely a must-try for all you chocolate lovers out there!
Ingredients Needed
Easy chocolate lasagna is perfect for any gathering that needs a side dish or dessert! The layered combination has simple ingredients that are easy to layer on top of each other. It is the perfect combination!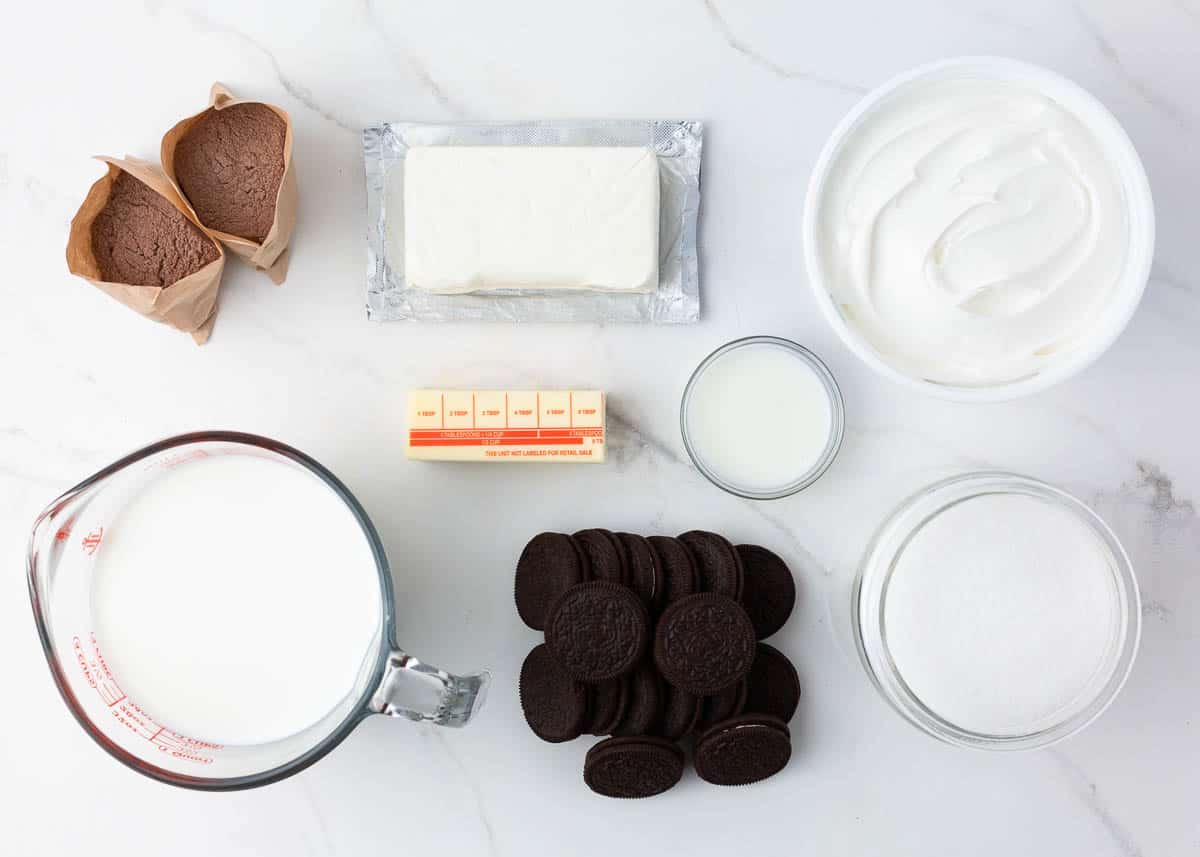 Find the full printable recipe with specific measurements below.
Oreos: Make sure to use regular Oreos, not double-stuffed. It will help with consistency. You really need the crumbs of the Oreos and not too much of the frosting on the inside.
Butter: I prefer to use salted butter for this recipe. Soften the butter slightly for it to blend easier.
Cream cheese: This will make the filling super creamy. Make sure it's softened.
Sugar: Helps sweeten the cream cheese layer.
Milk: This will help give the cream cheese filling a good consistency that will spread.
Cool whip: This helps to stabilize the filling. Feel free to make a homemade cool whip whipped topping.
Chocolate pudding: This adds the perfect chocolate touch to this dessert.
Mini chocolate chips: These are optional, but I love to add something to the top. You can use chocolate chips, chocolate shavings, or crushed Oreos.
Variations
There are plenty of ways to customize this chocolate dessert lasagna! Make a chocolate peanut butter lasagna variation by adding creamy peanut butter to the cream layer. Or make a fruity strawberry lasagna with golden Oreos and strawberry gelatin instead. The options are endless!
How to Make Chocolate Lasagna
Create the best chocolate lasagna in just a few easy steps! This cold dessert is layered on top of each other to make a chocolate lover's dream come true. Smooth, creamy, and bites of chocolate chips make this a family favorite every time I make it!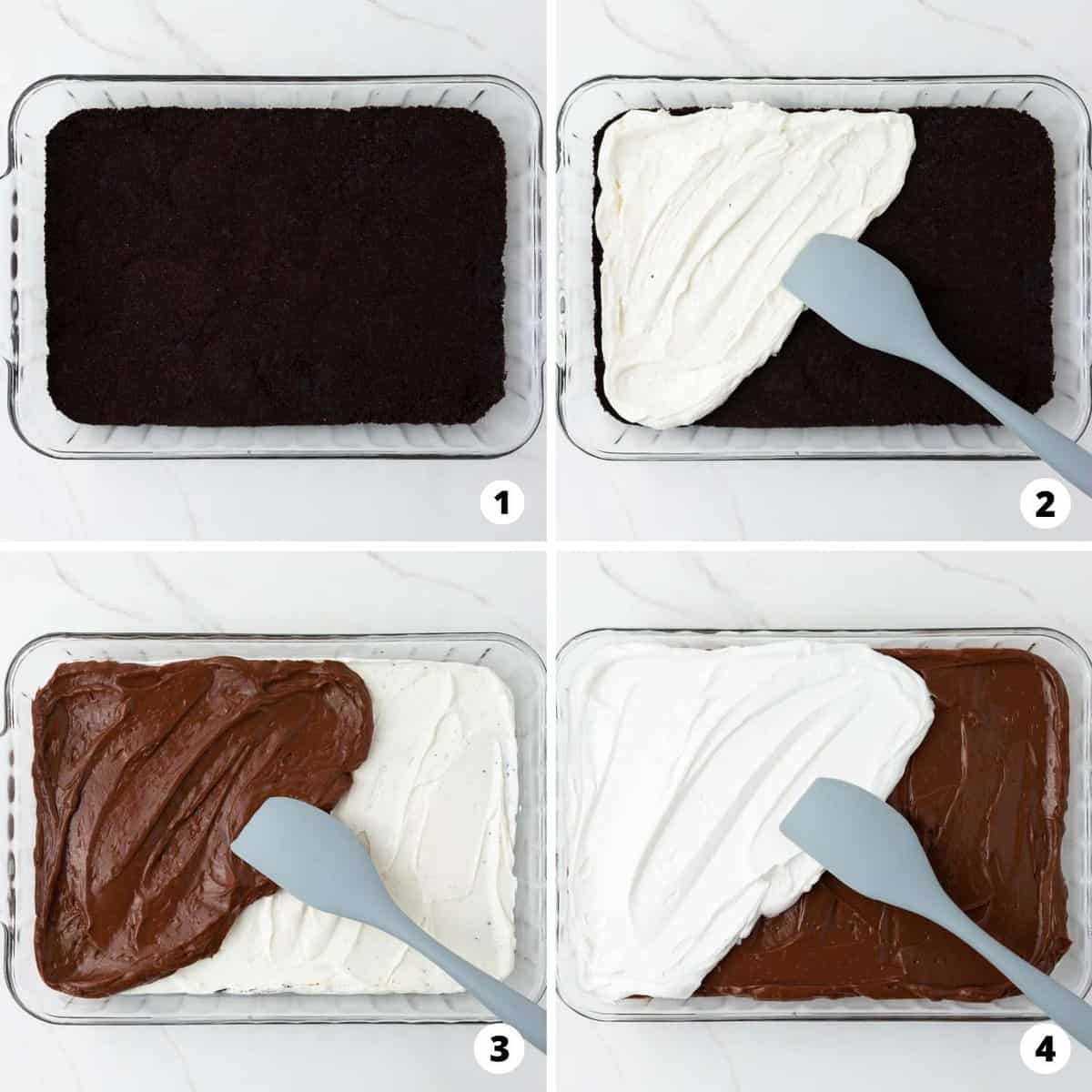 Oreo crust layer. A simple combination of crushed Oreos and butter makes the perfect Oreo crust for this dessert. Just press the mixture into the bottom of a greased 13-inch baking dish and chill it in the fridge for 5 minutes to set.
Cream layer. This layer tastes similar to cheesecake and is creamy and smooth. Whip your cream cheese until fluffy, then stir in milk and sugar. Then fold in a cup of cool whip to give it a lighter consistency. Spread the cream cheese mixture over the Oreo cookie crust and chill in the fridge for 5 more minutes.
Chocolate pudding layer. In a large bowl, whisk together the pudding mix and milk until thick. Then spread over the cream layer and refrigerate until the pudding sets, about 5 to 10 minutes.
Cool whip layer. Spread on the remaining cool whip over the pudding and sprinkle with chocolate chips. Chill in the fridge for 3-4 hours before serving.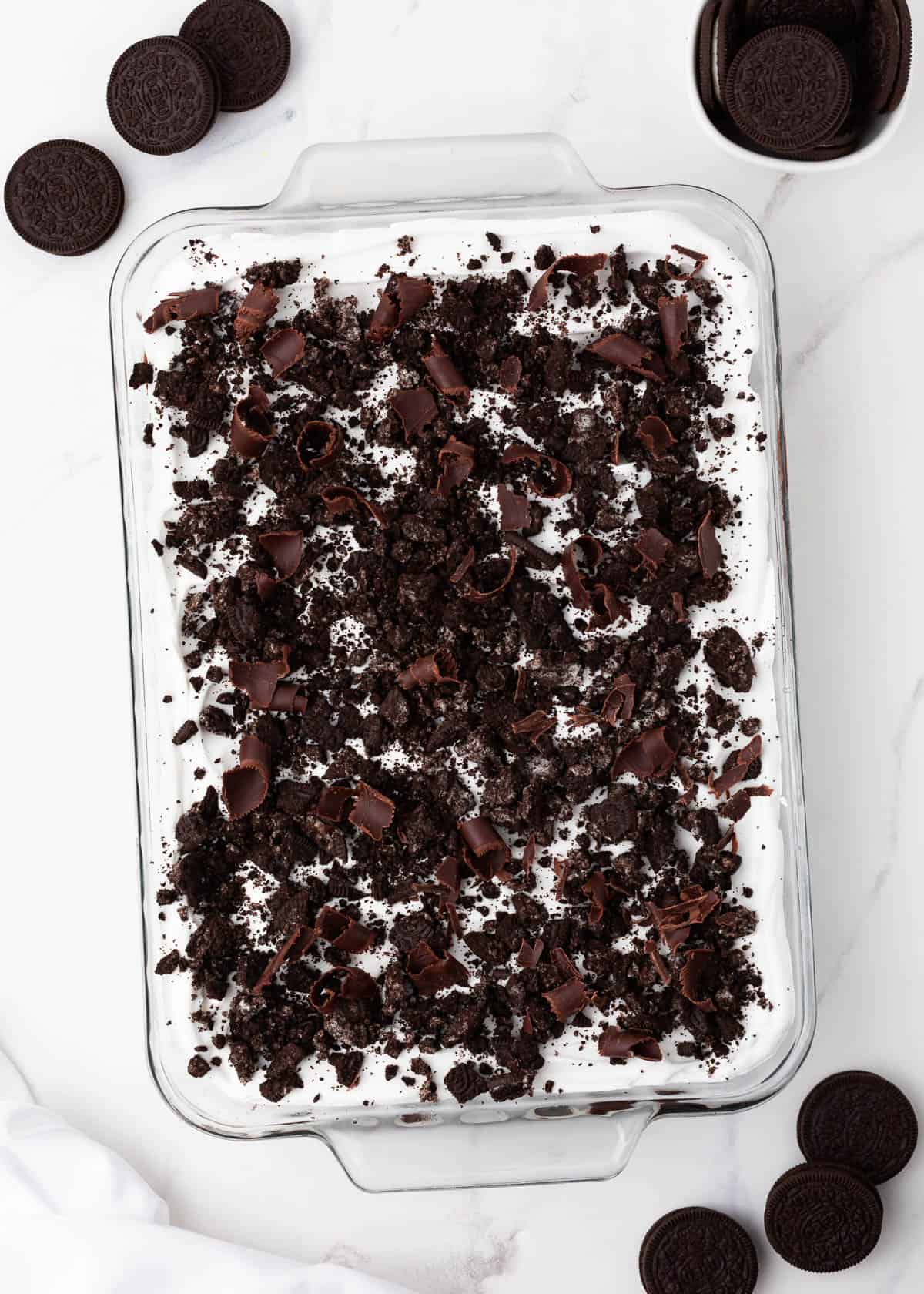 Recipe FAQs
What type of pudding to use?
It's important to use instant chocolate pudding mix and not the Cook & Serve variety. Instant pudding does not need to be cooked prior to using (you just simply mix it with cold milk), however, Cook & Serve pudding does need to be heated on the stove first before using.
Can I use other varieties of Oreos?
Regular Oreos work best in this recipe. I do not recommend using Double Stuff Oreos because the double cream center creates a greasy, moisture-filled crust. You could experiment using mint or peanut butter-flavored Oreos for a fun twist!
Can I use whipped cream instead of cool whip?
Sure! Whipped cream makes a great substitute for cool whip and can be used interchangeably in this recipe. If you're feeling fancy, try making homemade whipped cream or even a stabilized whipped cream if you plan to make the recipe ahead of time.
Can chocolate lasagna be frozen?
Yes, cover and freeze for up to 2 months. Let thaw on the counter to soften before serving.
Can this dessert lasagna be made into a trifle?
Sure! If making a chocolate lasagna trifle, there will be no need for an Oreo crust (so no butter is needed). Just roughly chop the Oreos into bite-size pieces, then layer them into the bottom of the trifle dish, followed by the cream and pudding. Repeat all 3 layers until the trifle dish is filled to the top!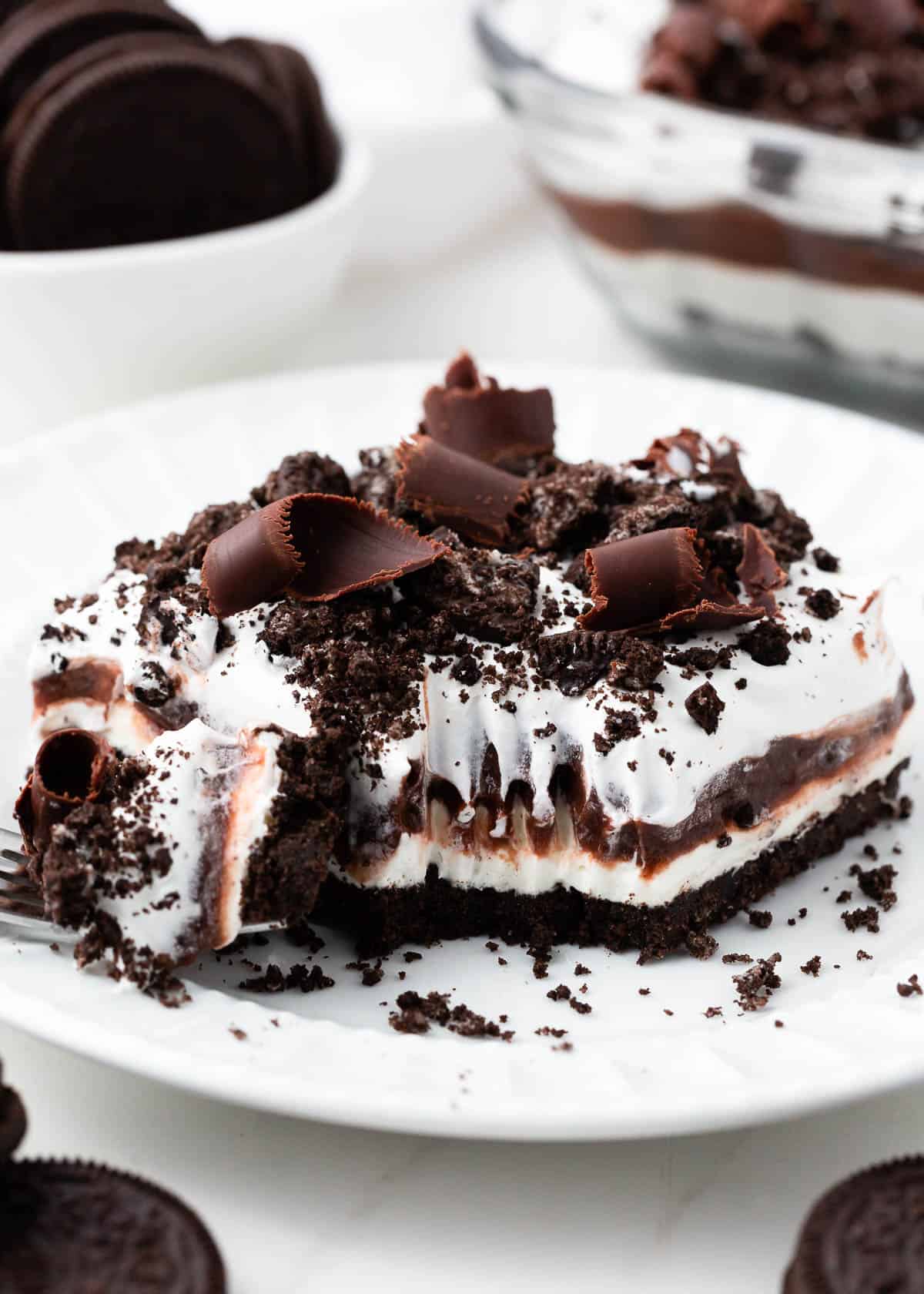 Making in Advance
This chocolate lasagna dessert can easily be made 24 hours in advance. The longer it sits the softer the Oreo crust will become, so I don't like to prep it more than 48 hours ahead of time.
Another option is to prepare the crust and keep the remaining layers separate. Then assemble the dessert when you're ready to chill and serve.
Tips for the Best Oreo Lasagna
Follow these quick and easy tips when making this no-bake chocolate lasagna recipe. Make this even easier and better with these helpful ideas when layering the chocolate dessert. Make sure to chill the lasagna as much as possible!
Crush Oreos. Keep the cream in the center of the Oreo cookies. Using a blender or food processor is the easiest way to crush them into fine cookie crumbs.
Soft cream cheese mixture. Soften the cream cheese at room temperature before mixing the cream filling so that it gets nice and fluffy.
Thick and firm. The pudding consistency should be thick. Make sure it has time to set in the fridge so it doesn't run!
Chill the layers. After you add a layer, chill the dessert in the fridge for about 5 to 10 minutes before adding the next one on top.
Chill before serving. I'd recommend keeping this dish in the fridge as long as possible before serving. I like to pull it out right before serving.
Garnish. We always top our chocolate lasagna with mini chocolate chips, but more crushed Oreos would taste fantastic too.
5 star review
"This came out perfect! My grandmother used to make something so similar when I was younger. It brought back great memories! I even added some Hershey kisses and s'mores pretzels on the top! So good! Thanks for sharing this recipe!"

– Amber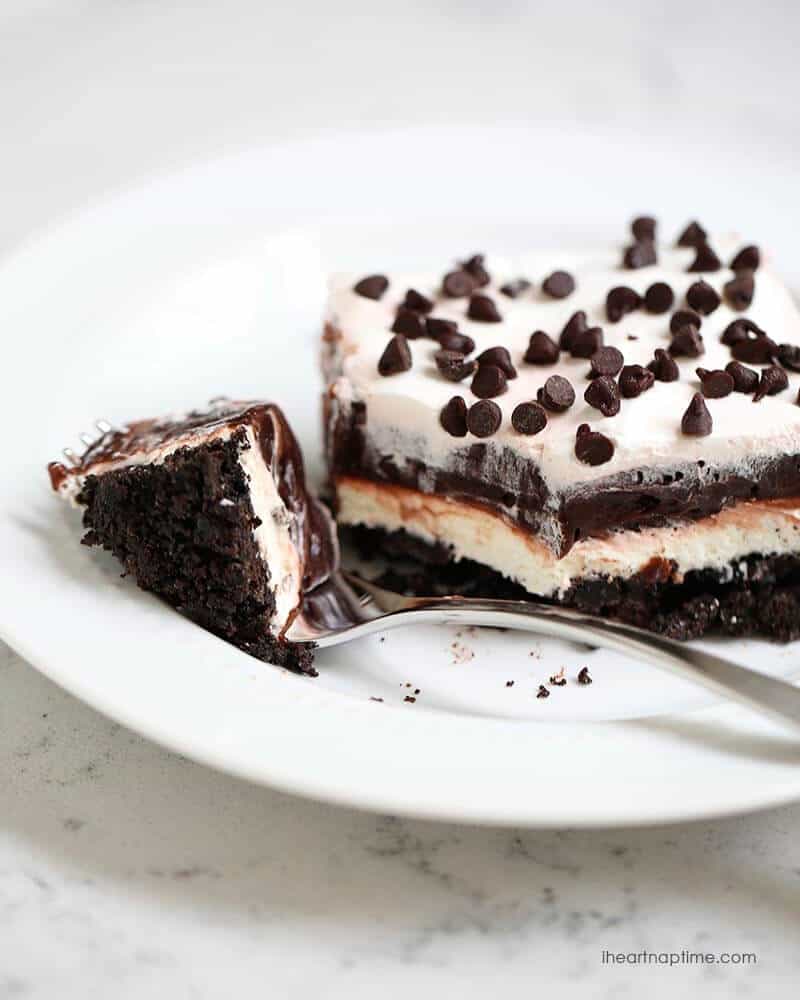 Storing Chocolate Lasagna Dessert
We love to keep this chocolate lasagna in the refrigerator before and after we serve it at family gatherings. Simply cover the dish with plastic wrap or place it in an airtight container and store it in the refrigerator for three to five days. Serve cold over and over again until it is gone!
HUNGRY FOR MORE? Subscribe to my newsletter and follow on Facebook, Pinterest and Instagram for all the newest recipes!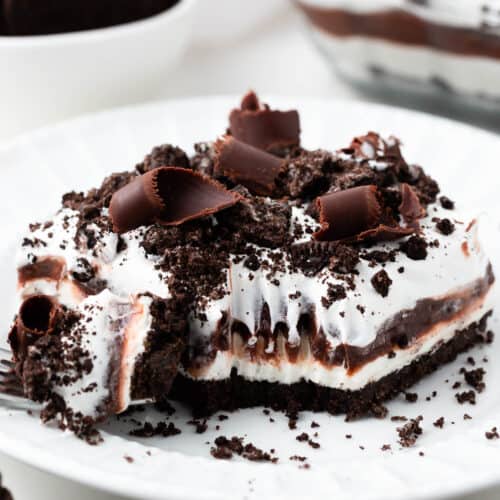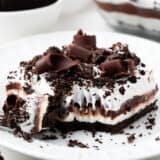 Chocolate Lasagna
This no-bake chocolate lasagna has layers of crushed Oreo's, cream, chocolate pudding and chocolate chips! Does it get any better than that?!
Ingredients
Oreo Crust
36 regular Oreos
6 Tablespoons butter , melted
Layer 1
1 (8-ounce) package cream cheese , softened
¼ cup granulated sugar
2 Tablespoons cold milk
12 ounces Cool Whip , divided
Layer 2
2 (3.9-ounce) packages dry chocolate instant pudding
3 ¼ cups cold milk
Instructions
Oreo Crust
In a food processor or blender, blend Oreos (whole cookies) into fine crumbs. Add melted butter and mix until combined. Press the mixture into the bottom of a 9×13-inch dish and place in the freezer or the refrigerator for 5 minutes.
Layer 1
In a medium-sized bowl, whip the cream cheese until fluffy with an electric mixer. Add in the sugar and milk. Mix until combined. Stir in 1 cup Cool Whip, then spread the mixture lightly over the crust. Place in the freezer or fridge for another 5 to 10 minutes.
Layer 2
In a separate bowl, whisk the pudding and cold milk together until thick. Once thickened, spread over the top of the cream cheese layer. Place back in the fridge for another 5 to 10 minutes to allow the pudding to set.
Topping
Once the pudding has set, spread the remaining Cool Whip on top and sprinkle with chocolate chips or crushed Oreos. Store in the refrigerator for 2 to 3 hours. Slice just before serving and enjoy while cold.
---
Notes
Oreo's: Keep the cream in the center. You want to crush the whole cookie pretty fine, so I find using a blender or food processor is easiest.
Pudding: Make sure it's the instant chocolate pudding. Do not use the cook and serve variation.
Cool whip: If you prefer a homemade cool whip, it is fairly easy to make.
Make ahead: This dessert can easily be made 24 hours in advance. The crust will get softer the longer the pudding sits, so I don't like to prep it more than 48 hours in advance. You can also make the crust and then keep the layers in separate bowls until ready to assemble.
Nutrition
Calories: 159kcal | Carbohydrates: 20g | Protein: 3g | Fat: 8g | Saturated Fat: 4g | Polyunsaturated Fat: 1g | Monounsaturated Fat: 3g | Trans Fat: 0.1g | Cholesterol: 14mg | Sodium: 117mg | Potassium: 110mg | Fiber: 1g | Sugar: 13g | Vitamin A: 169IU | Calcium: 62mg | Iron: 2mg
Nutrition provided is an estimate. It will vary based on specific ingredients used.
Did you make this recipe? Don't forget to give it a star rating below!