Creamy and refreshing, strawberry Dole Whip is an easy summer dessert made with 3 simple ingredients that will delight the whole family!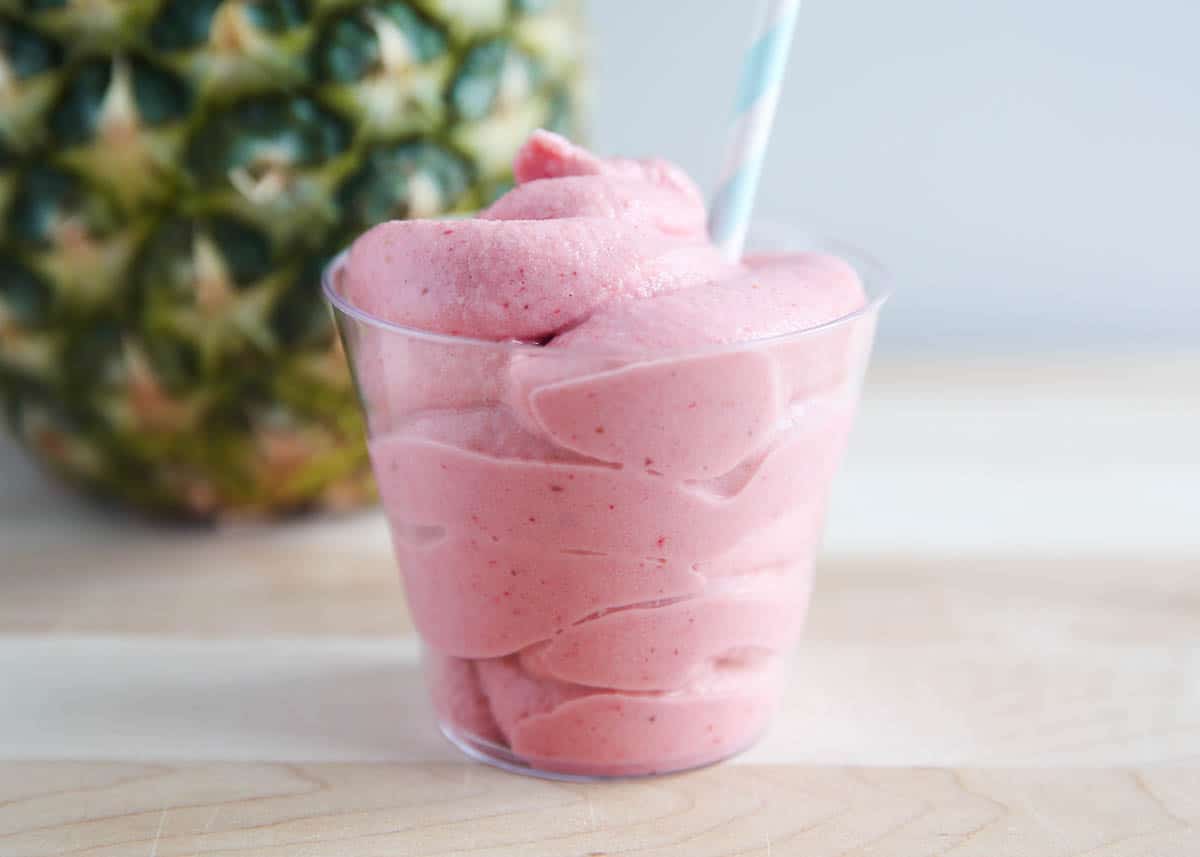 Creamy Strawberry Dole Whip
If you've been to Walt Disney World, there's a good chance that you've come across the famous pineapple Dole Whip. We always have one when we're there and my kids love that we can recreate the magic at home with our homemade Disney Dole Whip recipe. This version is a twist on the classic for all of you strawberry lovers out there!
Like the pineapple version, this strawberry Dole Whip has just 3 ingredients – pineapple juice, frozen strawberries, and vanilla ice cream. If I have some of my homemade vanilla ice cream stashed in the freezer, I'll use that, but otherwise, the store-bought kind tastes wonderful too.
I love summer berry desserts as they're so light and refreshing! This frosty strawberry treat is one of my favorites and it cools you off on a hot day. Take a trip to the Magic Kingdom right in your own home and try this recipe!
What is Dole Whip?
Back in the 80's the Dole Food Company created this frozen treat that was soon sold exclusively by Disneyland. Dole was known for pineapples and the popular Dole pineapple juice, so the first flavor they created was, you guessed it, pineapple!
Its popularity really took off and people have created their versions at home in many different flavors. You won't find dairy in the versions you get in the theme parks but for this recipe, I'm using ice cream to get a super creamy consistency.
You can be enjoying this twist on the iconic treat made popular at the Disney parks in 5 minutes or less.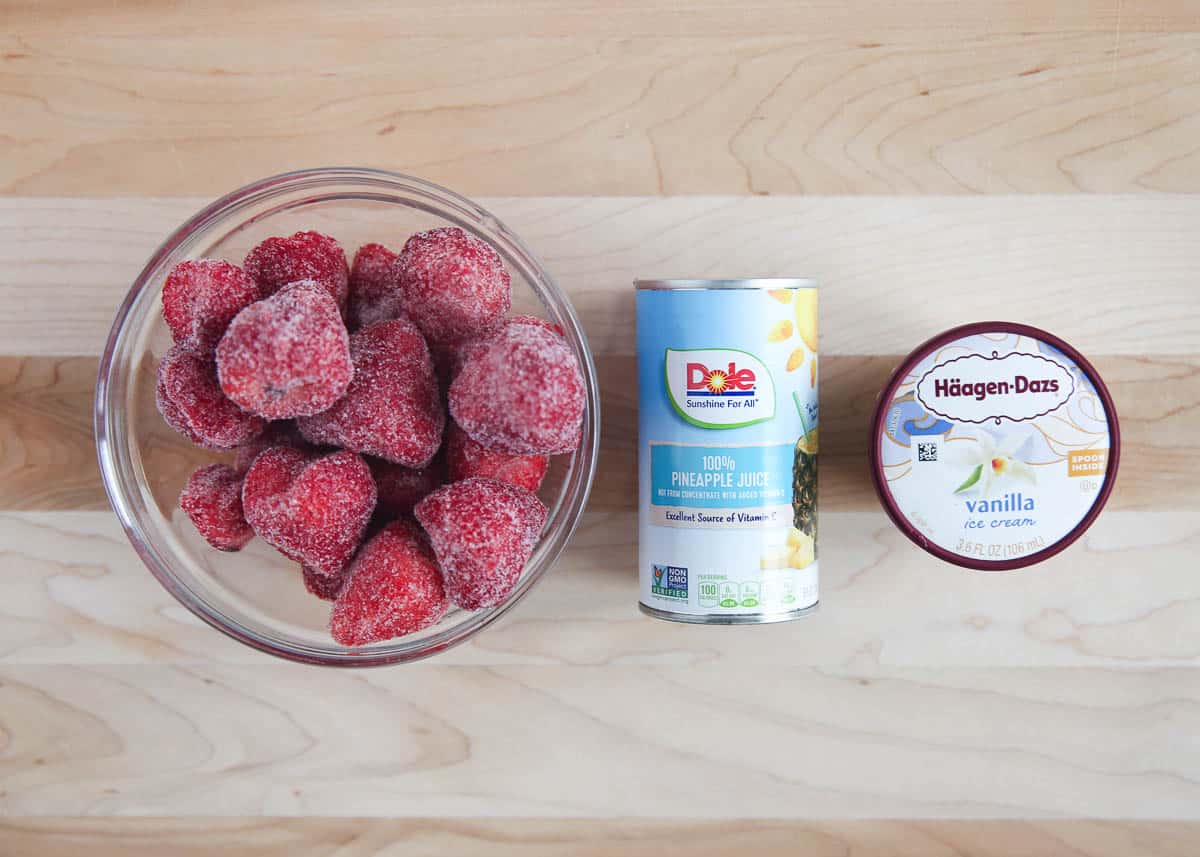 Ingredients
It's the best when you find an amazing recipe that only requires a few ingredients! To make this frozen treat you need these three things:
Pineapple juice: I use Dole 100% juice.
Frozen strawberries: The frozen berries not only provide the strawberry flavor but also help to thicken up the whip.
Vanilla ice cream: The addition of ice cream makes this whip extra creamy. Full-fat ice cream works best in this recipe. You can make your own vanilla ice cream at home or buy store-bought.
How to Make Homemade Strawberry Dole Whip
If you're looking for a quick dessert, this one is a great option. It only takes 5 minutes to make, so you can easily whip up a batch whenever the mood strikes!
Prep blender. Pour the juice, strawberries, and ice cream into a blender. I like to add the ingredients in that order because I find it doesn't clog up the blender blades if I do it that way.
Blend. Whizz everything up in the blender at high speed until the ingredients are combined. You can adjust the consistency of the mixture by adding more pineapple juice or frozen strawberries.
Serve. Pour the strawberry Dole Whip into glasses or bowls, grab a spoon, and enjoy!
Recipe Tips
Get the perfect consistency. If you like a thicker consistency, add some more ice cream. Start with a Tablespoon or two at a time until it's how you want it. If you want something thinner, pour in more pineapple juice. Go easy when adding more juice so it doesn't thin out too much.
Add the juice first. If you add the pineapple juice to the blender first, then the berries and ice cream, it makes it easier for the blender blades to get going. Adding the frozen berries first can sometimes make it difficult for the blades to move.
Sweeten. The vanilla ice cream adds sweetness, but if you'd like yours to be a little bit sweeter, you can add a small amount of powdered sugar or sweetener of choice (I have even added a spoon of homemade strawberry jam!) Again, add a little bit at a time and always taste before adding more so you don't overdo it!
Piping. If you'd like to pipe your strawberry Dole Whip into a cup, (like soft-serve ice cream), place the whip into a large zip-top bag. Freeze the bag for 5 minutes, then cut a ½ inch off the tip of one corner of the bag and pipe it into a swirl. You can also use a piping bag and a large star frosting tip.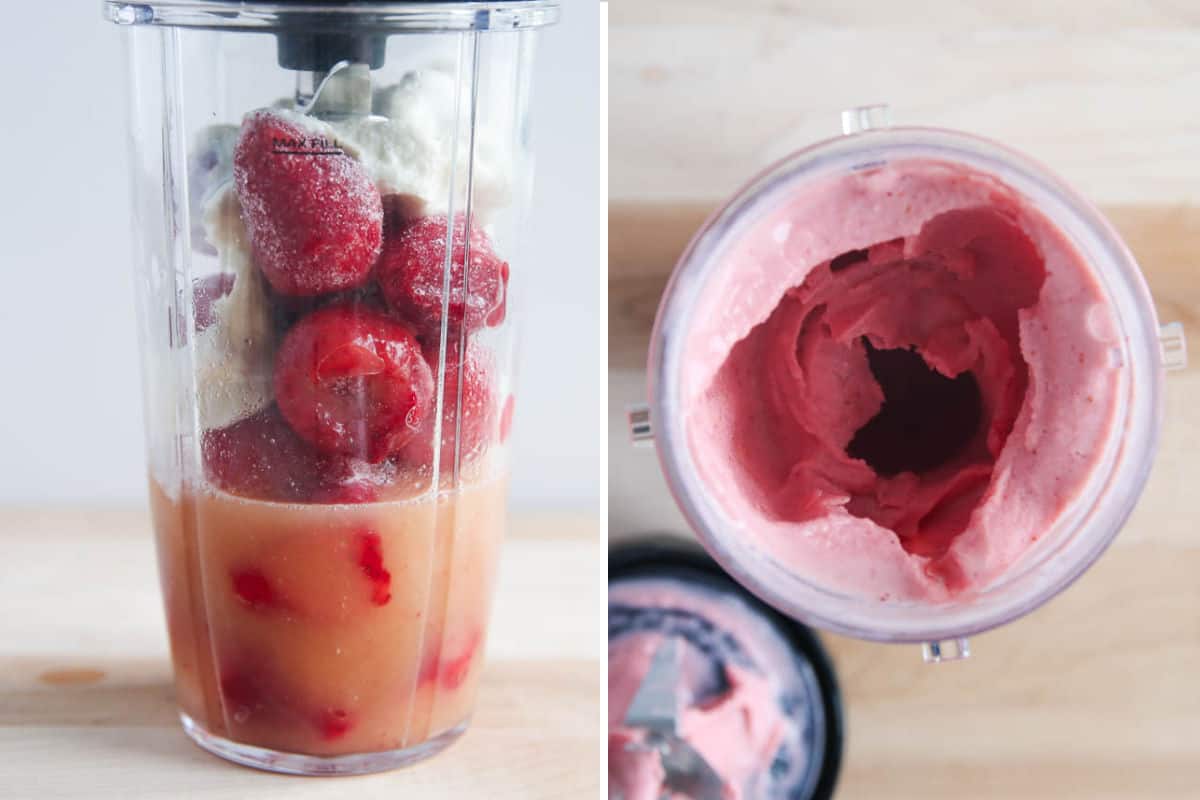 How to Serve Strawberry Dole Whip
I usually serve it in a glass or bowl with a spoon. It's easy for the kids to eat it this way!
Fruit garnish. When serving guests at a party, I like to top the rim with slices of fruit. Fresh pineapple or sliced strawberries are easy and pretty!
Make a float. Try making a strawberry Dole Whip float! To make a float, add some pineapple juice to the bottom of a glass or bowl and then drop in a scoop or swirl of the whip. Voila! You have a float.
In a cone. The consistency of this delicious treat is similar to soft-serve ice cream which means serving up a Dole Whip cone is easy to do!
Storage
We rarely have leftovers when we make this at home, it's just that good, but if you do have some leftovers, you can store it in the freezer until you're ready to enjoy it again.
Store leftovers in a covered container in the freezer until ready to serve. Allow it to soften at room temperature for 10 minutes.
Variations
You can play around with some of the ingredients and flavors in yours to create your own special dessert. This strawberry version is just the beginning.
Here are a couple of ways in which you can switch up the recipe:
Dairy-Free: If you head to Disney, the ones they serve there are all dairy-free. If you'd like to make your own dairy-free version at home, try using frozen coconut milk, coconut yogurt, or almond milk.
Other fruits: Disney now has several flavors in addition to the original pineapple flavor. At home, you can try watermelon, cherry, blueberries, peach, mango, banana, or lime Dole Whip to name just a few! Orange Dole Whip or raspberry Dole Whip are huge hits too! Let your creative juices flow to create your favorite flavor!
FAQs
Do I need an ice cream maker to make this recipe?

No, but you do need a blender or a food processor. Because the berries are frozen, you'll need a blender that has enough power to blend everything until it's smooth.
Is this strawberry Dole Whip recipe healthy?

Not exactly, but it can be! replace the vanilla ice cream with full-fat coconut milk or Greek yogurt and you've officially turned it into a healthy dessert. Gluten-free to boot!
Can I use fresh fruit to make Dole Whip?

Yes, you can use fresh fruit but make sure to freeze the fruit first. The frozen fruit helps to give the whip its luscious thick consistency.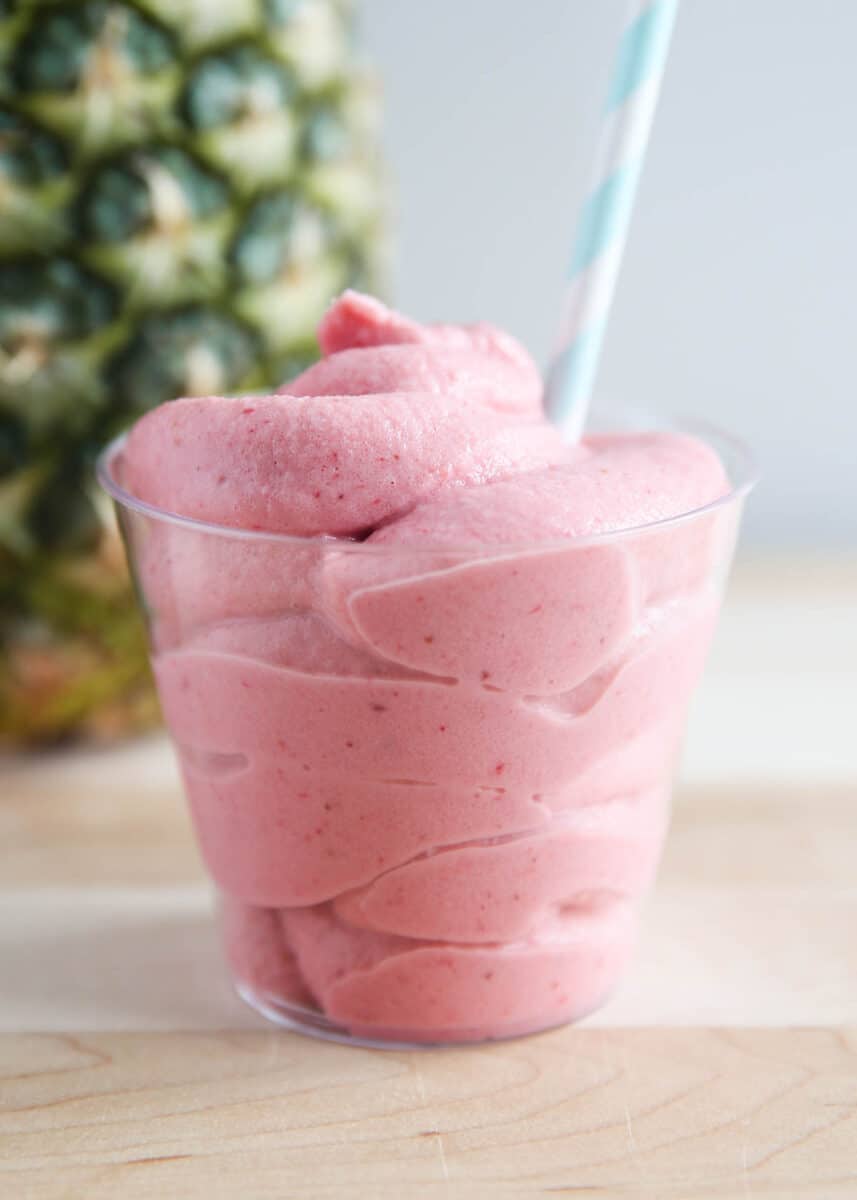 Below are some other refreshing treat ideas to cool off with!
HUNGRY FOR MORE? Subscribe to my newsletter and follow on Facebook, Pinterest and Instagram for all the newest recipes!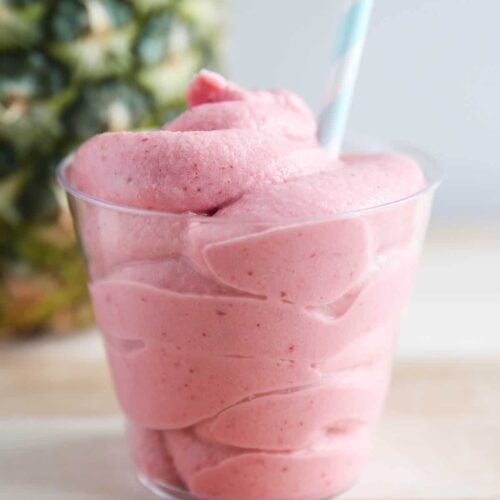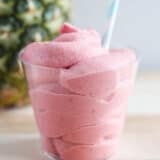 Strawberry Dole Whip
Creamy and refreshing, strawberry Dole Whip is an easy summer dessert made with 3 simple ingredients that will delight the whole family!
Ingredients
4-6 ounces pineapple juice , I used Dole 100% juice
2 cups (9 ounces) frozen strawberries
½ cup vanilla ice cream
Instructions
Pour the juice, strawberries and ice cream in a blender.

Blend on high speed until smooth and creamy. Add more pineapple juice or frozen strawberries if needed to reach desired consistency.

Pour into glasses and serve immediately.
---
Notes
Tip: If you'd like to pipe your Dole Whip into your cup (like a soft serve), place the frozen drink in a large zip top bag. Freeze the bag for 5 minutes. Then cut off 1/2″ of the tip and pipe into a cup. You can also use a large star frosting tip. Variations: There are many ways to mix this Dole Whip up. You could use coconut milk or yogurt in place of the ice cream to make Dairy Free. You can also add in raspberries if you'd prefer. You could also add 1-2 Tablespoons of sugar if you'd like it even sweeter. Storage: Store leftovers in a covered container in the freezer until ready to serve. Allow to soften at room temperature for 10 minutes.
Nutrition
Calories: 144kcal | Carbohydrates: 26g | Protein: 2g | Fat: 4g | Saturated Fat: 2g | Polyunsaturated Fat: 1g | Monounsaturated Fat: 1g | Cholesterol: 15mg | Sodium: 29mg | Potassium: 360mg | Fiber: 3g | Sugar: 20g | Vitamin A: 159IU | Vitamin C: 91mg | Calcium: 73mg | Iron: 1mg
Nutrition provided is an estimate. It will vary based on specific ingredients used.
Did you make this recipe? Don't forget to give it a star rating below!