A tropical mix of pineapple and coconut blended into creamy goodness. This easy pina colada smoothie turns your favorite poolside beverage into a delicious and healthy smoothie recipe to reach for this summer!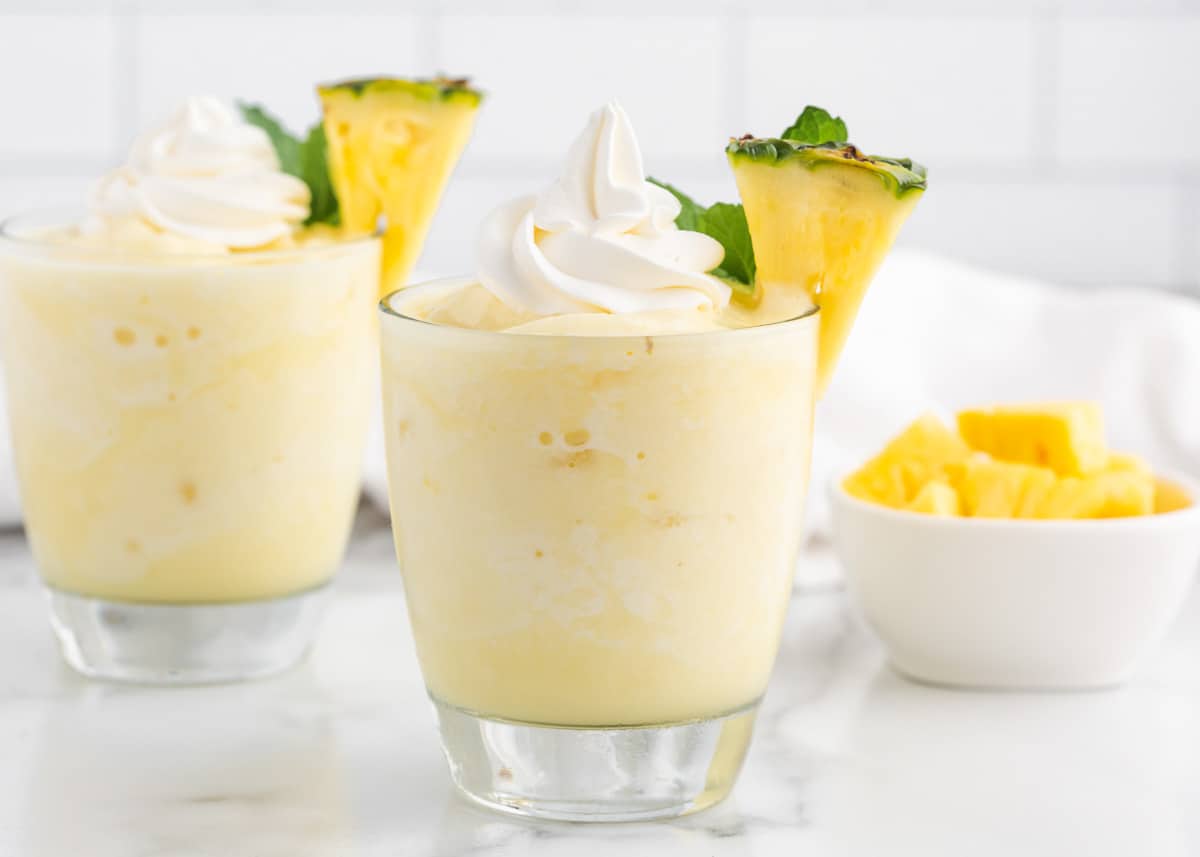 Refreshing Tropical Beverage
Today I wanted to share one of my favorite things in the summertime…pina colada smoothies! Something about the blend of coconut and pineapple and creamy goodness just screams SUMMER to me. It's the perfect refreshing treat to cool off on a hot summer day and has all those classic tropical flavors that make you feel like you're at the beach similar to this green smoothie recipe!
This recipe is super simple and only takes 3 ingredients (plus ice) and 5 minutes to make. There are plenty of ways to make it your own, like adding in a frozen banana and strawberries, or using coconut cream to make it a bit sweeter and thicker.
Serve it in a glass with a fun straw, a fresh pineapple wedge and even a dollop of whipped cream if you're feeling fancy. Or make a smoothie bowl with all your favorite toppings. Either way you'll have an easy breakfast or healthy snack idea that's ready in no time!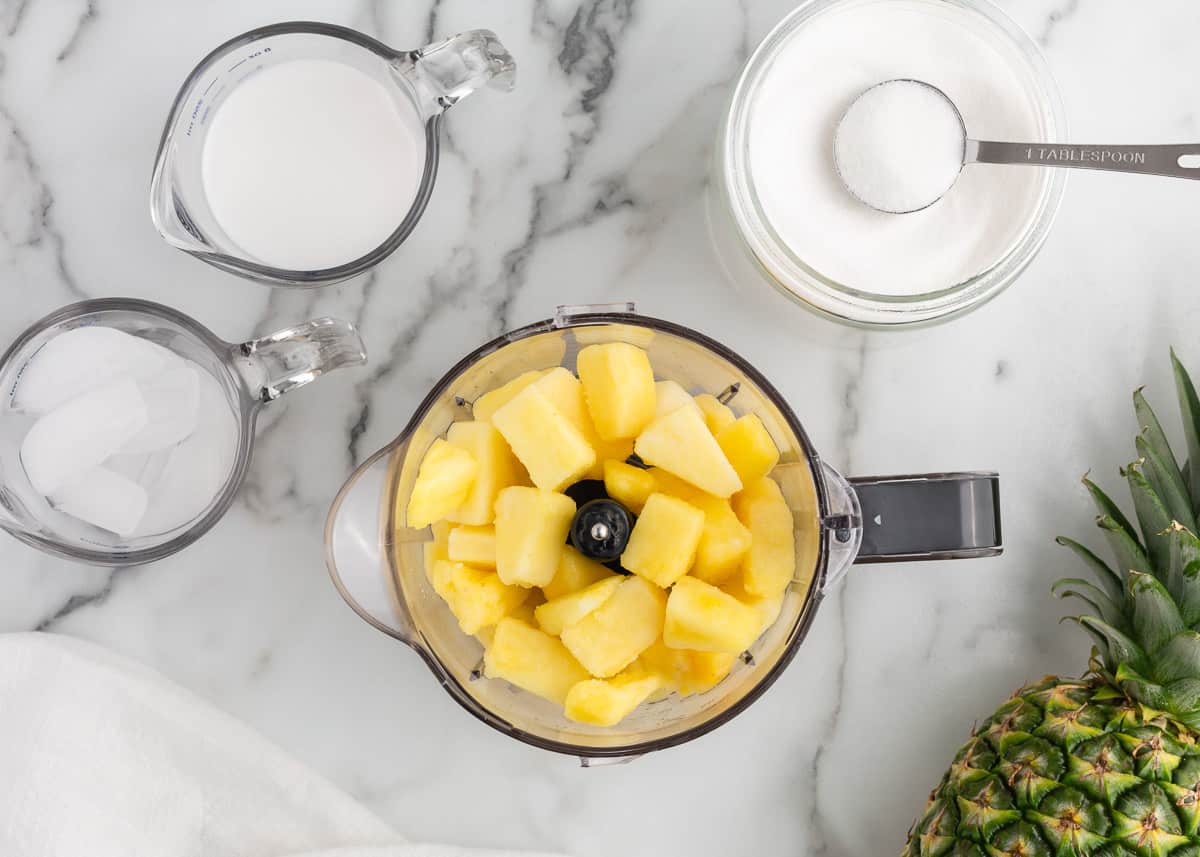 Tips for the Perfect Pina Colada Smoothie
Frozen pineapple. This creates the perfect creamy consistency. You can buy bags of frozen pineapple at the grocery, or cut a fresh pineapple into cubes and then freeze them yourself.
Stir the coconut milk. Coconut milk tends to separate in the can (solid cream on top and liquid on bottom). So before using the milk, make sure to give it a big stir to combine the 2 layers. You can definitely use your blender to do this, just make sure to pour it back in the can and then measure out 3/4 cup.
Liquid first. As with most smoothie recipes, pour the liquid (coconut milk) into the blender first, then add the remaining ingredients. Not only is this gentler on your blender, but the smoothie will blend more easily this way.
Consistency. After blending together the ingredients, check out the consistency. If it's too thick, add in a bit more coconut milk. Or blend in more frozen pineapple or ice to thicken it up.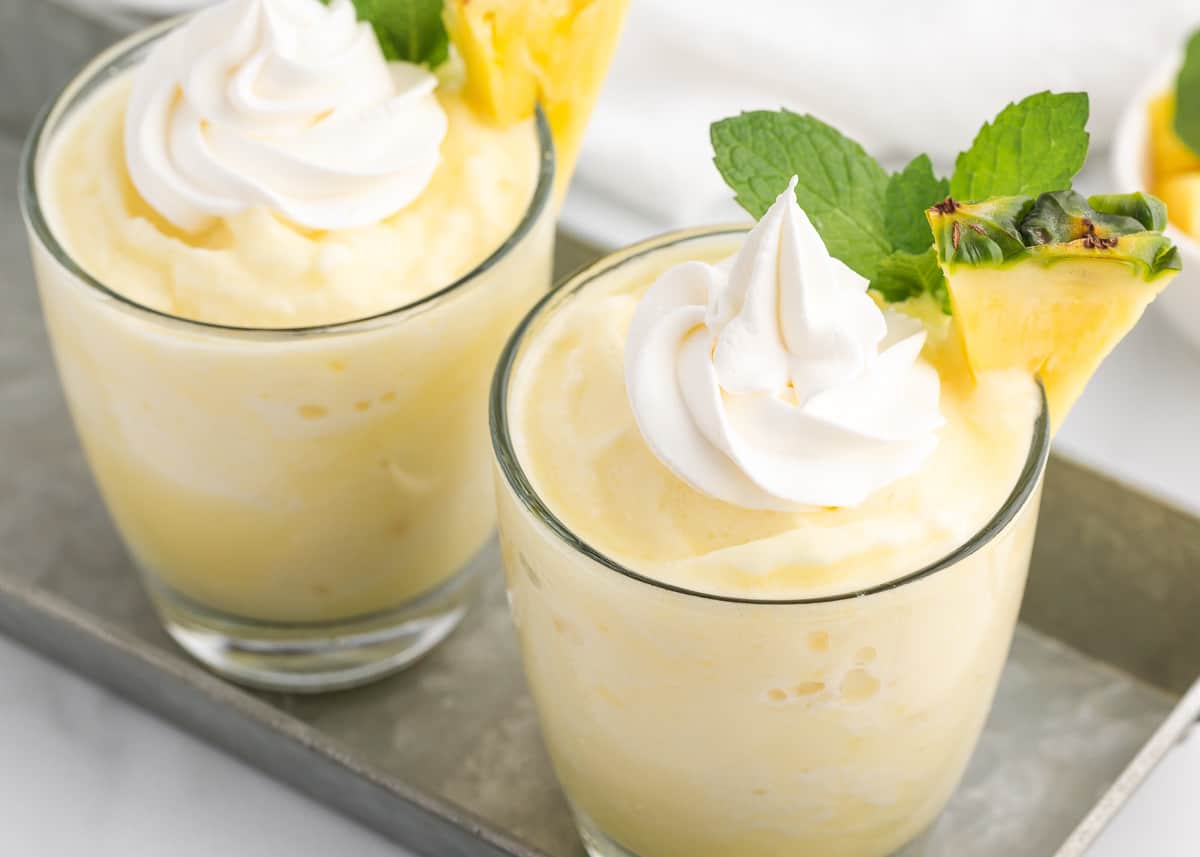 Smoothie Variations
Swap the sugar for honey to keep it healthier.
If you'd like more fruit, mix in 1/2 banana and 1 cup strawberries (I recommend both frozen).
For more protein, add a scoop of vanilla protein powder (this will change the flavor a bit, but will still taste delicious).
Substitute the coconut milk for coconut cream for a thicker and sweeter smoothie.
Serve as a smoothie bowl with toppings like shredded coconut, more fresh fruit and chia seeds.
Turn Leftovers into Popsicles
This pina colada smoothie also doubles as a great recipe for homemade popsicles! Pour any leftovers into a popsicle mold and freeze for about 4 hours, or until solid. Then run warm water on the bottom of the mold to release the pops.
My kids LOVE these and beg for them all summer. It's the perfect healthy snack idea for your little ones to cool off with after playing in the hot summer sun. You can also pour the leftover smoothie into an ice cube tray and then use the cubes to make my favorite pineapple smoothie.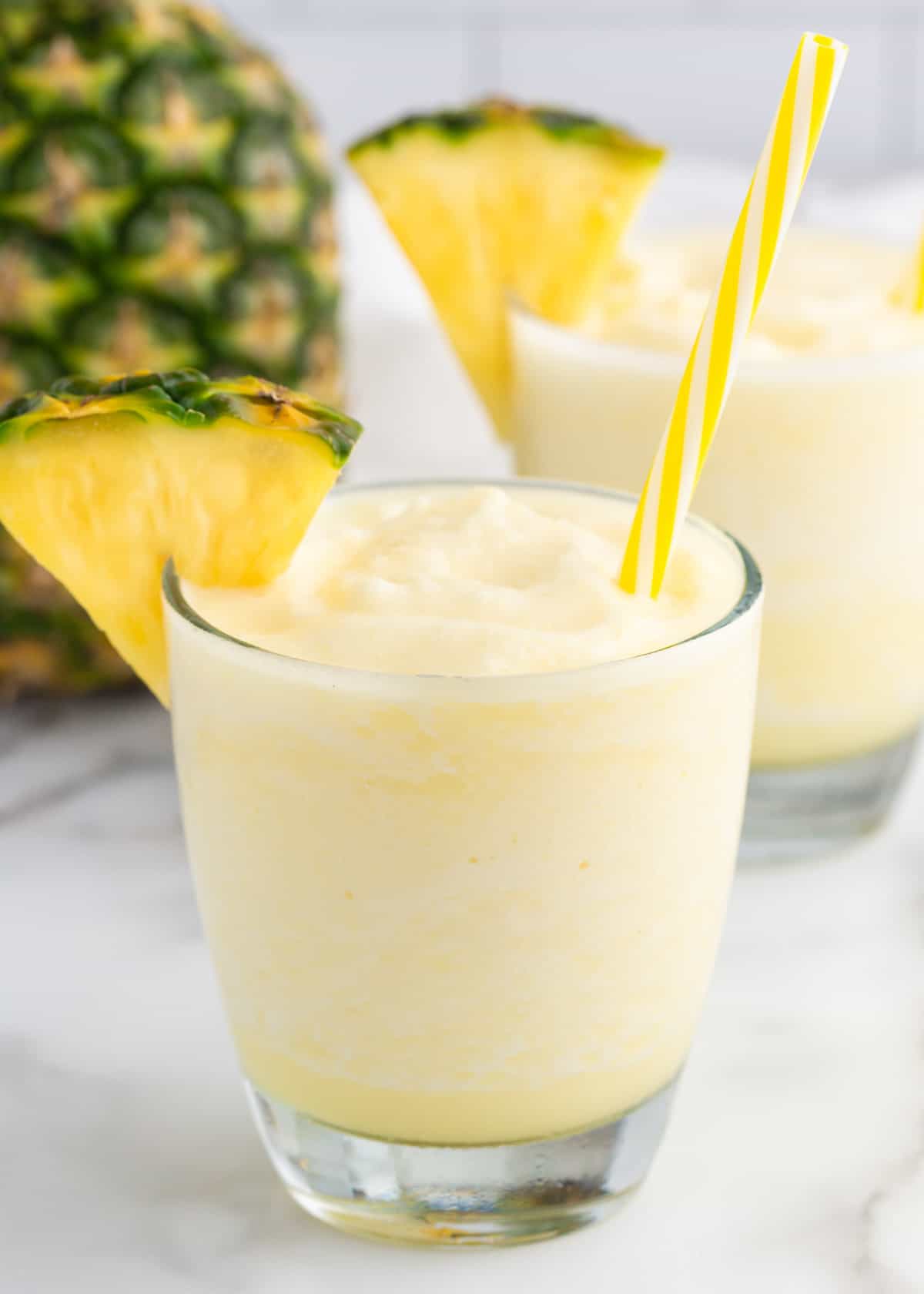 More Refreshing Beverages
HUNGRY FOR MORE? Subscribe to my newsletter and follow on Facebook, Pinterest and Instagram for all the newest recipes!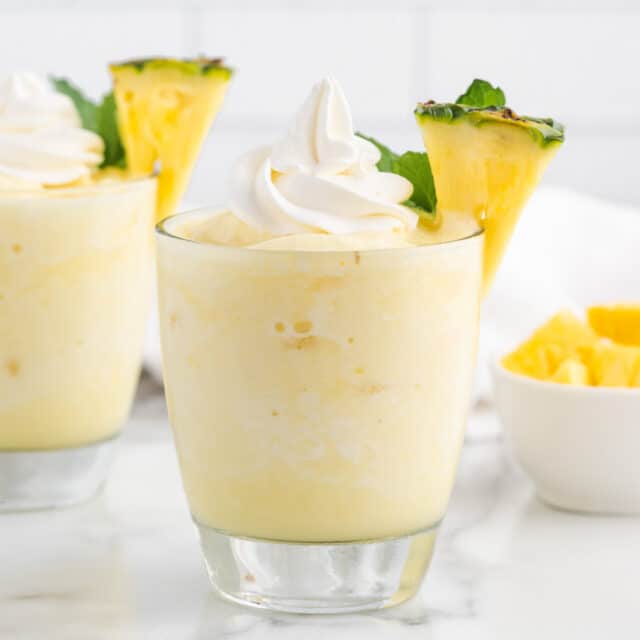 Pina Colada Smoothie
A tropical mix of pineapple and coconut blended into creamy goodness. This easy pina colada smoothie turns your favorite poolside beverage into a delicious and healthy smoothie recipe to reach for this summer!
Ingredients
¾ cup coconut milk
2 to 3 cups frozen pineapple
1 Tablespoon granulated or coconut sugar , more to taste
1 cup ice
For serving (optional): fresh pineapple slices, whipped cream, cherries
Instructions
Combine the coconut milk (stir first), sugar, pineapple and ice in a blender.

Blend on high power until smooth. Add more milk or frozen pineapple if needed to reach desired consistency.

Pour into 2 glasses and serve with fresh pineapples if desired.
---
Notes
Variations and substitutions:
You may omit the sugar or substitute for honey.
If you'd like more fruit, you can try adding 1/2 banana and a cup of strawberries.
For a sweeter and thicker smoothie, use cream of coconut.
Freezing: If you have leftovers, freeze in a popsicle mold or ice cube tray.
Nutrition
Calories: 273kcal | Carbohydrates: 30g | Protein: 3g | Fat: 18g | Saturated Fat: 16g | Polyunsaturated Fat: 1g | Monounsaturated Fat: 1g | Sodium: 19mg | Potassium: 366mg | Fiber: 2g | Sugar: 22g | Vitamin A: 96IU | Vitamin C: 80mg | Calcium: 40mg | Iron: 3mg
Nutrition provided is an estimate. It will vary based on specific ingredients used.
Did you make this recipe? Don't forget to give it a star rating below!