Jump to Recipe⌄
Homemade strawberry jam + free labels
Earlier today I shared my favorite homemade white bread and now I'm sharing my favorite homemade strawberry jam. I remember helping my grandma make this as a little girl and it has been a favorite of mine ever since. I only make it once a year because it is definitely a treat, but it brings back wonderful memories from my childhood when I helped my grandma in the kitchen. She always said I was the best "taste tester." I was always happy to have that job! ;)
Homemade jam is actually really easy to make and SO much better than store bought jam. Give it a try. You will soon be hooked! It is so delicious!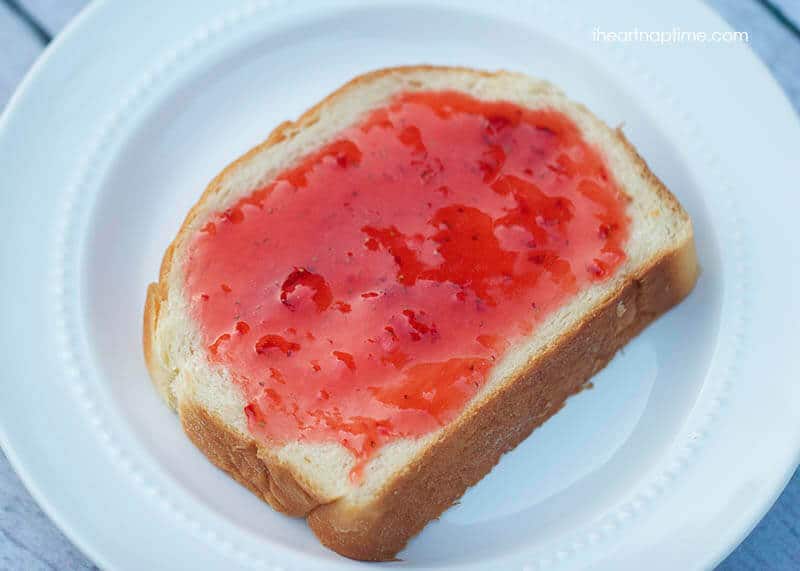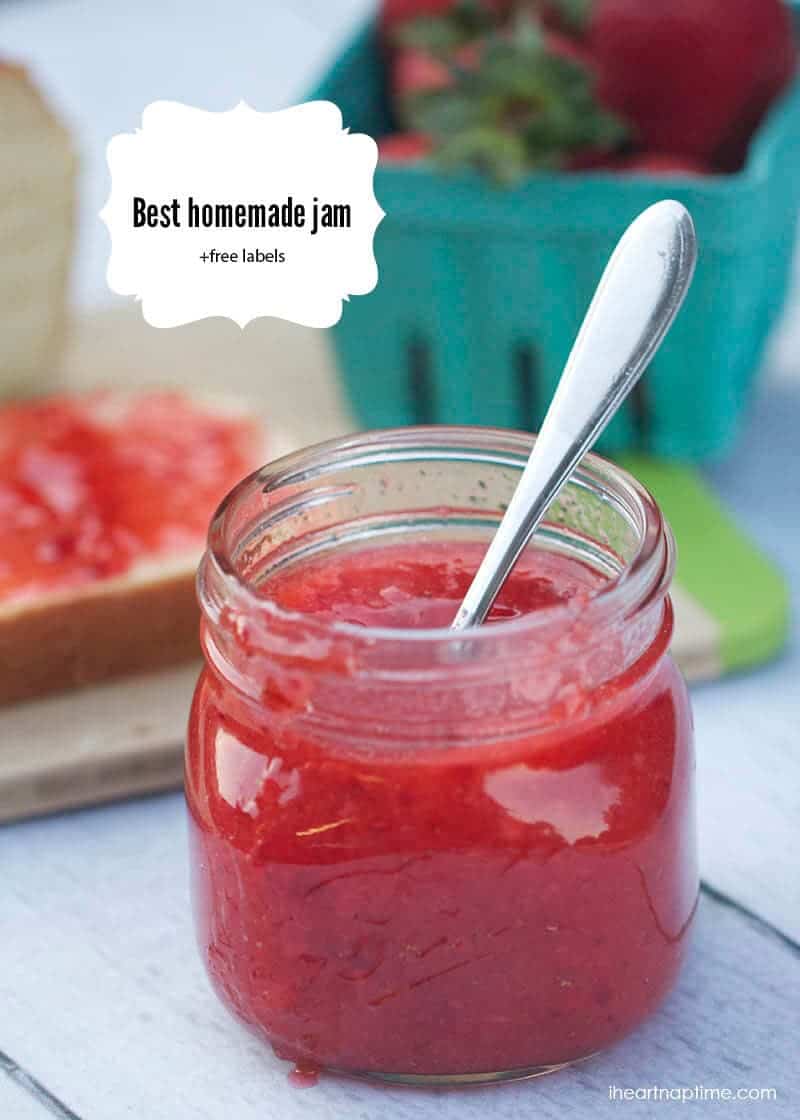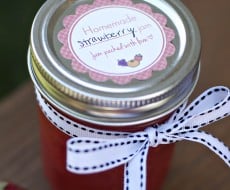 Homemade strawberry jam + free labels
Ingredients:
2 pints (4 cups) fresh strawberries (washed and stems removed)
4 cups sugar
1/2 teaspoon lemon juice
1 (1.75 ounce) package regular powdered fruit pectin-not instant
3/4 cup water
Directions:
1. Cut strawberries into 4 and place in a blender with the lemon juice. Pulse the strawberries about 5-10 times. Note: You'll want to still see little pieces of strawberries.
2. Pour strawberries into a large bowl and then stir in sugar. Stir for about 2-3 minutes and then let sit for 15 minutes.
3. In a small saucepan, bring water to a boil. Stir in fruit pectin and boil for 1 minute stirring constantly. Remove from heat.
4. Pour mixture into the strawberries and then stir for another 2-3 minutes.
5. Next pour the jam into jars (leaving about 1/2 inch from the top) and place lids on. Let the jars sit on the counter for 24 hours so they can set. Store in the refrigerator for 3 weeks or place in the freezer for up to 1 year.
Recipe source: Fruit pectin package
All images and text ©
If you do not have a blender, you can use a potato masher as well. I use my Blentec for everything! :) I have to say my strawberry huller is amazing too. It made prepping the strawberries that much easier!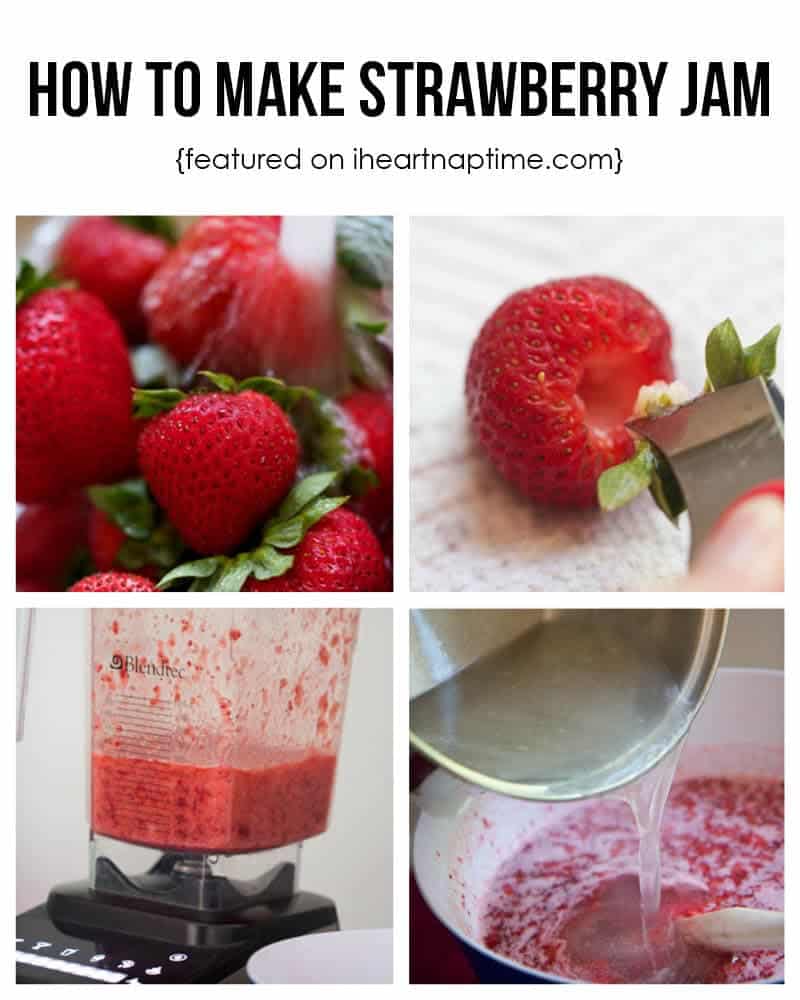 Now enjoy a thick slice of homemade bread with butter and homemade strawberry jam. Invite your friends over too. They'll be in heaven! SO so good! I think I'll go make some more…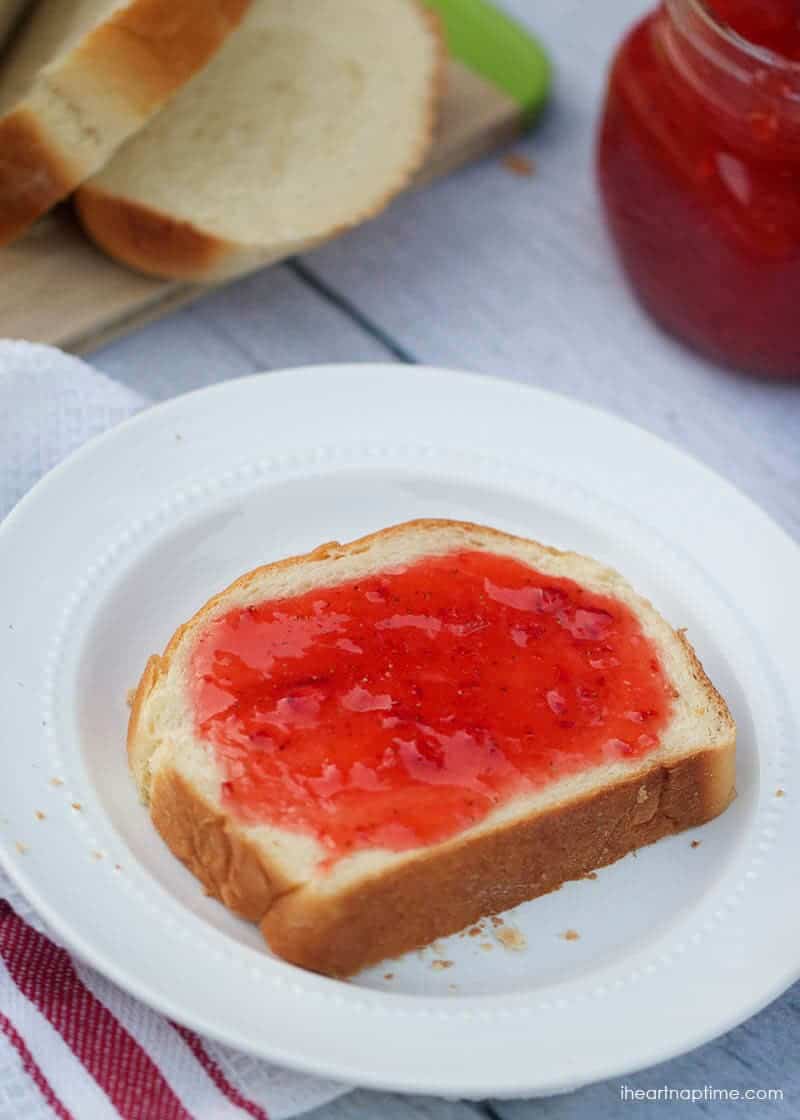 Free download
I also included some free jam labels for you guys! Double the batch and hand some out to your friends and family. Jam makes a great homemade gift around the holidays. To download these cute labels click HERE. Please note these are for personal use only. If you are pinning, please pin directly to this post and not the image
I printed the labels out on sticker paper and punched them out with my handy dandy scalloped punch. You could also just print them on card stock and attach the square tags with string to the top of the jar. :)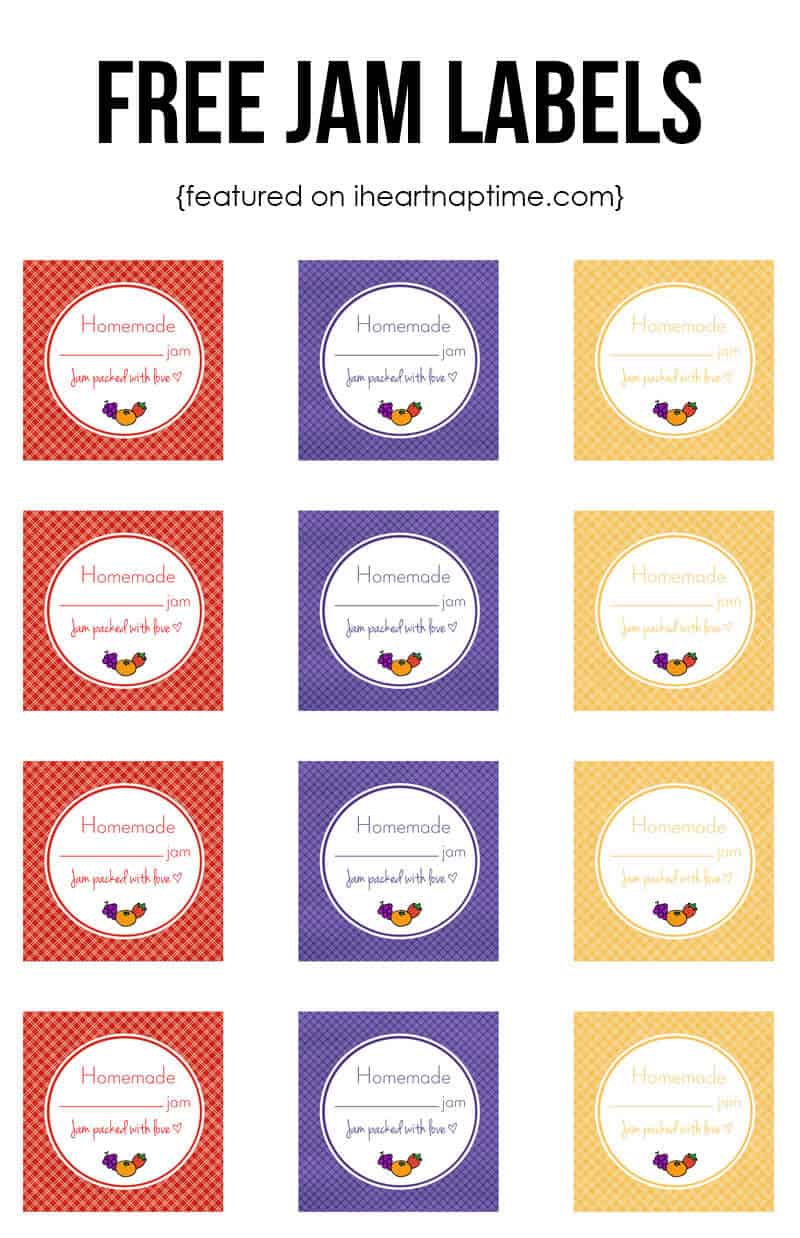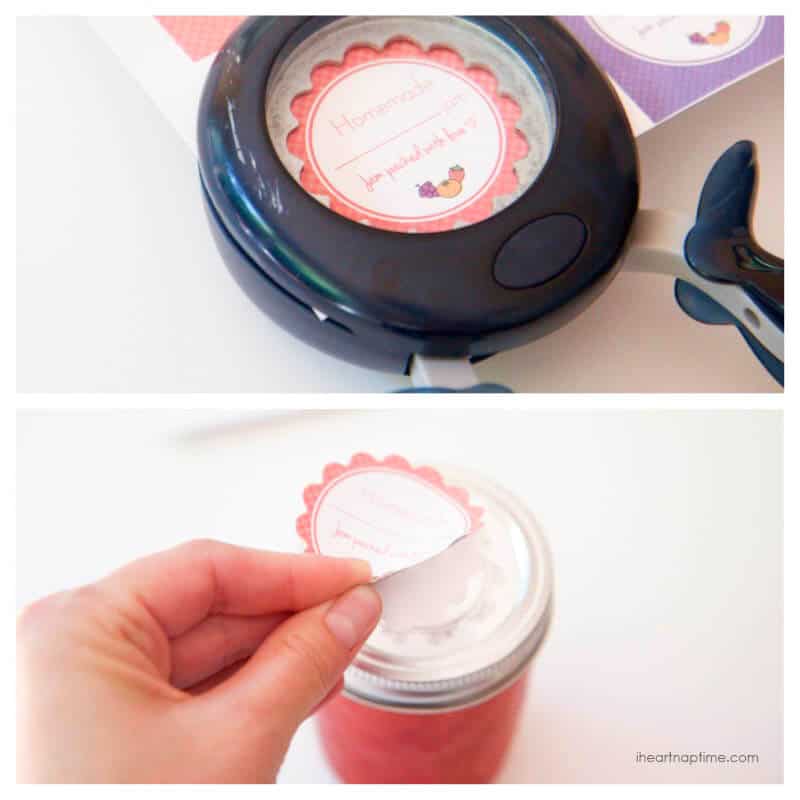 If you're looking to use other fruits in your jam, I found this cool tool to help you figure out the measurements. Check it out here.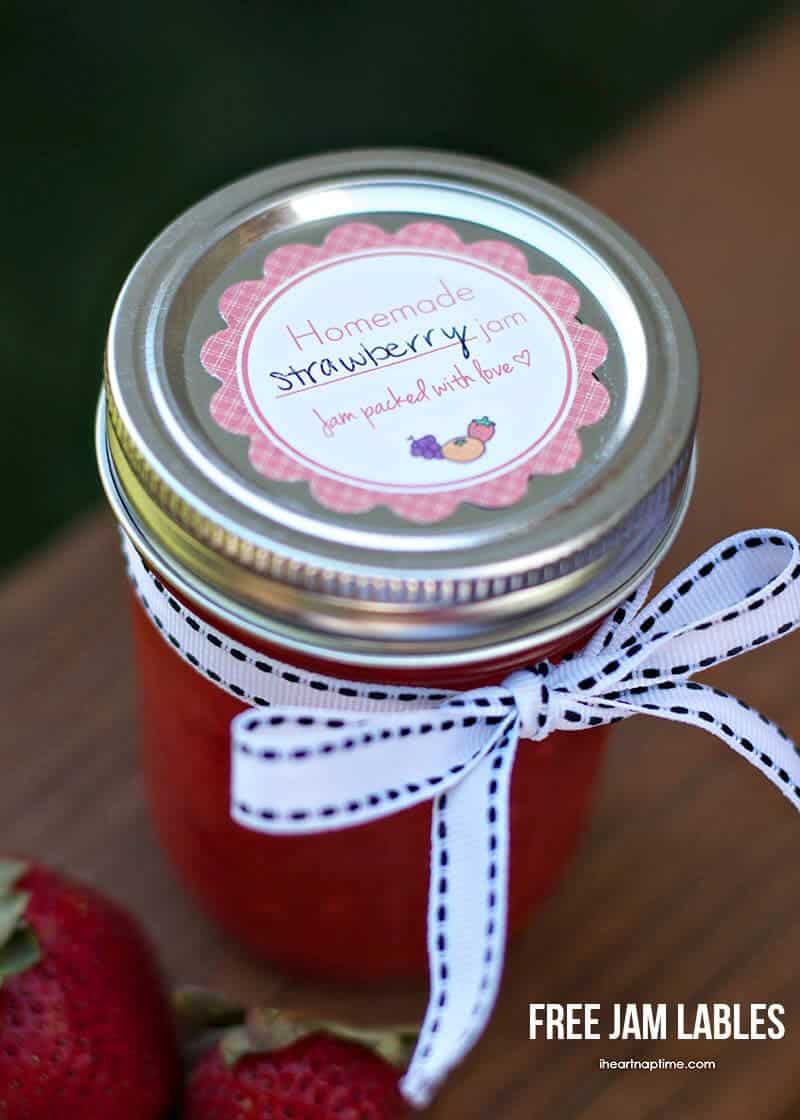 Enjoy!! :D
Have you made any jam this season?
Looking for more recipes with strawberries? Here's a few I think you'll love: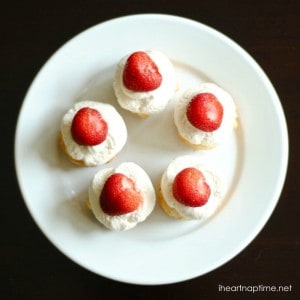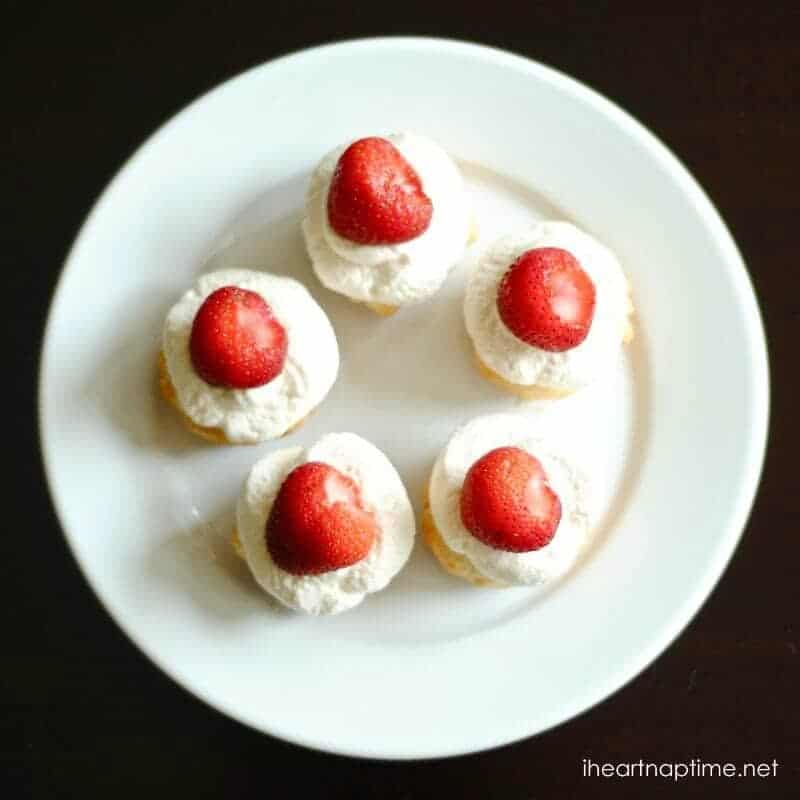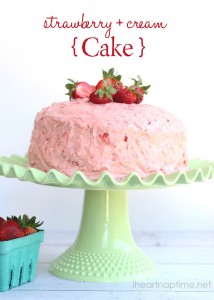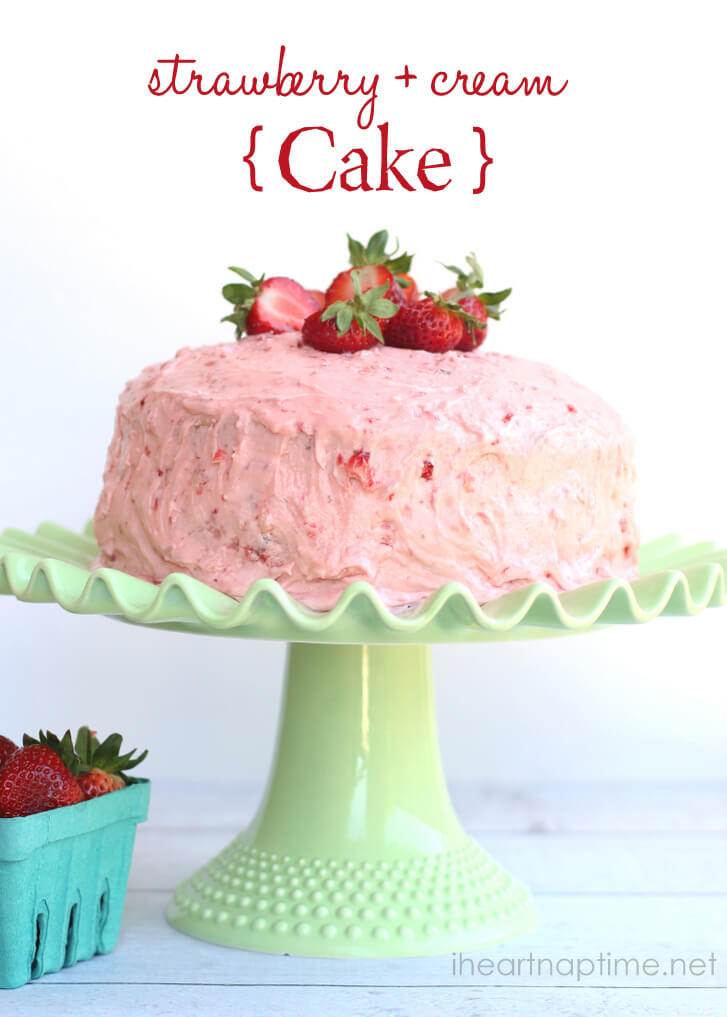 Psst — I included some amazon links for you guys to see the products I've been using. Please note, if you purchase the products using my link I will earn a small commission.