Stuffed zucchini boats are made with a filling of seasoned Italian sausage and marinara sauce topped with cheese and baked until perfectly golden brown!
Healthy Low Carb Zucchini Boats
I don't know about you, but a healthy dinner idea means something different to me in the summer than it does in the winter. On hot days I am looking for low carb, light, easy-breezy meals, and this zucchini boat recipe is all of that and more!
I love that they are a great way to make zucchini the main meal rather than just a side dish.
Similar to my stuffed spaghetti squash, stuffed zucchini boats are made by hollowing out the zucchini, stuffing them with saucy Italian sausage then topping them with cheese before baking until golden brown. It's one of my favorite recipes with zucchini!
Customize them to your liking by using different meat, no meat, or adding extra veggies. Use a marinara sauce or maybe a homemade spaghetti sauce. For added crunch check out my post on how to make breadcrumbs and then sprinkle them on top!
Why We Love This Zucchini Boats Recipe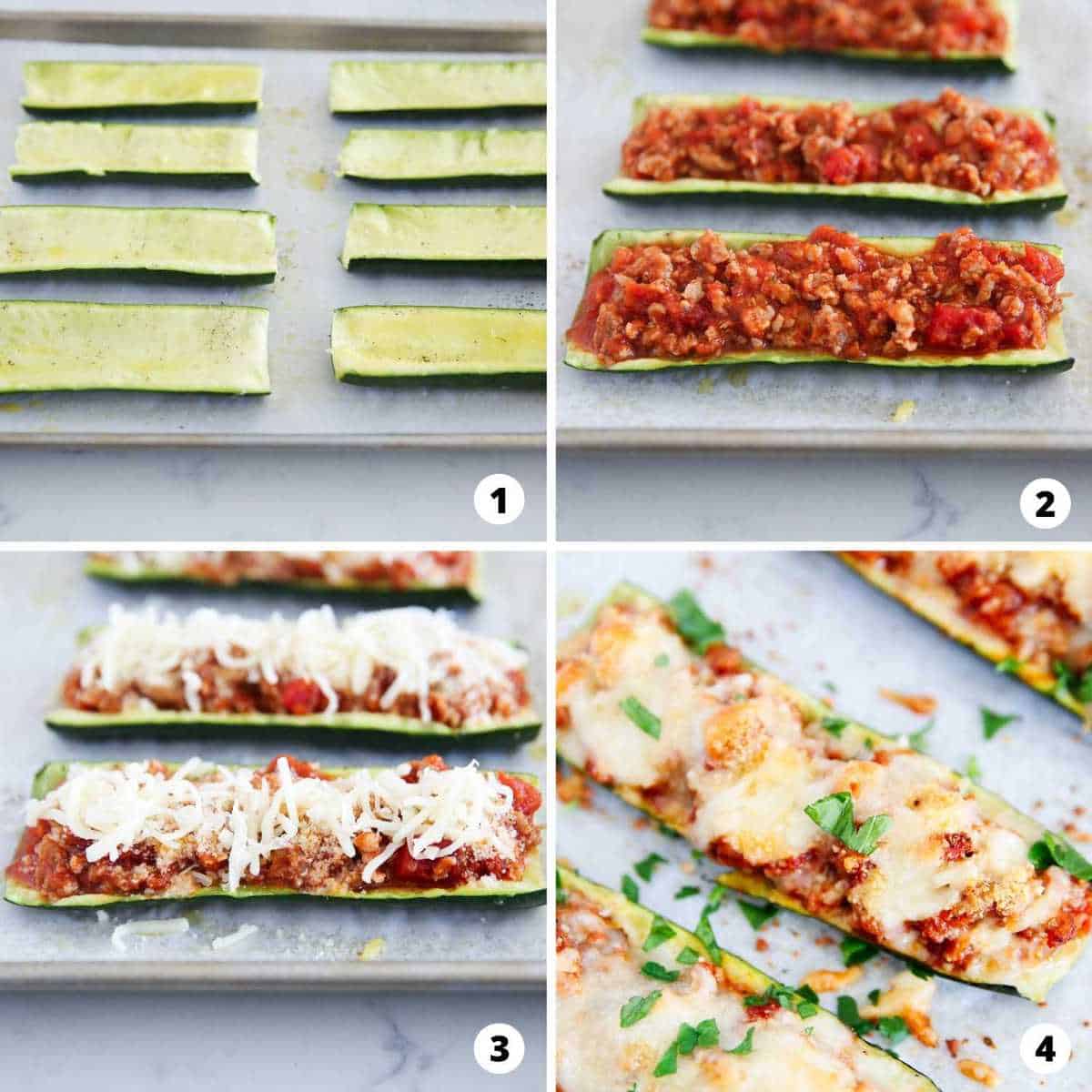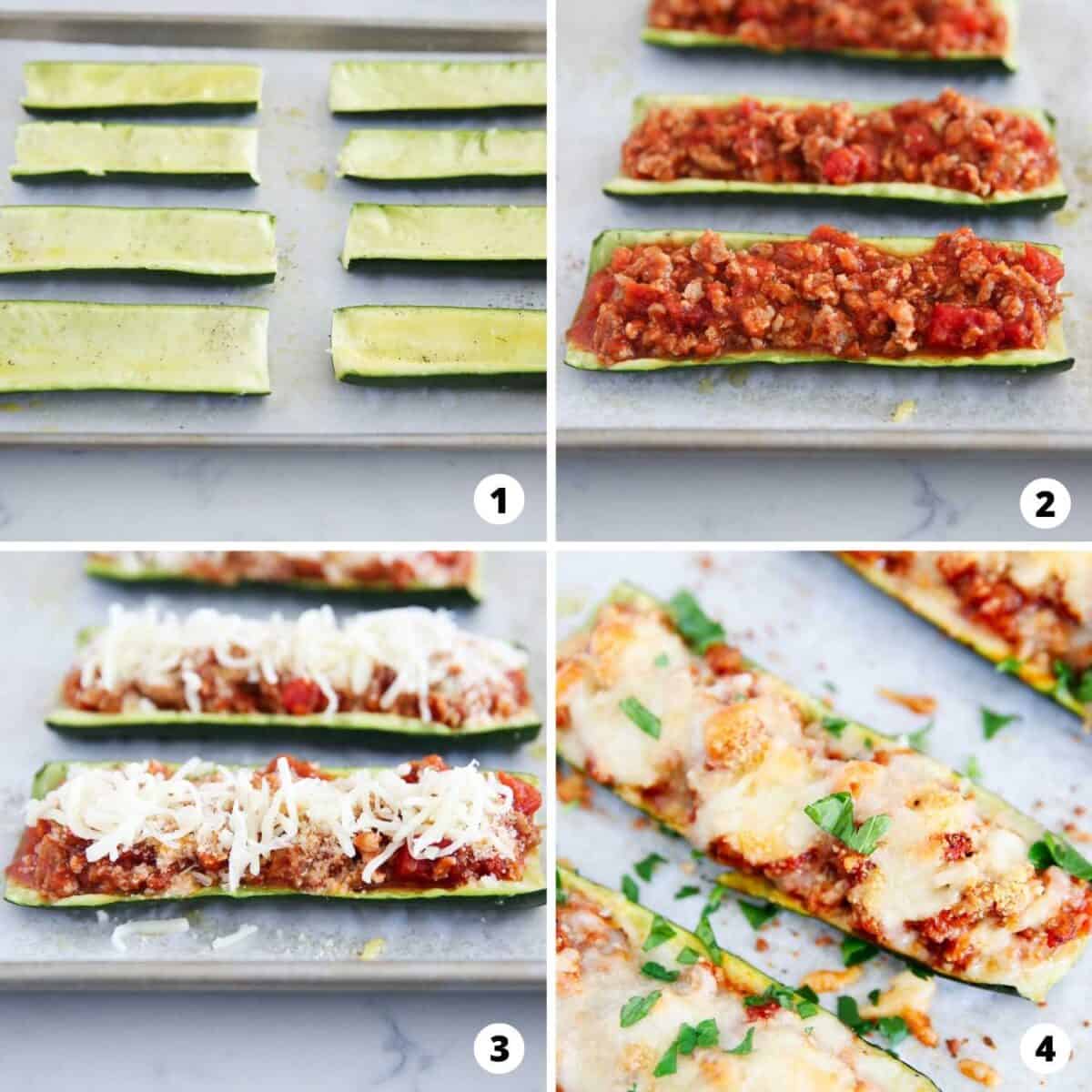 Ingredients Needed
How to Make Zucchini Boats
Prepare the zucchini. Cut the zucchini in half lengthwise and use a spoon to scoop out the zucchini flesh. You don't want to scoop out too close to the skin, leave about 1/4 inch around the rim. You want to keep it sturdy enough to hold the filling.
Initial bake. Place hollowed-out zucchini boats on a baking sheet. Lightly spray with cooking spray, sprinkle with salt and pepper, and bake for 10 minutes.
Make the filling. While the zucchini is in the oven, spray a large skillet with cooking spray and place it over medium-high heat. Add the onions and cook until soft and translucent before crumbling up the sausage into the pan. Once the sauce has cooked through, add the garlic and cook for another minute.
Add the sauce. Remove the skillet from the heat and stir in the marinara sauce and Italian seasoning. Season with salt and pepper to taste.
Stuff and bake the zucchini. Spoon in equal amounts of meat and sauce mixture into the center of each of the zucchini boats. Sprinkle parmesan and mozzarella cheese over top and bake for 15 minutes. The cheese will melt and the zucchini will become nice and tender!
Serve. Sprinkle with parsley, and serve.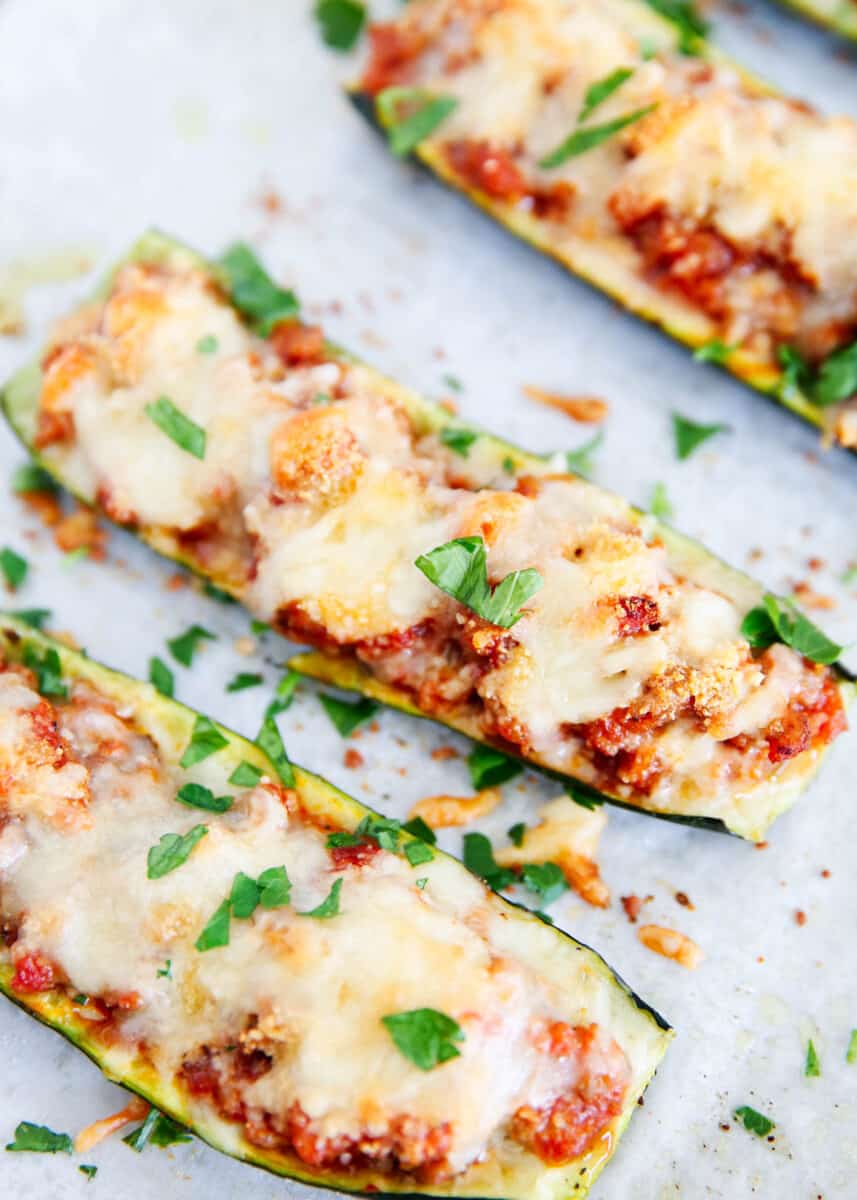 Variations
Ways to Serve Stuffed Zucchini Boats
Complete your meal with a simple side salad such as this cucumber tomato salad or a zesty chickpea salad. Don't forget a basket of garlic bread too!
Although this zucchini recipe is meant to be a main dish, you can also serve everyone just one boat on the side of a delicious pasta dish like this caprese pasta bake.
FAQs
Do you eat the skin of the zucchini boats?

Eat the skin! Zucchini peel is delicate, mild in flavor, and easily digestible, so you can eat the entire boat. It's also got a ton of nutritional benefits.
How do you hollow out zucchini?

First, you'll want to cut it in half lengthwise to gain easy access to the center. Take one half of the zucchini in one hand and a spoon in the other hand. Hold the spoon so the back of the spoon is facing outward and pull down in a scraping motion until you've got just about 1/4 inch of the flesh left.
Are stuffed zucchini boats healthy?

They are incredibly healthy! Zucchini offers a ton of nutrients like fiber, vitamins like such as vitamin C, vitamin A, minerals such as folate, antioxidants, and more. The Italian sausage provides protein, using fresh homemade sauces means you can control the amount of salt, refined sugars, or overall ingredients. It's low in carbohydrates and low calories!
Storage
Keep any leftovers stored in an airtight container for up to 4 days in the fridge. I do not recommend freezing cooked zucchini. When it thaws, it will become mushy.
That's what's great about this recipe…you can make only as many as you intend to serve. Enjoy!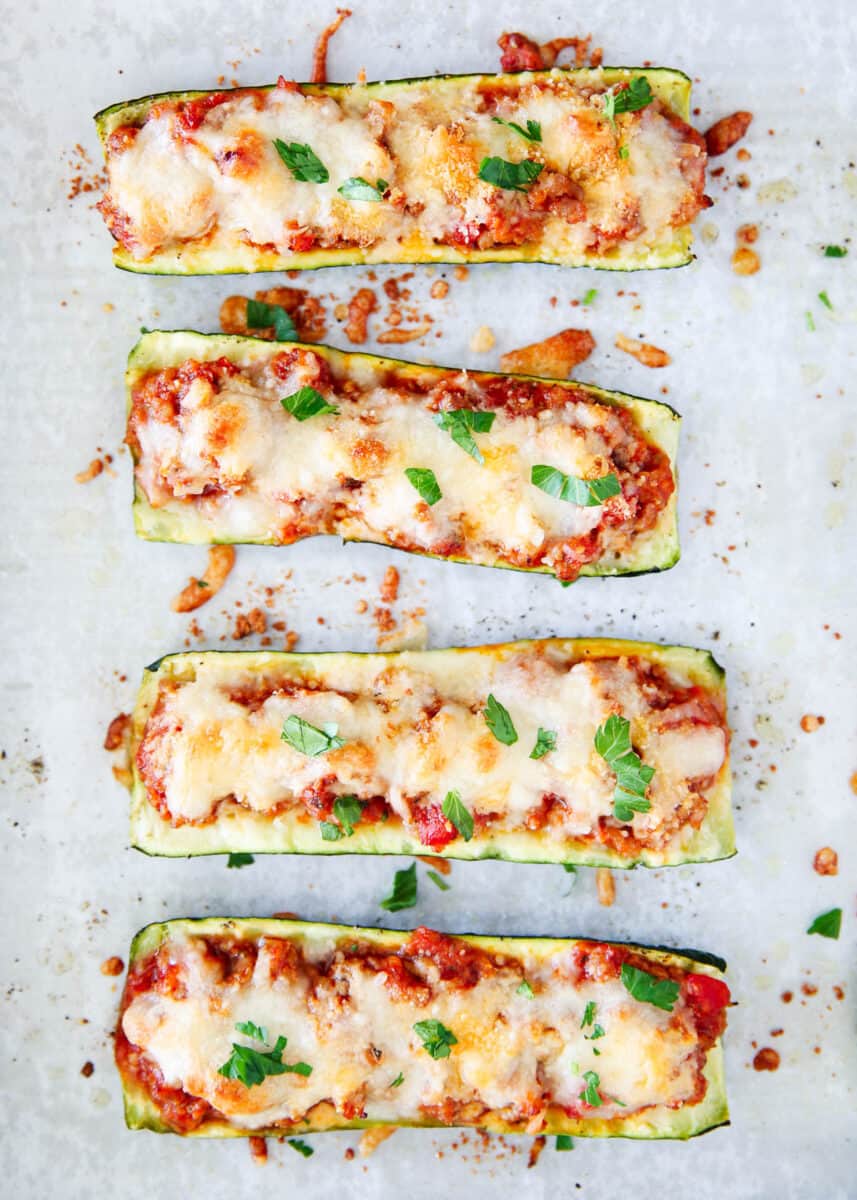 More Healthy Dinner Ideas
HUNGRY FOR MORE? Subscribe to my newsletter and follow on Facebook, Pinterest and Instagram for all the newest recipes!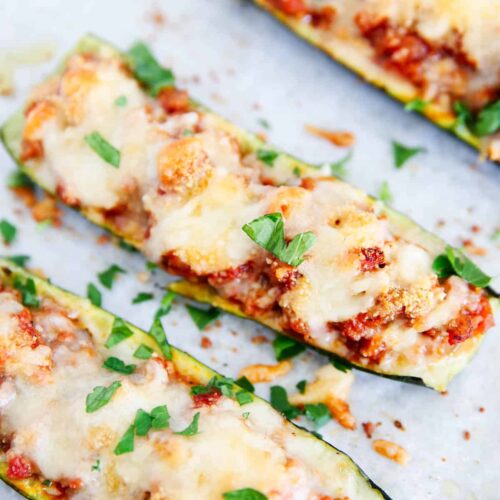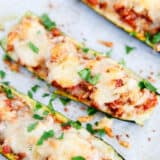 Stuffed Zucchini Boats
Stuffed zucchini boats are made with a filling of seasoned Italian sausage and marinara sauce topped with cheese and baked until perfectly golden brown!
Ingredients
Olive oil cooking spray
5 medium zucchini (about 6 ounces each)
Salt , to taste
Ground black pepper , to taste
½ cup chopped yellow onion
1 pound mild Italian sausage
2 cloves minced garlic (2 teaspoons)
1 ½ cups marinara sauce
1 teaspoon Italian seasoning
¼ cup finely grated parmesan cheese
½ cup shredded mozzarella
Chopped fresh parsley , for serving
Instructions
Preheat the oven to 400°F. Spray a 9×13-inch baking dish with olive oil cooking spray.

Using a spoon, scoop out the centers of the zucchini, leaving a 1/4-inch rim around the edges, to create boats. Place on baking sheet. Lightly spray with olive oil cooking spray and sprinkle with salt and pepper. Bake 10 minutes.

Spray large skillet with olive oil cooking spray and place over medium-high heat. Add onions and cook until they become soft, about 3 to 5 minutes. Stir in sausage, breaking into crumbles, and cook until cooked through. Add garlic and cook 1 minute.

Remove from heat and stir in marinara and Italian seasoning. Season with salt and pepper, to taste. Then spoon evenly into zucchini boats.

Sprinkle parmesan and mozzarella cheese evenly over zucchini boats.

Bake 15 minutes, or until cheese is melted and zucchini is tender. Sprinkle with parsley and serve warm.
---
Notes
Variations:
Meat: You could also use turkey sausage or ground beef as well. You will need to season these a little more than Italian sausage.
Vegetables: Feel free to mix in extra vegetables while cooking the meat. I love to add diced mushrooms and bell peppers when I have them.
Breadcrumbs: If you'd like a crispier top, mix together the parmesan cheese, mozzarella, and 1/4 cup panko breadcrumbs to sprinkle over top.
Storage: Store leftovers in a covered container in the refrigerator for up to 3 days.
Nutrition
Calories: 303kcal | Carbohydrates: 12g | Protein: 13g | Fat: 23g | Saturated Fat: 8g | Polyunsaturated Fat: 3g | Monounsaturated Fat: 10g | Cholesterol: 51mg | Sodium: 778mg | Potassium: 641mg | Fiber: 2g | Sugar: 6g | Vitamin A: 523IU | Vitamin C: 27mg | Calcium: 116mg | Iron: 2mg
Nutrition provided is an estimate. It will vary based on specific ingredients used.
Did you make this recipe? Don't forget to give it a star rating below!