These are the best quick and easy zucchini fritters recipe that are crispy and golden on the outside, and full of flavor and tender on the inside! Done in 30 minutes!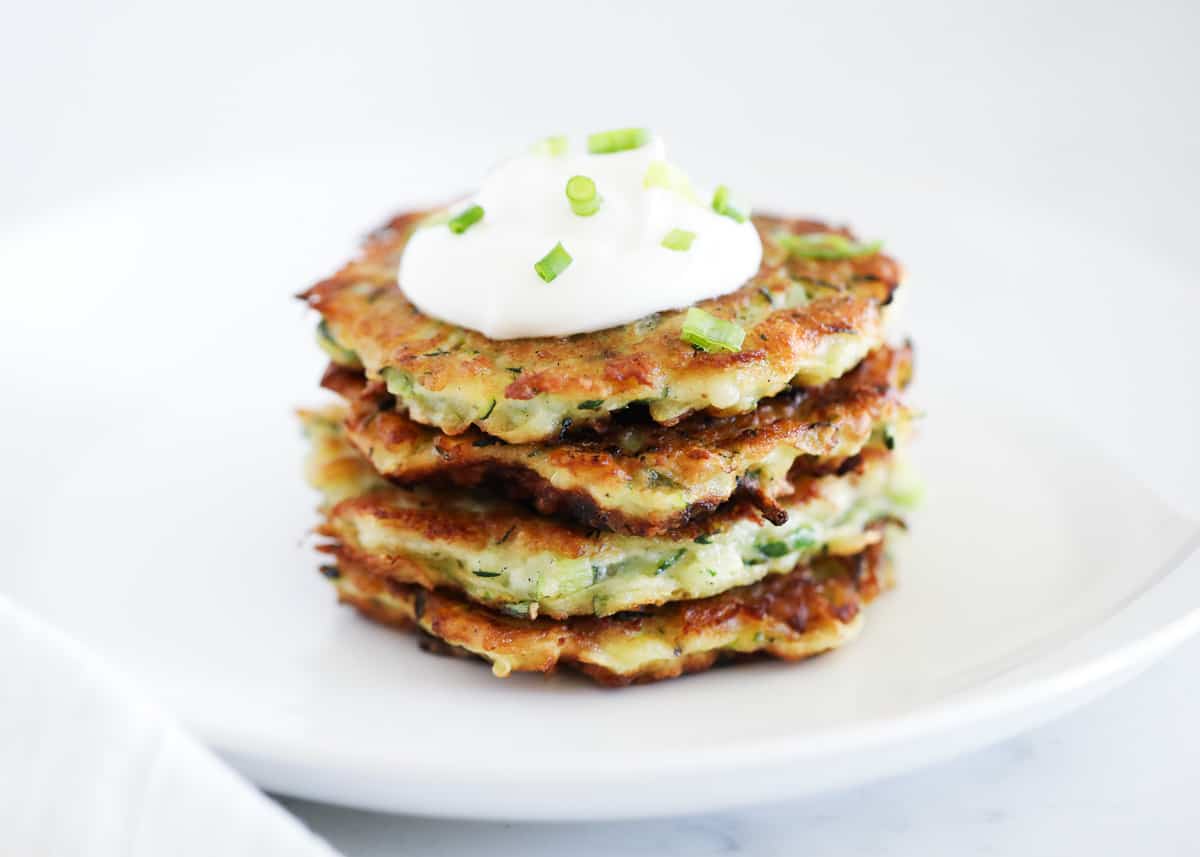 Calling All Zucchini Fans!
You're going to love this zucchini fritters recipe as a creative way to showcase all your garden-fresh zucchini. If you're stocked up, don't forget to use them up and make these other best zucchini recipes, zucchini boats or zucchini bread are two other favorites!
These zucchini fritters are surprisingly simple to make and so tasty. They're lower in carbohydrates than potato pancakes but just as easy to come together.
Everything is mixed in one bowl, then the batter is scooped up and dropped into a sizzling pan. Then, shallow fried until golden brown and crispy on the outside and nice and tender on the inside. So easy!
The secret to sturdy fritters that won't fall apart in your hands is squeezing as much water out of the zucchini as possible. You can imagine what excess water would do! I'm going to show you the tips and tricks to making perfect zucchini fritters every time!
Why We Love Zucchini Fritters
Kid-friendly. Such a great way to sneak in some veggies into a crispy, delicious fritter with just the right amount of grease. Serve with garlic aioli or homemade ranch and watch everyone devour them!
Versatile. Serve them for breakfast, or brunch, as an appetizer, as a snack, or side. They can be enjoyed warm or cold, with or without a dip.
Quick and easy. In under 30 minutes, this fritter recipe is done and ready to serve! I am making it even easier by showing you tips on how to shred zucchini.
Recipe Ingredients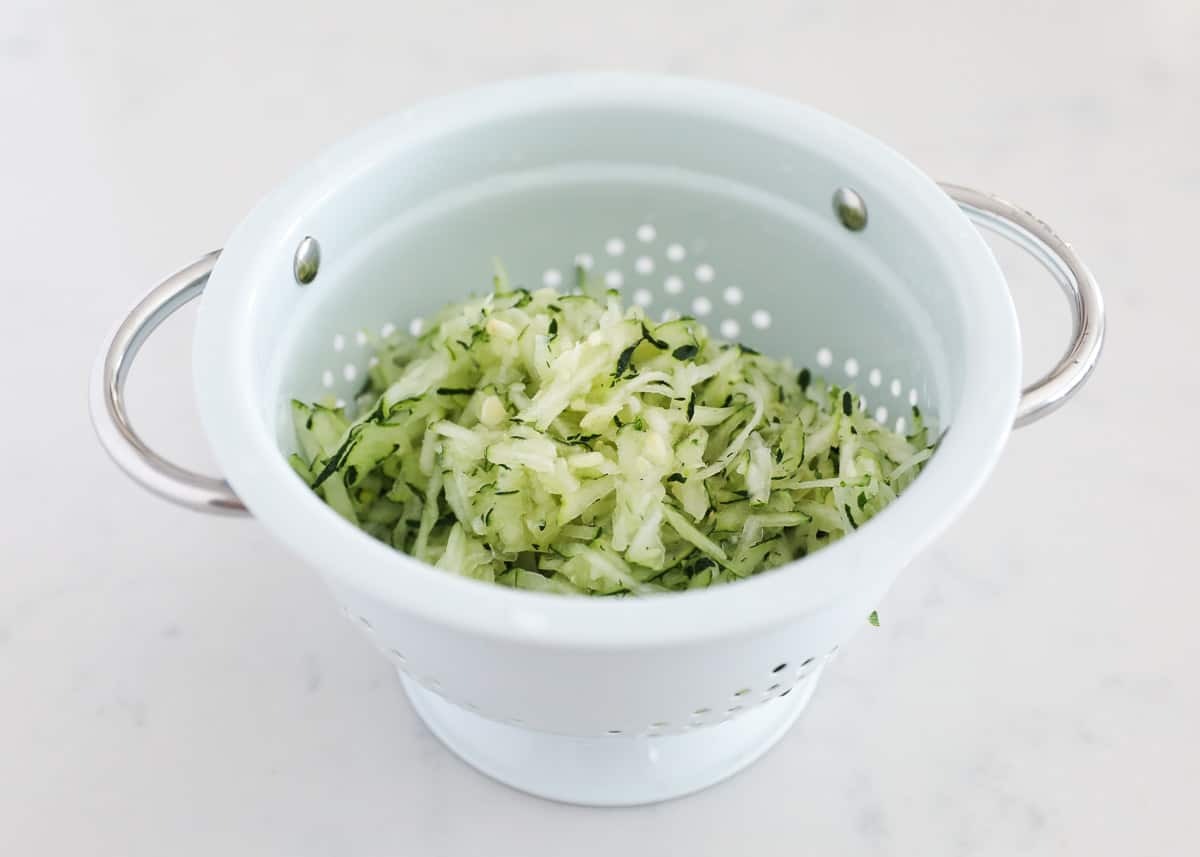 Find the full printable recipe with specific measurements below.
Zucchini: Shred 3 medium zucchini or 2 large zucchinis.
All-purpose flour: This is what creates the structure for the zucchini fritters.
Large eggs: Whisked eggs are added to the ingredients to help bind the ingredients together. They are just one of the elements that ensure these fritters stay intact.
Sliced green onions: A fresh, slightly pungent, vibrant flavor.
Sea salt & black pepper: Just a bit of seasoning to taste.
Olive oil: There's no deep-frying, so just a tablespoon or two of healthy olive oil will do. More, if needed, to get a beautiful golden exterior.
Flavor Boost
Add in a clove of minced garlic and a couple of Tablespoons of grated parmesan cheese. This is where it comes in handy to know how to mince garlic quickly and easily.
How to Make Zucchini Fritters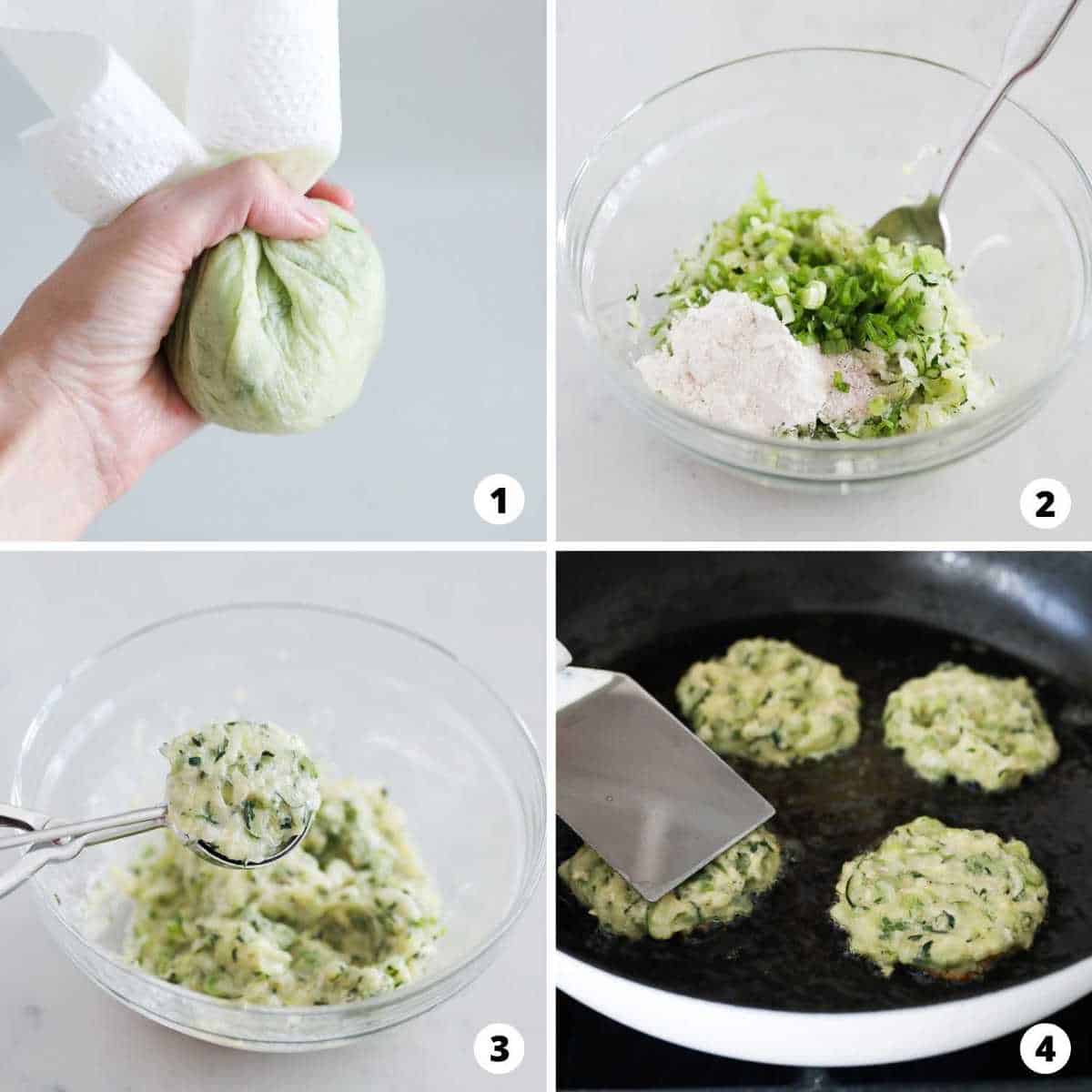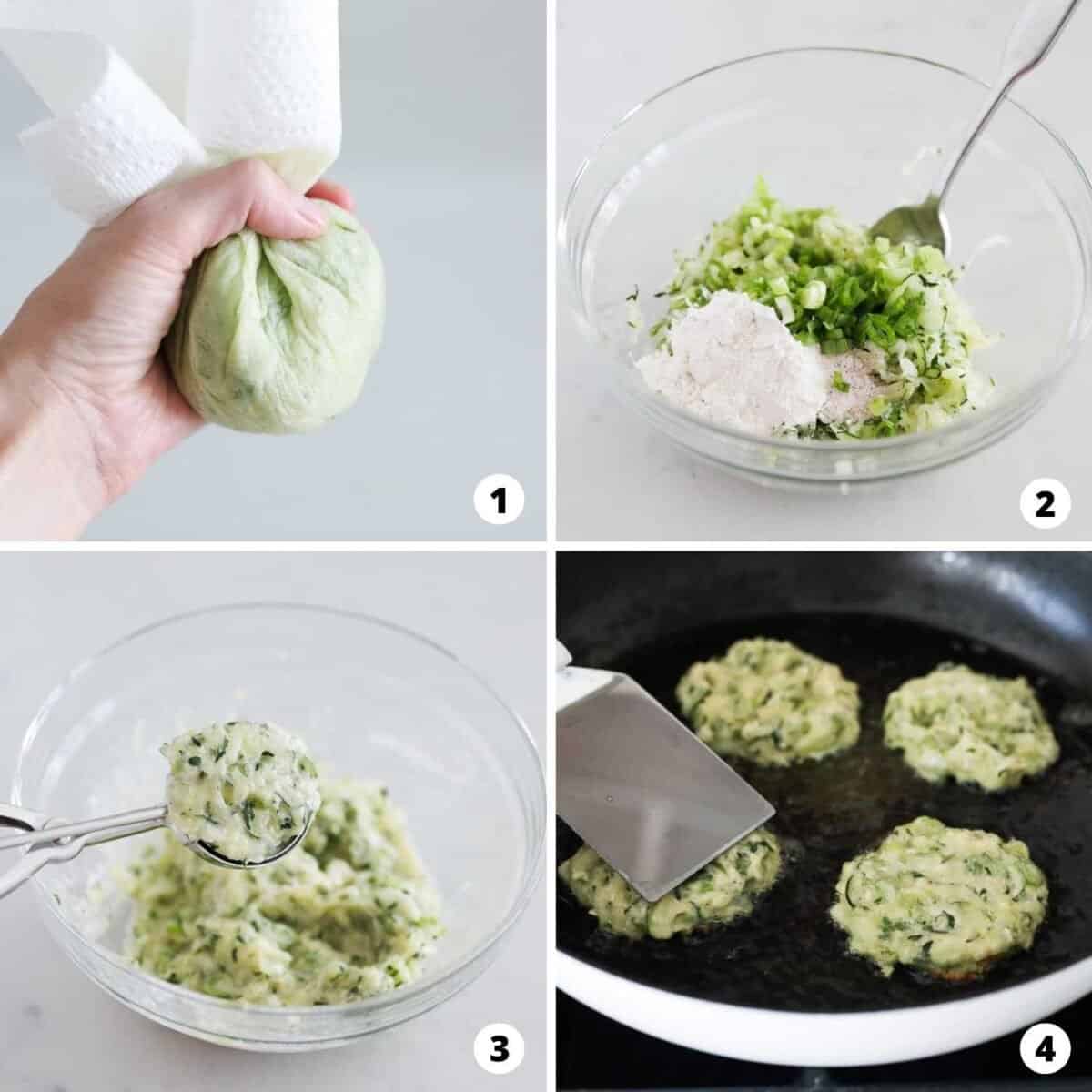 Don't skip this step! First thing's first. Strain and squeeze your zucchini. Place the shredded zucchini in a colander in the sink. Sprinkle it with salt, which will naturally extract some of the water through osmosis (thank you science class), and allow it to sit for 5-10 minutes.
Squeeze out excess water. Transfer zucchini to a cheesecloth, nut milk bag, or paper towel, and use your hands to squeeze out any extra water.
Combine ingredients for the batter. Place the zucchini in a large bowl along with the flour, eggs, and green onions and stir until just combined.
Scoop and flatten. Add the olive oil to a large heavy-bottom or cast-iron skillet and heat a bit of olive oil over medium-low heat. Use a cookie scoop to scoop up about 3 Tablespoons of mixture and drop the batter into the oil and flatten it a bit with a spatula. Repeat with as many patties that can fit in the skillet while still leaving room in between each one.
Cook for 4-6 minutes, flipping halfway, until golden brown. Transfer the cooked zucchini fritters to a paper towel-lined plate and sprinkle with salt and pepper while still warm.
Serve with sour cream and chives, if desired. Dig in!
Recipe Tips
Get rid of excess moisture. Thanks to the eggs, zucchini, and oil, these fritters will still be nice and moist on the inside even though it's super important to squeeze out the liquid from the zucchini! Don't skip that step.
Double the recipe. If you want to make another batch, easily double the recipe. Believe me, I get it. They go fast!
Don't peel the skin. Zucchini skin is soft, edible, and contains fiber.
Browning too quickly. If you notice this happening, turn down the heat.
Add fritter batter to hot oil. Make sure the oil is hot before adding the zucchini mixture to the pan. If it's not, the fritters will have more time to absorb the oil, therefore ending in potentially soggy zucchini fritters.
Extra flavor. Your favorite fresh herbs are a great way to add in a bit of extra flavor, if desired. Also, chopped onion, shredded carrots, or red pepper flakes for a bit of heat.
Crispier texture. Toss in some Italian bread crumbs, Panko or homemade breadcrumbs for a little extra texture.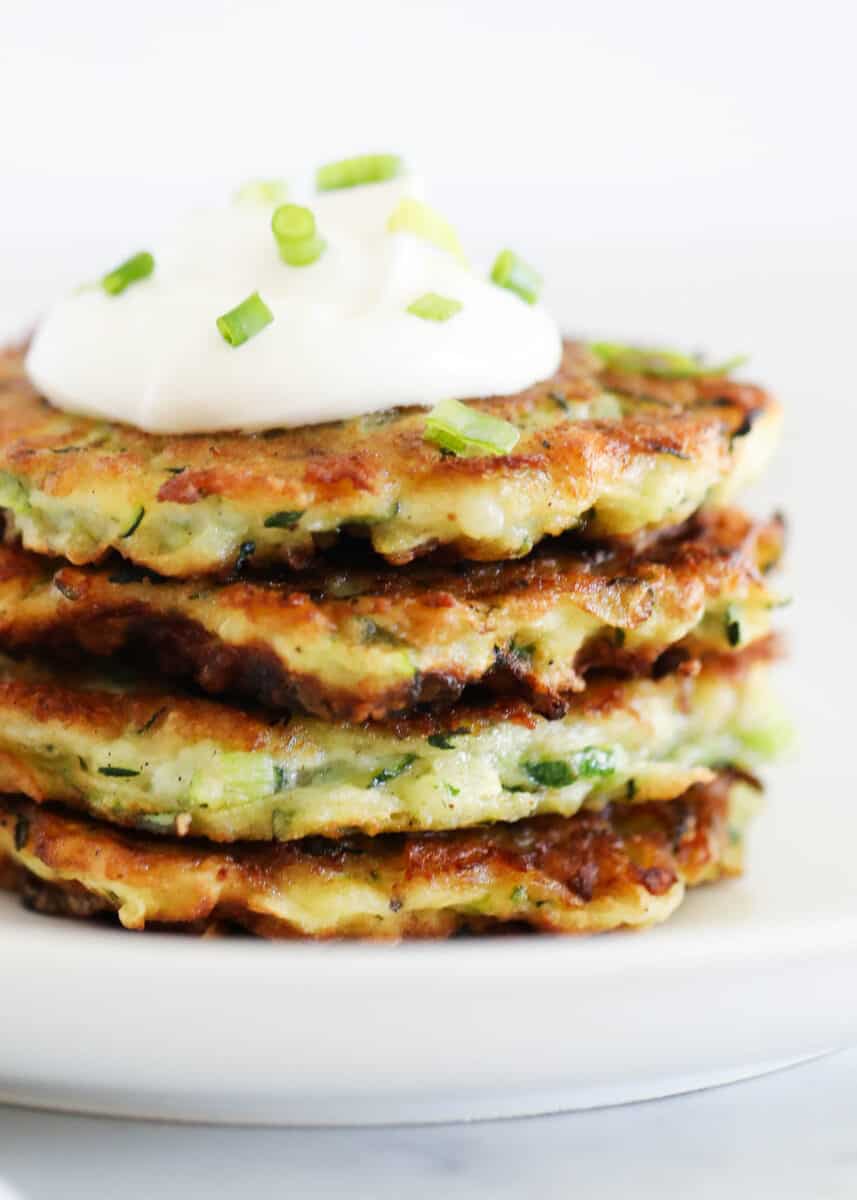 Favorite Ways to Serve Zucchini Fritters
On the go. They're portable and great for packing in school lunches, or for work. Perfect as an after-school snack too!
Dip them! Finding your favorite dipping sauce is part of the fun of eating these babies! I love a good garlic aioli because the creamy garlic mixed with the fresh lemon juice is irresistible. A creamy dill dip, tzatziki sauce, Greek yogurt, or sour cream are also fantastic options.
As a side dish, these are great instead of both starch or veggies, or both. Enjoy them on the side of crispy lemon baked fish, grilled salmon, or ranch chicken, just to name a few.
Have them as your main dish alongside some pasta salads like Caprese pasta salad, or Southwestern pasta salad.
Storage
Keep leftover fritters in an airtight container in the refrigerator for up to 4 days. You can also freeze them for a few months. To reheat them, pop them in the oven to warm through.
FAQs
How to make these in the oven?
If you're interested in baking these instead, you can! Bake for 20-24 minutes in a 400-degree oven.
Can I use yellow squash instead?
Ooh, that would be great! Go for it. They are very similar and interchangeable in most zucchini recipes.
Can I make these gluten-free?
I haven't tested these with gluten-free flour, however, I don't see why you couldn't. You could use a gluten-free 1:1 all-purpose flour, almond meal, or almond flour if you have it. Let me know how it works out, I'd love to hear from you!
How do you keep fritters from falling apart?
To keep zucchini fritters from falling apart, make sure you are using the right ingredients and adding the binding agents like flour or eggs. You can also refrigerate the mixture before frying.
Why are my zucchini fritters soggy?

So, this can happen when you're skillet and oil isn't hot enough and you've dropped the zucchini batter in too soon. Doing this won't give the exterior its initial browning quickly enough to protect the inside. So, the middle of the zucchini fritter has a longer time to absorb too much of the oil, waiting for it to heat up.
Are zucchini fritters healthy?

Yes, they deliver tons of nutrition! Making homemade zucchini fritters means you can control the amount of salt and keep it a low sodium recipe. Olive oil is a healthy fat that keeps the cholesterol and saturated fat at bay. Plus the eggs provide protein, and the zucchini itself is full of vitamin c, b, and a, minerals, and plenty of antioxidants.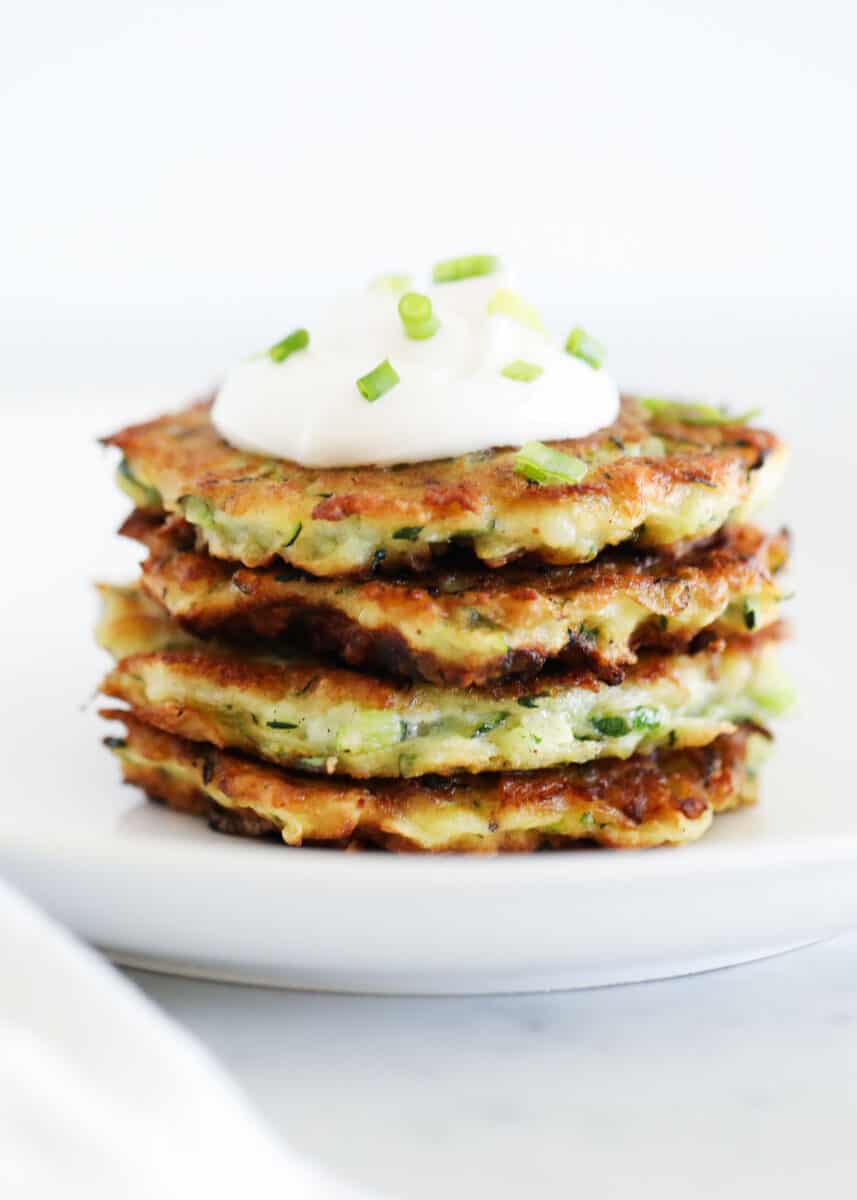 More Ways to Use Zucchini
HUNGRY FOR MORE? Subscribe to my newsletter and follow on Facebook, Pinterest and Instagram for all the newest recipes!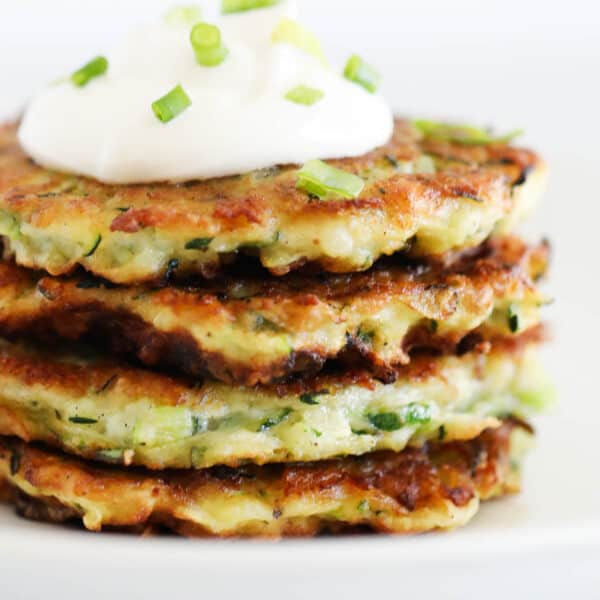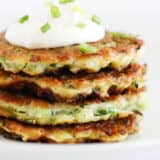 Zucchini Fritters Recipe
These are the best quick and easy zucchini fritters recipe that are crispy and golden on the outside, and full of flavor and tender on the inside!
Ingredients
4 cups shredded zucchini , 3 medium or 2 large zucchinis
⅔ cup all-purpose flour
2 large eggs , whisked
¼ cup sliced green onions
1 teaspoon fine sea salt
¼ teaspoon ground black pepper
2 to 3 Tablespoons olive oil , more as needed
For serving: sour cream and green onions
Instructions
Place the shredded zucchini in a colander in the sink. Sprinkle with 1/2 teaspoon salt and let sit for 5 to 10 minutes so water can strain. Use a paper towel or cheese cloth to squeeze out any extra water.

Place the zucchini in a bowl. Add the flour, eggs, green onions, and remaining 1/2 teaspoon salt. Stir just until combined.

Add the olive oil to a large skillet and heat over medium-low heat. After a minute, scoop the mixture with a large cookie scoop (or 3 Tablespoons) and add to the pan. Gently press down with a spatula and then cook 2 to 3 minutes, or until golden brown. Flip and then cook an additional 2 to 3 minutes. Turn up the heat or turn down if browning too fast.

Transfer cooked zucchini fritters to a plate lined with paper towel. Sprinkle the top with salt and pepper if desired. Serve the zucchini fritters with sour cream and chives if desired.
---
Notes
Variations:
If you want to boost the flavor ad in a clove of minced garlic
Add 1/4 cup shredded cheese or grated parmesan cheese.
Air fryer: Preheat to 350°F. Spray rack with oil. Cook for 5 minutes and then flip and cook and additional 5 minutes, or until crispy.
Nutrition
Serving: 2fritters | Calories: 108kcal | Carbohydrates: 14g | Protein: 4g | Fat: 4g | Saturated Fat: 1g | Polyunsaturated Fat: 1g | Monounsaturated Fat: 2g | Trans Fat: 1g | Cholesterol: 55mg | Sodium: 416mg | Potassium: 264mg | Fiber: 1g | Sugar: 2g | Vitamin A: 287IU | Vitamin C: 16mg | Calcium: 27mg | Iron: 1mg
Nutrition provided is an estimate. It will vary based on specific ingredients used.
Did you make this recipe? Don't forget to give it a star rating below!