These lettuce wrap burgers are the healthy, low-carb, and gluten-free answer to all your indulgent burger cravings. Load it up or keep it simple, either way, they're a fun fresh twist on an old-fashioned hamburger!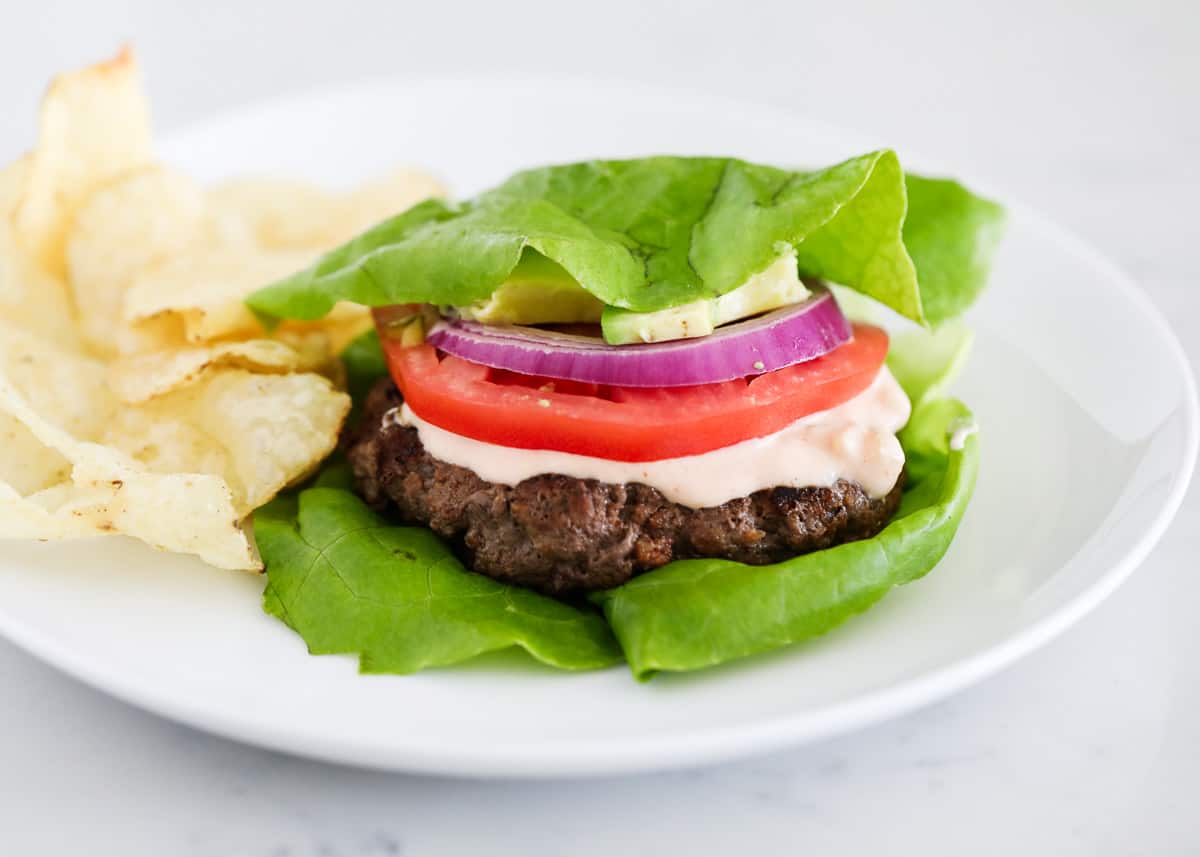 Easy and Juicy Bunless Burger
A lettuce wrap burger is a healthy alternative to a traditional burger, where the bun is replaced with large, sturdy lettuce leaves but it doesn't skimp on all the things we love about a classic loaded burger. It has a refreshing crunch and is a lighter option for those looking to reduce their carbohydrate intake or follow a gluten-free diet.
Top the grilled hamburger wrapped in a crispy tender lettuce leaf with sliced tomato, sliced avocado, red onions, and even cheese if you would like. Add drippy burger sauce or keep it simple and dainty.
It's very similar to a burger in a bowl, but not just without the hamburger bun, this time it's without the bowl! Swap the beef for a turkey burger to keep it light or double stack your burger for days you're extra hungry.
You hold it like a burger so you'll never miss the bun. A burger in a lettuce wrap is a yummy way to curb burger cravings while increasing your veggie intake. It's a win for taste and health!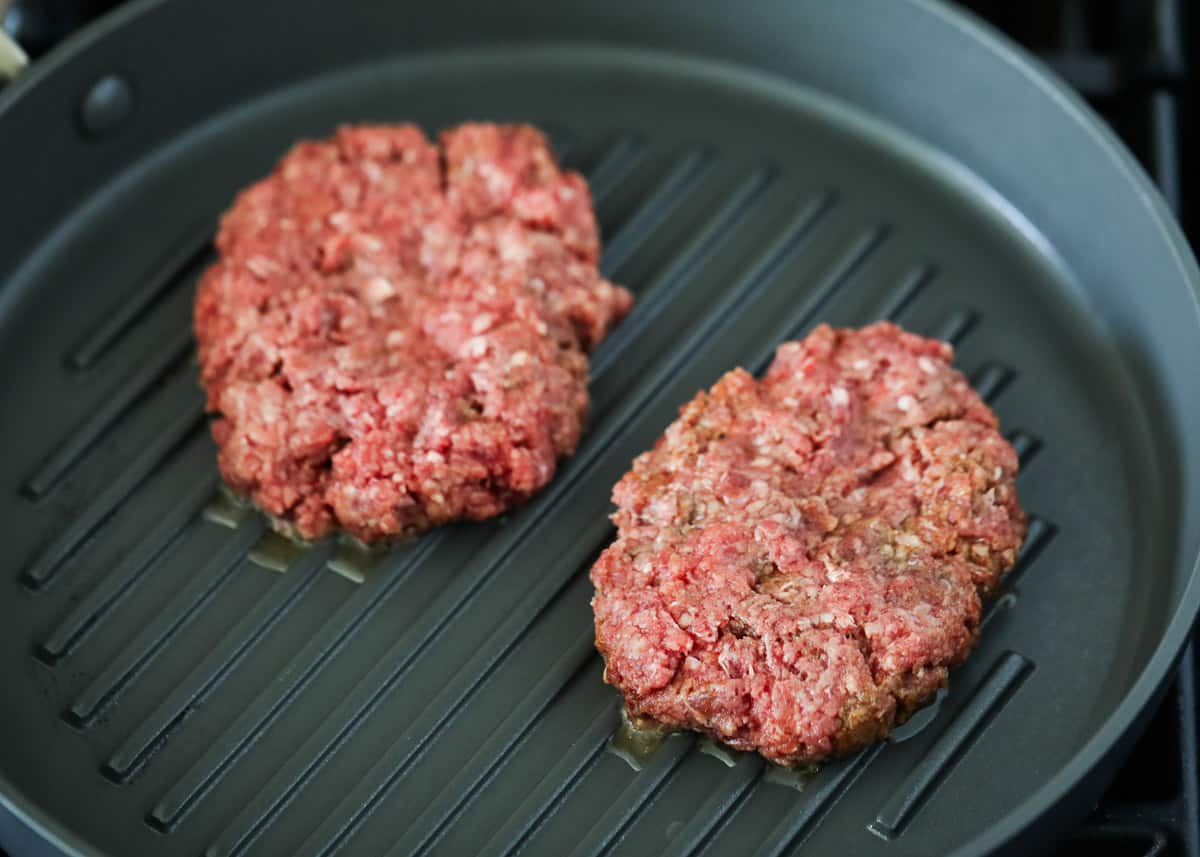 Best Type of Lettuce to Use
For this recipe, you want lettuce with leaves with a surface area big enough to wrap around and cup most of the burger and its toppings. When you're making a burger salad, that's a different story, but a lettuce burger needs to hold its own. Some good choices are iceberg, Romain, or Boston bibb. All are crispy, tasty, and flexible.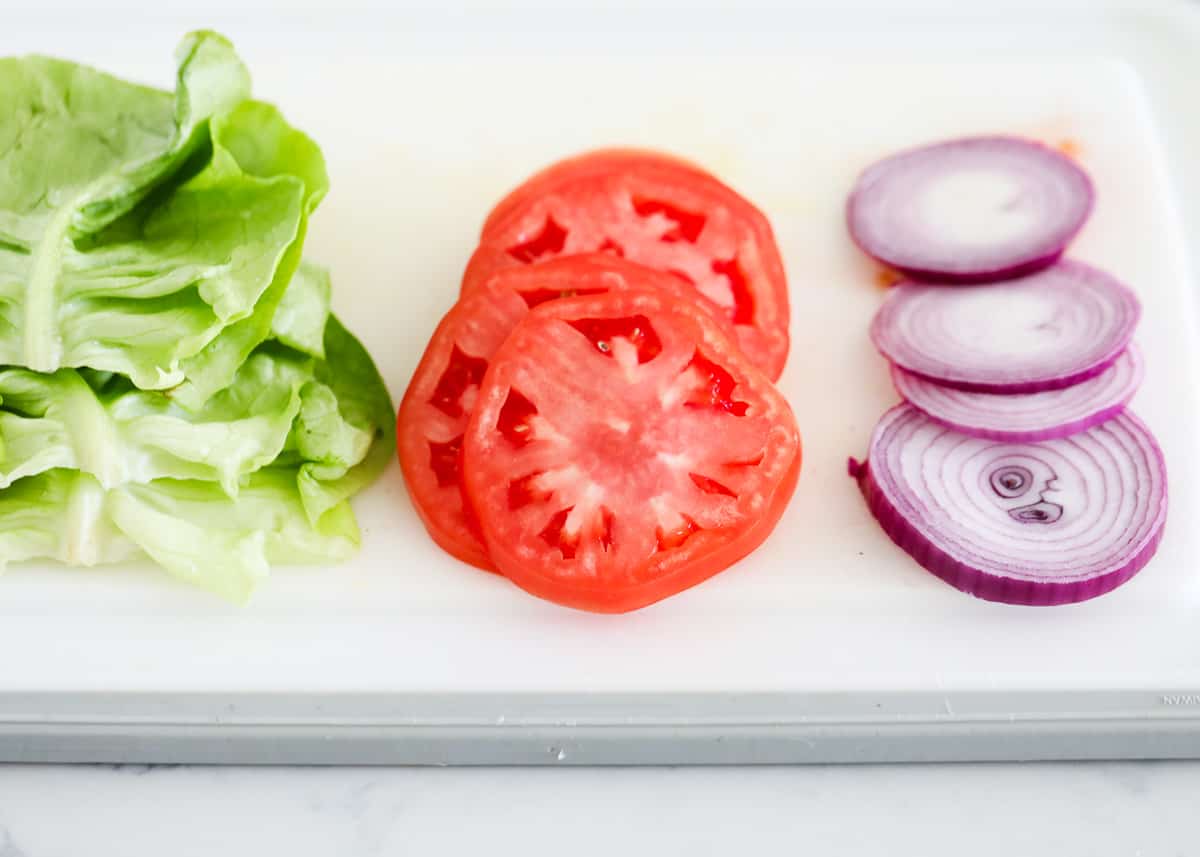 Topping Ideas for a Lettuce Burger
Time to build the ultimate burger! Serve with the same sides you would as any burger. French fries are always a good idea!
Veggies: Sliced pickles, pickled onions, caramelized onions, red onions, fajita veggies
Cheese: Shredded cheddar, sliced cheddar, Monterey Jack, crumbled feta
Sauces: Ketchup, mustard, burger sauce, mayo, relish
Extras: Olives, sliced avocado, bacon, fried egg
Tips & Variations
To bake in the oven: To enjoy a baked hamburger, place burgers on a cooling rack sitting on a baking sheet lined with foil. Cook at 425ºF for 15 minutes or until the juices run clear. The internal temperature should read 155ºF.
Swap beef with ground lamb, chicken, or turkey.
For additional seasoning for the burger, use this hamburger seasoning.
Grab a bowl and have a burger in a bowl instead, especially if you're at work!
Remove the extra grease on a paper towel once it's cooked. Too much extra grease will cause everything to get too soggy and fall apart on you.
FAQs
Is a lettuce wrap burger healthy?
You may wonder if a burger lettuce wraps are healthy and the answer is yes they are a healthier option since you are using lettuce instead of a hamburger bun. Of course healthy is different for each of us and it you may want to not go overboard on the unhealthy toppings if making your burger wraps healthy is your priority.
What lettuce is good for burger wraps?
For a burger lettuce wrap choose a lettuce that is cup-shaped, sturdy and it not a strong flavor. Some options include butterhead lettuce, Boston lettuce (bibb leaves), romaine lettuce, green leaf lettuce and iceberg lettuce.
How do you wrap a burger in a lettuce wrap?
If you have picked a leaf lettuce that is cup shaped there is no need to worry about wrapping your burger in the lettuce. Just add the hamburger patty and toppings of choice and enjoy!
How many carbs are in this recipe?
There are 7g carbohydrates per serving not counting any toppings you may add. While carbs are not necessarily bad, these lettuce wraps are a great choice if you are watching your carb intake, counting macros or following a keto diet.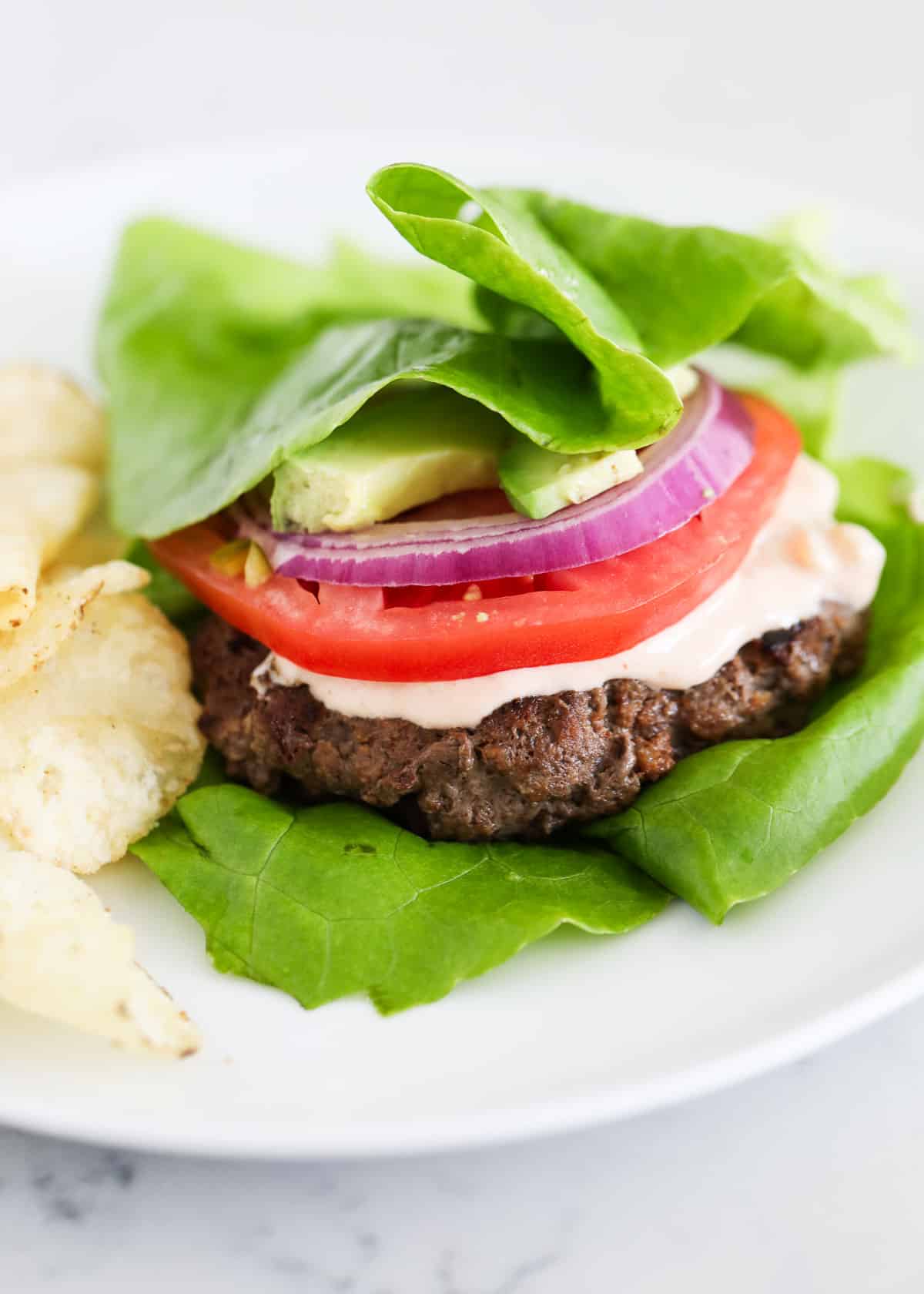 More Low Carb Favorites
HUNGRY FOR MORE? Subscribe to my newsletter and follow on Facebook, Pinterest and Instagram for all the newest recipes!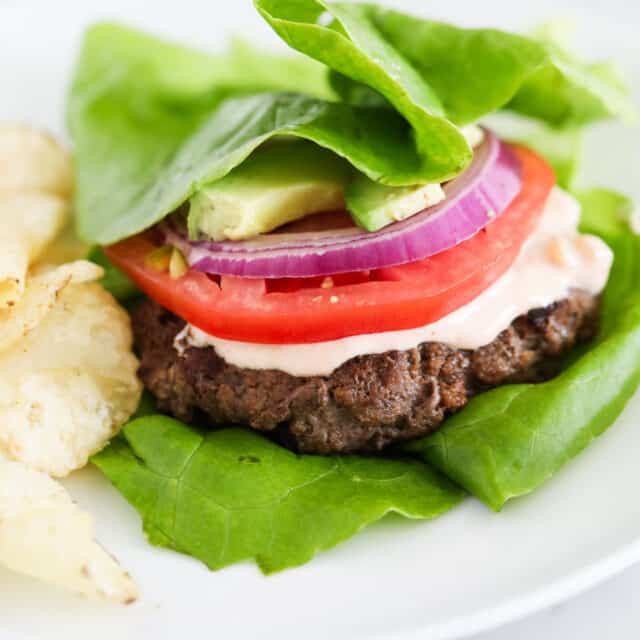 Lettuce Wrap Burger
These lettuce wrap burgers are the healthy, low-carb, and gluten-free answer to all your indulgent burger cravings. Load it up or keep it simple, either way, they're a fun fresh twist on an old-fashioned hamburger!
Ingredients
Burger
1 pound ground beef , could sub for ground turkey
¾ teaspoon Kosher salt
½ teaspoon garlic powder
¼ teaspoon ground black pepper
Lettuce Wrap
4 lettuce cups
1 tomato , sliced
Optional toppings: shredded cheese, pickles, avocado, onions, bacon, burger sauce
Instructions
Combine the hamburger, salt, garlic powder and pepper in a small bowl. Then form 4 patties and press a thumbprint into the center. Cook in a skillet over medium-high heat for 3 to 5 minutes per side or until the internal temperature reaches 155ºF. Remove to a plate lined with paper towel to catch any extra grease.

While the hamburgers are cooling, prepare your desired toppings.

Divide the lettuce onto four plates. Once the hamburgers have slightly cooled, add to the top of lettuce. Then add desired toppings.

Serve while warm. Store leftover meat separate from the toppings.
---
Notes
To bake in the oven:
Preheat the oven to 425°F. Line a rimmed baking sheet with foil. Then place a cooling rack on top of the foil wrapped pan.

Place burgers on rack and cook for 15 minutes, or until juices run clear and the internal temperature reaches 155°F.
Variation: For a delicious twist, add in pickled onions, caramelized onions or fajita veggies.
Nutrition Value does not include toppings.
Nutrition
Calories: 370kcal | Carbohydrates: 7g | Protein: 25g | Fat: 27g | Saturated Fat: 7g | Trans Fat: 1g | Cholesterol: 84mg | Sodium: 893mg | Potassium: 845mg | Fiber: 2g | Sugar: 2g | Vitamin A: 5912IU | Vitamin C: 31mg | Calcium: 90mg | Iron: 5mg
Nutrition provided is an estimate. It will vary based on specific ingredients used.
Did you make this recipe? Don't forget to give it a star rating below!