Celebrate Thanksgiving with these festive turkey oreo balls. An easy no-bake dessert that will become the star of your holiday party!
Kids Friendly Thanksgiving Dessert
This is the perfect sweet treat to add to your Thanksgiving menu. They're filled with chocolate, are bite-sized and are decorated so cute. Both kids and adults will go crazy over them!
Oreo balls are a great dessert to make year-round, although I especially love making them during the holidays. There are so many fun and easy decorations you can add to jazz them up a little more. Let your decorative skills run wild.
This turkey version for Thanksgiving is one of my absolute favorite recipes along with this turkey veggie tray and turkey fruit tray.
They turned out so cute and look so realistic. It's a great addition to add to the pie table, for those that may not love pie. Everyone was raving about them!
Recipe Ingredients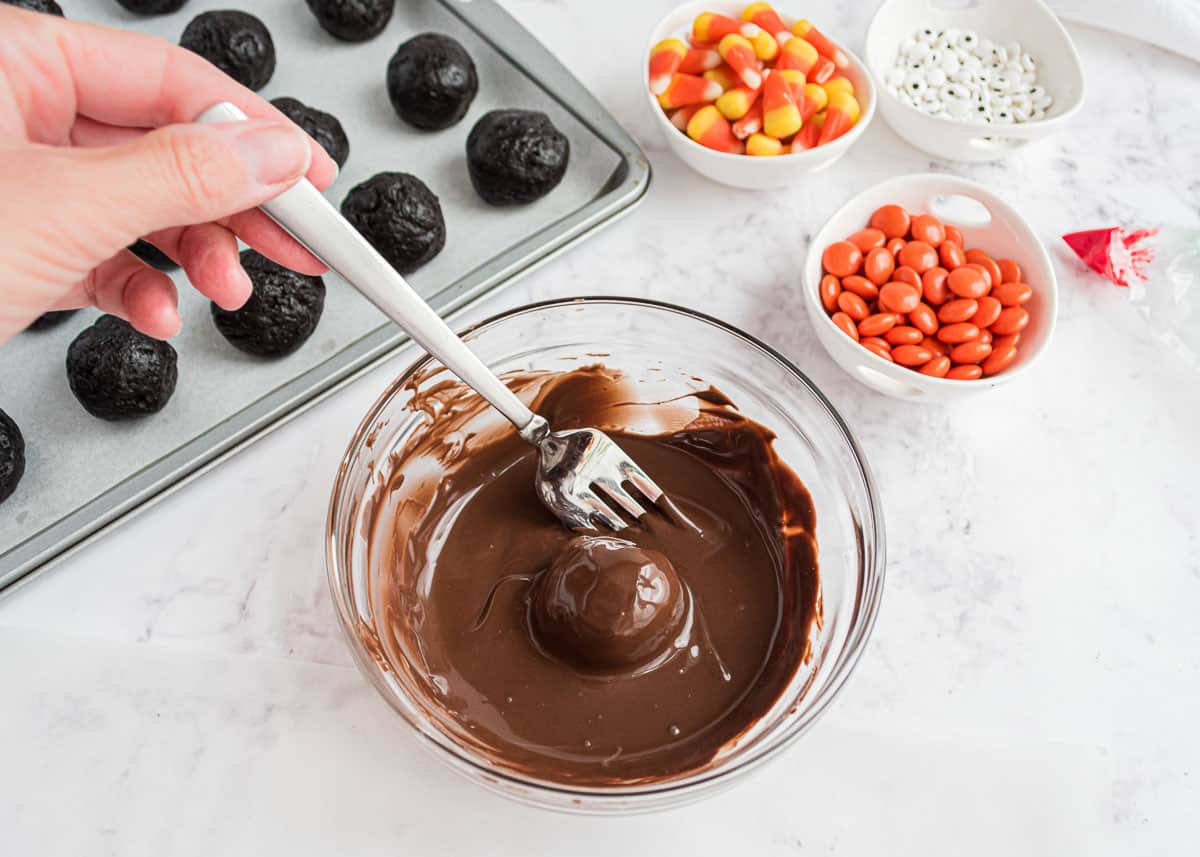 Find the full printable recipe with specific measurements below.
Oreos: You'll need 1 package of Oreo cookies. No need to remove the middle filling – it helps add to the richness of the dessert.
Cream cheese: This gets combined with the cookies to create a creamy and rich mixture. Make sure to use softened cream cheese so that it's easier to mix together.
Chocolate melting wafers: I used a package of dark chocolate melting wafers to coat the Oreo balls/make the base of the turkey, but you can use semi-sweet. I love buying these Ghirardelli melting wafers from Amazon. The quality is great and they give a super smooth finish.
Candy corn: These are used to make the tail feathers.
Candy eyes: While the chocolate is still wet, you'll also stick on some mini candy eyes.
Reese's pieces: These are used for the beak of the turkey. Make sure to use the orange colored Reese's pieces. You could also use orange M&M's if you have those on hand.
Red decorator icing: Use red decorating icing to make the turkey's wattle. You could always omit this step, but I think it makes them look extra cute and realistic.
How to Make Turkey Oreo Balls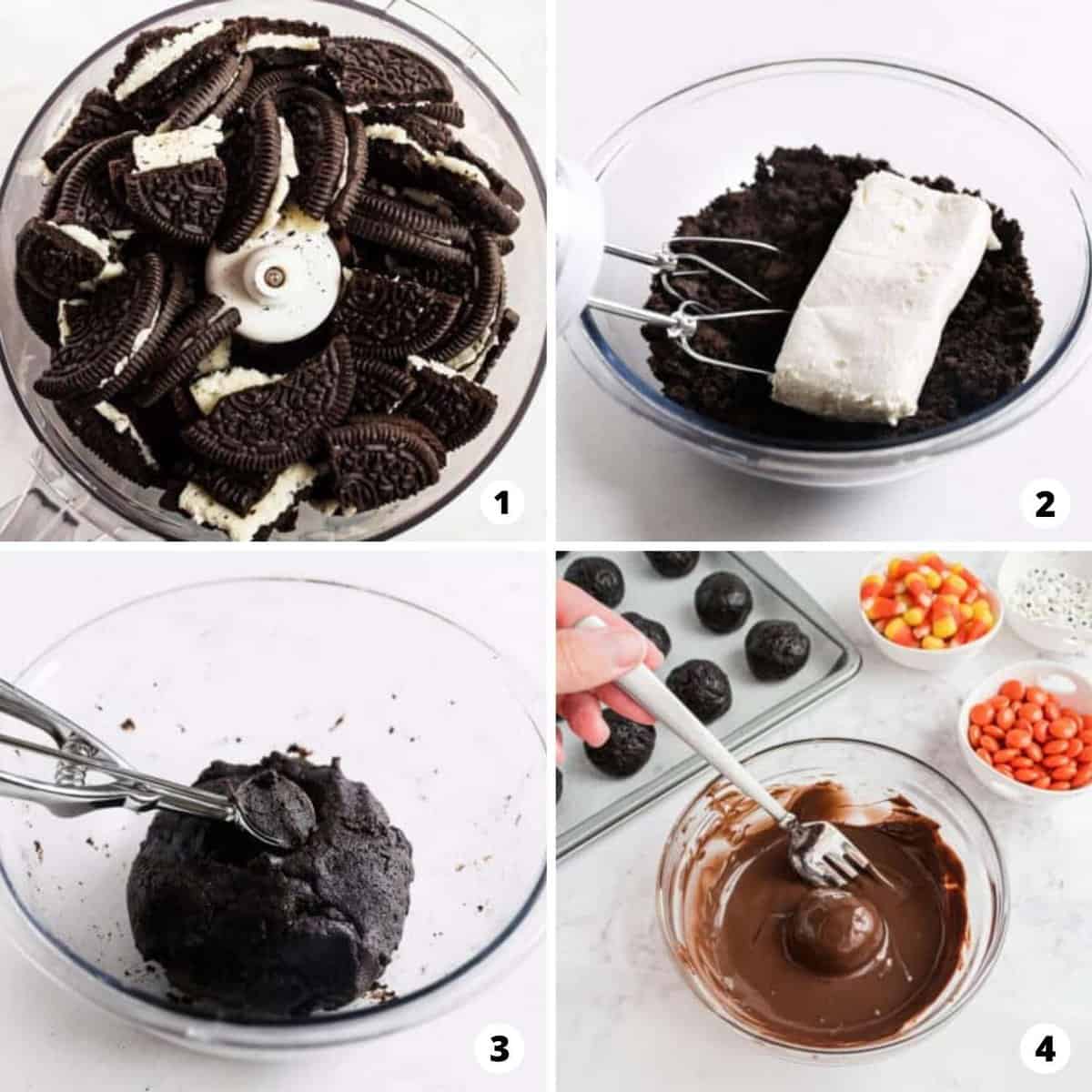 Base mixture: Crush the Oreos, then mix them together with the cream cheese. Scoop out the mixture with a small cookie scoop, then roll them into a ball with your hands. Freeze until slightly hardened, about 10 to 15 minutes. Then coat them in melted chocolate.
Tail: While the chocolate is still wet, press 5 candy corns into the top of the Oreo ball (in a fanned manner).
Beak: Grab an orange Reese's Pieces candy and press it into the middle of the Oreo ball to make the beak.
Eyes: Add some melted chocolate onto the back of the candy eyes, then adhere them above the beak.
Wattle: Pipe some red decorating icing to the right of the beak, to make the turkey's wattle.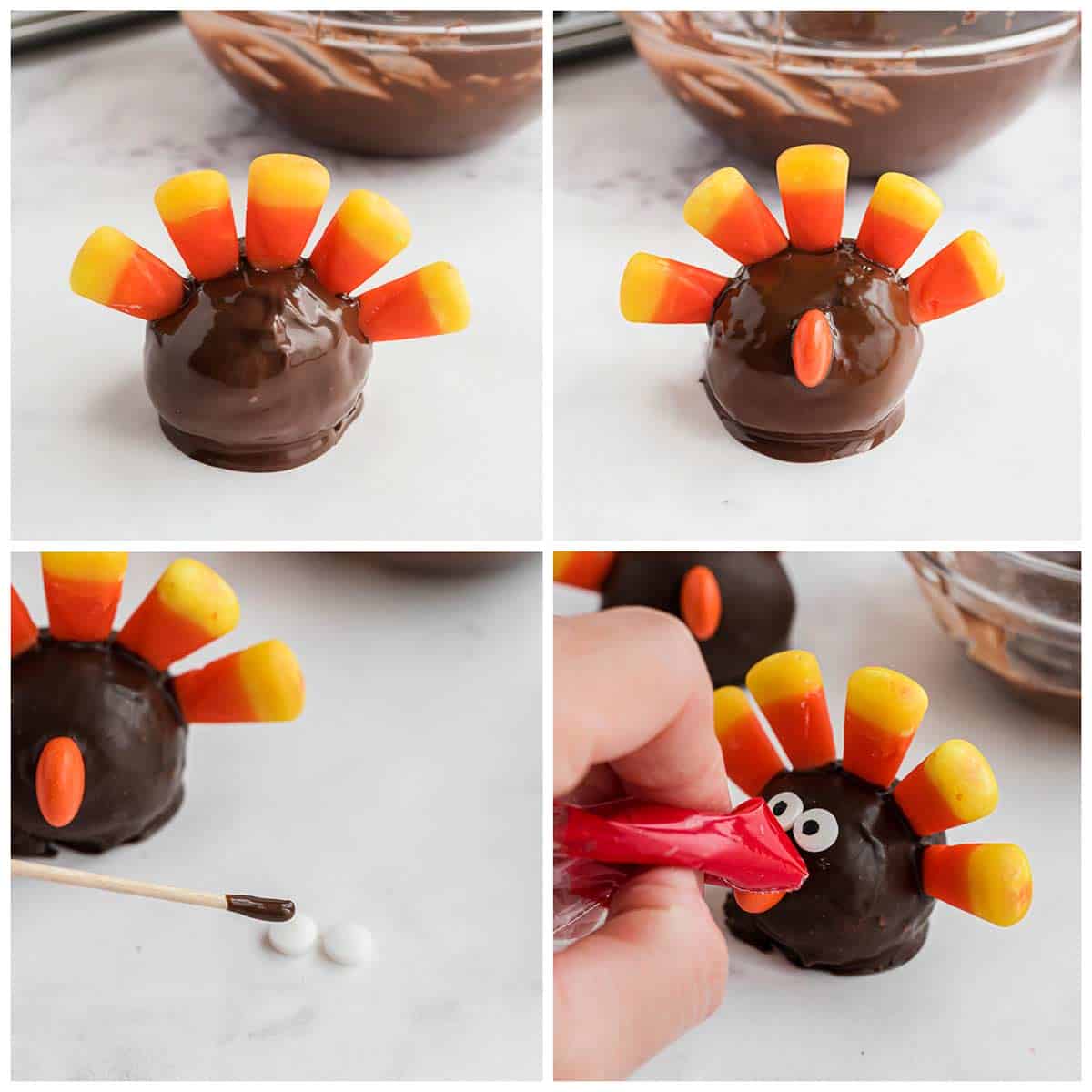 Helpful Tips
Move fast: In order to be able to decorate while the chocolate is still wet, you must move very fast. Make sure to have all of your decorating accessories out and ready to go before you get started.
Melted chocolate: If the chocolate hardens before you are finished, you can use melted chocolate to "glue" the remaining decorations on. Use a toothpick to adhere it onto the decoration, then press it onto the Oreo ball and hold it in place for about 20 seconds.
Candy eye substitution: Instead of mini candy eyes, you can use white and black icing to make the turkey eyes. Just make sure it's decorating icing, not the gel icing or cookie icing.
5 star review
"Too stinkin' adorable! These yummy oreo balls are so fun to make and to eat! It's dessert and decoration all in one!"

-Wilhelmina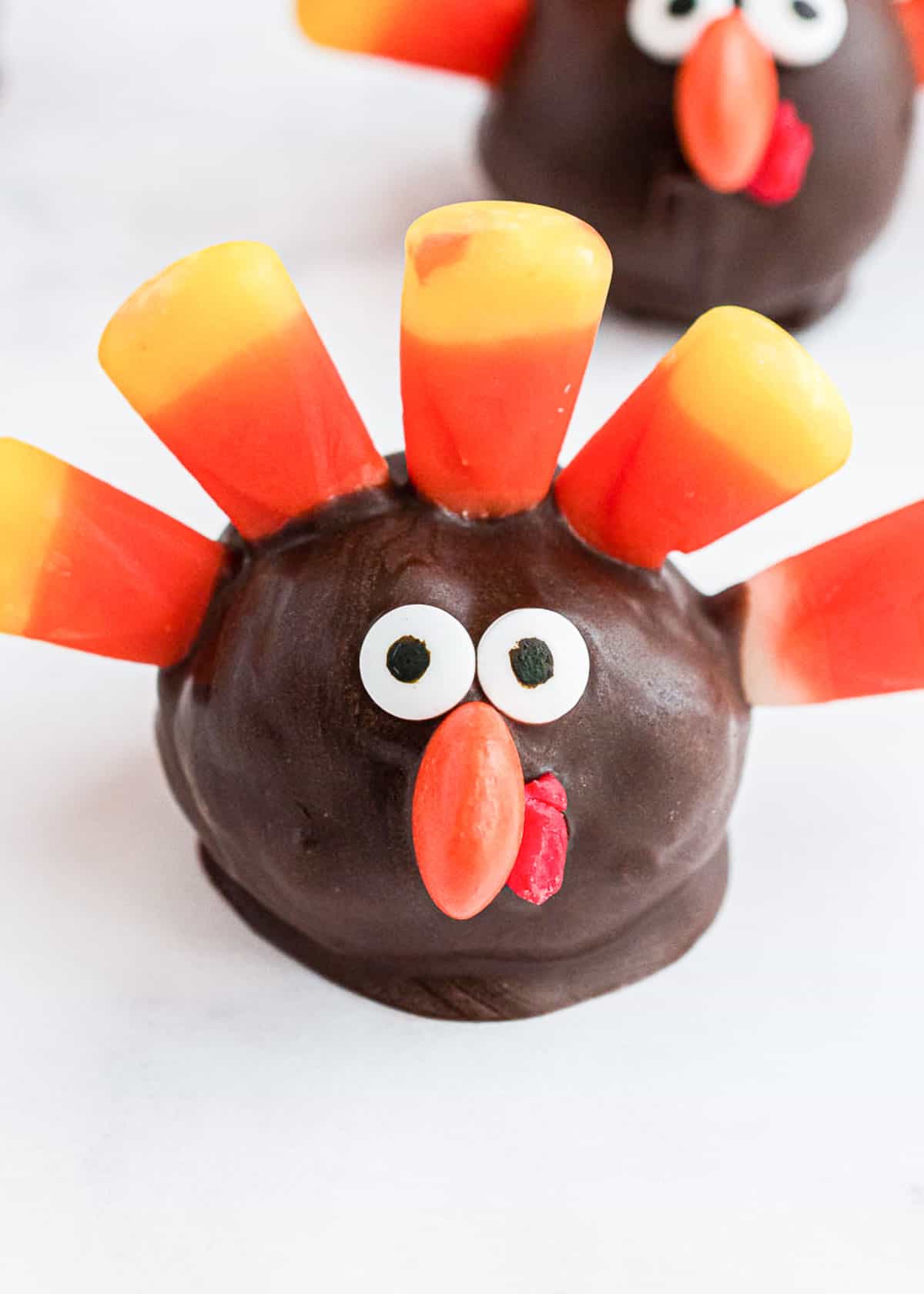 Recipe FAQs
Do Oreo balls have to stay refrigerated?
I would! They will last up to 1 week when stored in a covered container in the fridge. They can stay out as long as they're on display on your dessert table but transfer any uneaten truffles to the fridge.
Can you freeze Oreo balls?
Absolutely! They can be kept frozen for up to 2 months. You can make them ahead and bring them out just in time for the holidays.
Storing & Freezing
These snowman Oreo truffle balls will keep in the fridge for up to 1 week in an airtight container or in the freezer for up to 2 months.
More Oreo Desserts for the Holidays
HUNGRY FOR MORE? Subscribe to my newsletter and follow on Facebook, Pinterest and Instagram for all the newest recipes!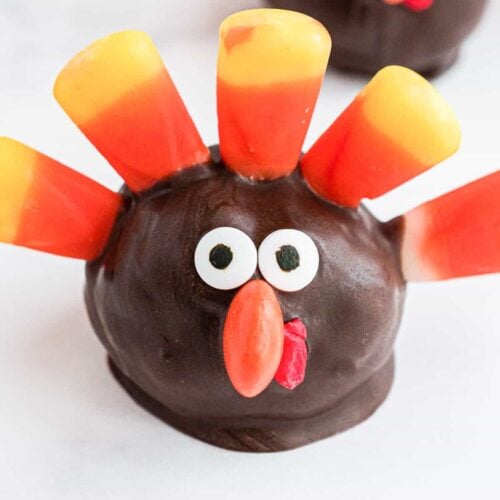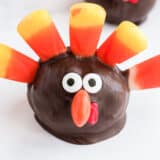 Turkey Oreo Balls
Celebrate Thanksgiving with these festive turkey Oreo balls. An easy no-bake dessert that will become the star of your holiday party!
Ingredients
36 OREO cookies (see notes)
1 (8-ounce) package cream cheese , softened
8 ounces dark chocolate melting wafers
80 mini candy eyes , plus more if needed
200 candy corn , plus more if needed
40 orange Reese's pieces , plus more if needed
Red decorating icing
Instructions
Line a baking sheet with parchment paper. In a blender or food processor, pulse the Oreos (with filling) into fine cookie crumbs. You can also place the Oreos in a zip-top bag and use a rolling pin to crush them.

In a large bowl, mix together the Oreo crumbs and cream cheese with an electric mixer. If it isn't coming together, get your hands in there and mix it up.

Using a small cookie scoop, portion the dough onto the baking sheet. Roll into a ball with your hands. Freeze 10 to 15 minutes, or until slightly firm. You don't want them too cold.

In a microwave-safe bowl, melt the chocolate in the microwave in 30-second intervals, stirring in-between each, until smooth. Get candy corn ready to press in. Use a fork to dip balls into the chocolate. Tap on the edge of the bowl to get the smooth finish. Use a toothpick to help slide the ball back onto the baking sheet.

Before the chocolate hardens, immediately press 5 candy corn pieces into the ball in a fanned manner, making the turkey tail.

For the beak, press the Reese's Pieces candy into the ball. If the chocolate has hardened before you are able to get to this step, dip the candy slightly into the melted chocolate and hold it in place for about 20 seconds to adhere it.

For the eyes, using a toothpick, put a tiny bit of melted chocolate on the back of the candy eyes and adhere them to the ball

For the wattle, poke a small hole in the corner of a zip-top bag using a clean toothpick. Add the icing. Pipe onto the ball to make a turkey wattle.

Store in the refrigerator until ready to serve.
---
Notes
Oreos: You'll need about 1 package of Oreos for this recipe. You don't have to remove the filling, however I like to remove the filling from about 15 or so to make them less rich.
Variation:
You can use different flavor of Oreos. The peppermint or golden Oreos also taste great. You can also use milk, dark, or white chocolate.
If you run out of candy for decorating, simply dip the oreo balls in chocolate. You can always drizzle extra chocolate over top for a decorative touch.
Storage: For best results, store the Oreo cookie balls in an airtight container in the refrigerator up to 1 week or in the freezer up to 2 months.
Nutrition
Serving: 1ball | Calories: 98kcal | Carbohydrates: 9g | Protein: 1g | Fat: 7g | Saturated Fat: 3g | Cholesterol: 6mg | Sodium: 69mg | Potassium: 78mg | Fiber: 1g | Sugar: 4g | Vitamin A: 75IU | Calcium: 14mg | Iron: 1.9mg
Nutrition provided is an estimate. It will vary based on specific ingredients used.
Did you make this recipe? Don't forget to give it a star rating below!