Using a variety of colorful fruit, this turkey fruit platter is loved by both kids and adults. A fruit turkey is easy to make and both a fun and creative way for kids to help in the kitchen at Thanksgiving!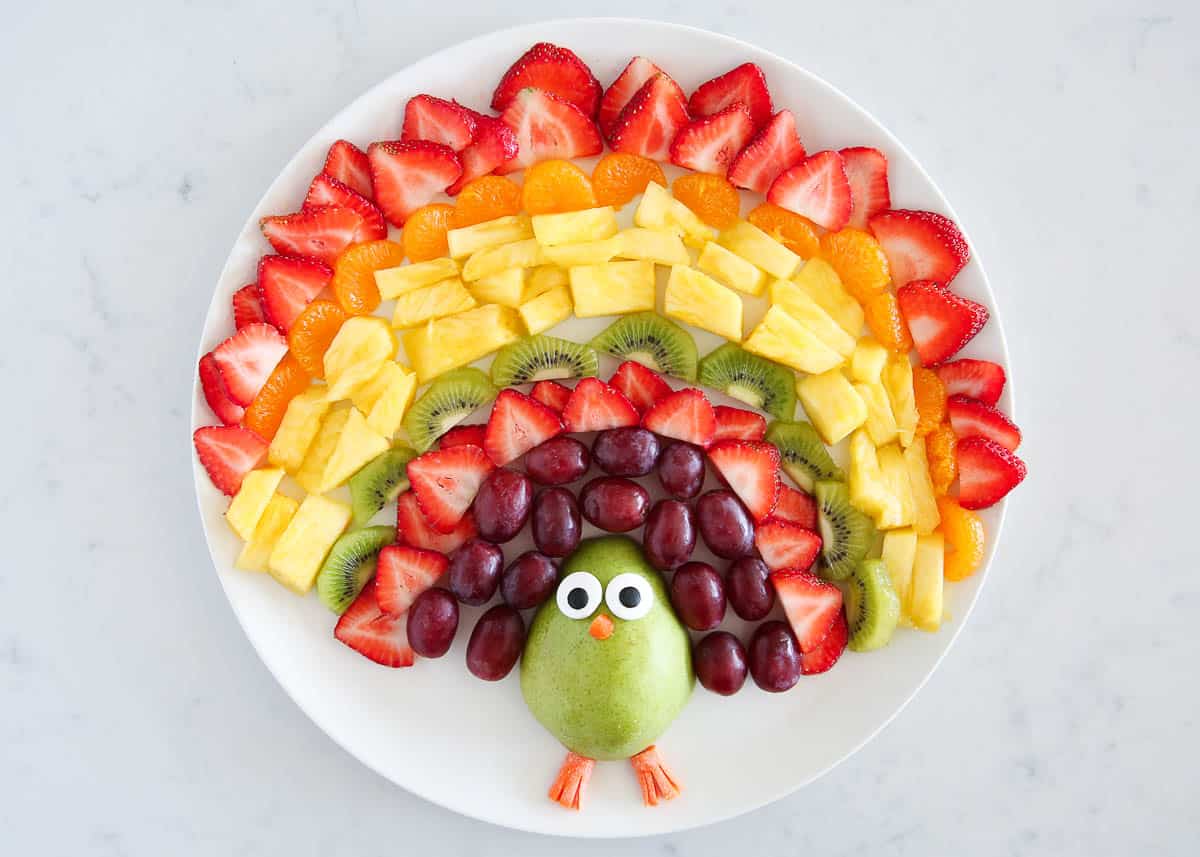 Why This Recipe Works
The presentation. I mean, it's a fruit platter shaped like a turkey! A bright, colorful, and adorable way to enjoy your delicious fruit.
Fun for the kids. Learning how to make a fruit platter is something the kids will definitely get a kick out of. Even if it is just to sample the goods as you work!
Easy. As long as you all know the proper techniques of how to cut a pineapple, this Thanksgiving turkey fruit platter couldn't be easier to put together.
Delicious & customizable. It's all your favorite fruits! This recipe reflects my favorites, but you go ahead and use what you want or what you have on hand. The key to the rainbow is to try and get as many colors as possible.
Recipe Ingredients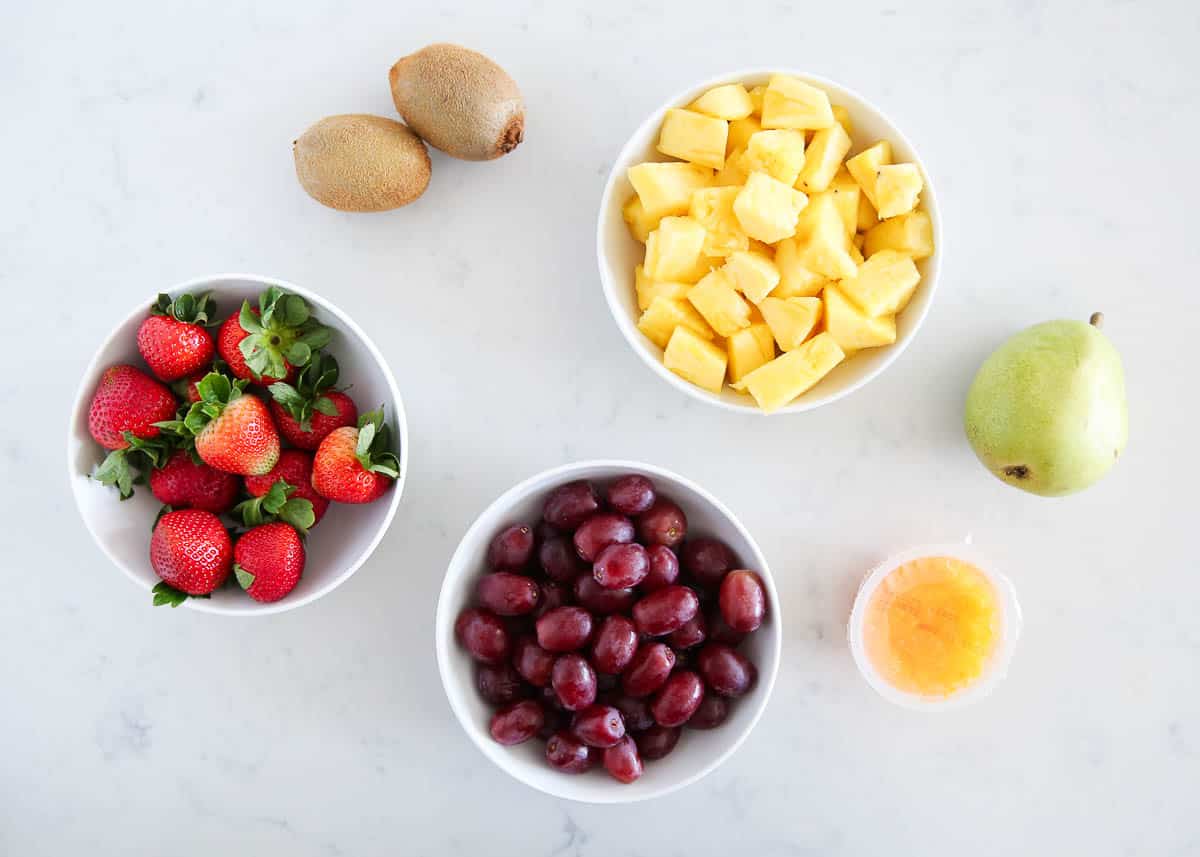 Find the full printable recipe with specific measurements below.
Fruit: I used red grapes, pineapple chunks, sliced strawberries, and mandarin orange slices. Truth be told, I took a shortcut and used the mandarins that come in the syrupy juices. Super easy!
For the turkey: I just took half of the pear for the body of the turkey. Then used candy eyes and a baby carrot for the beak and the feet.
Glaze: A combination of powdered sugar and water is used to make a powdered sugar glaze that will act as a "glue" to hold the eyes and beak in place.
Variations
Easily swap out the kind of fruits listed for ones you would rather use for the turkey feathers. Here are just a few examples to get your thoughts flowing:
Apple
Bananas
Blueberries
Clementines
Raspberries
Raisins
Green grapes
Blackberries
Cantaloupe
How to Make a Turkey Fruit Platter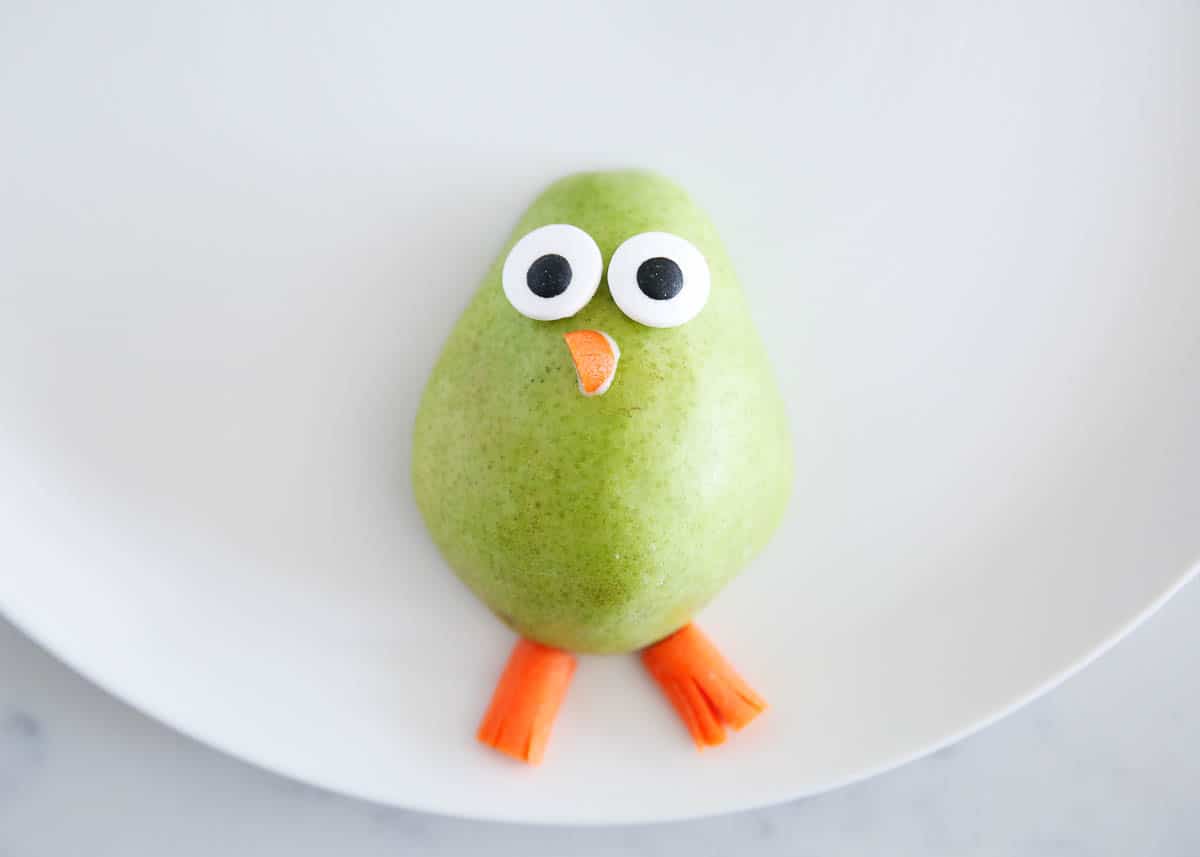 Make the paste. In a small bowl, mix the powdered sugar and water into a thick paste. Adjust as needed.
Start with the body. You want to use a plate that has a solid color, so the colors really pop, which is why I typically stick to white plates. At the bottom of a large circle or oval platter, place half of the pear cut side down. The stem should be facing upward (or removed).
Add the face. Take some of the paste and dab it onto the back of the eye candies. Press them into the narrow section of the pear. Cut out a little piece of carrot into a small triangle and use it for the turkey's beak right under the eyes. Then, cut out little feet for the turkey legs.
Layer the fruit. To make the tail feathers, you want to start layering half a circle around the pear then work your way outward. You'll make arches with the grapes first, then the strawberry slices, then kiwi, pineapple, and oranges, and finish with a layer of strawberries.
Expert Tips
Use lemon juice, if necessary. None of the fruit I use will turn brown overnight, but if you are using apples or bananas, or any type that will oxidize, a squirt of lemon juice over the exposed fruit will help prevent it from turning brown.
The icing glue is optional. If you'd rather not use it you can press the eyes and beak into the pear skin if it's soft enough. I do recommend using the thick icing, however, just for added assurance.
Make this turkey fruit plate ahead of time. Cover it with plastic wrap and refrigerate it until you're ready to serve.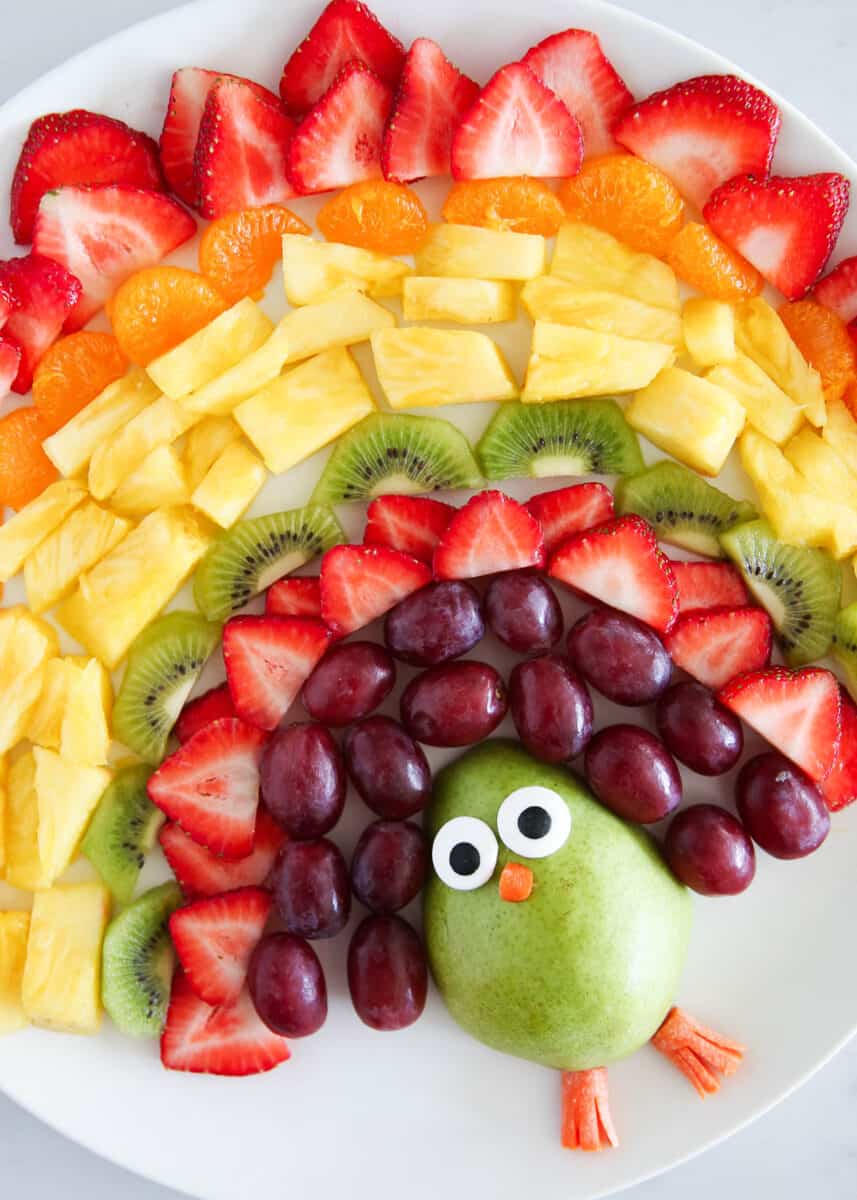 Recipe FAQs
What else can I use for the body?
I do love the shape of the pear, but you could substitute it with half of a green apple instead. Or even an avocado with the skin on.
Is there anything else besides fruit that would work for a turkey fruit platter?
Sure! You could add some cubes of cheese there, use some orange cheddar or even have a combination of fruit and veggies.
How to serve a turkey fruit platter?
This is a serving platter meant for more than one person, so you want to make sure you have some handy utensils nearby. I'd say have a pair of tongs so that people can easily grab a few pieces at a time, and some toothpicks or forks for eating.

For a little extra fun, you could provide bamboo skewers for people to thread their fruit onto.
Where can I buy candy eyes?
You can usually find them at stores that cater to baking, like Michaels, Walmart, or even your local grocery store in the baking section. When in doubt, you can always order them online.
Storing
Keep any leftover cut-up fruit in an airtight container in the fridge for up to 2 days. Enjoy a rainbow honey lime fruit salad with all your leftovers the next day for breakfast!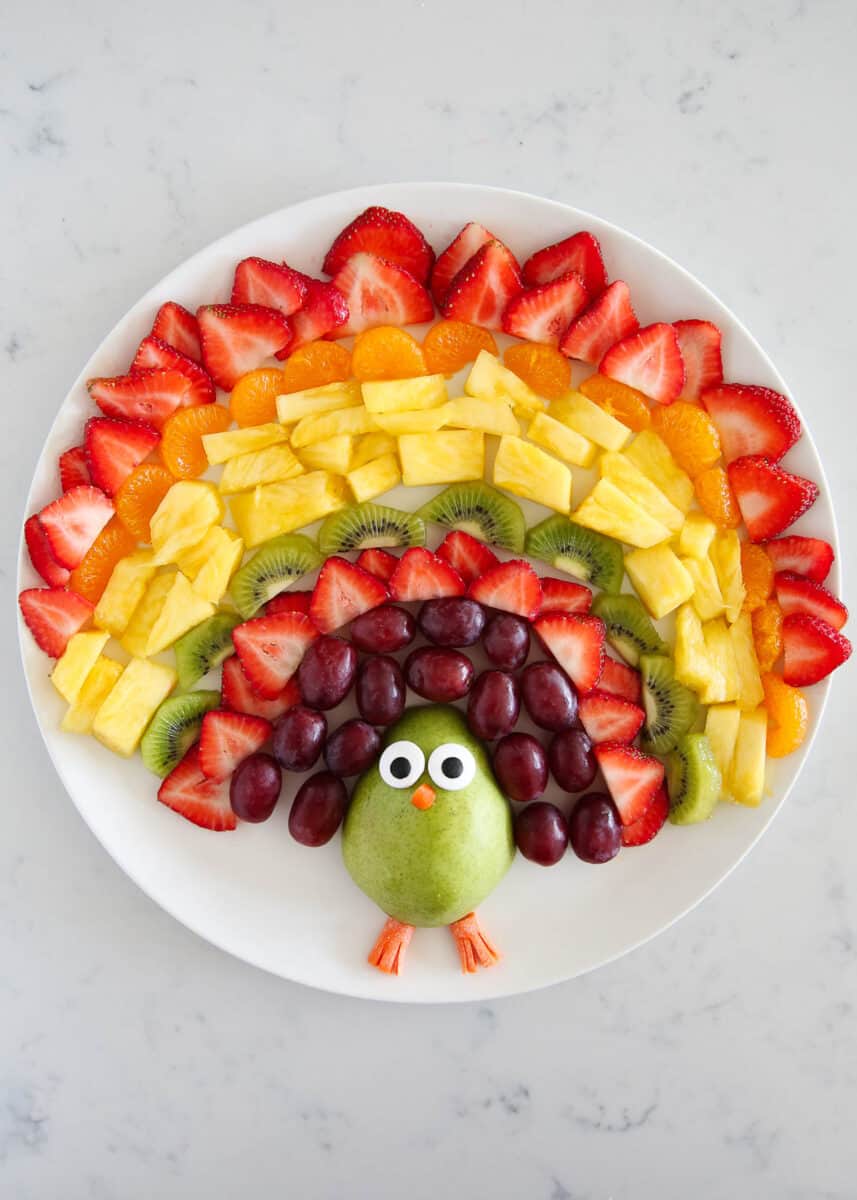 HUNGRY FOR MORE? Subscribe to my newsletter and follow on Facebook, Pinterest and Instagram for all the newest recipes!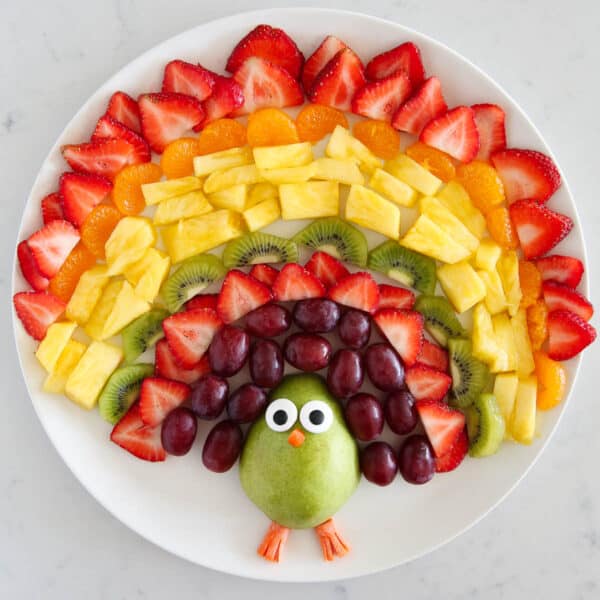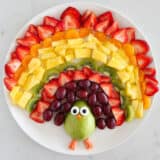 Turkey Fruit Platter
Using a variety of colorful fruit, this turkey fruit platter is loved by both kids and adults. It's easy to make and a creative way for kids to help at Thanksgiving!
Ingredients
Glaze
1 Tablespoon powdered sugar
¼ teaspoon water
Fruit
½ pear
1 baby carrot
2 cups grapes
2 cups pineapple chunks
1 pint strawberries , sliced
2 mandarin oranges , peeled and separated
2 kiwis , sliced
Instructions
In a small bowl mix together the powdered sugar and water. It should be a thick paste. Add more powdered sugar or water if needed.

In the bottom center of a large oval or circle platter, place the pear cut-side down and right-side up. Put some of the paste on the back of the candy eyes and press onto the narrow section of the pear.

Slice the carrot in half and carve into feet. Place at the bottom of the pear. You can cut a little piece of carrot for the beak and place under the eyes.

Start layering fruit around the pear in a half circle to create a tail. I like to start with the grapes first (you'll be making arches around the pear similar to a rainbow). Layer sliced strawberries, kiwi, pineapple, oranges, and then another layer of strawberries.
---
Notes
Icing glue: If you're having a hard time getting the eyes to stay put, feel free to mix up a 1/2 Tablespoon powdered sugar with a couple drops of water. Mix until smooth (yet still thick). Then use that as a glue.
Fruit dip: This platter goes great with our strawberry fruit dip or our toffee caramel dip.
Make ahead: This fruit tray can be made 24 hours ahead of time. Cover the dip, if using, with plastic and refrigerate until ready to serve.
Nutrition
Serving: 0.5cup | Calories: 62kcal | Carbohydrates: 16g | Protein: 1g | Fat: 0.2g | Saturated Fat: 0.03g | Polyunsaturated Fat: 0.1g | Monounsaturated Fat: 0.03g | Sodium: 3mg | Potassium: 169mg | Fiber: 2g | Sugar: 13g | Vitamin A: 266IU | Vitamin C: 26mg | Calcium: 21mg | Iron: 0.3mg
Nutrition provided is an estimate. It will vary based on specific ingredients used.
Did you make this recipe? Don't forget to give it a star rating below!