Made with freshly grated zucchini, 2 kinds of chocolate, and simple pantry staples, these rich and cakey zucchini brownies are a great way to enjoy your summer zucchini haul in a bite of decadent ooey gooey heaven!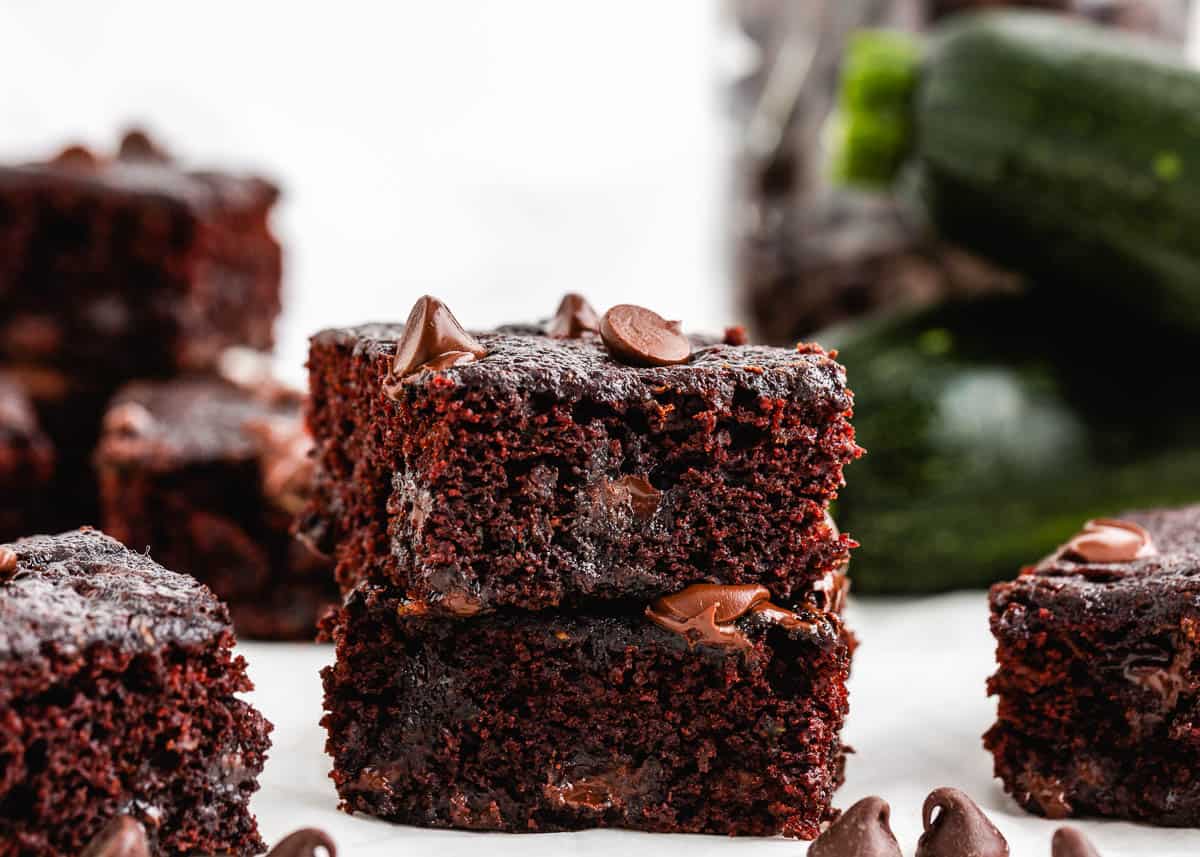 Rich, Chocolaty, and Easy
You know it's the kick-off to summer when all the zucchini recipes start popping up! I for one can't get enough of them, because the abundance of summer squash can get out of hand but there's no limit to what this versatile vegetable can do.
Of course, there are savory dishes, but I can't help but love adding them to zucchini dessert recipes too!
These chocolate zucchini brownies, for example, truly highlight just how much moisture zucchini can add to already amazing homemade brownies.
In much the same way we do with chocolate zucchini bread, banana zucchini muffins, and zucchini chocolate chip muffins when adding zucchini to any baked good, you don't necessarily taste the flavor but you do reap the rewards of its texture.
Why This Recipe Works
2 kinds of chocolate. A rich fudgy brownie needs 2 kinds of chocolate! Double chocolate zucchini brownies call for cocoa powder and chocolate chips for that ooey gooey melty element.
Ready in 1 hour. The entire batch of zucchini brownies is ready to serve in just 1 hour. They make a great after school snack, dessert, or weekend kitchen activity for the kids.
Double the batch. Freeze one for later! Especially if you want to enjoy them again in the fall.
Recipe Ingredients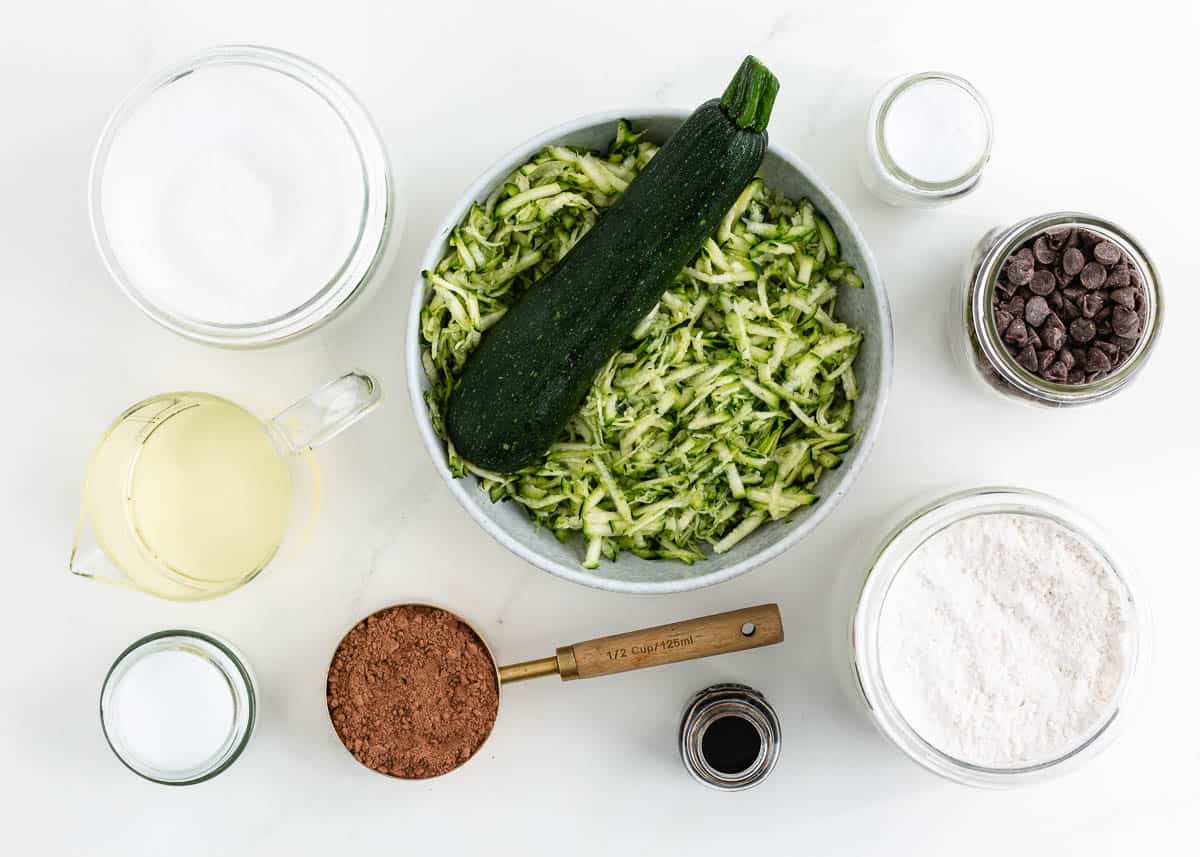 Find the full printable recipe with specific measurements below.
Granulated sugar: Since we're using unsweetened cocoa powder, we need the sugar for sweetness. If we were using melted butter, it would be important to dissolve the sugar completely in the butter to get that shiny thin crust on top. Since this is more cake-like in consistency, we're using oil instead.
Vegetable oil: The fat needed for moisture and a rich texture. You can also use avocado oil if you prefer.
All-purpose flour: Be sure to measure flour properly. The flour-to-fat ratio is important in creating the best zucchini brownies!
Unsweetened cocoa powder: This is what delivers the chocolatey goodness. Remember to use unsweetened or your brownies will end up overly sweet.
Baking soda: This is a leavening agent that will help give your brownies a nice rise and prevent them from becoming too heavy and dense.
Salt: Brings out the flavors in all the ingredients, elevating the overall taste.
Shredded zucchini: No need to peel or squeeze out any water they will be shredded then added directly into the batter. Here are tips on how to shred zucchini using a box grater or a food processor.
Chocolate chips: For extra chocolate flavor use semi-sweet chocolate chips or chunks, it's up to you. I like to keep some extra to add to the top just before baking.
Zucchini Brownie Variations
It's super simple to play around with certain ingredients to find out how best you like your zucchini brownies.
You can swap the semi-sweet chocolate chips for peanut butter chocolate chips, white chocolate chips, or even dark chocolate chips.
For a bit of added wholesomeness, use whole wheat flour instead of all-purpose flour. It is a bit of a more robust flavor but does create a slightly different texture. I typically use 1-2 Tablespoons less flour with wheat.
To make these completely dairy-free, use dairy-free chocolate chips.
For extra crunch, toss in some chopped walnuts.
If you like a frosting on your brownies, get creative! Try a marshmallow frosting, vanilla frosting, peanut butter frosting, or cream cheese frosting.
How to Make Zucchini Brownies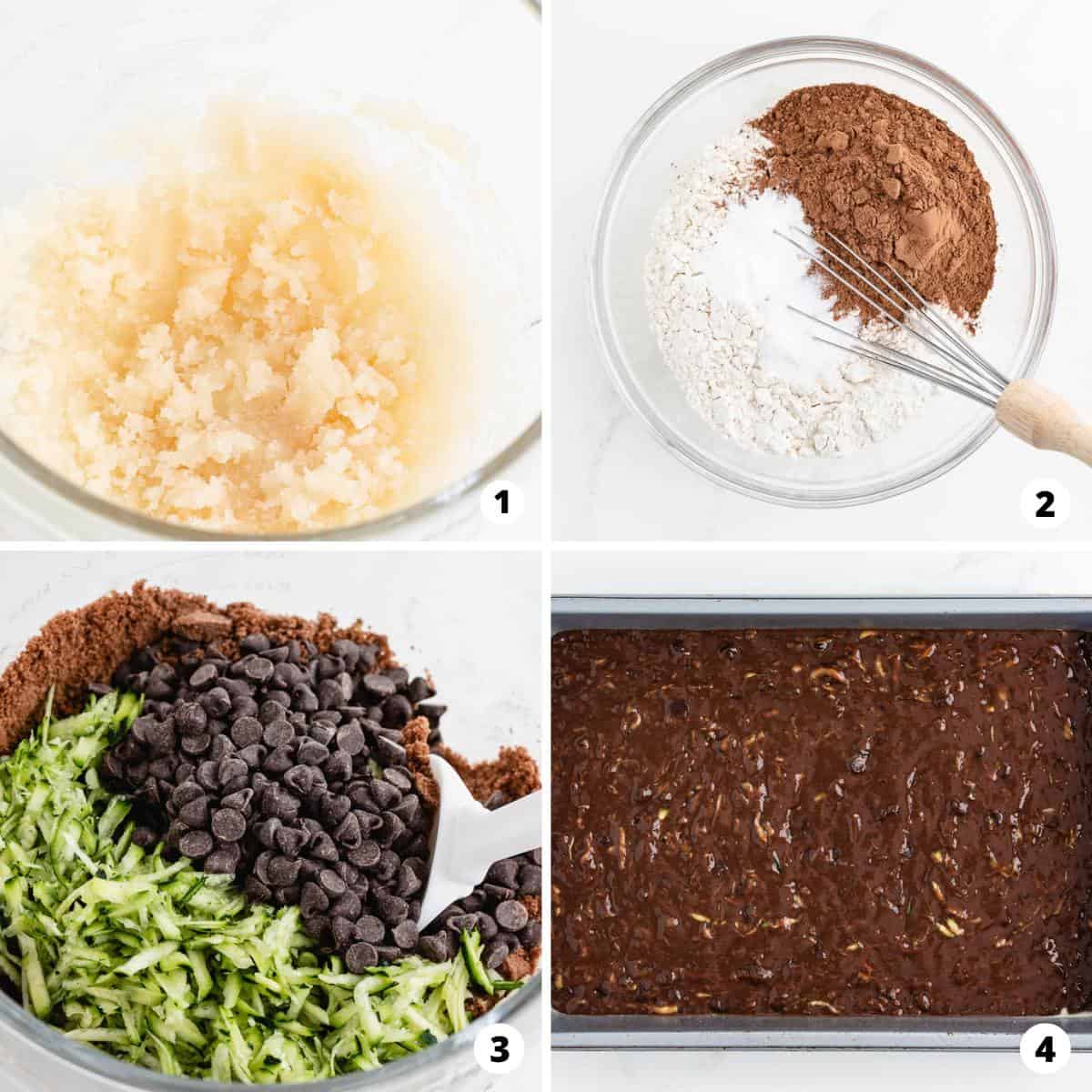 Mix the wet ingredients. In the bowl of a stand mixer, use the paddle attachment to mix the sugar, oil, and vanilla until combined. You can also use an electric mixer and a large bowl. Either will work at medium speed.
Combine the dry ingredients with the wet. In a separate medium bowl, whisk the flour, cocoa powder, baking soda, and salt until combined. Then you're going to stir the dry ingredients into the wet until just combined. If it looks crumbly, that's ok. It's just waiting for the moisture from the zucchini.
Add zucchini and chocolate. Fold in the shredded zucchini and chocolate chips until the batter is smooth. Pour it into the prepared 9×13 baking dish and spread it evenly across. Sprinkle the extra chocolate chips on top, evenly dispersing them across.
Bake prepared brownie batter. Bake in a preheated 350°F oven for 25-30 minutes until the top is set and the edges start pulling away from the sides. Let it cool for 20 minutes, then slice, serve, and enjoy!
Expert Tips for Baking with Zucchini
If using larger zucchini, you'll want to make sure to remove the seeds. They don't taste very good!
To squeeze or not to squeeze. I say don't squeeze out the water in your zucchini, but truth be told you'll have to use your judgment based on your zucchini. If you think you need to pat them dry, do so. Just don't get rid of all the moisture!
To get clean slices, the best way is to use a plastic knife! Oddly enough, it glides right through without collecting a lot of crumbs with every slice.
The brownies will continue to set as they cool. The toothpick trick may not work in this case, as there may still be some brownie crumb on it when inserted into the middle.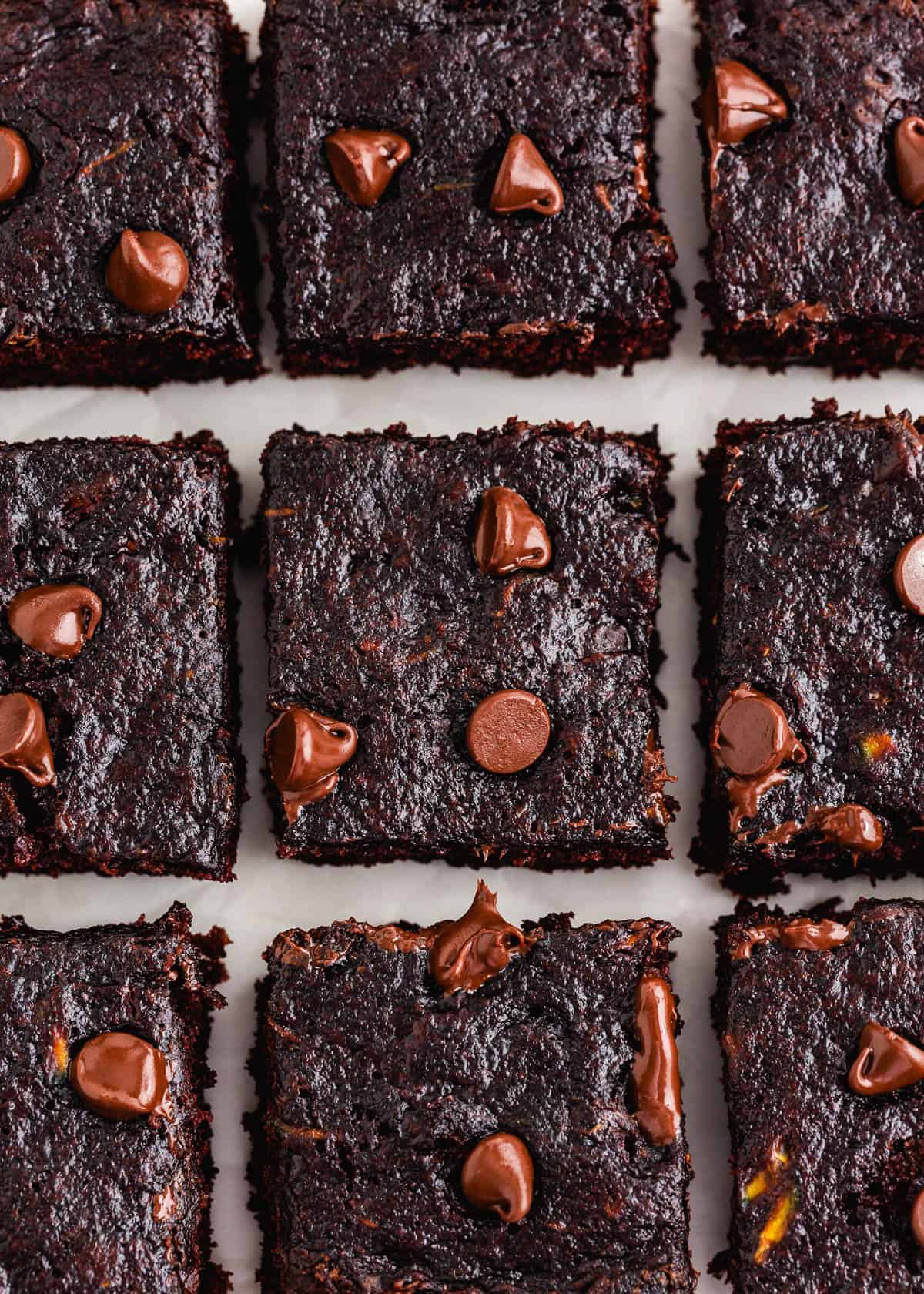 Recipe FAQs
Are zucchini brownies healthy?
Healthy? Not exactly. Healthier than your typical brownie since you'll have some health benefits from the zucchini! Antioxidants, fiber, vitamins, and minerals, are all added to these zucchini brownies!
Should I peel the zucchini first?
No. You can, but you don't need to. Most of the nutrients are in the skin, plus you can't taste or feel it once the brownies are baked. The edible skin softens and is very delicate.
Can I make gluten-free zucchini muffins?
I never have tried it, but if you wanted to try swapping all-purpose flour for a cup for cup swap or almond flour you can. If you try let me know how that goes!
Why are these brownies cakier, and less fudgy?
It's because the ratio of flour to fat has higher on the side of flour. In fudgier brownies, we use less flour and more oil. In this case, we're using more flour and less oil. With the added moisture from the zucchini, I didn't want to saturate them!
Storing
Keep leftover, cooled zucchini brownies in an airtight container for up to 3 days at room temperature.
If you want to freeze them, wrap individual pieces in plastic wrap then store them in a freezer-safe container or freezer bag for up to 3 months. Take out just the pieces you want to thaw and enjoy!
No need to reheat them, just thaw them at room temperature and they'll be good to go.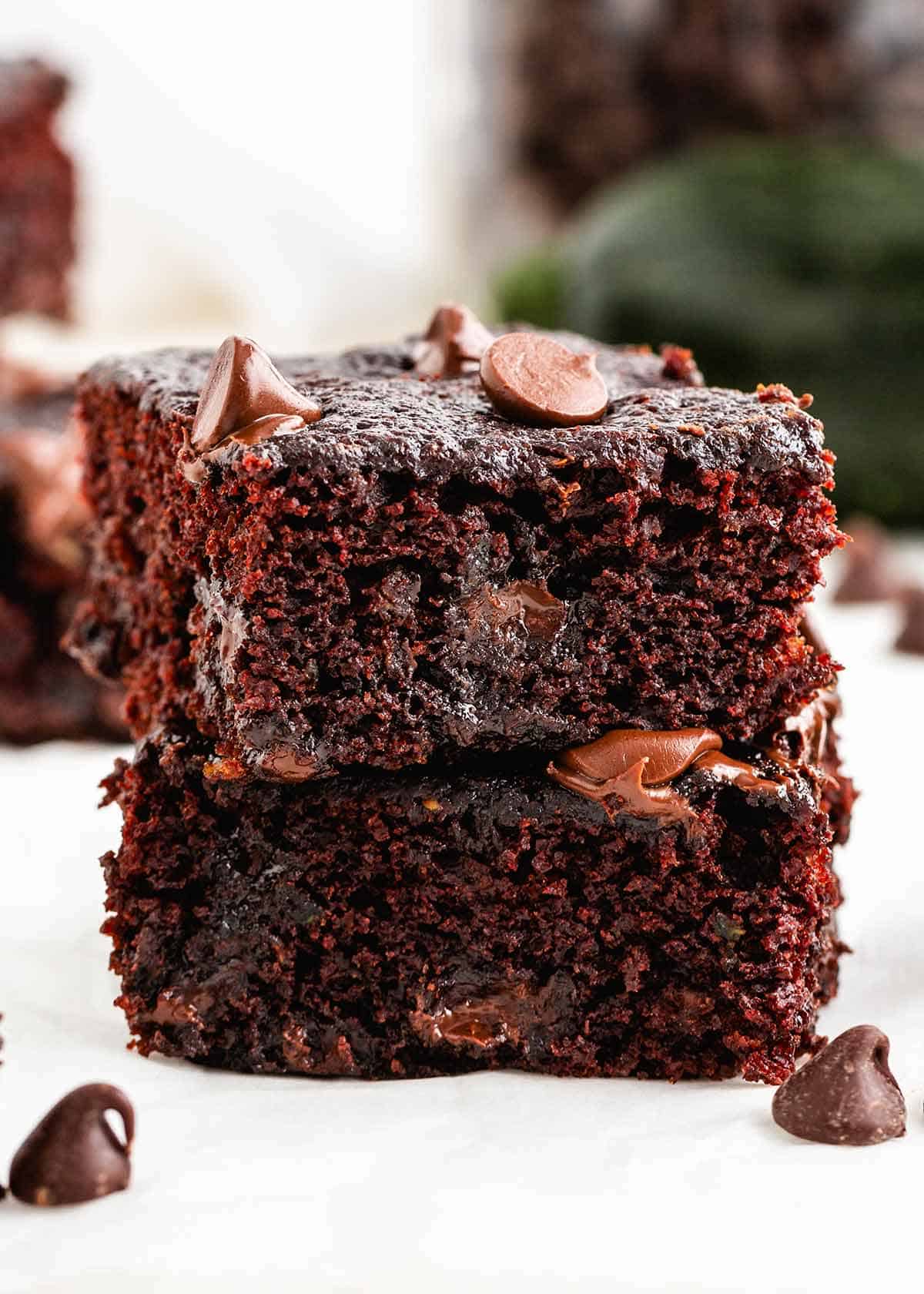 More Delicious Brownie Recipes
HUNGRY FOR MORE? Subscribe to my newsletter and follow on Facebook, Pinterest and Instagram for all the newest recipes!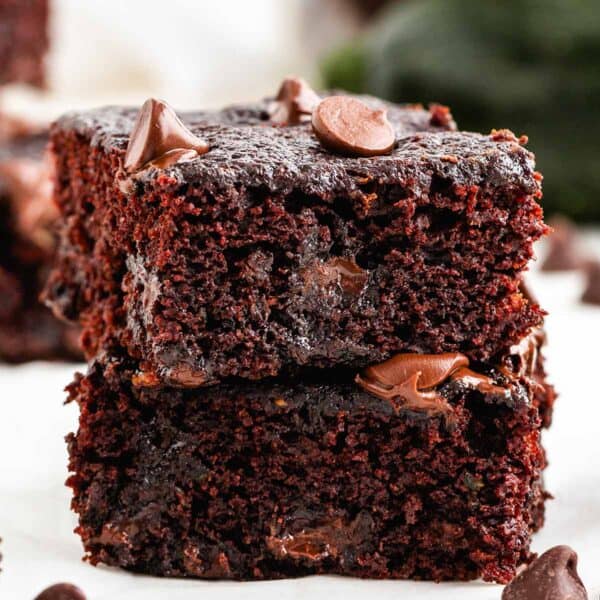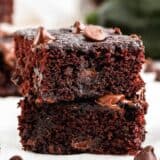 Zucchini Brownie Recipe
Made with freshly grated zucchini, 2 kinds of chocolate, and simple pantry staples, these rich and cakey zucchini brownies are a great way to enjoy your summer zucchini haul in a bite of decadent ooey gooey heaven!
Ingredients
1 ½ cup granulated sugar
½ cup vegetable oil , or avocado oil
2 teaspoons vanilla extract
2 cups all-purpose flour
½ cup unsweetened cocoa powder
1 ½ teaspoons baking soda
1 teaspoon fine salt
2 ½ cups shredded zucchini , undrained
1 cup semi-sweet chocolate chips or chunks , plus more for top if desired
Instructions
Preheat the oven to 350°F. Spray a 9×13-inch baking dish with cooking spray or lining with parchment paper.

In the bowl of a stand mixer fitted with the paddle attachment, mix the sugar, oil, and vanilla over medium speed until well combined.

In a medium bowl, whisk together the flour, cocoa powder, baking soda, and salt until combined.

Mix the dry ingredients into the wet ingredients until just combined. It will be crumbly. Once you start stirring in the zucchini, the zucchini itself adds all the moisture needed.

Then fold in the zucchini and chocolate chips and mix until batter is smooth. Spread the batter in an even layer in the baking dish. Sprinkle a few extra chocolate chips on top.

Bake 25 to 30 minutes, or until the top is dry and edges have started to pull away from the sides. Let cool 20 minutes.
---
Notes
Texture: Note these brownies have a slightly more cakey texture. Storage: Store leftovers in a sealed container up to 3 days. Freeze: Store in an airtight container in the freezer up to 3 months.
Nutrition
Calories: 177kcal | Carbohydrates: 26g | Protein: 2g | Fat: 8g | Saturated Fat: 3g | Polyunsaturated Fat: 3g | Monounsaturated Fat: 2g | Trans Fat: 0.04g | Cholesterol: 0.5mg | Sodium: 184mg | Potassium: 115mg | Fiber: 2g | Sugar: 16g | Vitamin A: 30IU | Vitamin C: 2mg | Calcium: 11mg | Iron: 1mg
Nutrition provided is an estimate. It will vary based on specific ingredients used.
Did you make this recipe? Don't forget to give it a star rating below!