This easy blueberry jam recipe only takes 3 ingredients to make and is done in 20 minutes! It's made without pectin, uses just lemon juice and sugar to help it set into a beautiful, glossy, thick spread. Use it on everything from toast to ice cream!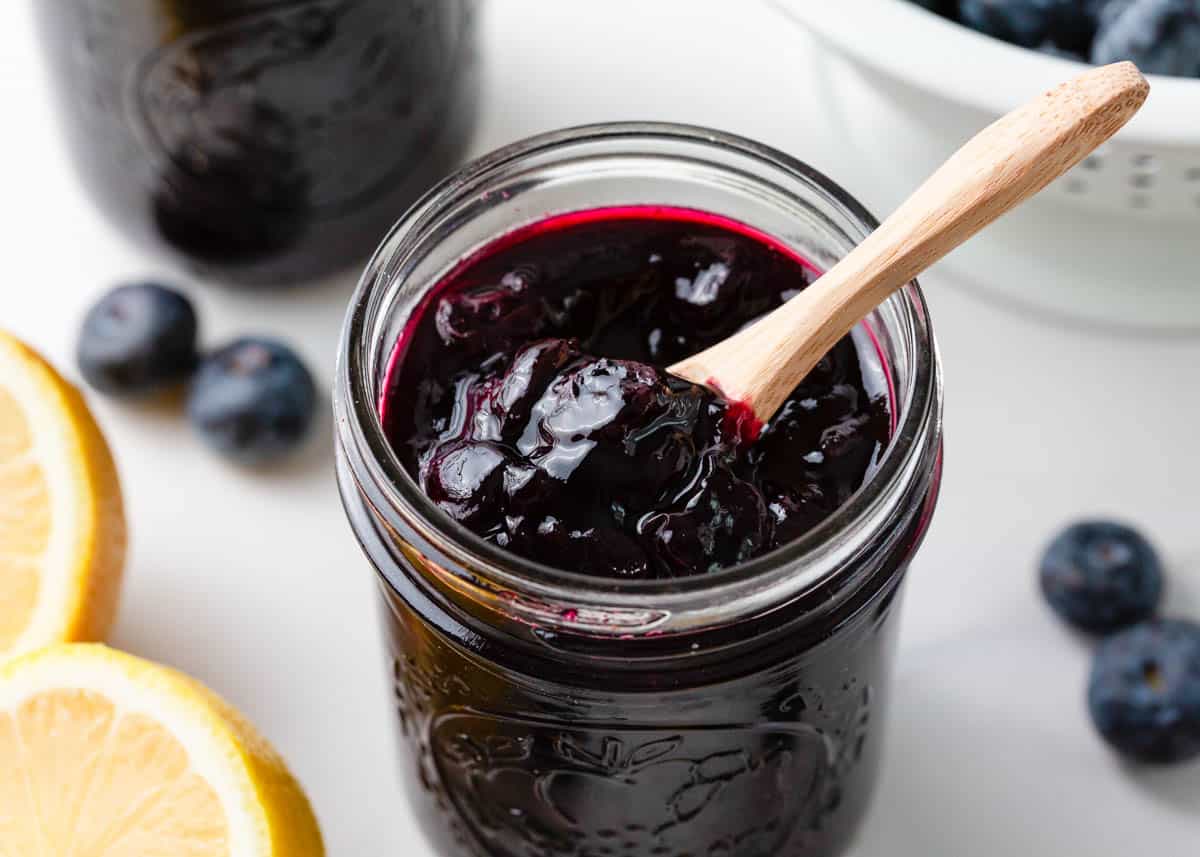 Always Better Homemade!
Making a sweet and tangy homemade preserve bursting with the flavor of delicious blueberries is one of my favorite things to do once blueberry season rolls around. This recipe is done in 20 minutes and only takes 3 key ingredients to make!
Unlike my freezer peach jam and homemade strawberry jam, this blueberry jam without pectin is made with just sugar and lemon juice just like my strawberry rhubarb jam!
It's done without a time-consuming canning process and even still it freezes for up to 1 year. So, I make sure to stock up to be able to enjoy it year-round!
I make more than one batch so I can give some to friends and family because a jar of this easy blueberry jam recipe always makes a great gift!
Why This Recipe Works
Quick and easy. One jar of homemade blueberry jam is made with just 4 ingredients and under 30 minutes. Including cool down time! There's no sterilizing or boiling water for canning jars either.
Cost-effective. It's an inexpensive way to preserve seasonal fruit, whether fresh from the market or your blueberry picking haul.
Delicious. If you find plump, juicy, and freshly ripe blueberries, this is a great way to capture all of that flavor. The sweetness from the sugar and the tang from the lemon juice gives it the perfect balance.
Simple ingredients. Easy blueberry jam is always better homemade! This way you can control what's in it and what's not.
Versatile. It can be used as anything from a spread to a topping to a filling, and more!
Key Ingredients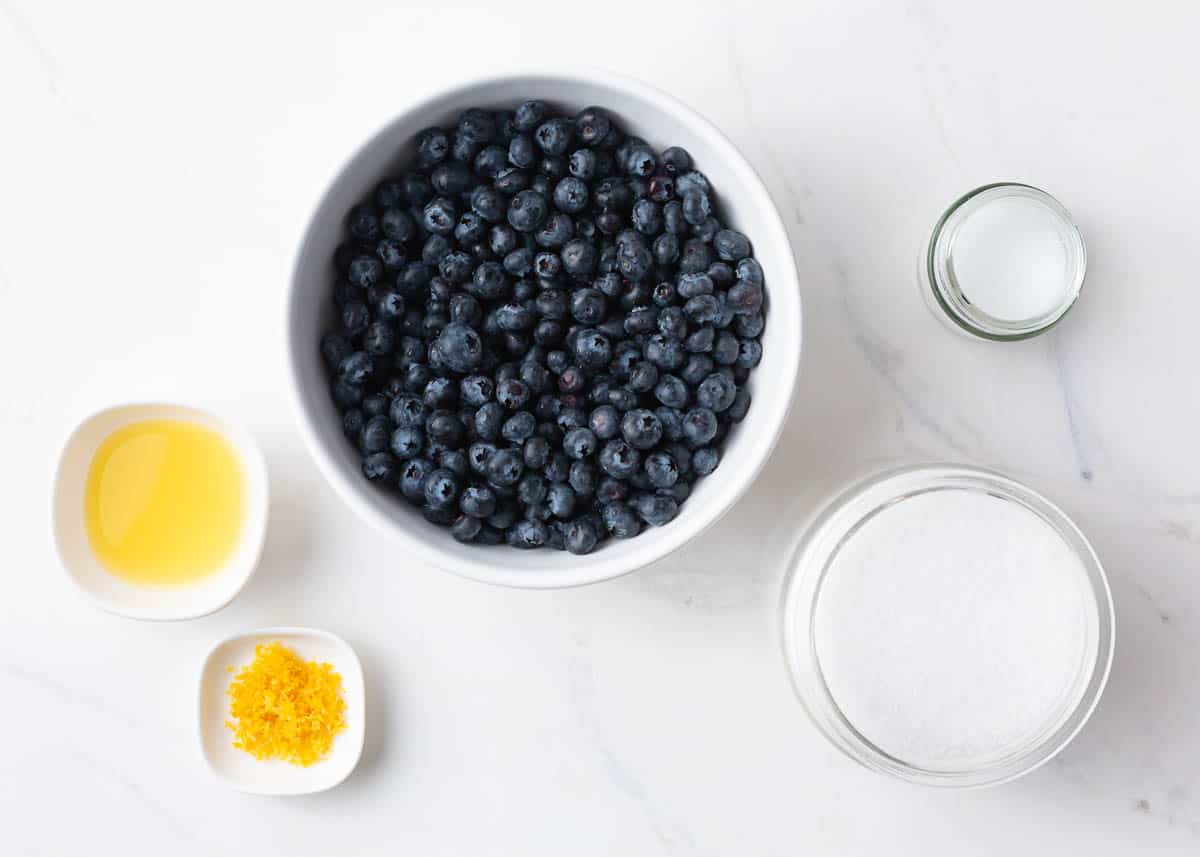 Find the full printable recipe with specific measurements below.
Blueberries: You can use fresh or frozen blueberries. If you freeze your fresh blueberries when they're in season or buy them frozen from the grocery store, you can make this homemade jam recipe all year round.
Granulated sugar: This not only helps to sweeten the jam, but it acts as a preservative giving it a longer shelf life.
Lemon: You'll need both the zest and the juice for acidity and a tangy flavor. The acid helps your jam to set.
Pinch of salt: A flavor enhancer that will help to maximize taste.
Variations
There are several ways you can tweak this easy blueberry jam recipe to make it your own. For example, you can add some cinnamon for a warm flavor, or use lemon juice from a bottle instead of from a fresh lemon (this is one of very few times it may even be the better choice). You can also omit the salt if preferred, and of course use this recipe with any fresh fruit or berries you'd like!
How to Make Blueberry Jam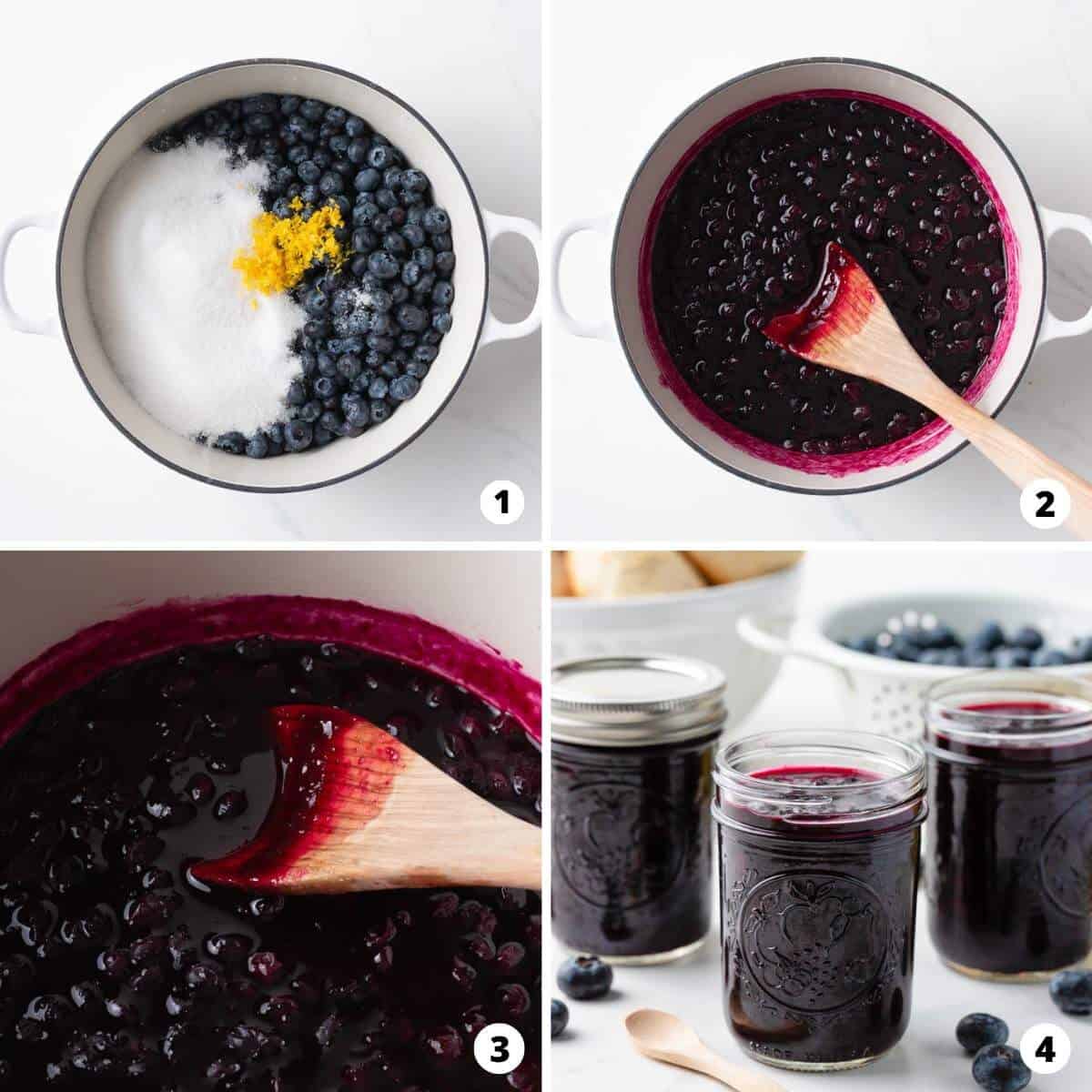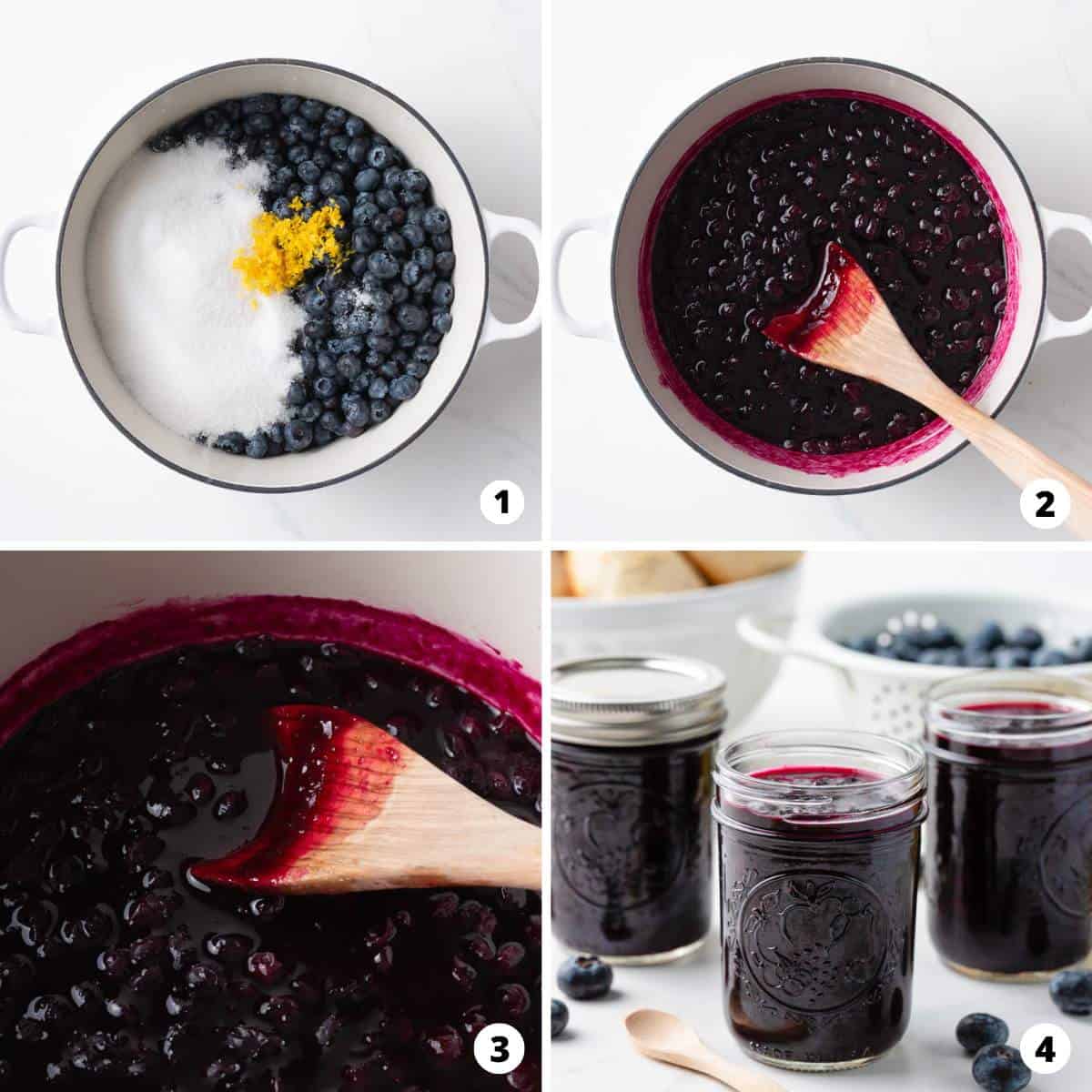 Bring everything to a boil. In a medium saucepan over medium high heat, combine blueberries, sugar, lemon zest, lemon juice, and salt and bring to a boil. Stir frequently.
Reduce heat and simmer. Once boiling, reduce the heat to medium and allow it to simmer for 7-10 minutes until slightly thickened and a digital thermometer reads 220°F. As it simmers, stir occasionally and gently crush some of the blueberries. A potato masher works great for this.
Allow it to cool slightly. Remove the pot from the heat and allow it to cool in the saucepan for 5 minutes. It will continue to thicken as it cools, however it won't be completely set for another 24-48 hours in the fridge.
Add to jam to jar and store it. Transfer the blueberry jam to clean and sanitized jars but do not cover them yet. Continue to allow them to cool to room temperature before sealing them. Store this homemade blueberry jam recipe in the fridge and enjoy!
Jam Making Tips
Double or triple the batch for more jam. It may take longer to set if you keep all of it in a larger single jar.
Prevent burning. When cooking, make sure you stir the mixture continuously to avoid the sugars burning on the bottom.
Avoid bacteria. Wash and sterilize the jars and lids to avoid any outside bacteria contaminating your preserves.
Keep the lid off until cooled. Allowing it to cool first before closing the lid helps to prevent trapping of excess moisture inside the jar.
Give it time to set. You can eat your blueberry jam right away but keep in mind it will still have a loose consistency. It takes up to 48 hours in the fridge to set to a jam-like consistency.
Recipe FAQs
Do you need to add pectin to make blueberry jam?
Blueberries are naturally low in pectin. So, this means you will need to add something to help the blueberries gel. In this recipe, we use sugar and lemon juice instead of pectin.
How do you thicken blueberry jam?
Some people find adding a cornstarch slurry, which is a mixture of cornstarch and water, into their mixture helps to thicken it up. I have never needed to do that because I'm not expecting this jam to be super thick.
Is jam better with or without pectin?
That depends on your desired outcome. Pectin is used to help the jam set quickly while still preserving the fresh fruit flavor. Without it, you end up stirring the jam for longer which slowly eliminates the freshness of the fruit and ends up being very sweet.

With that being said, this small-batch jam recipe does not require you to stir for a long time because it's such a small amount. Spending up to 2 days in the fridge also helps it set.
What if I don't have a thermometer?
A trick to tell whether your easy blueberry jam recipe is ready is to dip a spoon into it making sure to coat the back of it. Run your finger down the back of the spoon. If the jam separates, it's ready.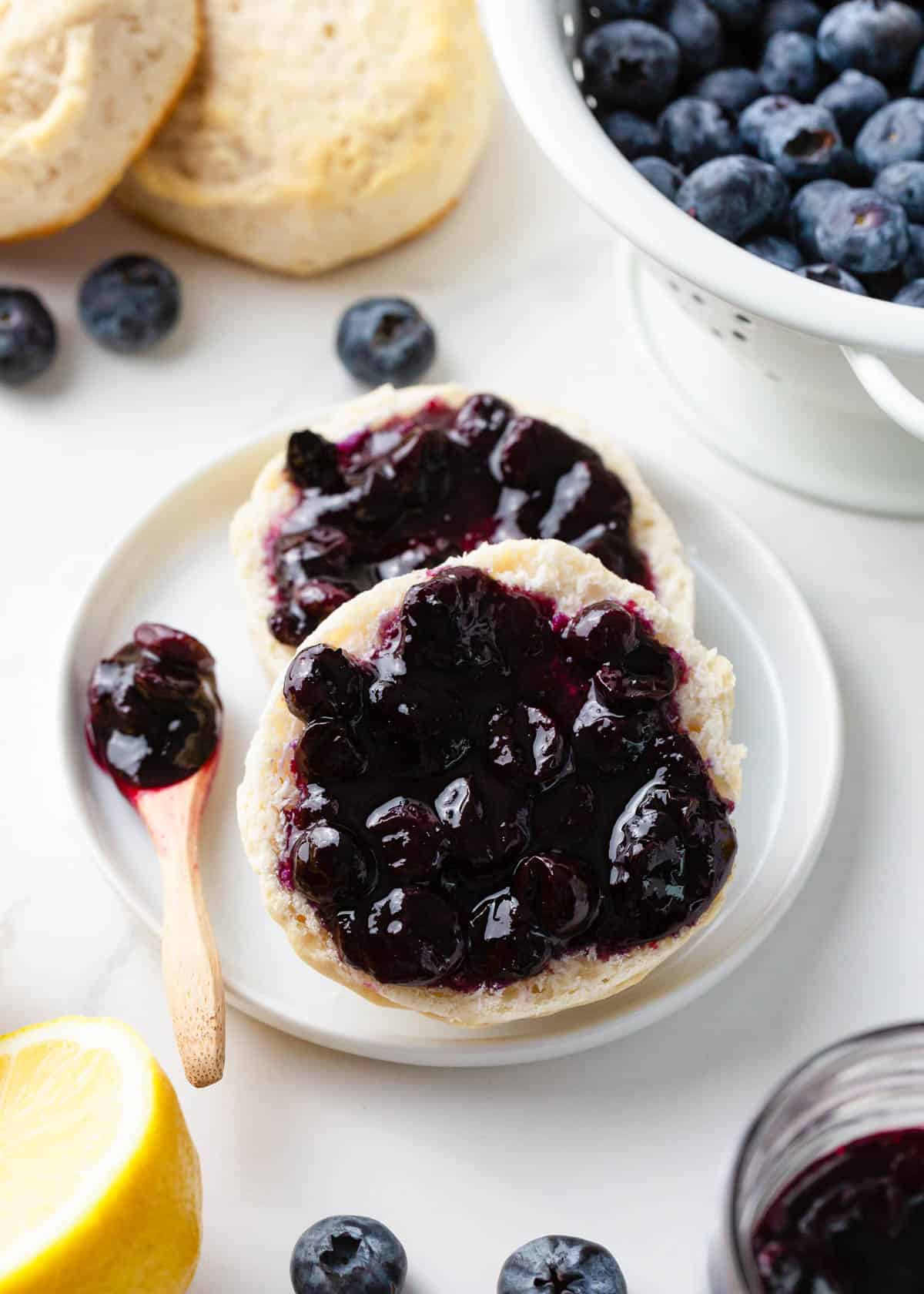 Storing
Fridge: Keep jam stored in a jar with an airtight light for up to 10 days in the fridge once opened. It will remain fresh and ready to eat for up to 1 month if left unopened.
Freezer: Make a batch of blueberry freezer jam by transferring the preserves to a freezer-safe jar or freezer bag. Leave room for the jam to expand as it freezes. Keep it frozen for up to 1 year. Thaw in the fridge and enjoy it however and whenever you'd like!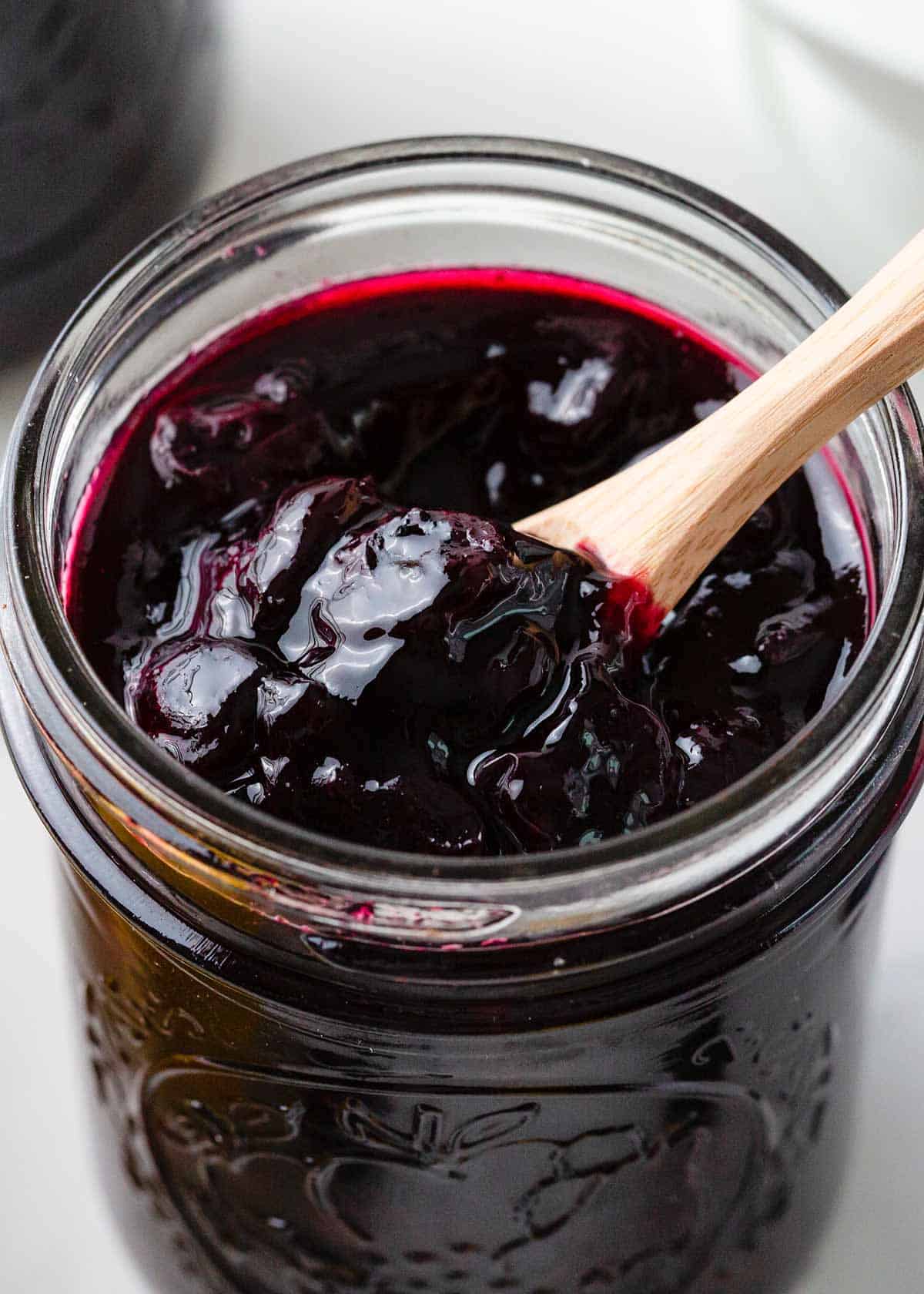 More Blueberry Recipes to Make
HUNGRY FOR MORE? Subscribe to my newsletter and follow on Facebook, Pinterest and Instagram for all the newest recipes!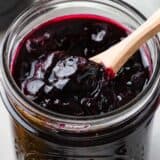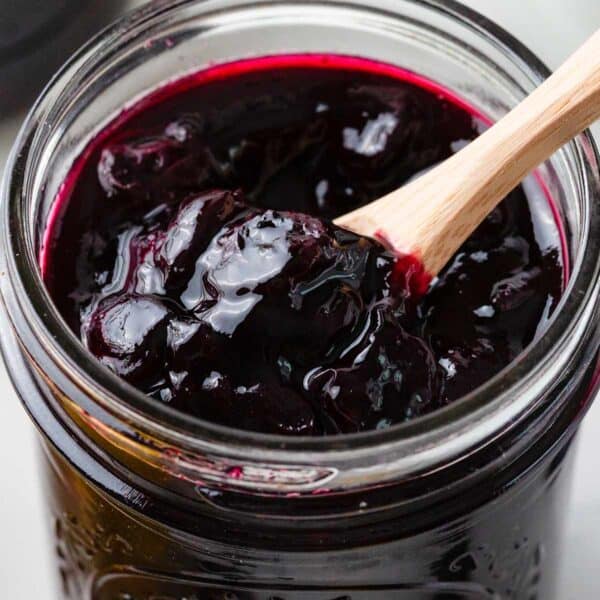 Blueberry Jam Recipe
This this easy blueberry jam recipe only takes 3 ingredients to make and is done in 20 minutes! It's made without pectin, uses just lemon juice and sugar to help it set into a beautiful, glossy, thick spread. Use it on everything from toast to ice cream!
Ingredients
4 cups fresh or frozen blueberries
1 ½ cups granulated sugar
1 lemon , zested and juiced
Pinch salt
Instructions
In a medium saucepan, stir together blueberries, sugar, lemon zest, lemon juice, and salt over medium heat. Stirring frequently, bring to a boil.

Reduce heat to medium. Simmer, stirring occasionally while gently crushing some of the blueberries, 7 to 10 minutes, or until slightly thickened and a digital thermometer reads 220°F.

Let cool 5 minutes in the saucepan before transferring to jars. Leave unopened and let come to room temperature. Once the jam is at room temperature, seal jars and store in the refrigerator. The jam might take 24 to 48 hours to fully set up, but it can be eaten immediately.
---
Notes
Berries: We've had success using this recipe for blackberries or raspberries as well. Freezer jam: Transfer the jam to the jars or freezer bags, leaving room for jam to expand as it freezes. Store in the freezer up to 1 year. Thaw overnight in the fridge before eating. Storage: The jam is best eaten within 10 days. If unopened, the jam can last up to 1 month.
Nutrition
Serving: 16ounces | Calories: 95kcal | Carbohydrates: 25g | Protein: 0.3g | Fat: 0.2g | Saturated Fat: 0.01g | Polyunsaturated Fat: 0.1g | Monounsaturated Fat: 0.02g | Sodium: 1mg | Potassium: 38mg | Fiber: 1g | Sugar: 23g | Vitamin A: 21IU | Vitamin C: 7mg | Calcium: 4mg | Iron: 0.2mg
Nutrition provided is an estimate. It will vary based on specific ingredients used.
Did you make this recipe? Don't forget to give it a star rating below!