Blueberry crepes filled with luscious cream cheese crepe filling made with whipped cream and a delicious blueberry sauce are so good it's almost sinful. Is it breakfast? Is it dessert? It is most definitely both!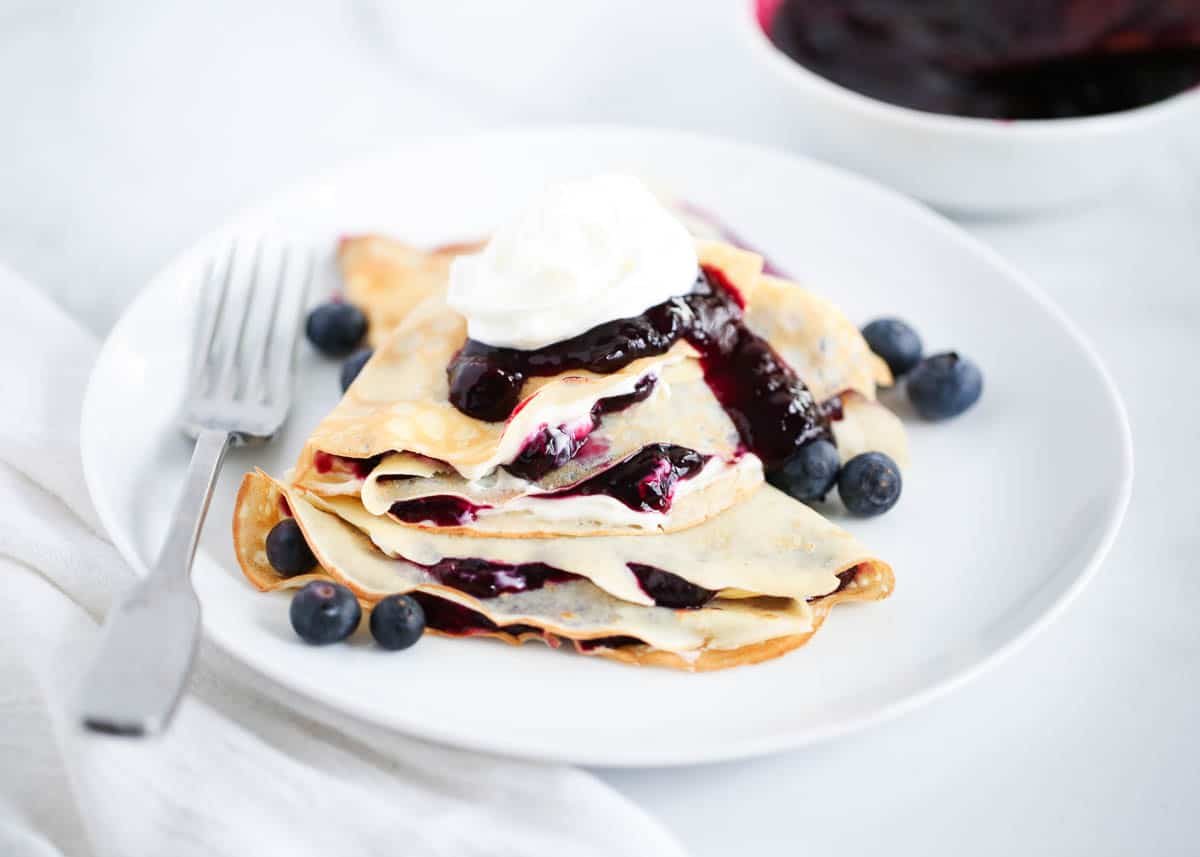 Blueberry Cream Cheese Crepes
I adore crepes in all forms, with all kinds of fillings but there's something about a decadent blueberry sauce that does me in.

I'm using this easy crepe recipe to make blueberry crepes for this year's Easter brunch. The recipe can easily be doubled or even tripled for a crowd, so I'll be sure to make enough for strawberry crepes, crepes with delicious lemon curd, and of course these blueberry cream cheese crepes. It's a special occasion, so why not go all out and make a crepe-layer cake!
The batter is made quickly and easily in a blender, and each one turns out soft, buttery, and melt-in-your-mouth. Better than any restaurant or breakfast diner and you can freeze some for later too!
Crepes vs Pancakes
They share similar ingredients, which is why you can make crepes with pancake mix. However, crepes like my blintz recipe does not contain any leavening agents. This allows them to remain very very thin and stay soft and pliable. Pancakes are thick and fluffy, and when folded will usually break in half.
They are very similar in that they can be made savory or sweet, and come with an array of toppings. If folding them up and biting into a sweet filling is your jam, then blueberry crepes are for you!
Crepe Ingredients
You will love how simple this blueberry crepes recipe is to make! It is loaded with all the flavors and looks beautiful with large purple blueberries hidden inside. These pantry staple ingredients are all you need to make perfect crepes every time!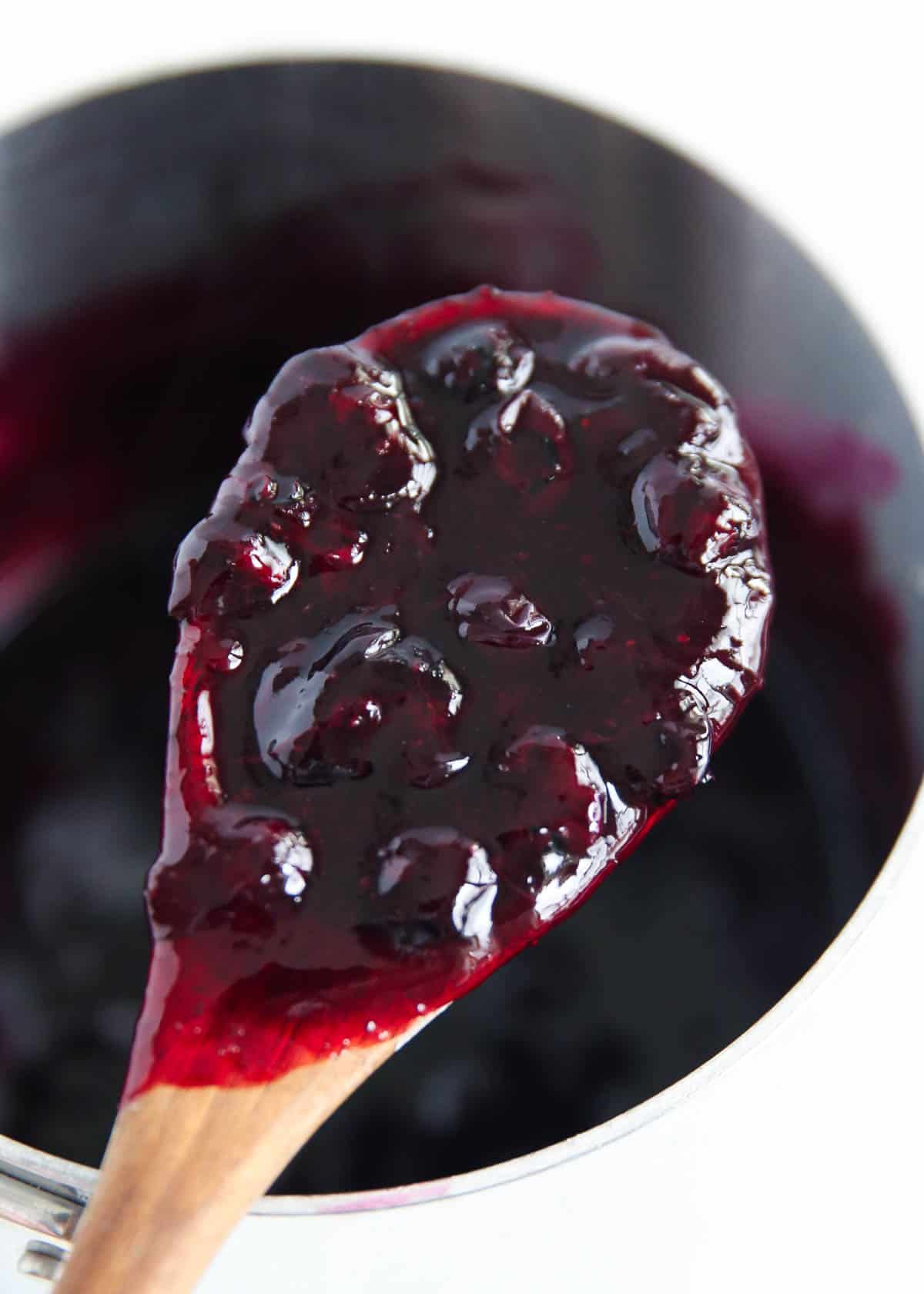 Find the full printable recipe with specific measurements below.
Milk: I like to use 2% as it's thick enough to add richness but it's not too thick.
Eggs: Used as a binding agent. The same way they're used in pancakes.
Salted butter, melted: In this case, I opt for salted butter because it helps to balance the sweetness, but you can use unsalted butter if you prefer. Allow the melted butter to cool slightly before using it.
Sugar: Added for sweetness. Leaving it out would be necessary if we were making chicken crepes or something savory!
Vanilla: Delicious flavor enhancer that elevates all of the other ingredients.
Salt: Just a bit more than the butter delivers for bringing out all of the other surrounding flavors.
All-purpose flour: The foundation of the entire batch of crepes!
Cream Cheese Filling
Next comes the cream cheese crepe filling that is the perfect creamy compliment to the sweet blueberry sauce. It's made with a mixture of cream cheese, granulated sugar, vanilla, and whipped cream.

Don't forget to soften cream cheese before using it so the filling whips up smoothly without any clumps. If you prefer a sugar that won't leave any granules and will blend in smoothly, use powdered sugar instead.
Blueberry Sauce for Crepes
The crepes are finished off with a homemade blueberry sauce (aka blueberry compote) made with juicy blueberries, granulated sugar, lemon juice, water, and cornstarch. This sauce is a great way to showcase your fresh blueberries just like in my fresh blueberry muffins! However, if they're not in season, go ahead and use frozen blueberries.
The granulated sugar will dissolve once boiled in the sauce and adds a wonderful sweetness to what could be a slightly tart sauce. A bright burst of citrus from the lemon is always a welcome addition to any fruit sauce to liven it up. And cornstarch is the thickening agent used to turn the runny consistency into a slightly sturdier, jam-like sauce.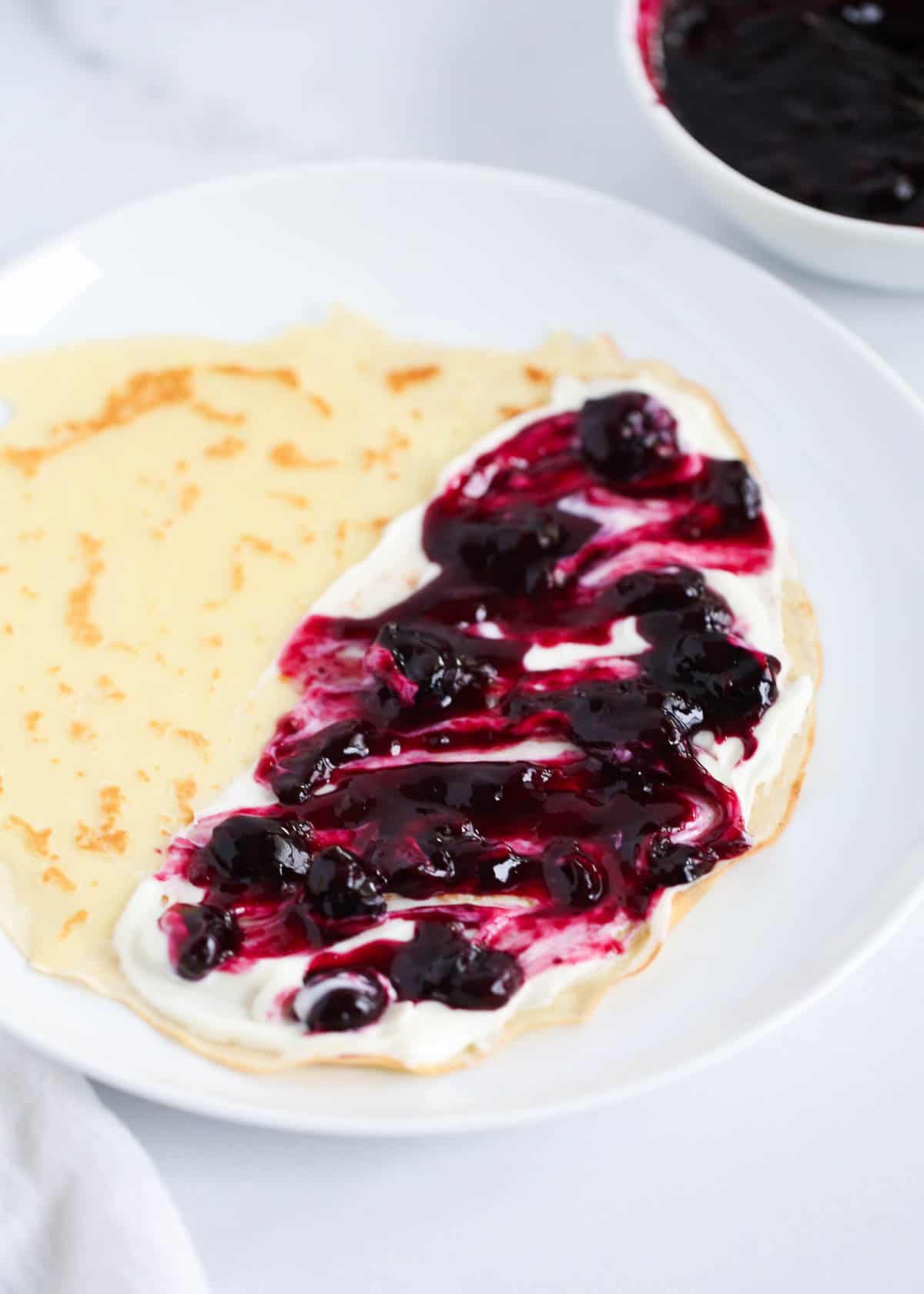 How to Make This Blueberry Crepes Recipe
Simply combine all the ingredients for crepes into one blender. Let the blender mix together. Cook in a skillet or crepe pan then create the blueberry filling. This filling is heavenly and adds all the flavor to this easy blueberry crepes recipe!
Combine ingredients for the batter. In a blender, add all of the blender ingredients and mix them until the batter is smooth.
Heat an 8″ frying pan over medium-low heat. Make sure to spray with a nonstick cooking spray to avoid the crepe sticking to the pan. Once that happens, it's automatically ruined because of how delicate they are. By ruined I mean we're totally going to eat them anyway.
Pour 1/4 cup of batter into the pan and immediately tilt it around so that the batter spreads evenly in a thin layer across the bottom of the pan. Cook for 1-2 minutes per side until nicely golden. Set it aside and continue until you have no more batter.
Make the whipped cream cheese filling. In the bowl of a stand mixer with the paddle attachment, or a mixing bowl with beaters, whip the filling ingredients until smooth.
Boil ingredients for the blueberry sauce. In a medium saucepan, combine sauce ingredients and bring to a boil over medium heat. Lower the heat and simmer until the sauce has thickened. keep in mind it will continue to thicken as it cools.
Assemble the blueberry crepes. Lay each crepe down flat. Spread some of the cream cheese mixture down the center and top it with blueberry sauce. Either fold the crepes in half or roll them up gently to eat and enjoy!
Top Your Blueberry Crepes!
When serving I like to top them with powdered sugar and a bit of lemon zest. You can also add a bit of whipped cream and extra blueberry sauce if you like.
Recipe Tips for Blueberry Crepes
Take your crepes to the next level with these helpful tips! It is so simple to make crepes but little changes and easy ideas will make your homemade blueberry crepes taste even better!
Always use a non-stick skillet. Even with this, you'll want to use a spray or melted butter to help you flip the crepes and slide them out without them falling apart.
Rest your crepe batter for at least 30 minutes. You can also leave it in the fridge overnight. It's kind of nice to prepare it the night before and have it ready in the morning.
You don't have to use up all your crepes. You may find you have lots left over. Save them and use a different filling next time for an entirely different breakfast or dessert idea!
Have other options available. These deliciously decadent blueberry crepes are amazing as is, but it's always nice to have some staples on the table for people. Warm homemade maple syrup is always nice and perhaps some extra fresh blueberries for those that don't want the sauce.
FAQs
What is the secret to great crepes?
Warming the milk and butter before combining them with the eggs and flour. This allows the butter to evenly distribute the batter and helps that batter not to stick to the pan when flipping.
What is a good substitute for butter in crepes?
Instead of using butter for the crepes, you can substitute coconut oil, olive oil, or canola oil. These are great alternatives for making homemade crepes.
What can I use to fill my blueberry crepes instead of the cream cheese filling?
For a lighter version, you could swap the cream cheese mixture with some plain or vanilla-flavored Greek yogurt instead. You could also consider using lemon curd along with the blueberry sauce. Or whipped cream all on its own.
How to store crepes?
Stack your crepes and separate each one with a piece of parchment paper. This will help keep them from sticking together. Keep them stored in a Ziploc bag or airtight container for up to 3 days.
Can I freeze blueberry crepes?
Crepes are very freezer-friendly so be sure to make lots! Keep leftovers frozen for up to 3 months. You can freeze the blueberry sauce for up to 1 month as well!
Reheat them in the microwave in a skillet over low heat. The great thing about the microwave is you can warm a whole stack at a time.
How to make blueberry crepes ahead of time?
I don't suggest making the filling ahead of time, as it tastes best when it's fresh. You can make the batter up to 3 days ahead and keep it covered in a bowl or the blender itself until you're ready to use it.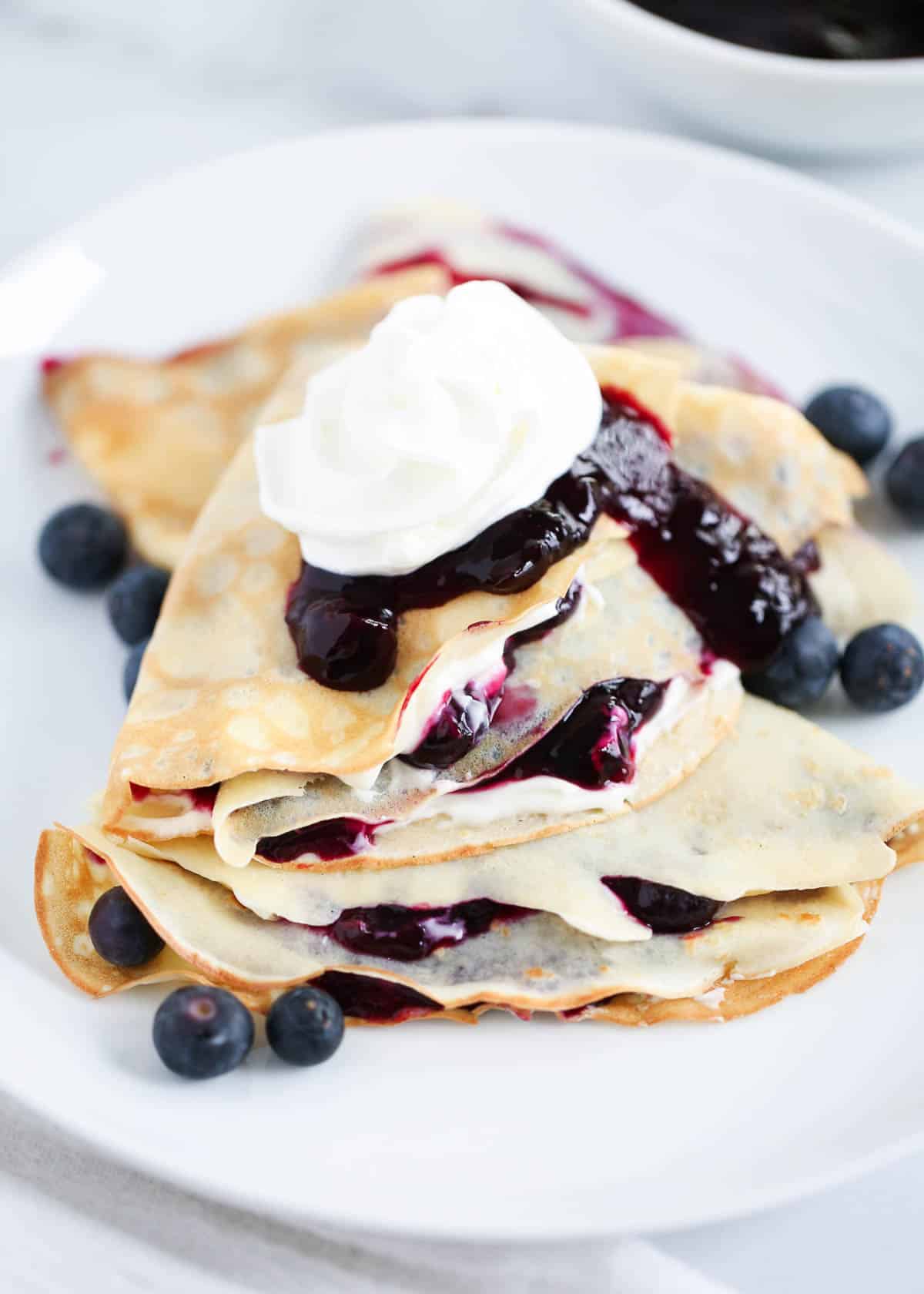 5 star review
"Great recipe easy to follow. Crepes were delicious with the blueberry sauce. Thank you for sharing."

-Lesley
More Crepe Recipes
HUNGRY FOR MORE? Subscribe to my newsletter and follow on Facebook, Pinterest and Instagram for all the newest recipes!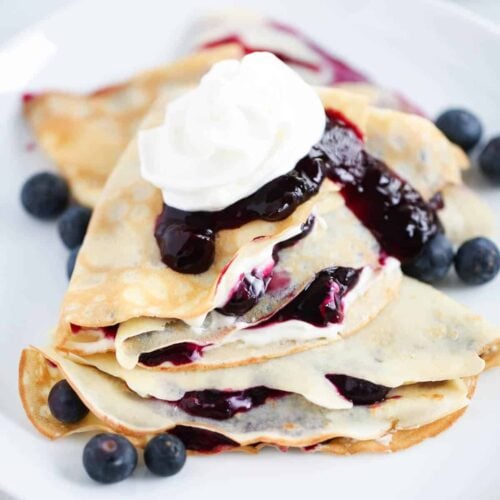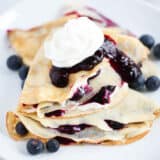 Blueberry Crepes
Blueberry crepes filled with luscious cream cheese crepe filling made with whipped cream and a delicious blueberry sauce are so good it's almost sinful. Is it breakfast? Is it dessert? It is most definitely both!
Ingredients
Crepe Batter
2 cups 2% milk
4 large large eggs
3 Tablespoons salted butter , melted and slightly cooled
1 Tablespoon granulated sugar
1 teaspoon vanilla extract
½ teaspoon fine sea salt or table salt
1 ½ cups all-purpose flour , sifted if desired
Blueberry Sauce
1 ½ cups blueberries , fresh or frozen
⅓ cup granulated sugar
⅓ cup water
1 ½ Tablespoon lemon juice
1 teaspoon cornstarch
Instructions
Crepe Batter
In a blender, blend milk, eggs, butter, sugar, vanilla, salt, and flour, and mix until batter is smooth, about 15-20 seconds. Refrigerate batter at least 30 minutes, or overnight.

Heat an 8-inch frying pan over medium-low heat. Spray with non-stick cooking spray and pour about 1/4 cup batter into the pan, immediately tilting the pan from side to side to form an even circle. Cook about 1-2 minutes per side, or until lightly browned. Remove from heat and stack until ready to serve. Repeat with remaining batter.
Crepe Filling
In a stand mixer fitted with a paddle attachment, beat the cream cheese, sugar, and vanilla until smooth. Mix in the whipped cream until smooth.
Blueberry Sauce
In a medium saucepan, combine the blueberries, sugar, water, lemon juice, and cornstarch. Bring to a boil over medium heat.

Lower the heat and simmer 5 minutes, or until thickened. Mash with a fork to reach desired consistency. Remove from heat and allow to cool for a few minutes.

Lay a crepe on a flat surface and spread 1 to 2 Tablespoons filling down the center. Then pour the blueberry sauce on top. Fold crepe around filling. Repeat with remaining crepes. Fold crepe and serve.
---
Notes
Make ahead instructions: The batter can be made up to 24 hours in advance and stored in the refrigerator until ready to cook. The filling is best made the same day it is served. The crepes and sauce can be made up to 3 days in advance. Storage: For the crepes, add to a zip-top bag or covered container and layer parchment in between each crepe. The crepes and sauce can be stored in the fridge for up to 3 days and in the freezer for up to 3 months. Reheating: Heat in microwave or on the skillet over low heat until warm. You can also place on a baking sheet in the oven at 175°F for 5 minutes, or until warm.
Nutrition
Serving: 1crepe | Calories: 185kcal | Carbohydrates: 24g | Protein: 5g | Fat: 8g | Saturated Fat: 4g | Polyunsaturated Fat: 1g | Monounsaturated Fat: 2g | Trans Fat: 1g | Cholesterol: 66mg | Sodium: 163mg | Potassium: 108mg | Fiber: 1g | Sugar: 13g | Vitamin A: 309IU | Vitamin C: 2mg | Calcium: 62mg | Iron: 1mg
Nutrition provided is an estimate. It will vary based on specific ingredients used.
Did you make this recipe? Don't forget to give it a star rating below!