Blueberry sauce is glossy, sweet, and slightly tart with every mouthful bursting with the taste of delicious blueberries. A simple and elegant way to top your cheesecakes, ice cream, waffles, pancakes, and more!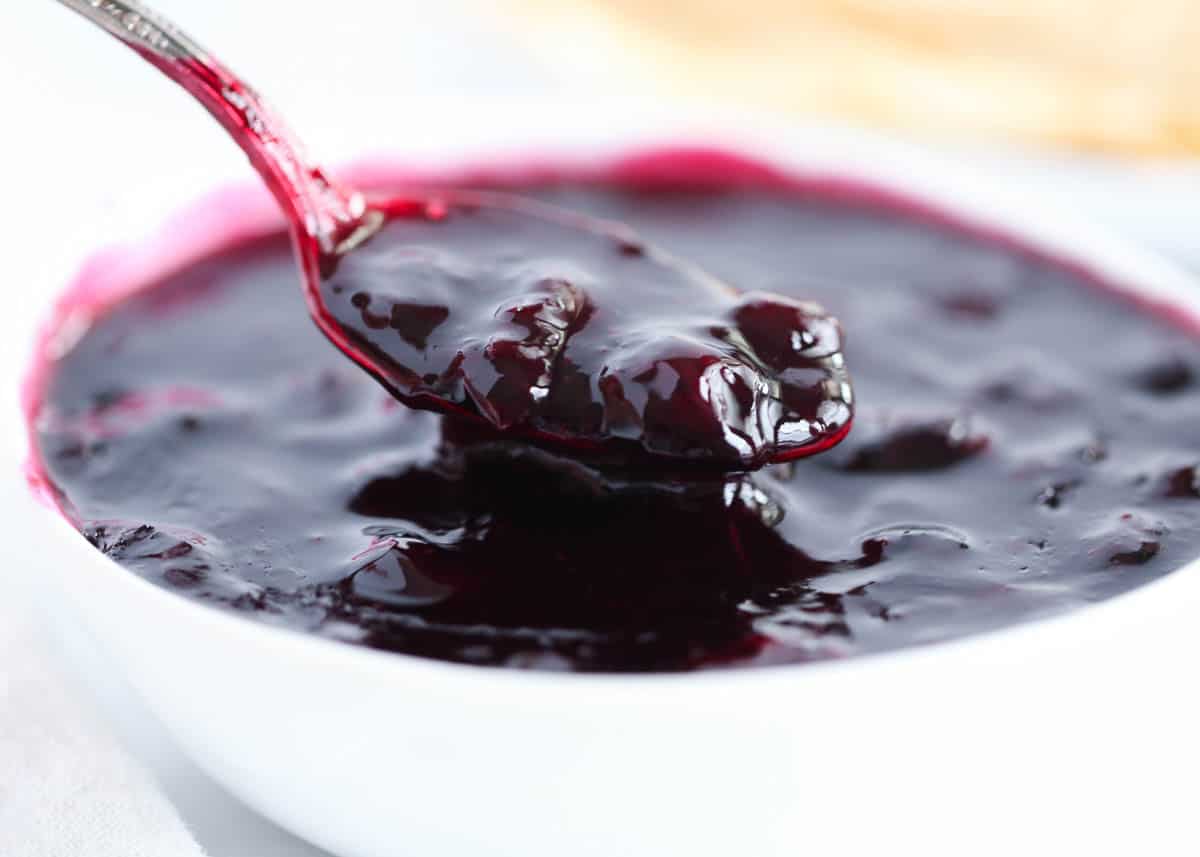 Easy Homemade Blueberry Sauce
It's a quick way to elevate everything from cake and crepes to pancakes, yogurt, and ice cream. Serve it warm over waffles, or at room temperature over cheesecake. Better yet, by the spoonful with your back turned towards the sink. Trust me, we've all been there.
There's nothing better than a homemade blueberry compote to top of your desserts and fancy brunch items and this recipe is so easy and addicting, you'll never run out of ways to use it!
It can be made with fresh or frozen blueberries just like my easy blueberry jam which makes this one ideal for keeping around all year!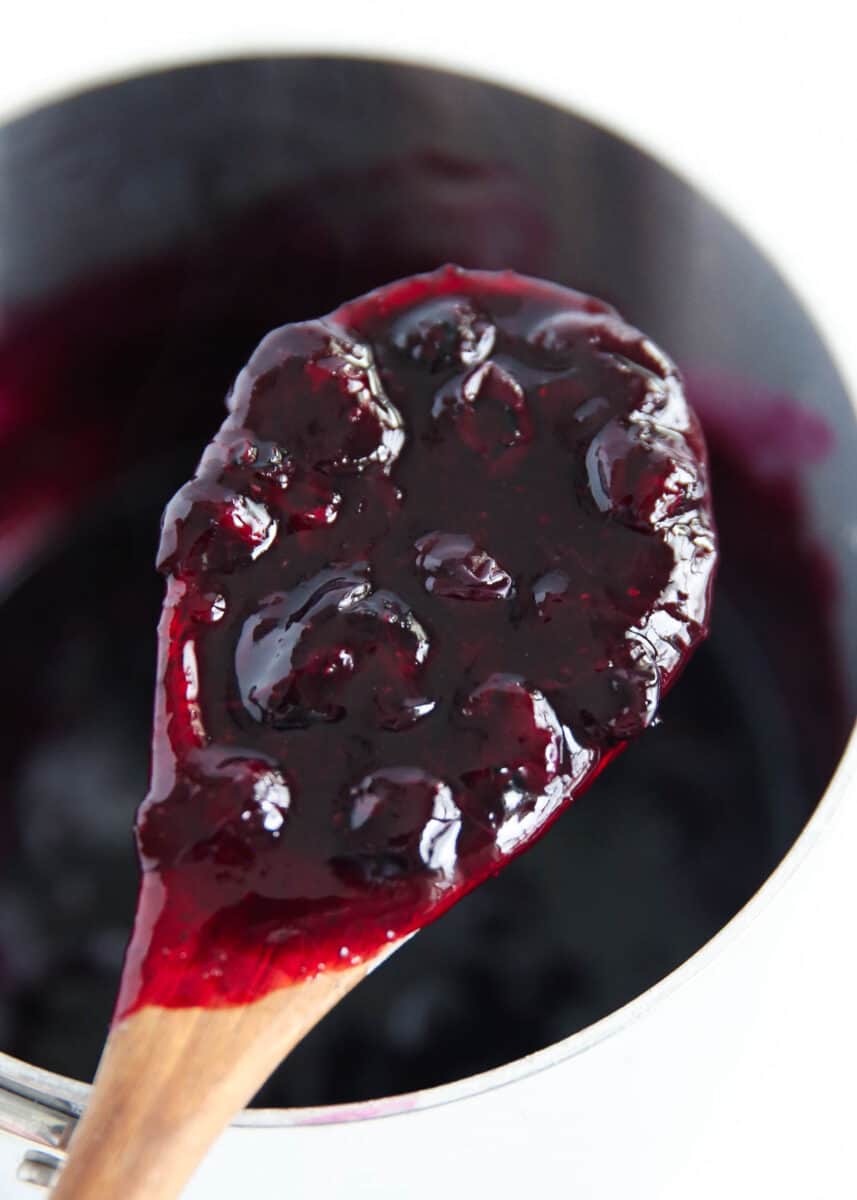 5 Simple Ingredients
Blueberries – Use fresh blueberries or frozen. If using fresh berries, make sure to wash them and pick out any debris or little stems.
Sugar – The sweetness balances out the tartness of the blueberries. Regular white granulated sugar works as it will dissolve without leaving any granules behind.
Water – Used to boil the blueberries and allow them to soften, break down and combine into liquid.
Lemon juice – A pop of citrus is always great in a fruit sauce. It brightens up the blueberry flavor.
Cornstarch – A thickening agent that helps to plump up a runny sauce to jam-like status. Not quite, but almost – It's still pourable, but not as runny as it would be without it.
How to Make Blueberry Sauce
Combine all ingredients. Into a medium saucepan, stir in blueberries, sugar, water, cornstarch, and lemon juice.
Bring to a boil. Turn heat to medium heat and allow it to come to a low boil. Reduce the heat then simmer for 5 minutes or until it has thickened.
Mash blueberries. Do this until the mixture has reached your desired consistency. If you like to keep your blueberries intact, don't mash them at all!
Remove from heat. Allow it to cool slightly before serving. It will continue to thicken as it cools and then you can use it as the best blueberry topping for ALL of the things!
How to Pick the Best Blueberries
When picking blueberries, look for ones that are plump, smooth, and slightly firm. Wrinkles are a sign that the blueberries are no longer fresh. They should have a sweet aroma and smell like blueberries! They'll be dark in color. The best ones are dark blue, maybe even almost black.
Recipe Tips
For a deeper lemon flavor, whisk in some lemon zest along with the lemon juice.
Replace the lemon juice with orange juice for a sweeter, less acidic citrus flavor.
I especially love using maple syrup, instead of sugar, in my blueberry sauce around the fall and winter months.
If you enjoy the taste of cinnamon, sprinkle some into your sauce, or simmer with cinnamon sticks and remove before serving.
How to Use this Easy Blueberry Sauce Recipe
FAQs
Can I make this sauce using different berries?

You can. This blueberry sauce recipe works with all kinds of berries, including strawberries, raspberries, blackberries, and even cranberries. You could use apples, cherries, and peaches too!
How can I thicken a sauce without cornstarch?

You can thicken a sauce by using flour to create a roux, or you can replace the cornstarch with arrowroot powder. If you don't have any thickening agents, allowing the sauce to simmer and reduce will help. Don't forget, it also thickens as it cools with or without a thickening agent.
What does compote mean?

It's a fancy way of saying fruit that is cooked in a sugary syrup. It originated as a dessert in itself and I can see why! I can understand why someone would want a big bowl of it to enjoy :)
How long does homemade blueberry compote last?

This stuff lasts for days in the fridge and months in the freezer, so make lots! Especially if you've just picked up a fresh blueberry haul and you're wondering what to do with all of them. Make batches of blueberry sauce and freeze it for later!

Keep it in a glass jar or airtight container in the refrigerator for 3-5 days in the fridge or up to 3 months in the freezer! Closer to 6 months if it's in a deep freezer.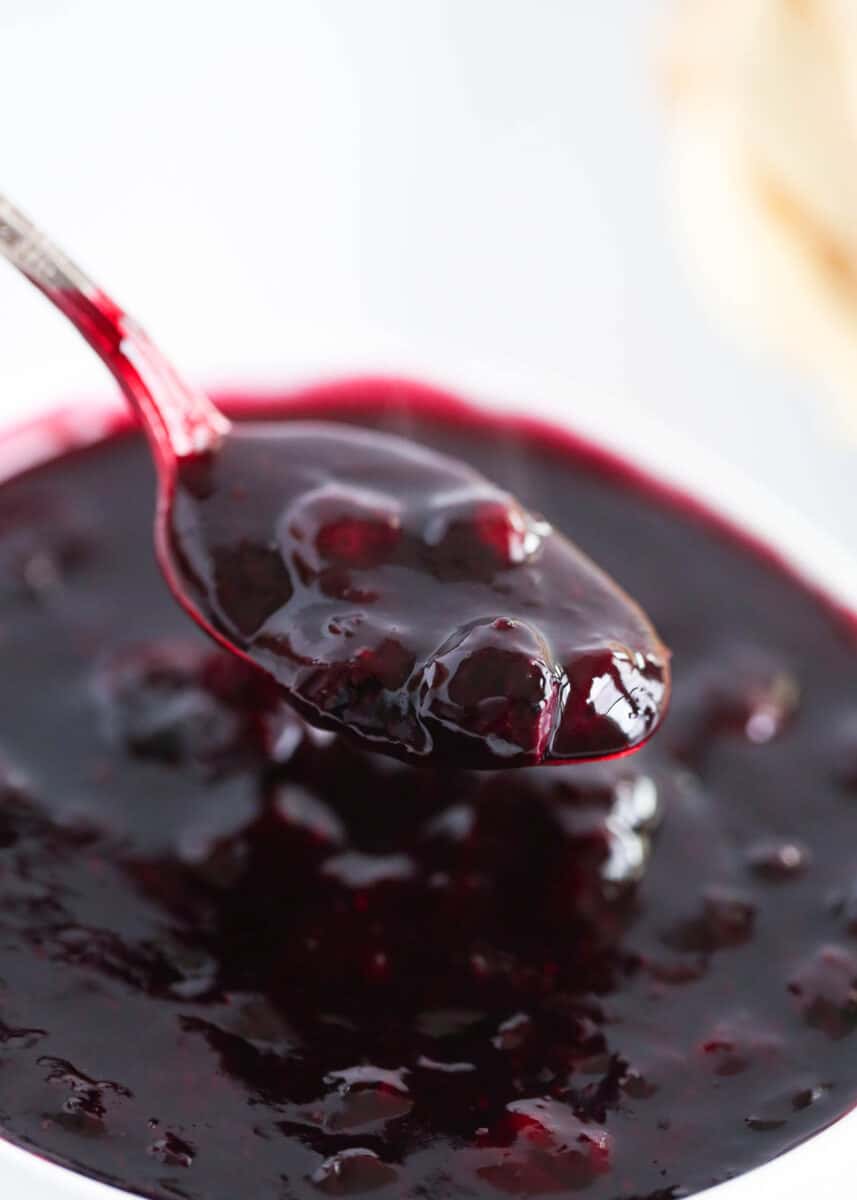 More Ways to Use Blueberry Sauce
HUNGRY FOR MORE? Subscribe to my newsletter and follow on Facebook, Pinterest and Instagram for all the newest recipes!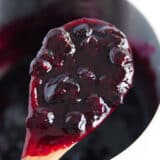 Blueberry Sauce
Blueberry sauce is glossy, sweet, and slightly tart with every mouthful bursting with the taste of delicious blueberries. A simple and elegant way to top your cheesecakes, ice cream, waffles, pancakes, and more!
Ingredients
1 ½ cups blueberries , fresh or frozen
⅓ cup granulated sugar
⅓ cup water , plus 1 Tablespoon for flurry
1 ½ Tablespoon lemon juice
1 teaspoon cornstarch
Instructions
In a medium sauce pan, combine the blueberries, sugar, water, lemon juice and cornstarch.

Bring to a boil over medium heat. Then lower the heat and simmer for 5 minutes, or until thickened. Mash with a fork to reach desired consistency.

Remove from heat and allow to cool for a few minutes. Then serve blueberry filing on top of crepes, pancakes, ice cream, etc.
---
Notes
Storing: Store in the refrigerator for 3-5 days, or freeze for 3-6 months.
Nutrition
Calories: 49kcal | Carbohydrates: 13g | Protein: 1g | Fat: 1g | Saturated Fat: 1g | Polyunsaturated Fat: 1g | Monounsaturated Fat: 1g | Sodium: 1mg | Potassium: 24mg | Fiber: 1g | Sugar: 11g | Vitamin A: 15IU | Vitamin C: 4mg | Calcium: 2mg | Iron: 1mg
Nutrition provided is an estimate. It will vary based on specific ingredients used.
Did you make this recipe? Don't forget to give it a star rating below!