This delicious homemade freezer peach jam is made with just 5 ingredients and can be stored in your freezer for up to 1 year. Just a few minutes of prep time, and you'll be enjoying the flavors of sweet summer peaches all year long!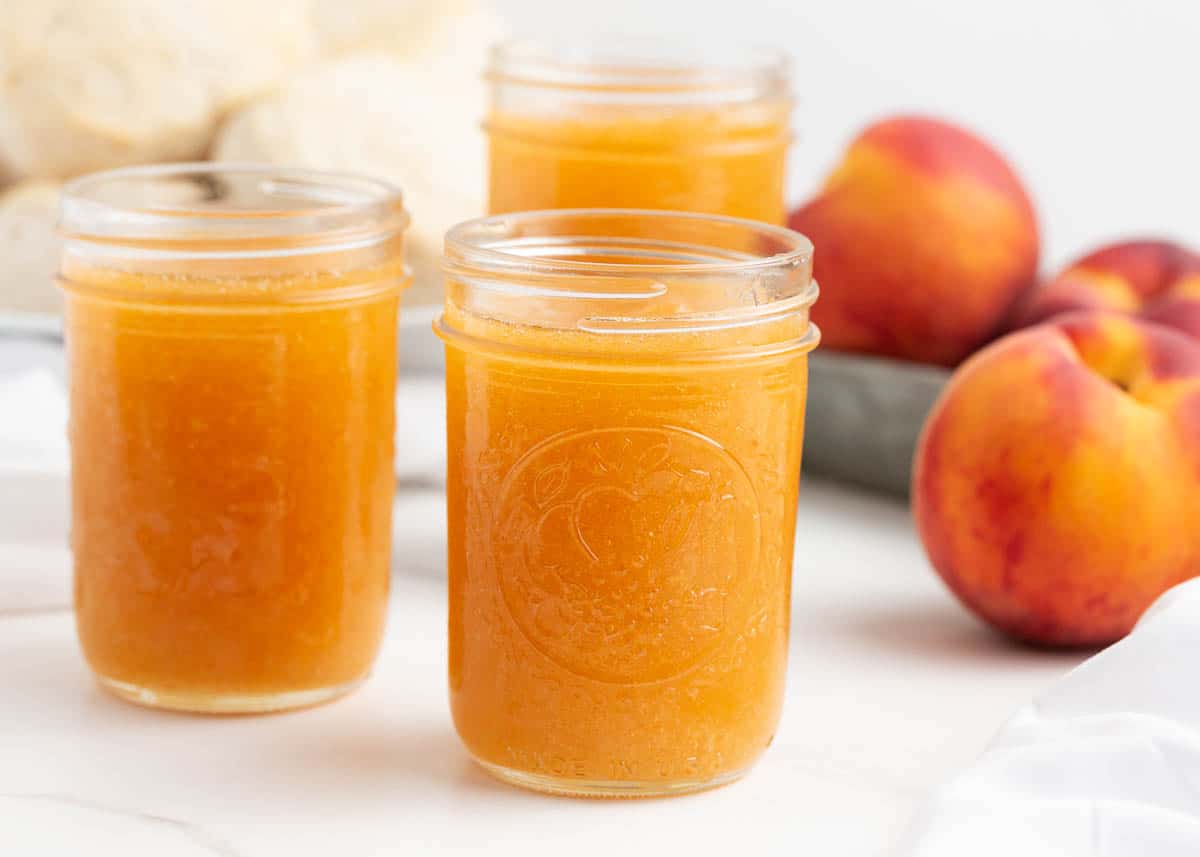 Easy Homemade Peach Jam
Once peach season arrives, I gather up the sweetest ones I can find to make my peach freezer jam! I make it an annual event as it's such an easy way to preserve that fresh peach flavor for the whole year.
If you haven't tried making it yourself yet, let me tell you that after you've made your own at home, it will be really hard to go back to store-bought! You'll love knowing exactly what's going into your jam and the flavor just can't be beaten, next up make this blueberry jam recipe, too!
Why This Recipe Works
So easy. I've been making my own for years and it's honestly so much easier than you think. I started with homemade strawberry jam, then my homemade strawberry rhubarb jam and once I got the hang of that I moved on to other fruits.
A tasty shortcut. Unlike traditional 'canned' jams, this recipe is stored in the fridge or the freezer. It's less work to make than canned jam, and the flavor is just as good!
Peach freezer jam is a great recipe for beginners. It starts with juicy ripe peaches, then you simply add sugar, lemon juice, and some fruit pectin with water and that's all there is to it! Don't be scared off by the pectin – I'll show you how easy it is to use in my step-by-step instructions below.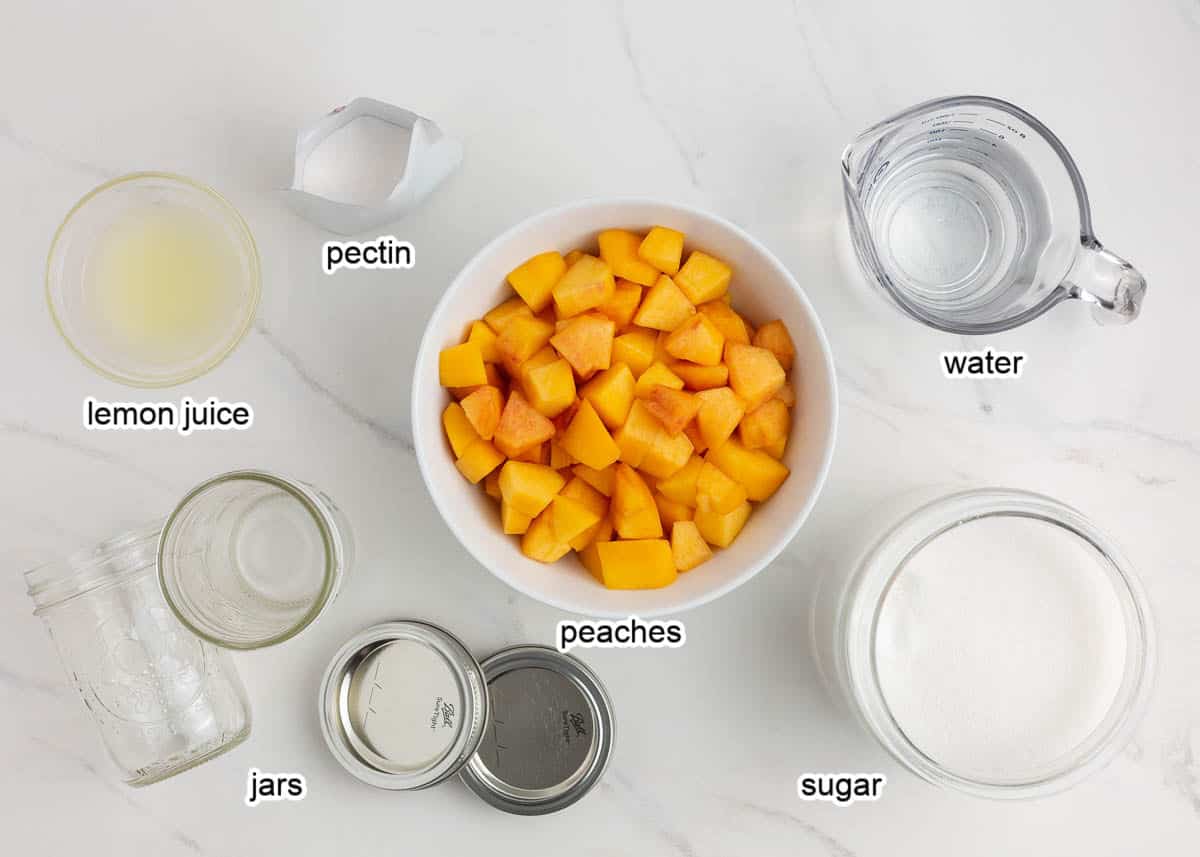 Ingredients
See full printable recipe below.
Peaches: Make sure the peaches are fully ripe. They should give a little bit when squeezed but still be firm, not mushy. You need to peel, pit, and chop the peaches.
Pectin: Natural pectin is a starchy substance that naturally occurs in most fruits and vegetables. Adding store-bought pectin to your jam helps it to thicken up and hold together (you might see terms like 'set' or 'gel') much more than if you were to leave the pectin out. Look for boxes of powdered fruit pectin and make sure it is regular and not the instant kind.
Sugar: Granulated sugar works the best. Not only does it add sweetness, but it also works with the pectin to help it gel. It might be tempting to reduce the sugar, but it's important to use the amount called for in the recipe or the end result might be runny.
Lemon juice: You'll need a couple of tablespoons of fresh lemon juice. This is usually about half a lemon. The juice works with the pectin to help the jam set and it also helps to prevent the growth of bacteria.
Water: The pectin is added to some water before pouring it over the peaches.
Equipment
You'll need 6 half-pint containers for this recipe. I use glass canning jars which you can also put safely into the freezer!
How to Peel Peaches
You want to remove the skin from the peaches before you start. I have a really quick trick for easily peeling the skin off. It's so easy to blanche them!
Boil some water and then add each peach for a minute or so.
Remove the peach from the water and immediately plunge it into a bowl filled with ice water for about 30 seconds.
You should now be able to easily peel the skin off with your fingers!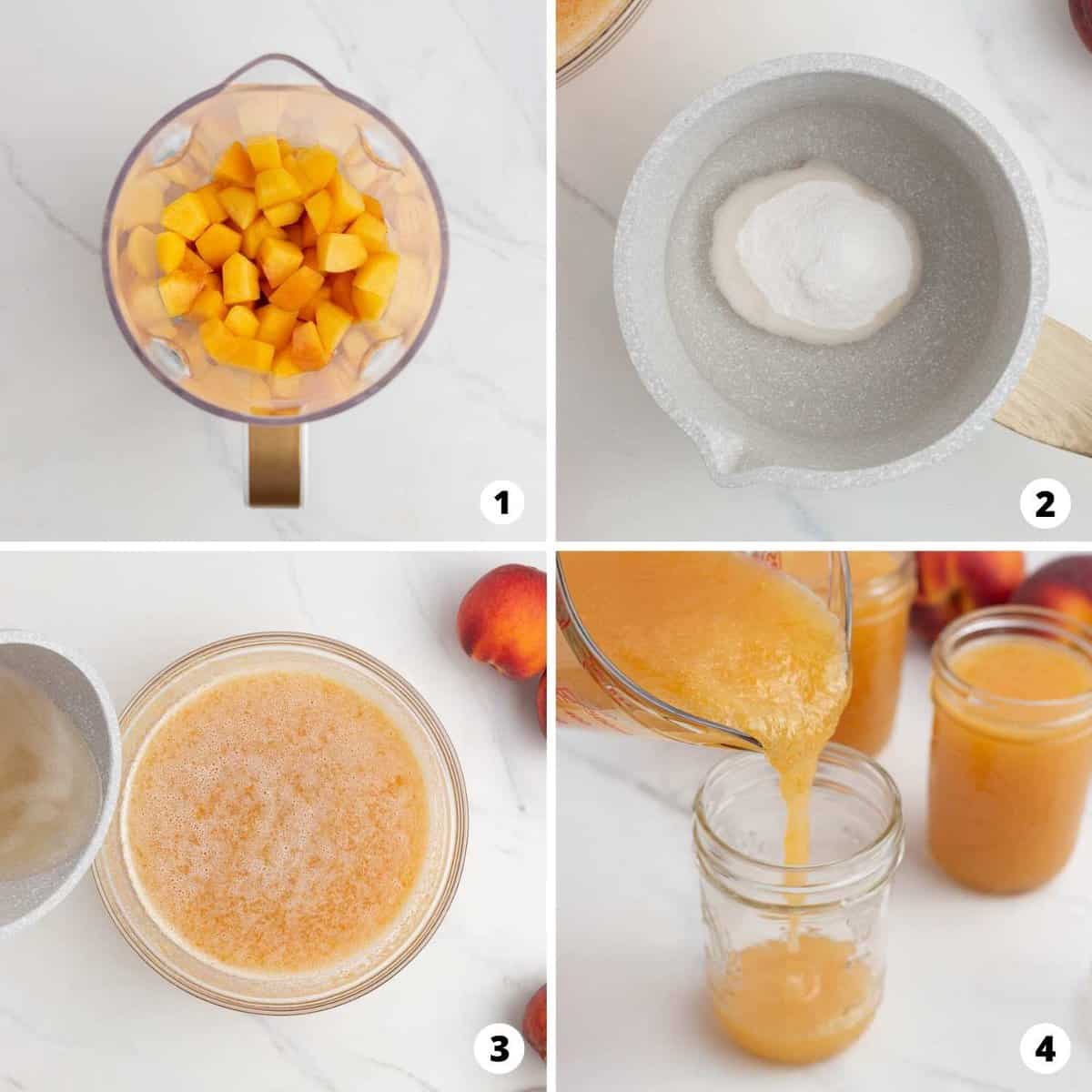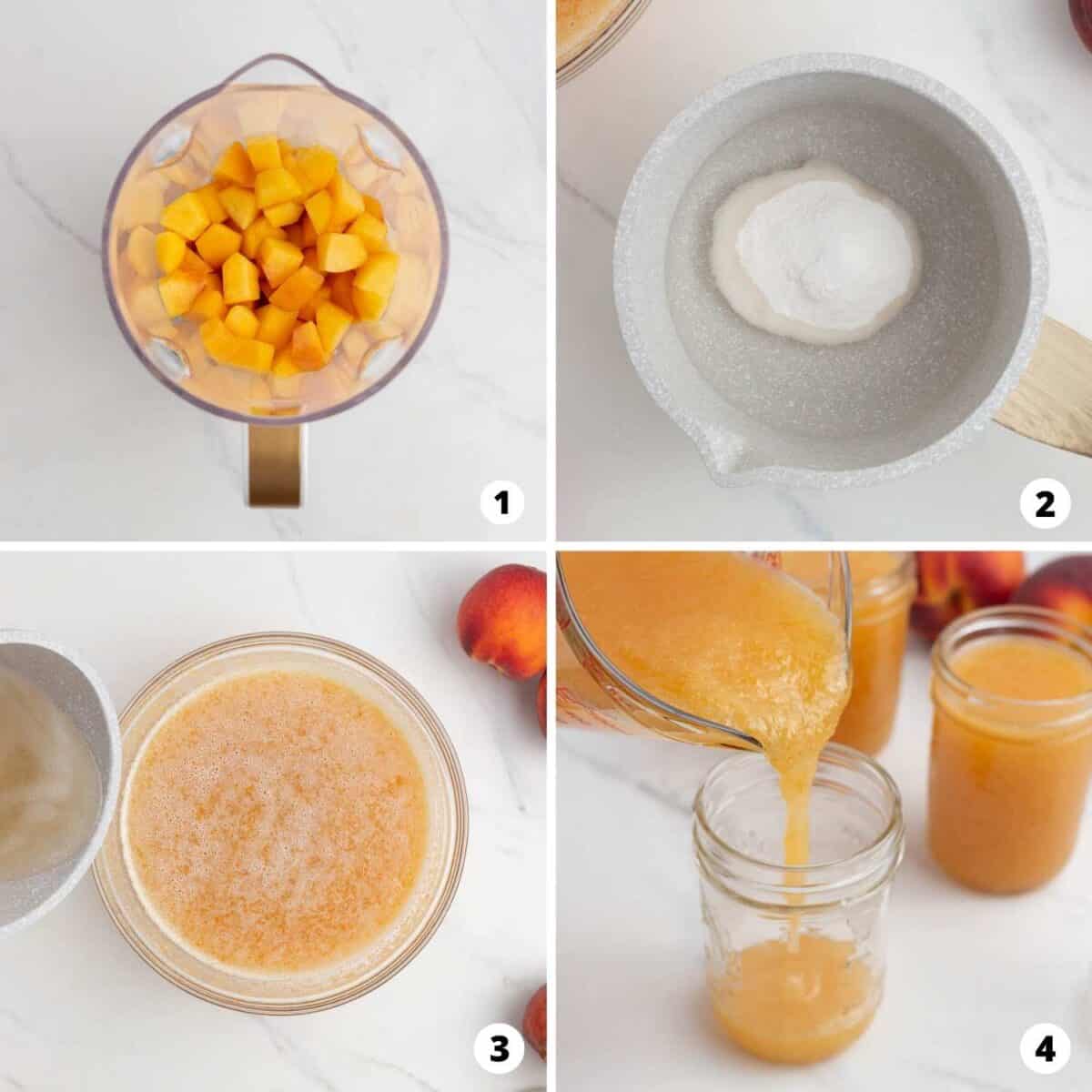 How to Make Peach Jam
Before you begin, rinse the 6 containers with boiling water and dry them thoroughly. Using sterile jars is important, even though this isn't a traditional canning method.
Prepare peaches. Pulse the peaches 5 – 10 times in a blender until well puréed. Pour them into a large bowl and add the sugar and lemon juice. Stir everything until it's well combined and leave it to sit for 10 minutes.
Boil pectin. Mix the fruit pectin and water in a small saucepan and stir constantly as you bring it to a full rolling boil over medium-high heat. Boil for 1 minute while you continue to stir.
Add pectin to peaches. Remove the pan from the heat and pour it over the peaches and stir. Let the peaches rest for 3 minutes.
Pour into jars. Carefully pour the mixture into the containers making sure to leave a ½-inch space from the top of the jar. Wipe any excess off the edges of the container and immediately place the lids on tightly. Allow the jars to sit at room temperature for 24 hours to set.
Tips for Making Peach Jam
Use ripe peaches. The better your peaches taste, the better your jam will taste! Ripe ready-to-eat peaches are the best. If the peaches are overripe, they tend to lose a lot of their flavor.
Measure accurately. There's a bit of science going on. Make sure you measure the ingredients accurately to ensure that your jam sets.
Set a small batch aside. Ladle it into a decorative jar and give some of your homemade jam as a gift!
Storage
This isn't a traditional 'canned' jam, so you cannot store it on a shelf in the cupboard. You'll need to store it in the refrigerator, and it will keep for up to 3 weeks.
Freezing Peach Jam
I like to keep a few jars of this jam on hand so I can enjoy the sunshiny peach flavor all year round!
This peach jam recipe can be stored in the same containers in the freezer for up to 1 year. Once you defrost a jar of jam, keep it in the fridge for up to 3 weeks.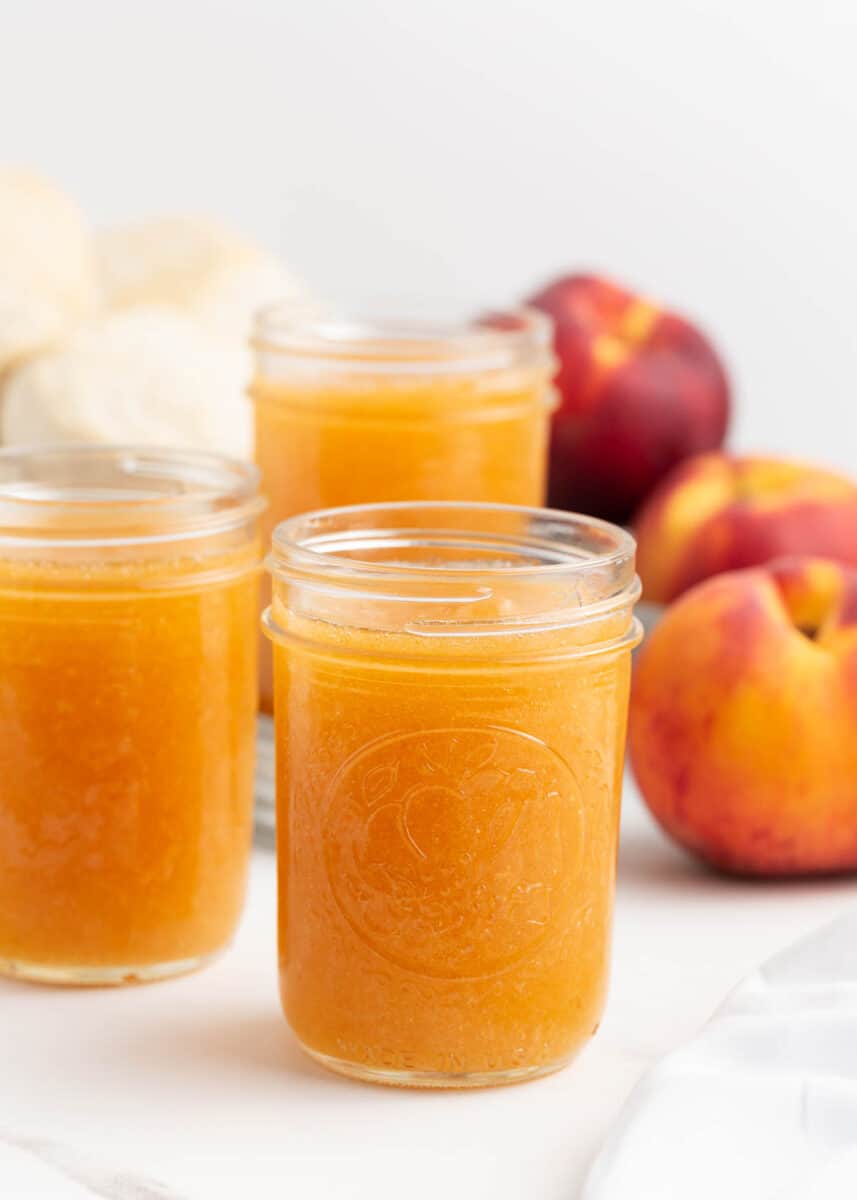 Ways to Use Peach Jam
There are dozens of ways you can use homemade peach jam whether for breakfast, dessert, or anytime in between. There's nothing quite like a dollop of jam on your favorite treats!
Some of my favorites include spreading it over:
Or try spooning it over:
FAQs
Can you freeze jam in glass jars?
Yes! I use glass mason jars when I'm making freezer jam and it freezes beautifully.
How can I quickly defrost freezer jam?
You can try submerging the frozen container in warm (not hot) water for an hour on the countertop. Once the jam has thawed, remember to store it in the refrigerator.
Why won't my peach freezer jam set?
Even if you have carefully followed the instructions sometimes you might find that your freezer peach jam is not setting! Peaches are very juicy and do not have much natural pectin like berries. This recipe for peach jam contains much more lemon juice than my other jam recipes as lemon juice is very high in pectin and will help the jam set. If your jam is still not setting, you may need to increase the pectin.
Do I have to use freezer pectin for freezer jam?
No, I would not use freezer pectin for this recipe. Freezer pectin is the same as Instant pectin and this recipe has only been tested with the classic powdered pectin.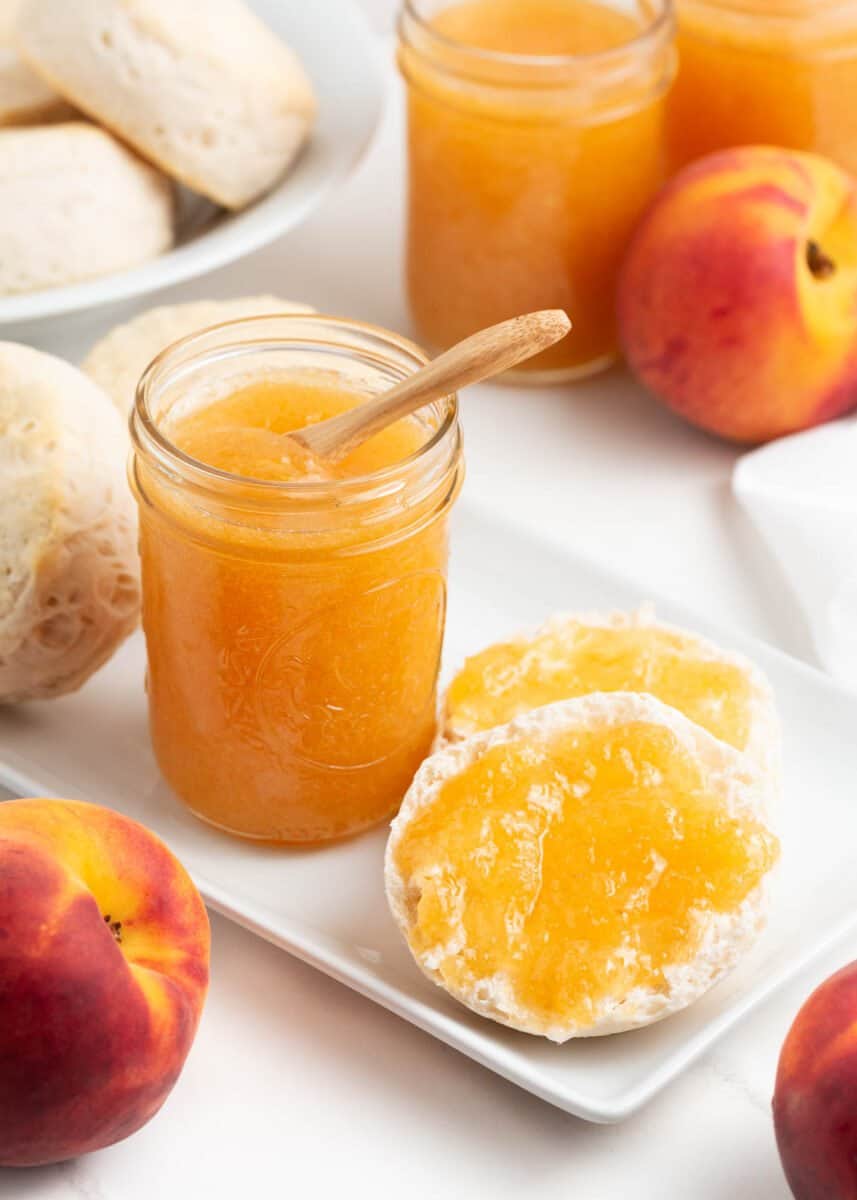 HUNGRY FOR MORE? Subscribe to my newsletter and follow on Facebook, Pinterest and Instagram for all the newest recipes!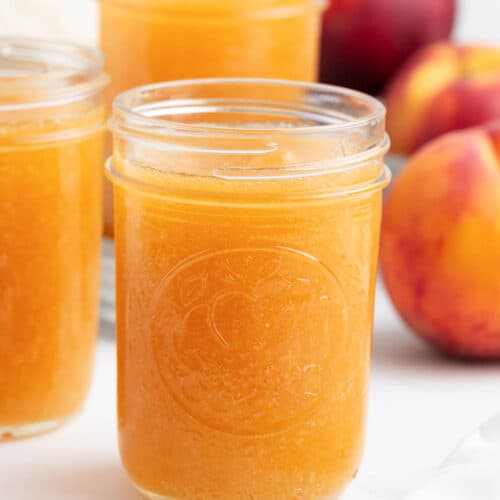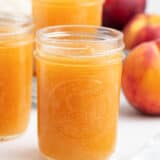 Freezer Peach Jam
This delicious homemade peach jam is made with just 5 ingredients and can be stored in your freezer for up to 1 year. Just a few minutes of prep time, and you'll be enjoying the flavors of sweet summer peaches all year long!
Ingredients
3 cups peeled, pitted, and chopped peaches (about 2 pounds fully ripe peaches)
2 Tablespoons fresh lemon juice
4 ½ cups granulated sugar
1 (1.75-ounce) box powdered fruit pectin (regular, not instant)
¾ cup water
Instructions
Rinse 6 containers and lids with boiling water. Dry thoroughly.

In a blender, pulse the peaches about 5 to 10 times, or until well ground.

In a large bowl, pour in the peaches and stir in the lemon juice and sugar until well combined. Let sit 10 minutes.

In a small saucepan, mix the fruit pectin and water. Stirring constantly, bring to a boil over medium-high heat 1 minute. Pour over the peaches and stir. Let rest 3 minutes.

Carefully pour the jam into containers, leaving about 1/2 inch from the top. Wipe off the edges of the containers and immediately place the lids on top. Let sit at room temperature 24 hours so the jam can set. Refrigerate 3 weeks or store in the freezer up to 1 year.
---
Notes
Storage: The jam will keep in the refrigerator 3 weeks or in the freezer up to 1 year. Recipe adapted from Sure-Jell.
Nutrition
Serving: 1TB | Calories: 38kcal | Carbohydrates: 10g | Protein: 1g | Fat: 1g | Saturated Fat: 1g | Polyunsaturated Fat: 1g | Sodium: 1mg | Potassium: 1mg | Fiber: 1g | Sugar: 9g | Vitamin A: 1IU | Vitamin C: 1mg | Calcium: 1mg | Iron: 1mg
Nutrition provided is an estimate. It will vary based on specific ingredients used.
Did you make this recipe? Don't forget to give it a star rating below!