Loaded with the best peanut butter and chocolate flavor, these peanut butter chocolate chip cookies are soft and chewy with a thick texture. You'll love the classic combination and I bet you can't eat just one!
Need more cookie recipes? Try peanut butter M&M cookies, peanut butter stuffed chocolate cookies or peanut butter blossoms!
Best Soft and Chewy Cookies!
I'm so excited to share this amazing peanut butter chocolate chip cookie recipe with you! If you love the combination of peanut butter and chocolate as much as I do, then this is for you.
I've been making my recipes for the best chocolate chip cookies and 3-ingredient peanut butter cookies for years and to be honest, my family can't decide which one they prefer! They are both so good!
Then a light bulb went off and I wondered what would happen if I combined the two cookies to make one ultimate peanut butter chocolate chip cookie recipe?! My hunch that it would be amazing was right!
These cookies are soft, chewy, and loaded with nutty flavor, and we go one step further by adding lots of chocolate chips. If you love loaded cookies, this cowboy cookie recipe is a must try with a little bit of everything from nuts to oats and of course chocolate chips!
Why This Recipe Works
Homemade. We love eating them fresh out of the oven while they're still a bit warm and gooey. Is there anything better than baking a fresh batch of homemade cookies?!
Freezer-friendly. They keep well for 3 days or so and even longer in the freezer. Make them ahead and keep them stored for when you have a cookie craving or you need some last minute.
Quick and easy. I can whip up a batch in under 30 minutes which makes them an easy lunchbox snack or after-dinner dessert.
A simple, classic cookie. They're always a welcome addition to any decadent cookie platter alongside some chocolate chip cookies.
Recipe Ingredients
Most of the ingredients are probably already hanging around in your pantry which makes the best peanut butter chocolate chip cookies so easy to make.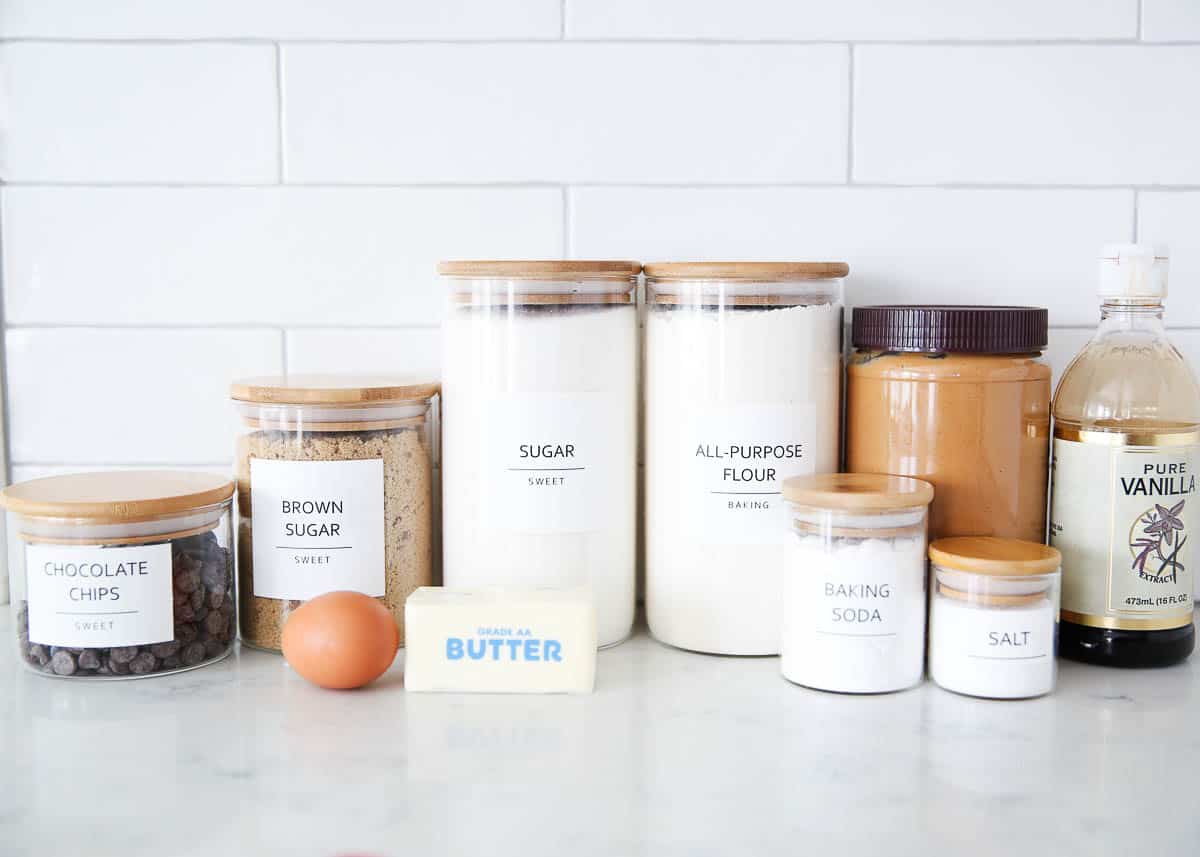 Find the full printable recipe with specific measurements below.
Butter: Make sure to leave the butter out an hour before making the cookies to let it slightly soften. If you forget to leave it out, which I sometimes do, follow these tips on how to soften butter. If you're using salted butter, omit ½ teaspoon of salt from the recipe.
Peanut butter: Use a creamy non-natural kind like Skippy or Jif. While the natural kind is delicious, it isn't stable and the oil separates which will make your cookie dough too oily to bake with.
All-purpose flour: Be careful not to overpack the flour or you'll end up with dry and crumbly cookies. Measuring flour accurately is so important.
Chocolate chips: I use semi-sweet chocolate chips, but you can use any flavor that you prefer.
Substitutions and Variations
These chocolate chip peanut butter cookies are perfect as is, but if you want to mix it up a bit, you can try one of these variations:
Roll the dough balls in sugar and press with a fork before baking
Use 1/2 M&M's and 1/2 chocolate chips
Use a mixture of milk chocolate chips and semi-sweet chocolate chunks
Use crunchy nut butter for a nuttier texture
How to Make Peanut Butter Chocolate Chip Cookies
This recipe for peanut butter cookies with chocolate chips is very straightforward. I use a stand mixer fitted with a paddle attachment to make my dough, but you could easily make this with a handheld electric mixer, or even with just a bowl and a wooden spoon.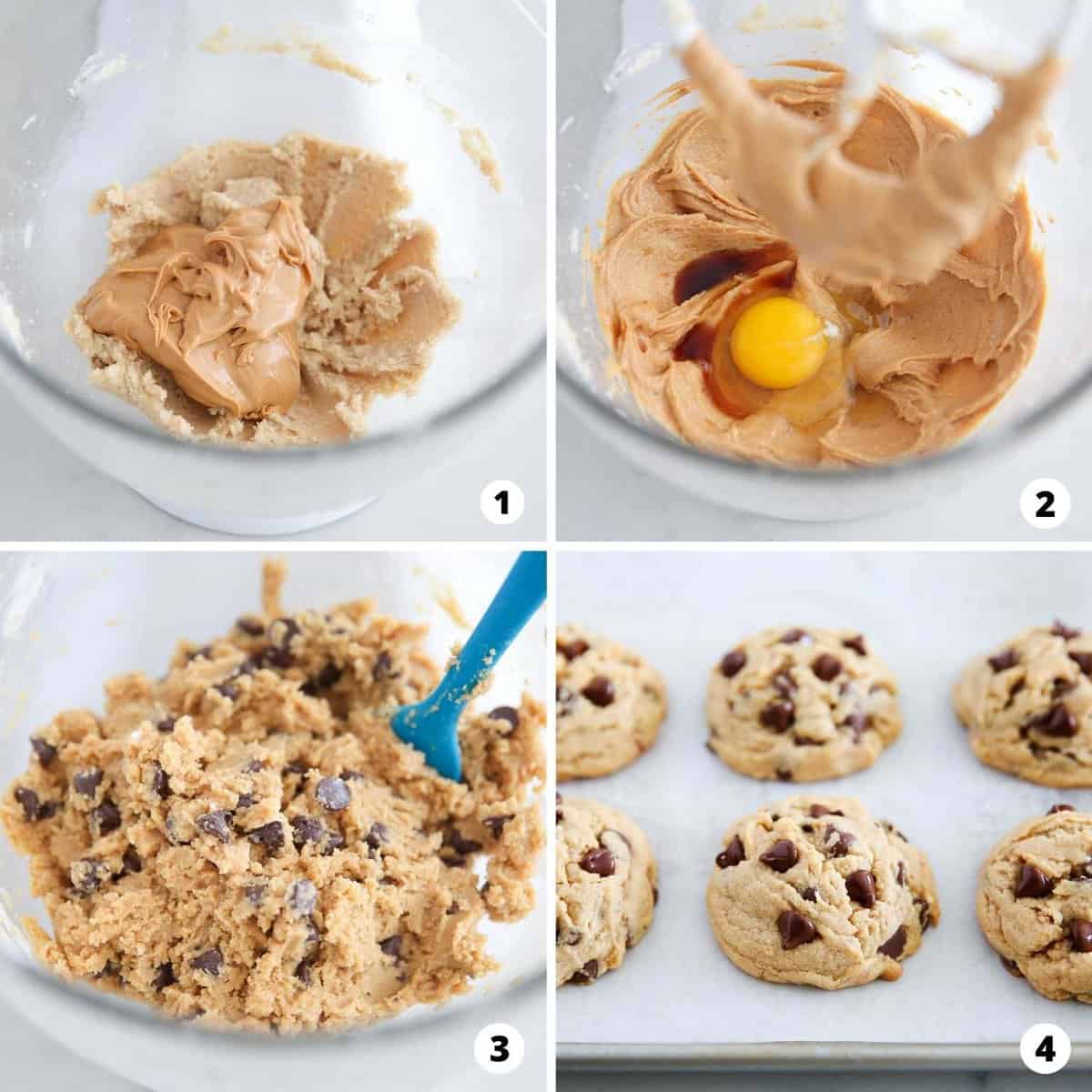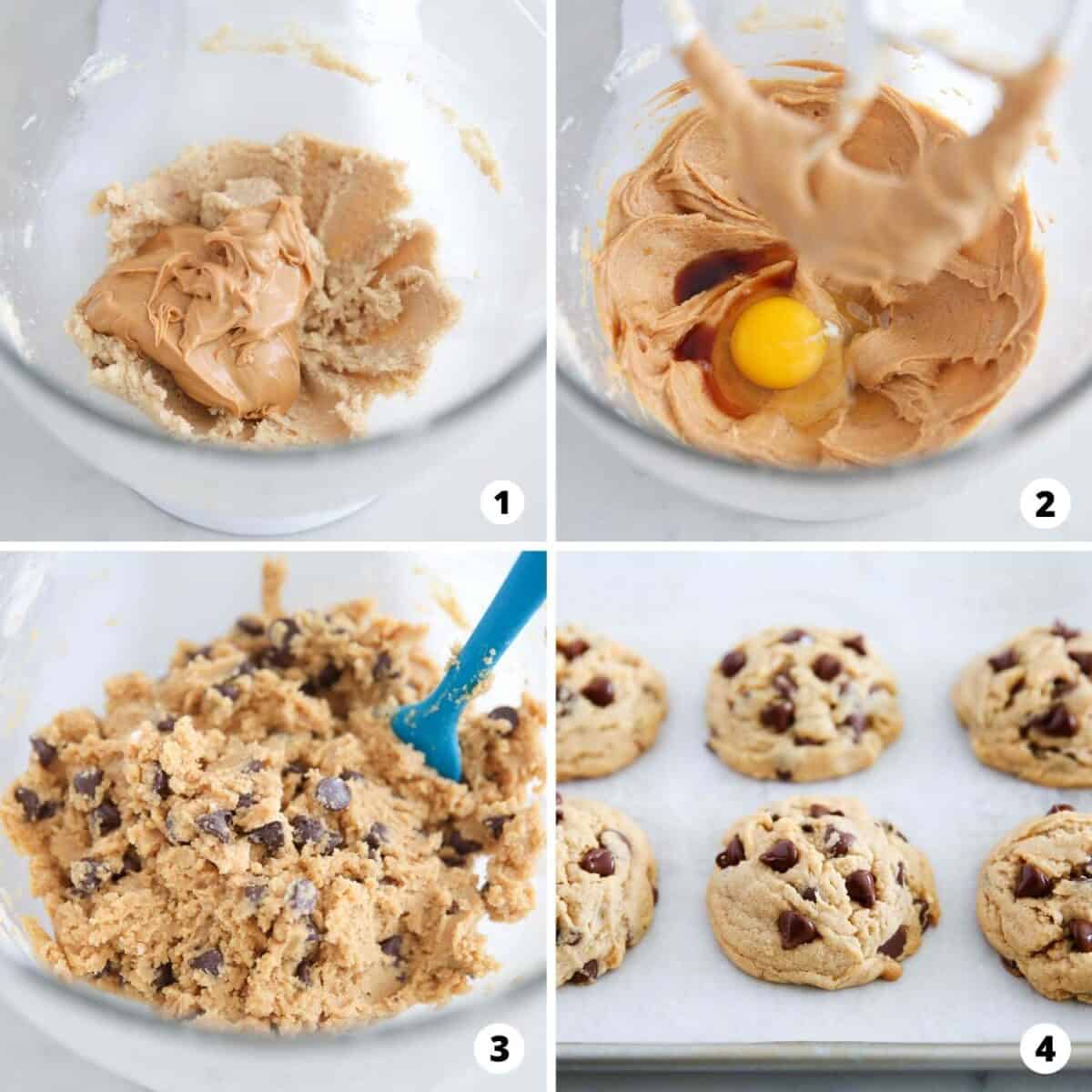 Cream. In the large bowl, cream the butter and sugars together until smooth and creamy. Add the nut butter and continue to beat until smooth.
Add egg and vanilla. Stir in a large egg and the vanilla extract into the wet mixture until everything is smooth.
Add dry ingredients. Mix in the flour, baking soda, and salt until the dough is just combined and all traces of flour are gone. Then fold in the chocolate chips.
Scoop and bake. Use a large cookie scoop to place the cookie dough balls on a parchment-lined cookie sheet or baking pan. Bake for 10 minutes at 350°F until the cookies are lightly golden on the bottom and around the edges. Be careful not to overbake! Let cool completely on a wire rack.
Expert Tips
Use creamy non-natural nut butter. I can't stress this enough. You want commercial brands that contain stabilizers and prevent your dough from becoming too runny and oily.
Don't overmix. Mix your cookie dough just until everything is combined. If you overmix the dough, it can result in tougher cookies.
Don't overbake. Overbaked peanut butter cookies can be dry and crumbly. To get a soft and moist texture, take the cookies out of the oven when they are just turning light golden brown around the edges. The cookies will continue to bake on the baking sheet after you bring them out of the oven, so they'll end up with the perfect texture!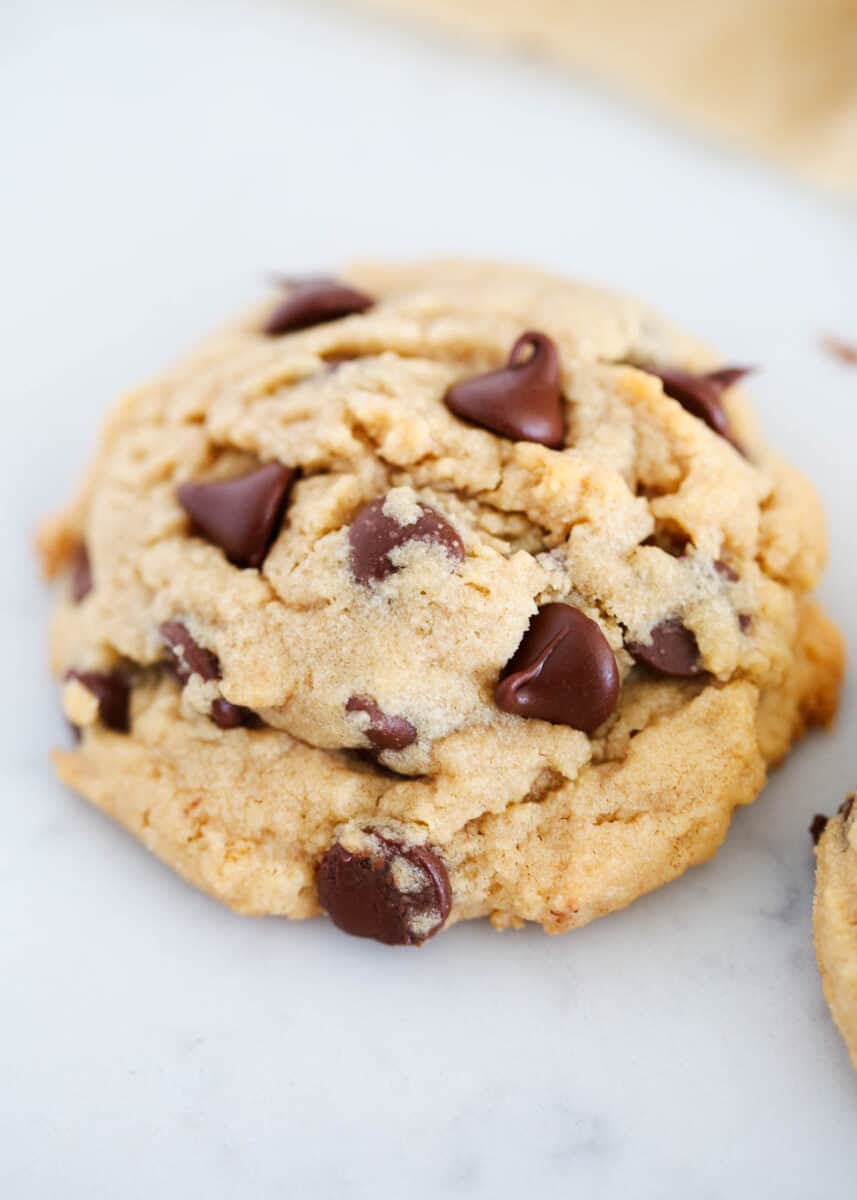 Recipe FAQs
What is the best peanut butter to use for baking?
No-stir creamy is the best option for baking. Avoid using the natural version where the oil separates as it will make your dough too oily.
What are the best chocolate chips to use?
I use semi-sweet chocolate chips, but you can use any flavor you like. That's kind of the neat thing about any type of chocolate chip cookie, you can swap out the semi-sweet for white chocolate chips, butterscotch chips, or dark chocolate chips!
Why are my peanut butter cookies dry?
There are a couple of reasons why they might turn out dry and crumbly. Remember to always measure your flour accurately and take care not to pack it down too much when measuring. Too much flour in the dough will make your cookies crumbly.

Also, don't overbake your cookies. Removing them from the oven while they're still slightly underbaked will result in perfectly baked cookies as they continue to bake with the residual heat from the baking sheet as they sit and cool.
Do I need to chill the cookie dough?
For this recipe, it is not necessary, but if you want to you can! Chilling the dough helps cookies spread less, so if you love puffy, chewier cookies, by all means chill the dough. If you like thinner cookies, bake without chilling.
Can I make these cookies ahead of time?
If you're going to bake your peanut butter chocolate chip cookies within 24 hours, make the dough, cover the bowl with plastic wrap and refrigerate for 24 hours. Then just scoop and bake the next day!

Want to keep this dough in the freezer instead? No problem! Freezing cookie dough is super simple and you can enjoy freshly baked cookies whenever you want!
Storing
Room temperature: Once baked, you can store these cookies in an airtight container on your counter for up to 3 days.
Freezer: These cookies freeze beautifully and will keep for up to 3 months in the freezer.
To prevent your cookies from freezing together, take the extra step of placing them in a single layer on a baking sheet lined with parchment and freeze them first before placing them in a zip-top freezer-safe bag.
Pop the bag into the freezer and let the cookies come to room temperature before serving.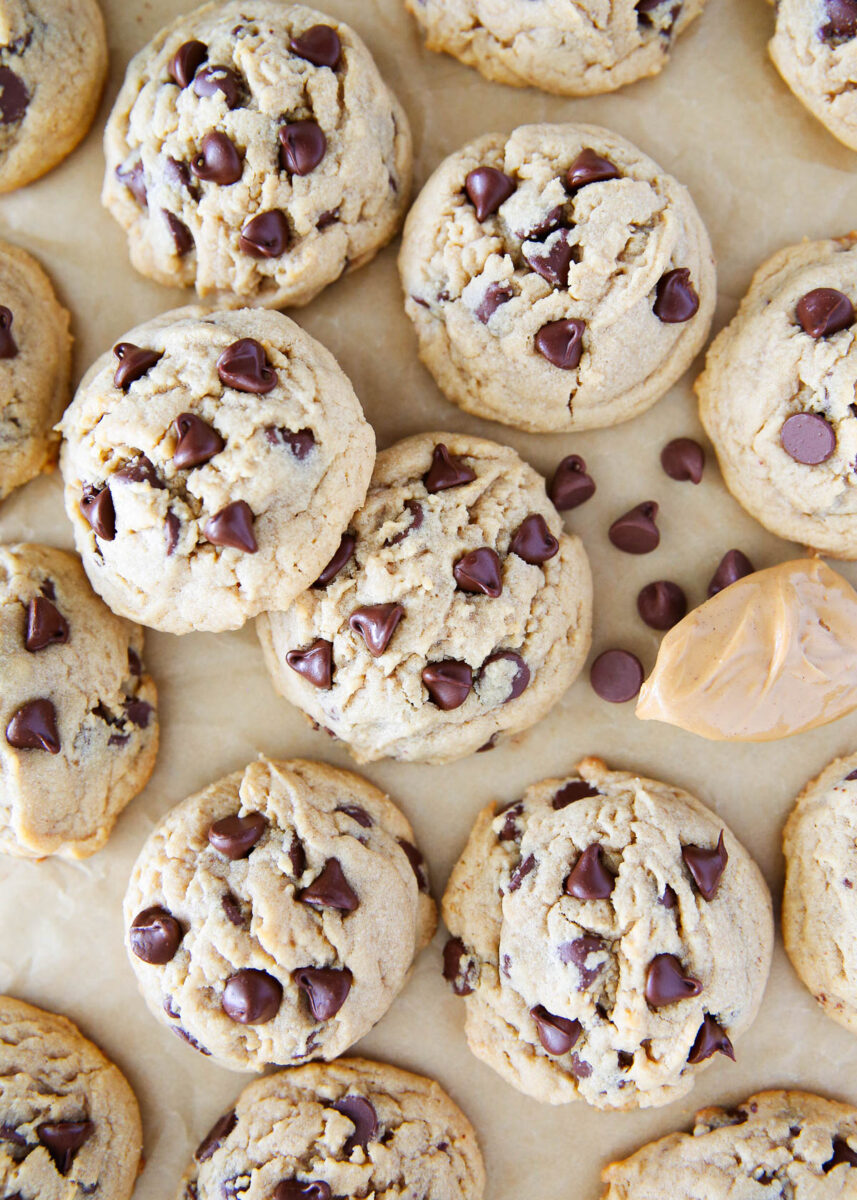 HUNGRY FOR MORE? Subscribe to my newsletter and follow on Facebook, Pinterest and Instagram for all the newest recipes!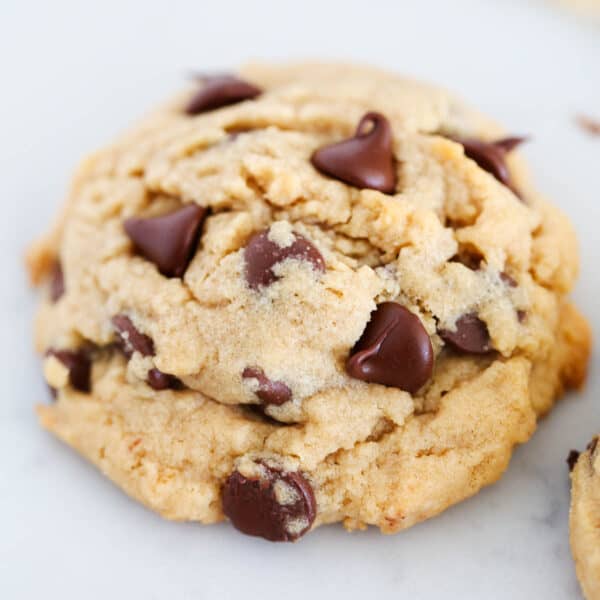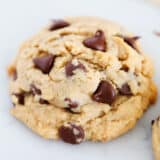 Peanut Butter Chocolate Chip Cookies
Enjoy the best of both worlds with these decadent peanut butter chocolate chip cookies! They are soft, chewy, and bursting with peanut butter and chocolate flavor. Ready in under 30 minutes, these cookies won't last long in your cookie jar!
Ingredients
½ cup (113 grams) unsalted butter , slightly softened
¼ cup (50 grams) granulated sugar
⅔ cup (120 g) light brown sugar , packed
⅔ cup (170 g) creamy peanut butter
1 large egg
1 ½ teaspoons vanilla extract
1 ⅓ cups (172 grams) all-purpose flour , be careful not to overpack
1 teaspoon baking soda
½ teaspoon fine sea salt
1 cup (200 grams) semi-sweet chocolate chips , plus more for topping, if desired
Instructions
Preheat the oven to 350°F. Line 2 baking sheets with parchment paper or a silicone mat.

In the base of a stand mixer fitted with the paddle attachment, cream butter, granulated sugar, and light brown sugar 1 minute, or until smooth. Add peanut butter and blend until smooth. Stir in egg and vanilla.

Mix in the flour, baking soda, and salt until just combined. Fold in chocolate chips.

Using a large cookie scoop, spoon cookie dough onto baking sheets. Bake 10 minutes, or until lightly golden on the bottom and edges.

Remove to a cooling rack and let cool completely.
---
Notes
Variations:
Roll dough balls in sugar and press with a fork.
Use 1/2 M&M's and 1/2 chocolate chips
Use a mixture or milk chocolate chips and semi-sweet chocolate chunks
Storing: These cookies will stay fresh in an airtight container up to 3 days. You can also freeze them up to 3 months.
Nutrition
Calories: 290kcal | Carbohydrates: 34g | Protein: 5g | Fat: 15g | Saturated Fat: 7g | Polyunsaturated Fat: 2g | Monounsaturated Fat: 5g | Trans Fat: 0.2g | Cholesterol: 25mg | Sodium: 172mg | Potassium: 160mg | Fiber: 2g | Sugar: 18g | Vitamin A: 186IU | Calcium: 26mg | Iron: 2mg
Nutrition provided is an estimate. It will vary based on specific ingredients used.
Did you make this recipe? Don't forget to give it a star rating below!