There's nothing better than a cozy bowl of soup on chilly days, especially one that's nourishing for the body and the soul! This one-pot, 35-minute lemon chicken orzo soup is one you'll want to keep around all winter long!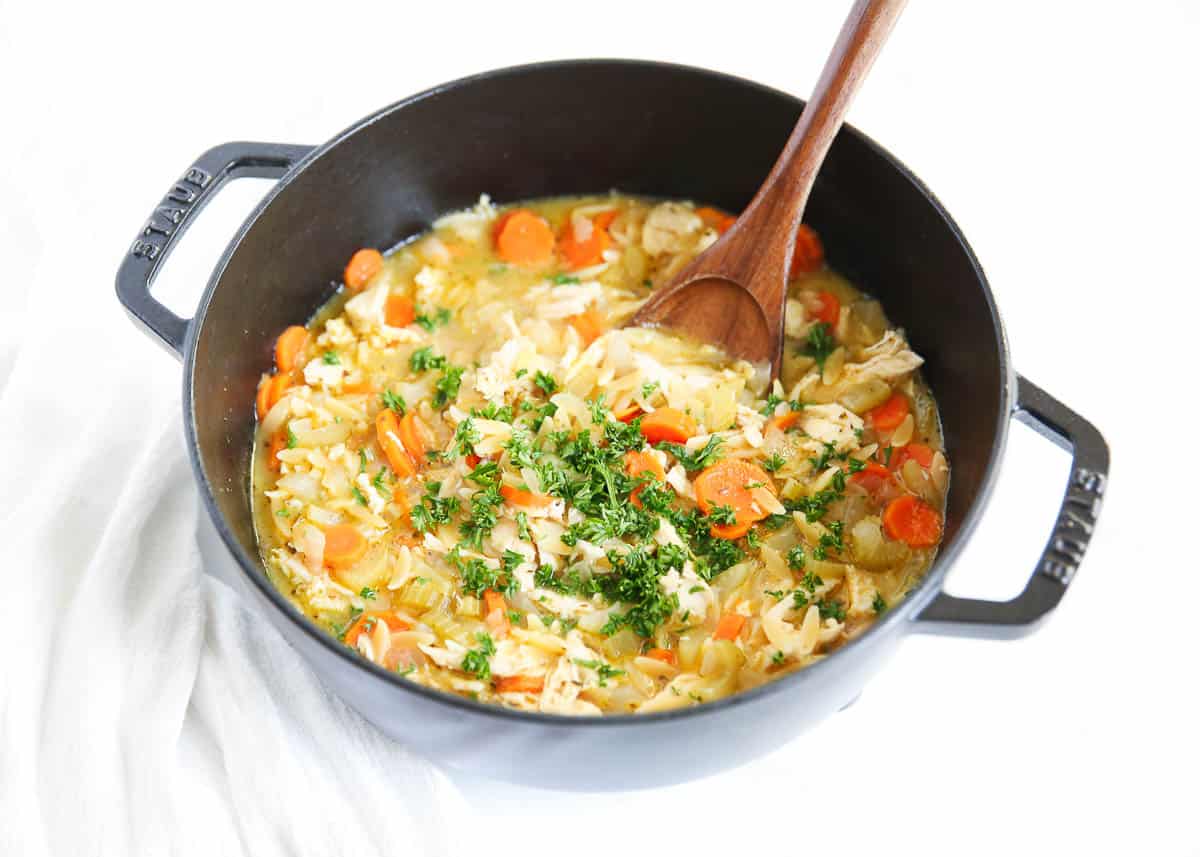 Easy One Pot Dinner
This easy one-pot lemon chicken orzo soup is a cross between traditional chicken noodle soup and chicken and rice soup, both of which my family loves. It's the best of both worlds and a good one to keep handy now that we're entering cool weather season.
It's an immune-boosting soup made with loads of veggies, juicy shredded chicken, and orzo pasta in a deliciously seasoned broth with refreshing lemon juice to brighten it up. It's quick and easy and in just 35 minutes dinner is done!
You can't beat a flavorful comforting bowl of soup. It may require you to put on wool socks and wrap yourself up in a warm blanket while you eat it and as far as one pot meals and healthy dinners go, this one checks all the boxes!
Why This Recipe Works
So much flavor. With the lemon, Italian seasoning, chicken broth, orzo, and veggies, you've gone from a regular chicken soup to something more like a Greek lemon chicken orzo soup. It's delicious!
Healthy. The antioxidants from the aromatic onions and garlic, the vitamins and minerals from the veggies, the protein from the chicken the vitamin C from the lemons make this a nutrient-dense and super tasty soup.
Flexible. Adjust the amount of citrus, use leftover chicken, clear out your fridge and toss in extra veggies, to make this lemon chicken soup recipe your own!
Recipe Ingredients
Find the full printable recipe with specific measurements below.
Chicken: I use uncooked chicken breast, to begin with, and cook it in the broth, but you can use leftover rotisserie chicken if you have it. You'll just add it in during the last 5 minutes of cooking.
Orzo: This is a little tiny pasta that looks very similar to rice. It's much softer than rice, but it does absorb the liquid much the same way. If you use too much, it will bulk up your soup and slightly overpower it. When you use just the right amount, it's amazing!
Lemon: Fresh lemon juice adds a hint of beautiful tartness and vibrancy, however, if you want even more lemon flavor, here are tips on how to zest a lemon while your soup is cooking. Don't forget to season with lemon pepper too!
Aromatics: When dicing an onion, you need to know how to cut an onion first. My tips can make this process easier, but it's also something you can do ahead of time. Same with my learning how to mince garlic. They're both something you can do ahead of time, freeze in bulk, and have on hand ready to toss into your soups, stews, and anything else!
Variations + Substitutions
Seasoning: Instead of homemade Italian seasoning, use store-bought or substitute with thyme or oregano.
Chicken: Use chicken thighs instead of breasts. You won't get as much meat, but it is darker meat and will have loads of flavor. You could also substitute the chicken for homemade meatballs, similar to Italian wedding soup.
Vegetables: We're sticking with the classic carrots and celery, but you can add in other veggies too if you'd like. Mushrooms and red pepper are great options. If you want to throw in some leafy greens, add spinach in the end and let it wilt in the heat.
Pasta. If you can't get your hands on orzo, swap it for a different small pasta like ditalini or stelline.
Stock. Swap out the store-bought chicken stock for homemade turkey stock.
How to Make Chicken Lemon Orzo Soup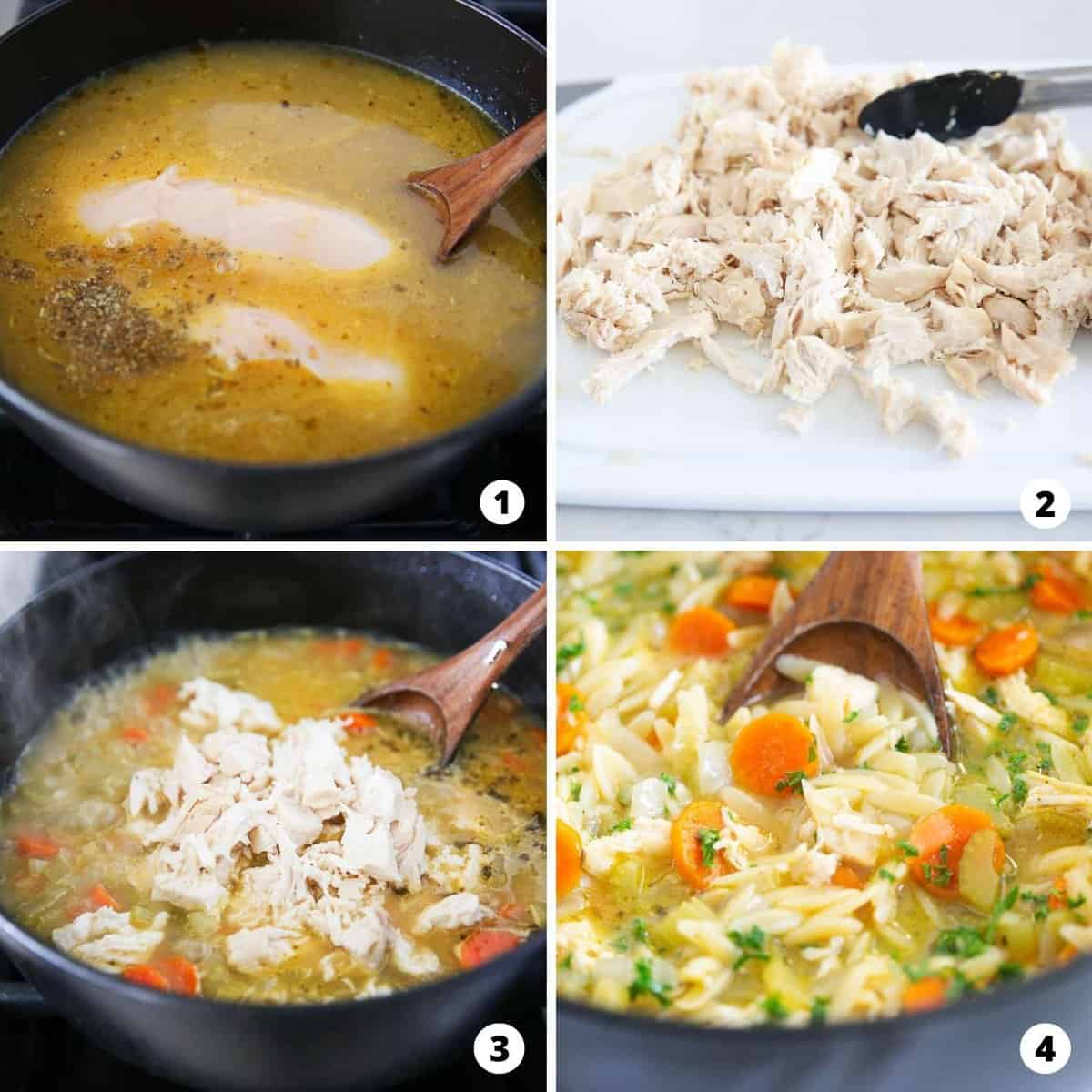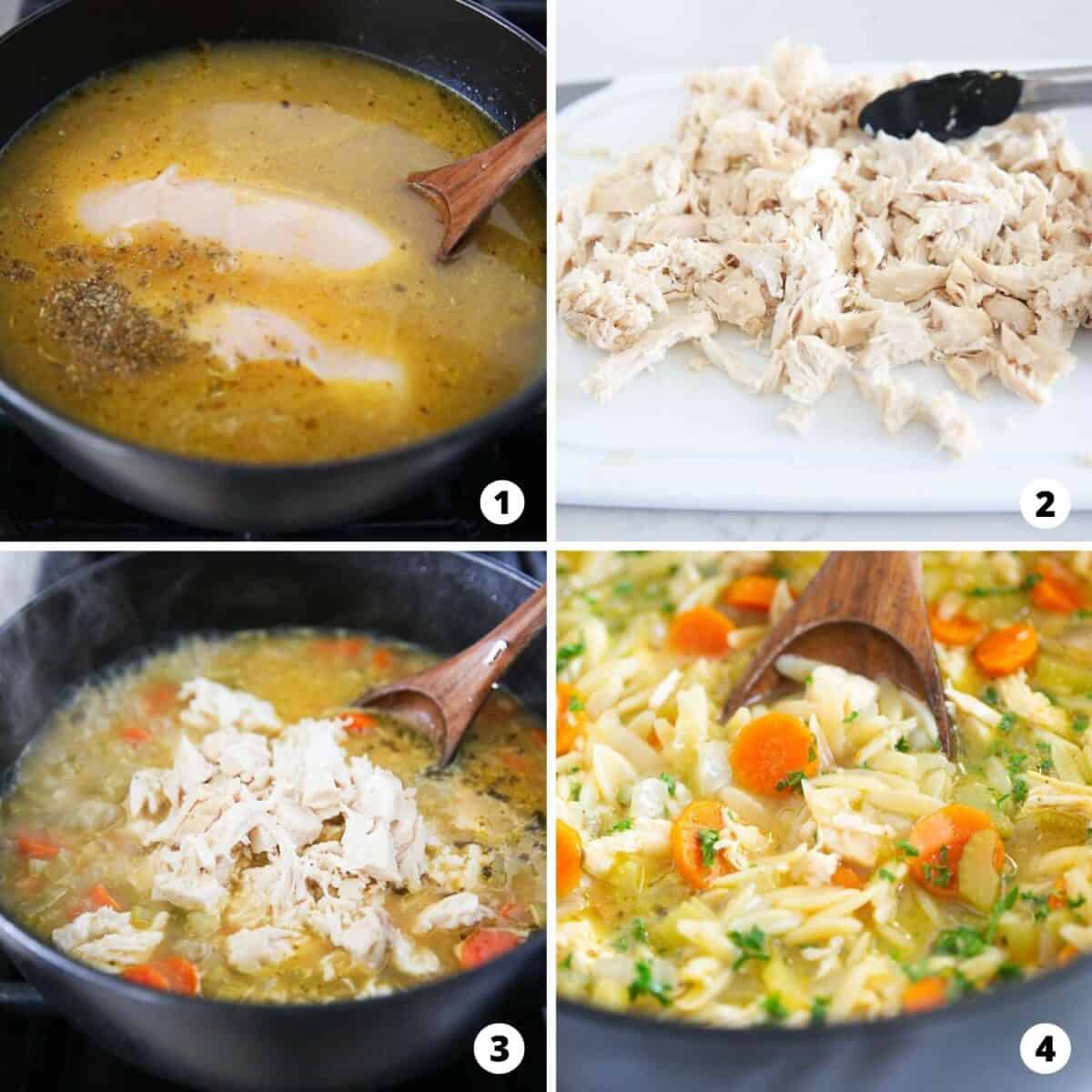 Cook the chicken in the broth. In a large pot over medium heat, heat the olive oil then sauté the onion, carrots, and celery for 5 minutes. Stir in the garlic for another minute followed by the broth, water, lemon juice, chicken, and seasoning. Toss in the lemon zest and bay leaf, is using it. Simmer covered for 12 minutes.
Shred the chicken. Remove the breasts from the pot and place the pieces on a cutting board or in a medium bowl. Add the orzo to the pot and while it cooks, shred the chicken.
Continue simmering. Add the shredded meat back into the soup pot for another couple of minutes until the pasta is cooked through.
Garnish and serve. Remove the lemon chicken orzo soup from the heat, stir in the fresh parsley (or your favorite fresh herbs) and a bit more lemon juice, and season to taste. Enjoy while it's warm!
Expert Tips
For low sodium soup consider using homemade broth. If using store bought, buy low-sodium chicken broth that way you can control the amount of salt you add in.
To finish it off with a bit of umami flavor, sprinkle your soup with Parmesan cheese!
If you like your soup with more liquid, use 2 cups of water along with the broth. If not, 1 cup is enough.
Be careful not to overcook the chicken. When you boil it, it can become tough and rubbery if you're not careful. Twelve minutes should be the max.
Shred the chicken using a knife and fork, two forks, or even a handheld mixer if desired.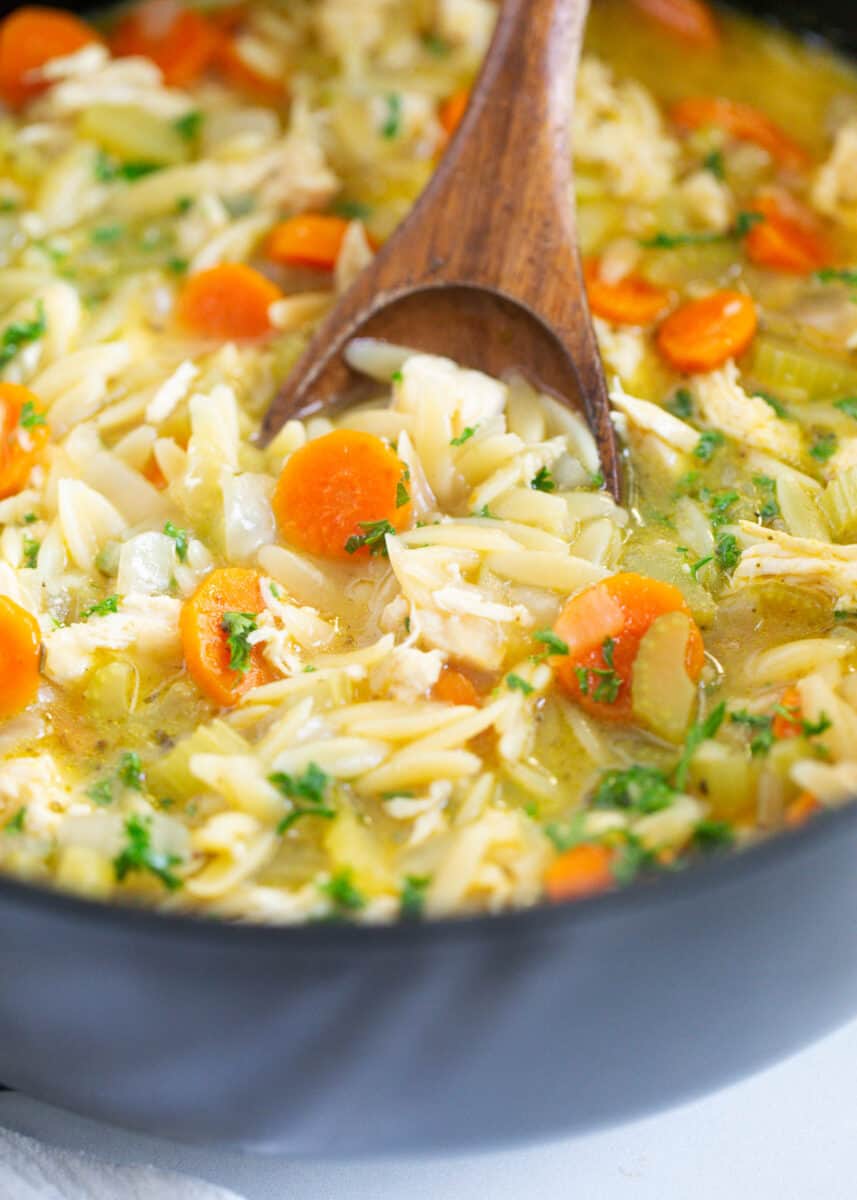 Recipe FAQs
Can I use frozen chicken?
You can, just be sure to thaw it overnight first. If you've forgotten to do that, allow it to sit in a bowl of cold water to thaw. Change the water every half an hour.
What does adding lemon to soup do?
It doesn't turn your soup sour if that's what you're thinking! Although, I suppose if you add enough it could. What it does is it brightens up the overall flavors and adds a light acidic note which can cut through the richness of certain types of soup.
What to serve with lemon orzo chicken soup?
This is a hearty and wholesome soup not lacking in any important nutrients, so it's definitely a complete meal. If you haven't added any spinach into the soup already, you might consider serving it with a side salad.

Of course, in smaller portions, you can use this soup as a starter to your main meal.

I always like to have a basket of homemade French bread or dinner rolls on the table to sop up that delicious broth. Crackers are also fun to crumble on top!
Storing, Freezing + Reheating
To store: Store any leftovers in the refrigerator in an airtight container for up to 3 days.
To freeze: Orzo doesn't freeze well without changing texture once thawed. It can become quite mushy. If you know you're making the soup to freeze it for later, I suggest making it without the orzo and adding that in when you're reheating the soup.
To reheat: If frozen, allow it to thaw in the fridge overnight. You can reheat this soup on the stovetop or in the microwave.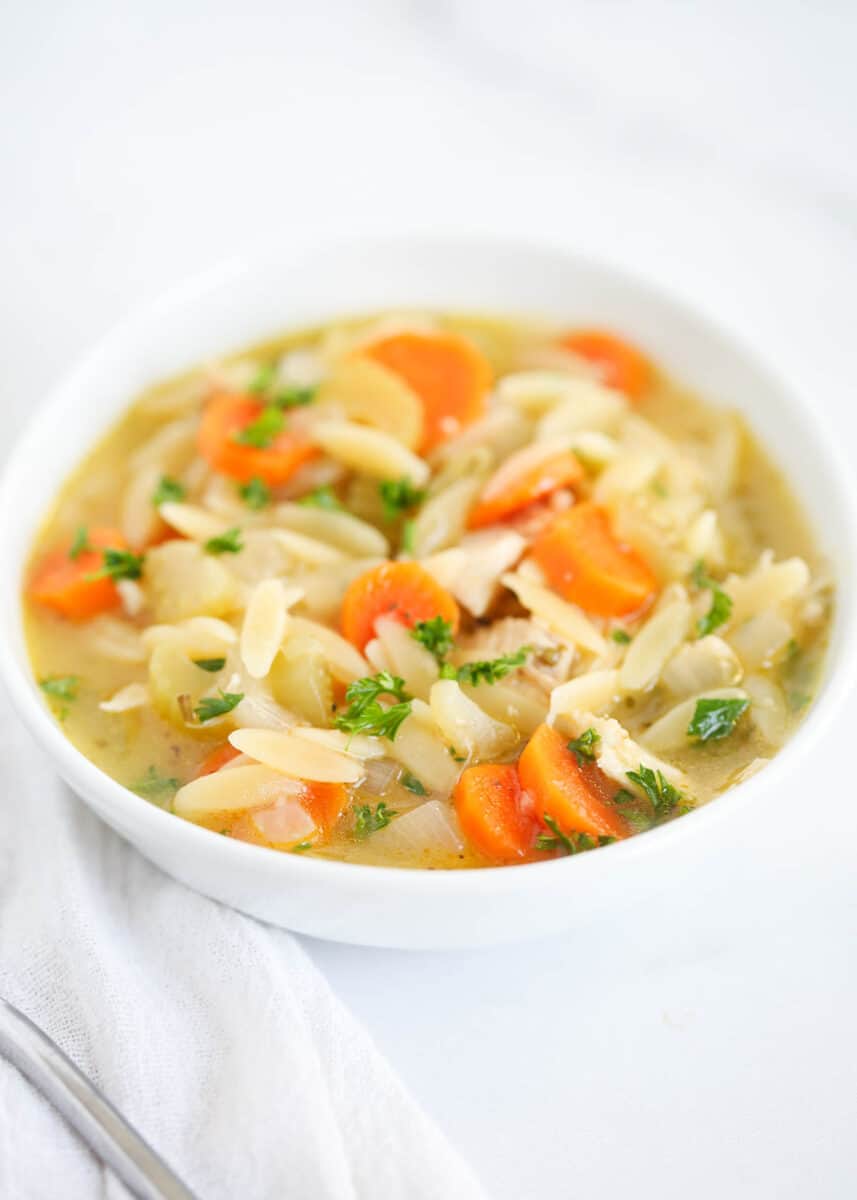 HUNGRY FOR MORE? Subscribe to my newsletter and follow on Facebook, Pinterest and Instagram for all the newest recipes!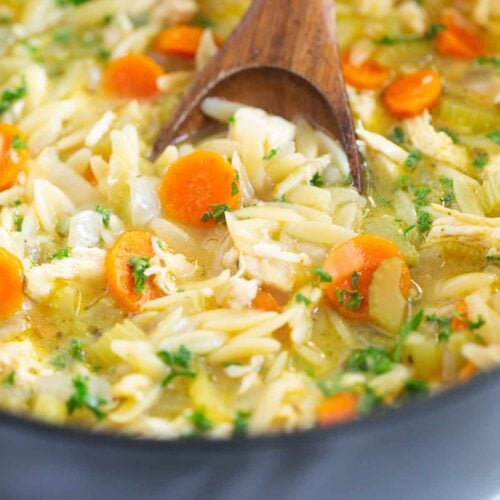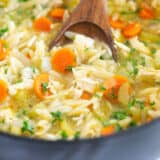 Lemon Chicken Orzo Soup
There's nothing better than a cozy bowl of soup on chilly days, especially one that's nourishing for the body and the soul! This one-pot, 35-minute lemon chicken orzo soup is one you'll want to keep around all winter long!
Ingredients
1-2 Tablespoons olive oil
½ onion , diced
4 large carrots , peeled and sliced into thin quarters
3-4 celery ribs , diced
4-5 cloves garlic , minced
1 quart (4 cups) chicken stock
1-2 cups water , use more for extra liquid
1-2 Tablespoons fresh lemon juice , plus more to taste
1 pound boneless, skinless chicken breast , or 2 cups cooked (see notes)
¾ teaspoon Italian seasoning
Kosher salt , to taste
Ground black pepper , to taste
Zest of 1 lemon , optional
Bay leaf , optional
1 cup uncooked orzo pasta
2-4 Tablespoons chopped parsley
Instructions
In a large pot, heat the oil over medium heat. Add the onion, carrots, and celery. Sauté 5 minutes and stir in the garlic. Cook an additional 1 minute.

Add the broth, 1 to 2 cups water (2 if you like more liquid), lemon juice, chicken, Italian seasoning, and salt and pepper, to taste. Add lemon zest and bay leaf, if desired. Cover the pot with a lid and simmer over medium heat for 12 minutes, or until the chicken is cooked through (be careful not to overcook).

Transfer chicken to a cutting board. Add the orzo pasta to the pot and cook 8 minutes, stirring frequently so the pasta doesn't stick to the bottom. Using a fork and knife, shred the chicken while the orzo is cooking.

Return the chicken to the pot and cook an additional 1 to 2 minutes, or until the pasta is cooked through.

Remove soup from heat. Stir in the parsley. Add more lemon juice, salt, and pepper, to taste. Serve while warm.
---
Notes
Chicken: You can use rotisserie chicken in this soup. Simply shred and add about 2 to 3 cups the last 5 minutes of cooking. Orzo: If you overcook the orzo or it sits overnight, it will absorb more liquid. Add another can of broth or water if needed when reheating. Vegetables: You can add mushrooms or bell peppers in with the onions if desired. Feel free to mix in 1 to 2 cups baby spinach the last minute of cooking. Lemon: For extra lemon flavor, be sure to use lemon zest while cooking and use lemon pepper to season. Storage: Store in a covered container for up to 3 days.
Nutrition
Calories: 287kcal | Carbohydrates: 31g | Protein: 24g | Fat: 7g | Saturated Fat: 1g | Polyunsaturated Fat: 1g | Monounsaturated Fat: 3g | Trans Fat: 0.01g | Cholesterol: 53mg | Sodium: 367mg | Potassium: 741mg | Fiber: 3g | Sugar: 6g | Vitamin A: 8253IU | Vitamin C: 9mg | Calcium: 51mg | Iron: 1mg
Nutrition provided is an estimate. It will vary based on specific ingredients used.
Did you make this recipe? Don't forget to give it a star rating below!