Make the most of your Thanksgiving turkey by making homemade turkey stock with the leftover bones. Super easy, flavorful and can be used so many ways!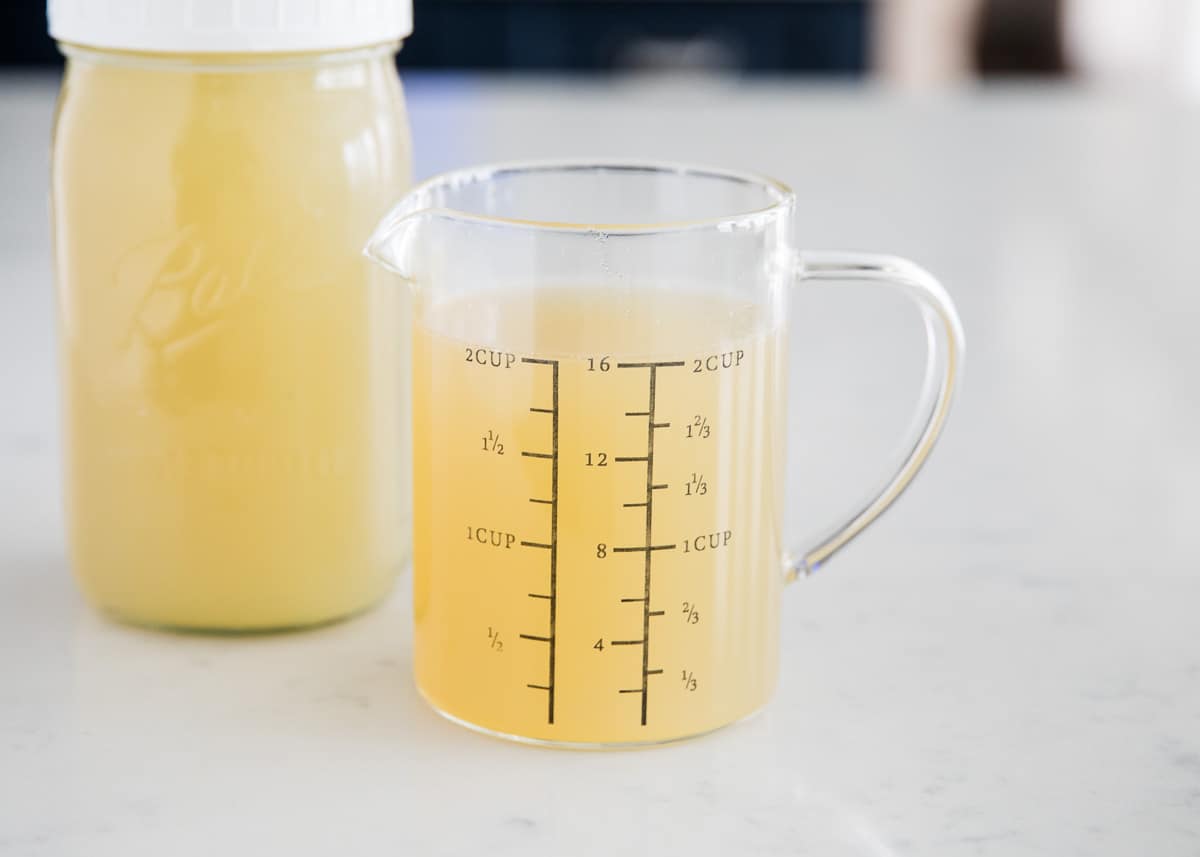 Fresh Turkey Stock
After you make the roasted turkey for your Thanksgiving menu, never let the leftover herbs, veggies and carcass from your holiday dinner go to waste. Use them to make this delicious homemade turkey stock.
This homemade turkey stock tastes glorious and will take your turkey soup up a notch or two. The flavor is rich, delicious and a great way to use up the leftovers.
It's super versatile and can be used in place of chicken stock or broth in soups, casseroles, slow cooker meals, side dishes and more. And by making it at home, you won't have to worry about any added preservatives or salt. You can use it immediately or even freeze some for later.
Recipe Ingredients
The main ingredient is typically tossed away but add it to a few other staples and you have a great stock for all winter long.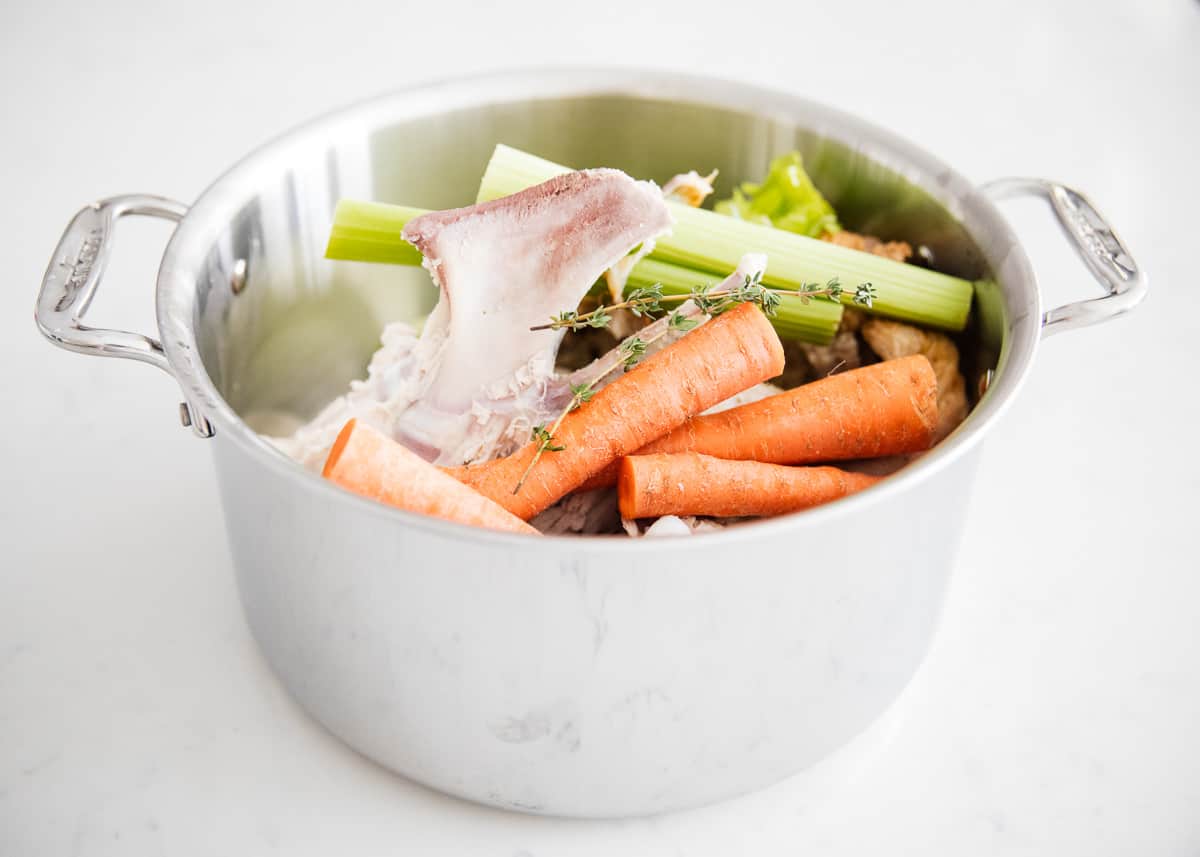 Find the full printable recipe with specific measurements below.
Turkey: The carcass of the turkey holds so much flavor and nutrients that turn into a beautiful stock when simmered for hours.
Onion: Peeled and quartered, onion provides a little oomph to the stock.
Carrot: These add the sweetness that helps round out the heartiness of the turkey and the tang of the onion.
Celery: I love the depth of flavor celery adds to any stock.
Garlic: I can't get enough garlic in a stock as it adds so much richness.
Freezing Turkey Stock
Let cool before storing. Leave about 1/2″ from the top to allow for expanding.
Jars: Place into jars that are freezer friendly.
Ziptop bags: Place stock into freezer ziptop bags and remove any excess air.
Muffin tins: You can also place the liquid into muffin tins (which is about 1/2 cup) to easily add into soups.
It will keep in the freezer for up to 3 months. When ready to use, simply allow to thaw or run under warm water.
How to Make Turkey Stock
Patience is the main ingredient of this stock. Everything is added and left to simmer. The longer it cooks, the richer your stock will be.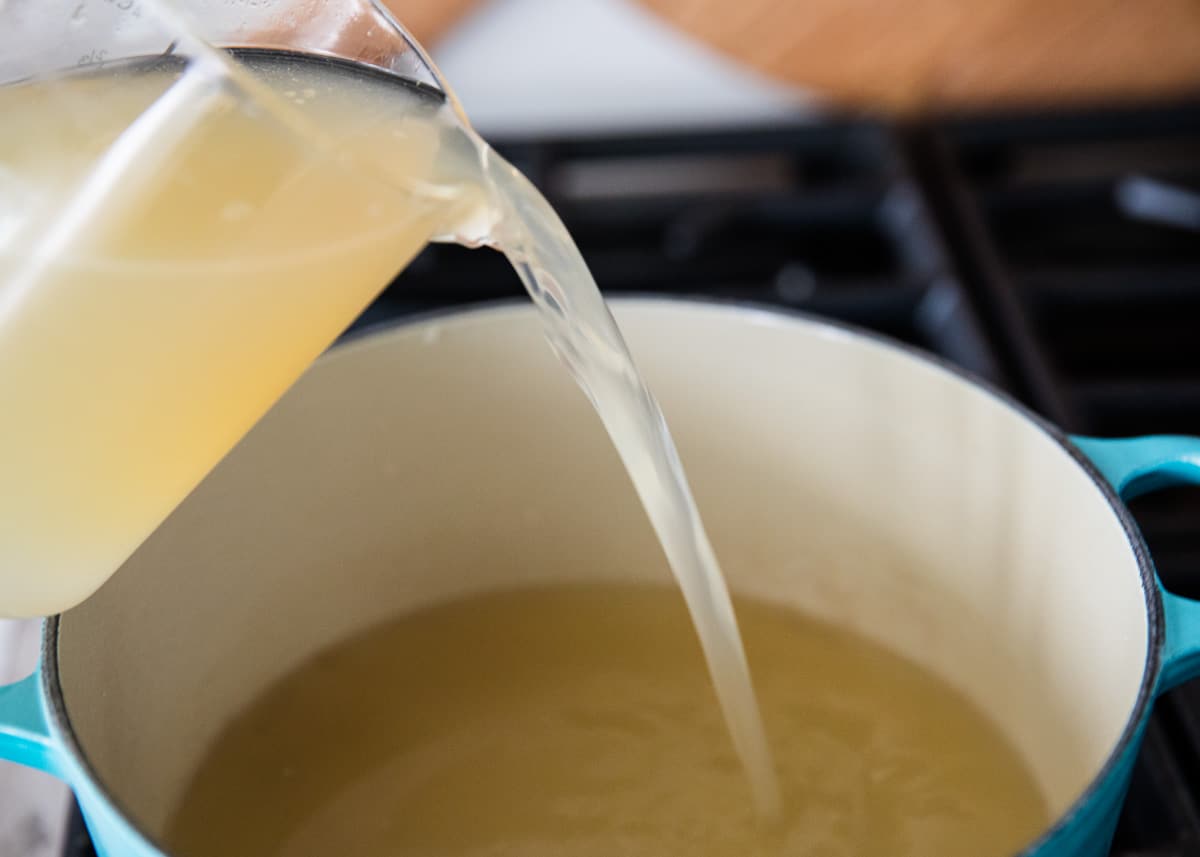 Boil Place the ingredients in a large pot, then add in water until the carcass is covered. Cook over medium high heat until the mixture is boiling.
Simmer. Once it begins to boil, lower heat to a simmer. Let the stock simmer until the liquid has reduced in half. This usually take around 3 hours. Then give it a taste and add in any seasonings as needed.
Strain. Next you'll want to strain the mixture to separate the turkey stock from the other ingredients. Set a fine mesh strainer over a large pot or bowl, then pour the stock into the strainer. Once all of the liquid has strained, you can discard the remaining bones and veggies in the strainer.
Other Helpful Tips
To add more flavor, you can mix in fresh herbs, bay leaves or peppercorns.
Feel free to let the stock simmer for more than 3 hours. The longer it cooks, the more flavor and nutrients it will have.
You can also make turkey stock in the slow cooker on low for about 10 to 12 hours.
When straining the mixture, press on the bones and veggies with the back of a wooden spoon to remove all of the liquid.
Don't be scared if the turkey stock gets a little gelatinous in the fridge. That means it's full of collagen from the turkey bones, which is what you want! It will liquify as soon as you warm it back up.
Smoked Turkey Stock
Using a smoked turkey is an easy way to add even more flavor in your stock. The smokiness of the meat gives it a robust smoky taste that adds a bit more depth than a roasted turkey.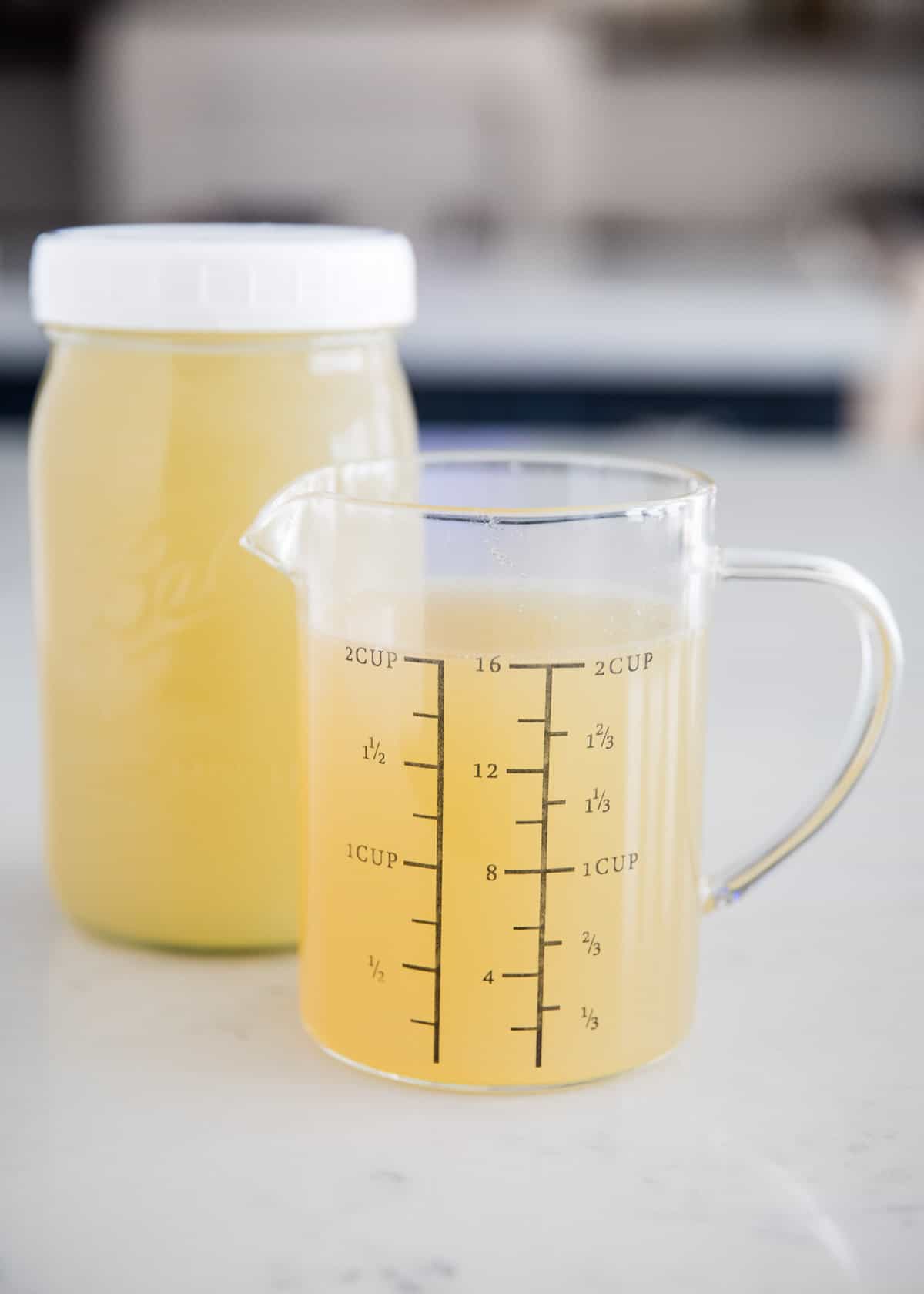 Recipe Ingredients
Can I make this turkey stock in the slow cooker?
Absolutely! Simply cook on low for about 10 to 12 hours.
What is the difference between a stock and a broth?
A stock is primarily made from bones while a broth is primarily made meat (or flesh). Both are typically made with aromatics. A stock may be cloudier in appearance and a bit richer while a broth will be clearer and lighter.
Storing + Freezing
Storing: Keep in airtight containers or jars in the refrigerator up to 1 week.
Freezing: Once cooled, place in an airtight container or freezer-safe container and freeze up to 3 months.
Looking for more ways to increase your turkey knowledge? This best turkey brine recipe goes over how to make the most delicious, flavorful and moist turkey!
More Recipes to use it with
HUNGRY FOR MORE? Subscribe to my newsletter and follow on Facebook, Pinterest and Instagram for all the newest recipes!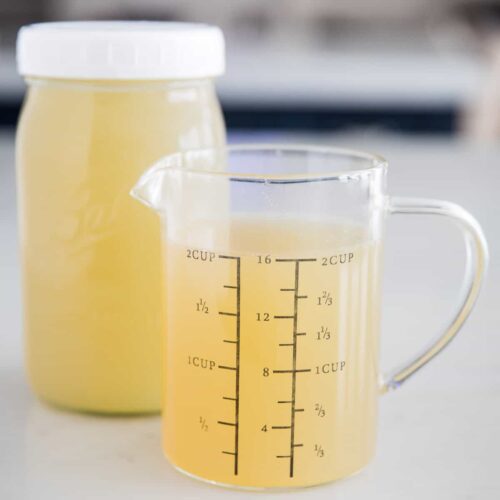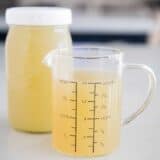 Homemade Turkey Stock
Make the most of your Thanksgiving turkey by making homemade turkey stock with the leftover bones. Super easy, flavorful and can be used so many ways!
Equipment
Large stockpot

Mesh strainer
Ingredients
1 turkey carcass
1 onion , peeled and quartered
4 stalks celery
4 large carrots
3-4 cloves garlic
Optional: Fresh herbs, Bay leaf, Peppercorns, Turkey neck, Giblets, Drippings
Instructions
In a large stock pot, combine the turkey carcass, onion, celery, carrots, and garlic. Pour enough water over the carcass to cover it. Bring to a boil over medium high heat.

Once boiling, reduce the heat to low. Simmer 3 hours, or until the liquid has reduced by half. Taste and season with salt, pepper, and herbs.

Set a fine-meshed sieve over a large pot or large bowl. Pour the stock into sieve or strain it through cheesecloth. Push down on solids with a wooden spoon to get every last drop of stock.
---
Notes
Substitute: This turkey stock can replace chicken stock in any recipe.
Herbs to consider adding to the stock:
Dried or fresh parsley
Dried or fresh sage
Dried or fresh rosemary
Dried or fresh thyme
Storage: Store in jars in the refrigerator up to 1 week or freezer for 3 months.
Nutrition
Calories: 39kcal | Carbohydrates: 3g | Protein: 4g | Fat: 1g | Saturated Fat: 0.3g | Polyunsaturated Fat: 0.3g | Monounsaturated Fat: 0.2g | Trans Fat: 0.01g | Cholesterol: 68mg | Sodium: 43mg | Potassium: 125mg | Fiber: 1g | Sugar: 1g | Vitamin A: 6073IU | Vitamin C: 2mg | Calcium: 14mg | Iron: 1mg
Nutrition provided is an estimate. It will vary based on specific ingredients used.
Did you make this recipe? Don't forget to give it a star rating below!