Chicken vegetable soup is a hearty, one-pot meal that is slow-cooked and ready for you at the end of a long day. Fall apart chicken, tender vegetables, and a flavorful broth is filling and satisfying comfort soup at its best!
Love soup recipes? Try my vegetable beef soup, cabbage soup and green enchilada chicken soup.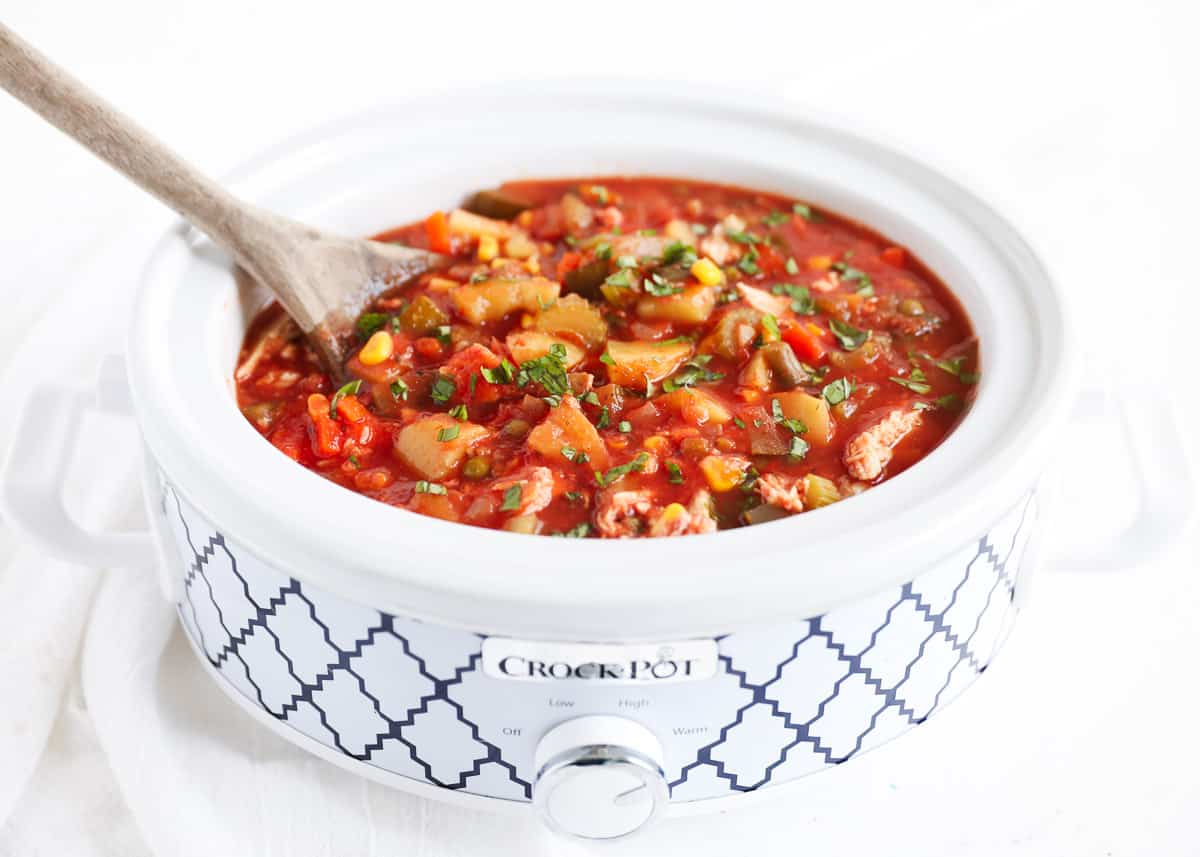 Easy Dump and Go Crockpot Soup
I love a good hearty vegetable soup, but for this recipe, I'm using chicken breast instead of hamburger, which is a leaner protein, and there's nothing for me to do except dump it in and set it the timer. Then it's a low and slow simmer until the chicken comes apart and the flavors marry. It works great in homemade chicken noodle soup too!
There are so many flavors and textures going on from the tender chunks of potatoes, diced veggies, shredded juicy chicken, and a perfectly seasoned broth infused with Italian seasoning and lemon pepper. It's got a bit of acidity from the tomato balanced with the earthiness from the veggies and it all comes together so effortlessly. If you love fresh vegetables in your soup try this albondigas soup too.
Making a batch of this is just one of a few healthy dinner ideas that take so little effort. A quick and easy, set-it-and-forget-it chicken vegetable soup recipe means having an immune-boosting meal to serve my family at my disposal. Plus, there are leftovers! So, whatever you're not serving, portion it out into a freezer meal or two.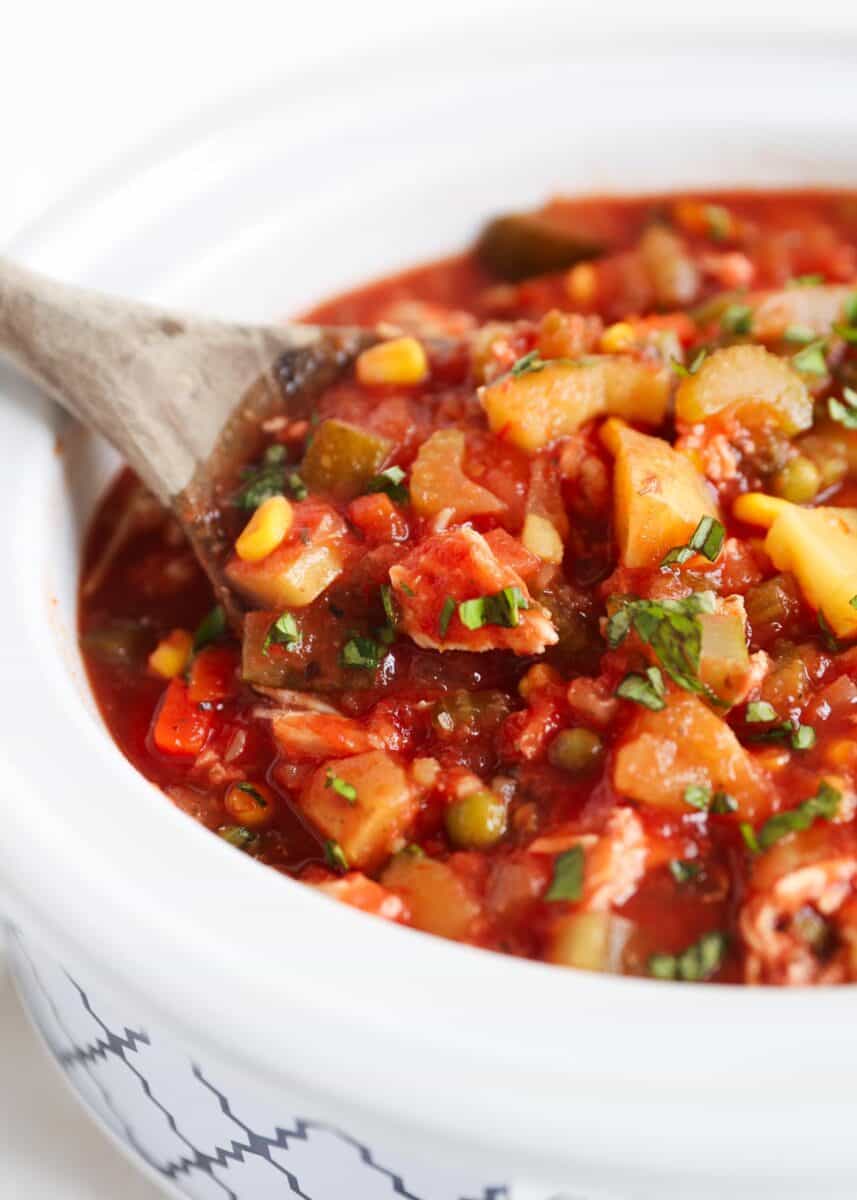 Tips & Variations
Chicken. I like to use chicken breast because I enjoy white meat in my soup, but you can use whichever pieces you like.
Rotisserie. If you have leftover rotisserie chicken or leftover holiday roasted turkey, this is a good soup to add it to, towards the end to heat through.
Stock. Swap out the chicken stock for a hearty homemade turkey stock.
Vegetarian. You can omit the chicken completely and keep the recipe as is, or add a few more veggies or can of beans in there.
Pasta. Toss in some short cooked pasta noodles, for an added bite.
Greens. Increase the nutrients in this soup by adding a couple of handfuls of spinach or kale at the end, and allow it to wilt in the heat.
Spice. Toss in a few red pepper flakes for added heat.
Even more flavor. Add fresh basil or parsley at the end for a herbaceous note and then finish it off by topping this soup with sliced avocado or olives!
How to Store Chicken Vegetable Soup
To store: Place cooled soup in an airtight container and keep it in the fridge for up to 4 days. It's nice to have a healthy lunch already made and ready to go the next day. Just pour and reheat!
To reheat: If you're just reheating a bowl or two, you may want to just pop it in the microwave. If you're reheating a bigger batch, transfer it to a pot on the stove and simmer on low until heated through.
MAKE AHEAD AND FREEZE FOR LATER!
Once completely cooled, portion soup into freezer-friendly Ziploc bags and keep frozen for up to 3 months. Thaw before reheating.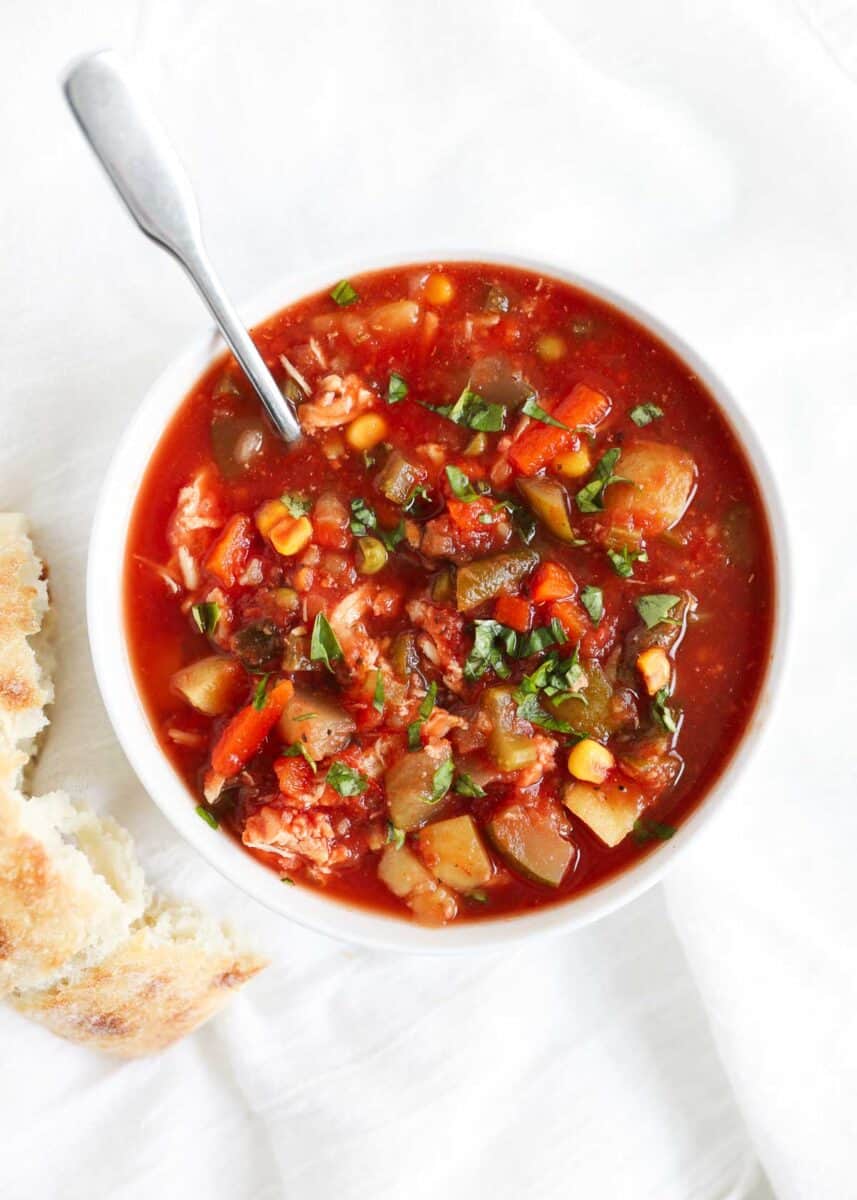 More Easy Slow Cooker Soups:
HUNGRY FOR MORE? Subscribe to my newsletter and follow on Facebook, Pinterest and Instagram for all the newest recipes!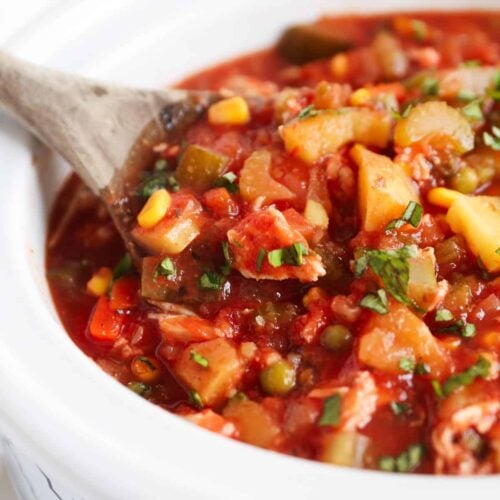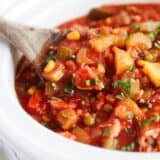 Chicken Vegetable Soup
Chicken vegetable soup is a hearty, one-pot meal that is slow-cooked and ready for you at the end of a long day. Fall apart chicken, tender vegetables, and a flavorful broth is filling and satisfying comfort soup at its best!
Ingredients
1 pound boneless skinless chicken breasts , about 2-3 large breasts
32 ounces chicken broth (1 container)
2 cups frozen mixed vegetables
2 to 3 potatoes , peeled and diced
1 ½ cups celery , about 4 stalks (chopped)
1 cup onion , chopped
29 ounces crushed tomatoes
2 teaspoons minced garlic , about 4 cloves
1 ½ teaspoons Kosher salt
2 teaspoons Italian seasoning
½ teaspoon lemon pepper , or regular pepper
For topping: Fresh basil or parsley
Instructions
Add the chicken, vegetables, broth and seasoning in a crockpot.

Place the lid on top and cook on high for 3-4 hours or 5-6 hours on low. Cook until the chicken shreds easily and the vegetables are tender. Shred chicken and serve immediately.

Ladle the soup into bowls. Add fresh herbs like parsley or basil if desired. Serve with your favorite toppings.
---
Notes
Variations: This recipe is easy to customize with different vegetables you have on hand. Sometimes I like to chop up a zucchini or squash. Bell peppers are also a great addition. Sometimes I'll top with avocado and olives. Freezer instructions: This recipe makes a great freezer meal. Allow to cool and then place the leftovers in a Ziplock bag or freezer container. Freeze for up to 3 months. Thaw and warm before eating.
Nutrition
Calories: 195kcal | Carbohydrates: 23g | Protein: 22g | Fat: 3g | Saturated Fat: 1g | Polyunsaturated Fat: 1g | Monounsaturated Fat: 1g | Trans Fat: 1g | Cholesterol: 48mg | Sodium: 1453mg | Potassium: 1050mg | Fiber: 6g | Sugar: 8g | Vitamin A: 3527IU | Vitamin C: 33mg | Calcium: 104mg | Iron: 3mg
Nutrition provided is an estimate. It will vary based on specific ingredients used.
Did you make this recipe? Don't forget to give it a star rating below!