Jump to Recipe⌄
Banana nutella muffins w/ reeses pb chips
Thanks for stopping by! To get the newest recipes subscribe or join us on facebook. Also check out our recipe box for more yummy recipes.
So you may have noticed I've been on a baking kick lately. No I'm not pregnant… I've just been in a baking mood. ;) I would make desserts every day if I could… but I try to limit it to once a week. I think it's  good to treat yourself every once in awhile. You deserve it!
I'm always dreaming up yummy creations and  how I'm going to photograph the baked goods. Weird? Maybe! I guess it's a good thing I'm a blogger right?! hehe. So here's my latest and greatest recipe. Banana nutella muffins with reeses peanut butter chips. These were quite delicious if I do say so myself. In order to keep myself from eating the whole pan, I had to take them far, far away. ;)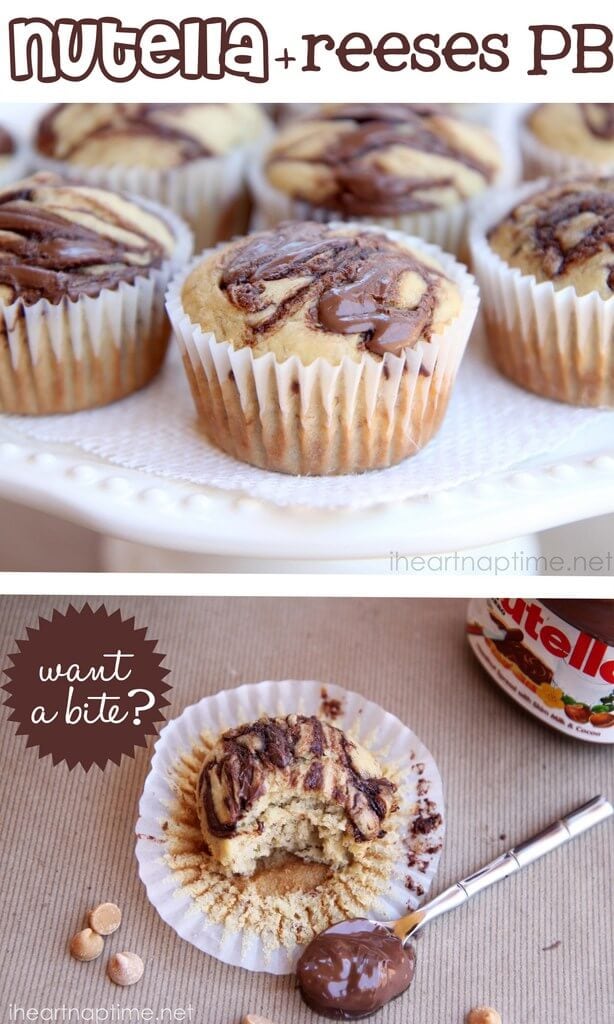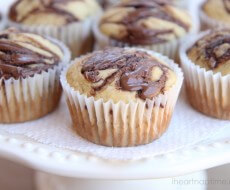 Banana nutella muffins w/ reeses pb chips
Ingredients:
2/3 cup brown sugar
1/2 cup sour cream
5 TB butter melted
2 eggs
1 cup mashed bananas 3 small ripe bananas
2 cups flour
1 tsp baking powder
1/2 tsp baking soda
1 tsp nutella per muffin
1/2 cup reeses pb cubs optional
Directions:
1. Combine sugar, sour cream and butter in a large bowl. Mix in one egg at a time. Stir in mashed bananas.
2. Next, pour in flour, baking powder and baking soda. Then add in peanut butter chips and stir just until smooth.
3. Pour batter into lined muffin pan, about 2/3 the way full. Place a tsp (small spoonful) of nutella in the center of each muffin. Swirl chocolate with a tooth pick to evenly distribute.
4. Bake at 350 for 15 minutes.
All images and text ©
Enjoy!
You may also like my banana bread or cinnamon chip banana bread. We love banana bread around here! ;)