These chewy peanut butter oatmeal balls are wholesome, healthy, and worth much more than the 5 minutes it takes to make them! An effortless way to satisfy your sweet and salty craving with the added benefit of protein.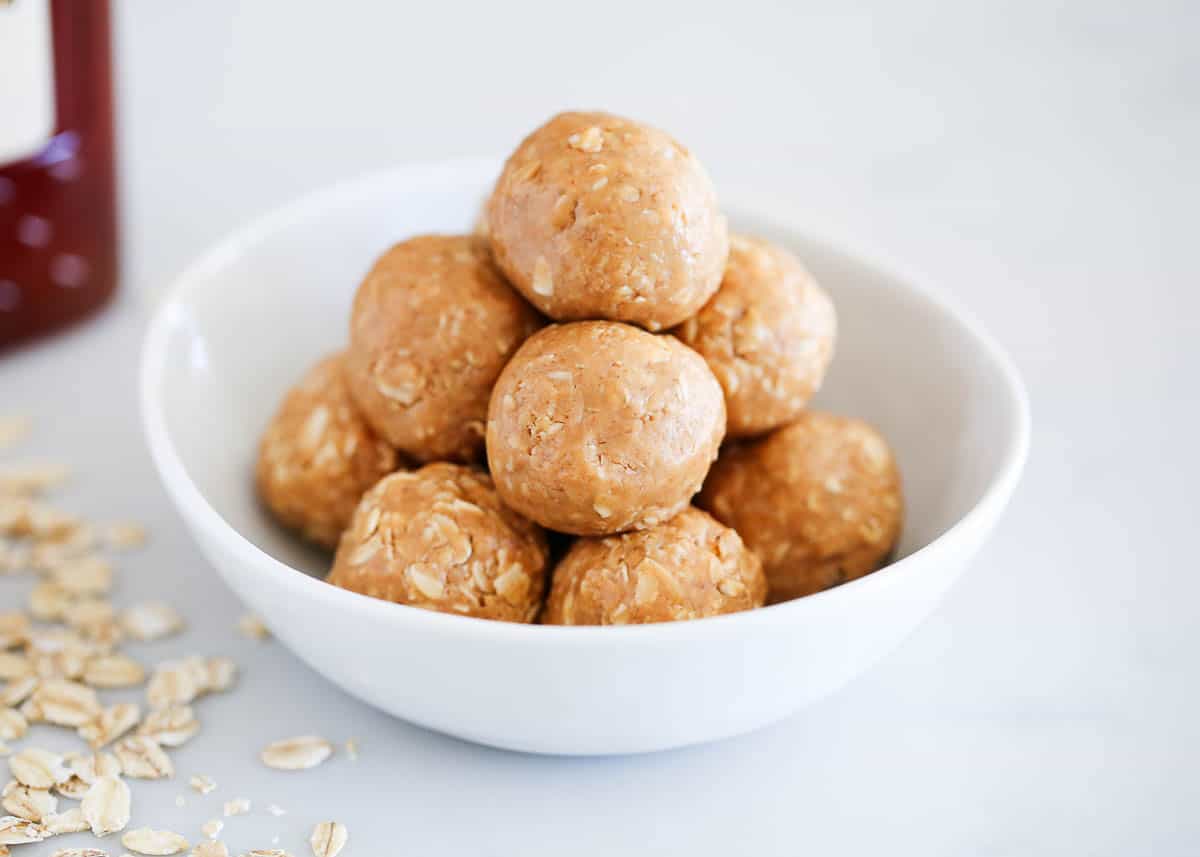 5 Minute No Bake Healthy Treat
As if a recipe that consisted of just 3 ingredients couldn't get any easier, these oatmeal peanut butter balls are a no-bake snack that comes together in just 5 minutes. They're a healthier version of my peanut butter no-bake cookies but just as tasty!
There are many times throughout the week when I find myself needing a quick healthy snack idea throughout the day. Whether it's post-workout, after school, or a midmorning snack my kids can serve themselves while I work, these bite-size bites of heaven are a lifesaver.
They are a cinch to whip up, and like all the energy balls I have posted, they're portable, convenient to carry, delicious, and wholesome. I feel good knowing I'm giving my kids an ultra-healthy snack loaded with protein, nutrients, and no refined sugars. Even if they don't realize it, I sure do!
Why This Recipe Works
Flexible. These sweet, salty, and nutty treats are super satisfying and can be made as indulgent (hello Monster energy balls!) or as healthy as you'd like by adding in some extra ingredients like hemp hearts or chocolate chips!
Quick and easy. 3 ingredients and 5 minutes are all it takes for these peanut butter oatmeal protein balls to end up in your belly. Plus they're made with ingredients most of us carry at all times.
Healthy. Naturally dairy-free and gluten-free (check your oats for the certified gluten-free oats label), these balls can also be geared towards a plant-based diet with a simple swap of honey for maple syrup.
Freezer-friendly. Double the recipe and freeze a batch. Talk about a convenient way to have healthy snacks to grab and go!
Are They Healthy?
They sure are! Depending on the type of ingredients you are using, or what you choose to add to it can alter the degree to which they are beneficial. Overall, they are healthy. Oats, peanut butter, and honey all have nutritional benefits.
Oats provide iron, and fiber, and help to balance blood sugar. Nut butter delivers protein, and honey has anti-inflammatory properties as well as vitamins and minerals.
Using raw honey, which is less processed (or not processed at all), will retain more nutrients than regular honey. The natural peanut butter will have fewer additives and preservatives, and healthier oils.
Ingredients Needed
Easy oatmeal balls made with oats, peanut butter and raw honey. That's it! Check out more details and recommendations for each ingredient below.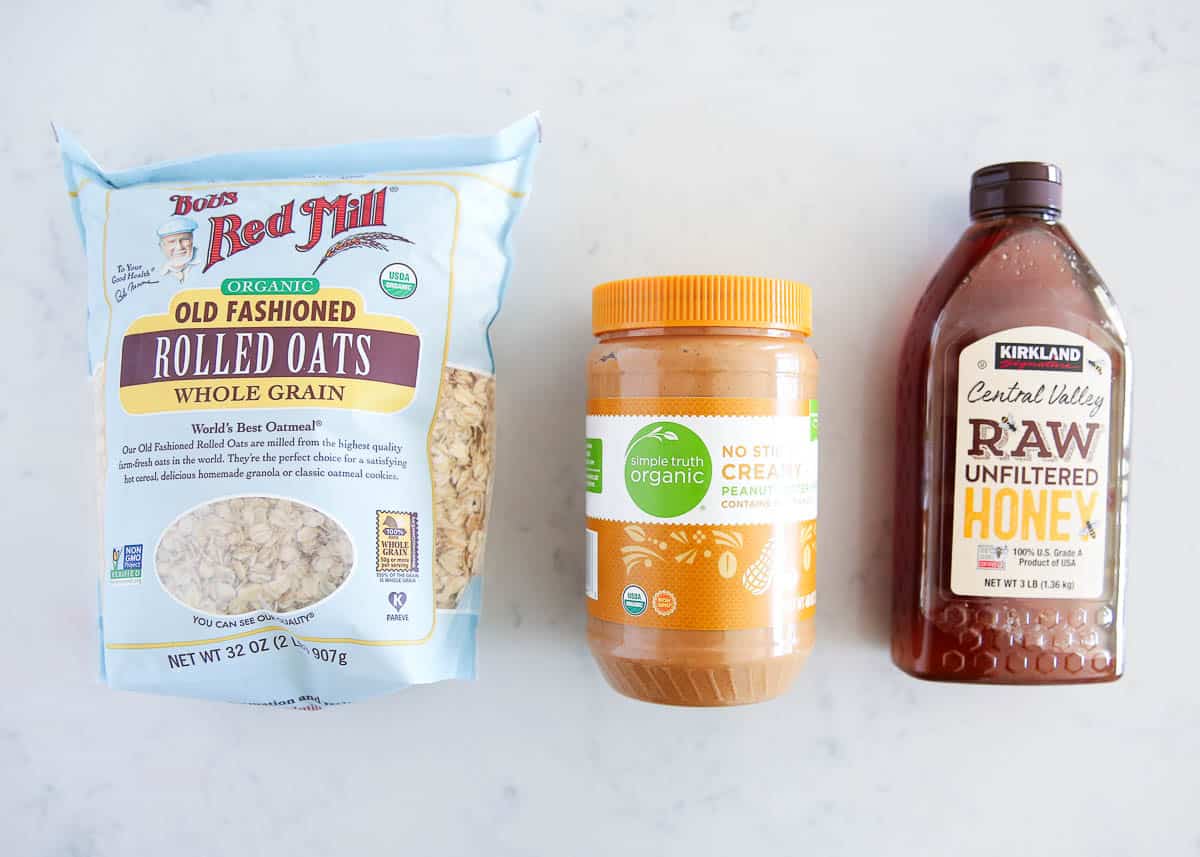 Find the full printable recipe with specific measurements below.
Oats: For this recipe, I like to use old-fashioned rolled oats as they are coarser than quick oats or instant oats which gives them more texture.
Peanut butter: I use creamy, but that's a personal preference! You can use regular or natural peanut butter. There is a lot of oil separation in natural nut butters so you'll want to make sure to stir it well!
Honey: Regular, or raw and unrefined honey works for added sweetness. Swap with maple syrup for a vegan option.
Optional Mix-Ins for Added Yum!
Coconut flakes
A sprinkle of mini chocolate chips
Raisins
Cranberries
Splash of vanilla
Pinch of salt
Dash of cinnamon
Hemp seeds
Flax seeds
Chia seeds
Keeping The Texture Just Right
If you decide to add extra ingredients, this may change the texture of your 3 ingredient peanut butter energy bites. Add a little more nut butter and honey if the dough is dry. If it feels too sticky, add a Tablespoon or two more oats.
Variations
Instead of peanut butter, swap it for a different nut butter or even seed butter. Almond butter, cashew butter, pumpkin seed butter, or sunflower butter are all great choices.
For a different sweetener, use maple syrup, agave, or another liquid sweetener of your choice. You want to stick with liquid so the wet-to-dry ratio remains intact.
If you're a chocolate and peanut butter lover try these chocolate peanut butter protein balls next!
How to Make Peanut Butter Oatmeal Balls
It takes 3 simple steps to make pb oat balls and you're done. Make a double batch because these energy bites will last for weeks!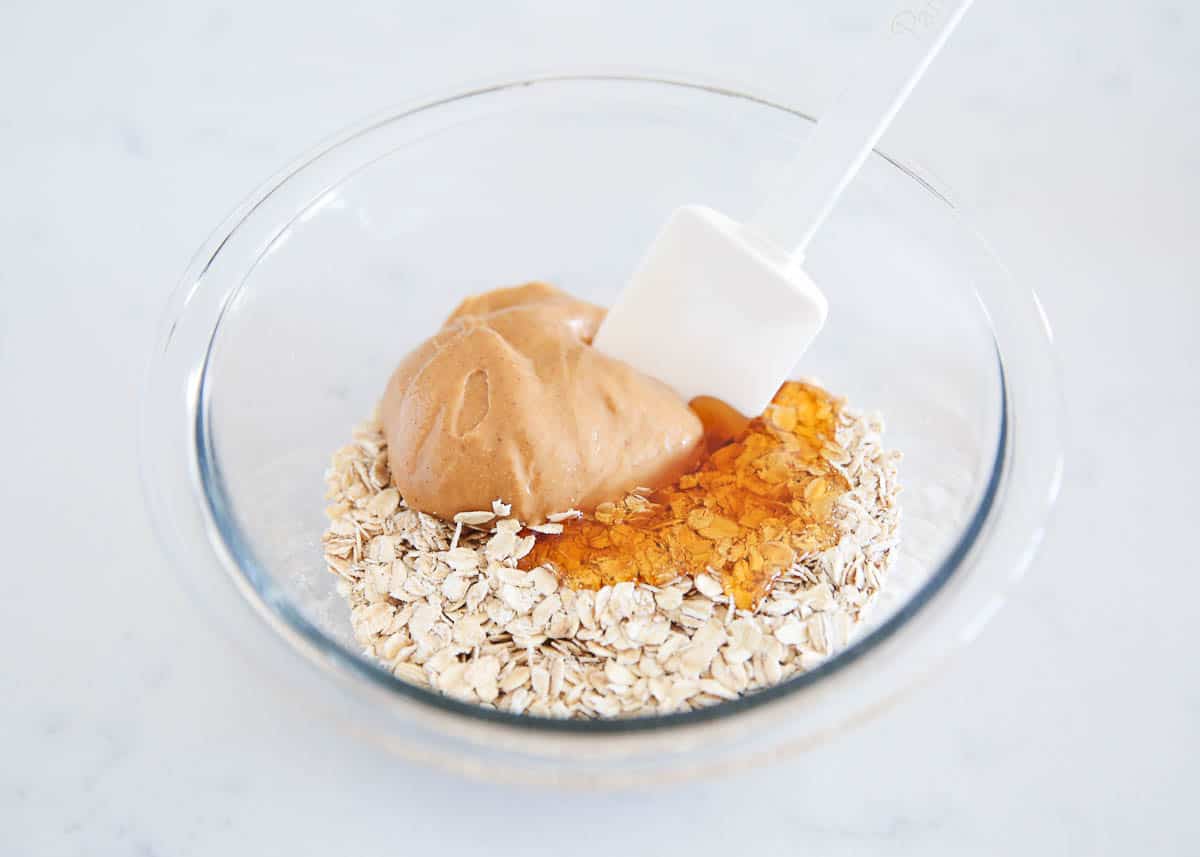 Process oats (not into a powder). Add the oats into a food processor or blender and pulse a couple seconds. You do not want to turn them into flour, but you will see some powder. This helps to bind the no-bake peanut butter oatmeal balls.
Mix ingredients. In a large bowl, stir the oats, peanut butter, honey, and any additional mix-ins until combined. You can use a food processor for this as well.
Form the balls. Use a small cookie scoop or Tablespoon to scoop out the dough in even amounts. Plop them onto a plate or baking sheet and roll them into 1-inch balls with your hands. Wet your hands if needed to prevent sticking.
Enjoy them immediately or store them in the fridge or freezer for later!
Expert Tips
You can microwave the peanut butter with the honey first before adding the oats to make it easier to stir together. All it takes is about 20 seconds in the microwave so that the mixture gets a little more warm and melty.
Give the mixture a taste before rolling into balls. That way you can add more honey to sweeten if needed, or add in a dash of vanilla or sea salt to your taste.
Wet your hands lightly before rolling the balls so that the mixture doesn't stick to your hands as you roll.
Pop the peanut butter oatmeal balls in the freezer for a few minutes if they feel sticky once rolled. This will help them firm up a bit.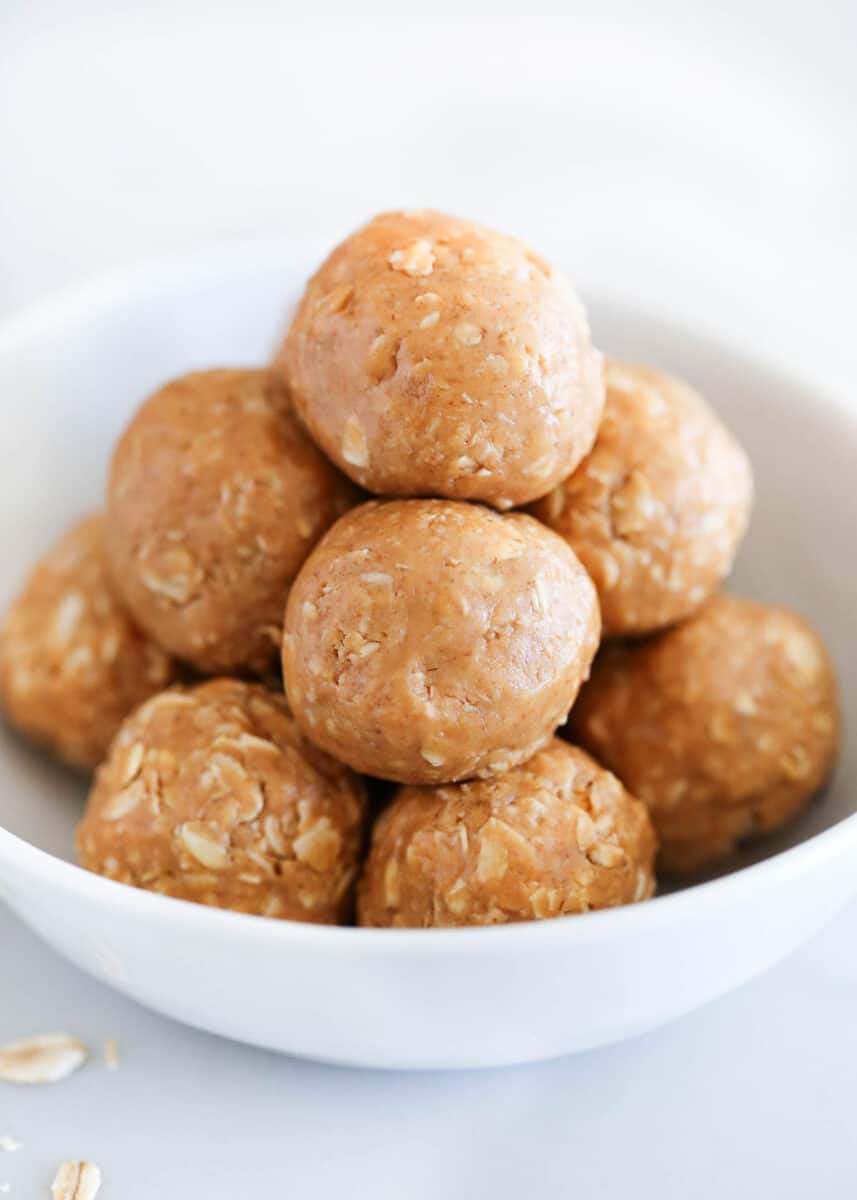 Recipe FAQs
Are energy balls the same as protein balls?
They are! Energy balls are any type of bite that provides energy, this could include protein. Protein balls will always include some form of protein, which inevitably provides energy. They are basically the same, however some people add protein powder into theirs.
Why are my protein balls not sticking?
You may have used too many oats or add-ins, in which case you would need to add more peanut butter or honey. Or both.
Why are my protein balls dry?
If you used natural nut butter or quick oats, you may notice your balls are drier the next day. For chewier balls, stick with old-fashioned rolled oats and regular peanut butter.
Storage
Fridge: Keep them stored in an airtight container for up to 3 weeks in the refrigerator.
Freezer: To freeze them, place them on a baking sheet lined with parchment paper. Flash freeze them for about 30 minutes and then transfer them to a freezer bag or airtight container to keep them frozen for up to 3 months. Doing an initial freeze helps to keep them from freezing in a clump.
HUNGRY FOR MORE? Subscribe to my newsletter and follow on Facebook, Pinterest and Instagram for all the newest recipes!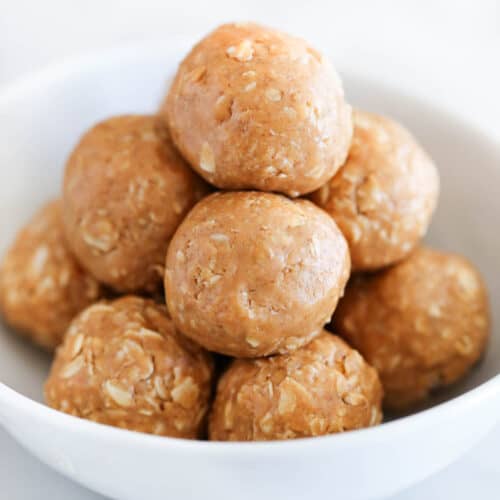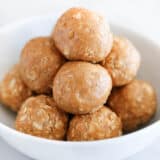 Peanut Butter Oatmeal Balls
These chewy peanut butter oatmeal balls are wholesome, healthy, and worth much more than the 5 minutes it takes to make them! An effortless way to satisfy your sweet and salty craving with the added benefit of protein.
Ingredients
Optional Mix-in's: Splash of vanilla, Pinch salt, Pinch cinnamon, or 2 Tablespoons mini chocolate chips
Instructions
In a food processor or blender, pulse oats until broken. You don't want to turn it into oat flour, but broken enough that there is some powder. This will help bind the balls.

Stir in the oats, peanut butter, honey, and any desired mix-in's in the food processor or a bowl until combined.

Using a small cookie scoop or Tablespoon, scoop the dough onto a plate or baking sheet. Roll into 1-inch balls, wetting hands if needed. Eat right away or store in an airtight container in the refrigerator.
---
Notes
Optional Mix-in's: Occasionally I like to add a splash of vanilla, pinch of salt, and pinch of cinnamon. A handful of mini chocolate chips are also a great addition. You can also sub maple syrup in place of honey to make vegan. Note: If you add extra ingredients and the mixture feels too dry, add a little more peanut butter and honey. If it feels too sticky, add a Tablespoon or two more of oats. Storage: Store in a airtight container in the refrigerator for up to 3 weeks or in the freezer for up to 3 months.
Nutrition
Serving: 1ball | Calories: 73kcal | Carbohydrates: 8g | Protein: 2g | Fat: 4g | Saturated Fat: 1g | Polyunsaturated Fat: 1g | Monounsaturated Fat: 2g | Sodium: 31mg | Potassium: 61mg | Fiber: 1g | Sugar: 4g | Vitamin C: 0.02mg | Calcium: 6mg | Iron: 0.4mg
Nutrition provided is an estimate. It will vary based on specific ingredients used.
Did you make this recipe? Don't forget to give it a star rating below!