Curl up and indulge in the most comforting bowl of soup you'll ever make. Every bite of this clam chowder recipe is thick and smooth and when you make it with real clams, you can't help but feel like you're sitting in New England!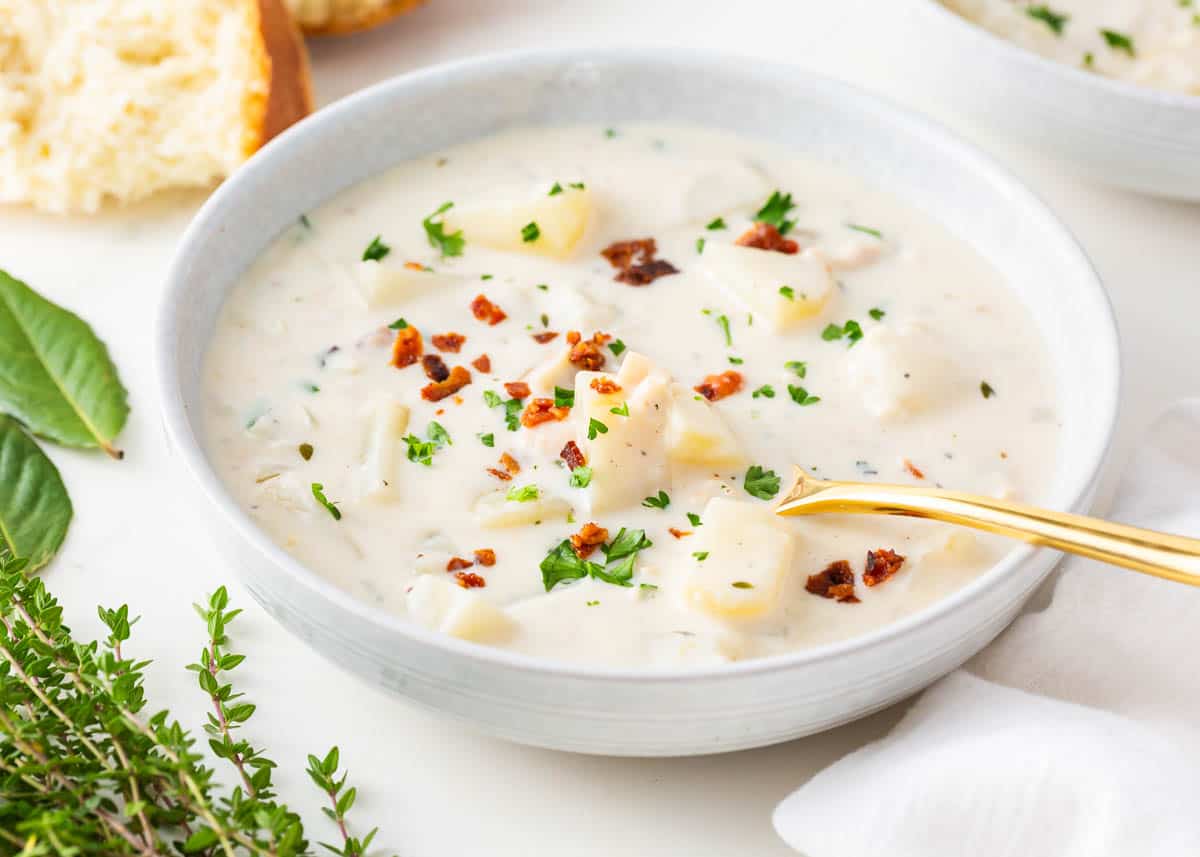 Comforting Creamy Soup
When you want something hearty, clam chowder is the way to go. It's just as filling as corn chowder, but made with real clams and heavy cream giving it a bit more to bite down on.
You just can't beat clam chowder with a slice of artisan bread (or really any type of seafood stew). So, grab your soup pot, bowl, and spoons, it's time to make a comforting batch of clam chowder!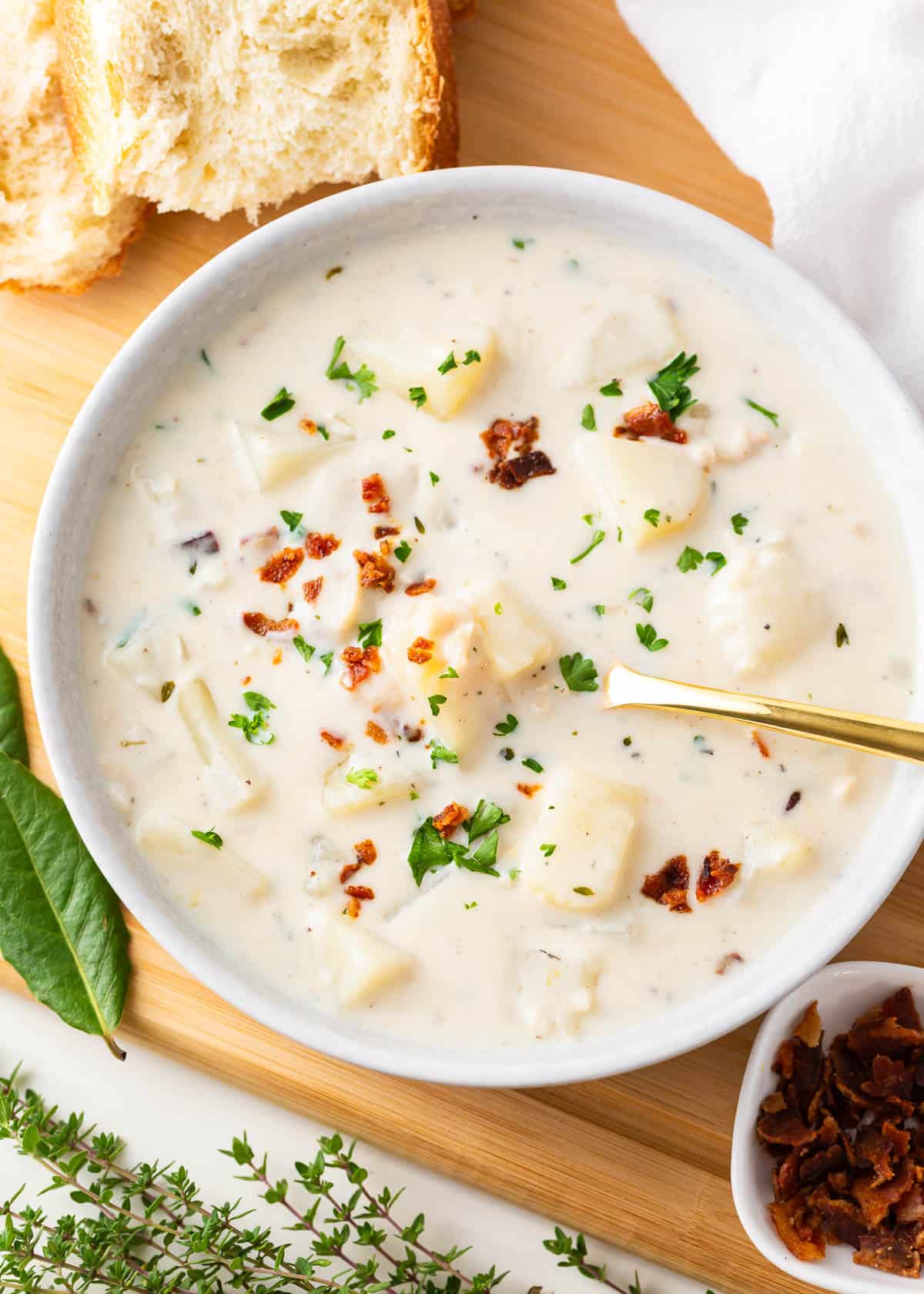 Recipe Ingredients
All of the ingredients for the recipe for clam chowder are easy to find at your grocery store.
Find the full printable recipe with specific measurements below.
Bacon. The bacon adds savory notes to the soup, so use thick-cut bacon from your favorite brand.
Broth. Use chicken or vegetable broth. Both options will combine easily with the rest of the ingredients.
Clams. Save yourself time and energy and use canned clams. But if you want to use fresh, follow the tips further in this post.
Cream. I used half and half and discovered that combining it with some flour and butter created the perfect consistency. You can also use heavy whipping cream, but that will make the broth thicker.
Potatoes. Russet potatoes have the perfect texture for a creamy soup like clam chowder.
Variations
I created an easy clam chowder recipe, so there is a lot of room for culinary creativity. Here are a few ways that you can change it up.
Bowl: Serve the soup in a bread bowl instead of a ceramic bowl.
Greens: Add chopped celery and green onions to the soup.
Toppings: Sprinkle some oyster crackers on top.
Cheese: Add shredded cheddar cheese on top while it is still hot.
Spice: A dash or two of hot sauce elevates the flavors.
How to Make Clam Chowder
If you have ever made other soups – like gumbo – you can make this! It's so much easier to make than people think.
Fry the bacon. Get it nice and crispy. Then, put the bacon on a plate and leave slime grease in the pot. Use that grease with some butter to saute the garlic and onion.
Make the roux. Stir the flour and chicken broth into the butter and aromatic mixture in the pot. Whisk in the clam juice and bay leaf.
Cook the potatoes. Add the chopped potatoes and bring it to a boil, then reduce the heat and let the potatoes simmer until they are fork tender.
Make it creamy. Stir in the half and half and the clams and cook until they are heated up. At this point, you can adjust the soup to make it as thick as you like it.
Using Fresh Clams
In my recipe, I used canned clams. It's a lot quicker and saves you money if you don't live near a location that sells them fresh. If you want to use fresh clams, combine 1-2 heaping cups of chopped fresh clams that were cleaned and steamed with 1 ½ cups of clam juice in place of the canned.
Here is a quick overview of how to prepare fresh clams.
Clean and prepare the clams. You'll have to scrub the fresh clams under running water to remove any sand or dirt from the shells. Then, discard any clams that do not close when tapped or have cracked shells, as they may be spoiled.
Steam the clams. Fill a large pot with just an inch of water. Place the clams in the pot. Cover and let them steam over medium-high heat for about 10 minutes. You'll know they are ready when they open.
Remove the meat. Remove the clam meat from the shells with a fork or sharp knife. Then, dice the meat.
Prepare the soup and add the clam. That's it! Follow the recipe as directed.
Expert Tips
Here are some tips that will help you make the best bowl of clam chowder the first time.
Use the right size pot. Give yourself enough room to stir and work. I suggest a large Dutch oven or soup pot.
Pre-cut the bacon. This is optional, but the bacon will cook a lot quicker if you chop it into small pieces before you fry it.
Whisk constantly. As you add the chicken broth and clam juice to the browned flour, whisk it constantly. Don't stop. Keep whisking until you notice it thickening.
Taste it and adjust. Add just a little salt and pepper and then taste it. Add more, a little at a time, until you like how it tastes.
Recipe FAQs
What is clam chowder?
Have you ever enjoyed a bowl of thick and creamy crockpot potato soup? Well, clam chowder is a lot like that just made with clams.
How do you thicken the clam chowder?
If it isn't thick enough, make a roux of cornstarch and water and slowly mix it into the chowder. Be careful, because a little bit goes a long way!
How do you freeze clam chowder?
Let the clam chowder cool to room temperature. Then, place it in a freezer-safe food storage bag. Seal it tightly and lay it flat on a baking sheet. Place the baking sheet in the freezer. When it is frozen solid, you can remove the baking sheet.
What types of clams are best for clam chowder?
Canned clams will always work in this soup. If you want to use fresh clams, Quahog clams are the best variety.
New England Clam Chowder vs. Manhattan Clam Chowder Recipe?
The most obvious difference is that clam chowder is made with a creamy base, but Manhattan clam chowder is made with a tomato-based broth.
How to store?
Keep any leftovers covered in an airtight container or in a dish covered with aluminum foil for up to three days in the refrigerator. Reheat in the microwave until warm.
Serving Suggestions
It tastes best when you dip a piece of homemade easy and no-knead Dutch oven bread into the creamy broth. Or serve it for lunch with grilled cheese and a wedge salad.
Really any of these breads would be delicious alongside.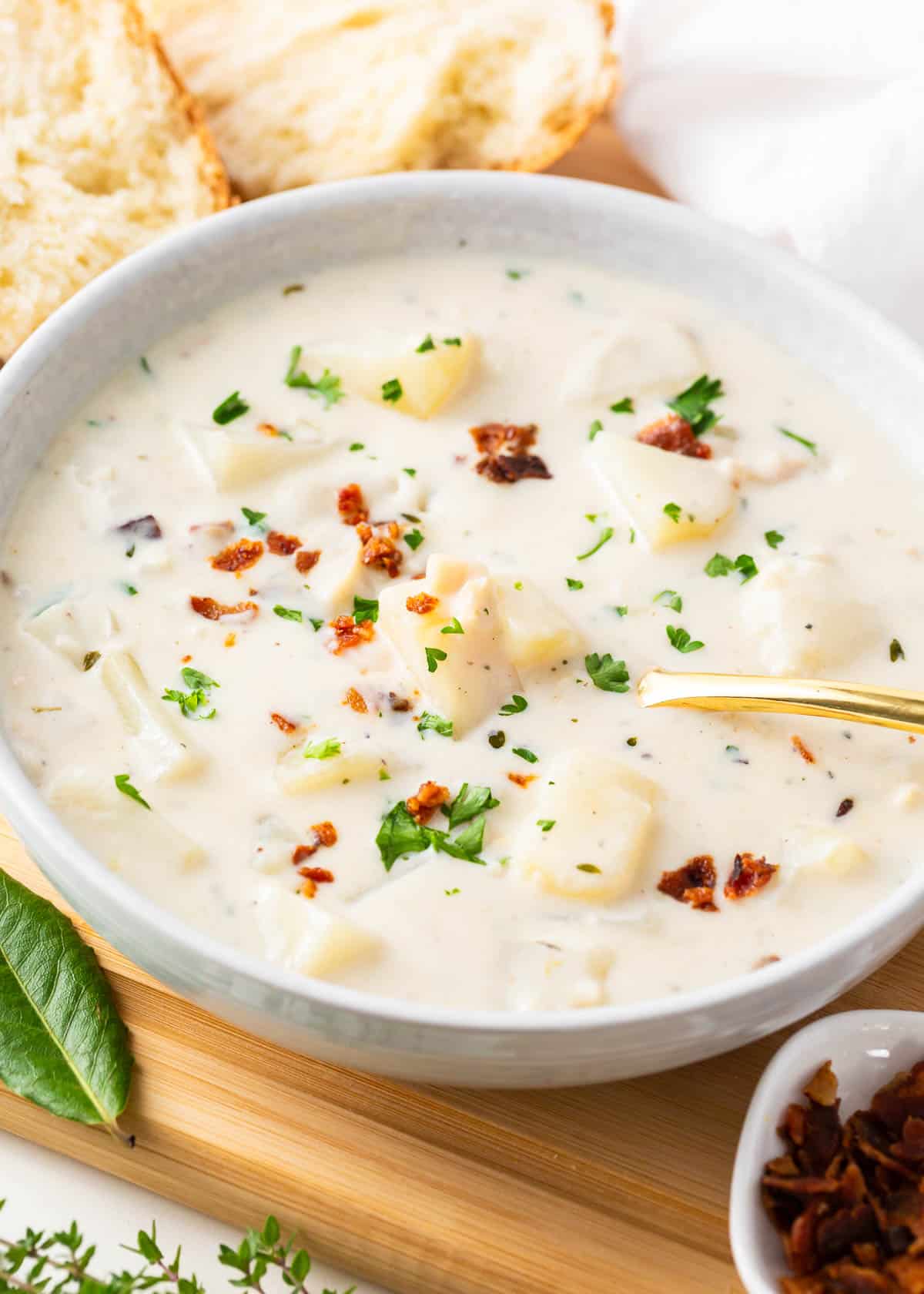 More Seafood Recipes
HUNGRY FOR MORE? Subscribe to my newsletter and follow on Facebook, Pinterest and Instagram for all the newest recipes!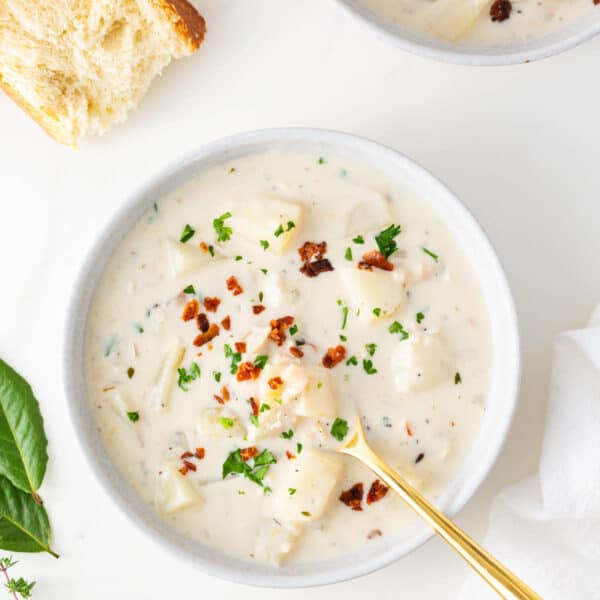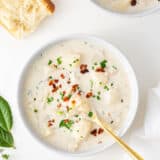 Clam Chowder
Curl up and indulge in the most comforting bowl of soup you'll ever make. Every bite of this clam chowder recipe is thick, smooth and will make you feel like you are in New England!
Ingredients
5 strips bacon
2 Tablespoons unsalted butter
3 garlic cloves , minced
½ cup chopped onion
½ teaspoon dried thyme
3 Tablespoons all-purpose flour , plus 1-2 Tablespoons more for a slurry if needed
2 cups chicken broth
2 (6.5-ounce) cans chopped clams , juices reserved
1 bay leaf
2 russet potatoes , peeled and chopped
2 cups half-and-half , warmed
Kosher salt , to taste
Ground black pepper , to taste
2 Tablespoons chopped fresh parsley
Instructions
In a large pot, cook the bacon over medium-high heat. Once cooked, remove and place on a paper towel-lined plate. Leave about 1/2 Tablespoon grease in the pot. Once cool, crumble and set aside for serving.

Add the butter, garlic, and onion, and cook 3 minutes, or until onions are translucent. Stir in thyme until fragrant, about 1 minute.

Whisk in the flour until browned, about 1 minute. Slowly whisk in chicken broth, reserved clam juice, and bay leaf. Whisk constantly until slightly thickened, about 1-2 minutes. Add the potatoes.

Bring to a light boil and reduce heat. Simmer 12 to 15 minutes, or until the potatoes are fork tender.

Stir in the half-and-half and clams 1 to 2 minutes, or until heated through. If the soup is too thin, make a slurry by whisking 1/2 cup soup into 1 to 2 Tablespoons flour or cornstarch in a separate bowl until smooth. Return the slurry to the soup and whisk until thickened. If the soup is too thick, add a little more half-and-half. Remove from heat and season with salt and pepper.

Top with bacon and parsley to serve.
---
Notes
Fresh clams: Use 1 to 2 heaping cups of chopped fresh clams (cleaned and steamed) with 1.5 cups of clam juice in place of the canned, if preferred. Store: This chowder will stay fresh in the refrigerator for about 3-4 days.
Nutrition
Calories: 299kcal | Carbohydrates: 22g | Protein: 8g | Fat: 21g | Saturated Fat: 11g | Polyunsaturated Fat: 2g | Monounsaturated Fat: 7g | Trans Fat: 0.2g | Cholesterol: 52mg | Sodium: 467mg | Potassium: 492mg | Fiber: 1g | Sugar: 5g | Vitamin A: 529IU | Vitamin C: 8mg | Calcium: 111mg | Iron: 1mg
Nutrition provided is an estimate. It will vary based on specific ingredients used.
Did you make this recipe? Don't forget to give it a star rating below!