Crispy Lemon Baked Fish with Parmesan Fries – A healthy and simple baked fish recipe topped with citrus and herb-seasoned breadcrumbs. An incredibly easy weeknight dinner to cook in the oven!
I love fish and chip combos, but sometimes want a healthier version without all of the frying. With this baked fish recipe, you still get the crispy texture and a ton of fresh flavor. It's one of my favorite healthy dinner ideas.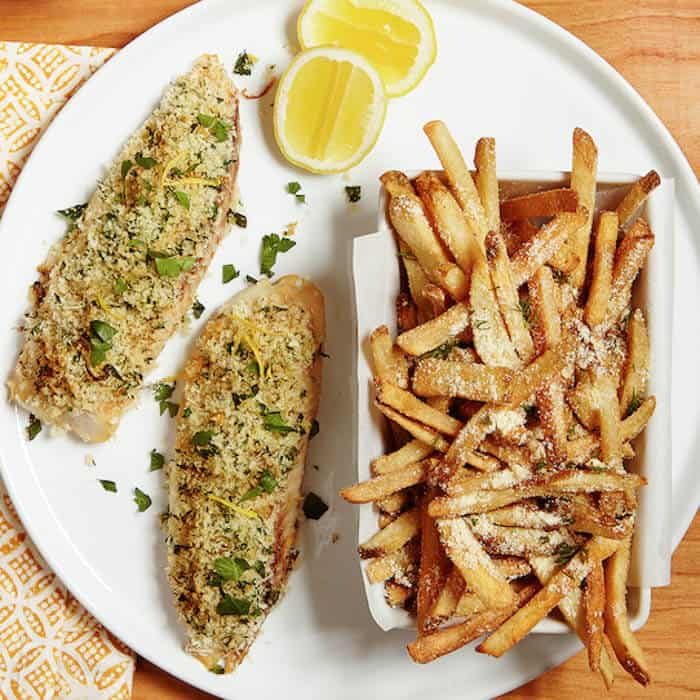 This baked fish recipe is so easy, healthy and is the perfect weeknight meal that comes together in a matter of minutes. The trick is using course breadcrumbs (such as panko) and finishing the fillets under the broiler. This gives it the texture of fried fish, but way healthier and lighter! I also used olive oil instead of butter to coat the breadcrumbs to keep it on the healthy side.
The herbs and lemon zest included in the breadcrumb mixture give the lemon fish that perfect extra boost of fresh flavor. I used fresh herbs and lemon zest, but feel free to use dried herbs. The frozen fries are pretty awesome too! They bake in the same oven as the lemon fish, which makes it so easy!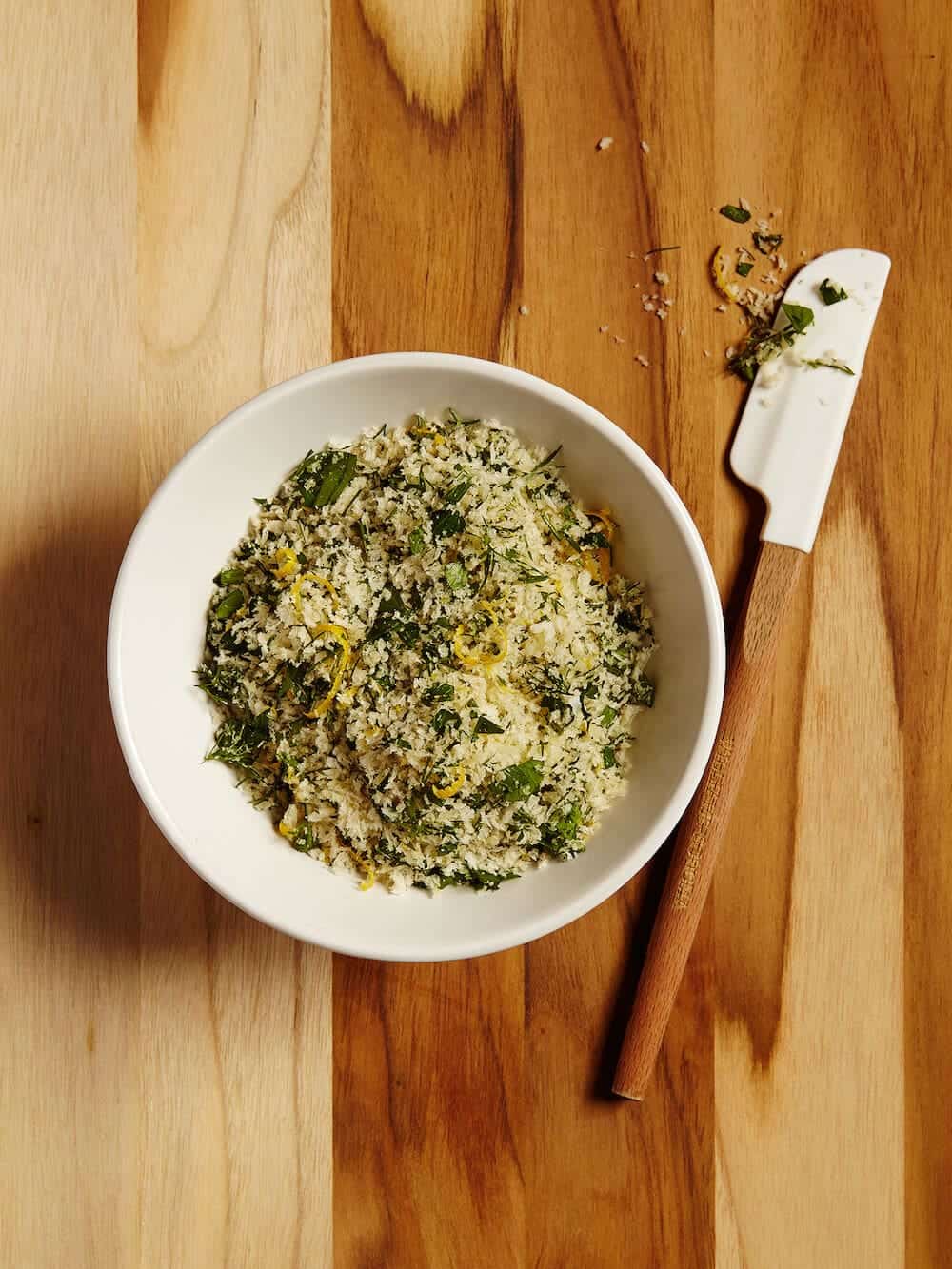 Type of fish to use
This recipe calls for white fish. Since there are many different kinds, I recommend using 4 medium-sized fillets, or 8 small fillets. White fish is not a type of fish – it just means it's mildly flavored, firm or flakey and is usually not very expensive.
The most popular kinds that you'll find at your bulk market or the grocery store are tilapia, cod, bass, haddock, catfish and snapper. They are all great for frying, sauteing, chowders and baking. If you love cod, make sure to check out this garlic butter cod fish.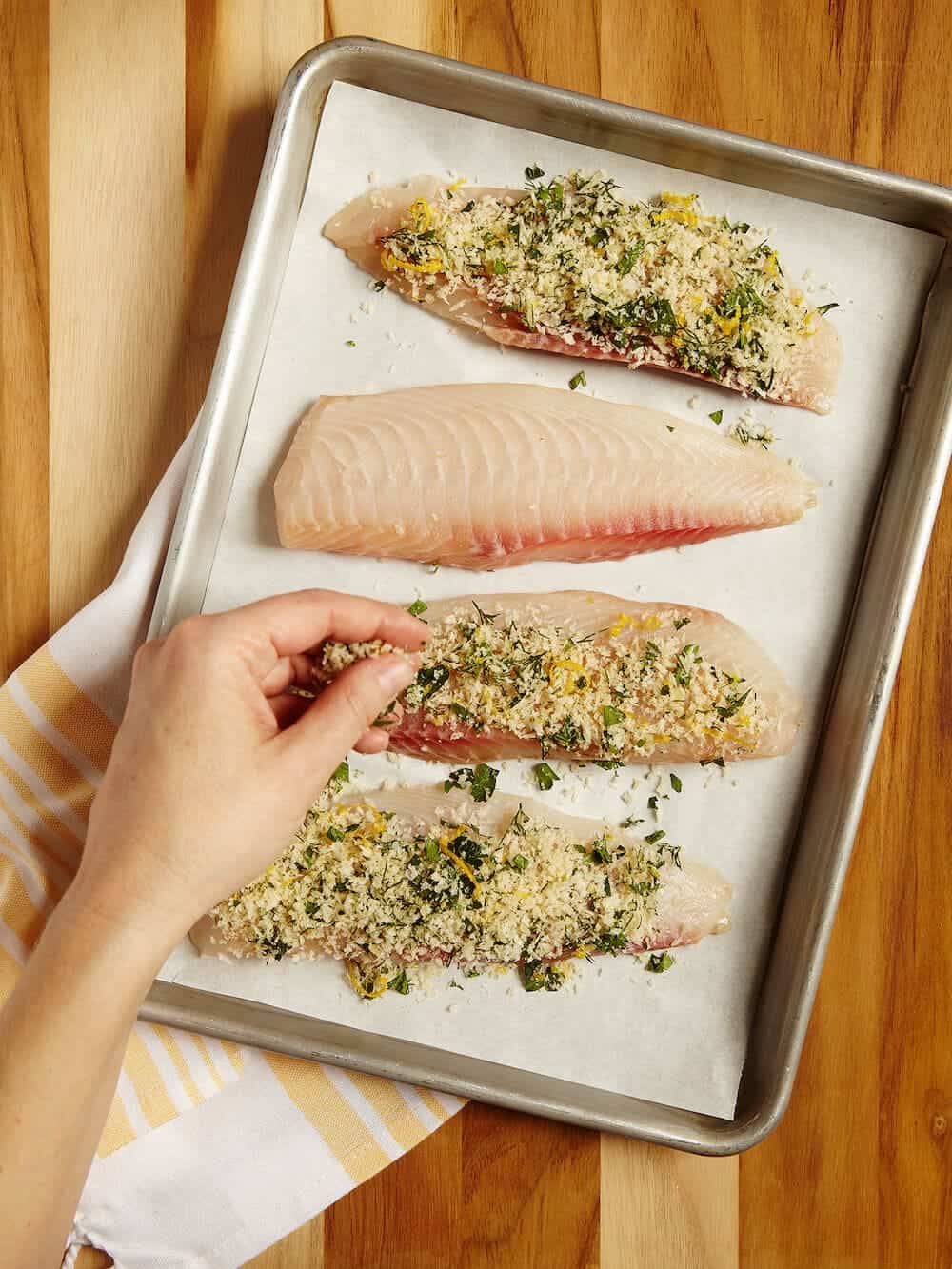 How to make oven baked fish
Coat fish in breadcrumb mixture. In a medium bowl, mix together the breadcrumbs, lemon zest, parsley, dill, salt and olive oil. Place the fish on a parchment lined baking sheet, then sprinkle the breadcrumbs on top. Drizzle with lemon juice and season with extra salt.
Cook the fries. Begin cooking the fries in the oven according to package directions.
Bake fish in oven. When the fries have about 10 minutes left, add the fish to the oven. Remove the fries when done, but continue to cook the fish until cooked through, about 15 minutes. Remove from oven and turn on the broiler.
Broil the fish. Place the fish under the broiler for about 1 minute, or until the breadcrumbs are golden and crispy.
Serve and enjoy! Toss the fries with parmesan and serve with the baked fish, lemon wedges and tartar sauce.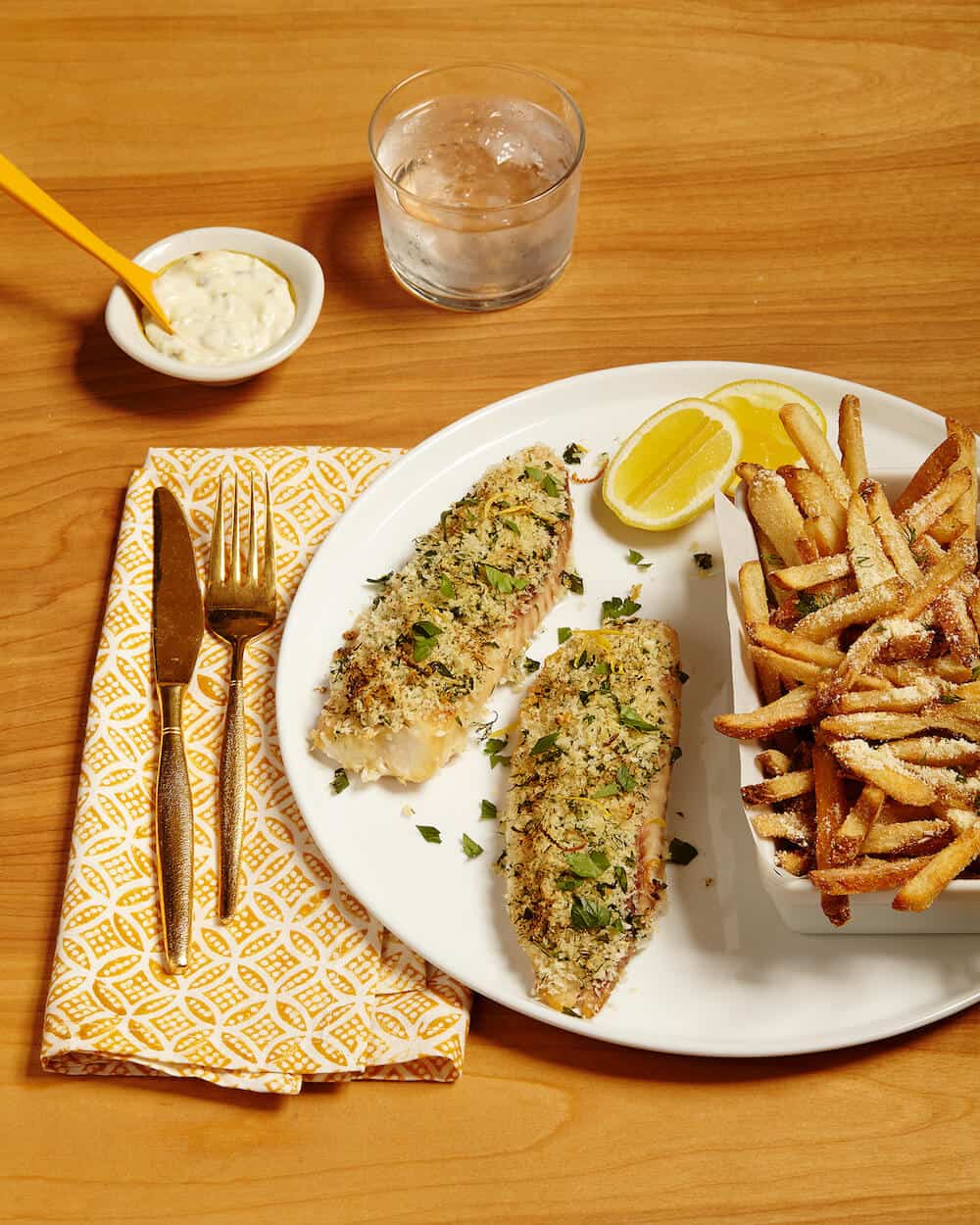 More easy-to-make dinners: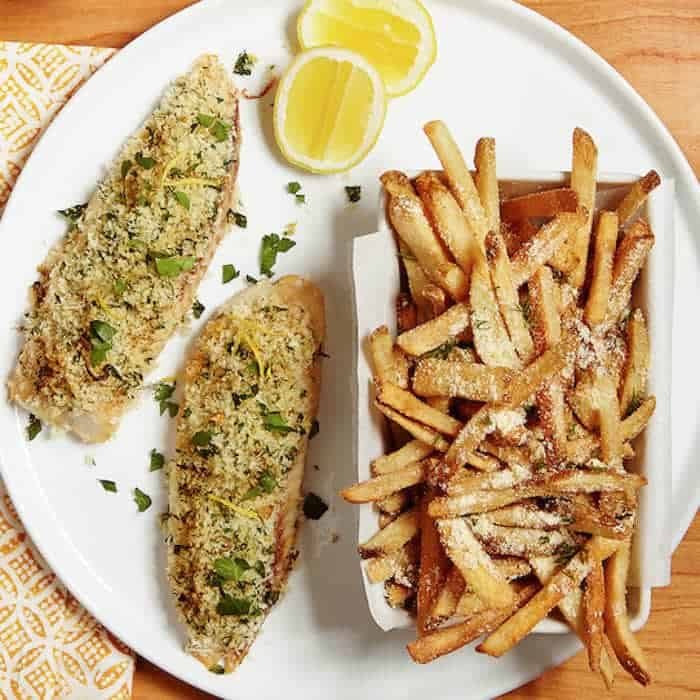 Crispy Lemon Baked Fish
A healthy and simple baked fish recipe topped with citrus and herb-seasoned breadcrumbs. An incredibly easy weeknight dinner to cook in the oven!
Ingredients
Fish
1 cup panko breadcrumbs
1-2 Tablespoons olive oil
2 teaspoons lemon zest
1/2 cup chopped flat-leaf parsley
1 Tablespoon fresh dill
1 teaspoon kosher salt
4 medium white fish fillets, skinless (or 8 small firm white fish fillets)
2-3 Tablespoons lemon juice (plus lemon wedges for serving)
Instructions
Heat oven to 400ºF and center two racks. Mix together the breadcrumbs, olive oil, lemon zest, parsley, dill and salt. Line a baking sheet with parchment and place fish on the baking sheet. Sprinkle the breadcrumb mixture on top of the fish, then drizzle with lemon juice and season with extra salt.

Add the fish to the lower rack in the oven. Cook about 15 minutes total. Remove from oven and heat broiler.

Place fish under broiler about 1 minute until breadcrumbs are browned and crisp. Toss fries with Parmesan and serve with fish, lemon wedges and tartar sauce on the side.
---
Notes
Tartar sauce:
1/2 cup mayo
1/3 cup finely chopped dill pickle
1 Tablespoon chopped dill or parsley
1-3 teaspoons fresh lemon juice, to taste
1 teaspoon sugar
Salt and pepper, to taste
Combine the ingredients in a small bowl. Mix until combined.
Calories: 736kcal | Carbohydrates: 63g | Protein: 44g | Fat: 35g | Saturated Fat: 10g | Cholesterol: 92mg | Sodium: 1744mg | Potassium: 1326mg | Fiber: 8g | Sugar: 1g | Vitamin A: 705IU | Vitamin C: 24.9mg | Calcium: 163mg | Iron: 4.5mg
Photography and recipe contributed by Tara of TaraTeaspoon for I Heart Naptime.