Pan seared salmon is an easy yet impressive recipe made by cooking flavorful pieces of salmon in a skillet until tender and flaky with an irresistible golden top sear and crispy bottom skin!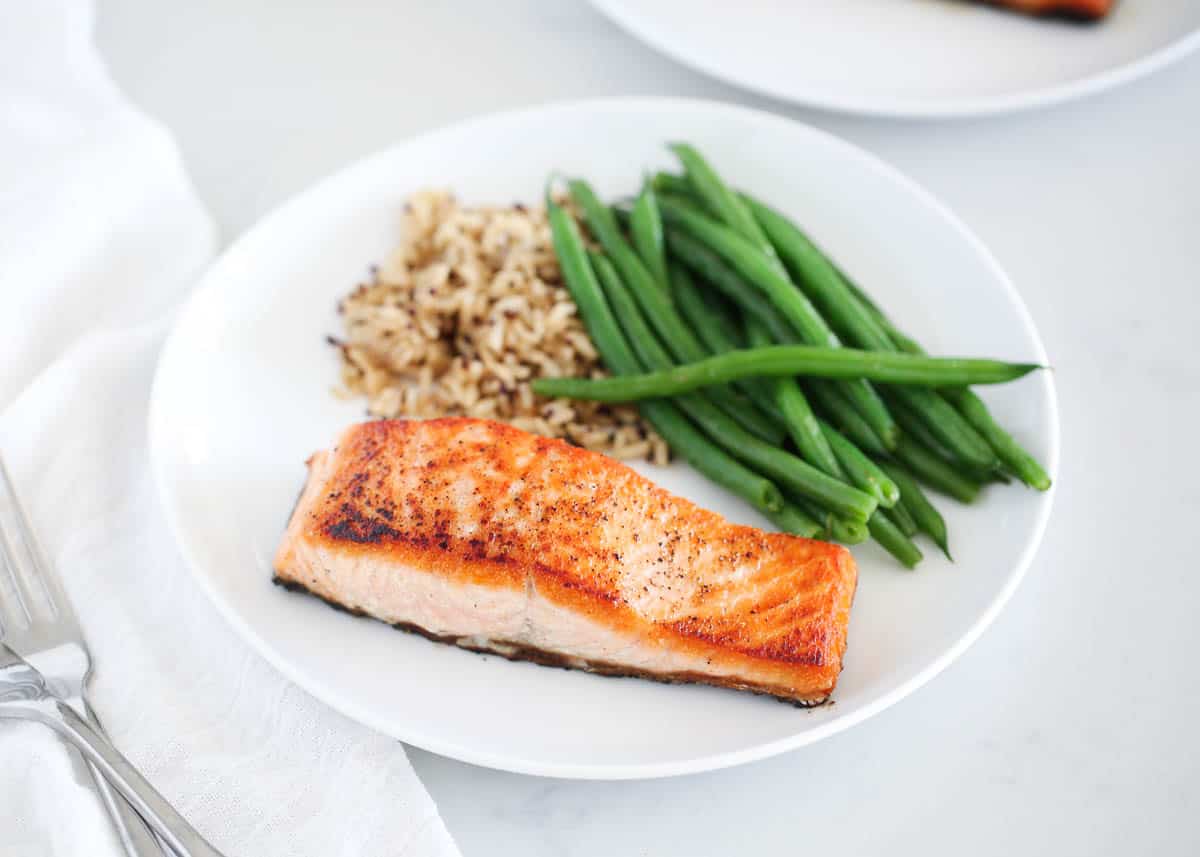 Easy Pan Fried Salmon
This pan-seared salmon recipe has always been one of my favorite healthy dinner ideas because it's fast, easy, low maintenance and always ends up looking like something you could order at a fine dining restaurant.
I find salmon to be so versatile, whether it's grilled salmon or balsamic glazed salmon it always seems to deliver. Plus, it's giving us our Omega 3s which means it's on the weekly menu rotation. Since that's the case, I like to have a few different recipe options!
This recipe requires no fancy equipment or ingredients, just 10 minutes, a skillet, and a little salt and pepper. I'll walk you through the simple pan-searing technique to getting perfectly cooked, tender salmon every time!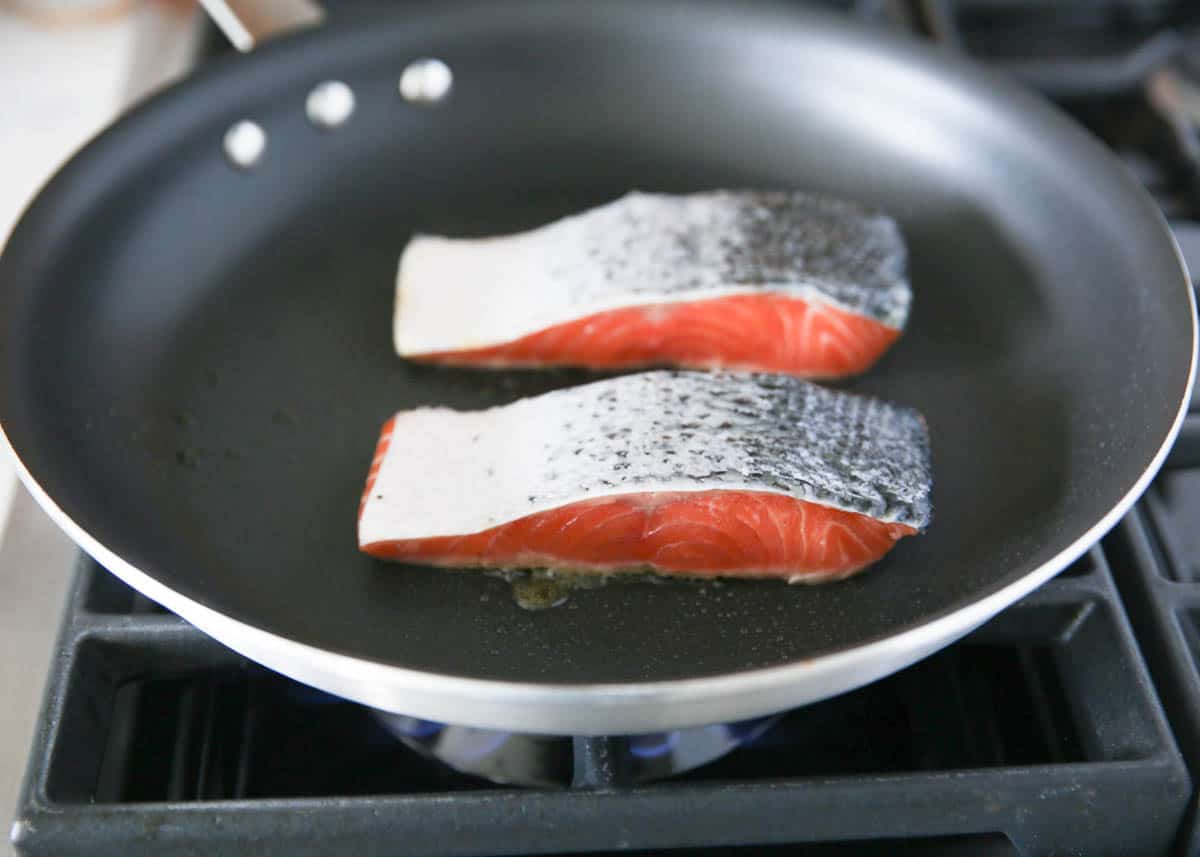 How to Pan Fry Salmon
Pat dry the outside of the fish with paper towels. Getting rid of the excess moisture will help get a really nice sear on the fillets which is also what gives it so much extra flavor.
Drizzle with either olive oil or avocado oil (both have a high heat tolerance and are neutral in flavor). Sprinkle with salt and black pepper.
Heat oil in a heavy bottom nonstick skillet or pan over medium-high heat. Once the pan is hot, add each piece of salmon skin side up. Let the flesh side cook undisturbed for about 5 minutes, then flip and cook for another 3 minutes.
Transfer the fillets to a plate to rest before serving. Squirt with a bit of fresh lemon juice over top and sprinkle with fresh herbs like parsley or dill. Enjoy!
How Do I Know When My Salmon is Done?
Salmon doesn't take long to cook at all, so it is harder to undercook than it is to overcook it. It should be flaky and pull apart easily, be light pink, and opaque. To be sure, I always say use a thermometer for accuracy. It should read 130 degrees F.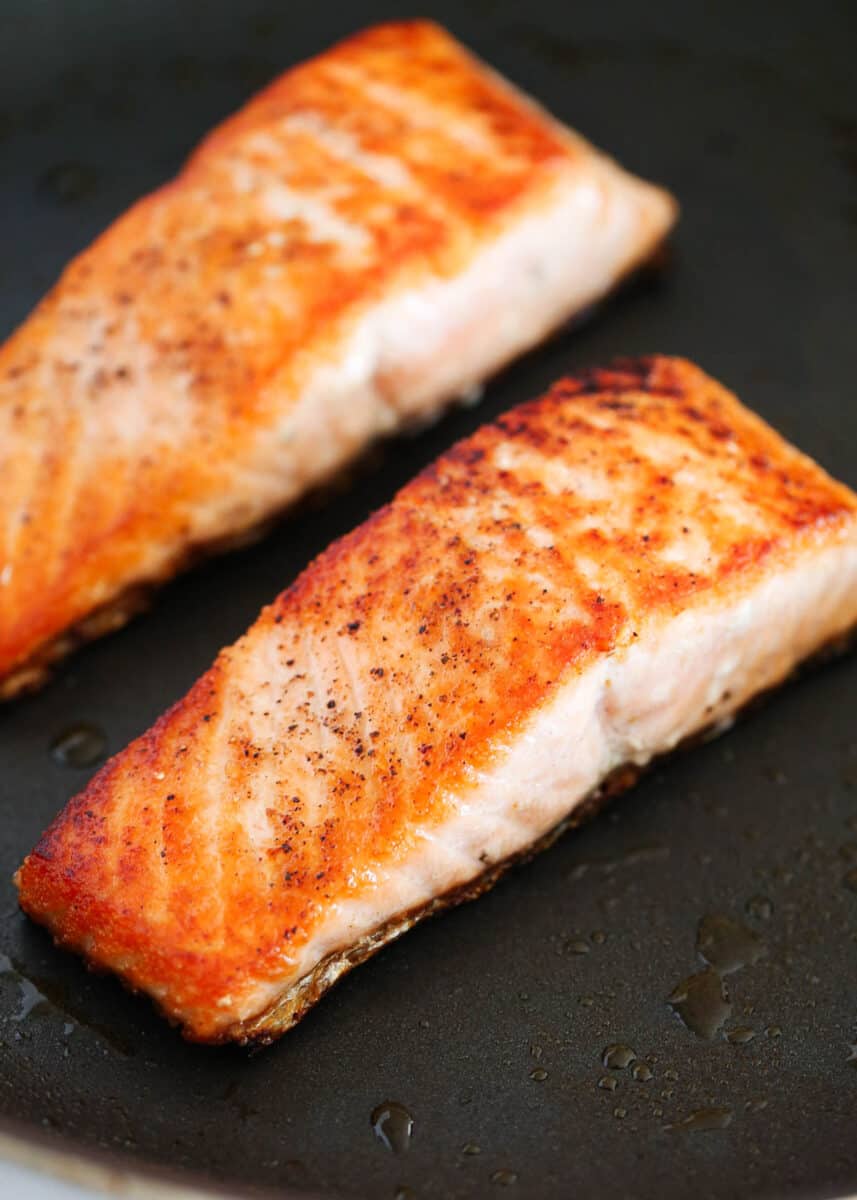 Tips for How to Cook Salmon in a Pan
Bring the fillets to room temperature for 10 minutes before you begin. It will be much easier to get a good initial sear if the temperature of the fish isn't too cold.
Do not use frozen salmon, always ensure it thaws first.
If you notice the fish burning, turn the heat down.
A fish spatula is great to keep on hand if you make delicate fish often. It's longer than your average spatula which is helpful to keep the entire piece of fish intact.
Allowing the salmon to rest before serving gives it a chance to settle down and the insides of the fillets redistribute the juices.
What to Serve with Salmon
Serve this flavorful fish for a quick weeknight meal with a side of rice or cilantro lime rice and oven-roasted veggies or present it as an elegant Sunday dinner with a side of bacon wrapped asparagus and homemade tartar sauce or garlic aioli for dipping.
Keep it light for lunch and serve with a side strawberry spinach salad and/or roasted broccoli and cauliflower. You could even sauté some onions and tomatoes in the pan and serve that along with the fish.
Capers are always a popular choice with fish as is garlic herb butter or some extra lemon wedges!
How to prevent it from sticking?
There are a few tips to prevent your salmon sticking to the pan. First, preheat your pan before adding the salmon. Next, don't skip patting drying your salmon as moisture can cool down the pan and lead to sticking.

Most importantly, don't try to flip it too soon! If you flip it too soon, it will stick and not release. A thin fish spatula can help you wiggle it below hot pan and salmon. If it's sticking, wait another minute and try again.
Should I pan sear salmon skin side up or down first?
This really depends on if you plan on eating the skin. I don't eat the skin, so I pan fry with the skin side up. If you love super crispy skin to eat though, start with the skin side down.
Should I flip salmon when pan searing?
Yes. This ensures nice and crispy edges all around.
What can I do with leftover salmon?
There are so many ways to use your leftover pan-fried salmon. Add it to scrambled eggs or avocado toast for breakfast. For lunch, use it in place of chicken in this cobb salad. You can eat it cold or warm up slightly in the microwave.
Storing & Reheating
Store: Keep leftovers stored in an airtight container for up to 2 days.
Reheat: Salmon can be eaten cold straight out of the fridge in a wrap or salad or reheated in the microwave or skillet over low heat.
More Delicious Recipes:
HUNGRY FOR MORE? Subscribe to my newsletter and follow on Facebook, Pinterest and Instagram for all the newest recipes!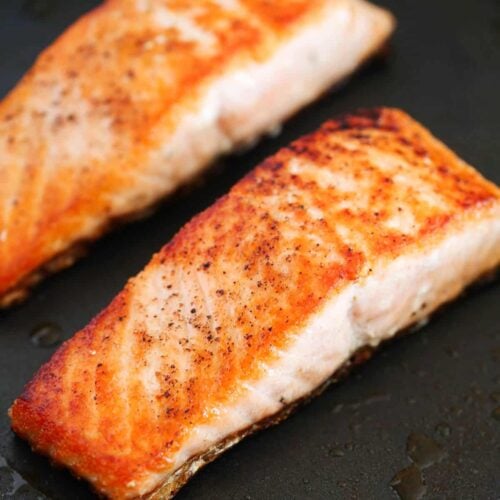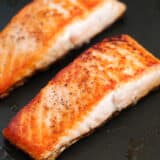 Pan Seared Salmon
Pan seared salmon is an easy yet impressive recipe made by cooking flavorful pieces of salmon in a skillet until tender and flaky with an irresistible golden top sear and crispy bottom skin!
Ingredients
2 salmon fillets , about 6 ounces each
1 teaspoon avocado oil , or olive oil
1 teaspoon unsalted butter , optional
Fine sea salt ot table salt , to taste
Ground black pepper , to taste
Lemon wedges
Chopped parsley , optional
Instructions
Remove salmon from the refrigerator and let rest for about 10 minutes before preparing. Do not use frozen salmon, it must be thawed. Then pat the fillet dry with a paper towel. Drizzle top with a little olive oil and sprinkle with salt and pepper.

In a heavy bottom skillet, heat the butter and oil over medium-high heat. Once the pan is hot, add the fillets, skin side up. Cook undisturbed for about 5 minutes. Lower the heat to medium if it's burning.

Flip the salmon and cook an additional 3 minutes, or until the internal temperature reaches 130°F. Remove to a plate and let rest a few minutes before serving.

To serve, squeeze fresh lemon juice over the fillets and sprinkle with parsley, if desired.
---
Notes
Storage: Store leftover salmon in a covered container in the refrigerator for up to 2 days. I don't recommend freezing. Reheat in the microwave or in the skillet over low heat.
For serving: Try this salmon with our homemade tartar sauce.
Nutrition
Serving: 1fillet | Calories: 279kcal | Protein: 34g | Fat: 15g | Saturated Fat: 3g | Polyunsaturated Fat: 5g | Monounsaturated Fat: 6g | Trans Fat: 1g | Cholesterol: 99mg | Sodium: 93mg | Potassium: 834mg | Vitamin A: 130IU | Calcium: 21mg | Iron: 1mg
Nutrition provided is an estimate. It will vary based on specific ingredients used.
Did you make this recipe? Don't forget to give it a star rating below!