All of my best tips and tricks for hosting the perfect cookie exchange. Includes free printable invites, rules, cookie labels, voting ballets and more!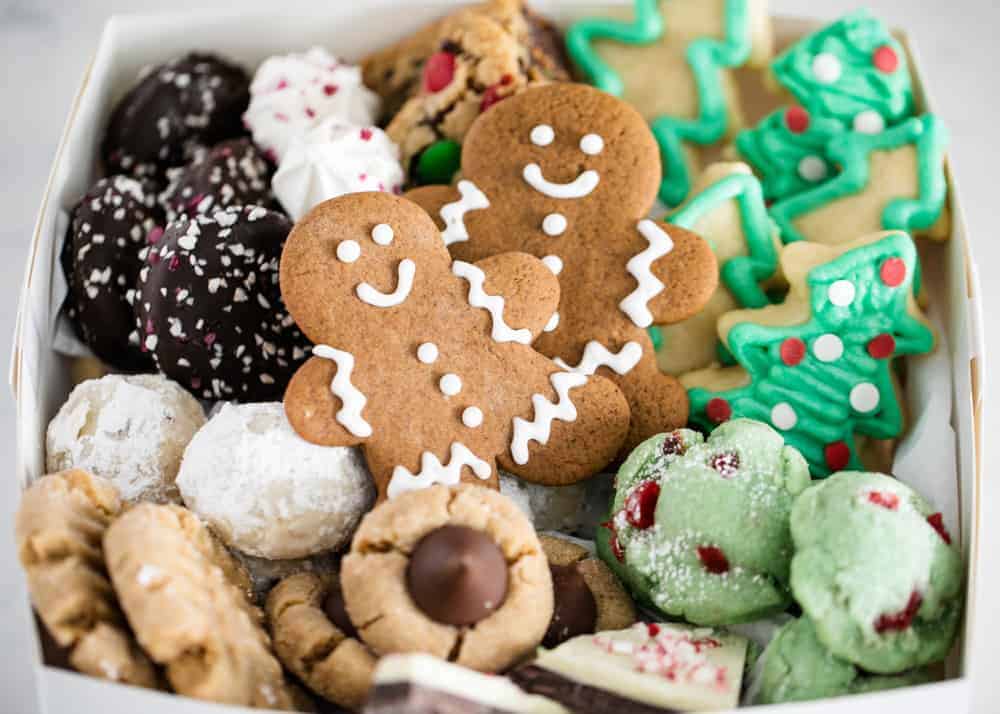 Favorite Holiday Tradition
One of my favorite things about Christmas time is all of the holiday baking. I look forward to it each year and always a few favorites on my list. And what better way to showcase all of the wonderful Christmas cookie recipes than a cookie exchange? It's a must each season!
I'm excited to be sharing one of my favorite holiday traditions with you: hosting a cookie exchange! I look forward to cookie swaps during the Christmas season and have so much fun baking and trying all the delicious cookies. It's such a fun holiday activity and a great way to celebrate the season with friends and family.
If you've never hosted a cookie exchange before, you may not know where to begin. Good news! I'm laying it all out here for you so that hosting your next cookie swap is a breeze. I even have some free printables that will add a cute and more festive touch to your party.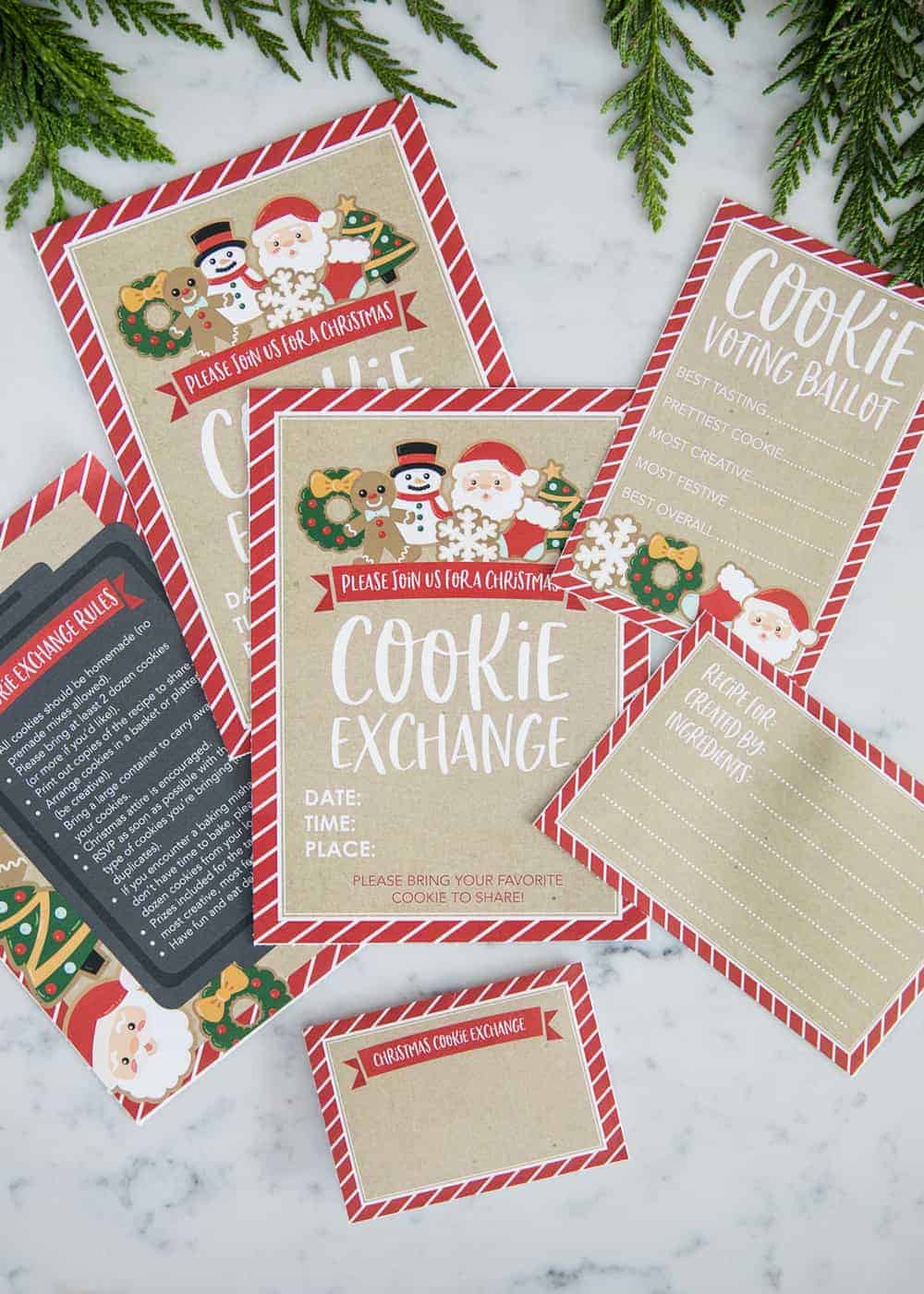 Supplies
Wondering what you'll need for the big cookie day? Check out my list of essentials below. This includes everything you'll need to make your cookie exchange a success! You can keep it as simple as you'd like.
Party Planning Printables
Invites: Just fill out the date, time and place and send to your guests! Or use an evite to make it easier.
Rules template: An easy list of guidelines to send to your guests along with the invite. No need to follow the rules though.
Cookie labels: Place a label next to each plate of cookies so they're easily identifiable. List any allergies.
Recipe cards: Have a handful available so that guests can write down any favorites. Or you could have your guest bring a printed copy.
Voting ballots: Have everyone vote on the top cookie to win a fun prize!
Other Supplies
Boxes for guests to pack up cookies to take home (or tell guests to bring their own).
Serving tray to make a Christmas dessert board with any extra treats for guests to munch on (M&M's, peppermint bark, etc.)
Festive decorations like garland, etc.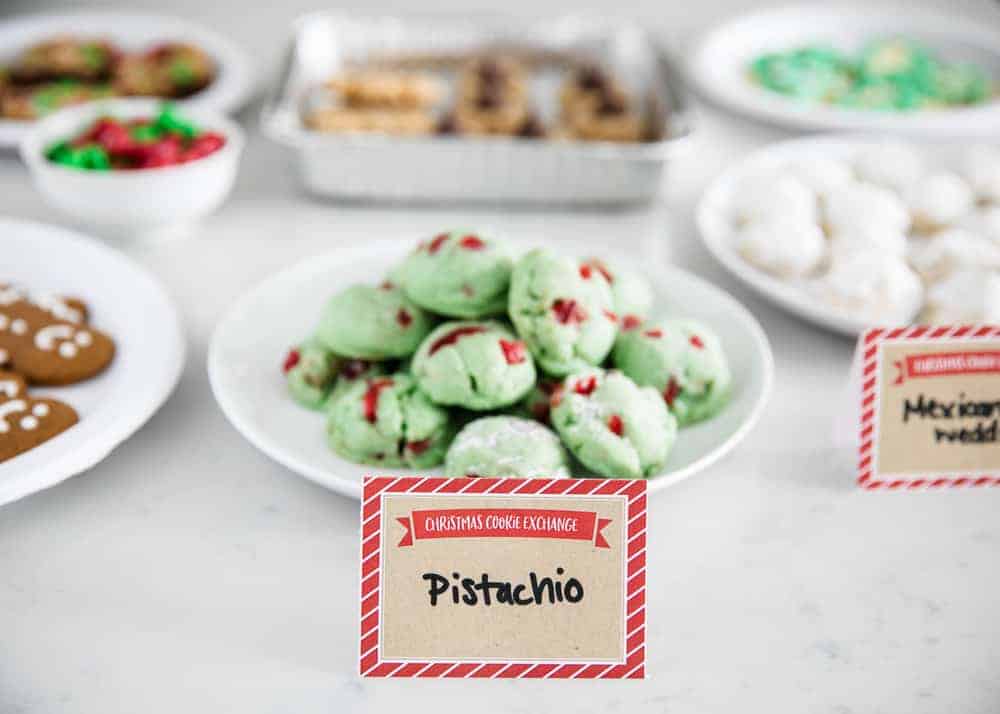 Cookie Exchange Rules
One of the first things you have to decide on are the rules and guidelines you want for your party. I've laid out a general guideline of 10 rules below, but you can always alter this based on your preference. Keep it as simple as you'd like.
All cookies should be homemade.
Please bring at least 2 dozen cookies (or more if you'd like!).
Print out copies of the recipe to share.
Arrange cookies in a basket or platter (be creative!).
Bring a large container to carry away your cookies.
Christmas attire is encouraged. Pull out those jingle bell earrings.
RSVP as soon as possible with the type of cookies you're bringing (so we don't have duplicates).
If you encounter a baking mishap or don't have time to bake, please bring 2 dozen cookies from your local bakery, or simply grab a box of Peppermint Jo Jo's if you really need to.
Prizes included for the tastiest cookie, most creative, most festive and more!
Have fun and eat delicious cookies with friends!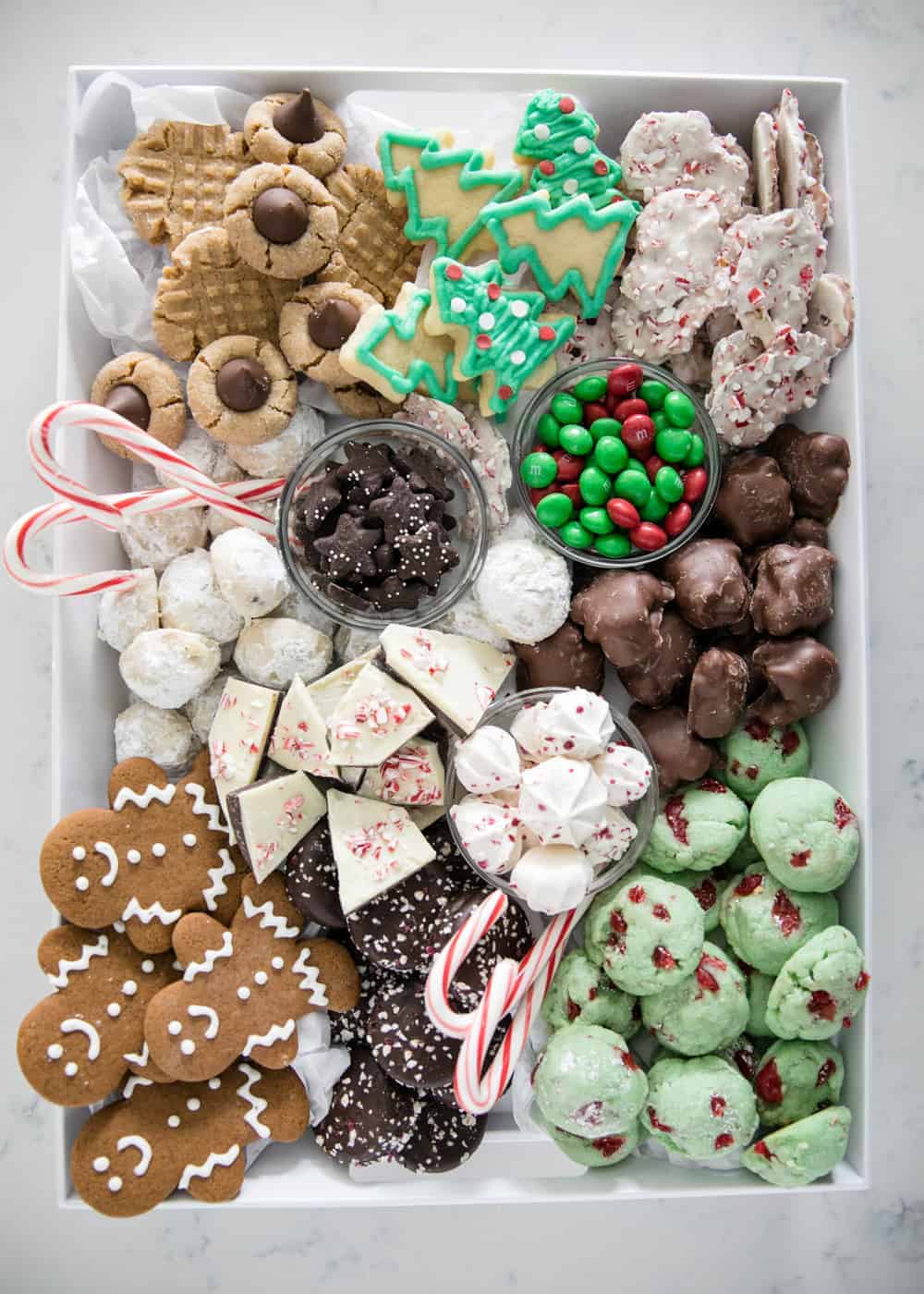 Things to Consider When Deciding on Rules
Do I want this to strictly be a cookie exchange, or am I fine with all homemade treats?
I wanted mine to be strictly a cookie exchange, so I specified as such in the invitation and I also excluded no bakes and mixes. I wanted homemade cookies, not lemon bars or chocolates. I found you have to be super specific in the rules as, but you can also leave it open. :)
Will I allow for duplicates?
For voting purposes, I don't allow for duplicates. The first person to email me and dibs their cookie is the winner.
How many cookies do I want each person to make?
I've found that 2 dozen cookies is a good amount. It's enough for guests to both enjoy at the party and then also take home. Plus, most cookie recipes make at least 24 servings, so 2 dozen is perfect.
Will there be prizes? What will they be for?
This is a heck yes in my book! It's fun to vote for a winner and let's be honest…doesn't everyone like to be told that their baking skills are awesome? :) My voting ballet is for best overall, best tasting, prettiest cookie, most creative and most festive. Best overall always wins a handmade apron.
What does someone do if their cookies burn or the recipe doesn't work out?
Let's face it, sometimes things just go wrong and you have to have a plan for your guests if something doesn't work out. If so just head to a bakery (Costco has some great options too) and buy homemade cookies. If you really need to, grab a box of yummy store bought. It's better to just have the guests come!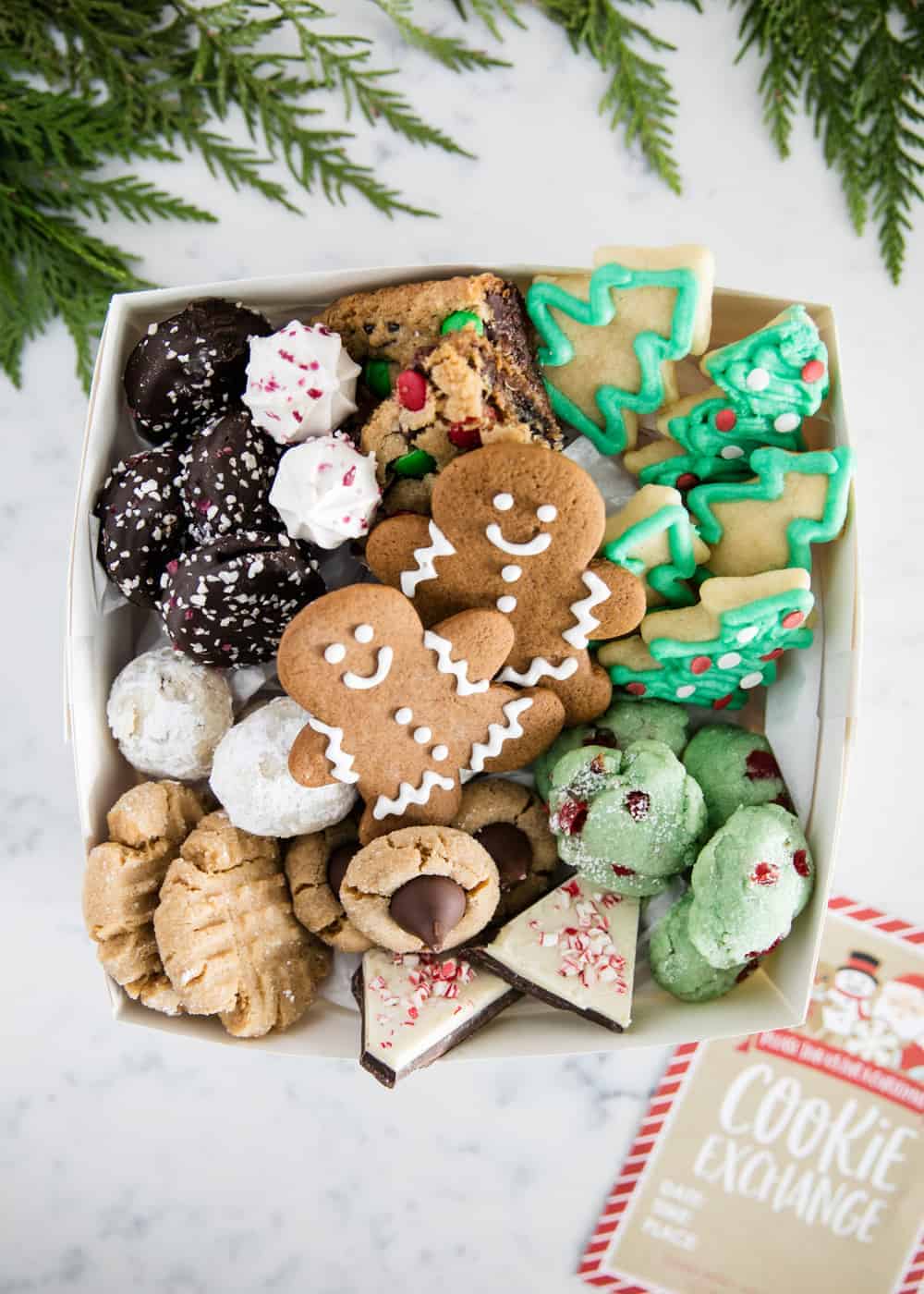 Easy Christmas Cookies for Cookie Exchange
You don't have to be an experienced baker to host or attend a cookie exchange. There are plenty of easy Christmas cookies that are perfect for beginner bakers. Below are a few of my favorites: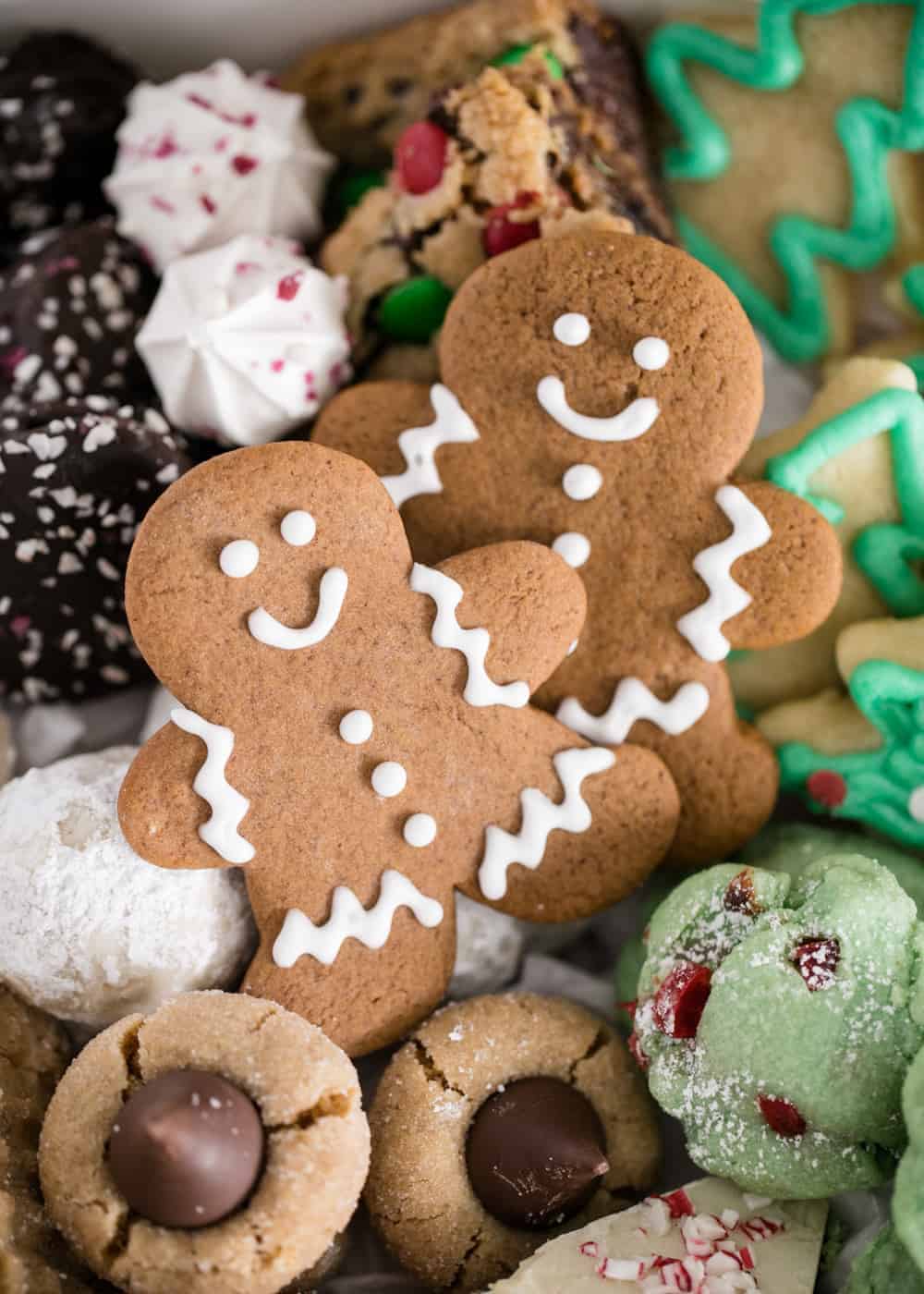 A Few Other Things to Keep in Mind
Give your guests plenty of notice. I think 3-4 weeks is perfect.
Host it early in the month. December is busy and it gets harder and harder to get people there the closer you get to Christmas.
Consider having other activities like a white elephant or favorite things game. They are always so fun and full of laughs.
You could also serve a few savory snacks and drinks. Just advise your guests not to eat before they come.
Request a final RSVP at least one week before the event. This way those that are coming will know exactly how many cookies to bring.
Have fun!