Cinnamon Roll Sugar Cookies
Cinnamon Roll Sugar Cookies by Alicia of The Baker Upstairs for I Heart Naptime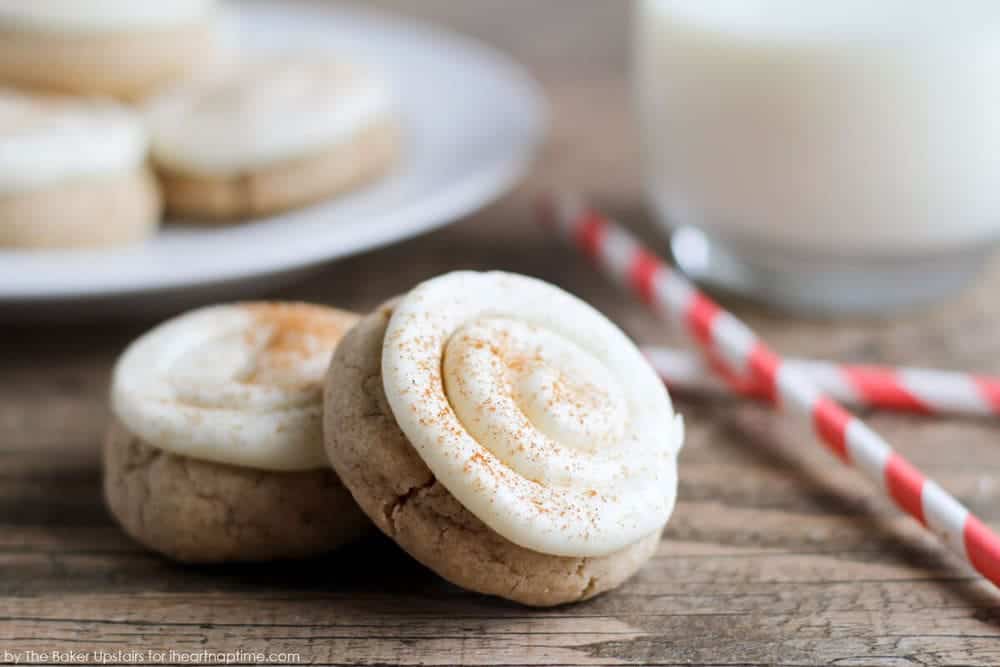 Cinnamon rolls + cookies = genius, right? I absolutely love cinnamon rolls, but for some reason they are one of those things that I struggle a lot with making. Plus they feel like so much work! I adore sugar cookies, and decided to try a combination of the two. The result was a rich, soft, cinnamony sugar cookie topped with a luscious cream cheese frosting and a little sprinkle of cinnamon. They are to die for!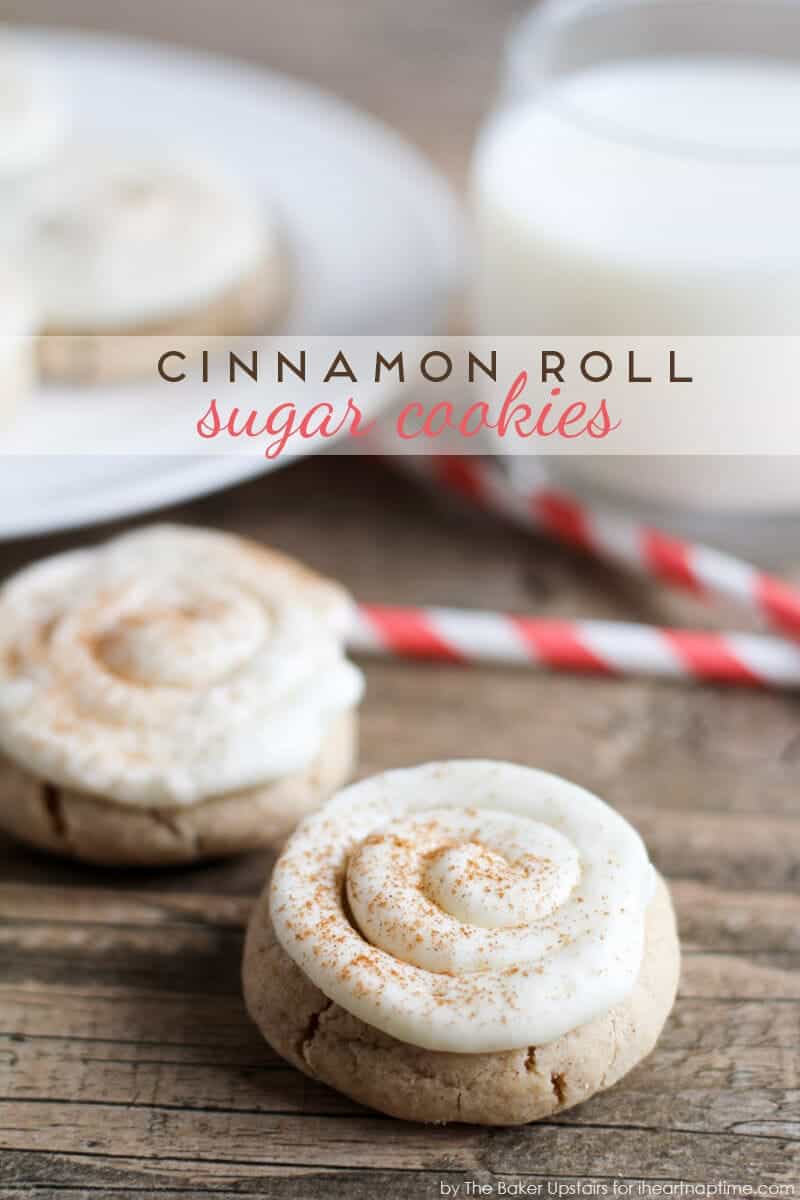 I had seen some similar cookies on Pinterest a while ago, but thought it would be fun to see if I could adapt my favorite soft sugar cookie recipe to make a cinnamon version. The result was perfect! I'm kind of amazed at how just a few little tweaks can make such a big difference in the flavor of the cookie. These are a new favorite with my whole family, and the batch I made was gone within 24 hours. Yum!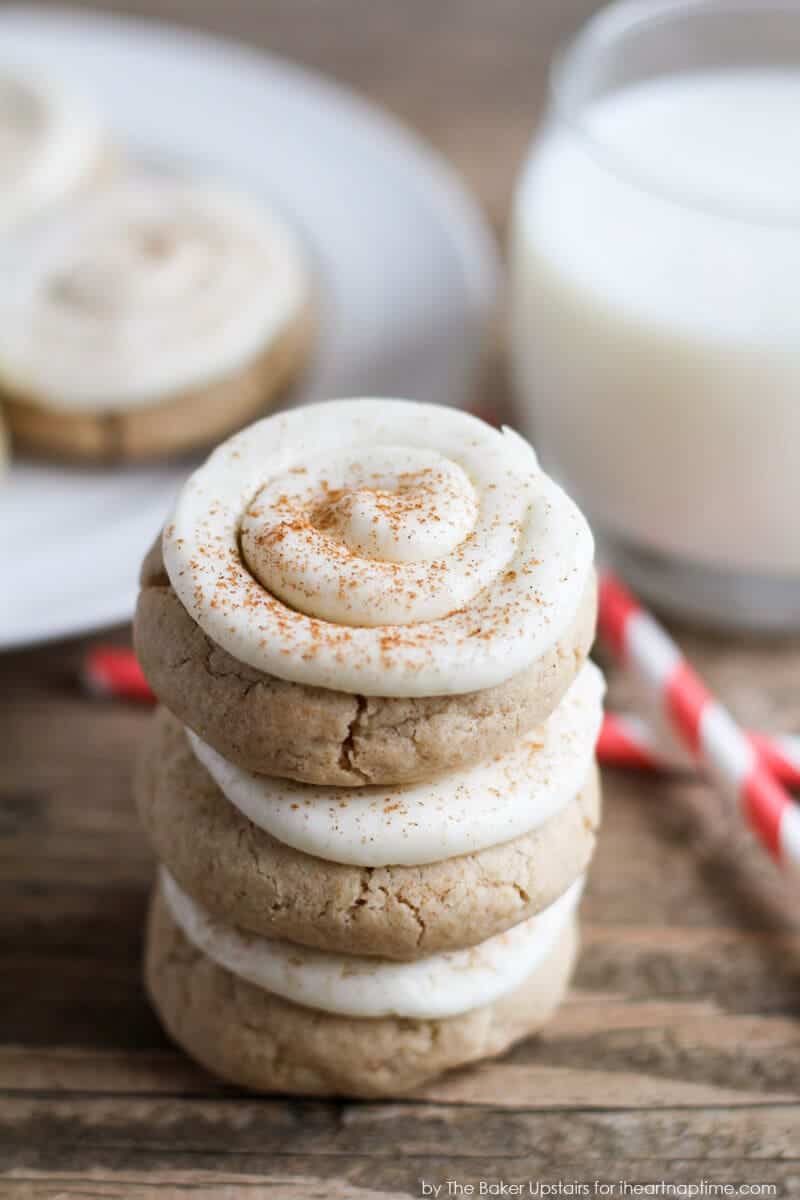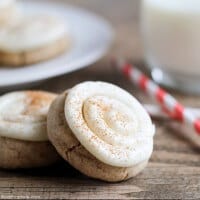 Cinnamon Roll Sugar Cookies
Ingredients:
for the cookies:
1 cup (8 ounces) butter, softened
1 cup sugar
2 eggs
1 tablespoon vanilla
3 cups flour
3 teaspoons baking powder
2 teaspoons ground cinnamon
1/2 teaspoon salt
for the frosting:
4 ounces cream cheese, softened
8 tablespoons (4 ounces) butter, softened
2 1/2 cups powdered sugar
1 teaspoon vanilla
1-2 teaspoons milk or cream (as needed)
additional cinnamon, for sprinkling
Directions:
In a large bowl or the bowl of a stand mixer, beat together the butter and sugar until light and fluffy. Add the eggs one at a time, followed by the vanilla, and mix well. Add the flour, baking powder, cinnamon, and salt, and mix until a firm dough forms. Chill 30 minutes.
Preheat the oven to 400. Roll the dough into one inch balls and place on baking sheets lined with parchment or sprayed with cooking spray. Flatten each ball slightly with your hand or with a drinking glass to be about 1/3-1/2 inch thick. Bake 8-10 minutes or until the bottom edges are just slightly golden brown. Remove and let cool before frosting.
To make the frosting, beat together the cream cheese and butter until light and fluffy. Add the powdered sugar and beat until smooth. Add the vanilla and milk as needed to reach desired consistency. Beat until light and fluffy. Pipe onto cooled cookies in a spiral shape and sprinkle with cinnamon.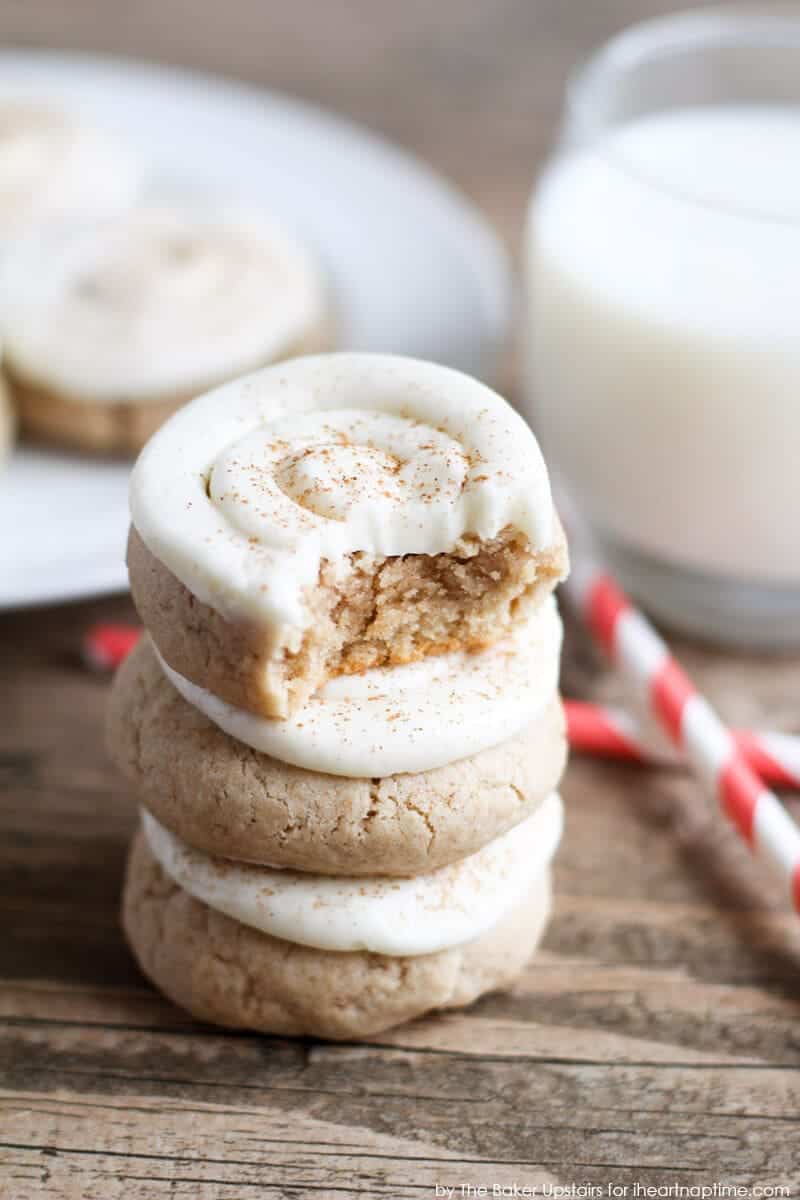 Join in! Leave a comment!
Comments