Jump to Recipe⌄
Christmas M&M cookie bars
Thanks for stopping by! To get the newest recipes subscribe or join us on facebook or pinterest.
I'm excited to share these delicious M&M cookie bars with you today! They are perfect for a cookie exchange or holiday party. Cookie bars have to be one of my favorites. I've made so many different versions and this one is delicious! I think I finally have perfected it… just in time for the holidays. ;)  Enjoy!
Christmas M&M cookie bars
Ingredients:
2 cups all-purpose flour
1/2 tsp baking soda
1/2 tsp baking powder
1 1/2 cubes of butter (12 TB) softened
1 cup sugar
1/2 cup brown sugar (packed)
2 eggs
1 tsp vanilla
11 oz bag mini baking M&M's (save a few to go on top)
Directions:
1. Combine flour, baking soda and baking powder in a medium sized bowl and set aside.
2. Mix together in a large bowl: sugar, brown sugar, butter, eggs and vanilla. Mix for about 1 minute, or until fluffy. Then slowly add the flour mixture to the wet ingredients.
3. Fold in m&m's and then place dough in a 13×9 baking sheet lined with foil. Then place a few M&M's on top.
4. Bake at 325 for 20-35 minutes (depending on oven), or until a toothpick comes clean.
(Optional) For glaze: Combine 1 cup powdered sugar + 1 TB milk and drizzle over cookies once cooled.
All images and text ©
Enjoy!!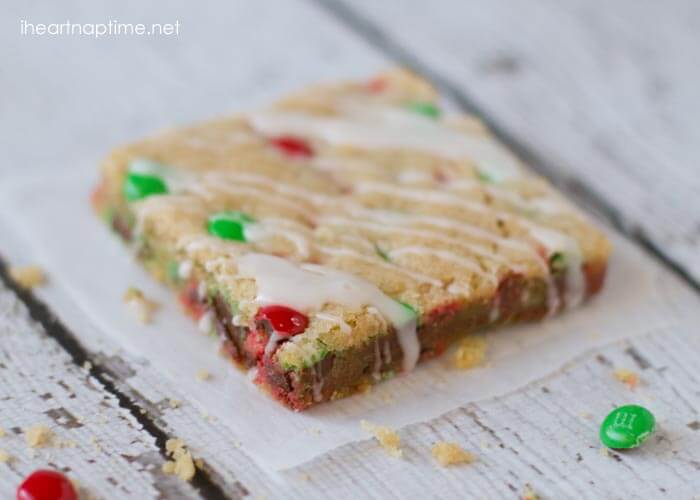 For more Christmas ideas make sure to check  out this post HERE. I hope you all have a Happy Holidays!
Also don't miss:

Homeade chocolate peppermint oreos

Chocolate candy cane kiss cookies