Double Frosted Peanut Butter Blossoms
Double Frosted Peanut Butter Blossoms…peanut butter blossoms topped with two layers of frosting (peanut butter and chocolate) and topped with a delicious HERSHEY'S KISSES chocolate!
These are not your typical peanut butter blossom. They are so much better, in my opinion. It is more of a sugar cookie filled with peanut butter chips and then topped with peanut butter and chocolate frosting with HERSHEY'S KISSES chocolates. Rich, decadent and simply irresistible.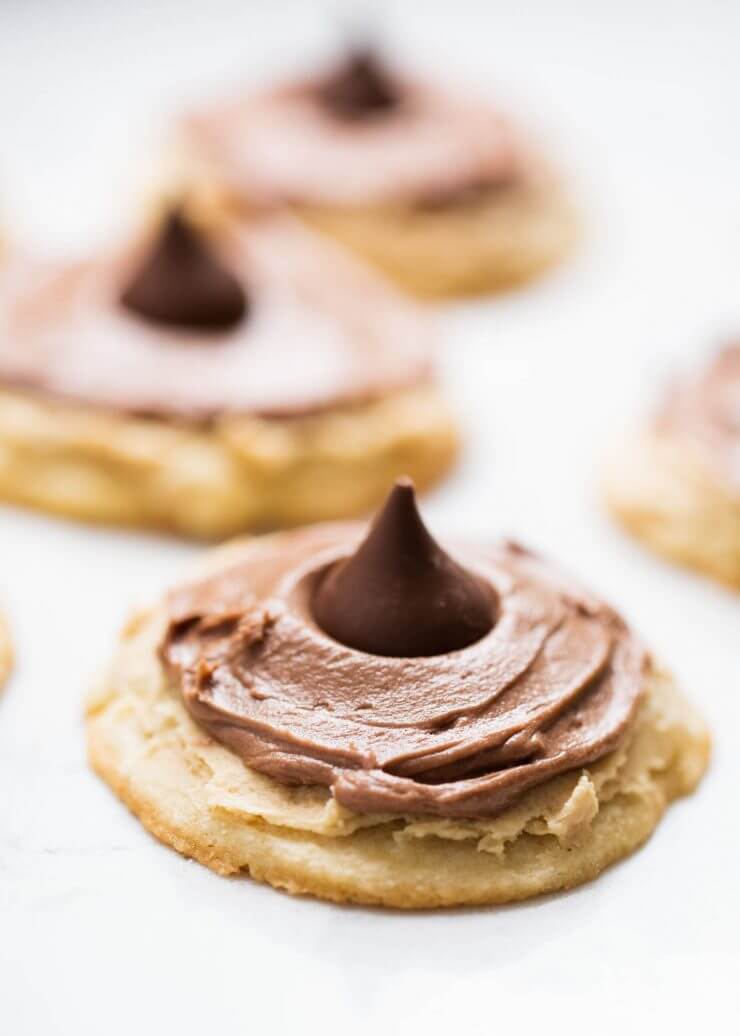 Last week my kids both started school, so we are slowly starting to get back into a routine. I feel like the first week is always an adjustment. My son started 2nd grade on Tuesday and my daughter started Kindergarten on Friday.

MY OTHER RECIPES
On Wednesday I was working through a few deadlines of things that HAD to get done that day during my babies nap. My daughter came in to ask if I could play a game with her and I told her, "In a couple minutes, hunny."
Before you know it, that couple minutes turned into a half hour. My daughter came back in tears saying, "You never play with me!" Of course this wasn't true, but in that moment it felt like it to her.
In that moment I decided whatever I was working on COULD wait. In that moment I realized I only had about 3 more days with that sweet girl of mine until she'd be off to school. Our days of baking, playing store in the basement and going on walks would never be the same. It was right then I needed to show her I cared about her more than anything else in the world.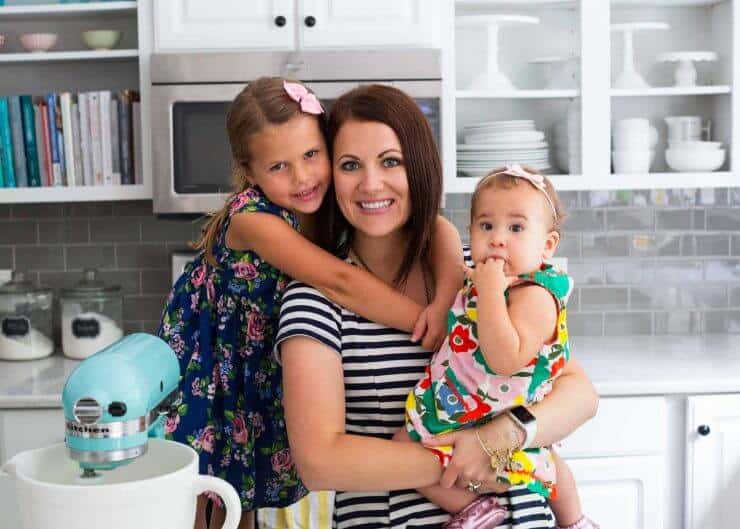 So off we went to the basement to play her favorite game of "store." We took turns being the cashier and being the shoppers. Then we decided to do our favorite activity and bake a yummy treat to take to meet the teacher night. Gosh, I love that girl and I'm really going to miss having her home with me every day. She really is such a great helper.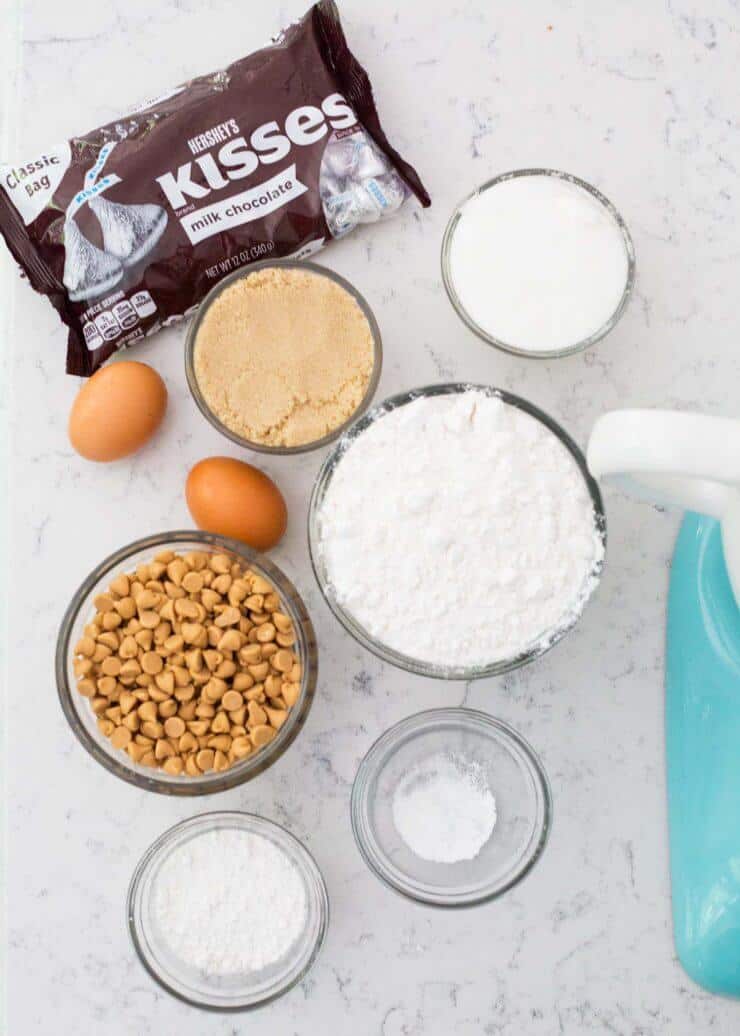 Double Frosted Peanut Butter Blossoms are easy to make, and perfect for little helpers!
We gathered some of our favorite ingredients, including HERSHEY'S KISSES chocolates and whipped up these double frosted peanut butter blossoms together.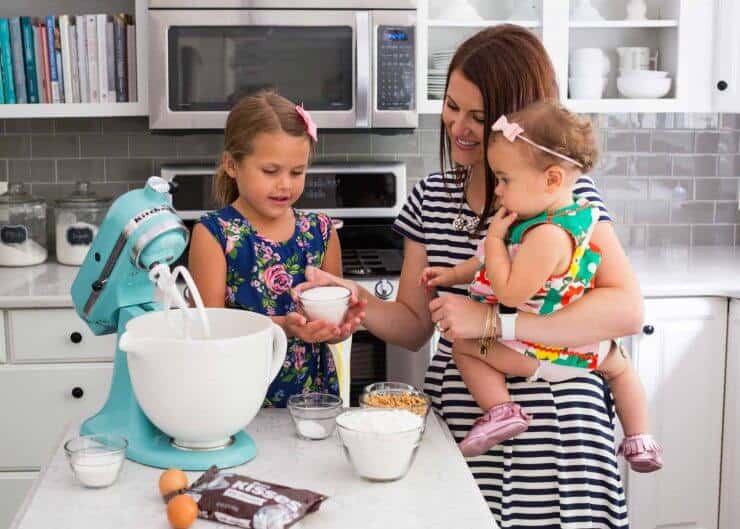 She loved adding all the ingredients and loved being my special helper. I love sharing moments like these and it is one of my favorite parts about being a mom.
There's nothing sweeter than baking my girls, and this delicious combo of peanut butter and chocolate is a favorite of ours. Food is often my love language, and saying it with a KISS makes it all that more sweet!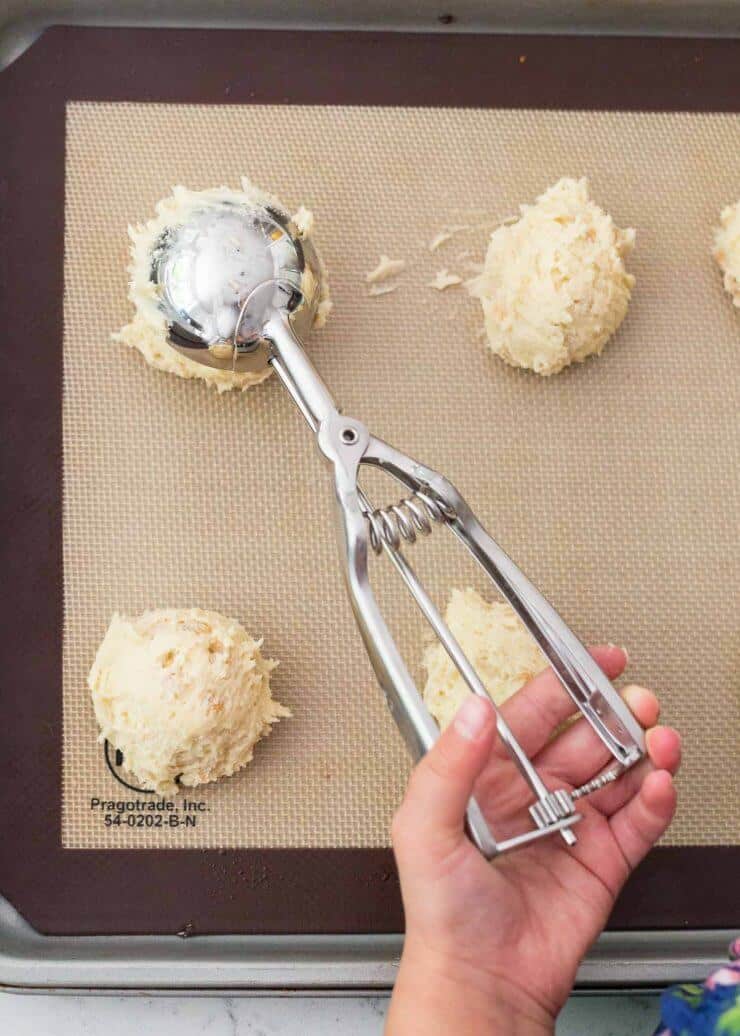 Once the dough was made we chilled it for a little while and then scooped it onto the baking sheet.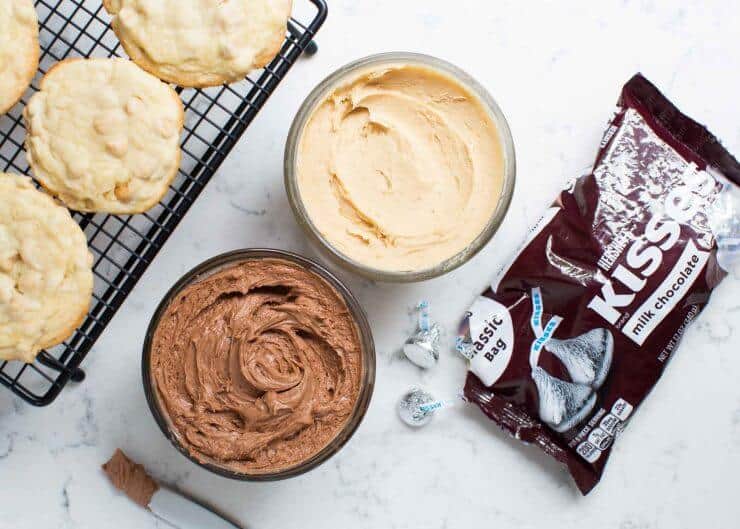 Then it was time to whip up the frosting. Chocolate AND peanut butter = the perfect combo!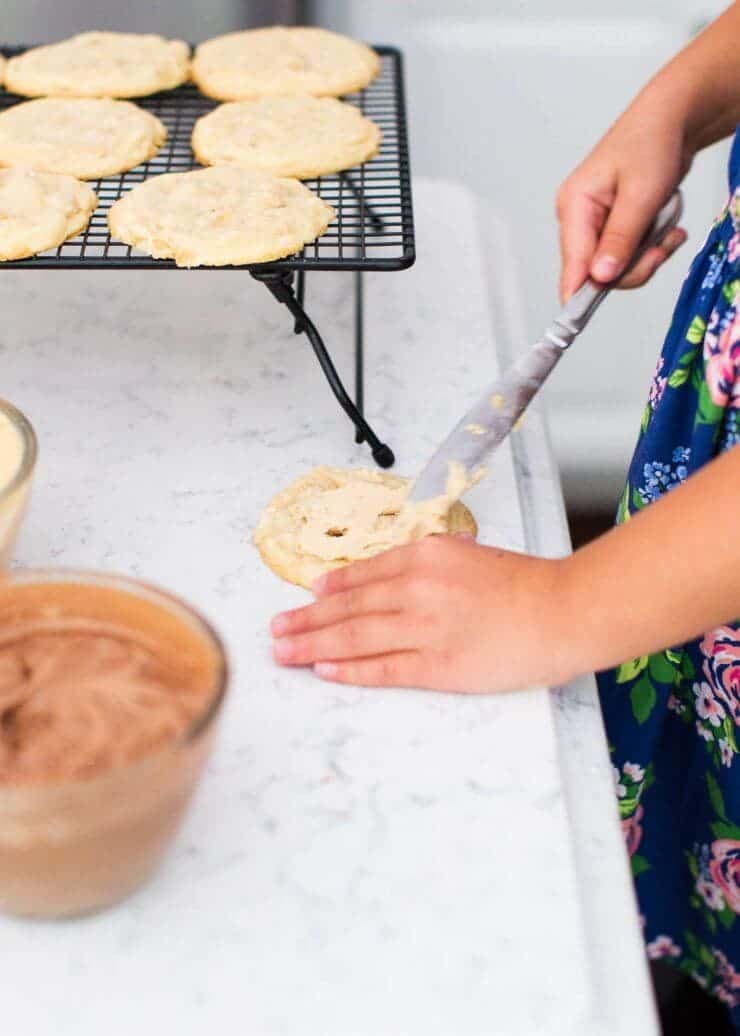 The best part about these is the double frosting and peanut butter chips inside which was inspired by a cookie shop in Utah I tried last year. So so delicious!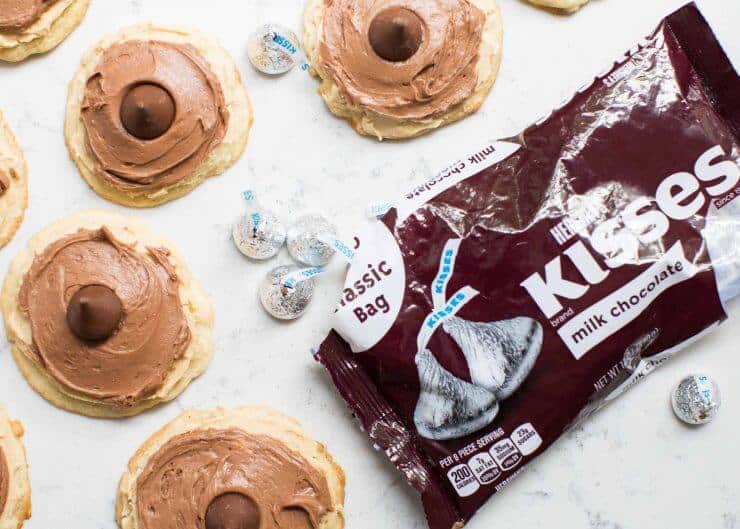 Grab a tall glass of milk and enjoy!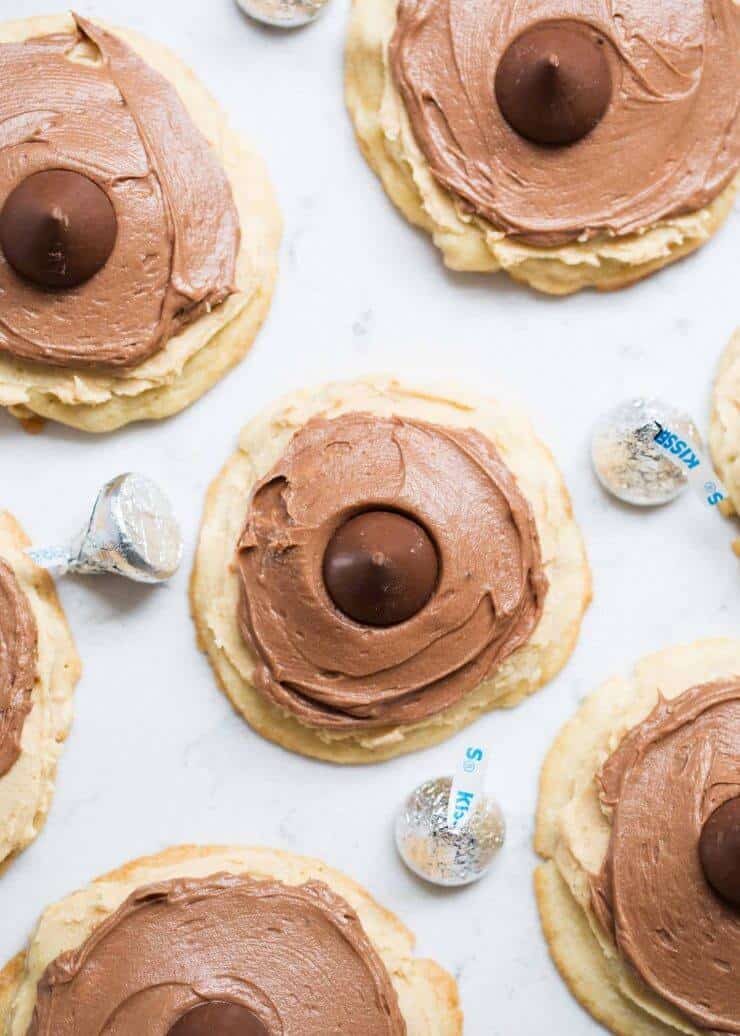 We also have these adorable teacher tags we put on our cookie bag for back to school night. Here's the free printables below if you'd like to make your own. These are such a simple way to show the teachers you care and would be a nice treat for Teacher Appreciation Day. They could also be paired with school supplies or a gift card any time of year. All you need to do is print them out on cardstock. Then fold over a sandwich size ziptop bag and staple them on.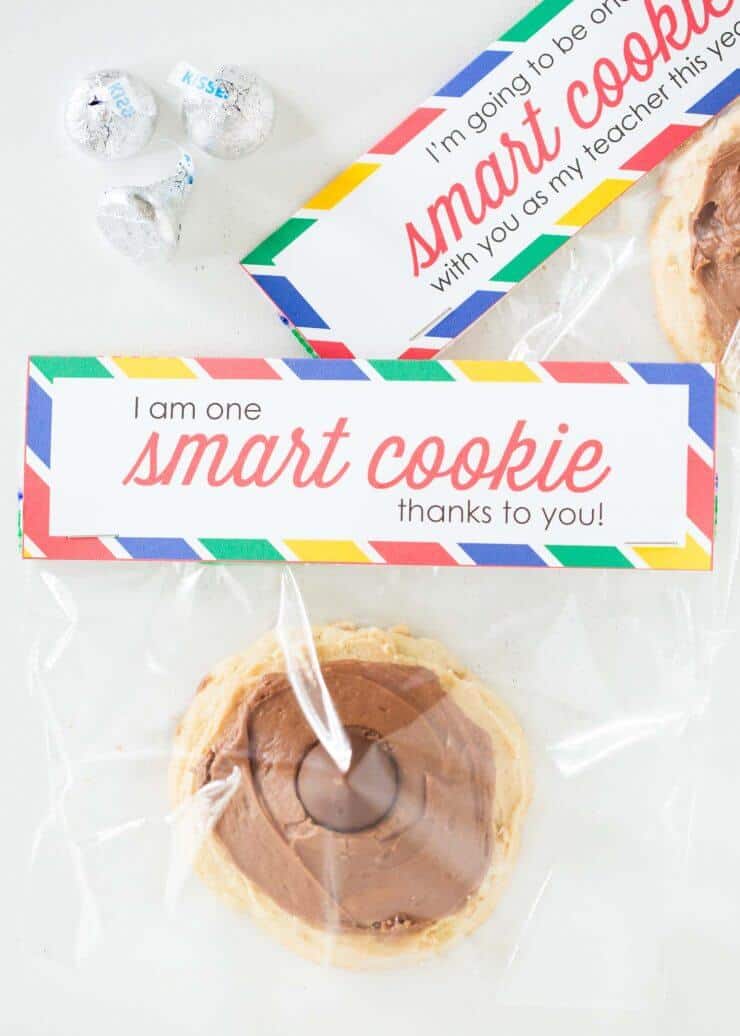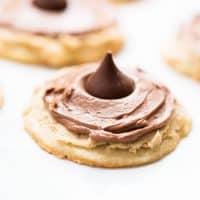 Double Frosted Peanut Butter Blossoms
Yield: 36 cookies
Prep Time: 40 minutes
Cook Time: 9 to 11 minutes
Total Time: 50 minutes
Ingredients:
1 cup salted butter, softened
1 cup brown sugar
1 cup granulated sugar
2 large eggs
2 teaspoons vanilla
3 1/4 cups cake flour
1 teaspoon baking powder
1/2 teaspoon baking soda
1/2 teaspoon salt
1 1/2 cups Reese's Peanut Butter Chips
HERSHEY'S KISSES chocolates
Frosting:
1 cup salted butter
5 to 6 cups powdered sugar
3 to 5 Tablespoons milk, more if needed
2 teaspoons vanilla
3 Tablespoons HERSHEY'S natural unsweetened cocoa powder
1/3 cup peanut butter
Directions:
In a large bowl, using a hand mixer, cream together the butter, brown sugar and granulated sugar for 1 minute. Add the eggs and vanilla and mix until combined.
In a separate bowl, whisk together the flour, baking soda, baking powder and salt. Slowly add the flour mixture to the sugar mixture and mix until combined. Fold in the peanut butter chips. Cover and refrigerate dough for 20 minutes.
Preheat oven to 350°F. Line two baking sheets with silicone baking mats or parchment paper.
Using a medium cookie scoop (about 2 to 3 Tablespoons) scoop the cookie dough onto the prepared baking sheet, spacing them at least 1 inch apart. Bake for 8 to 10 minutes, or until the edges are slightly golden brown. Remove from oven and allow cookies to set for 2 minutes, then transfer to a cooling rack to cool completely.
For the frosting, using a hand mixer, cream together the butter and 1 cup powdered sugar. Slowly add the remaining powdered sugar and a Tablespoon of milk as needed. Then stir in the vanilla. You want this frosting to be thicker. Then remove half of the frosting and place in a bowl. For the chocolate frosting, add 3 Tablespoons of cocoa to the bowl with 2 to 3 extra Tablespoons of milk and stir until smooth and creamy.
For the remaining frosting, stir in the peanut butter until smooth.
Next spread the peanut butter frosting on the top of the cookie. Then gently spread the chocolate frosting on top of the peanut butter frosting. Add HERSHEY'S KISSES chocolates on top.
Enjoy!


This post is sponsored by HERSHEY'S. Follow them on Facebook, Twitter and Pinterest for more recipe inspiration. Thanks for supporting the brands that help support I Heart Naptime.
Join in! Leave a comment!
Comments