Celebrate the holidays with this delicious homemade apple cranberry pie. Filled with caramelized cinnamon apples and cranberries and a flaky, golden pie crust. There is fresh fruit flavor in every bite!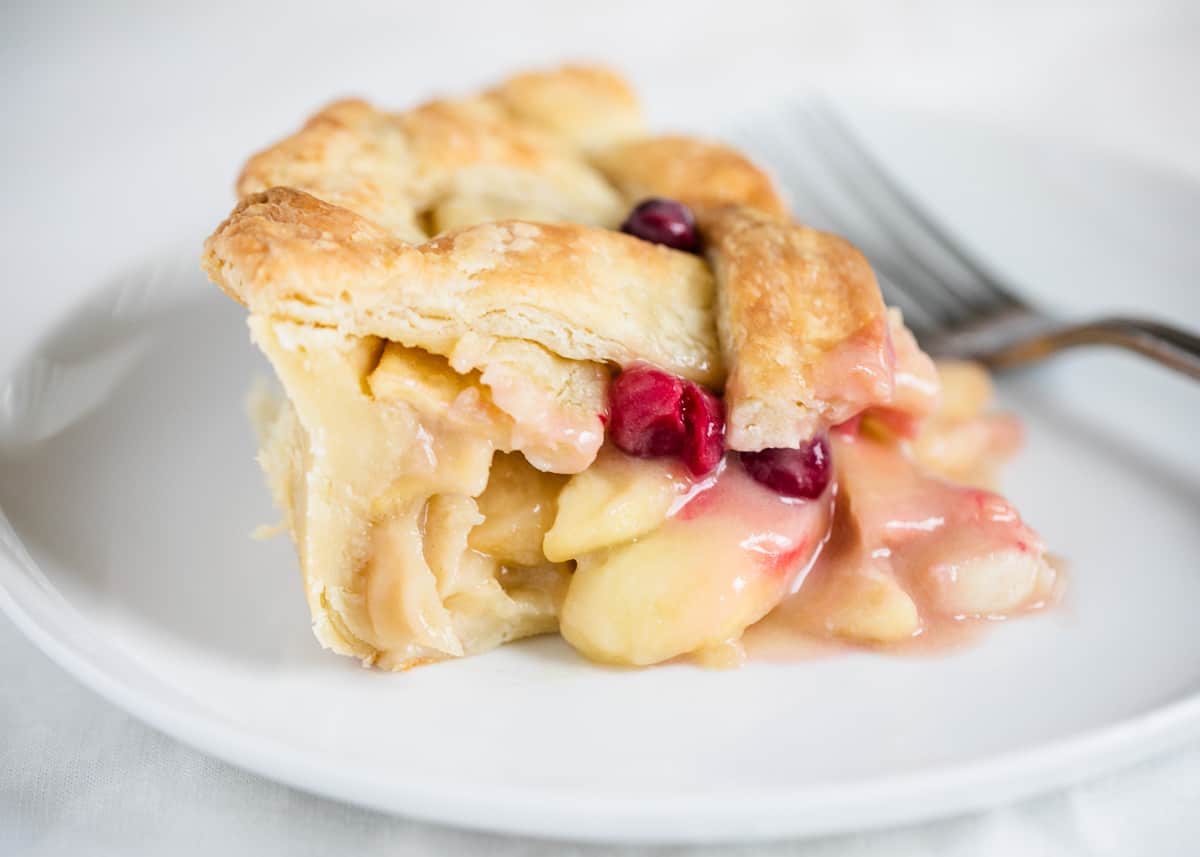 Apple Cranberry Pie Recipe
Pies are one of my favorite holiday desserts. I usually always make a brown bag apple pie for Thanksgiving, but decided to switch it up this year and make an apple cranberry pie instead. It was so delicious and will definitely be on repeat each holiday season!
This is the perfect dessert to add to your Thanksgiving menu or Christmas dinner. There's just something about ending your holiday dinner with a warm piece of pie. Especially this apple cranberry pie…it's the best!
I love this recipe because it uses two of the most popular holiday fruits: apples and cranberries. They both taste amazing together and get perfectly tender and caramelized in the oven.
The fresh fruit filling paired with the crisp and flaky lattice pie crust is what dreams are made of. We love serving ours with homemade whipped cream and a scoop of vanilla ice cream.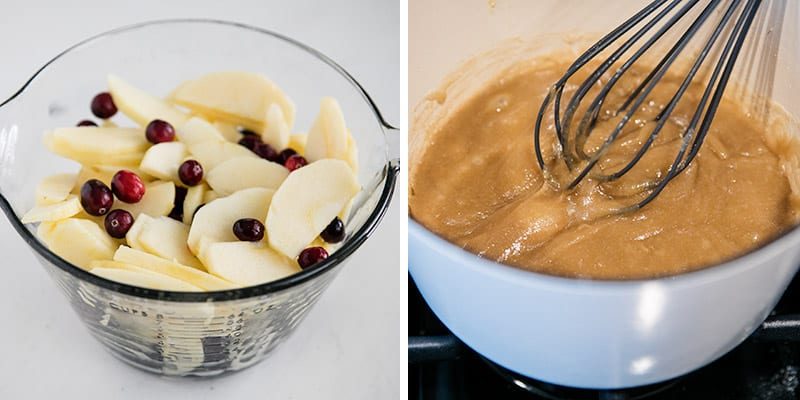 Apple Cranberry Filling
Start by making the fruit filling. In a bowl, mix together the sliced apples, lemon juice, almond extract and cinnamon until well coated. Then gently fold the fresh cranberries into the mixture.
Next melt the butter in a saucepan, then whisk in the all-purpose flour (this helps thicken the filling). Make sure to continue whisking the flour so that it doesn't burn. Then add the water and sugars and cook until the sugar has dissolved completely. This will take about 2 minutes (keep stirring the whole time). If it thickens up too much, add an extra spoonful of water to thin it out.
Immediately pour the sugar mixture into the bowl with the fruit and toss to combine. It may start to clump up a little, which is totally fine.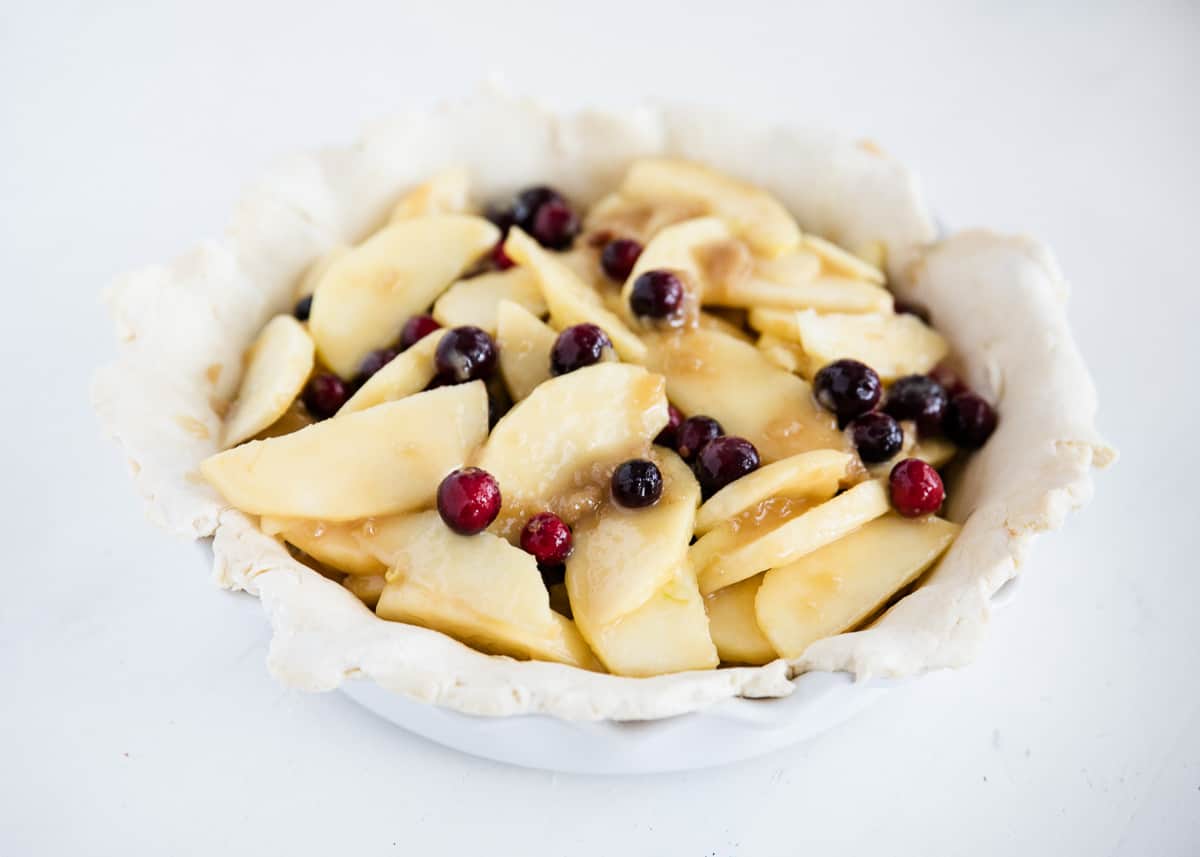 Assembly
Now that the filling is made, it's time to assembly your pie. Just follow these simple steps:
Prepare. Roll out the dough, then place into the bottom of a 9″ pie pan. Pour the filling on top, then cover with the remaining dough. Press the two pie crusts together and then either flute the edges or seal with a fork. Make sure to cut a few small slits in the center to allow the steam to escape when baking.
Egg wash. For an extra shiny golden finish, you can add an egg wash on top of the dough. Whisk together 1 egg (or egg white) and 1 Tablespoon of water. Then brush the mixture on top of the dough before baking.
Bake. Place the pie pan onto a baking sheet to catch any of the filling in case it bubbles over. Then bake at 375°F for about 65 minutes. If you notice the crust is getting too brown, you can tent it with foil. Then remove from the oven and let sit until it has completely cooled (about 4 hours).
Learn how to make a lattice pie crust with these simple tips and tricks. It's easier than you think to weave the pattern, and makes all the difference in appearance. You'll have a next-level, show stopper pie to serve at your holiday dinner!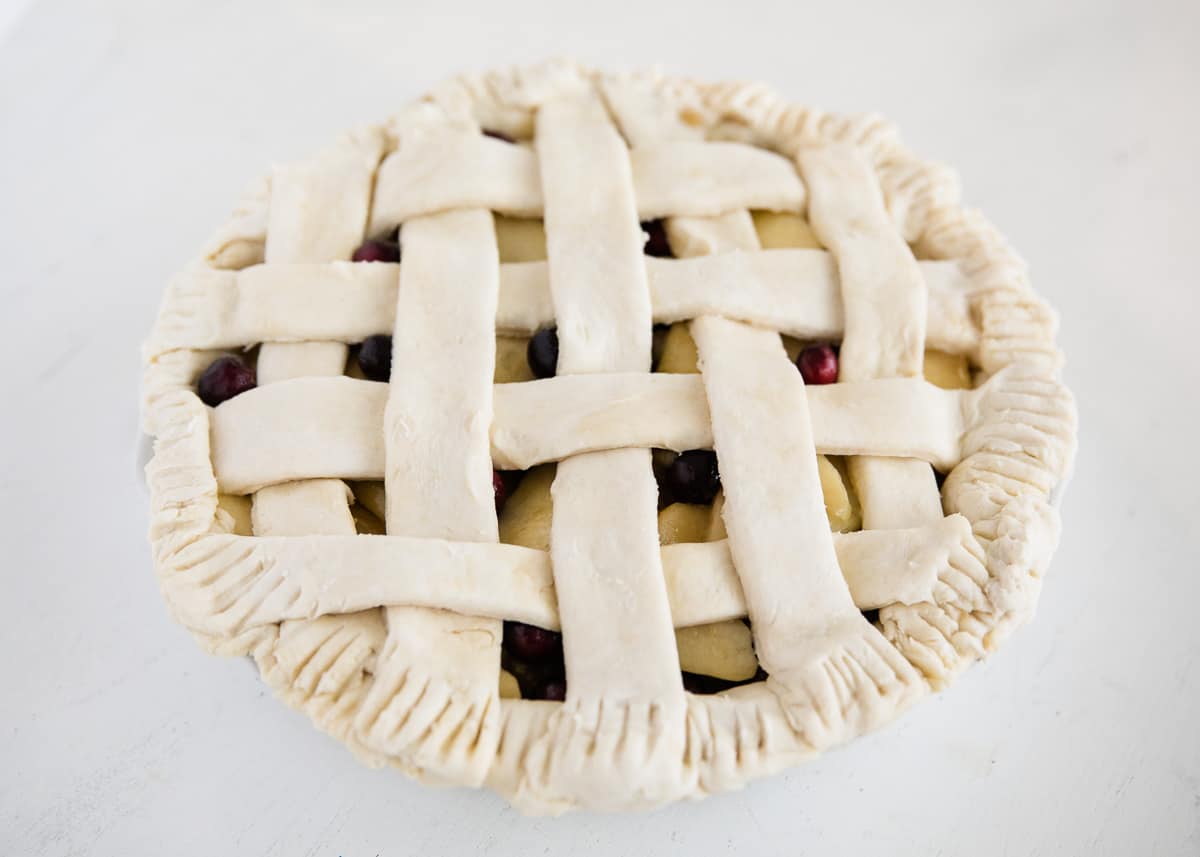 Baking Tips + Variations
Make the pie crust ahead of time and store in the refrigerator or freezer.
You can also make the whipped cream in advance and store it in the fridge. Just make sure to make stabilized whipped cream so that it doesn't deflate.
Use crisp apples when making the filling (like honey crisp or granny smith). Don't choose soft varieties or else they'll get mushy when baking.
Feel free to add a crumble topping or streusel topping (instead of a pie crust) on top if preferred.
Allow the pie to cool completely before serving. The sauce will thicken as it cools. I love to bake it the day before Thanksgiving. That way it's one less thing to make on the big day and it has time to fully set. You can always reheat slices later if you prefer it warm.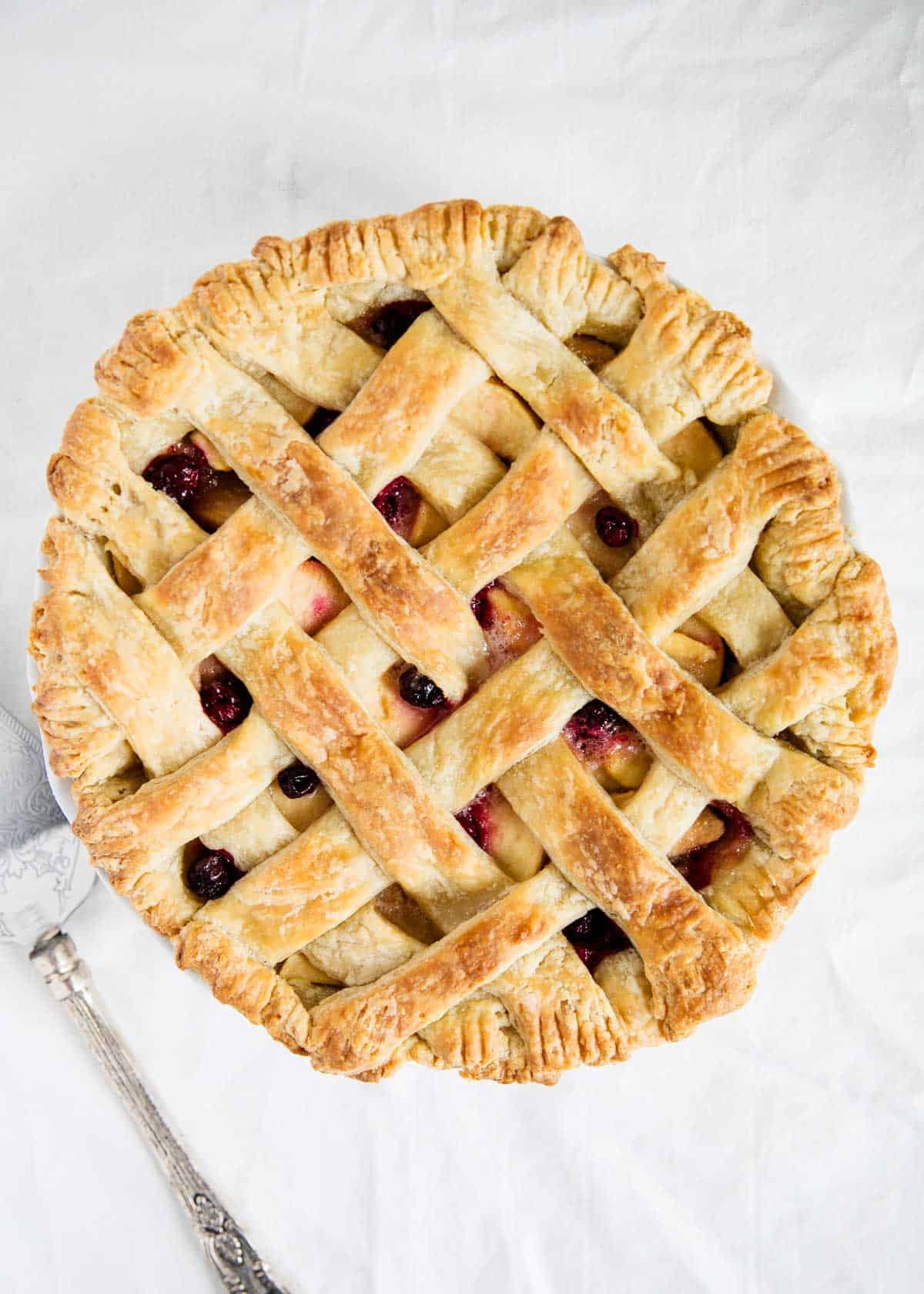 More Holiday Pie Recipes
HUNGRY FOR MORE? Subscribe to my newsletter and follow on Facebook, Pinterest and Instagram for all the newest recipes!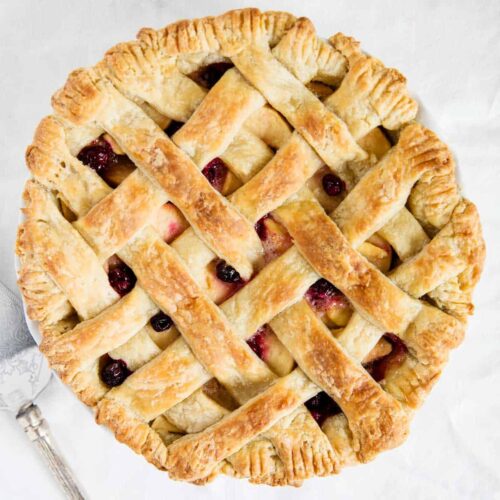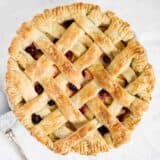 Apple Cranberry Pie
Celebrate the holidays with this delicious homemade apple cranberry pie. Filled with caramelized cinnamon apples and cranberries and a flaky, golden pie crust. There is fresh fruit flavor in every bite!
Ingredients
6 cups sliced apples (about 4 apples, honey crisp or granny smith)
1-2 Tablespoons lemon juice
3/4 teaspoon almond extract
1/4 teaspoon ground cinnamon
1 1/2 cups fresh cranberries
1/2 cup salted butter
1/2 cup all-purpose flour
1-2 Tablespoons water
3/4 cup granulated sugar
1/2 cup light brown sugar , packed
2 9-inch pie crusts
1 egg , beaten (optional for egg wash)
Optional Serving: Vanilla ice cream or Whipped cream
Instructions
Preheat the oven to 375°F. Place your rack in the middle position and line a baking sheet with foil.

In a large bowls, combine the apples, lemon juice, almond extract, and cinnamon. Gently fold in cranberries.

In a small saucepan, melt the butter over medium heat. Whisk in flour until smooth. Add the water, sugar, and brown sugar. Reduce heat to medium-low and cook, stirring constantly, 1-2 minutes, or until no longer gritty. Add an extra Tablespoon of water to thin, if needed. Immediately pour over apple filling and toss to combine.

On a lightly floured surface, roll out the pie crust. Transfer to a 9-inch pie dish. Give the apple filling a good mix and pour on top of the crust. Try to spread filling as evenly as possible.

Place the second crust over the top of the filling (or do a lattice top – see notes). Press the 2 pie crusts together and flute the edges or press down with a fork. Using a knife, cut a couple slits to vent if not doing a lattice crust.

Place pie dish onto the baking sheet. Brush on egg wash, if using. Bake 65 minutes, or until golden brown and filling is bubbling. If the crust is browning too fast, cover with foil. Remove pie from the oven and let cool completely, so it will thicken (about 4 hours).

Top with vanilla ice cream or whipped cream to serve, if desired.
---
Notes
Pie crust: Here is my favorite homemade pie crust recipe. Alternatively you could use a crumble topping instead of another pie crust on top.
Apples: I prefer to use Honey Crisp, Granny Smith, Fuji, or Golden Delicious. You can also do a mix. Make sure to slice them all the same thickness (or they won't bake properly).
Egg wash:
For a golden crust, you can add an egg wash on top. Whisk 1 egg or egg white with 1 Tablespoon of water. Brush a thin layer over the top of the pie before baking for a shiny golden finish.
Lattice crust: Find my tips for how to make a lattice pie crust.
Make-ahead: This pie can be baked 24 to 48 hours in advance.
Storage: Store leftovers covered at room temperature up to 2 days.
Freeze:
Freeze pie uncovered in the freezer until frozen. Wrap in plastic wrap or foil and store in the freezer up to 4 months. Before serving, thaw at room temperature 1 hour and reheat at 375°F until warm, about 30 minutes.
Recipe adapted from Mels Kitchen Cafe
Nutrition
Calories: 407kcal | Carbohydrates: 59g | Protein: 3g | Fat: 18g | Saturated Fat: 9g | Cholesterol: 24mg | Sodium: 225mg | Potassium: 147mg | Fiber: 4g | Sugar: 34g | Vitamin A: 333IU | Vitamin C: 6mg | Calcium: 24mg | Iron: 1mg
Nutrition provided is an estimate. It will vary based on specific ingredients used.
Did you make this recipe? Don't forget to give it a star rating below!