This easy zucchini bread is a one-bowl recipe made with all the signature ingredients that make a delicious quick bread so moist and so good! Brown sugar, vanilla, cinnamon, and freshly grated zucchini are exactly why a finished loaf never lasts long!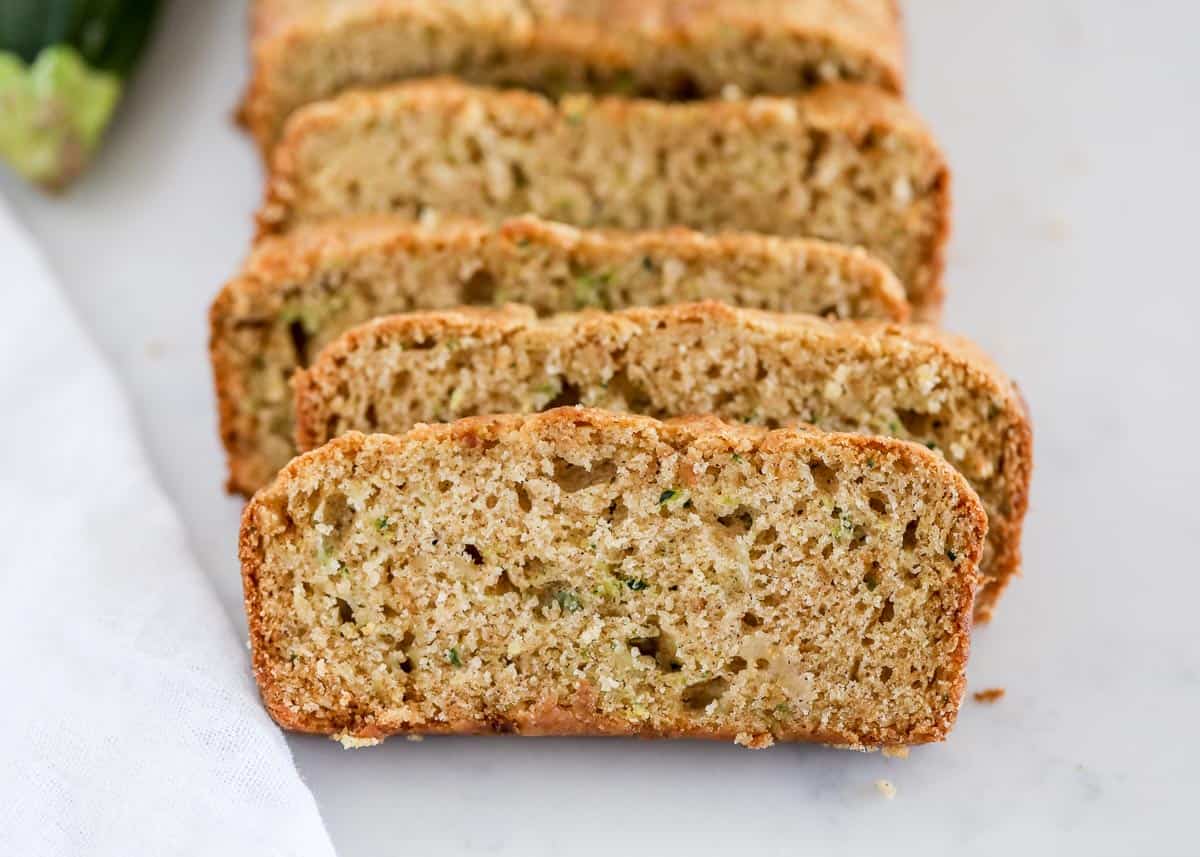 A Simple Quick Bread Recipe
This zucchini bread recipe is a slightly less sweet and citrusy version of my lemon blueberry zucchini bread. It has cinnamon in it which is a warmer spice, so this recipe is great for summertime as well as fall and winter.
Zucchini has such a mild flavor, it's no wonder my kids could never tell it was hidden in zucchini muffins or my zucchini chocolate chip muffins when they were really little. Of course, they know now, but it has made no difference whatsoever, they still love them as much as they ever did.
Making a homemade loaf of this easy zucchini bread is a great beginner recipe if you're just starting out in the kitchen, or if you'd like to get your kids involved. It is ready in under 1 hour, and the results are fabulous! It freezes really well so I like to make 2 loaves. One to enjoy right away when zucchini is in season and one thawed and warmed up later on when the weather has cooled.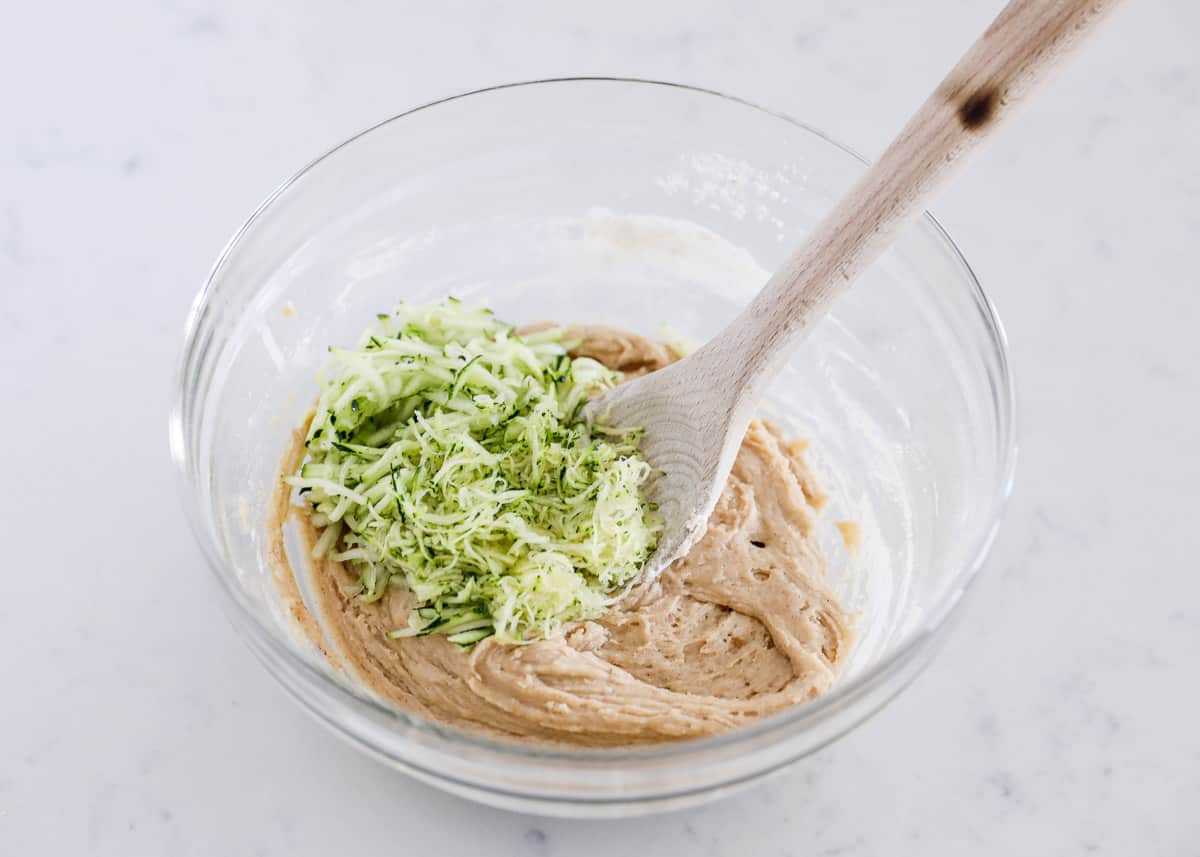 How to Make Zucchini Bread
This easy zucchini bread recipe comes together in one bowl! First with the wet ingredients, followed by the dry and then a quick fold in of the zucchini and it's ready for the oven. Grab some tips on how to shred zucchini because no one wants chunks of zucchini in their bread. No matter what size of zucchini you start with when it's perfectly shredded, it's a great way to guarantee awesome texture. This low-fuss recipe will be one you'll keep coming back to, especially when you need it for last-minute company!
Will I Taste the Zucchini in this Recipe?
Not exactly. I mean, it is zucchini bread and there's loads of freshly shredded zucchini in a loaf, however, it's such a mild subtle flavor. It is complemented by sweet sugars, delicious cinnamon spice, and vanilla flavoring, and depending on the season you could up the spice factor with a little nutmeg or pumpkin pie spice. Maybe add in some nuts for texture or lighten it up with some lemon zest and a lovely powdered sugar glaze. If the zucchini flavor is too much for your liking, feel free to use less than what the recipe suggests. It's up to you!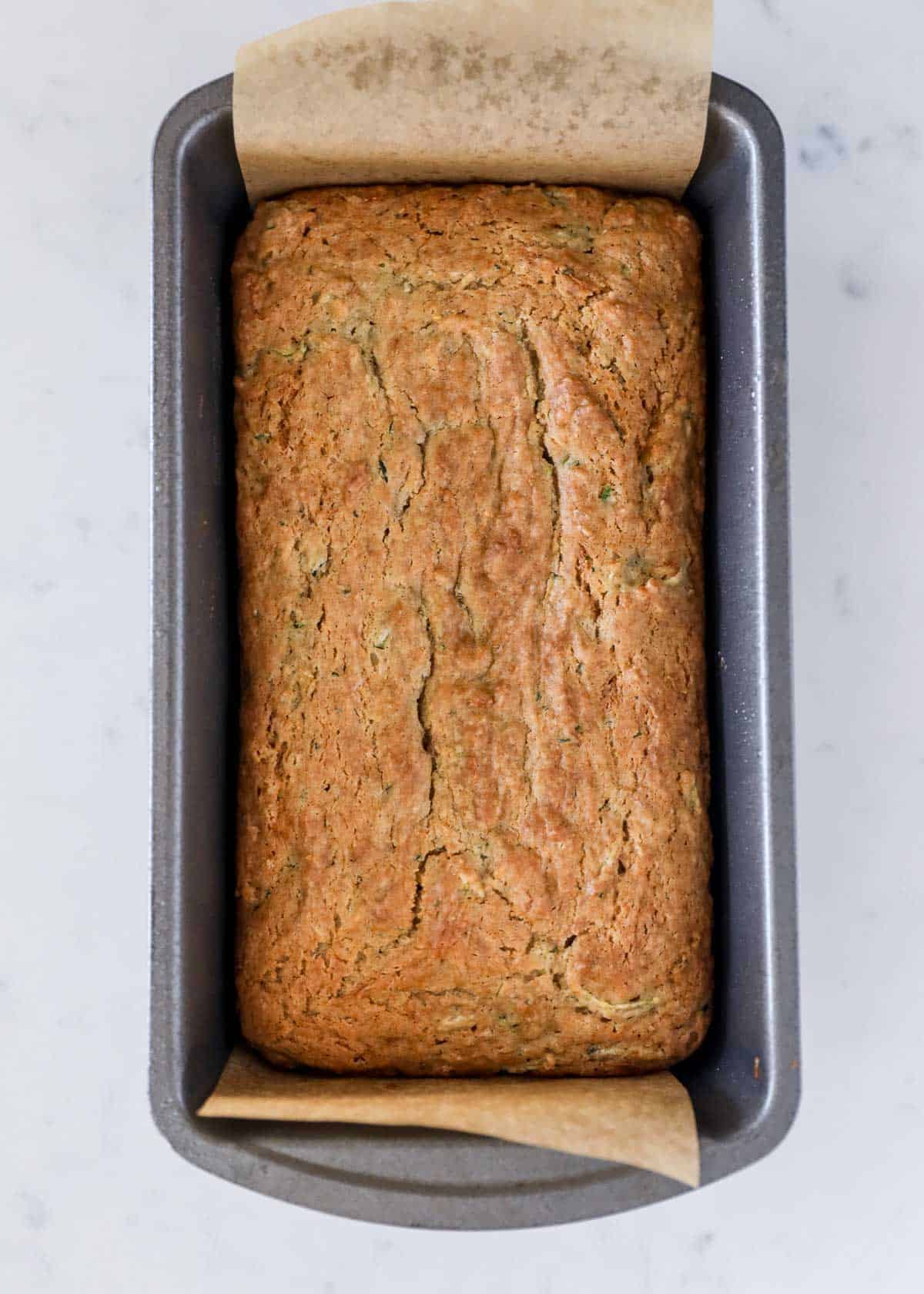 Tips & Substitutions
I used a medium-sized zucchini and 1 was just enough for this recipe.
Use either the small and medium holes on the grater, or a bit of both depending on the desired texture.
Squeeze out the excess water. Zucchini contains a lot of it, so for maximum flavor, squeeze out the water and pack it in the measuring cup.
Swap the sour cream for Greek yogurt or buttermilk, if you'd prefer. If you don't have any, make your own!
Add in some raisins for added texture and sweetness. Slivered almonds or walnuts would also add a nice crunch.
Ways to Serve It
This versatile quick bread is so good just on its own served warm or at room temperature, but sometimes we look for a little something extra!
Enjoy a slice with a hot cup of tea in the morning.
Slather with softened butter (or cinnamon butter) and your favorite jam.
Sometimes just a bit of honey drizzle is all you need.
Spread some almond butter or pumpkin seed butter on it for extra protein.
Serve it on the side of a bowl of yogurt and for dessert opt for some vanilla ice cream.
Storage Suggestions
Once cooled, this bread will keep fresh in an airtight container on the counter for up to 4 days. After that, transfer it to the fridge for an extra few days to maintain freshness. To freeze, wrap each loaf (if you're making more than one) individually in plastic wrap. Place in a freezer-friendly Ziploc bag and keep frozen for up to 3 months. Thaw in the fridge overnight.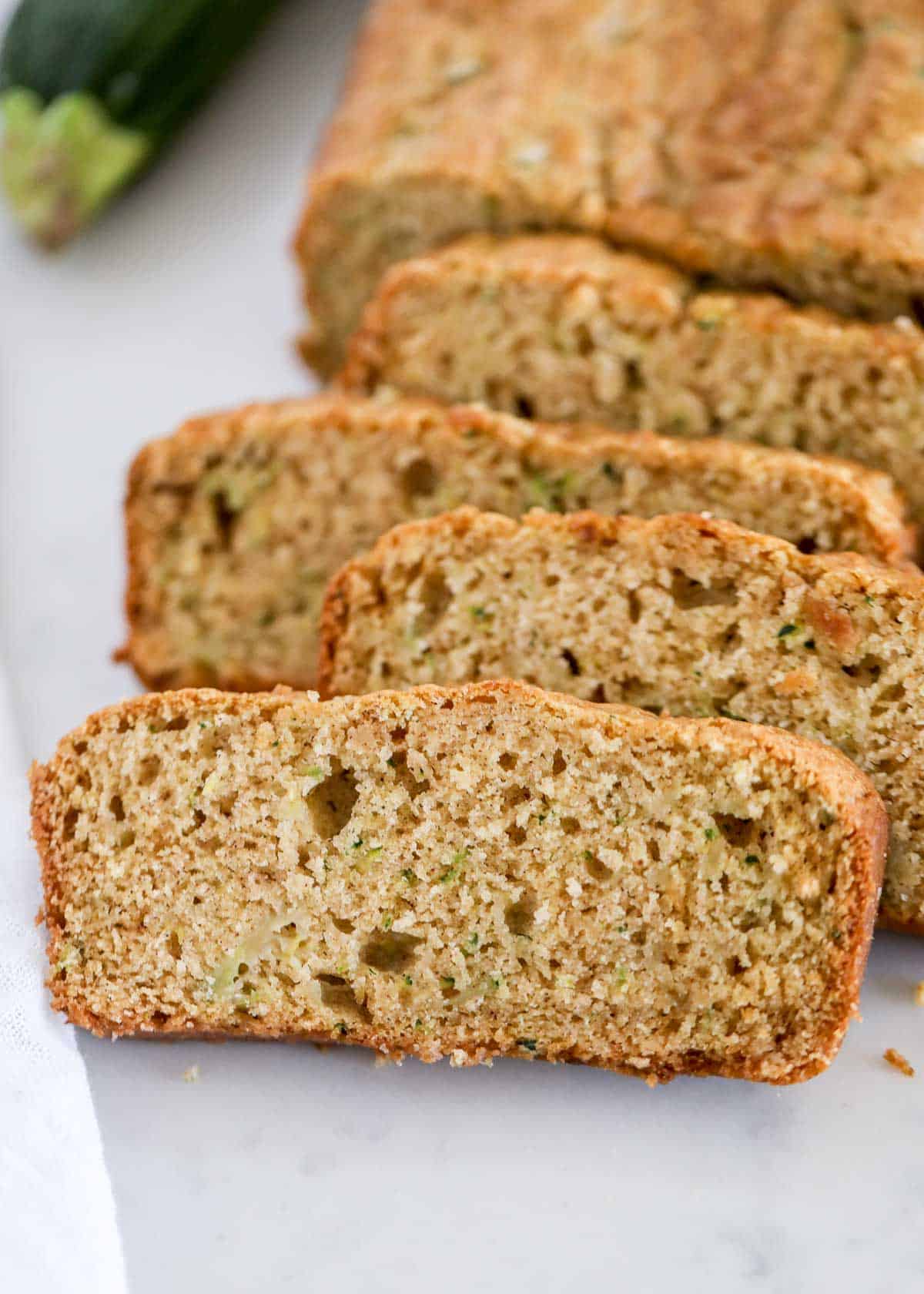 More Delicious Recipes
HUNGRY FOR MORE? Subscribe to my newsletter and follow on Facebook, Pinterest and Instagram for all the newest recipes!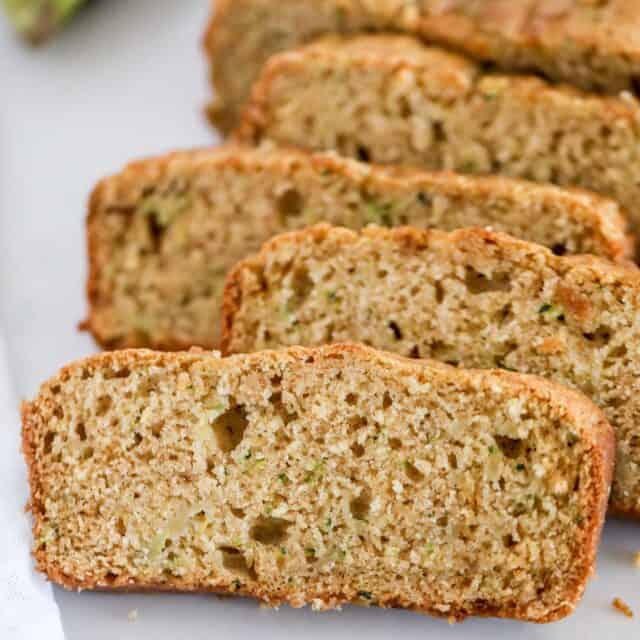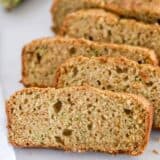 Easy Zucchini Bread
This easy zucchini bread is a one-bowl recipe made with all the signature ingredients that make a delicious quick bread so moist and so good! Brown sugar, vanilla, cinnamon, and freshly grated zucchini are exactly why a finished loaf never lasts long!
Ingredients
½ cup unsalted butter , melted and slightly cooled
½ cup light brown sugar , packed
½ cup granulated sugar
1 large egg
½ cup sour cream
1 teaspoon vanilla extract
1 ½ cups all-purpose flour
½ teaspoon baking soda
½ teaspoon baking powder
½ teaspoon Kosher salt
½ teaspoon ground cinnamon
1 cup grated zucchini , see note
Optional: 1/2 cup of chocolate chips or walnuts
Instructions
Preheat oven to 350°F. Line a 9×5" loaf pan with parchment paper and spray lightly with non stick spray. Then combine the butter and sugars in a bowl. Next whisk in the egg, sour cream and vanilla until combined.

Next mix in the flour, baking soda, baking powder, salt and cinnamon with a spoon. Once mixed (it will be a thicker batter), add in the zucchini. Then place in the prepared loaf pan.

Bake for 40 to 50 minutes (the time will vary based on oven), or until a toothpick comes clean and the top is lightly browned. If the top is browning before the center is done, top with a piece of foil. Remove from oven and allow to cool in pan for 10 minutes.

Remove bread from the pan and allow to cool slightly. Then slice into 1/2" slices. Serve while warm or cool.
---
Notes
Zucchini: This recipe uses about 1 medium sized zucchini. You can use a fine or larger grate, depending on preference. I tend to use both holes on my grater. Before adding the zucchini to the batter, I like to place it in a cheese cloth or paper towels and gently squeeze out some of the excess water. Then I like to add 1 cup that is packed. You can add up to 1 1/2 cups. Freezer instructions: This bread freezes well up to 3 months. Allow it to completely cool down before freezing. Then wrap with plastic wrap or place in a zip top bag (removing all air). Let thaw on the counter overnight.
Nutrition
Calories: 219kcal | Carbohydrates: 30g | Protein: 2g | Fat: 10g | Saturated Fat: 6g | Polyunsaturated Fat: 1g | Monounsaturated Fat: 3g | Trans Fat: 1g | Cholesterol: 39mg | Sodium: 160mg | Potassium: 95mg | Fiber: 1g | Sugar: 18g | Vitamin A: 337IU | Vitamin C: 2mg | Calcium: 35mg | Iron: 1mg
Nutrition provided is an estimate. It will vary based on specific ingredients used.
Did you make this recipe? Don't forget to give it a star rating below!