This is a sponsored conversation written by me on behalf of Albertsons Companies. The opinions and text are all mine.
Ice Cream Sandwiches – everything you enjoy about the classic ice cream sandwich, but guilt-free thanks to Albertsons Companies Open Nature® Scandal-less light ice cream. These products have no artificial colors or flavors and feature a clean ingredient list.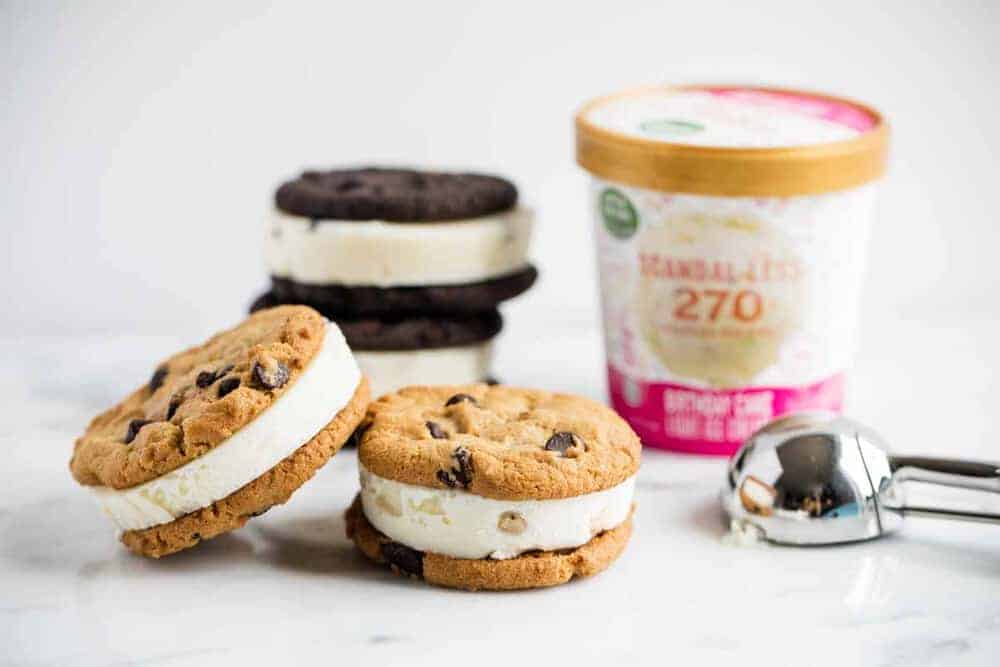 Guilt-Free Ice Cream
I have been known to have a bit of a sweet tooth. And, if I'm being honest, a particular weakness of mine is ice cream. Previously my options were to measure out my ice cream as to not overindulge or avoid the freezer aisle altogether to keep temptation at bay. Not fun!
Since July is officially National Ice Cream Month, I thought it would be fun to share my new favorite way to enjoy my favorite frosty dessert, without any of the self-judgement: Open Nature® Scandal-less Ice Cream. As the name implies, it's a guilt-free treat.
I had heard about other low-calorie ice cream products before, but they were always filled with artificial colors and un-pronounceable ingredients. Scandal-less Ice Cream has no artificial colors or flavors and it also boasts a totally clean ingredient deck. This is huge!
Scandal-less Ice Cream Pints
An entire pint of ice cream only has between 240 to 370 calories. That's 60-80% less than regular ice cream! Meaning, I can literally eat an entire pint of ice cream in one sitting if I want to (and maybe I have). Plus, it has 40-50% less fat than regular ice cream, too.
These sweet treats come in a variety of flavors. You can grab pints of:
Sea Salt Caramel
Vanilla
Mint Chip
Cookies & Cream
Chocolate Peanut Butter Cup
Birthday Cake
I've basically tried every flavor, and haven't found one I dislike yet. However, I am rather partial to the cookie dough and chocolate peanut butter pints. They are fantastic!
Tip: Make sure to let the ice cream sit out for 20 minutes or microwave for 20-3o seconds before eating. You want it to soften up a bit before digging in.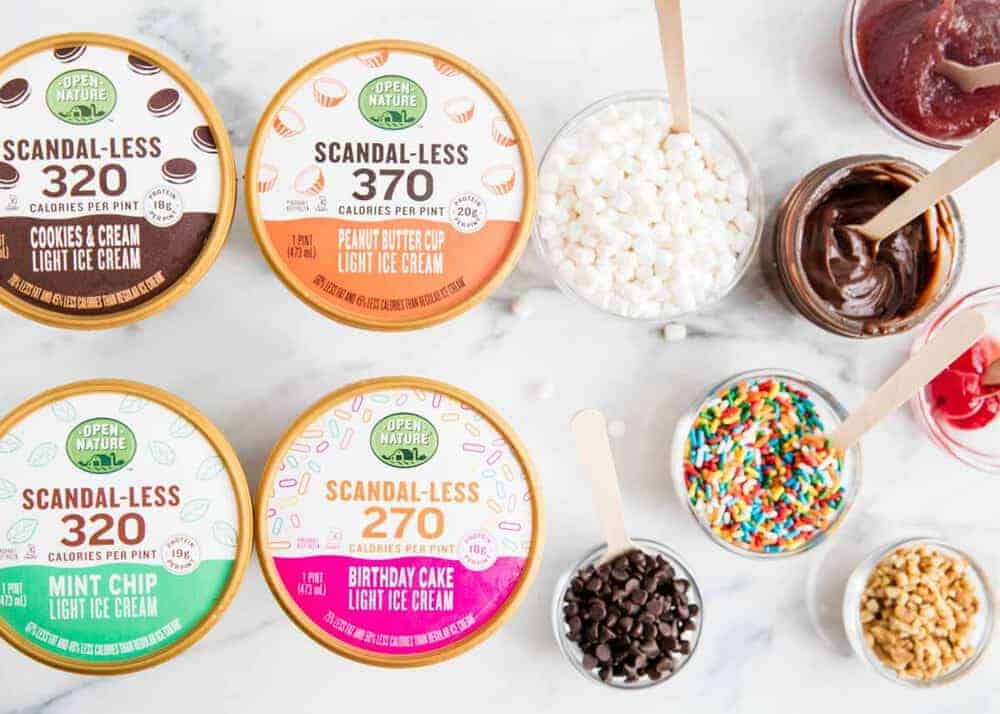 Scandal-less Ice Cream Bars
If you opt for the bar version, there are only 80-100 calories per bar. If you want a pre-portioned sweet treat, this is the one to try. Open Nature® Scandal-less bar flavors include:
Caramel
Cookies and Cream
Peanut Butter Cup
Vanilla Bean
Mint Chip
Chocolate Caramel
Birthday Cake
DIY Ice Cream Sandwiches
While I'm absolutely content peeling open a carton and eating a pint straight out of the container, every once in a while I like to change things up. I thought it'd be fun to show you just how versatile this ice cream is by creating one of my all-time favorite desserts…ice cream sandwiches!
I'm always on the hunt for ways to make easy and quick desserts. With four kids, that's the mantra in this season of my life! This may be the easiest ice cream sandwich of all time, but that's part of what makes it so good.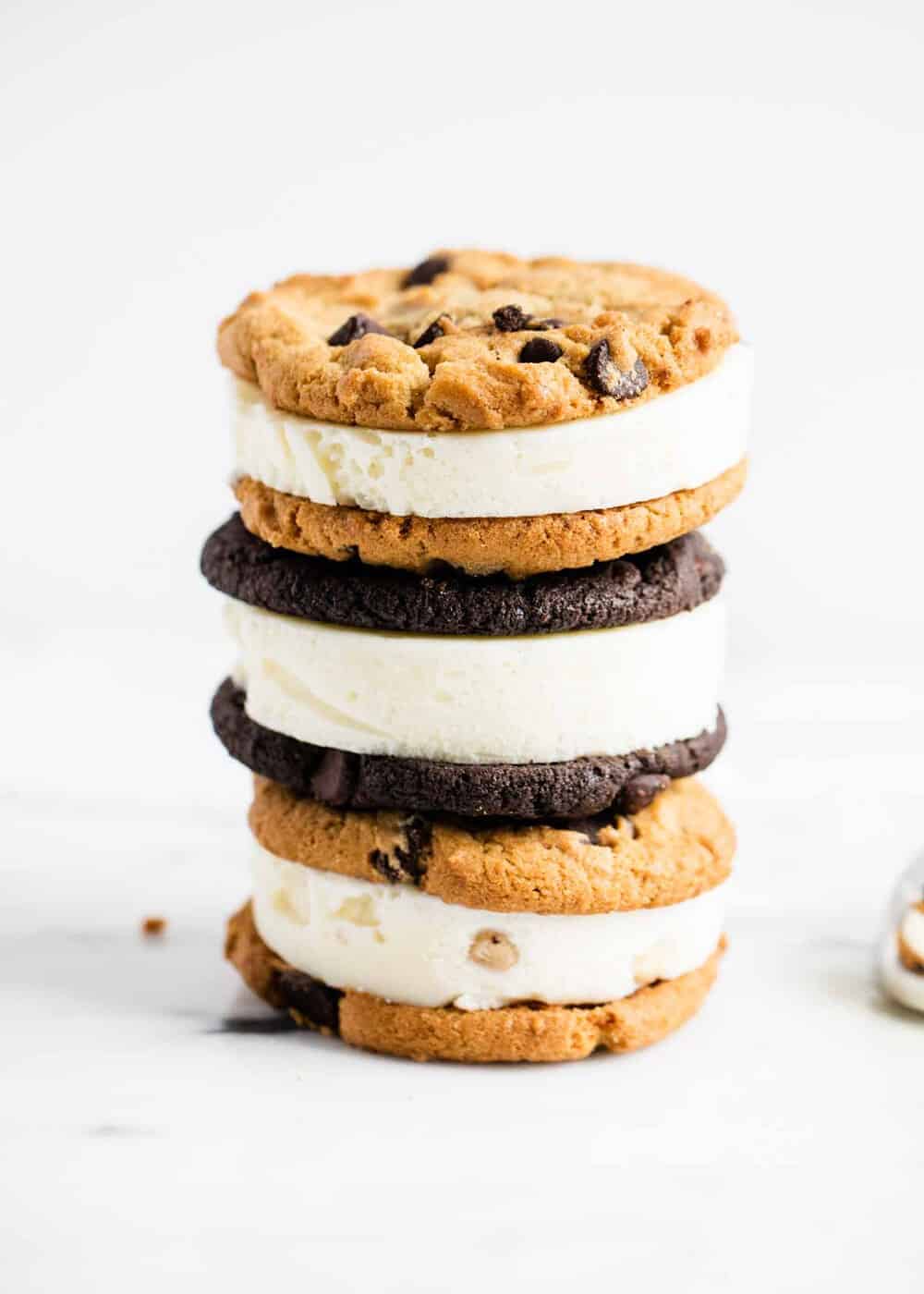 How to Make This Recipe
To make a guilt-free ice cream sandwich, simply pick your favorite cookies from the grocery store (or whip up a batch of chocolate chip cookies), along with a pint or two of Scandal-less ice cream. Lay the cookie with the flat side up, then add a big scoop of ice cream. You can also peel the carton away from the ice cream and slice it with a knife.
Top it with another cookie, then gently press down. You want the ice cream to flatten out between the two cookies, just like a classic ice cream sandwich. Roll it in chocolate chips or nuts if desired. That's it! Simple, right?
Storage Tips
I often like to make a big batch of ice cream sandwiches all at once, then freeze and enjoy throughout the week. To freeze these once you have them made, wrap each sandwich individually with plastic wrap, then stick them in the freezer.
If I make several different flavors at once, I like to keep them separate. The easiest way I've found to do this is to use freezer-safe plastic bins to stack each type of flavor in, then label the bins with washi tape.
Where to Buy Scandal-less Ice Cream
If you want to try this sweet, guilt-free treat, they are only available at certain stores.
Open Nature® Scandal-less light ice cream products have no artificial colors or flavors and feature a clean ingredient deck, and are available in the Portland area exclusively at Safeway stores and Albertsons stores.
You can also find these exclusive products at all Albertsons Companies family of stores, including Albertsons, Safeway, Jewel-Osco, Pavilions, Randalls, Tom Thumb, Shaw's, Star Market, United Supermarkets, Vons, ACME Markets and Carrs/Safeway.
Special Offer
Since it's National Ice Cream Month, I'll help sweeten the deal for you with a coupon to give Scandal-less ice cream a try. Save $1.00 with your purchase of participating O Organics and Open Nature ice cream products with the Promo code: ICECREAM
Offer Details: Add 1 participating item to cart from the list below and enter Promo Code: ICECREAM at checkout. Limit 1 code per transaction. Order must be delivered by 8/06/19.