Jump to Recipe⌄
Chocolate Caramel Ice Cream Cake
Thanks for stopping by! To get the newest recipes subscribe or join us on facebook.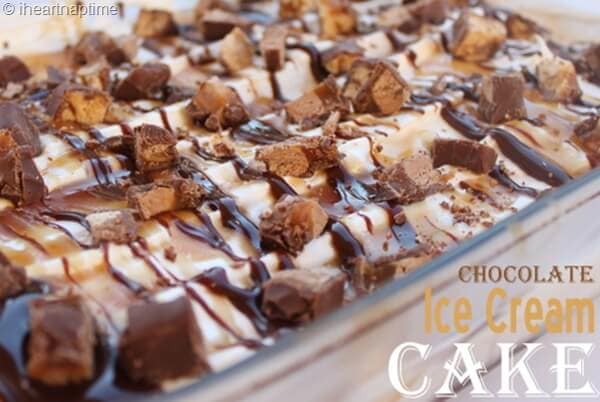 SO my hubs birthday is in July… and July in AZ is HOT! There's nothing better than ice cream cakes for those summer birthdays! If you remember last year I made him the oreo ice cream cake which is just as yummy.. and pretty much the same recipe.

I remember the first time I tried this cake at my cousins house and I was in heaven. I love these cakes because they are super easy… NO bake.. and you can pretty much use any candy bar you like.
My husband loves Milky Way's so this year we decided to do the milky way version instead of the oreo ice cream cake.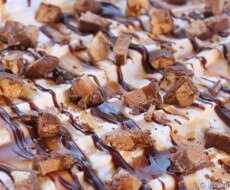 Milky Way Ice Cream Cake
Ingredients:
1 pkg. ice cream sandwiches (I used 10)
1 tub Whipped Topping (cool whip)
1/2 Jar Chocolate Fudge
1/2 Jar Caramel Topping
10 mini milky ways (or more..)
8 mini snickers
Directions:
1. For the first layer you lay your ice cream sandwiches down in a 9×13 pan.
2. Next spread a layer of caramel and chocolate. Then sprinkle the chopped candy bars across this layer. You can repeat this whole layer… but I was running out of ice cream sandwiches so I just did one layer.
3. Next spread the cool whip over the first layer. Then top it all off with another layer of drizzled chocolate, caramel and milky ways/snickers.
4. Cover and set in freezer for a few hours.
All images and text ©

Can you say YUMMY?!
Are there any summer birthdays in your family? Do you make ice cream cakes too?