This easy steak marinade takes only 5 ingredients and 5 minutes of prep! The most delicious flavor that creates a tender and juicy steak.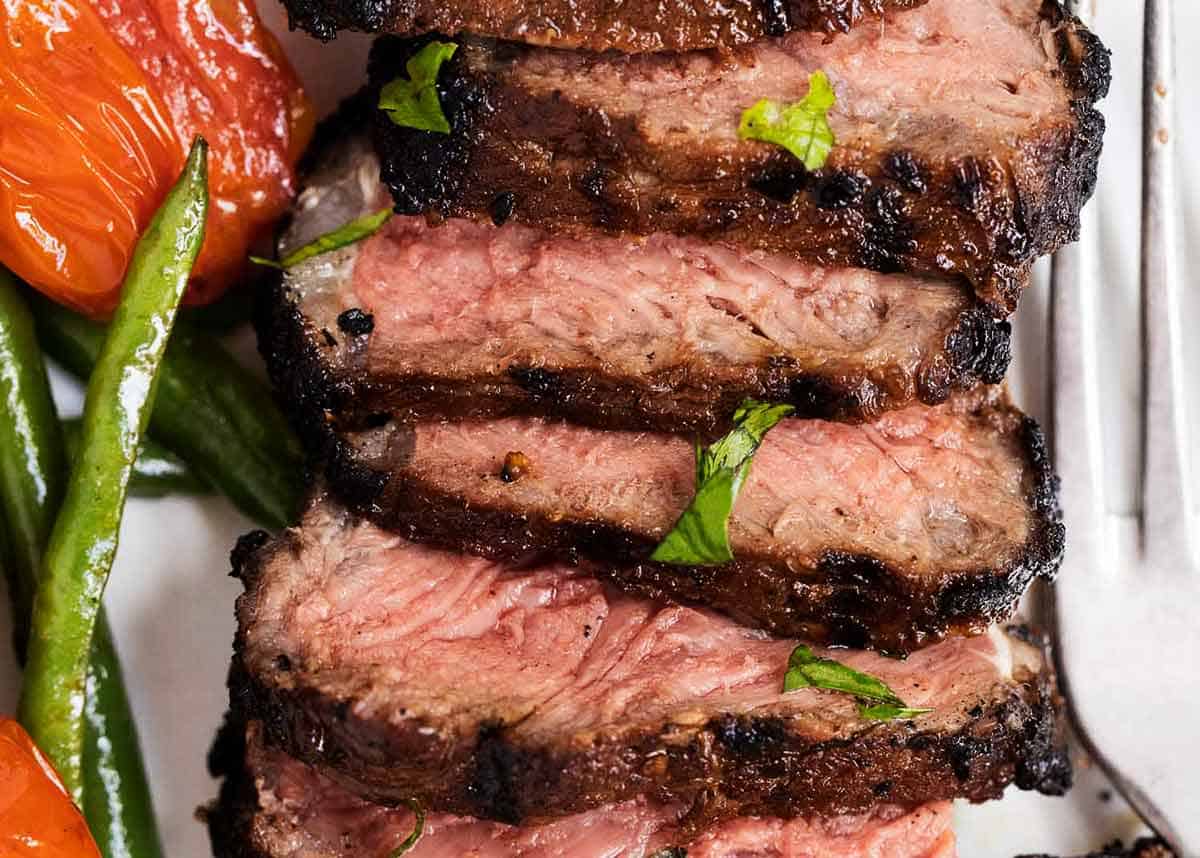 Favorite Marinade
Steak is a delicacy in our house. We love to enjoy my sirloin steak recipe on special occasions and especially love when it's grilled. It has the best flavor! You can also cook steak in the oven or make steak and potatoes on the stove with equally delicious results. Both ways are so yummy!
I've been using my trusty chicken marinade for years and decided it was time to post this easy steak marinade. It's one of my favorite grilling recipes and is so simple to make!
We use this marinade (or my favorite steak rub) for New York strip and ribeye steaks. I save flank steak for my carne asada recipe! It's great for making steak kabobs or skillet steak bites as well. You could even marinate your beef tenderloin in it. However, we love grilling our steak for maximum taste and tenderness. It brings out so much flavor!
We also love to serve with these easy grilled vegetables, which are so simple to cook. And not to mention delicious!
Steak Marinade Ingredients
This is the best steak marinade that only takes 5 ingredients and 5 minutes of prep work. The flavor is absolutely wonderful and creates a juicy and flavorful steak.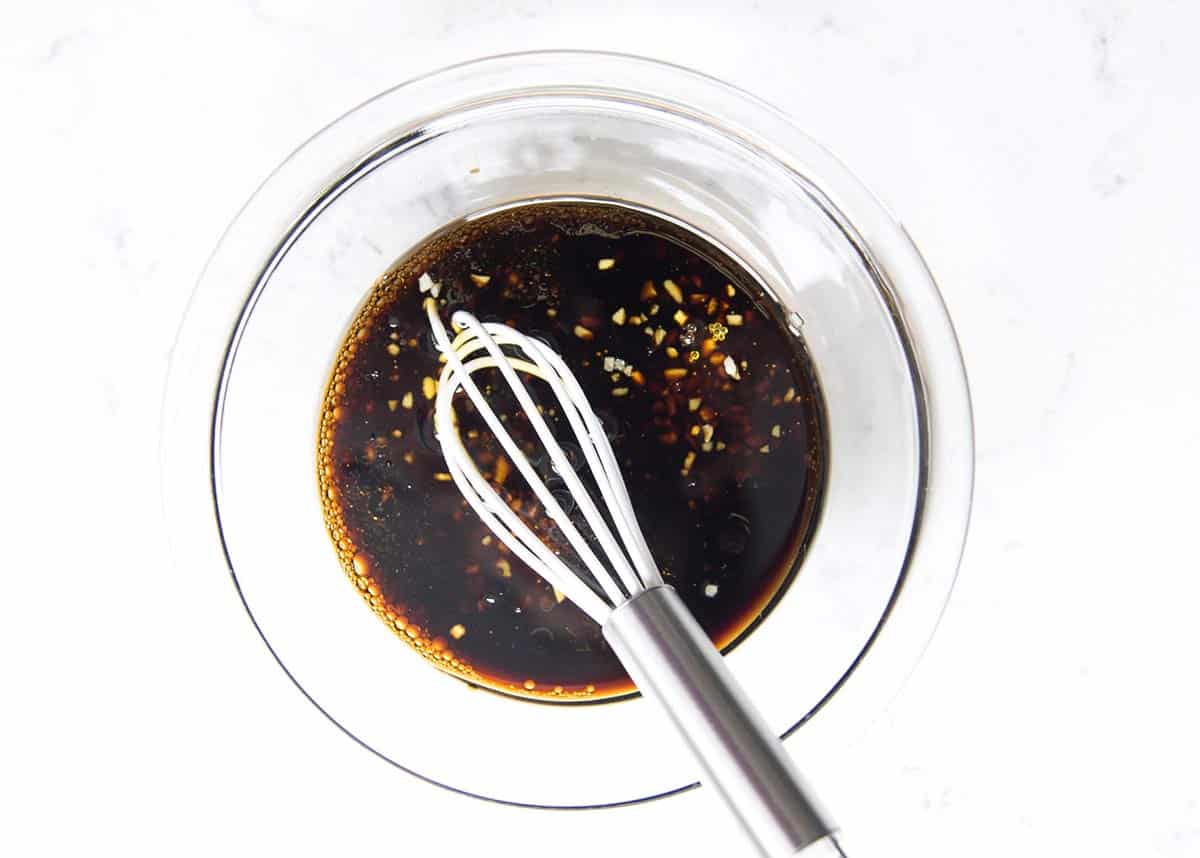 Find the full printable recipe with specific measurements below.
Olive oil: Softens and gives the steak great moisture keeping it tender and juicy when cooked on the grill.
Worcestershire sauce: This is a blend of savory, sweet, and a bit tart! It has a great flavor that the steak really soaks in.
Balsamic vinegar: Use this to tenderize your meat! It is the perfect balance with the Worcestershire sauce but also tenderizes the meat.
Soy sauce: I use low-sodium soy sauce to cut back on the salt intake.
Minced garlic: Always a delicious add-in that goes well with these pantry staples.
Marinade Steak
Whisk the ingredients together in a small bowl. Place the steak in a large freezer bag or bowl, then pour the marinade on top and seal the bag/bowl. Let marinate in the fridge for at least 30 minutes, but around 4 hours is ideal. The longer the steaks marinate, the more flavor they will have!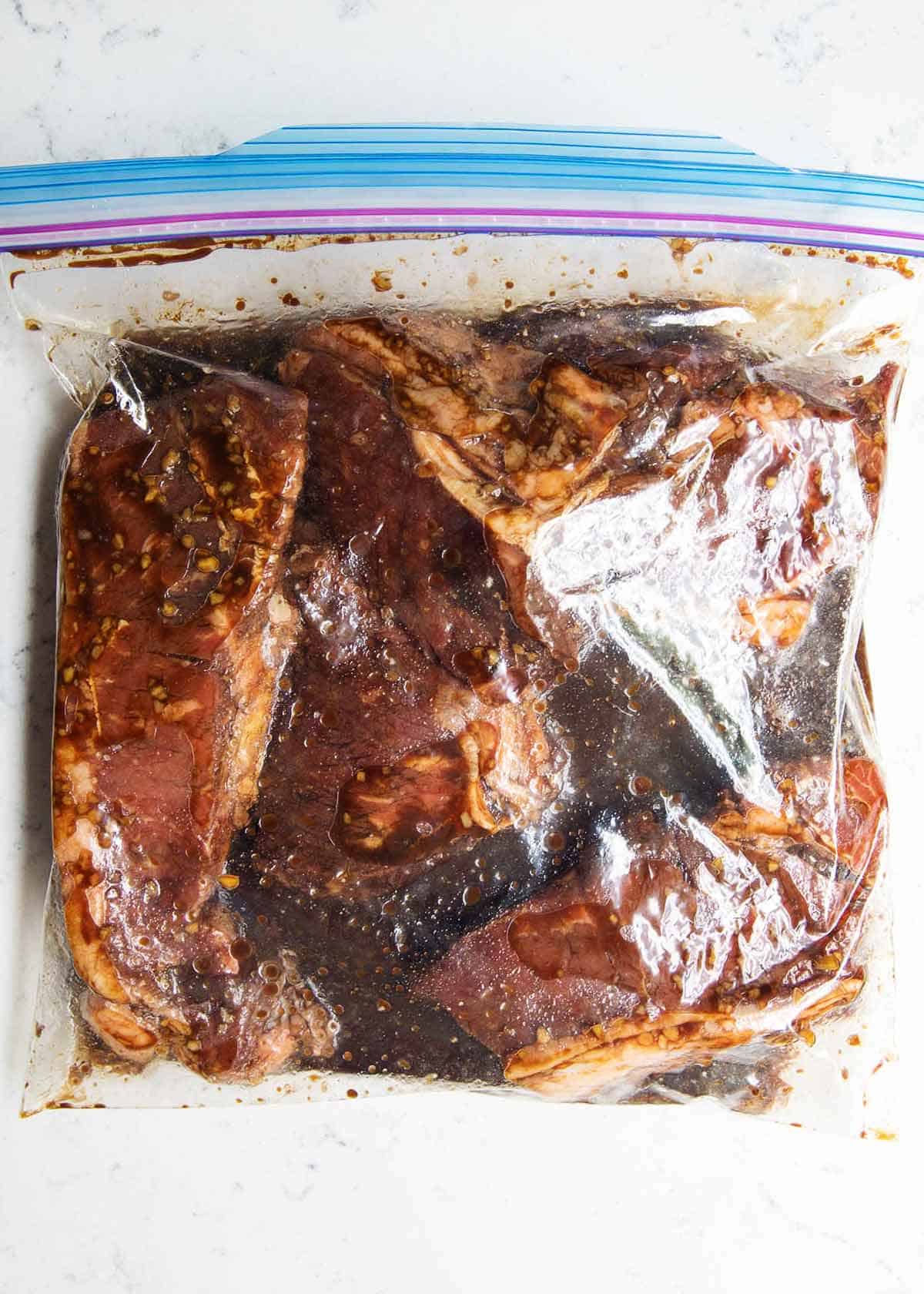 How to Cook Steak on the Grill
Grilling steaks is a simple process that creates a crisp layer on the outside with a tender and juicy inside. Cook your steak to perfection following these simple step-by-step instructions.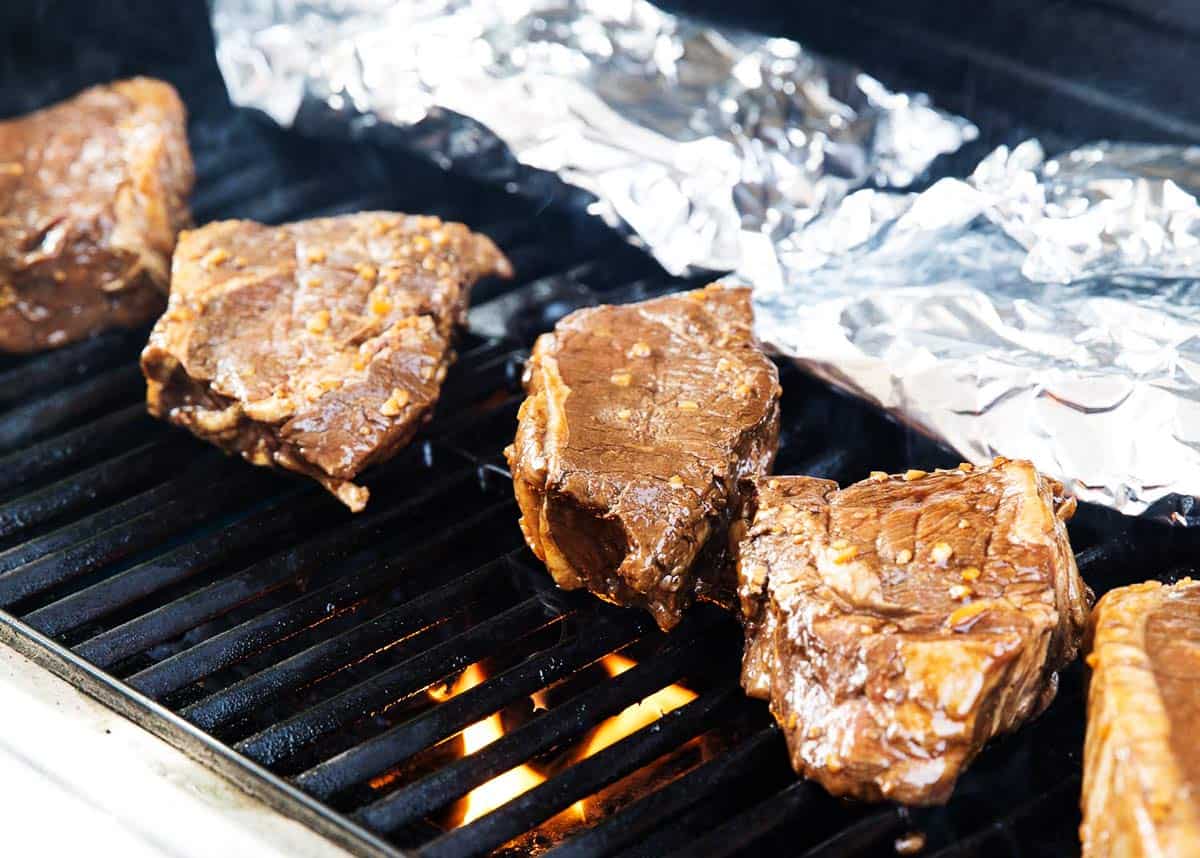 Prepare grill. Preheat the grill to medium-high heat. Once it's hot, clean with a wire brush and then oil the grates.
Cook the steak. Place the steak on the grill and cook for about 4 to 5 minutes per side. If you prefer your steak medium to well done, you will likely need to cook it a few more minutes.
Insert meat thermometer. Beef's tender, juicy texture is optimum when cooked to medium rare (145°F) to medium (160°F) doneness. To determine doneness, insert an instant-read thermometer horizontally into the side of the steaks. Place the thermometer in the thickest part. The thermometer should not touch bone, fat, or the grill.
Let rest. Once it's reached the desired temperature, remove it from the grill and tent with foil. Let the steak rest for 5 minutes before serving.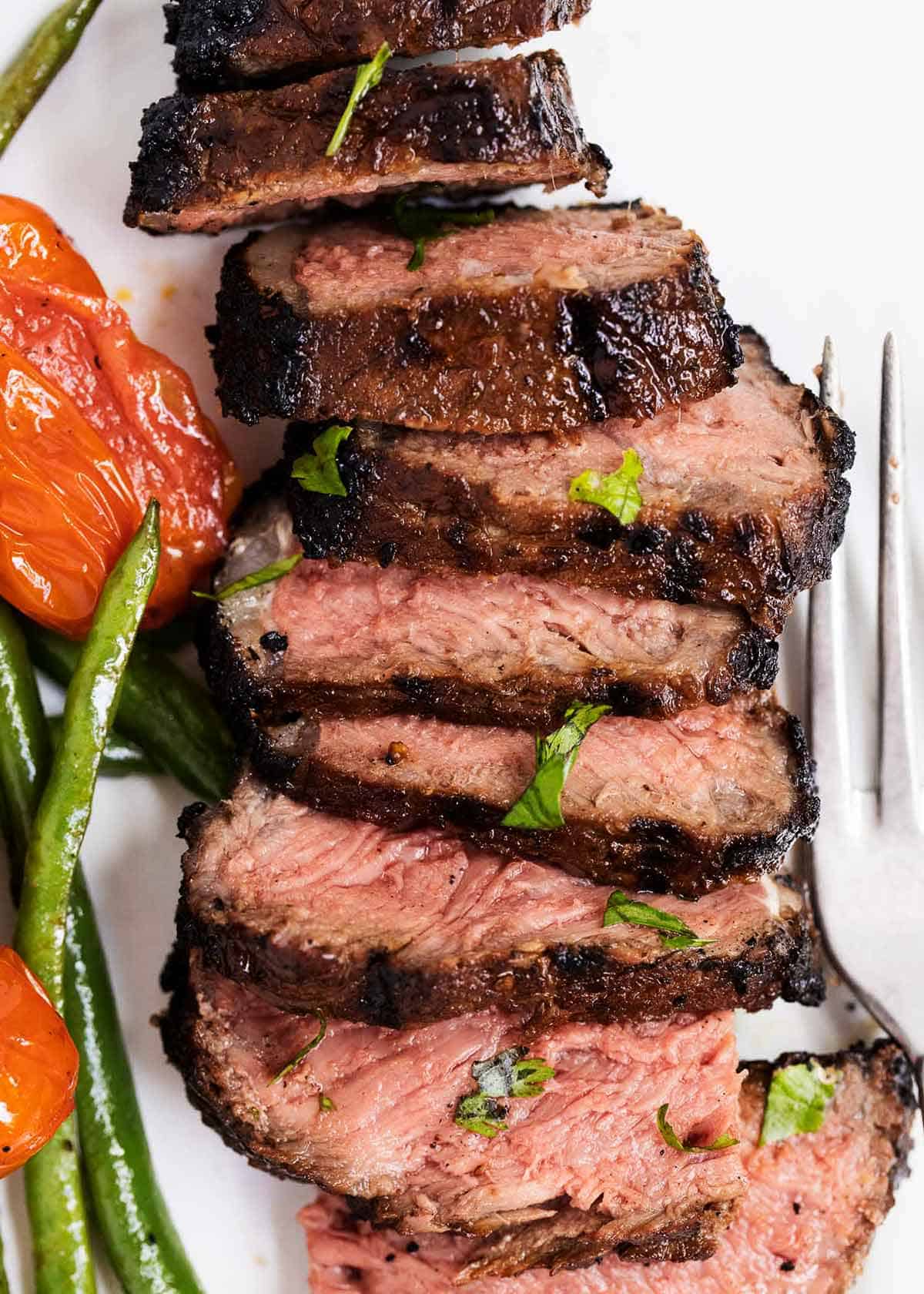 5 star review
"This is amazing! Thank you I will use it all the time! Love this recipe!"

-Debbie
Favorite Veggies to Grill with Steak
Add your favorite vegetables to any steak dinner! It is a complete meal with fresh veggies from the garden. Choose your favorites and pair one to two great sides to make this steak meal even better!
Tomatoes and green beans: This is my favorite combo. Just place in foil, drizzle with olive oil and salt and pepper. Then fold up the sides and cook for about 15 minutes.
Corn: Grill your corn by wrapping it in foil and cook for 10 minutes, turning occasionally. To elevate your corn, try making Mexican street corn or easy corn salad.
Asparagus: Coat asparagus with oil and salt and pepper to taste. Grill on high for 2-3 minutes. I like my asparagus a little crunchy, but grill for 1-2 more minutes if you prefer softer.
Zucchini: I like to grill my zucchini in spears. Brush with olive oil and salt and pepper then grill until beginning to char, about 3-4 minutes each side.
Baked potato: Poke holes into the potato with a fork, then brush olive oil on top. Sprinkle with salt and pepper. Wrap in foil and grill for about an hour, turning the potatoes constantly.
Recipe FAQs
What are the 3 main ingredients when marinating?
Marinade usually has three essential components. Typically there is an acid, an oil, and a flavoring agent. When this recipe we have vinegar, olive oil, and herbs and spices. It is the perfect blend!
Should you marinate steak?
Yes! Marinating your steak is always a great option when grilling. Beef does cook best when marinated. It adds flavor and can tenderize the meat.
How long should you marinate your steak?
Marinating steak for 1 to 2 hours is a great start. You can marinate overnight at the longest. This helps break down and tenderize the meat prior to cooking.
What types of cuts of beef can be marinated?
Most types of beef can be marinated before cooking or grilling. We love to grill flank steak, filet mignon, skirt steak, sirloin, or ribeye. These all give a great flavor as well as tender meat.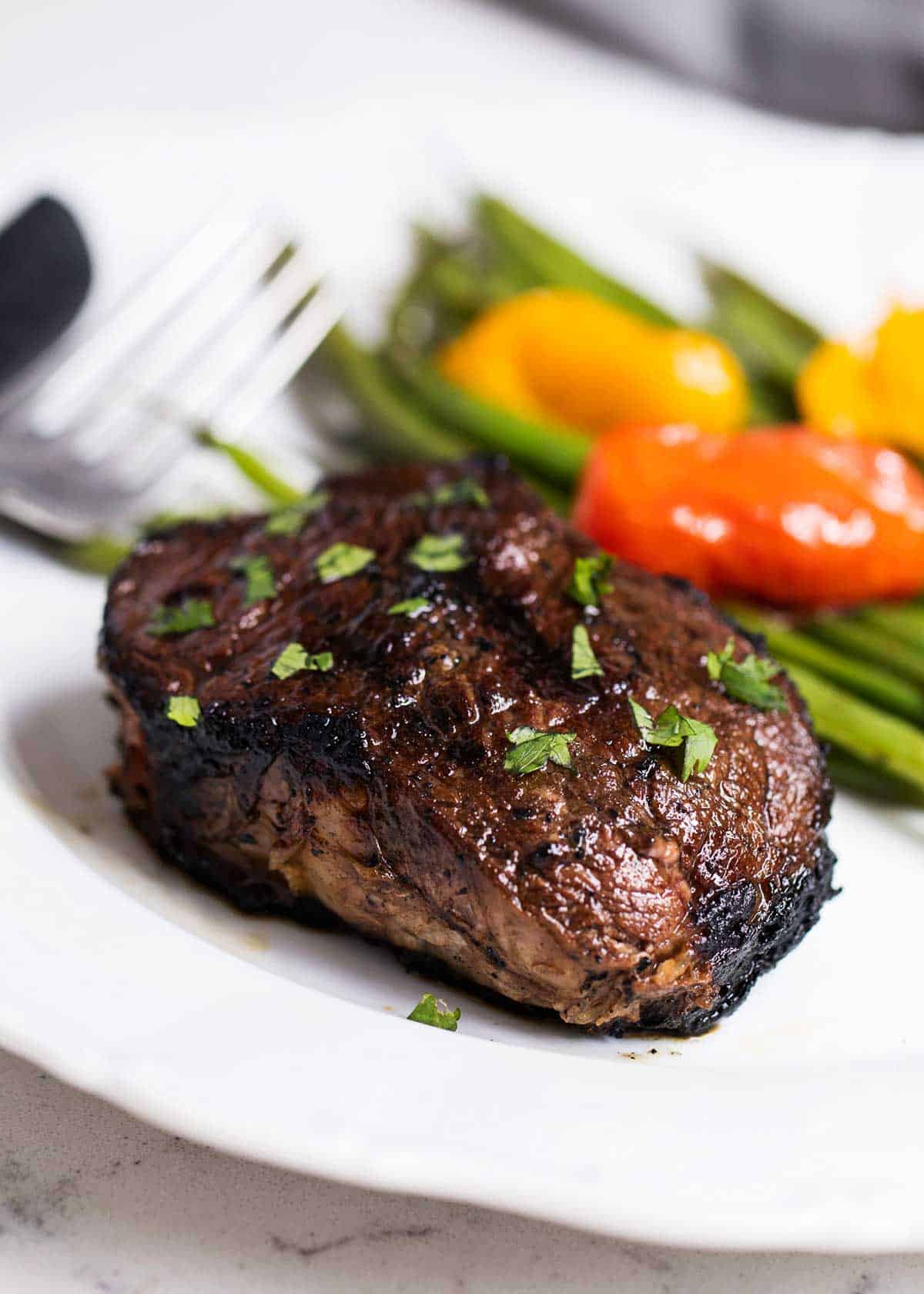 Other Ways to Season Steak
HUNGRY FOR MORE? Subscribe to my newsletter and follow on Facebook, Pinterest and Instagram for all the newest recipes!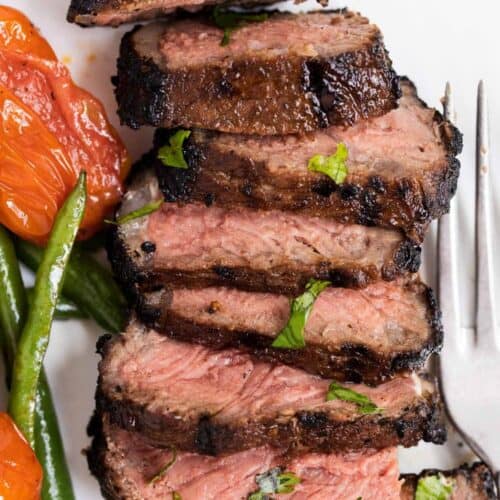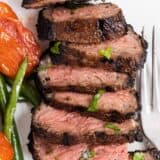 Easy Steak Marinade Recipe
This easy steak marinade takes only 5 ingredients and 5 minutes of prep! The most delicious flavor that creates a tender and juicy steak.
Instructions
In a small bowl, whisk the olive oil, balsamic vinegar, soy sauce, Worcestershire sauce, and garlic until combined. In a bowl or a zip-top bag, place 1 1/2 pound steak and pour the marinade over the top. Seal bowl or bag and place the steak in the refrigerator. Marinate at least 30 minutes, but giving it 4 hours or more will only improve the flavor.
Grill a steak
Preheat grill to medium high heat. Clean the grill grates with a wire brush and lightly oil the grates. Place the steak onto the grill and cook 4 to 5 minutes, or until browned. Turn the steaks over and grill another 4 to 5 minutes for medium-rare (135° F): 5 to 7 minutes for medium (140° F); or 8 to 10 minutes for medium-well done (160° F).

Remove steak from the grill and tent with foil. Let rest 5 minutes before serving. Slice meat against the grain. Top with a slice of butter and chopped parsley, if desired. Salt and pepper, to taste.
---
Notes
We typically use 1 1/2 pounds meat with this marinade.
Nutrition
Calories: 151kcal | Carbohydrates: 6g | Protein: 1g | Fat: 13g | Saturated Fat: 1g | Sodium: 618mg | Potassium: 114mg | Sugar: 3g | Vitamin C: 1.7mg | Calcium: 20mg | Iron: 1mg
Nutrition provided is an estimate. It will vary based on specific ingredients used.
Did you make this recipe? Don't forget to give it a star rating below!