This easy teriyaki steak marinade has flavor in every bite of meat making it tender and juicy! This simple recipe can also be used for other types of meat and seafood as well!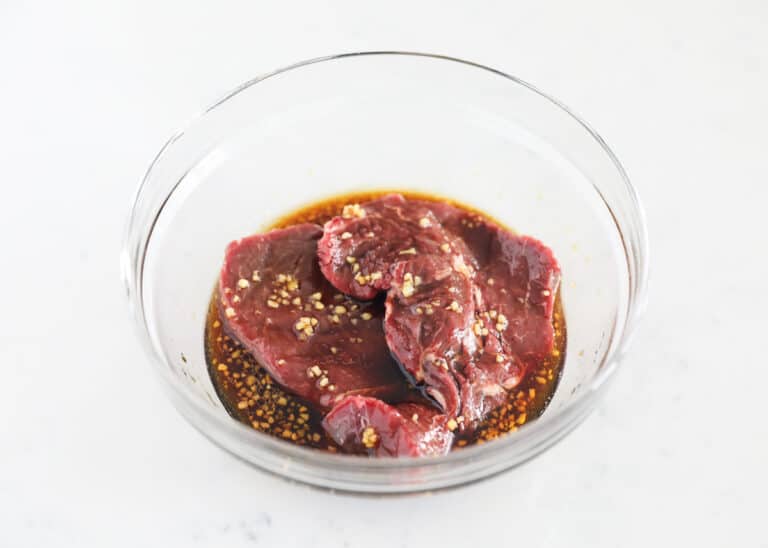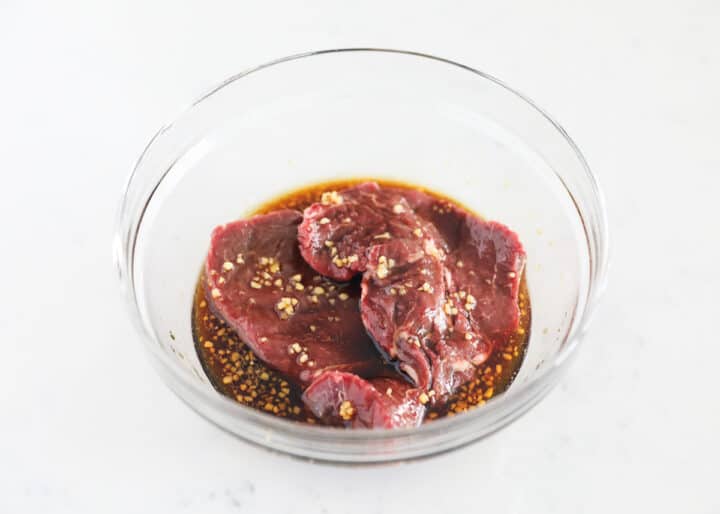 We're all about the Asian-inspired teriyaki! Whether it's a sauce, a glaze, a dip, or a marinade, our family enjoys it in all kinds of ways! Slow cooker teriyaki chicken is one of my favorites to do on a lazy weekend, and these teriyaki meatballs I put out as appetizers when I host any sort of gathering. Whether I'm marinating or just coating, it's all about those sweet and tangy flavors!
Having a variety of different easy steak marinades at your disposal means you can switch up the flavor of an entire meal just based on which one you decide to use! Will it be spicy, sweet, or zesty?
On many nights, this easy steak marinade is on rotation but on days when I feel like going a bit sweeter, I turn to the best easy teriyaki steak marinade that my kids love! It's got the same flavor profile as a teriyaki sauce, but is thinner and has more of a liquid base to really get into the meat. So, if you love yourself some teriyaki, you're going to LOVE this recipe!
The best part is that this teriyaki steak marinade recipe isn't just for steaks! It comes together so quickly and adds so much flavor that it's definitely worth trying on chicken, shrimp, and pork too!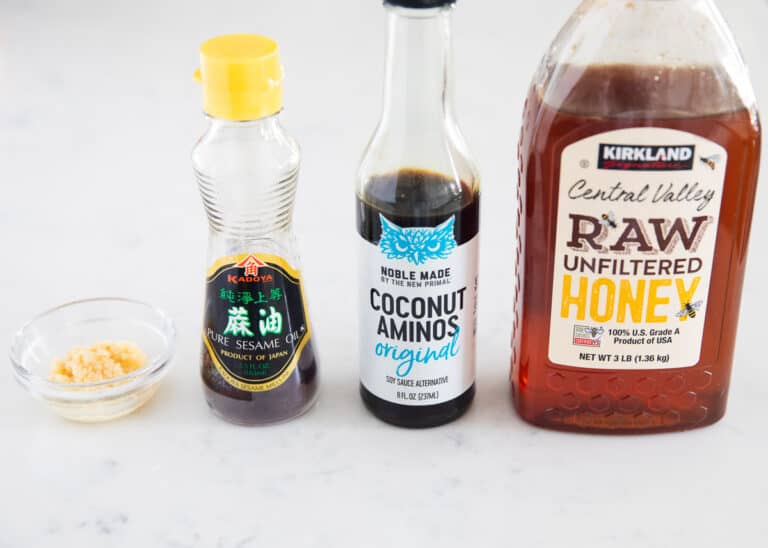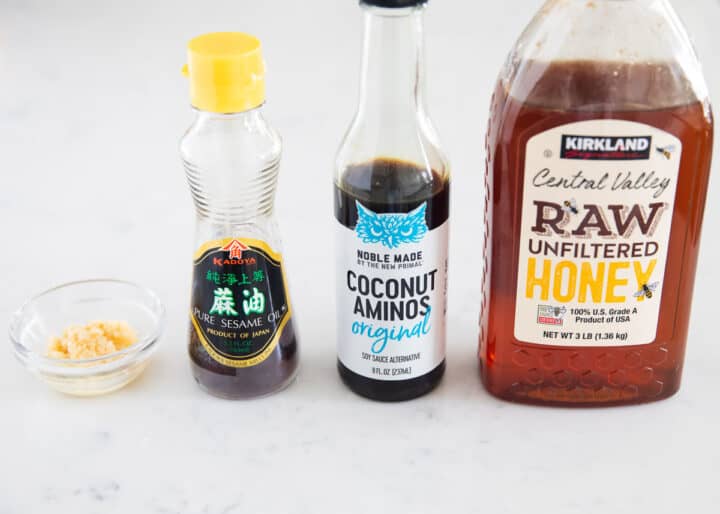 Difference between teriyaki sauce and teriyaki marinade
Both teriyaki sauce and teriyaki marinade use much of the same ingredients to achieve the same flavors. The major difference is that the marinade will be used to flavor the meat while it is raw, and the sauce will be used as a glaze, a dip, or a sauce for meat that's already been cooked!
One other noticeable difference is the texture. Teriyaki sauce uses cornstarch which thickens it up to a lovely sweet and sticky sauce, whereas the marinade will remain liquid to be absorbed by the meat.
What does a steak marinade do?
Marinades break down the fibers in your steak allowing all of the flavors of the marinade to permeate right through. This tenderizes the beef and creates a beautiful, juicy piece of meat with massive amounts of flavor in every bite. When using a marinade containing some kind of sugar, it gives the meat a better chance at getting that nice crispy seared char on the outside. This is because the sugars have caramelized making it downright drool-worthy!
This versatile steak marinade recipe can be used on any cut of meat and will flavor everything from steak bites to grilled steak kabobs, but it is also a great marinade for flank steak, whether enjoyed whole or cut in strips for a stir fry or sliced and served over rice and steamed vegetables.
Tips for making and using this marinade
Meat: I prefer sirloin steaks, but flat iron steak, flank, or rib-eye steak work well too.
Substitutions: You can substitute the sesame oil for olive oil or canola oil if that's what you have. You can also use honey instead of sugar or brown sugar. Can opt for coconut aminos instead of soy sauce if you're looking for a gluten-free option.
Variations: Cut the steak into cubes. Once it's done marinating, thread it onto skewers with chopped bell peppers, pineapples, or your other favorite additions. I mean, who doesn't love eating food off of a stick?
Time: Allow steak to marinate for a minimum of 30 minutes. The longer the better, so if you can hold off until the next day, marinating overnight is ideal.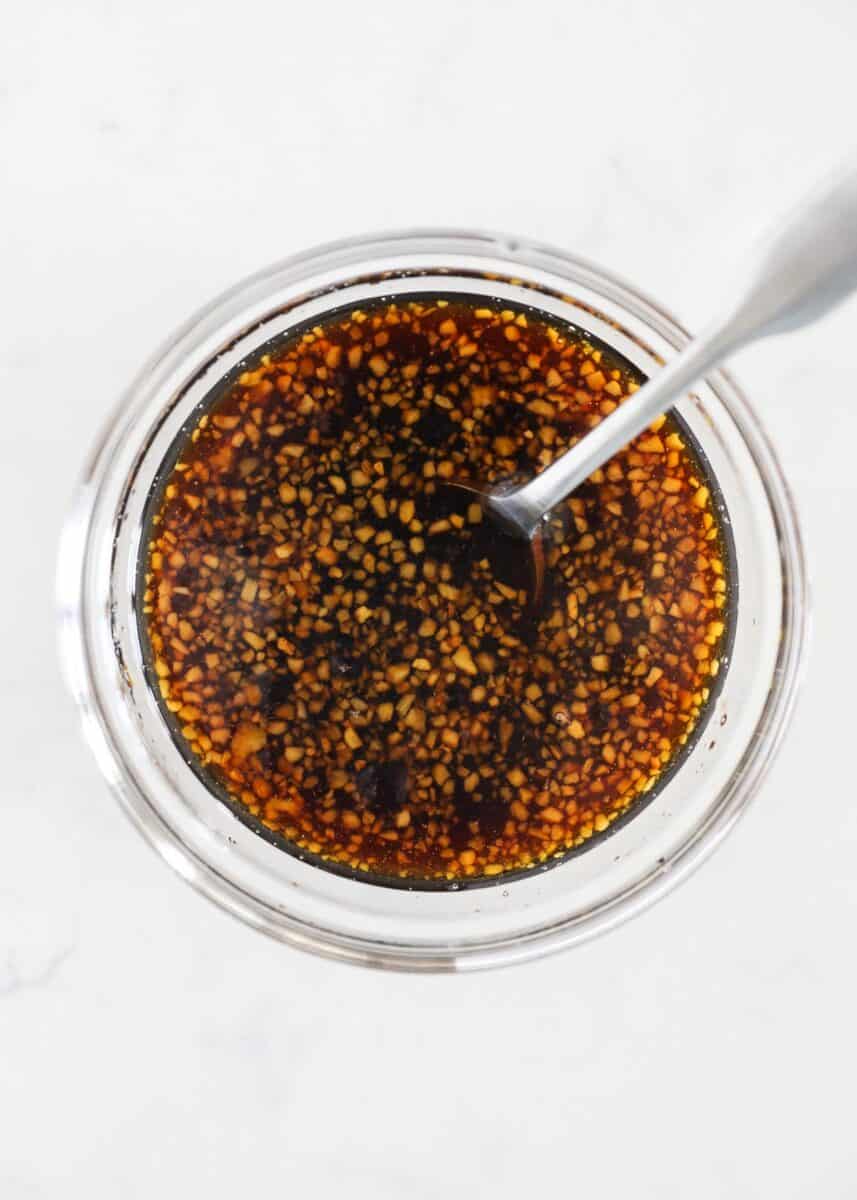 More ways to season steak: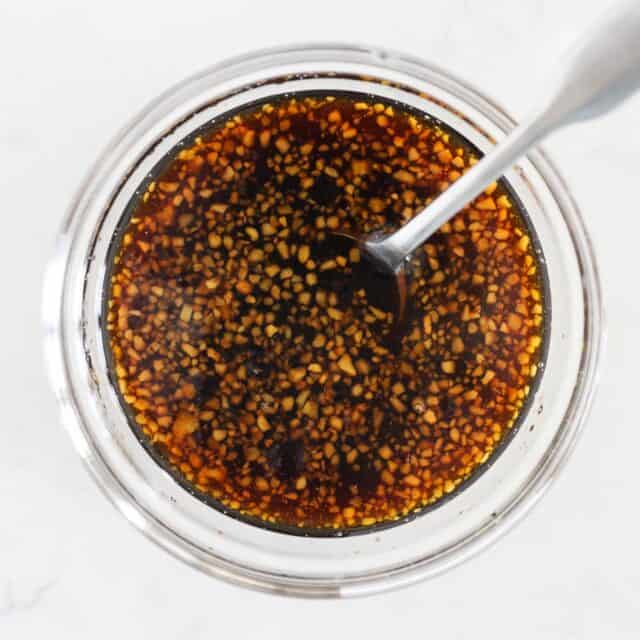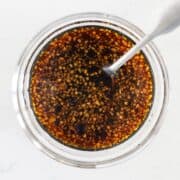 Teriyaki Steak Marinade
This easy teriyaki steak marinade has flavor in every bite of meat making it tender and juicy! This simple recipe can also be used for other types of meat and seafood as well!
Ingredients
1 1/2

pounds

sirloin steak

, or meat of choice

1/2

cup

low sodium soy sauce

, or coconut aminos

1/4

cup

water

2

Tablespoons

sesame oil

2-3

Tablespoons

honey

2

Tablespoons

worcestershire sauce

1

Tablespoon

minced garlic

1-2

teaspoons

fresh ginger

, or 1/8 teaspoon ground ginger
For garnish: green onions or parsley
Instructions
Trim any fat and cube steak if desired. Place the meat in a glass bowl or zip top bag. Set aside.

Combine the soy sauce, water, oil, honey, Worcestershire sauce, garlic and ginger in a small bowl. Whisk until combined.

Pour sauce over the steak. Seal bowl or bag and place the in the refrigerator and allow to marinate for at least 30 minutes. Best when marinated for 4-6 hours, or overnight.

Cook steak as desired (notes below for cooking on grill). Let rest for 5 minutes, before serving. Slice against the grain. Serve while warm.
Notes
Meat: I prefer sirloin steaks, but flat iron steak, flank or rib eye steak work well too. 
Substitutions: If you don't have sesame oil, you can substitute for olive or canola oil. You may also substitute sugar or brown sugar for the honey, if preferred. 
Variations: This recipe makes great skewers. Cut steak into cubes and after it has marinated, thread onto skewers with vegetables (such as bell peppers) and pineapple. 
Cookin on grill:
Preheat grill to medium high heat. Clean the grill grates with a wire brush and them lightly oil the grates. Place the steak onto the grill and cook until golden brown, 4-5 minutes. Turn the steaks over and grill another 4-5 minutes for medium-rare (145° F), 5 to 7 minutes for medium (140° F) or 8 to 10 minutes for medium-well done (160° F).
Nutrition
Calories:
151
kcal
|
Carbohydrates:
6
g
|
Protein:
1
g
|
Fat:
13
g
|
Saturated Fat:
1
g
|
Sodium:
618
mg
|
Potassium:
114
mg
|
Sugar:
3
g
|
Vitamin C:
1.7
mg
|
Calcium:
20
mg
|
Iron:
1
mg
PIN THIS RECIPE