Marinated in a fresh, herbaceous, and citrusy marinade, this deliciously seasoned meat is grilled to fall-apart tender perfection with unmistakable char marks. This easy carne asada recipe is so easy and full of Mexican-inspired flavors!
Marinate, Grill, and Eat!
If you were to ask me for a compiled list of the best Mexican recipes, this carne asada steak would be right up there with slow cooker carnitas, flank steak tacos, and Mexican street corn. It's that good!
This easy carne asada recipe couldn't be easier either. All it takes is to marinate the steak with a vibrant citrusy marinade filled with fresh herbs and spices, then pop it onto a sizzling hot grill. While I love this beef birria recipe year round, there is just something about grilling during warmer weather that makes everything taste better!
There's not much more to it! The carne asada marinade is given a chance to penetrate deep into the meat giving every tender bite of juicy beef so much flavor.
Technically, carne asada means grilled meat, but it is so much more than that!
What is Carne Asada?
It translates to grilled beef. This could mean a lot of things I suppose, but when we think of this Mexican-inspired dish, a deliciously flavorful marinated flank or skirt steak comes to mind.
The char marks from the grill are a bonus! It's great on its own, but when sliced, the pieces are tender enough to fit into homemade flour tortillas for carne asada tacos, and more.
Ingredients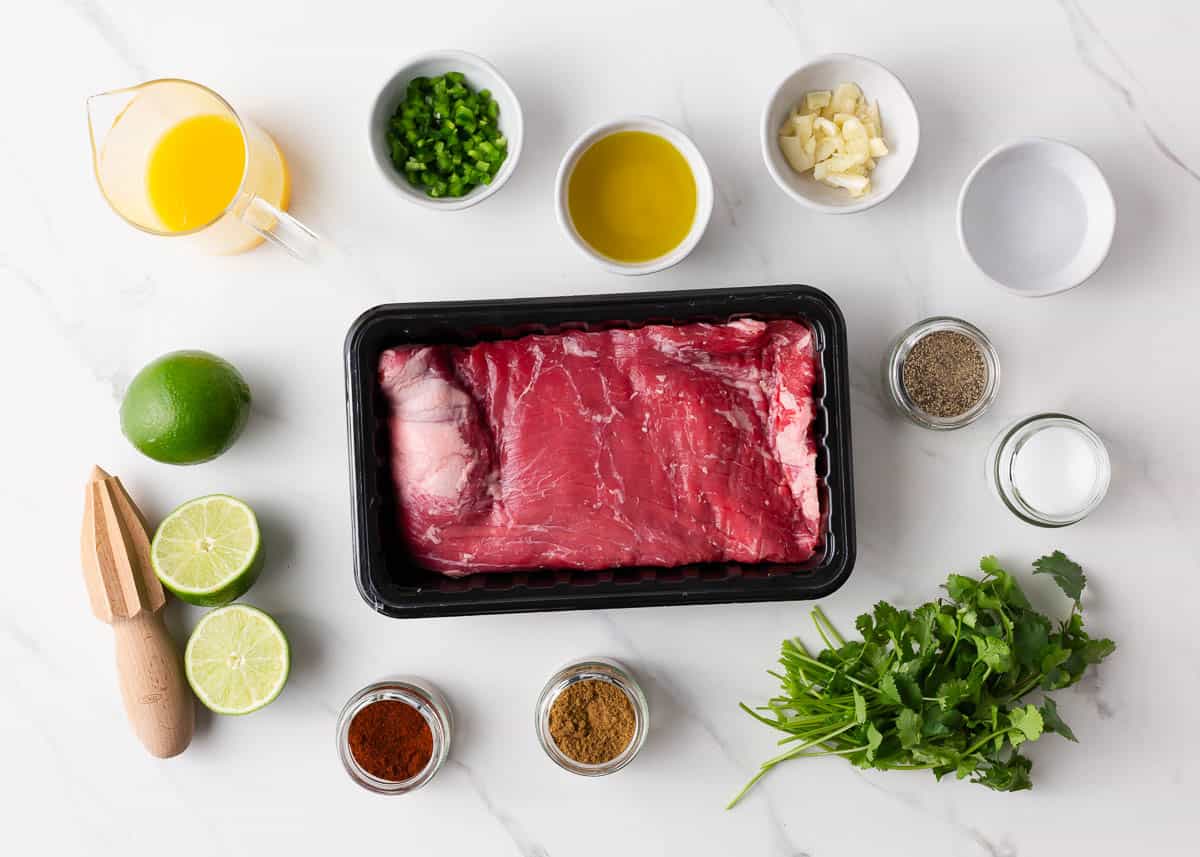 Find the full printable recipe with specific measurements below.
Olive oil: Using oil in the marinade helps to bring all the ingredients together in a cohesive liquid. It also helps to keep the meat moist.
Citrus juices: Freshly squeezed lime juice and orange juice. The acidity will help to break down the fibers in the meat tenderizing it while permeating delicious flavors.
White vinegar: This also helps break down the meat.
Minced jalapeno: For spice! Use more or less of the seeds depending on how spicy you want it. Or remove them completely.
Crushed garlic: An aromatic that adds another layer of flavor. Garlic has a way of making everything better.
Fresh cilantro: A vibrant fresh herb popular in Mexican dishes. It helps to lighten and brighten up the marinade.
Spices: Chili powder and cumin. A combination of smoky, spicy, and earthy spices.
Salt & pepper: For added seasoning. You may want to have extra to sprinkle just before grilling.
Flank steak: It's a leaner cut of beef so it does well with a longer marinating time.
How to Make Carne Asada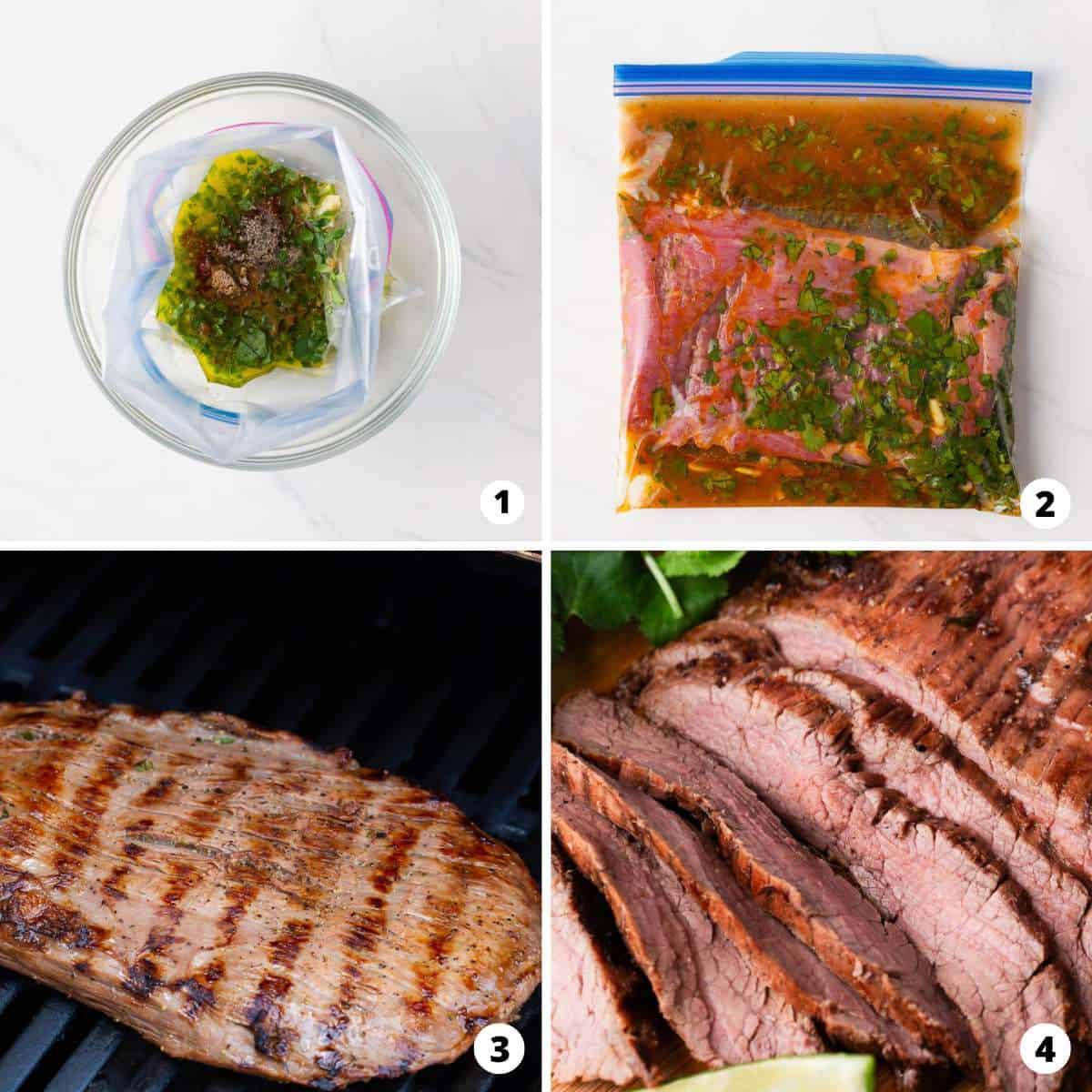 Combine the marinade. I use a gallon-sized zip-top bag to add and mix my marinade. I find it easier than taking up space with a mixing bowl while it sits, but both work. Combine all the ingredients of the marinate and seal it and give it a little shake to mix it up.
Marinate the steak. Add the steak to the bag and press out excess air then seal. You can either marinate it at room temperature for at least 2 hours or in the fridge for up to 12 hours. I wouldn't do any longer than that. Discard the marinade, do not reuse.
Grill the meat. Bring the meat to room temperature for 30 minutes before grilling if it's been in the fridge. You never want to place cold meat onto a hot grill. Remove the steak from the bag and pat it dry with a paper towel. Season both sides with salt and pepper. Place steak on preheated grill for 7-10 minutes for medium.
Rest, slice, and serve. Remove the carne asada from the heat and place it onto a serving platter or cutting board. It will continue to cook for a bit as it sits. Let it rest for 5-10 minutes and then slice against the grain before serving.
How Long to Grill
How long to grill your carne asada meat is determined by how you like your steak cooked. It's important to use a meat thermometer to test for doneness. Try 7-10 minutes for medium-rare, but follow the guidelines below for your desired results:
Medium-Rare (130°-140°F)
Medium (140°-150°F)
Medium-Well (150°-160°F)
Well (Over 160°F)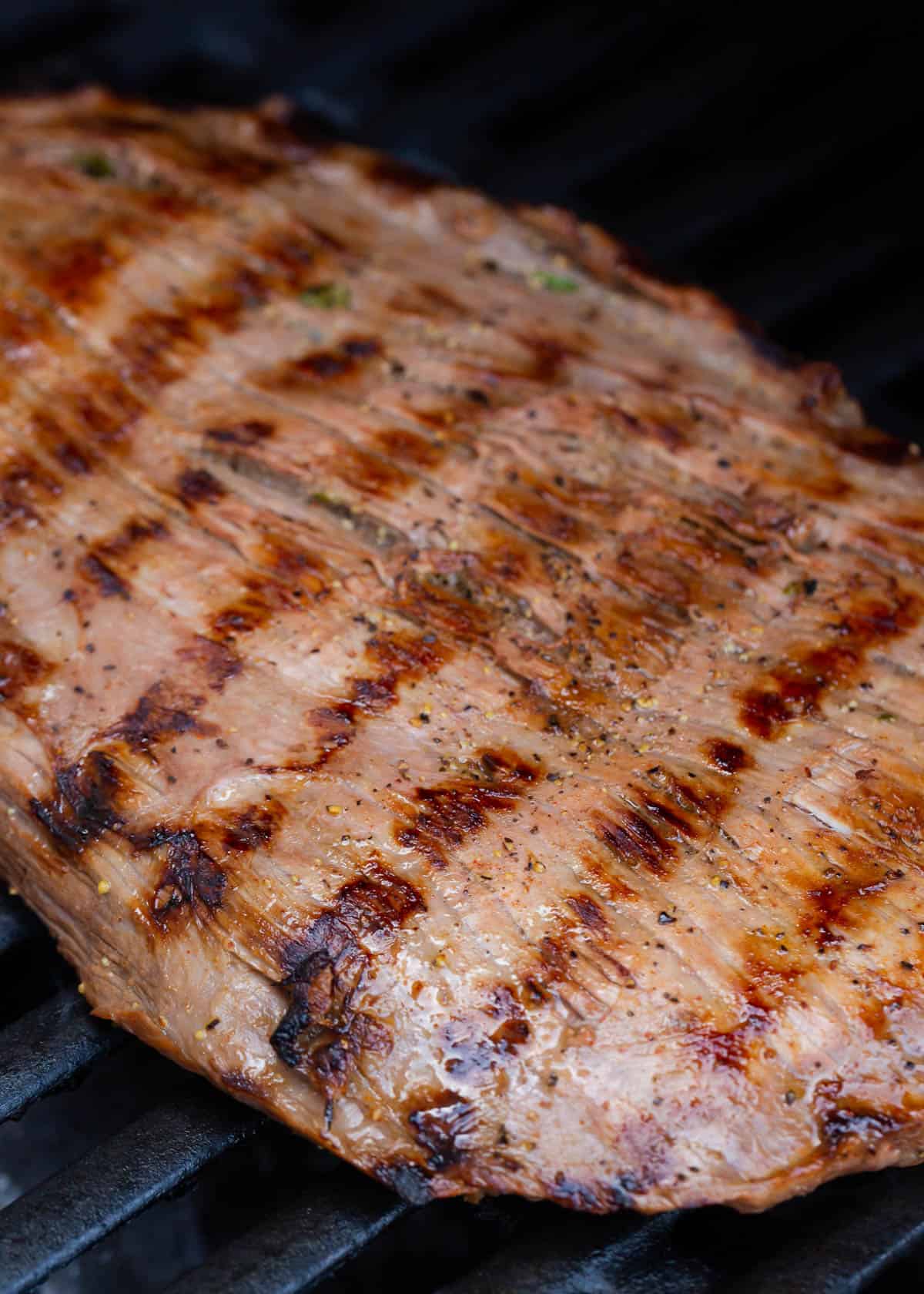 Expert Tips
The best cut of beef for this carne asada recipe is either flank steak or skirt steak. If using skirt steak I would recommend cooking it to medium rare as it does have more fibers and connective tissues than leaner flank steak.
To make it even more tender. Pound the steak in between two pieces of plastic wrap. Use a meat mallet or a rolling pin to tenderize it and even out the thickness for even cooking.
Do not marinate longer than 12 hours. Doing so can cause the citrus and acid to start breaking down the meat too much, causing mushy meat and tough chewy textures.
Clean the grill grates well before adding the meat. You can even brush them off once the grill is hot, anything stuck will come off easier.
Cut against the grain. Once it's had a chance to sit and redistribute the juices, slice along the muscle fibers into thin strips. Shortening them helps to make sure each bite is buttery and not chewy.
Recipe FAQs
Can I make this ahead of time?
You can. Make the marinade 3 days ahead of time, but don't add the meat any earlier than 12 hours from grill time. What I like to do is marinate it in the morning so it's ready to grill by dinner time.
What if I don't have a charcoal grill or gas grill?
No grill? no problem! As much as I love heating up the backyard grill, this is absolutely doable inside on the stove-top using a cast iron grill pan. It's also great for when it's cold outside.

Can I use frozen flank steak?
Yes, for sure. Just as long as you thaw it first and bring it to room temperature before marinating and grilling.
Can I make this easy carne asada recipe in the oven?
Certainly. This is slightly different than learning how to cook steak in the oven using a cast-iron skillet, but it's another great option. Preheat the broiler and place the grate on the upper middle rack. Broil the steak on a baking sheet, flipping halfway until cooked to desired doneness. Once again, use an instant-read thermometer to determine when it's ready.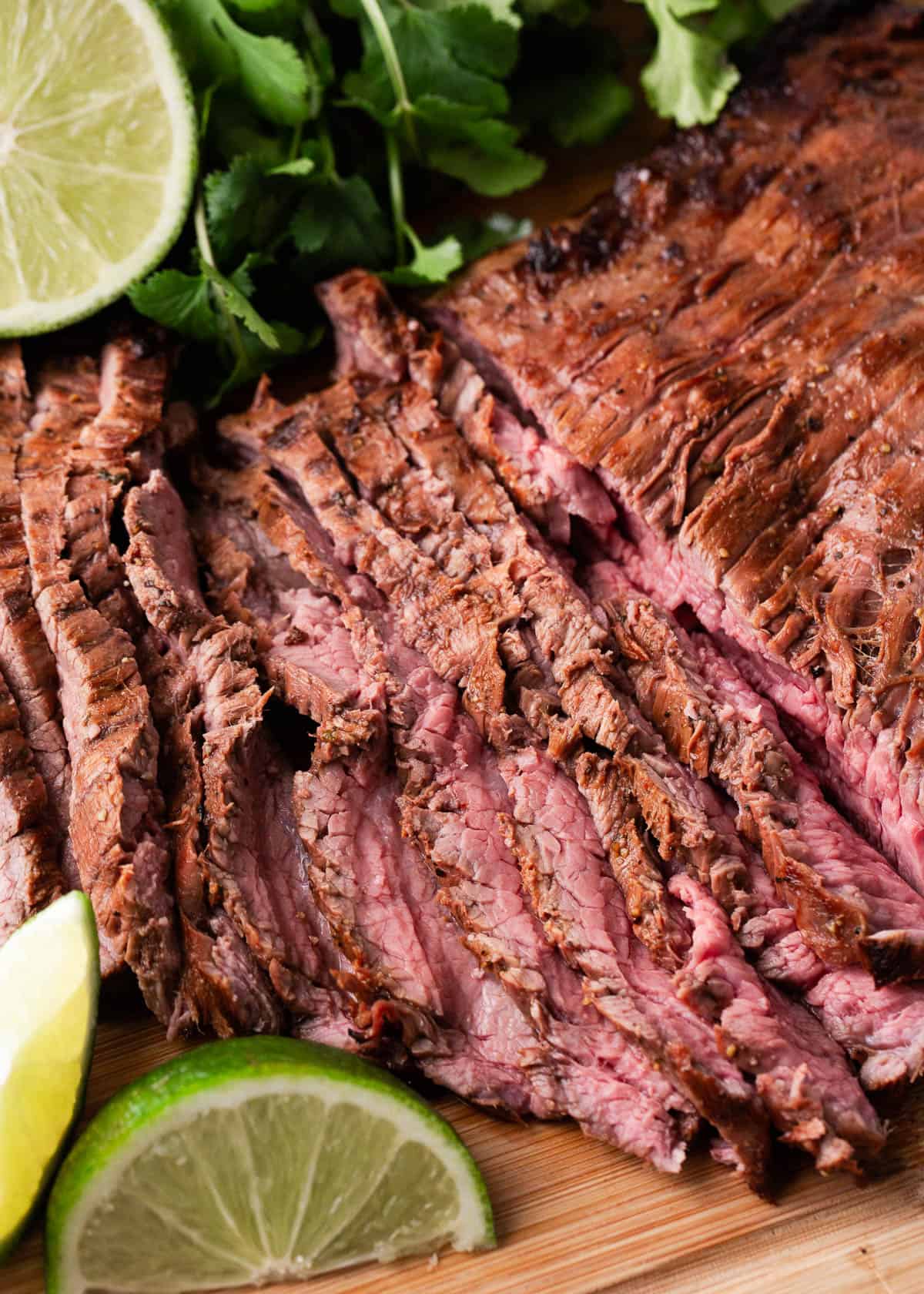 Serving Suggestions
There are plenty of ways to put this easy carne asada recipe to good use! Enjoy it as is with a side of Mexican rice and refried beans or black beans and rice. Drizzle some salsa verde, chimichurri, or pico de gallo overtop or make a homemade cilantro lime crema using sour cream, cilantro, lime juice, zest, garlic, and salt.
You can also add slices to corn tortillas or flour tortillas for tacos, quesadillas, or burritos with some fresh guacamole and other favorite toppings.
Chop up the meat and add them to nachos, or make a steak salad with crispy tortilla strips for lunch!
Storing
Keep leftovers in an airtight container for up to 3 days in the fridge.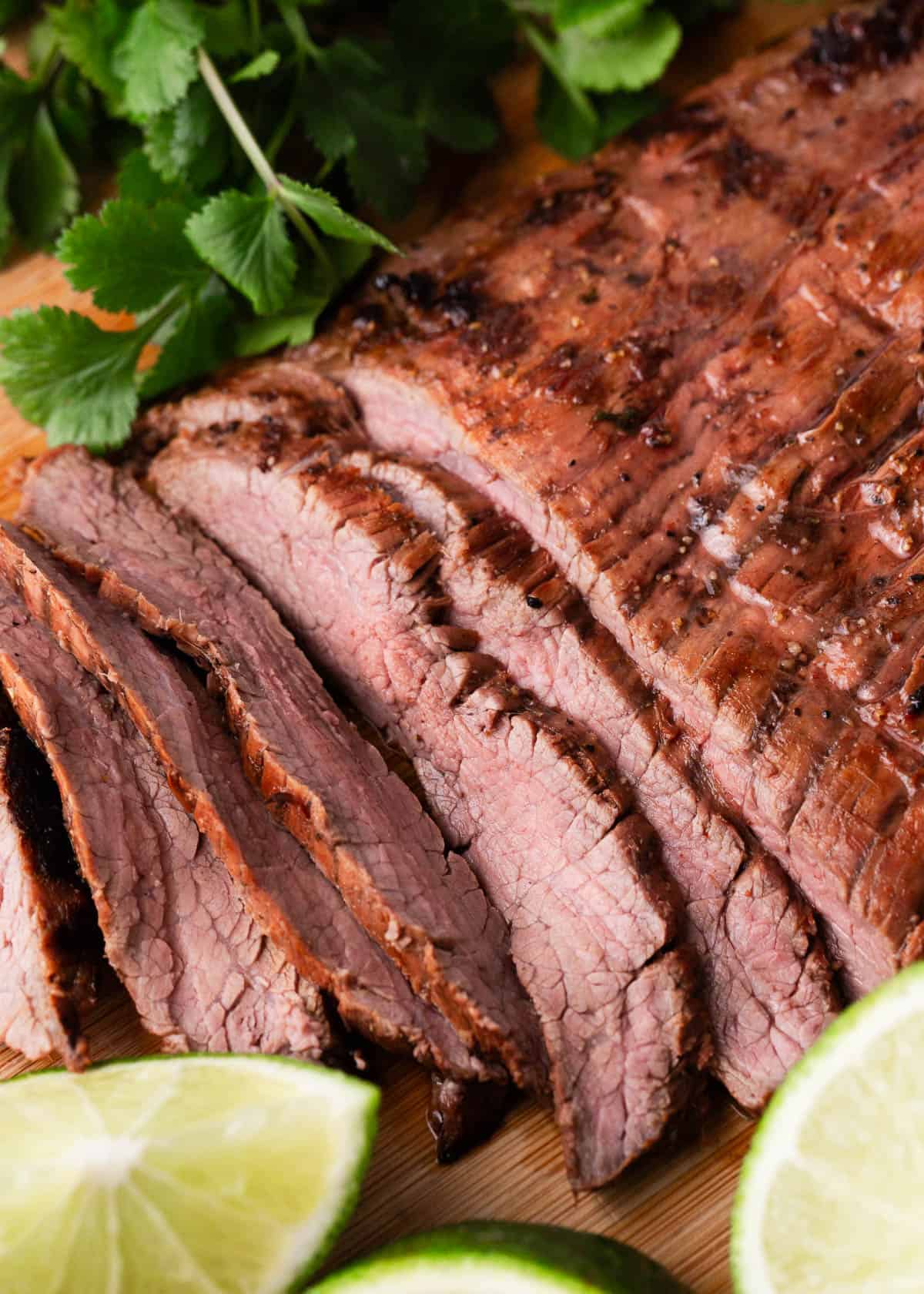 HUNGRY FOR MORE? Subscribe to my newsletter and follow on Facebook, Pinterest and Instagram for all the newest recipes!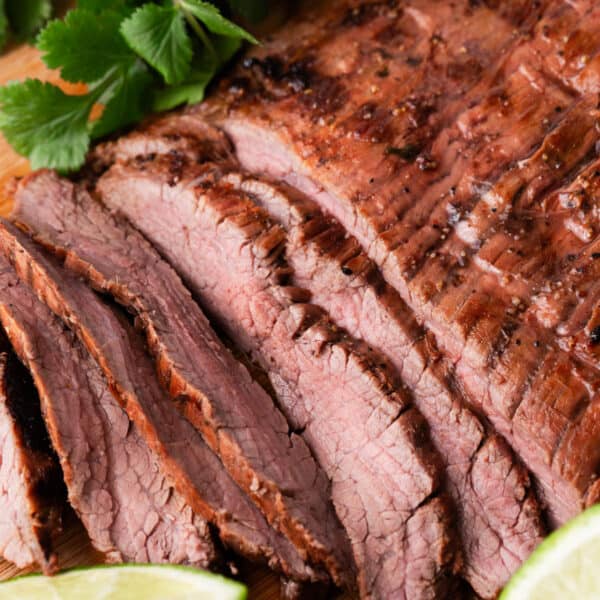 Carne Asada Recipe
Marinated in a fresh, herbaceous, and citrusy marinade, this deliciously seasoned meat is grilled to fall-apart tender perfection with unmistakable char marks. This easy carne asada recipe is so easy and full of Mexican-inspired flavors!
Ingredients
¼ cup olive oil
2 limes , juiced
½ cup orange juice
2 Tablespoons white vinegar
1 jalapeno , minced and seeded (for less
4 cloves garlic , crushed
1 cup chopped fresh cilantro
1 teaspoon chili powder
1 teaspoon cumin
1 teaspoon Kosher salt , plus more for grilling
¼ teaspoon ground black pepper , plus more for grilling
2 pounds flank steak
Instructions
In a gallon-size zip-top bag, add the olive oil, lime juice, orange juice, vinegar, jalapeno, garlic, cilantro, chili powder, cumin, salt, and pepper. Seal and mix together.

Add the steak and press out any excess air before sealing. Marinate at room temperature at least 2 hours or in the refrigerator up to 12 hours. Set out 30 minutes before grilling.

Remove the steak from the marinade and pat the steak dry with paper towel. Season each side with kosher salt and pepper.

Preheat the grill to medium-high heat. Place steak on the grill and cook 7 to 10 minutes for medium, or until a digital thermometer reads 140°. You can also cook to your desired doneness. See notes for cooking temperatures.

Let rest 5 to 10 minutes before slicing against the grain.
---
Notes
Pound the steak. Place steak in between two pieces of plastic wrap or in a large zip-top bag. Using a mallet or a rolling pin, pound the steak to an even thickness. This helps tenderize it and cook more evenly.
Steak doneness:
Medium Rare (130°-140°F)
Medium (140°-150°F)
Medium Well (150°-160°F)
Well (Over 160°F)
Make-ahead: This marinade can be made up to 3 days in advance, however I don't recommend marinating the meat longer than 12 hours, since the acid in the marinate can break down the muscle too much. Typically I like to add the meat in the morning and grill that evening.
Cook steak in the oven: Preheat the broiler. Place steak on a baking sheet. Broil 8 inches away from broiler, turning once halfway through, until cooked to desired doneness (6 to 8 minutes per side for medium). See below for internal temperatures.
Cilantro Lime Crema: For a delicious flavor, add this sauce on top: In a food processor, blend 1/2 cup sour cream, 1/4 cup cilantro, 1 lime (zested and juiced), 1 clove garlic, and 1/2 teaspoon salt. Blend until smooth. Salt and pepper to taste.
Storing: Discard any leftover marinade and do not reuse. You can store leftover, room temperature meat in an airtight container in the refrigerator up to 3 days.
Nutrition
Calories: 233kcal | Carbohydrates: 4g | Protein: 25g | Fat: 13g | Saturated Fat: 3g | Polyunsaturated Fat: 1g | Monounsaturated Fat: 7g | Cholesterol: 68mg | Sodium: 357mg | Potassium: 466mg | Fiber: 1g | Sugar: 2g | Vitamin A: 271IU | Vitamin C: 16mg | Calcium: 39mg | Iron: 2mg
Nutrition provided is an estimate. It will vary based on specific ingredients used.
Did you make this recipe? Don't forget to give it a star rating below!