From stove to table in less than 30 minutes, this skillet steak and potatoes is a delicious weeknight dinner recipe! Juicy bites of pan-seared steak and perfectly seasoned crispy potatoes are where signature garlic butter flavors meet convenience!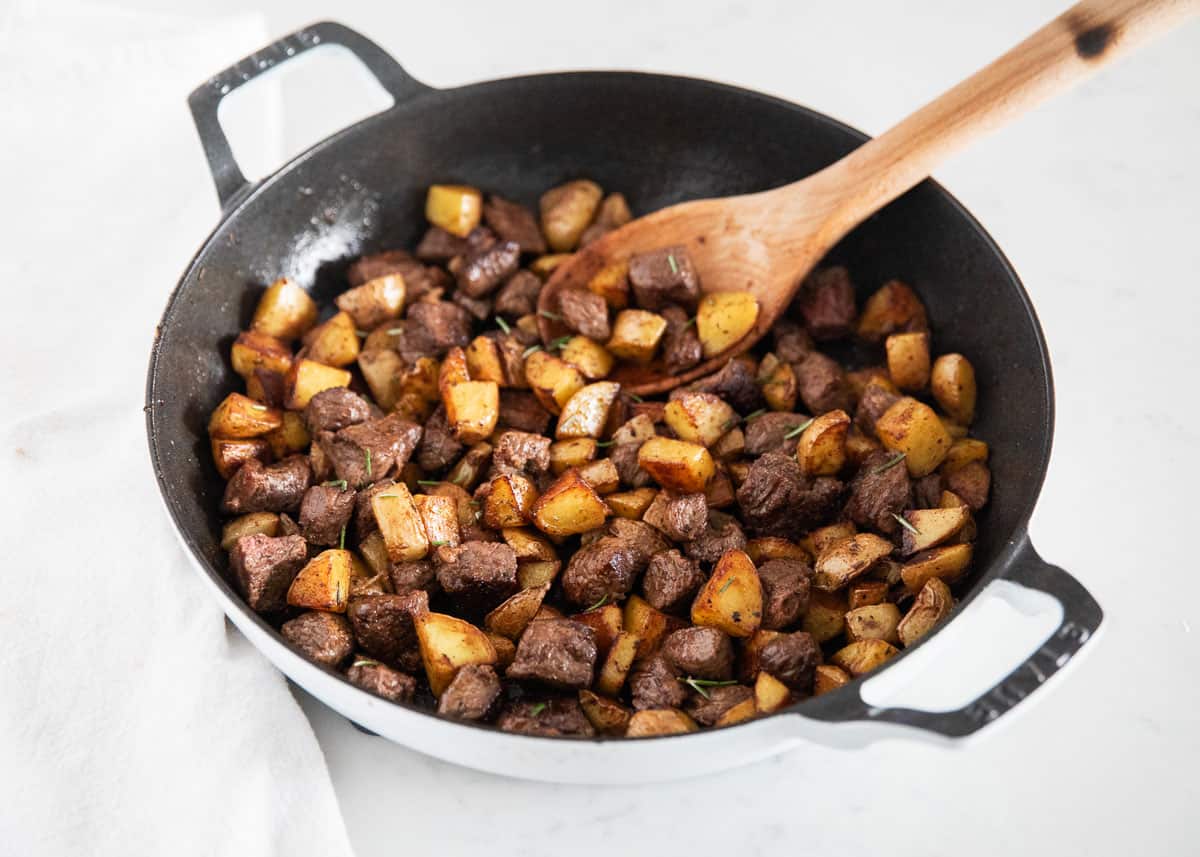 Garlic Butter Steak and Potatoes Skillet
We all love a perfectly cooked steak. When time permits, cooking steak in the oven, making roast beef tenderloin or a grilled flank steak is always a treat. But turning a traditional family favorite into something suitable for a quick and simple weeknight meal is a great way to switch things up!
Buttery steak bites and cast iron skillet potatoes come together quickly and easily in under 30 minutes. This sizzling recipe is a harmonious dish combining tender, crispy, and juicy textures with the mouthwatering flavors of a homemade steak rub, garlic butter, and Italian seasoning. Leveling up your dinner menu just got a whole lot easier.
Little appetites love the bite-sized pieces in this dish! Serve with a side of toothpicks and these perfectly charred steak bites become an instant appetizer. In the morning, whip up some eggs and enjoy a breakfast of champions. Scrambled eggs, fried, or poached eggs with a garlic butter steak and potatoes skillet is the BEST!
Why You'll Love This Recipe
Quick and easy: Ready in less than 30 minutes, it's the perfect dinner option after a busy day.
Restaurant quality: Comfort meets elegance in this one pan recipe that contains simple ingredients.
Flavorful: The perfect seasonings combined with garlic butter add rich, satisfying and amazing taste to the potatoes and steak.
Minimal cleanup: Everything is made in one skillet on the stovetop which makes cleanup a breeze!
Recipe Ingredients
Nothing fancy here! Most of these steak potato ingredients you probably already have on hand. Find the full printable recipe with specific measurements below.
Sirloin steak: This cut of meat is perfectly suited for being pan seared and will get nice and tender! You could also use tenderloin for the steak bites.
Potatoes: Yukon gold potatoes are a great choice with their buttery taste. Large potatoes will need to be quartered and baby potatoes halved.
Garlic: Freshly minced garlic cloves are best to use in this dish.
Olive oil: I like to use olive oil when I am cooking over high heat, but vegetable oil works, too!
Butter: Unsalted butter allows you to control the sodium better, if you use salted butter you may need to adjust salt amounts.
Seasonings: I like to use my homemade Italian seasoning for the potatoes and steak rub to marinate and tenderize the meat.
Salt and pepper: To add taste and flavor.
Fresh herbs (optional): Fresh rosemary and thyme are a delicious way to garnish your garlic butter steak bites and potatoes before serving.
Variations
Butter. Instead of using plain butter, take the flavor up a notch by using garlic herb butter.
Seasonings. Steak rub is a combination of many different herbs and spices that create an awesome flavor combination. If you like a more simple sprinkling of salt and pepper, go ahead and use that instead.
Spicy: Add red pepper flakes in with your butter.
Grilled version. Use this same recipe to make steak and potato foil packs on the grill. An easy summer version with hardly any cleanup!
How to Make Garlic Butter Steak and Potatoes
This recipe comes together quickly so have all your ingredients prepped and ready to make it even easier.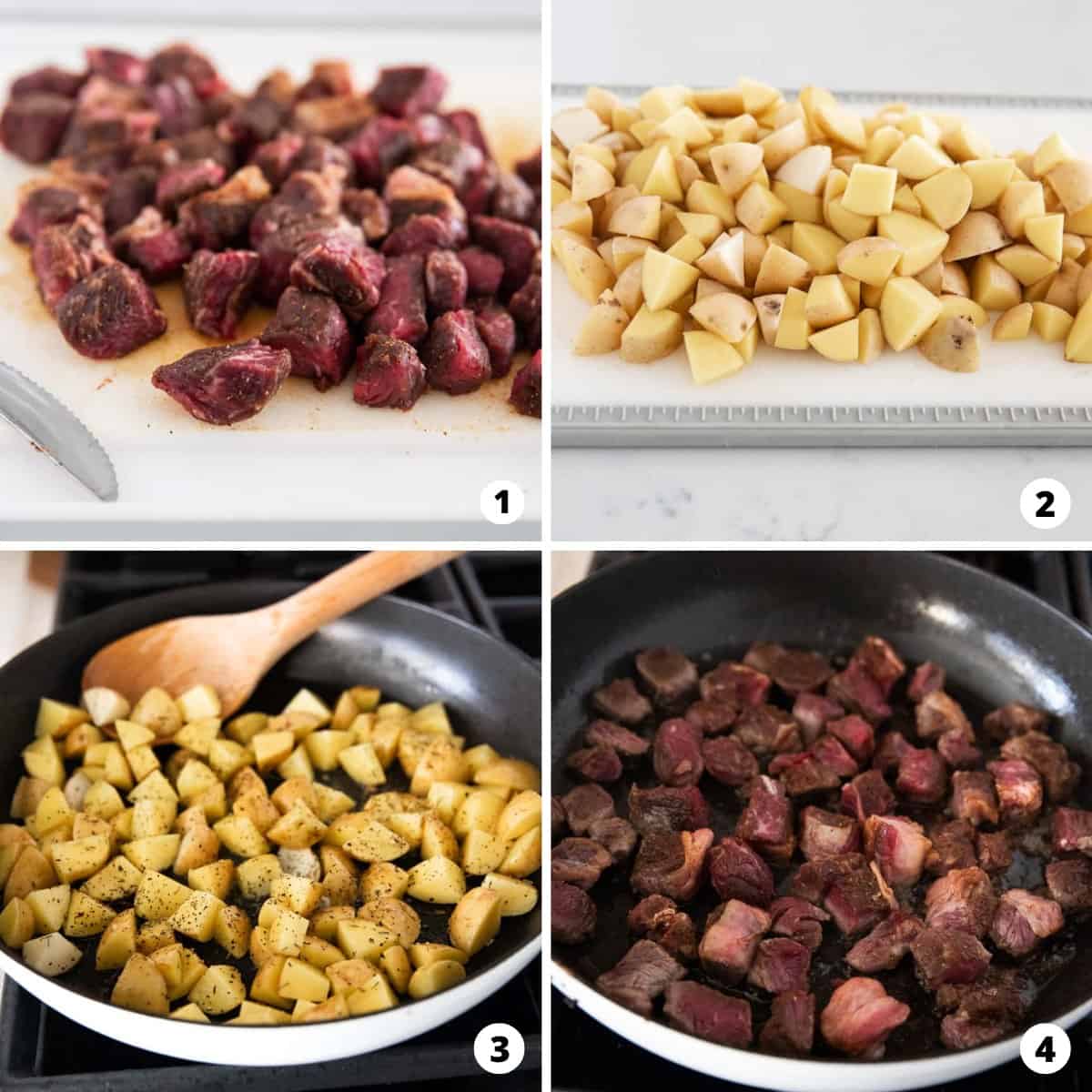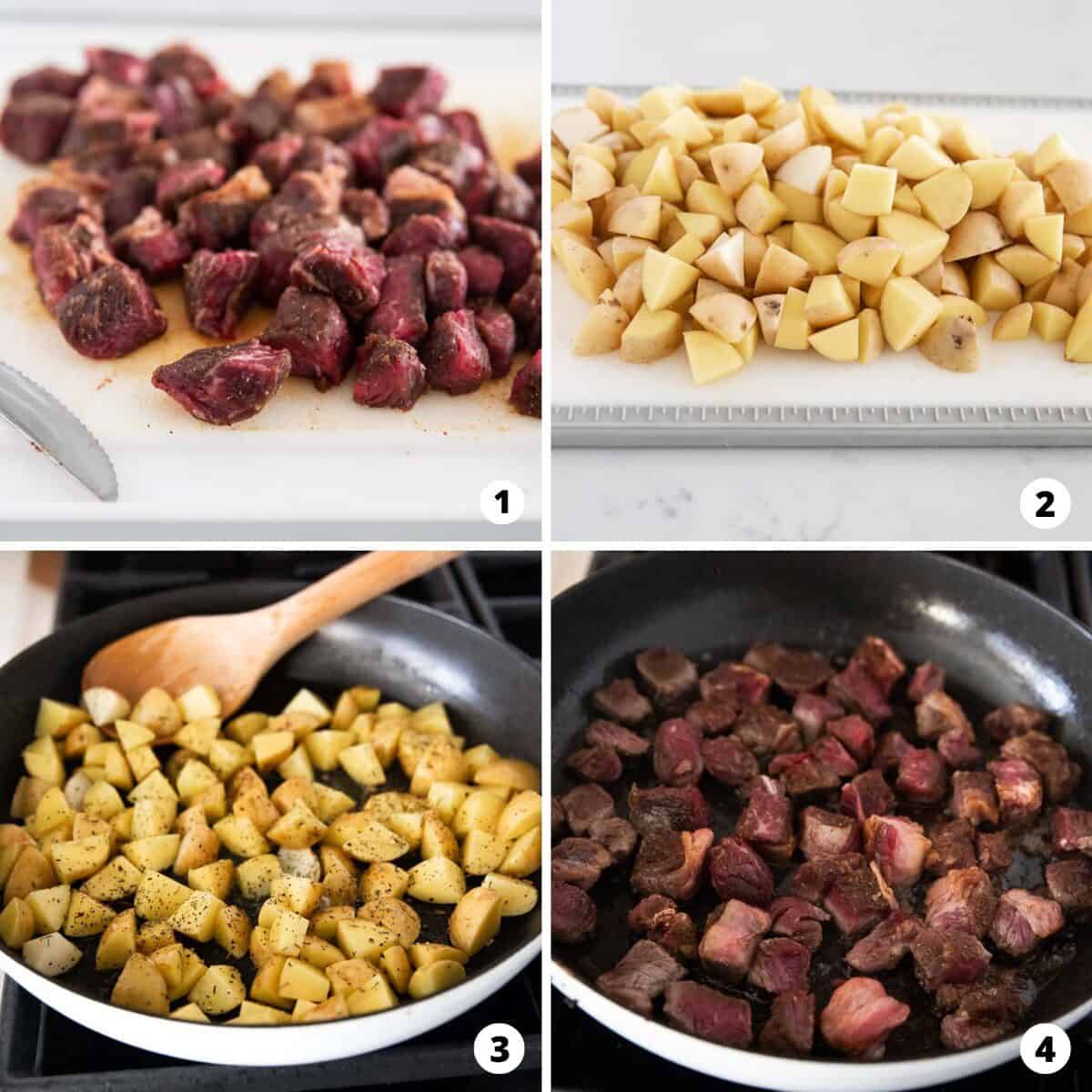 Marinate steak. Massage the dry rub (or a simple salt and pepper seasoning) over the meat and let it rest for 10 – 15 minutes to tenderize. Then cut into 1-inch pieces.
Prep potatoes: Cut the Yukon gold potatoes into quarters.
Cook potatoes. Heat the cast-iron skillet and add the olive oil and a bit of butter. Once the butter has melted, add the cubed potatoes into the skillet. Cook for a minute and then sprinkle with Italian seasoning, salt, and pepper. Continue cooking until the potatoes are fork-tender then transfer to a plate.
Sear steak. Return heat to the proper temperature and add another bit of butter. Toss in the steak bites along with the garlic. Place the pieces of steak evenly on the pan and allow it to get a nice sear. Flip to the other side and cook until no longer pink. Add the potatoes back into the skillet, toss to combine, then serve warm.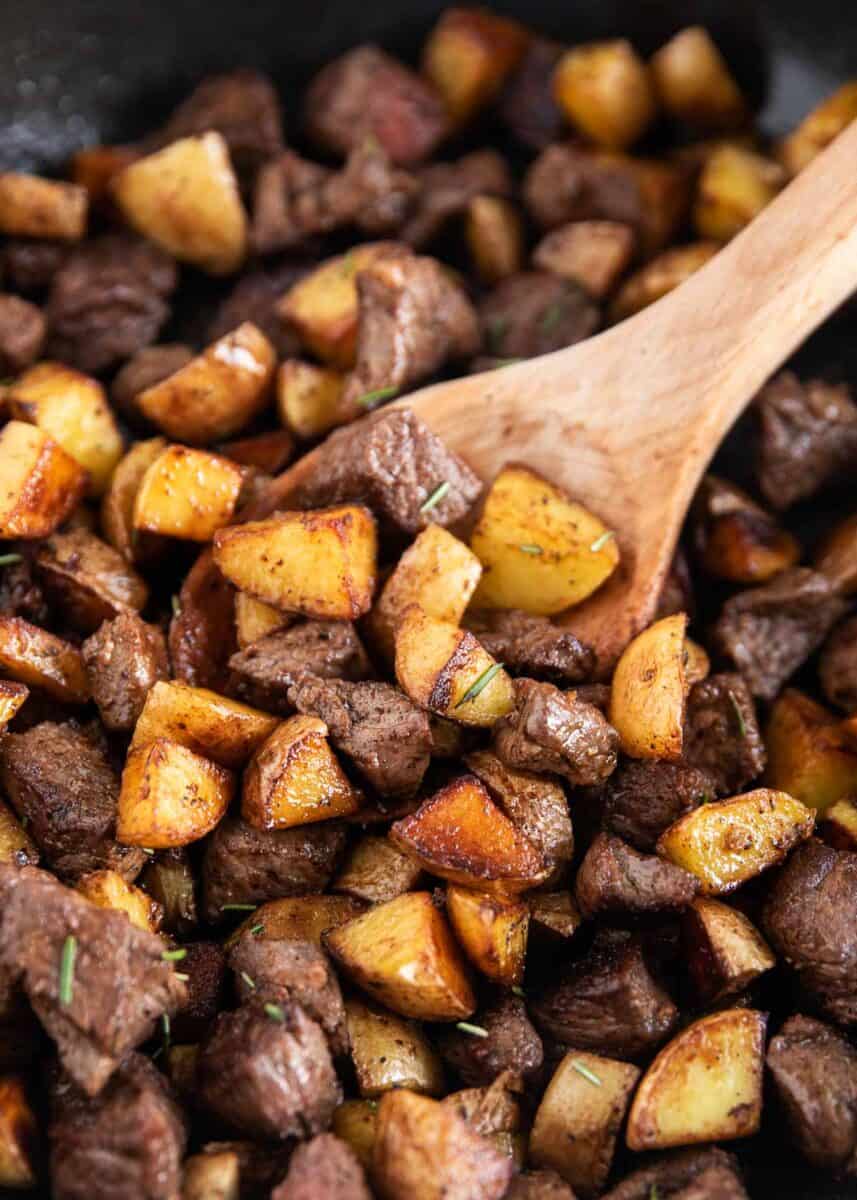 Expert Tips
Type of steak. Sirloin is a great cut of meat and generally more budget-friendly than other cuts. It may be tempting to buy pre-cut stewing beef, but if possible avoid it. It tends to need a longer cook time to get anywhere near the tender texture you want.
Marinade. Don't skimp on the marinade! Allowing the dry rub to permeate the meat is the best way to tenderize and flavor the steak bites.
Against the grain. When cutting your steak into cubes, make sure to cut against the grain. This will also help create a tender bite.
Potatoes: When cooking your potatoes, stir frequently. A little crispy exterior is great, but you want to avoid any burning. If potatoes are not getting tender, turn down the heat, add some water, cover and steam for a few minutes until water is gone.
FAQs
What's the best steak to use for this easy garlic butter steak and potatoes?
Since we are cooking the steak quickly, it's best to use a cut that is already tender. Sirloin is my preference, but other types to use could be ribeye, tenderloin, strip steaks, sirloin, stir fry meat or New York strip steak. Skirt and flank steak are tougher and not ideal to use in this recipe.
What type of potatoes are best to use?
Yukon gold potatoes are my preference as they hold their shape but yet still get soft. You can use red skinned potatoes or fingerling potatoes as a substitute for Yukon gold potatoes. I would avoid russet potatoes as they are too starchy and will lose their shape and fall apart.
What pan should I use?
You should use a solid, heavy bottomed pan such as a cast iron skillet to make steak and potatoes. Ideally your pan should retain and distribute heat evenly and allow your steak to sear release easily for even browning.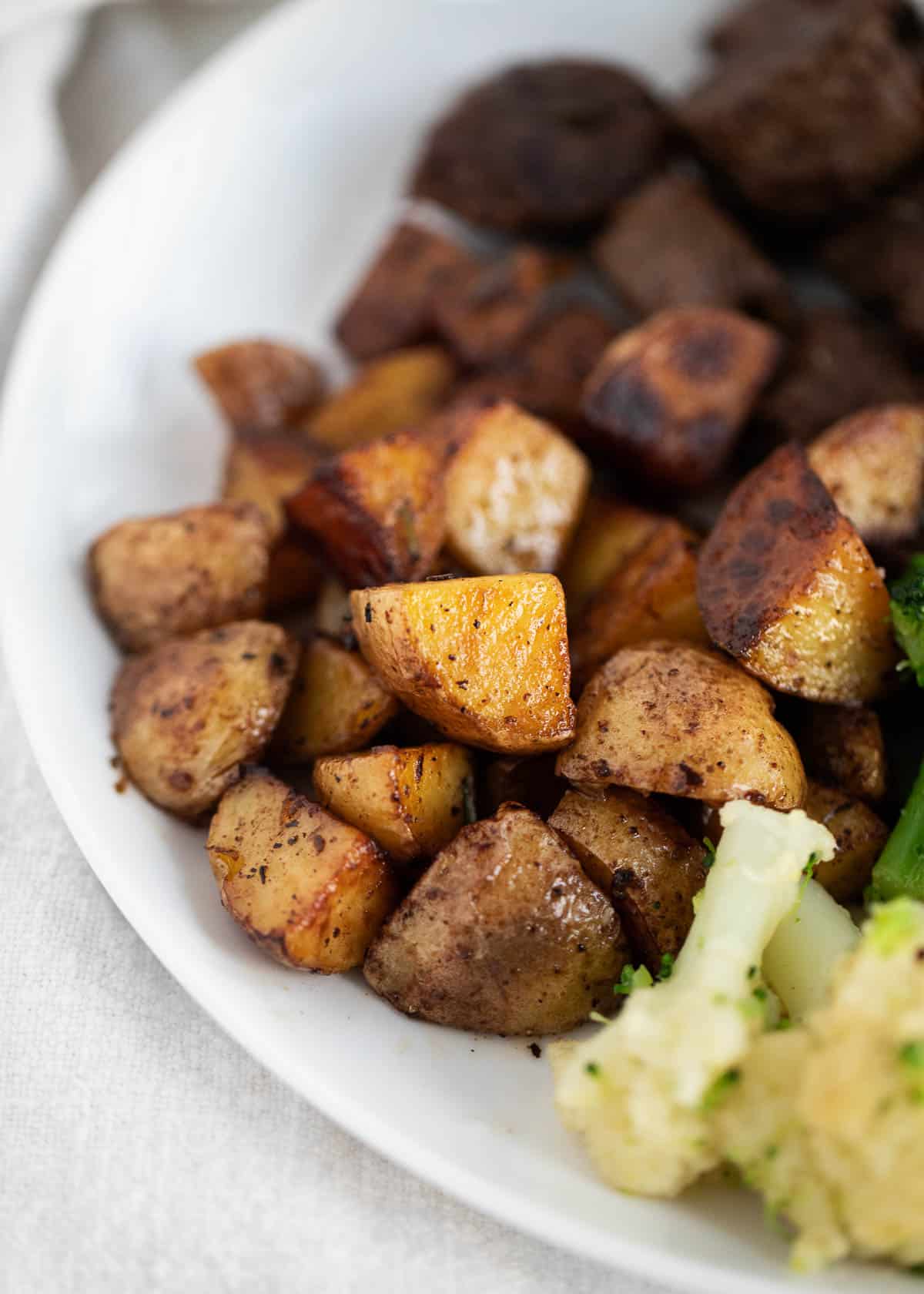 Serving Suggestions
The best part of this steak potatoes meal is that the potatoes are already a side! If you need a vegetable to go along with your garlic steak bites, I love to serve veggies sides like green beans or asparagus. Another great choice are steamed vegetables.
Of course, no one ever turns down fresh dinner rolls with a steak potatoes dinner!
Don't let dinner stop you from eating this for a hearty breakfast as well! Add a poached egg for a diner worthy meal.
Storage
Store leftovers in the refrigerator in an airtight container up to 3 days. Reheat in the microwave in 30 second increments until just warmed. You may want to reheat the potatoes separately so your steak doesn't overcook. You could also reheat in the skillet if preferred.
HUNGRY FOR MORE? Subscribe to my newsletter and follow on Facebook, Pinterest and Instagram for all the newest recipes!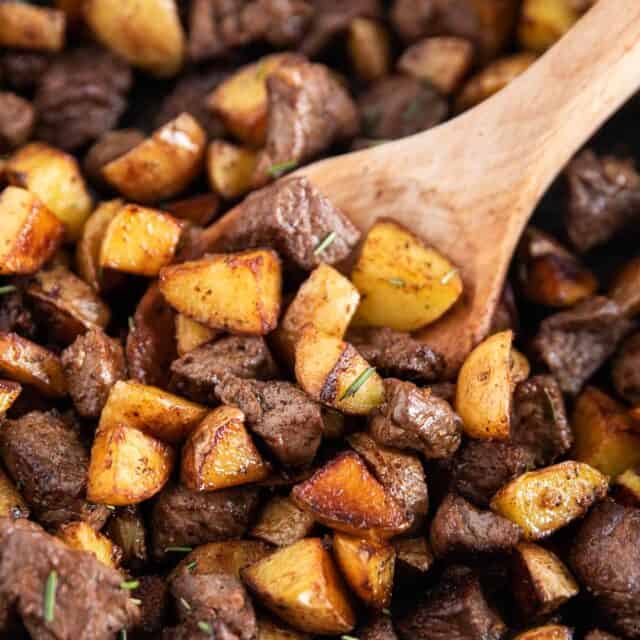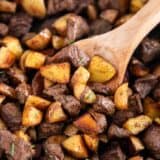 Steak and Potatoes
From stove to table in less than 30 minutes, this skillet steak and potatoes is a delicious weeknight dinner recipe! Juicy bites of pan-seared steak and perfectly seasoned crispy potatoes are where signature garlic butter flavors meet convenience!
Ingredients
1 Tablespoon olive oil
2-3 Tablespoons butter
1 pound yukon gold potatoes (quartered, about 3.5 cups)
1 teaspoon Italian seasoning (more to taste)
salt and pepper (to taste)
2-3 cloves garlic (minced)
1 pound sirloin steak
2 teaspoons steak rub (or sub for salt and pepper)
Optional: fresh herbs such as rosemary or thyme
Instructions
Prepare potatoes and steak. Rub the steak rub (or salt and pepper) over the meat and let rest for 10-15 minutes while you cook the potatoes. Then cut into 1 inch cubes.

Heat cast iron skillet over medium heat. Add the olive oil and 1-2 Tablespoons butter. Once butter has melted, add the potatoes into the skillet. Cook for a minute and then sprinkle Italian seasoning, salt and pepper over top. Cook for 10-12 more minutes (or until fork tender), stirring frequently to prevent burning. Set aside on a plate once cooked.

Turn the heat to medium high heat and add in another Tablespoons of butter with the steak cubes and garlic. Place evenly on the pan and let sear for 1 minute and then flip with a fork or spatula to the other side. Cook an additional 1-2 minutes or until golden brown and no longer pink. Be careful to not over cook.

Add the potatoes back into the skillet and remove from the heat. Top with fresh herbs if desired. Serve while warm.
---
Nutrition
Calories: 325kcal | Carbohydrates: 21g | Protein: 27g | Fat: 15g | Saturated Fat: 6g | Cholesterol: 84mg | Sodium: 122mg | Potassium: 865mg | Fiber: 3g | Sugar: 1g | Vitamin A: 175IU | Vitamin C: 23mg | Calcium: 56mg | Iron: 3mg
Nutrition provided is an estimate. It will vary based on specific ingredients used.
Did you make this recipe? Don't forget to give it a star rating below!