Juicy and tender bites of sirloin steak with a rich garlic butter flavor and a perfectly seasoned exterior. These one pan steak bites are easy, delicious and ready in just 20 minutes!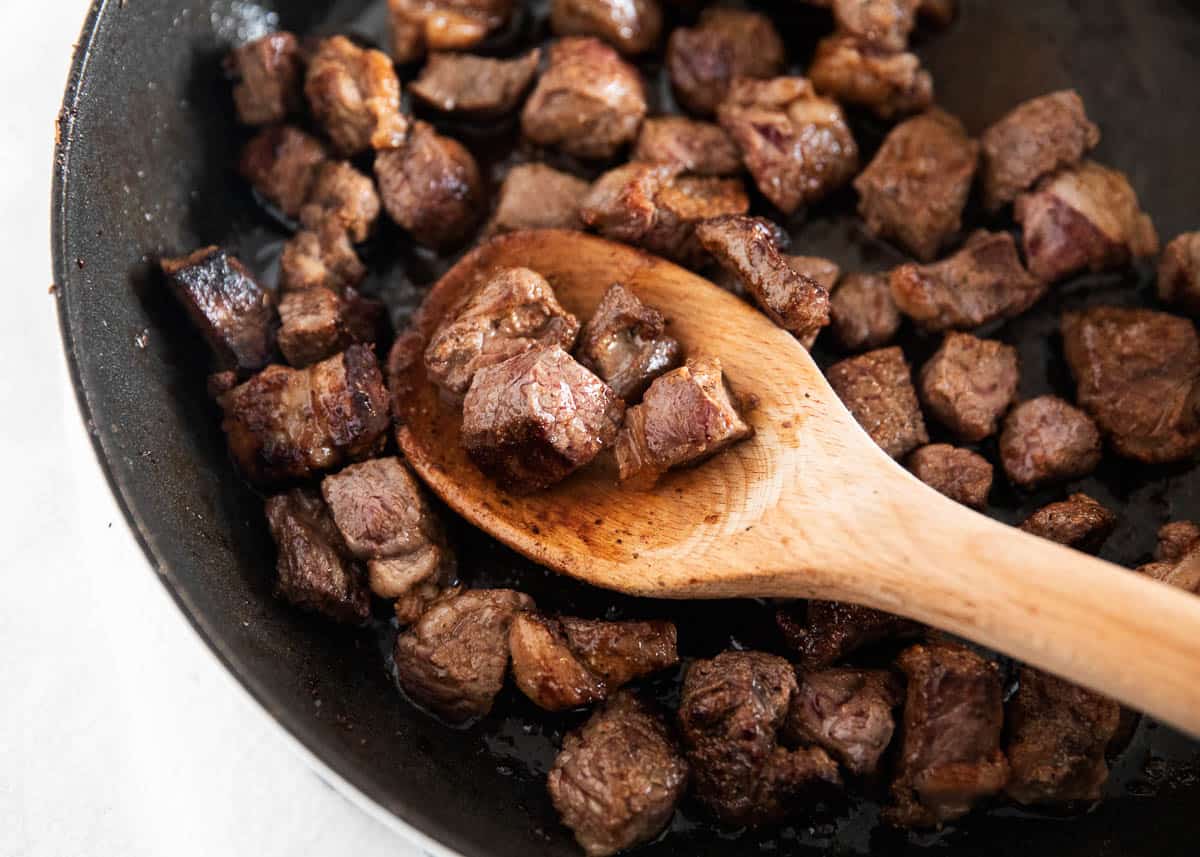 Garlic Butter Steak Bites
What's not to love about these easy garlic butter steak bites? They're made in one pan, taste amazing and take just 20 minutes from start to finish. I love grilling flank steak during the summer and my beef tenderloin recipe at the holidays, but this beef recipe is perfect for any weeknight!
The meat is super tender and juicy, with an abundance of flavor from the garlic butter and dry rub. You can serve with an easy side dish like steamed vegetables or add some cast iron skillet potatoes to make one pot steak and potatoes.
This dish is a great way for the family to enjoy steak, especially your little ones. Instead of cooking a whole steak for each family member, these bite-sized pieces are much more suitable for your kids. No need to pull out the fancy knife set for this easy meal. These also taste great served as an appetizer with some homemade chimichurri dipping sauce and a toothpick. So many ways to enjoy this flavorful dish!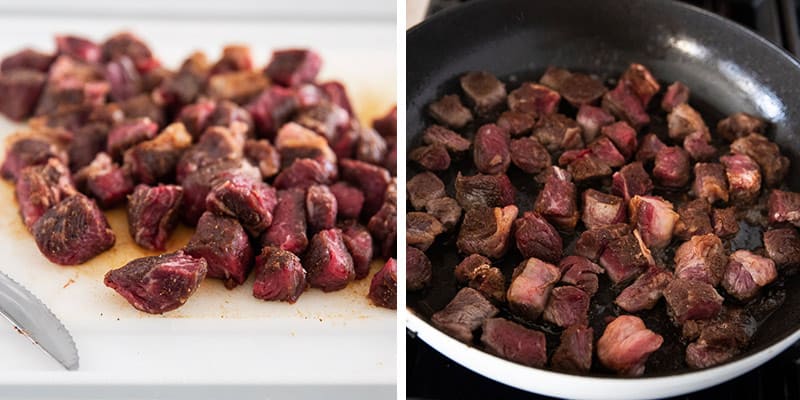 Best Type of Steak
My steak of choice for this recipe is sirloin steak. It's less expensive than some of the other cuts, without sacrificing on flavor or tenderness. Of course you can still use other types like ribeye, tenderloin, strip, however the cooking time may differ depending on how thick the cut is.
Keeping it Tender
There are a few important factors to keep in mind when making steak bites so that the meat stays tender. Before getting started, consider the following:
Same size pieces. When slicing the meat, you want all of the pieces to be around the same size. I like to cut mine into 1-inch pieces. If some are way bigger than the others, the smaller pieces will become chewy while the larger pieces will be underdone. Uniform pieces help ensure that the meat cooks evenly and remains juicy and tender.
Dry rub. Coating the meat with a steak rub not only adds delicious flavor, but helps to keep the meat tender as well. Salt brings out moisture from the meat, which helps break down proteins and muscle fibers.
Medium heat. Instead of cooking on high heat, opt for medium-high heat. You don't want the exterior to burn too quickly and leave the insides raw. By cooking on medium heat, the meat will get nice and golden on the outside, without undercooking (or overcooking) the inside.
Don't overcook. Once the skillet is hot, you only need to sear the meat for about 1-2 minutes per side. The bites are small, so they'll cook fast. Cook them until golden brown and no longer pink. If you overcook the meat, it will be tough and chewy.
Let rest. As tempting as it is to immediately serve them, try to let the meat rest for a few minutes on a plate. This helps the juices flow back into the meat. They only need to rest for 1 to 2 minutes, so they'll still be perfectly hot for serving.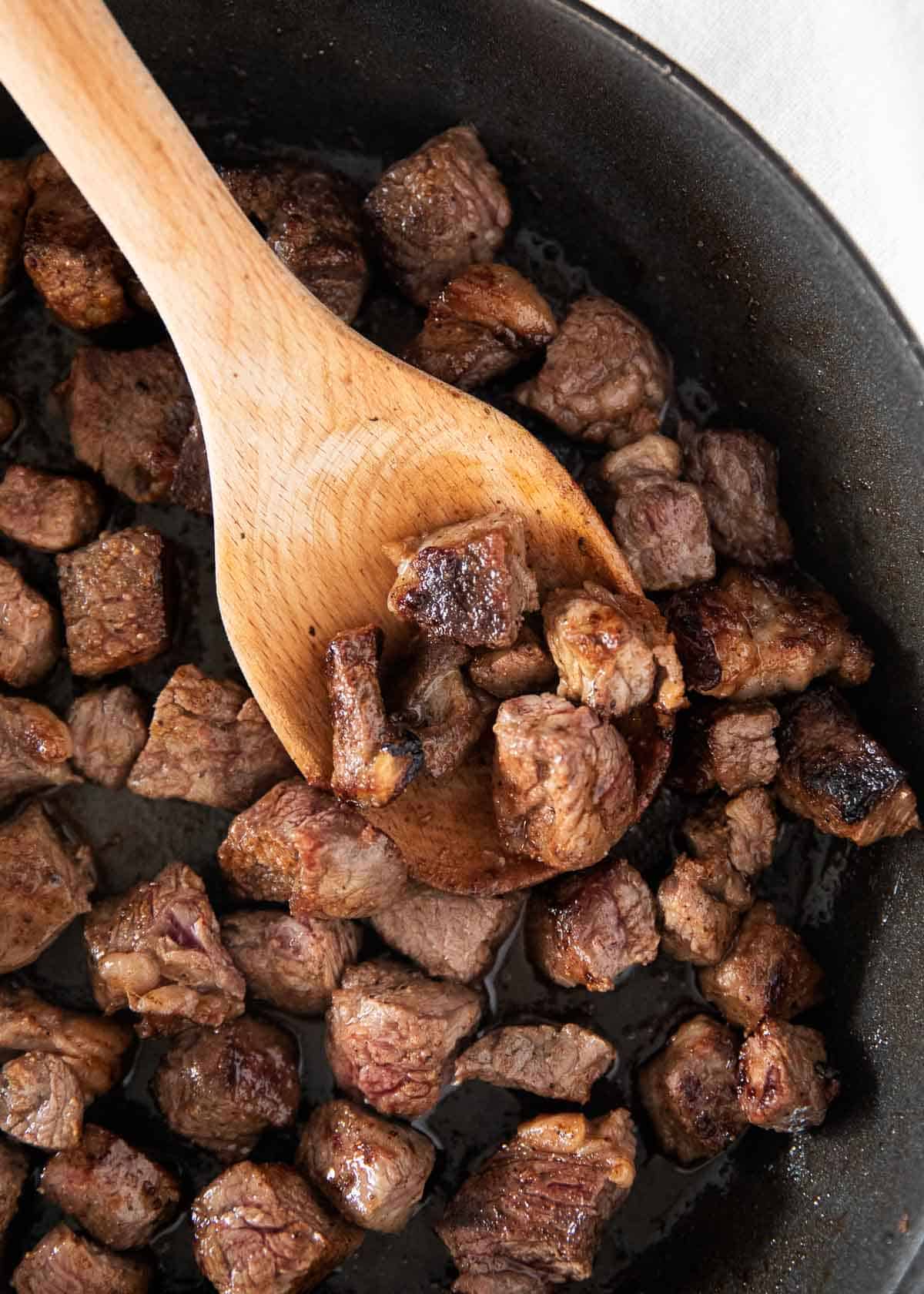 Tips + Variations
This is the perfect recipe to make when you're craving steak but don't have a ton of time. Although baking a steak in the oven is relatively quick, these steak bites cook in just 5 minutes on the skillet! They're still just as juicy, flavorful and delicious, but in half the time!
Use a cast iron. I highly recommend using a cast iron skillet if you have one handy. The heat distributes more evenly in this type of skillet, which helps create the perfect golden exterior.
Dry rub. Using a steak rub helps permeate immense flavor into your meat and helps create a perfectly seasoned crust.
Seasonings and marinades. Cook the meat in garlic herb butter for more flavor or use a fajita seasoning instead of a classic dry rub. You can also use an easy steak marinade or teriyaki steak marinade if you prefer.
Stay close. The meat cooks super quickly because of the small size, so don't walk away from the skillet! They only take a minute or two on each side. You'll need to keep a close eye on them while cooking so that they don't burn.
Using leftovers. Use any extra meat to make a totally new dish for lunch or dinner the next day. A steak salad, steak tacos or a cheesy quesadilla are some of our favorite ways to use up leftovers.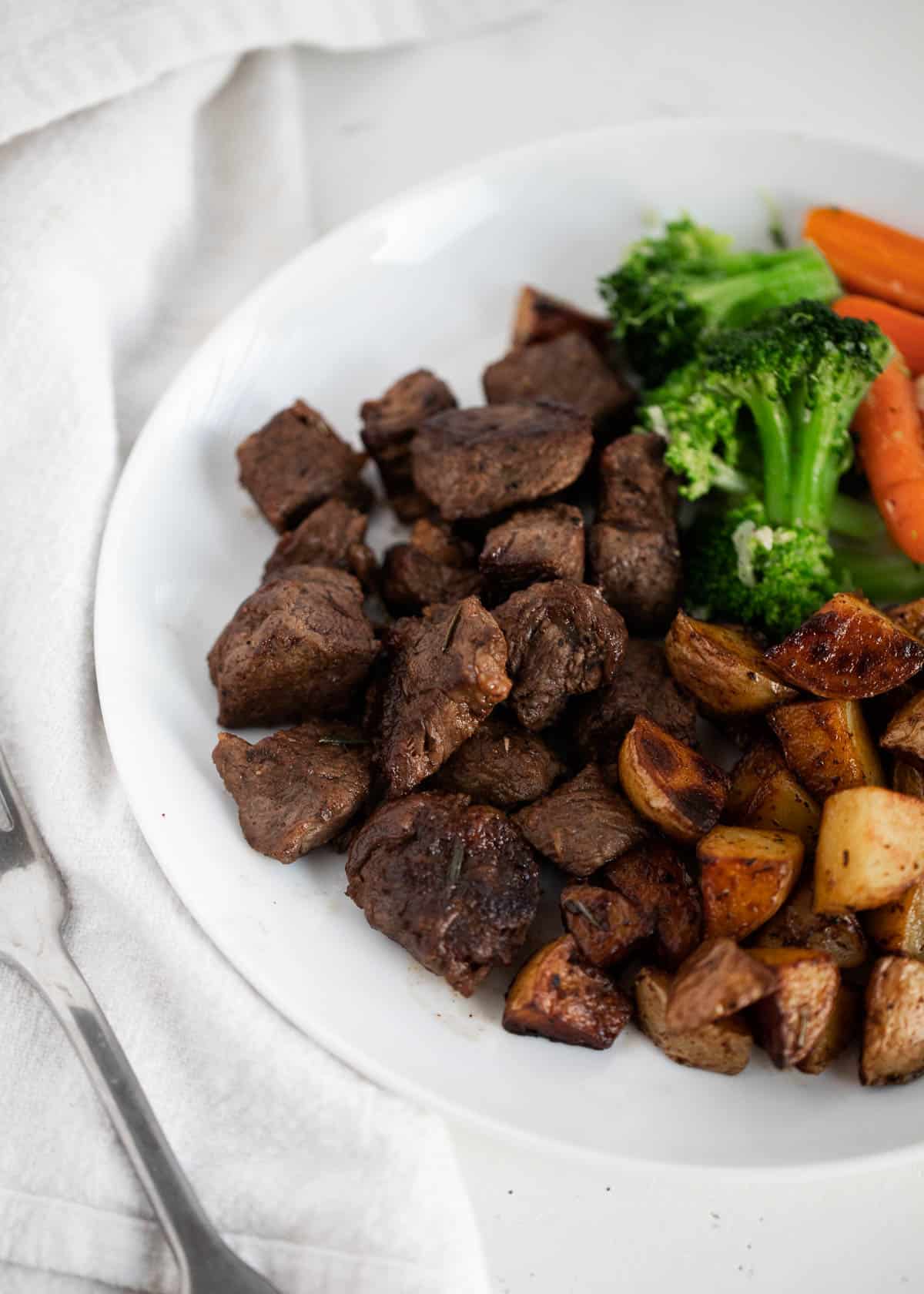 Favorite Sides for Serving
There are so many different ways to serve these. Keep dinner on the lighter side and serve with steamed veggies, or indulge with a cheesy pasta or potato dish. You can even serve this meal for breakfast with a side of scrambled eggs and hash browns.
HUNGRY FOR MORE? Subscribe to my newsletter and follow on Facebook, Pinterest and Instagram for all the newest recipes!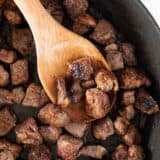 Steak Bites
Juicy and tender bites of sirloin steak with a rich garlic butter flavor and a perfectly seasoned exterior. These one pan steak bites are easy, delicious and ready in just 20 minutes!
Ingredients
Optional: fresh herbs such as rosemary or thyme
Instructions
Rub the steak rub (or salt and pepper) over the meat and let rest for 10 minutes. Then cut into 1 inch cubes.

Heat cast iron skillet over medium heat for a couple minutes. Then add the olive oil, butter and garlic into the pan. Cook until the butter is melted and the garlic is fragrant. Place the steak cubes in an even layer in the pan. Let sear for 1 minute. Then flip with a fork or spatula to the other side.

Cook an additional 1-2 minutes or until seared and no longer pink. Be careful to not over cook.

Remove meat to a plate and let rest for 1-2 minutes. Top with fresh herbs if desired. Serve while hot.
---
Notes
Meat: I prefer sirloin steak for this recipe but you can also use tenderloin, rib eye or strip.
Nutrition
Calories: 211kcal | Carbohydrates: 1g | Protein: 25g | Fat: 12g | Saturated Fat: 4g | Cholesterol: 77mg | Sodium: 90mg | Potassium: 388mg | Sugar: 1g | Vitamin A: 87IU | Vitamin C: 1mg | Calcium: 34mg | Iron: 2mg
Nutrition provided is an estimate. It will vary based on specific ingredients used.
Did you make this recipe? Don't forget to give it a star rating below!