Easy roasted salsa made with fresh charred tomatoes, onion, garlic, shallot, jalapeño, cilantro, lime and spices. This delicious Mexican appetizer has TONS of flavor and is the perfect way to showcase those fresh summer vegetables!
Our Favorite Roasted Tomato Salsa
With irresistible flavor this roasted salsa recipe is by far my favorite. Made with carefully charred roasted tomatoes, jalapeno peppers, and onions combined with aromatic garlic results in a smoky and savory salsa that is bursting with authentic taste. You can always make my famous restaurant style salsa, but trust me when I say this will elevate your snacking game!
Much like when roasting tomatillos for salsa verde, this recipe calls for broiling the tomatoes until the skins begin to char. This gives them a savory sweet flavor with a hint of smokiness that tastes absolutely delicious. It's an easy way to boost your salsa and really let the natural flavors and juices shine through.
We love serving this roasted tomato salsa with tortilla chips or using as a topping on beef tacos, a fajita salad, baked chicken burritos or on top of sheet pan nachos. It's the perfect compliment to any Mexican dish and will leave you loading it on by the spoonful!
Why This Recipe Works
It's quick. Fresh, homemade roasted salsa ready in less than 30 minutes. Yes, please!
Healthy. No sneaky preservatives that you might find in store-bought salsa. It's gluten-free, low in fat and loaded with nutrients from the fresh produce and herbs.
Full of flavor. Roasting the tomatoes for the salsa adds another layer of flavor that you wouldn't get in a traditional fresh salsa or pico de gallo. The natural flavors and juices really shine though.
Versatile. It will keep for about a week in the fridge, which makes it perfect to use for snacking or to add as a topping for your favorite Mexican dinners.
Key Ingredients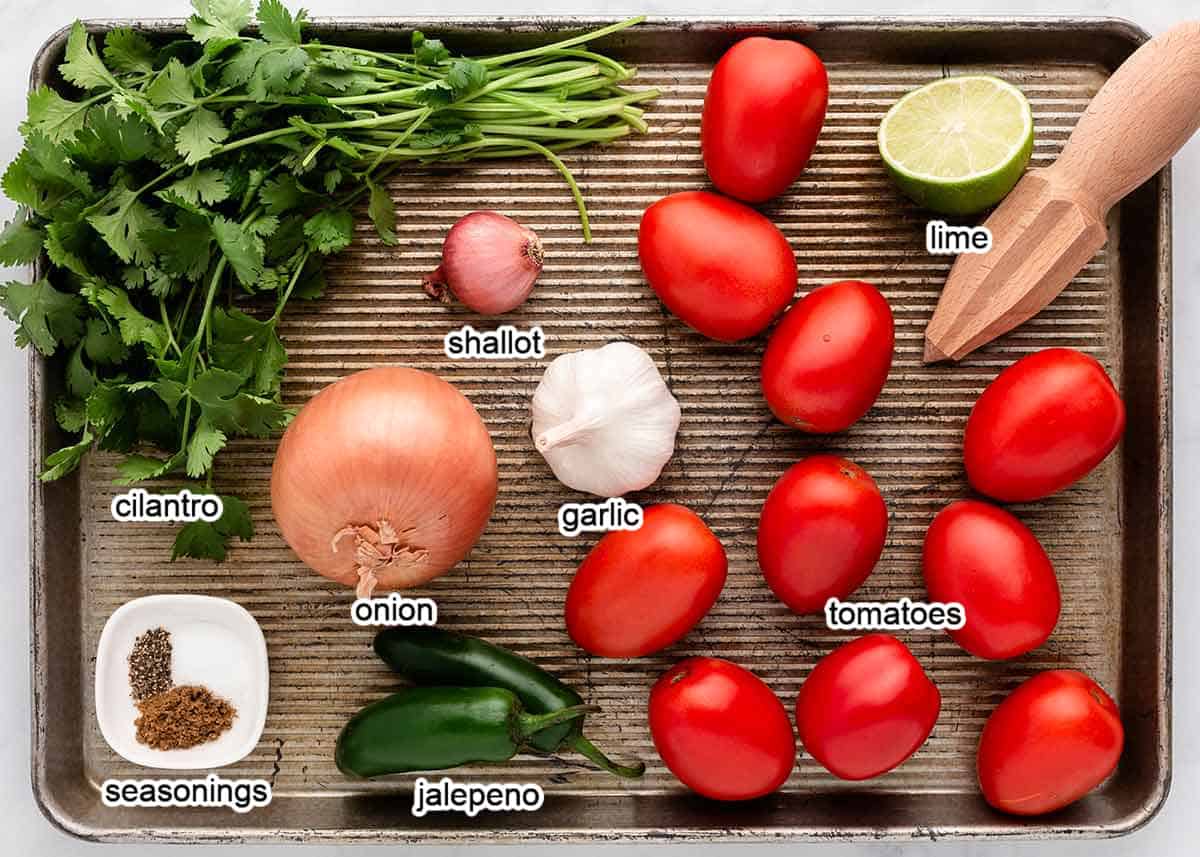 Find the full printable recipe with specific measurements below.
Tomatoes: I love using roma tomatoes from the garden for this salsa. Roasted tomatoes add the best flavor!
Cilantro: Must use fresh, dried will not give the same results.
Onion: I love to use an onion and shallot to boost the flavor.
Jalapeño: Remove the seeds if you don't want spice or add more if you like it spicy.
Garlic: There's nothing better than roasted garlic.
Lime: A fresh lime adds the perfect amount if acid to bring all the flavors together.
Best Tomatoes to Roast
Most varieties of tomatoes can be roasted, however I personally prefer to use roma tomatoes when making roasted salsa. They're sweet, juicy and are just the right size for roasting whole (although you can cut them in half too if you prefer).
Look for romas that have a vibrant red color, are tender to touch and have a sweet, fragrant aroma. Perfectly ripe romas will give you the best flavor.
Variations
Spice level. Add in an extra jalapeño if you love spicy salsa. If you prefer to keep it more mild, remove the seeds from the pepper or leave it out entirely.
Smoky flavor. To add more smokiness, add in a few teaspoons of smoked paprika or even a chipotle chile (this will also add more heat).
How to Roast Tomatoes for Salsa
Roasting tomatoes for salsa is SO simple. Just follow these simple steps below.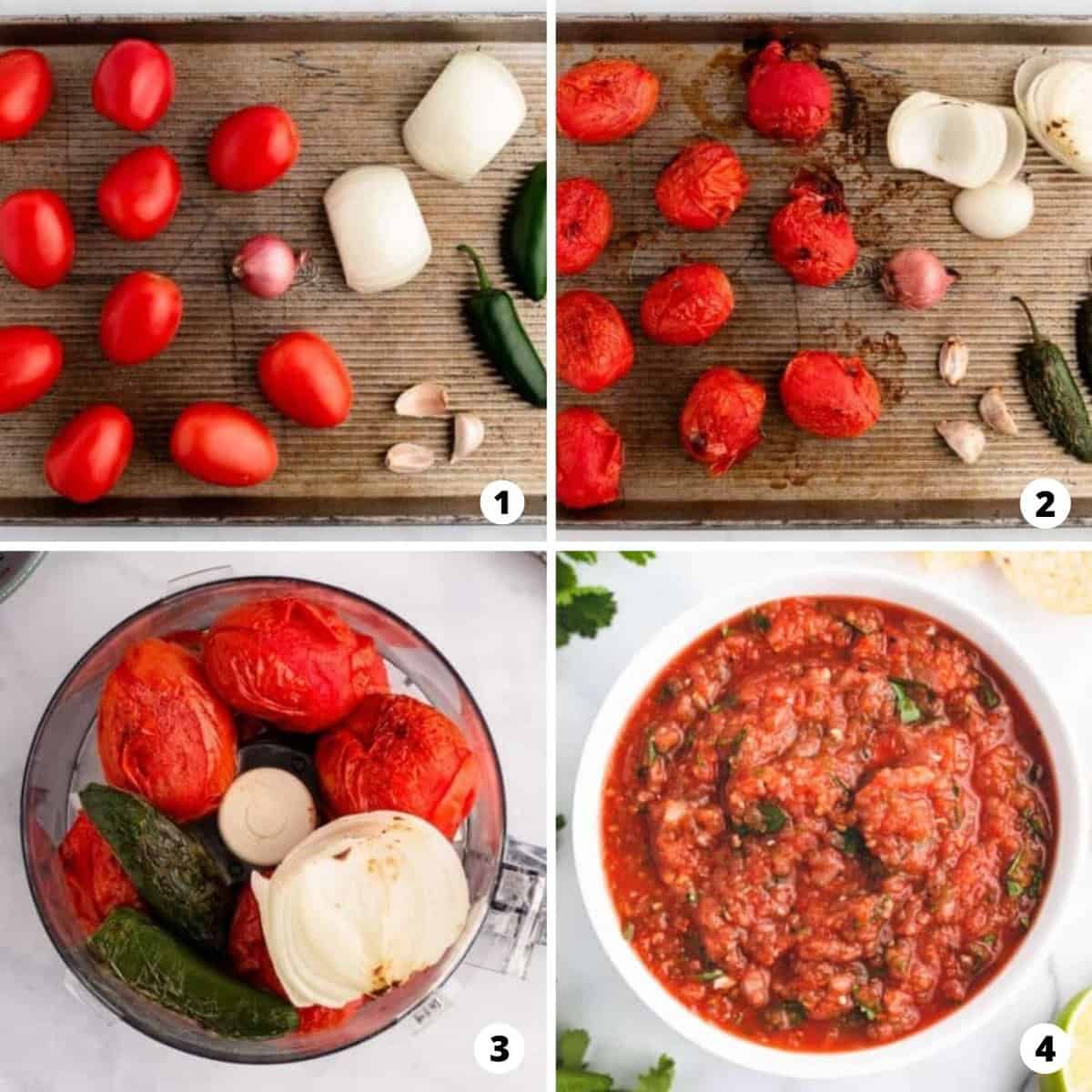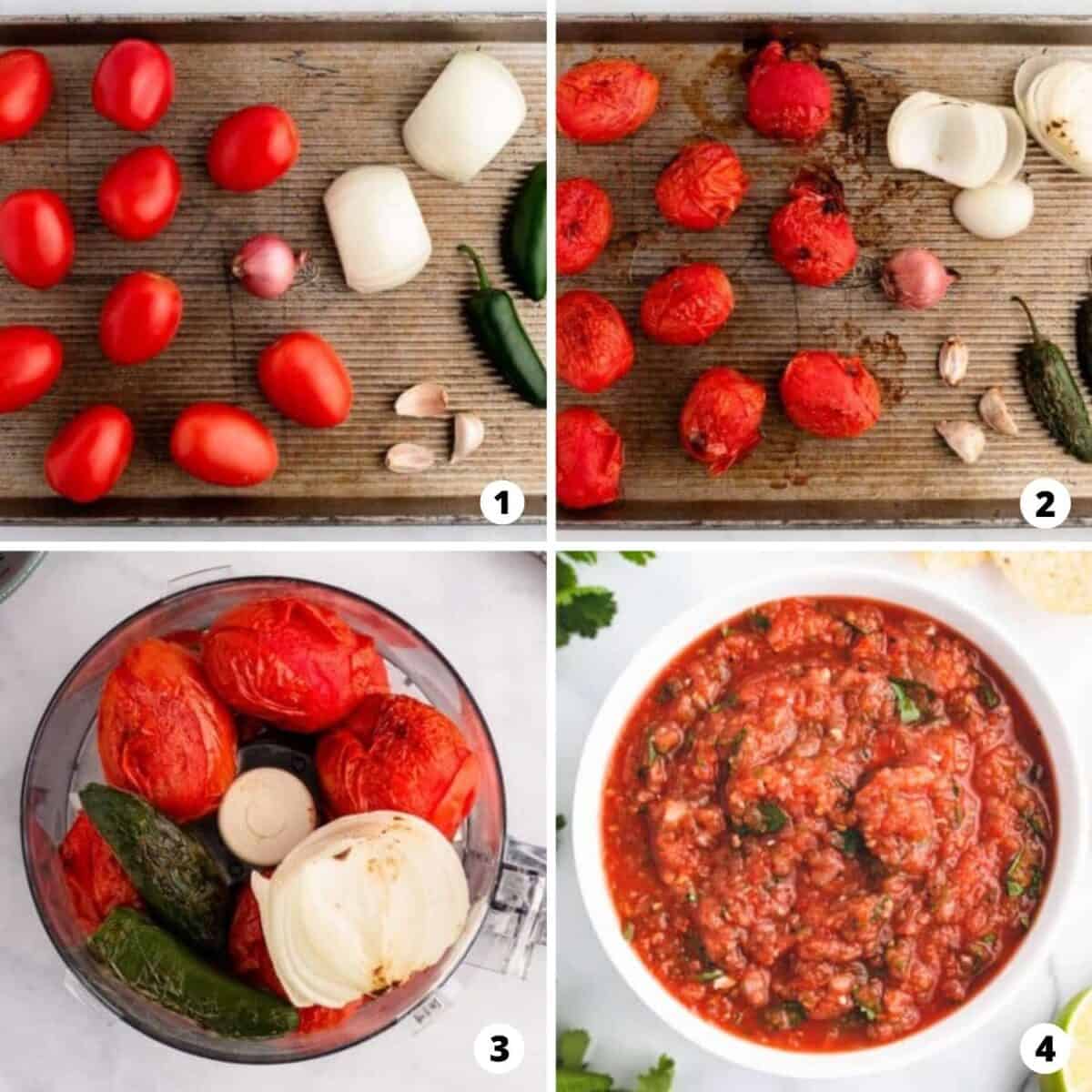 Prepare. Place them on a baking sheet (no need to slice), along with the garlic cloves, shallot, onion and jalapeño. Roasting the other veggies alongside the tomatoes is an easy way to add an extra oomph of flavor.
Broil. Next broil the veggies in the oven for about 5 to 10 minutes, or until the skins have a nice char on the exterior. No need to peel the skins off the tomatoes after roasting, it's charred flavor is what adds to the deliciousness of the salsa.
Blend. Once everything is roasted, then you can blend it all together in the food processor.
Serve. Then serve the roasted tomato salsa with your favorite chips and enjoy!
5 star review
Roasting the veggies first added such a rich depth of flavor! I was hoping to have leftovers, but it was so good my family finished it off the first day.

– Kara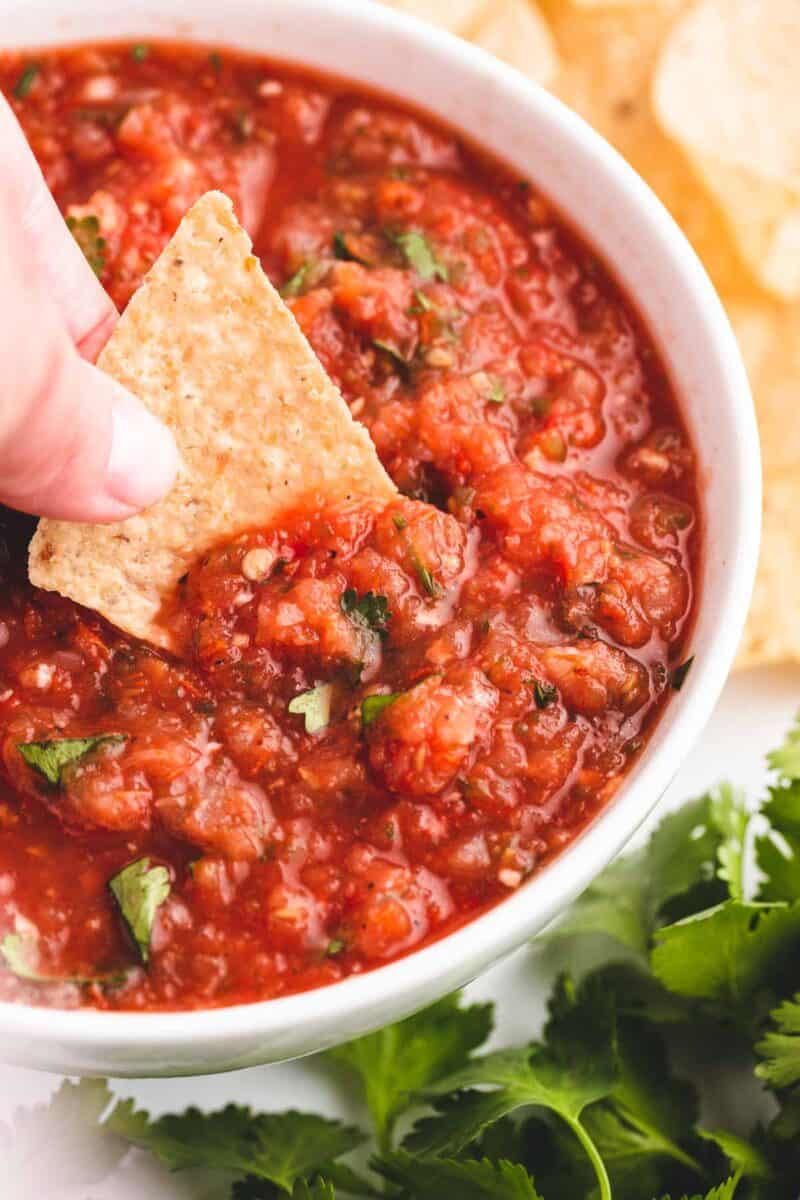 Tips for Making Roasted Salsa
Rotate the pan. When broiling the veggies, it's important to rotate the pan periodically so that the veggies char evenly.
Remove garlic if needed. Keep an eye on the garlic cloves as they broil in the oven. You may need to remove them from the oven before the other ingredients if they begin to burn.
Let cool. Make sure the roasted vegetables have had time to cool before blending the salsa. The warm veggies can cause the fresh cilantro to wilt and lose flavor.
Consistency. Pulse the ingredients a few times in the food processor to achieve your preferred consistency. Be careful not to purée the mixture, or it won't have that chunky salsa texture that everyone loves.
Recipe FAQs
How do you store salsa?
To store, simply pour the salsa in a mason jar or covered container and place in the fridge. It will stay fresh in the fridge for up to 7 days, which makes it perfect for snacking on all week long!
Can you use diced tomatoes?
You can, but it will change the flavors of the salsa. I would still recommend roasting the other vegetables.
How to make salsa more spicy?
If you like your salsa extra spicy, I recommend adding 2 jalapeños and leaving the seeds in. If you don't like the spice, only use a half and remove the seeds.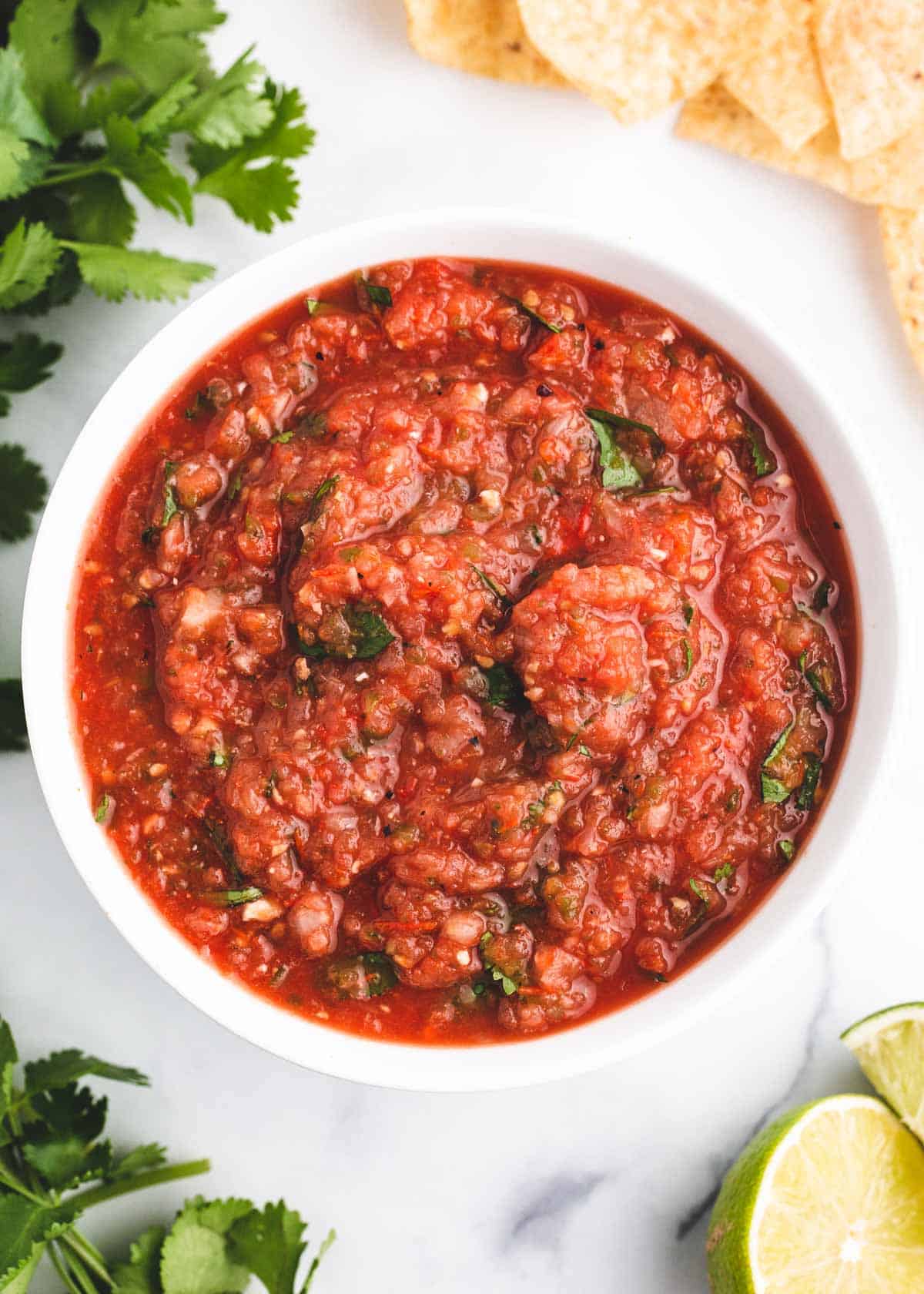 More Fresh Salsa Recipes
HUNGRY FOR MORE? Subscribe to my newsletter and follow on Facebook, Pinterest and Instagram for all the newest recipes!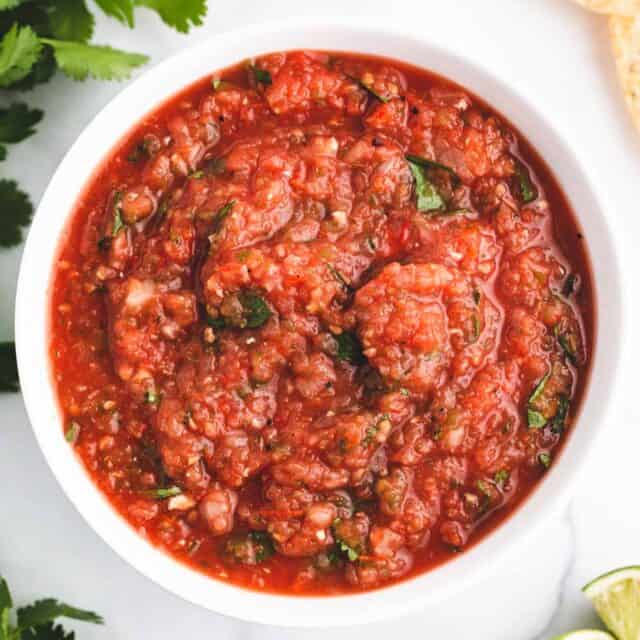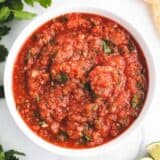 Roasted Salsa Recipe
Easy roasted salsa made with fresh charred tomatoes, onion, garlic, shallot, jalapeño, cilantro, lime and spices. This delicious Mexican appetizer has TONS of flavor and is the perfect way to showcase those fresh summer vegetables!
Ingredients
10 roma tomatoes
3 cloves garlic , 1 1/2 teaspoons minced
1 shallot
1 small sweet onion
1 jalapeño , more if you like it spicier
1 teaspoon Kosher salt , more to taste
½ teaspoon ground cumin , more to taste
⅛ teaspoon pepper
1 lime , juiced
½ cup chopped cilantro , more to taste
For serving: Tortilla chips
Instructions
Preheat the broiler in your oven. Place tomatoes, garlic (with the peels on), shallot (with the skin on), onion (peel and cut in half) and the whole jalapeño on a cookie sheet.

Place in the oven and broil for 5 to 10 minutes. Rotate the vegetables periodically, so they evenly cook. When the skins begin to char, pull cookie sheet out of oven. Be careful not to burn the garlic (you can remove it sooner, if needed). Remove from oven and allow to cool.

Once vegetables are cooled, remove the jalapeño stem (and seeds if desired). Peel the garlic and shallot skin off. Then place all the vegetables, cilantro, salt, cumin, pepper and lime juice in a food processor or blender. Pulse until it reaches the consistency of your liking. Be careful not to puree it, you want to keep some texture.

Salt and pepper to taste. Store in the refrigerator until ready to serve. Serve with tortilla chips or your favorite Mexican dish.
---
Notes
Storage: Store in a covered container in the refrigerator for up to 7 days. Spice level: If you are sensitive to heat, remove the seeds from the jalapeño or leave out entirely. If you like things spicy, add an extra jalapeño.
Nutrition
Calories: 22kcal | Carbohydrates: 5g | Sodium: 102mg | Potassium: 168mg | Fiber: 1g | Sugar: 2g | Vitamin A: 490IU | Vitamin C: 10.8mg | Calcium: 12mg | Iron: 0.3mg
Nutrition provided is an estimate. It will vary based on specific ingredients used.
Did you make this recipe? Don't forget to give it a star rating below!