Jump to Recipe⌄
Corn and black bean salsa
To get the newest recipes subscribe. Also check out our recipe box for more yummy recipes.
Delicious black bean salsa filled with corn, tomatoes, peppers, avocados, lime juice and fresh cilantro. An appetizer everyone loves!
Hello friends! I hope everyone had a great weekend. I can't wait to share this black bean salsa with you today featuring all of my favorite ingredients. It's so easy to whip up and is such a yummy snack! My husband is not a huge guacamole (or avocado fan for that matter), but he LOVES this black bean salsa. It's the perfect party food. Enjoy it with your favorite tortilla chips or crackers. It also tastes great over your favorite Mexican dishes.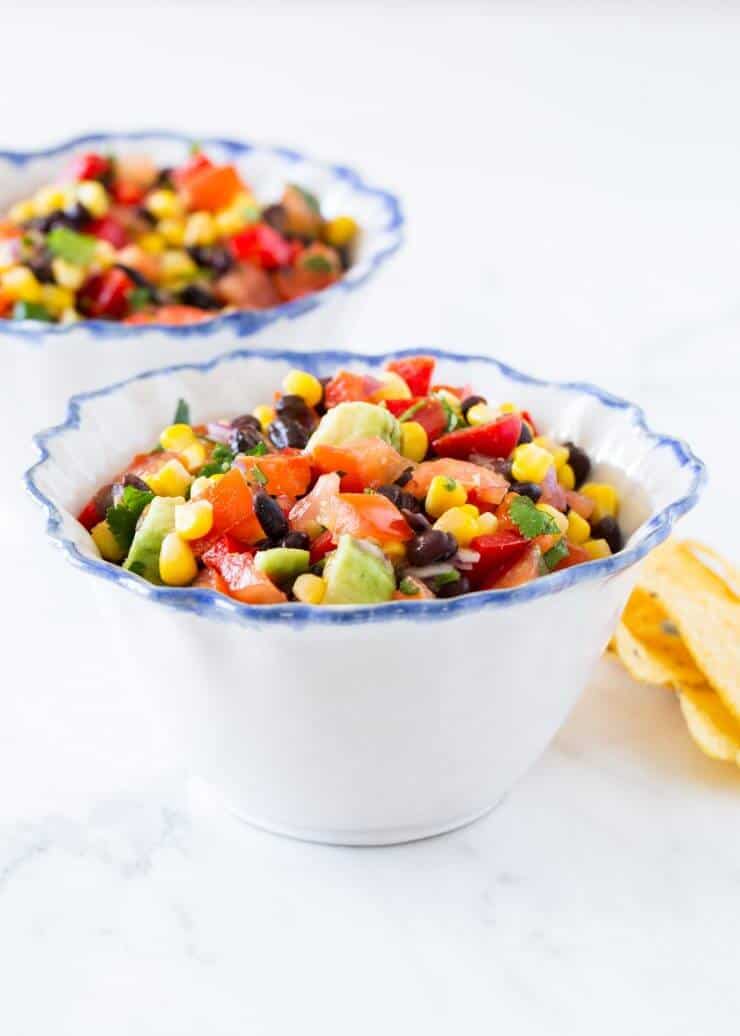 Corn and black bean salsa ingredients
1 can of sweet corn (drained)
1 can of black beans (rinsed and drained)
3 tomatoes
1 red pepper
2 avocados
2 limes
1/4 cup onion
1 tsp salt
1 tsp sugar
3/4 cup cilantro
MY OTHER RECIPES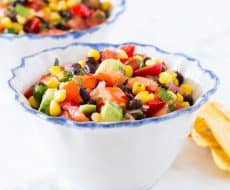 Corn and black bean salsa
Ingredients:
1 (15 ounce) can of sweet corn (drained)
1 (15 ounce) can of black beans (rinsed and drained)
3- 4 tomatoes
1 red bell pepper
2 avocados from Mexico
1/4 cup onion
3/4 cup cilantro
1 teaspoon salt
1 teaspoon sugar
2 limes
Directions:
Combine the corn and beans into a medium sized bowl. Dice the onion, pepper, avocados and tomatoes then mix them in the bowl. Chop the cilantro finely and mix that in with the salt and sugar. Squeeze fresh lime juice over the top. Add more salt and lime to taste. Gently stir and enjoy with your favorite chips!
To make this a meal… grab a wheat tortilla, some chicken, put a few spoonfuls of salsa in and roll it up. You could also top over lettuce with chicken. This makes a quick and easy lunch!
All images and text ©
Enjoy!

So just curious… what your favorite avocado recipe?
Happy Monday! xo