Homemade pico de gallo is fresh, delicious and so easy to make! Packed with flavor and takes less than 10 minutes. It makes the perfect addition to any Mexican dish!
Easy Pico de Gallo Recipe
If you know me, you know I'm a chips and dip kind of girl. I could eat it all day, every day and be happy. Fresh pico is one of my favorite Mexican appetizers, as well as guacamole, salsa verde and mango salsa. Seriously so, so yummy!
Pico de gallo makes the best addition to any Mexican dish! It adds the perfect amount of flavor and is tastes fresh and delicious. Plus it's SO easy to make and takes less than 10 minutes!
There are so many dishes that I love topping with pico, including beef tacos, BBQ chicken salad, chicken taquitos and taco lettuce wraps. It really ramps up the flavor and is one of my favorite ways to add a fresh touch to any meal. And who can forget how amazing it tastes as a dip served with homemade tortilla chips. I mean, I could snack on this stuff all day!
Pico de Gallo vs Salsa
Although pico de gallo and salsa are quite similar and use most of the same ingredients, the main difference is the consistency. Pico is a mixture of fresh, uncooked ingredients that are finely diced to create a chunkier dip. Salsa, on the other hand, has more of a liquid texture and is often pureed to create a smoother consistency. Both taste great and are used in the same ways, it's just a matter of personal preference!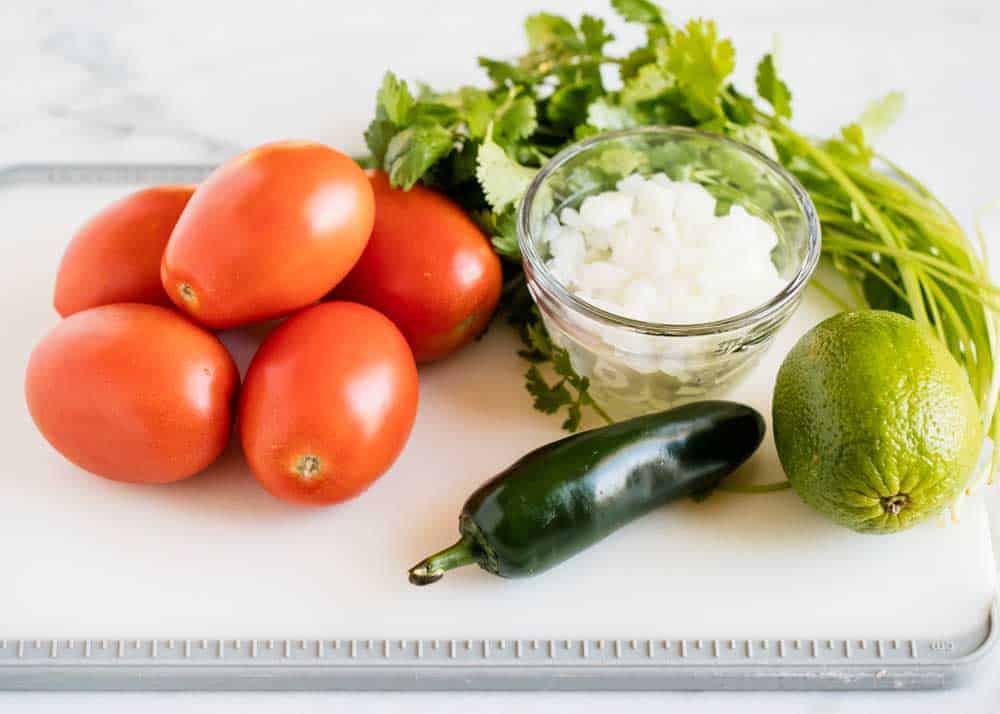 Ingredients
Amounts included in printable recipe below.
Tomatoes: I like to use roma tomatoes. I've found they're a little less watery and chop up nicely. Just make sure they're ripe, with a vibrant red color.
Cilantro: I love the freshness that cilantro adds to pico. It helps give it that delicious Mexican flavor!
Onion: You can use a white or red onion. My personal preference is white, but red works well too. Just make sure it's finely diced!
Lime: The juice of one lime adds just the right amount of acidity and gives it the perfect zing.
Jalapeno: The jalapeno adds a little punch of heat. I used 1 whole jalapeno, but you can modify the amount depending on how hot you like it. Make sure to scrape out the seeds if you prefer it on the milder side!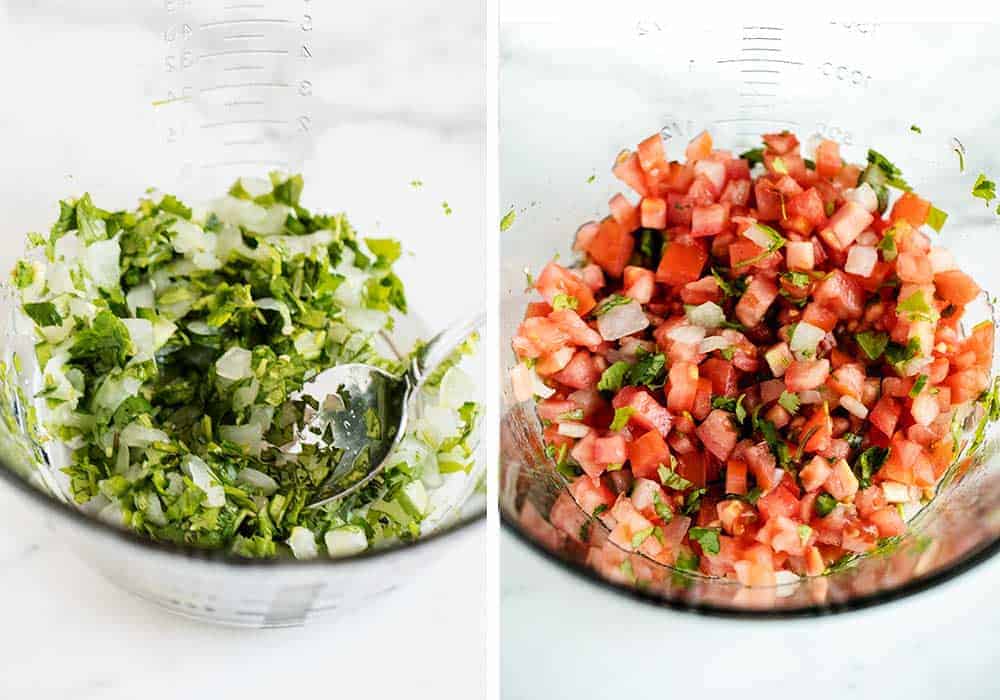 Tips for the Best Pico
Drain the tomatoes. After dicing the tomatoes, make sure to drain any extra seeds and juices so your pico isn't too watery.
Chop finely. The key to the best pico de gallo is to chop the tomatoes, onions, jalapenos and cilantro into super fine pieces. It takes a little more time, but gives you more flavor in every bite!
Spice. If you like heat, feel free to leave the seeds on the jalapeno or use extra jalapeno to reach your desired heat level.
Garlic. Fresh minced garlic makes a wonderful addition and adds an extra boost of flavor.
Let rest. If you have the time, let the flavors marinate together for about 15 minutes before serving. You can really taste the difference when you do this!
Make Ahead + Storing
Making in advance: Prepare as directed, then cover tightly with plastic wrap (or add to an airtight container) and let chill in fridge until ready to serve. It definitely tastes best fresh though, so I wouldn't make it more than a day in advance so that it doesn't get too watery or lose it's fresh flavor.
Storing: This recipe is best if served the first day in order to maintain it's freshness. Make sure to store in the fridge until using!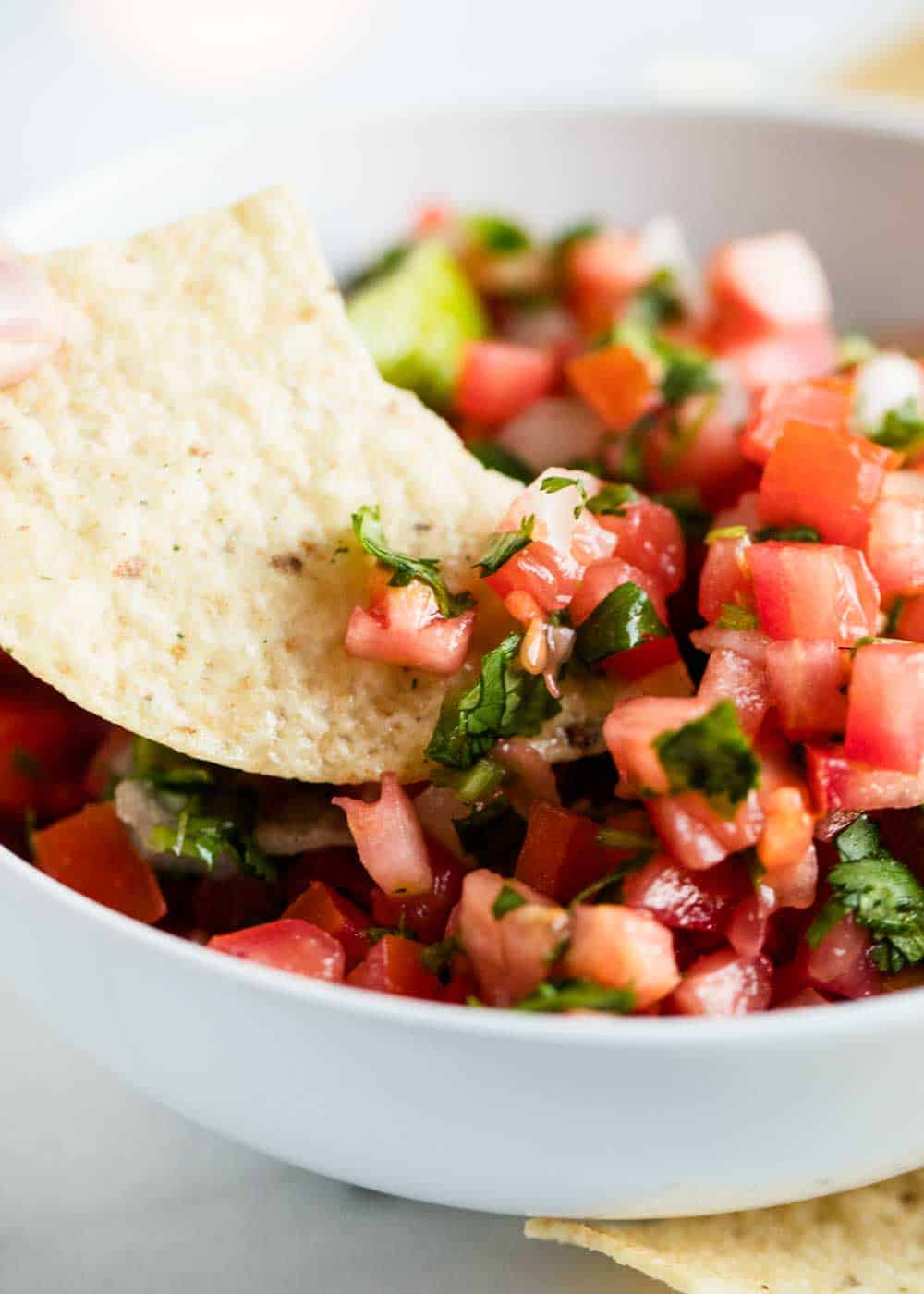 Favorite Ways to Use It
HUNGRY FOR MORE? Subscribe to my newsletter and follow on Facebook, Pinterest and Instagram for all the newest recipes!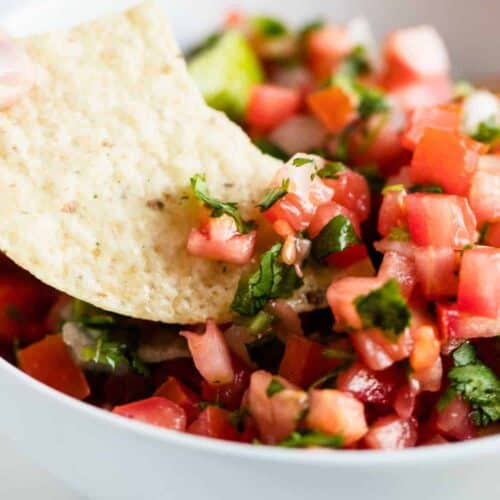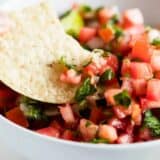 Pico de Gallo
Homemade pico de gallo is fresh, delicious and so easy to make! Packed with flavor and takes less than 10 minutes. It makes the perfect addition to any Mexican dish!
Ingredients
1/2-3/4 cup finely chopped onion
1/2-1 cup freshly chopped cilantro
1 lime , juiced
½ teaspoon Kosher salt , more to taste
1 jalapeno
5 roma tomatoes , diced
Instructions
Combine the onion, cilantro, lime juice and salt in a medium size bowl. Allow to sit for a few minutes.

Meanwhile, slice the jalapeno in half. Scrape out the seeds with a spoon. If you like it spicy, you can leave the seeds in. Then dice the jalapeno finely. Add 1-3 teaspoons depending on the level of heat desired. Toss with the onion mixture and let sit another minute.

Next add the tomatoes to the bowl, draining the juices before adding. Stir the tomatoes in gently and then salt to taste. Add more jalapeno or cilantro if desired.
---
Nutrition
Calories: 18kcal | Carbohydrates: 4g | Sodium: 197mg | Potassium: 160mg | Fiber: 1g | Sugar: 2g | Vitamin A: 545IU | Vitamin C: 14.4mg | Calcium: 12mg | Iron: 0.2mg
Nutrition provided is an estimate. It will vary based on specific ingredients used.
Did you make this recipe? Don't forget to give it a star rating below!