This basic turkey brine recipe will teach you how to brine a turkey – the easy way! Takes just 5 simple ingredients and is fail proof. This is the best recipe for beginners and makes a great Thanksgiving dinner!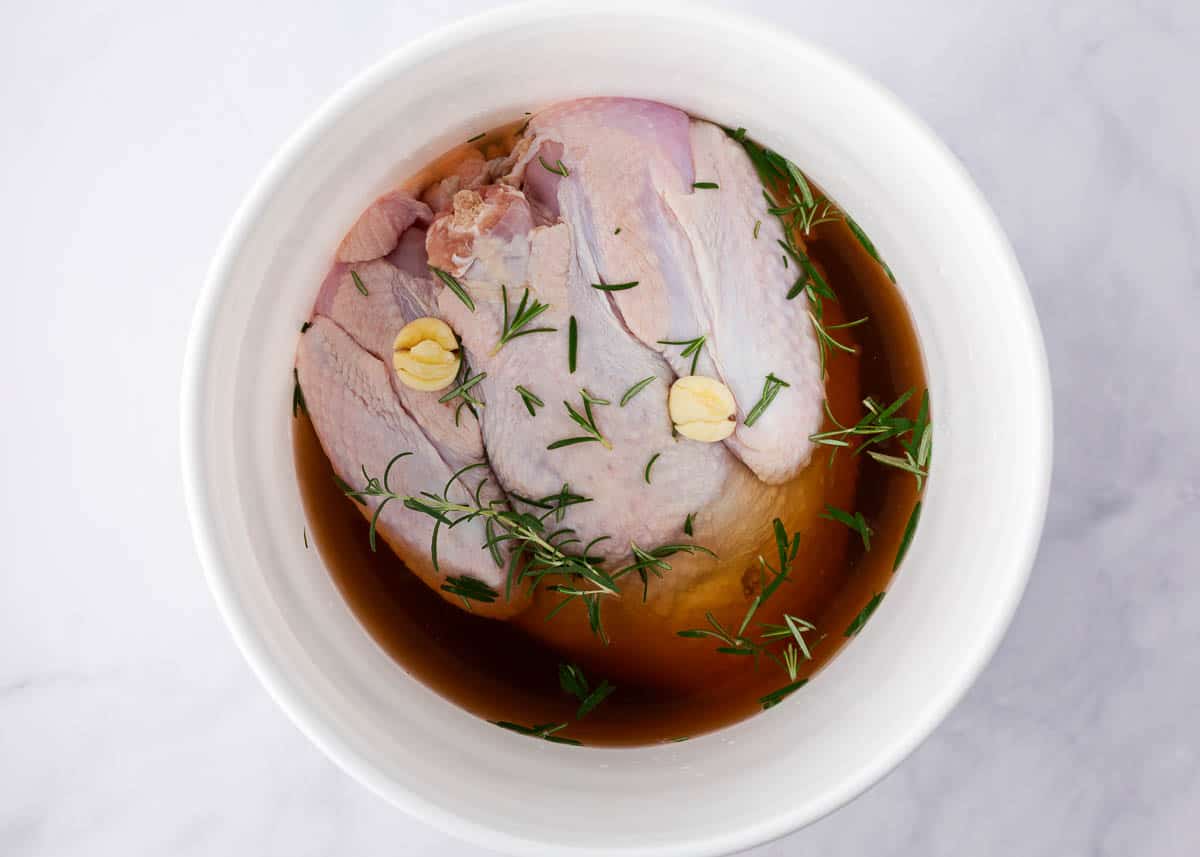 My Favorite Simple Turkey Brine
I'm all about easy recipes that help to make preparing for the holidays a breeze. We make a roasted turkey or smoked turkey every year for our Thanksgiving menu and this simple brine makes seasoning the turkey so simple. You won't believe how much flavor it adds!
We got together with some friends a few weeks ago for a little early Thanksgiving feast with all the stuffing and cranberry sauce. I decided to try out a new turkey brine recipe! It was so good! If this is your first year making a turkey, I have the perfect NO FAIL wet brine for you. It came out so juicy, moist and delicious!
You're not going to believe that it's made with only 5 ingredients! You basically just combine the ingredients, pour over the turkey (after it's cleaned out of course) and let it sit in the refrigerator over night. Doesn't get any easier than that and it turns out perfect every time!
Why This Recipe Works
So easy. You only need 5 ingredients and 10 minutes of prep time to make this easy turkey brine recipe. It's basically failproof!
Moist and flavorful. Not only does it add an amazing flavor, but it makes the meat super moist and juicy. It will also help make your homemade turkey stock and turkey gravy that much more delicious from the flavorful drippings and carcass.
Customizable. Use this base recipe as the starting point and then add in extra spices and herbs to your taste, whether that's sweet, savory or spicy.
5 Simple Ingredients
Only 5 ingredients needed and you literally can't mess it up! That's why this is the most simple turkey brine you'll ever make.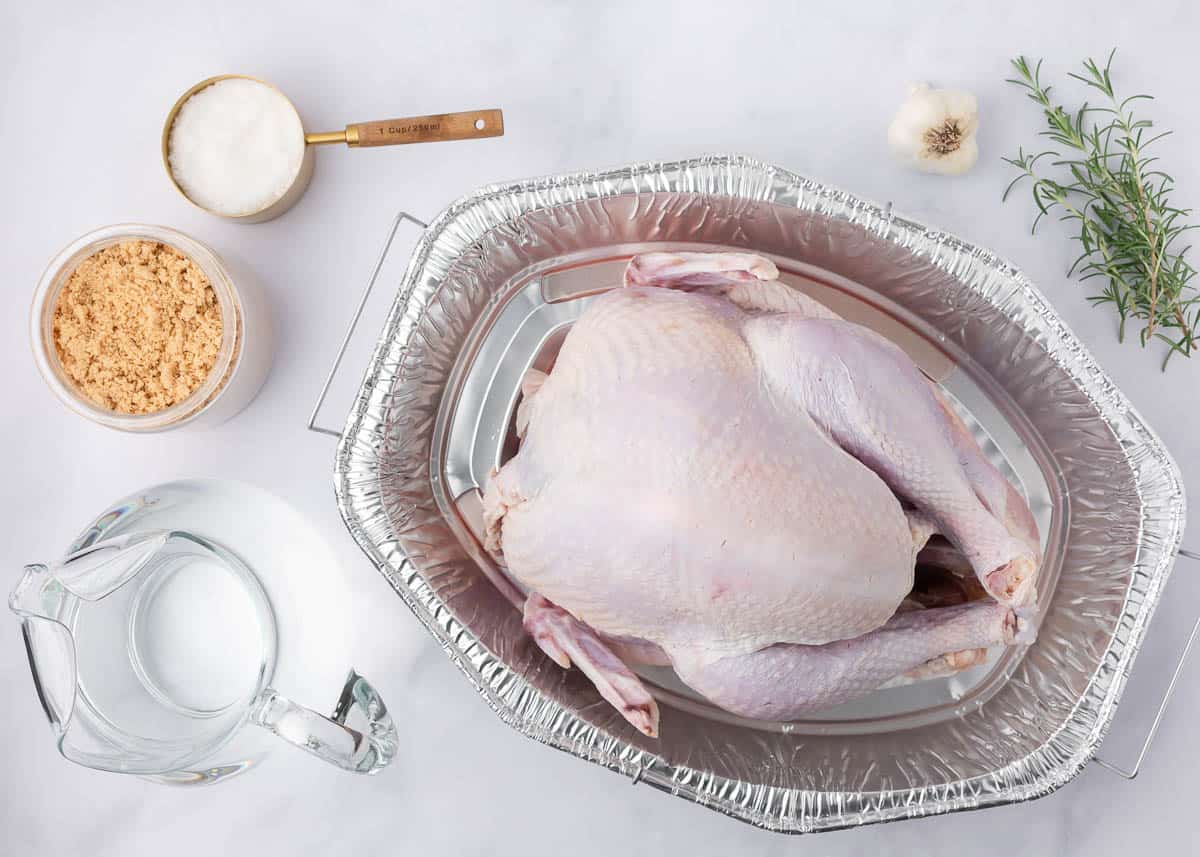 Find the full printable recipe with specific measurements below.
Turkey: This recipe is for a 12-15 pound turkey. Do not use a Kosher or pre-salted turkey, as we're adding our own salt and it would be entirely too salty with both!
Salt: This is the main key ingredient for brining meat. I prefer to use 1 cup kosher salt, but if you're using fine sea salt, make sure to reduce the amount to 3/4 cup.
Brown sugar: I love adding brown sugar to my brine. It adds the best flavor and a subtle hint of sweetness that balances out the salt.
Garlic and herbs: I love adding in garlic cloves and fresh herbs such as rosemary to boost the flavor, however you could always leave these out if preferred.
Variations
Give the turkey brine an extra boost of flavor by adding in other savory herbs such as sage, thyme, bay leaves, black peppercorns or red pepper flakes for a little heat.
For a sweeter taste, mix in 2 cups apple juice along with some fresh orange peels or lemon for a hint of citrus. There are plenty of ways to make this simple brine for turkey your own!
How to Brine a Turkey
Brining a turkey doesn't have to be intimidating! This is the perfect simple turkey brine for beginners to start with and only takes 10 minutes to prep.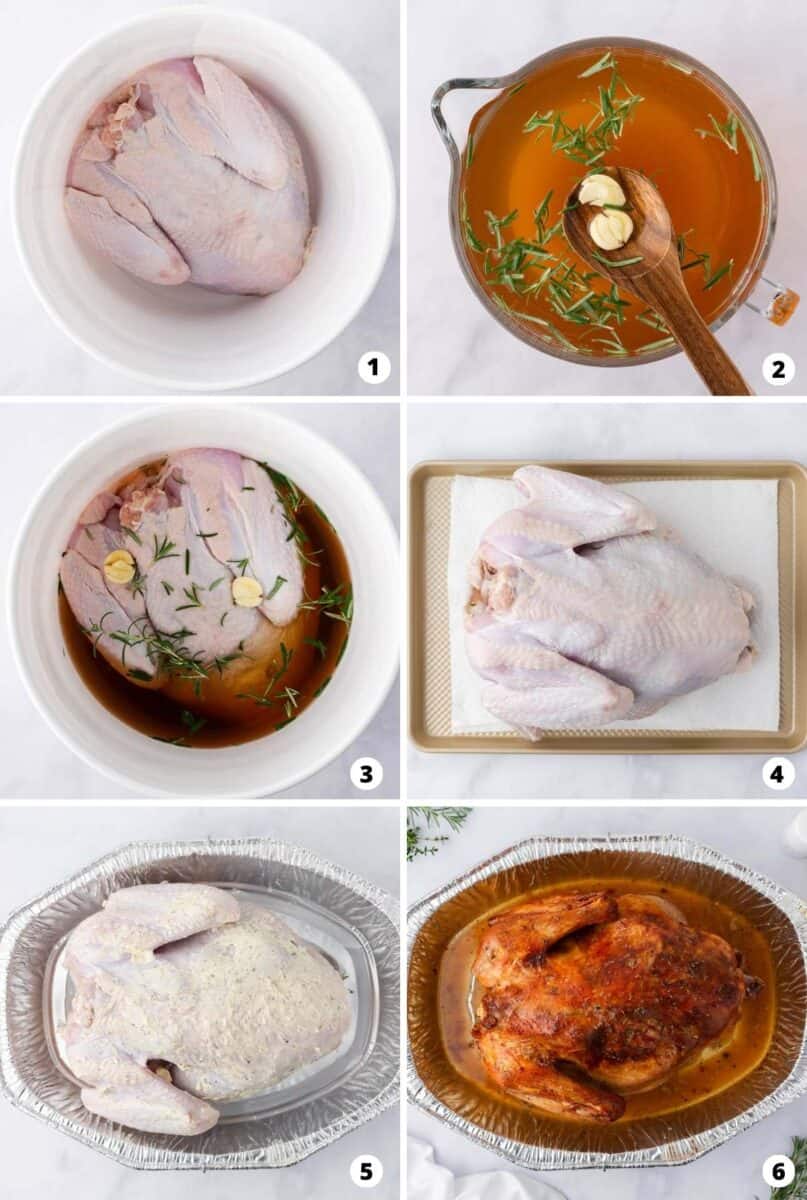 Prep. First, thaw the turkey until no longer frozen. Then remove the neck and giblets and discard. Place in a bag or container (breast side down).
Mix. Mix together the water, salt and sugar so it can dissolve. Then add your garlic and herbs.
Brine. Pour the brine over the meat. Close bag or cover with a lid. Marinate in fridge (at least 12 hours or overnight).
Rinse. Next, remove turkey from bag or pan and discard the liquid. Rinse under cool water to remove excess salt and then place on paper towels to dry.
Prep. Prep your turkey (I love to add my garlic herb butter on top) and fill with onions and fresh herbs. Then place in roasting pan.
Roast. Follow my instructions for how to roast a turkey. Cook until meat thermometer inserted in the thickest part of thigh reaches 180°F. Be sure to cover loosely with foil after first 30 minutes to prevent browning. Let stand 15 minutes before carving the turkey.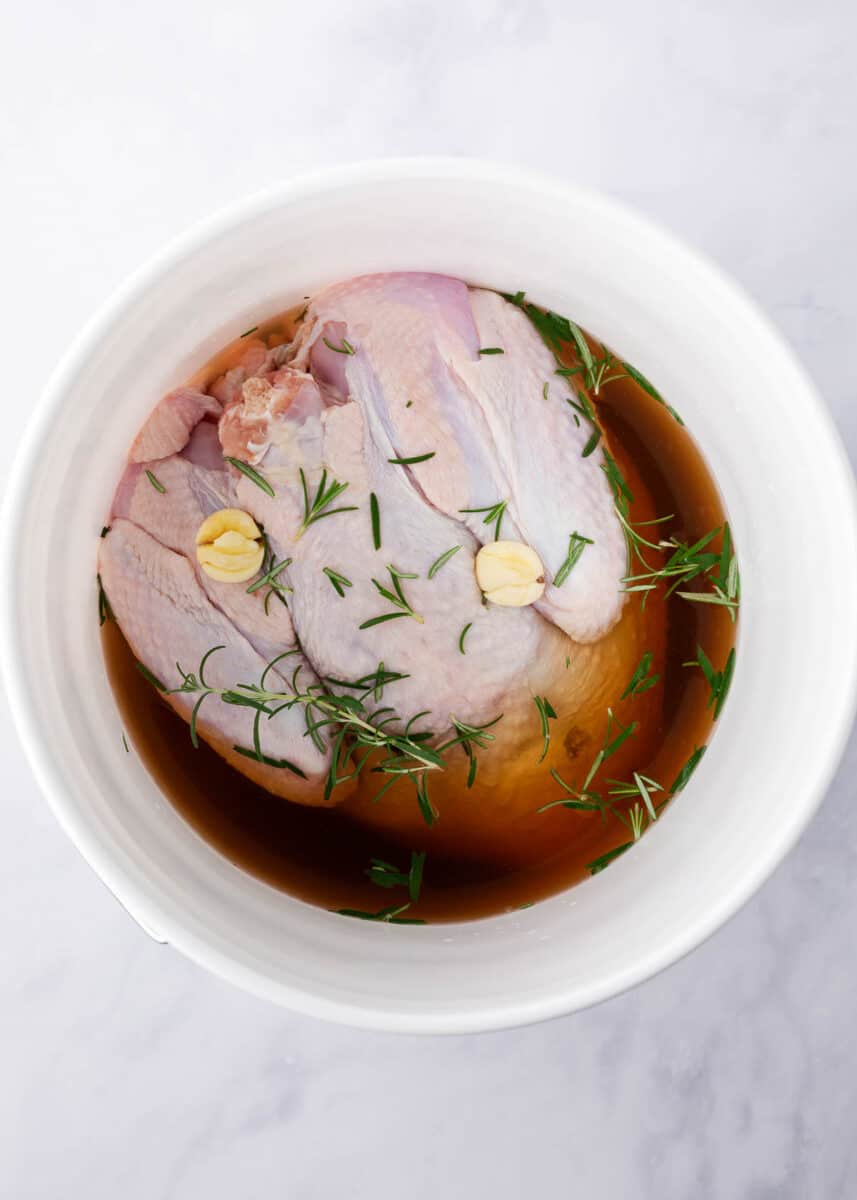 Expert Tips
Thawing. Don't forget to allow time to thaw the turkey before you brine it! A twelve to fifteen pound bird will need to thaw in the fridge for about 4 days beforehand. For a quicker method, you can soak the turkey in cold water for about 8 hours.
Container for brining. I've found that using the 5-gallon buckets from Home Depot are the perfect size for brining a turkey of this size. It needs to be deep enough so that both the turkey and brine fit in the bucket. A large food-safe plastic bag will also work too.
Fridge space. If you don't have enough fridge space to store the turkey overnight, you can use a cooler packed with ice. It should be kept in a cool space so that the meat doesn't get too warm. I would also recommend covering the top of the turkey with ice so that it stays cold.
Let rest. After your rinse off the brine and pat the meat dry, it's important to let it rest at room temperature for about 30 minutes before prepping. This will help it cook quicker and more evenly since it won't be cold from the refrigerator.
Recipe FAQ's
How long should you brine before cooking?
I like to brine mine overnight, but it's important that you let it brine for at least 12 hours before cooking. The longer it brines, the more time the flavors have to marinate together to create a flavorful and juicy turkey. You can let it brine for up to 3 days.
Can you stuff a brined turkey?
Sure, just make sure to cook it a little longer. Turkeys that are stuffed take about 30 minutes longer to cook through than ones that aren't.

The stuffing soaks in some of the heat and moisture, which causes a difference in how the heat circulates throughout. I would just tack on an additional 30 minutes to the cooking time, so about 3 to 3 1/2 hours.
Does a brined turkey cook faster?
A turkey that's been marinating in a brine does actually cook a little faster. Because it contains more moisture, it cooks faster than if it had not been brined. I typically cook mine for about 2 1/2 to 3 hours, however this time could fluctuate a little depending on your oven.

To ensure yours is cooked to perfection, check the temperature ever so often with a meat thermometer (insert it in the thickest part of the thigh). It will be cooked through when the temperature reaches 180°F.
What is the difference between a wet brine and dry brine?
A wet brine is a liquid mixture that your turkey will be submerged into to marinate. It will always contain salt, water, and usually sugar. A dry brine is rubbed directly unto the turkey imparting flavor that way. Both are great ways to add flavor to your meat!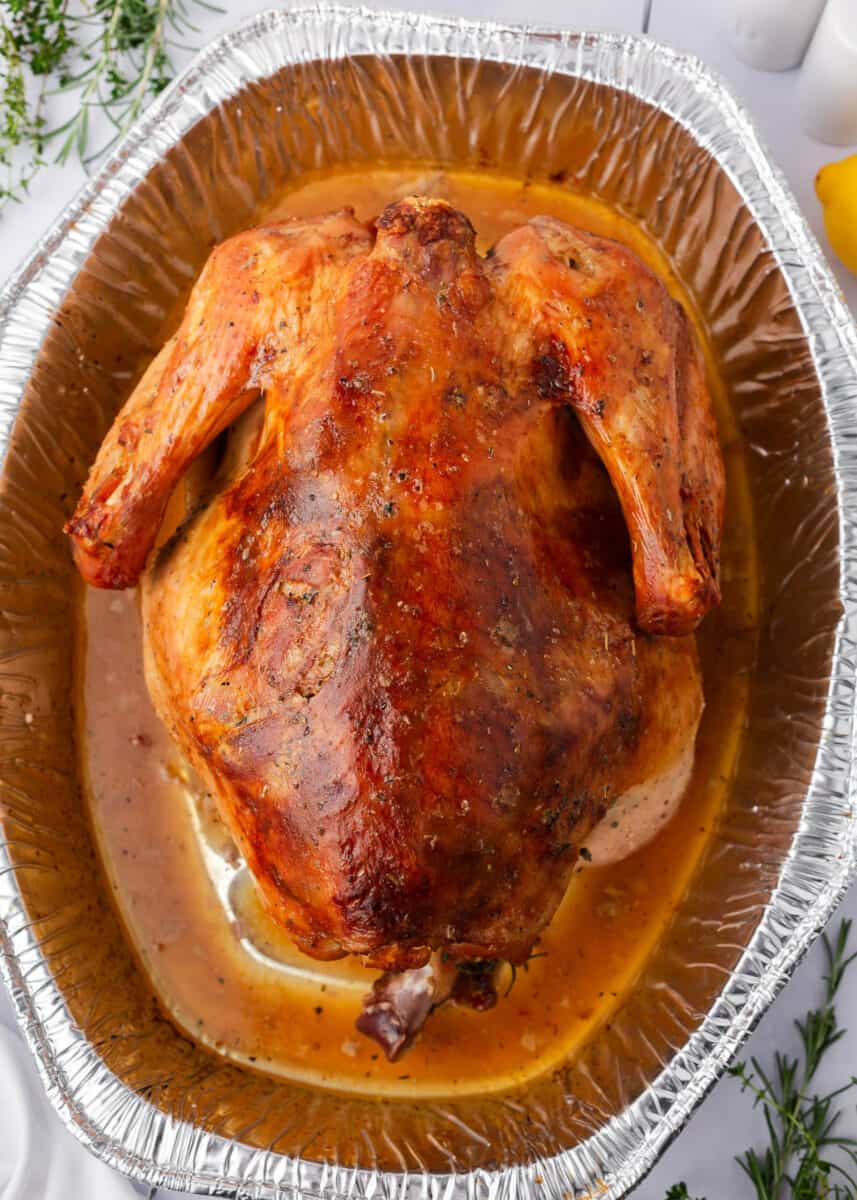 HUNGRY FOR MORE? Subscribe to my newsletter and follow on Facebook, Pinterest and Instagram for all the newest recipes!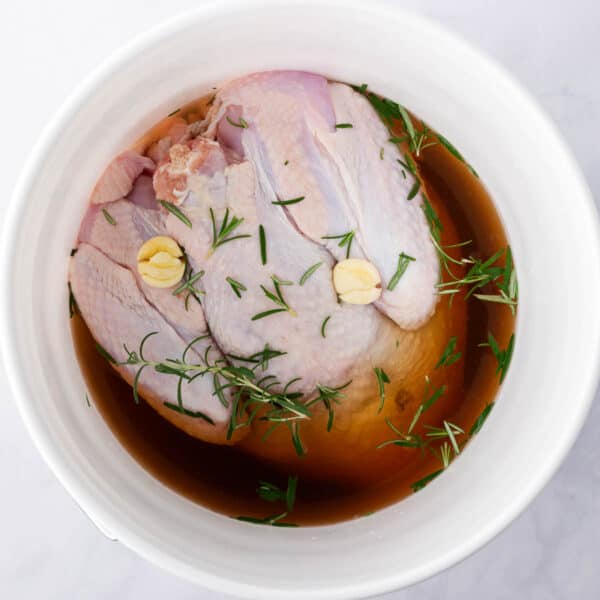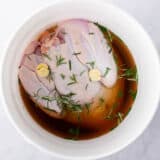 Easy Turkey Brine Recipe
This basic turkey brine recipe will teach you how to brine a turkey – the easy way! Takes just 5 simple ingredients and is fail proof. This is the best recipe for beginners and makes a great Thanksgiving dinner!
Equipment
large food-safe plastic bag or deep non-metallic container
Ingredients
12-15 pounds turkey , do not use Kosher or pre-salted
3-4 quarts water
1 cup Morton kosher salt , or 3/4 cup sea salt
1 cup brown sugar
4 cloves garlic , peeled and smashed
¼ cup fresh rosemary leaves
Optional: Orange peels and fresh herbs (such as sage, thyme, or bay leaves)
Instructions
Thaw the turkey (will take about 4 days in a refrigerator or 8 hours in cold water).

Remove neck and giblets from body and neck cavities, and discard.

Place turkey breast side down in a bag or large container.

Mix together the water, salt, brown sugar, garlic and rosemary leaves. Add in orange peels or other herbs, if desired. Pour over the turkey. Close bag or cover container with a lid. Marinate in refrigerator at least 12 hours or up to 2 days.

When ready to cook, thoroughly wash the turkey under cold water to remove excess salt. Place on a baking sheet lined with paper towels. Pat the turkey dry with paper towels really well. Let rest 30 minutes before prepping.

Follow with cooking instructions. See my favorite roasted turkey below. Note that a brined turkey will cook about 20-30 minutes faster.
---
Notes
How to cook turkey: Learn how to make my oven roasted turkey or my smoked turkey.
Variations:
For a sweeter brine: add in 2 cups of apple juice with orange peels.
For a savory brine: double the garlic and add a bundle of thyme and a teaspoon of red pepper flakes.
Containers: I like to use the 5-gallon buckets from home depot to brine my turkey in. If you don't have the fridge space, you could also use a cooler packed with ice. Make sure to keep in a cool place and cover the top of the turkey with ice.
Nutrition
Calories: 394kcal | Carbohydrates: 14g | Protein: 52g | Fat: 14g | Saturated Fat: 4g | Polyunsaturated Fat: 4g | Monounsaturated Fat: 4g | Trans Fat: 0.1g | Cholesterol: 174mg | Sodium: 7357mg | Potassium: 567mg | Fiber: 0.1g | Sugar: 13g | Vitamin A: 148IU | Vitamin C: 0.3mg | Calcium: 50mg | Iron: 2mg
Nutrition provided is an estimate. It will vary based on specific ingredients used.
Did you make this recipe? Don't forget to give it a star rating below!